Army UH-60 Helicopter Repairers (also known as aviation maintenance technicians) are some of the more highly valued MOSs in the Army. They get this designation because they work on not only helicopters but also many of the critical components that go into them. This can include anything from radar to flight control systems to engines and landing gear. The MOS 15T repairs and overhauls helicopters, helicopter motors, vehicle engines, transmissions, avionics systems, actuators, hydraulic pumps, and other related equipment. This includes routine maintenance such as checking fluid levels and inspection of gearboxes for proper synchronization. In addition to performing preventive maintenance tasks on all types of aircraft engines, this skill set includes the capability to perform engine tune-up procedures when necessary. This includes setting timing adjustments, adjusting valve lash, replacing worn or damaged parts, or overhauling small components.
UH-60 helicopter repairer is one of the most important MOSs in any aviation unit, so if you're interested in serving your country by repairing things that fly – this is the MOS for you.
Army UH-60 Helicopter Repairer MOS 15T is a part of List of United States Army Careers.
MOS 15T Requirements: Qualifications and Skills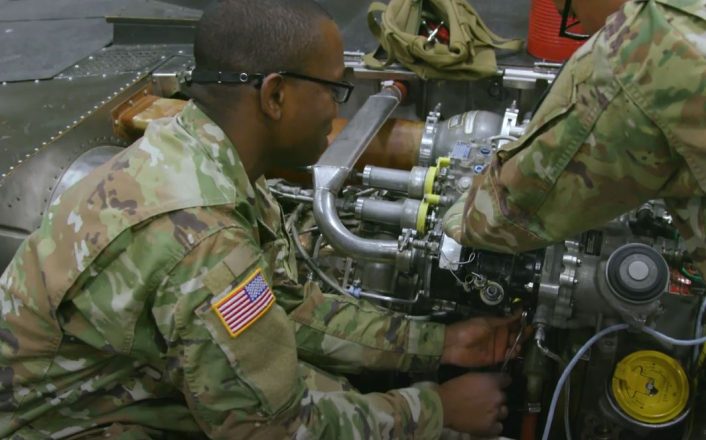 In order to become MOS 15T, there are a few requirements you need to satisfy:
Qualification
Applicants should be GED graduates. ASVAB scores must be valid at the time of application to qualify for consideration. To be a MOS 15T, applicants will undergo rigorous training, including the U.S. Basic Combat Training and Advanced Individual Training (AIT) for 15 weeks. A 104 score on the Mechanical Maintenance segment is required.
Power tools ability
A career in the MOS 15T requires a complete ability to use hand and power tools. In this career, you will have the responsibility of repairing, maintaining, repairing, and overhauling both aircraft and engines.
Aircraft and engine mechanics interest
You should want to develop your skills so you can take part in complex repairs at a fast pace. The engine, rotor blades, fuselage, and instruments control the direction of the aircraft down to the many small parts that make up each component. When parts wear or break, an Army mechanic must learn how to replace them. The Army UH-60 Helicopter Repairer must be able to quickly analyze machines while using every tool available. Repairing a component may require a thorough understanding of its previous maintenance history and its function. This is why learning how to repair engines is crucial for this job position – it will allow you the skill set required for success on the battlefield.
Preference mathematics and shop mechanics
The Air Force UH-60 Helicopter Repairer must have the capability to understand math. They are proficient in taking apart, installing, repairing, or maintaining engines, transmissions, brakes, or different transmissions. Therefore, you must have the aptitude for doing so. When working on vehicles in this career field, you'll need to work with resources like computers, manual records of maintenance, and more. Many mechanics must be able to use complex formulas and data tables to troubleshoot and fix a UH-60 helicopter.
Excellent math skills
To succeed in the MOS 15T, a mechanic must have excellent math skills to accomplish your task. These skills include algebra, trigonometry, calculus, geometry, statistics, and visualization. A mechanic must also understand concepts such as serial addition and subtraction, percentage change calculations, combinations and permutations of numbers or letters or symbols or images, graphs of equations used in physics or shop trade courses, as well as those used in GED's. This is because you'll need to quickly decide which tools will be effective in each situation before even beginning your repairs. This makes it important that you are able to use the highest quality of knowledge when repairing engines.
Job Responsibilities
Responsibilities of Army UH-60 Helicopter Repairer (MOS 15T) The UH-60 helicopter repairer is primarily responsible for keeping the aircraft in operating condition. This person also serves as a maintenance specialist and performs emergency repairs to aircraft systems and damage control on all Army helicopters. The civilian equivalent for this job is an avionics technician.
About the Black Hawk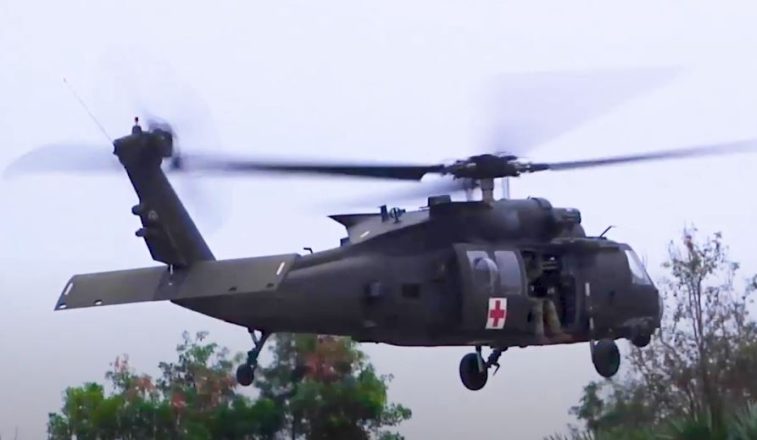 A Black Hawk is a utility helicopter manufactured by Sikorsky Aircraft. The Black Hawk became the first multinational, highly mobile helicopter to enter production in 1972. It has been built and operated by the United States Army and the United States Marine Corps. The Black Hawk is used primarily for reconnaissance, convoy escort, command and control, air assault of ground forces during peacetime operations transport of supplies and personnel.
Black hawk has several versions that are specific to the need of the user. These are the U.S. Army General purpose version, or M model, which is used for general support operations, and the UH-60A VIP transport helicopter for use by senior leaders in the field. The third model is designated as a medical evacuation helicopter called the UH-60L and is used for emergency evacuations and patient transfers as part of aeromedical evacuation (A.E.).
The main difference between different models of Black Hawk helicopters is the avionics suite, which will vary from country to country depending on how it's used. The U.S. Army, for example, has a different set of avionics than the U.S. Marine Corps and other countries. The Black Hawk is also equipped with night vision goggles, mini drones, and thermal imaging equipment that enable night operations and law enforcement operations in some areas of the world where it is not permitted to fly during the day by civilian aircraft.
Remove and install aircraft subsystem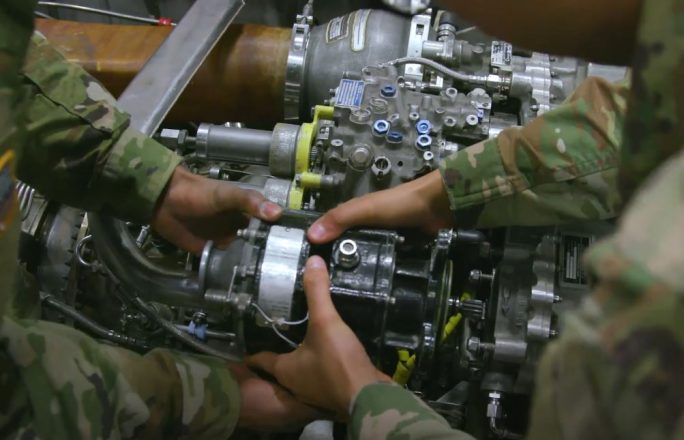 This is one of the most important tasks for an Army UH-60 Helicopter Repairer. This person would remove and install aircraft subsystem assemblies such as engines, rotors, gearboxes, transmissions, and mechanical flight controls.
Service and lubricate aircraft and subsystems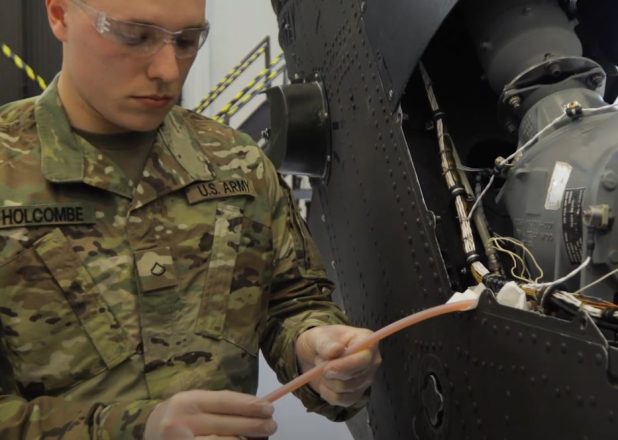 Another task for an Army UH-60 Helicopter Repairer would be to service and lubricate them. This includes preparing aircraft for inspections and maintenance checks as well as assisting in diagnosing/troubleshooting them. This service work also helps to prevent malfunctions from occurring during flights which can be dangerous both for the pilot as well as civilians on the ground if the problem is not dealt with quickly enough.
Prepare aircraft for inspections and maintenance checks
This task is also something that will be done by a UH-60 Helicopter Repairer. This would include preparing aircraft for inspections and maintenance checks. This means the UH-60 Helicopter Repairer would work on preparing for inspections, such as removing and checking the engine, removing and checking the rotors, removing and checking the airframe, removing and oiling/changing/inspecting machine guns other equipment being operated by them.
Assist in diagnosing/troubleshooting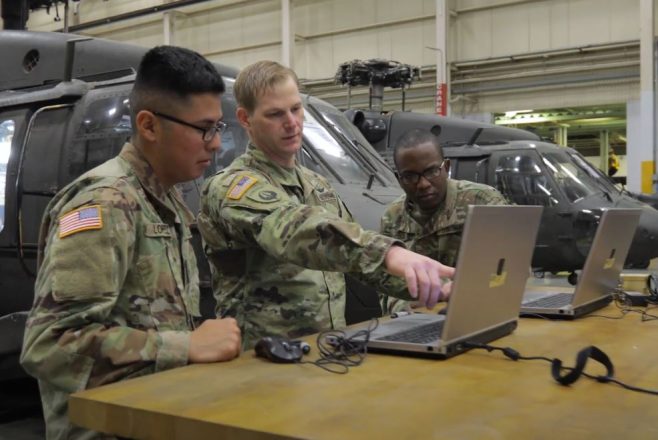 When a hole is discovered in a UH-60 Helicopter Repairer's aircraft or its subsystems, he will assist in diagnosis to find out what was causing it. This may include checking all checklists, documents, records, etc., that are necessary to determine an issue that has occurred with a specific aircraft then determining what work needs to be carried out based on that issue. After finding out what was causing it, he will also troubleshoot this problem to prevent it from occurring again.
Salaries
As in the Army, the salary depends largely on the individual's rank or time in service. Here is a list of Pay Grade, Rank, and Minimum Monthly Pay:
Private (E-1), Min Pay: $1785
Private Second Class (E-2), Min Pay: $2001
Private First Class (E-3), Min Pay: $2104
Specialist (E-4), Min Pay: $2330
Corporal (E-4), Min Pay: $2330
Sergeant (E-5), Min Pay: $2542
Staff Sergeant (E-6), Min Pay: $2775
Sergeant First Class (E-7), Min Pay: $3208
Master Sergeant (E-8), Min Pay: $4480
First Sergeant (E-8), Min Pay: $4480
Sergeant Major (E-9), Min Pay: $5473
Command Sergeant Major (E-9), Min Pay: $5473
Sergeant Major of the Army (E-9), Min Pay: $5473
Benefits
There are several benefits associated with MOS 15T, including medical insurance, paid sick time, vacation time, free housing and food, as well as tuition assistance:
Medical Insurance
The Army MOS 15T provides a wide variety of medical benefits, including mandatory health and accident coverage. Medical coverage is obtained through the special Program. The Program offers a wide variety of medical services at participating facilities where you can visit for routine checkups, routine hospitalization and inpatient care, and outpatient care. Service members' dependents may qualify for coverage too!
Paid sick time
Active-duty soldiers and airmen receive paid sick leave in the service, which is vital for physical, mental, and emotional health. The Soldier may use up to three days of sick leave for minor illnesses such as colds, flu, and upset stomachs. Paid sick leave may be used concurrently with any other paid leave time the Soldier is entitled to receive in accordance with applicable state and federal laws.
Vacation Time
Sick leave and annual leave earned as a Soldier or as an Officer may be used as vacation (vacation leave). Vacation hours earned as a soldier may be used for any purpose the Soldier desires, except those military obligations that require immediate retention on active duty. Vacation hours earned as an officer cannot be carried over to the next calendar year.
Free Housing and food
The Army MOS 15T provides a wide variety of benefits, including housing and food allowances. Soldiers are eligible for the Basic Allowance for Housing (BAH). The BAH is paid into your bank account each month and will cover rent, utilities, furniture rental, and other miscellaneous expenses related to quarters. This allowance can be used to help offset any housing expenses not covered by the BAH, such as mortgage or interest payments on loans secured by Army-owned real estate.
Tuition Assistance
The Army MOS 15T is eligible for Tuition Assistance (T.A.) to help pay for college courses. The Soldier must be enrolled in a degree or certificate program at a qualifying institution. The tuition assistance courses must lead to an associate's or bachelor's degree or another credential such as a vocational certificate that will make the Soldier more valuable to the Army and U.S. society in general or improve the Soldier's performance of his or her duty assignments.
Clothing Allowance
All enlisted active-duty soldiers and airmen receive a clothing allowance to replace clothing that is lost or damaged while in the service. The Clothing Allowance (C.A.) is paid into your bank account each month and will cover any necessary replacement costs for uniforms, work clothes, etc.
Job Opportunities
In the U.S. Army, a flight crew member is an aviator who operates and maintains a utility helicopter used for short or long-distance personnel transport or cargo or other appropriate missions. The duties of an Army UH-60 Helicopter Repairer Apprenticeship training program are many and require a variety of skills, including Aircraft Mechanic, Aircraft Structure, Electric Motor Repair, Engine Assembler, Fiberglass Laminator. Once this is completed, it will allow the individual to take on a wide range of jobs that may include work as an aircraft mechanic or in other related fields such as structural design or manufacturing.
Aircraft Mechanic
In the Army, aircraft mechanics repair and maintain Army aircraft. They inspect, repair, dress, assemble and replace parts from engines to electrical wiring. The Army uses a variety of helicopters to conduct its missions: UH-60 Blackhawk helicopters for combat search and rescue missions; CH-47 Chinook helicopters for movement of cargo and personnel; AH-64 Apache attack helicopters for close air support; OH-58 Kiowa Warrior observation helicopter for reconnaissance Reconnaissance missions. The Army also uses Cessna 208B Grand Caravan fixed-wing aircraft as a ground surveillance platform called the Guardian Angel III. The Army's chief mechanic for aircraft is UH-60 Blackhawk helicopter Repairer. This soldier identifies aircraft malfunctions and repairs them. They inspect the aircraft before each flight, troubleshoot mechanical problems that arise during flight, and inspect the aircraft after each flight to ensure it is airworthy.
Aircraft Structure specialist
An aircraft structure technician is responsible for inspecting damaged aircraft structures or parts that are beyond repair. These technicians take care of the initial assessment of the damage to identify priorities for replacement or repair parts. They also will be tasked with replacing panels to ensure smooth airflow over certain sections of an aircraft's fuselage.
Electric Motor Repair specialist
Electric Motor Repair specialists work in small maintenance teams with other specialists to repair heavy-duty equipment used in base operations support, train maintenance operations, and combat operations support missions. These specialists are part of the Army's largest branch, the Ordnance Corps (branch identifier 63). They work on electric motors and components such as generators, power converters, drives, and other heavy equipment. They conduct preventive maintenance inspections and identify deficiencies in electrical components or wiring.
Engine Assembler
Army engine assemblers install and maintain the engines that power Army helicopters. These engines are complex systems consisting of hundreds of parts, such as intake and exhaust valves, pistons, crankshafts, and camshafts. Army engine assemblers visit supply depots to pick up new engines and to coordinate with supply personnel who deliver replacement parts. They clear defective engines for return to the manufacturer or back to the supply system, and they prepare engines for combat, where appropriate. They work closely with Army aviation mechanics who perform maintenance on the aircraft body and other components while the engine is removed from the aircraft.
Fiberglass Laminator
Fiberglass laminators use fiberglass cloth to create parts for helicopters. This skill is a specialization of the Army's ship fitter occupational field, a wide-ranging trade that builds, maintains, and repairs military vessels. Fiberglass laminate materials are popular in the shipbuilding industry because they resist corrosion from water and weather, can be easily cut to shape with basic hand tools, and have a smooth surface finish. In the Army, these specialists use this same material for making helicopter components such as rotor blades and tail rotors.
Summary of MOS
Overall, the Army UH-60 Helicopter Repairer (MOS 15T) is responsible for maintaining and repairing UH-60 helicopters, and these include the main rotor system, tail rotor, and tail rotor gearbox assembly, engines, heat exchangers, electrical systems, and hydraulic systems. This person may also perform other tasks such as maintenance on the power plant and flight controls. To do this successfully, a UH-60 helicopter repairer must have good hands-on skills in mechanics because they will be working with high voltages for power sources, tightly controlled temperatures from the engine oil coolers to prevent detonation, which could lead to engine failure or open flame cutting tools that can ignite fuel vapors.
FAQs
How much does a 15T make?
Some 15Ts make around $57,000. Depending on your job position, you may not be able to make the same amount of money. 15Ts are typically found in bases with aircraft repair shops or large storage facilities for aircraft.
What G.T. score do you need to be a 15T?
You must have either a mechanical maintenance score of 104 or a high school diploma/GED equivalent to apply for this position. Competitive background in any field is encouraged but not required. It's important for this training program that anyone working as a military helicopter repair technician has the ability to learn quickly and work well with others in stressful situations (like power failure, engine failures, water drainage issues).
How long is AIT for MOS 15T?
Depending on the complexity of the repairs that are being done, you could expect to spend about 15 weeks in AIT.
Does 15T require a security clearance?
No, 15T does not require a security clearance. This job requires someone with the skills to repair any type of helicopter. This position involves repairing or replacing defective or broken parts, rebuilding or modifying helicopter systems, and performing maintenance on aircraft. The 15T is not only responsible for the repair of helicopters but also for keeping them flying safely after they have been damaged in combat or by accidents.