So, you want to go kayaking this weekend? Awesome! Kayaking is a fun sport that isn't as dangerous as some might think. However, kayaking is not just a physical activity. It can be an intellectual one, and it can be confusing trying to figure out exactly what you should wear for someone new to this sport. Kayaking has more to do with personal style than most other outdoor activities. However, since you'll be spending time in the outdoors, it's important to dress appropriately for the type of weather you'll be paddling in. Whether paddling in calm water, mild weather, cold weather, or cold water, you need and should wear appropriate clothing if your boat capsizes and forces you to swim in cold water.
Now comes the part where we help you plan what clothes make for ideal kayaking attire. Is it as simple as wearing your life jacket over your wetsuit, and you're all set? Not quite. Why do kayakers have a "kayakers dress for water, not the weather" guideline?
1. Personal Flotation Device (PFD)
Every boat you go on requires a PFD; every kayaker should have at least one type of flotation device. Depending on what activity you're doing and where you are, the kind of PFD you wear will vary. You need to buy the highest quality PFD that meets the elements and conditions your kayaking adventure will put you through. Keep your PFD or lifejacket on at all times when out on the water. For some paddlers, a kayak-specific lifejacket might provide the level of freedom they need when on the water. Putting on one of these devices could save your life, so don't worry about looking hip while doing it.
2. Helmet
Water is unforgiving, and even a small head trauma can permanently damage it. Wearing a cap shields you from the weather, but a helmet shields your brain. A helmet is essential if you're in turbulent water, rapids, or rocky areas. Safety is the priority. Don't go on a kayaking trip without wearing a helmet. A mild head injury can be plenty dangerous, and you can get one just by falling into the water—especially since your boat will come along for the ride.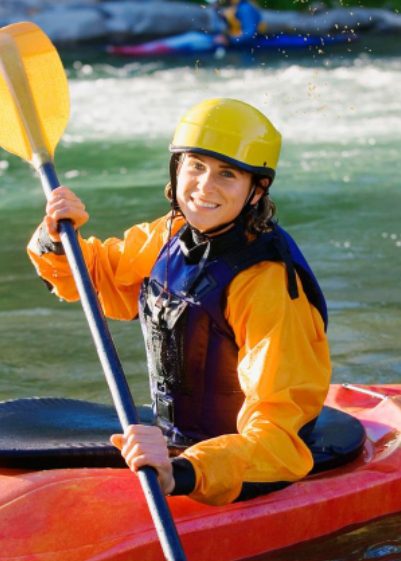 3. Paddling Gloves
Although there is nothing as satisfying as paddling for miles in calm water, if there's a strong wind blowing, it's best to have paddling gloves to protect your hands from the elements. Paddling gloves are usually made from neoprene and will keep your hands dry and comfortable. Cuts, blisters, and frostbite may all be avoided using paddling gloves, which are a must-have for any kayaker. In addition, they improve the paddler's grip. A paddle glove also can help keep your hands protected from the temperature of the water and prevent chafing by giving you relief from any rubbing.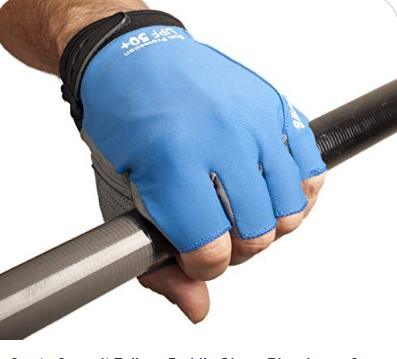 4. Sprayskirts
A spray skirt is a neoprene skirt that fits your waist and protects you from the elements. In addition, the spray skirt prevents water from splashing into your boat by forming a seal, keeping you warm and dry. Spray skirts are also important for keeping you afloat if you fall out of your kayak.
Kayaking in Warm Conditions
5. Long-sleeve Shirts
A long-sleeve shirt is a must for kayaking in warm conditions. Long-sleeve shirts will protect your skin from the sun and wind in warm weather. While it may seem paradoxical, wearing a loose-fitting, long-sleeved T-shirt made of quick-drying textiles with polyester webbing will help you stay cool and avoid overheating. Another advantage of long-sleeved shirts for paddlers – rash guards are an excellent example – is that they provide more coverage, which results in a decreased risk of sunburn. Long sleeves are also helpful if you decide to wear a rash guard underneath your shirt.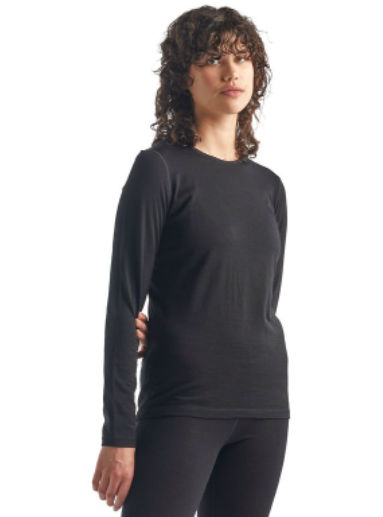 6. Swimsuits
The best kind of swimsuit to wear while paddling is a microfiber one-piece – they're lightweight and dry quickly. In addition, you'll feel more secure in a streamlined swimsuit that gives you minimal exposure to the cold water. Many paddlers prefer to wear a bikini as their primary layer in hot weather. Keeping in mind the fundamental criteria will ensure that you'll be comfortable throughout your journey.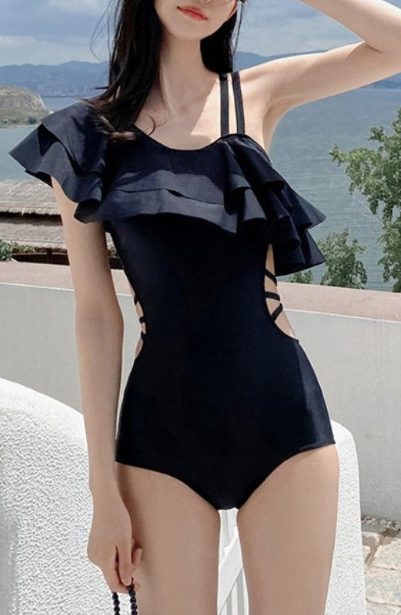 7. Sports Bras
As with swimsuit material, a sports bra is another item of clothing made specifically for kayakers. Sports bras are designed to offer good support during physical activity and quickly wick away moisture. Sports bras are designed to keep your breasts from bouncing about so they don't get in the way of your favorite workout. Soreness or even soft tissue damage may result from a bra that doesn't fit properly—and that's not something you want. Wear noncotton sports bras and underwear when you're active in the great outdoors.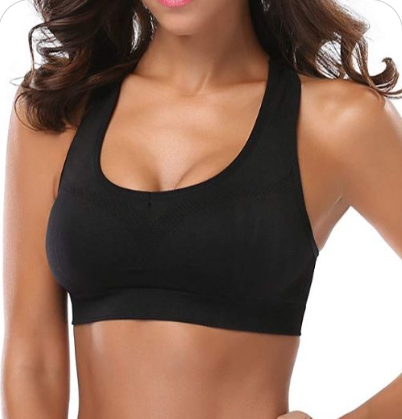 8. Rashguards
As the name suggests, a rash guard is an essential item to pack for kayaking. Because they're made of stretchy fabric, they're great in hot weather and provide an excellent amount of coverage when swimming. It's a good idea to wear a rashguard while paddling because they're quick-drying, stretch well, and offer high UPF ratings to protect you from the sun's harmful rays. Because of their flat-seam construction and form-fitting style, they're also great for wearing beneath other garments or a wetsuit.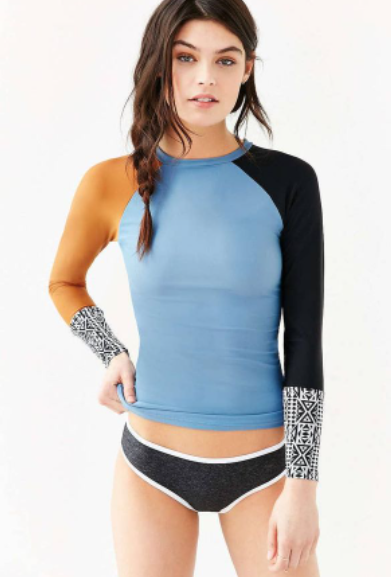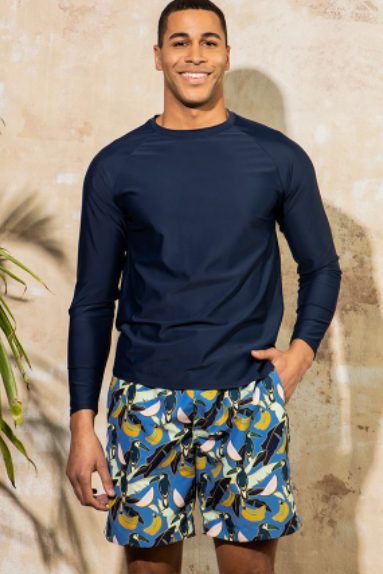 9. Shorts
Shorts are a good option for kayakers who paddle in warm weather. The best kind of shorts to wear are made of quick-drying fabric, like Lycra or Spandex, so they're not too tight. It's best to avoid wearing cotton clothing when paddling because it takes a long time to dry and has poor ventilation. Synthetic materials are better for paddling as they're more comfortable and have better air circulation than cotton.
Shorts can be worn almost anywhere, as long as they're quick-drying, comfortable, and don't impede your movement or create chafing. Also, avoid using too thin textiles, as they will not be able to withstand the continual friction and hard conditions.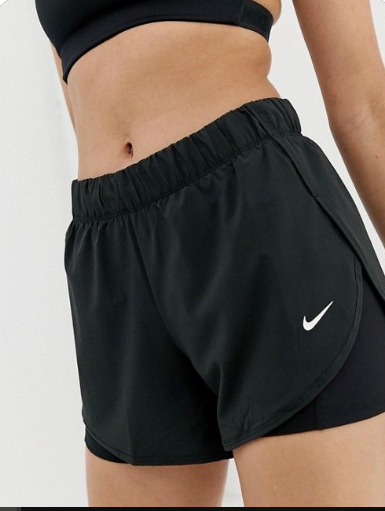 10. Yoga Pants
Yoga pants are a terrific option if you prefer pants that have longer legs. Yoga pants will protect you from chafing, especially because they're stretchy and wick away moisture. They're also more comfortable than baggy, short-legged pants.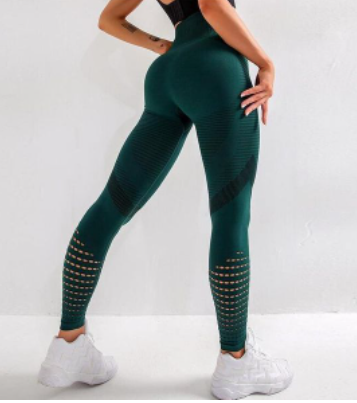 11. Water Shoes
Water shoes are ideal kayaking clothing if you plan on going in the water. Water shoes offer significant advantages over flip-flops because they're waterproof, slip-resistant, and provide good support. Kayakers who wear water shoes know that they have a lot of padding and support. For many adventures, wearing water shoes is standard. These shoes are made for splashing around in shallow pools of water. They're lightweight, comfortable, and easy to wear. They're also practical for doing water activities like kayaking or snorkeling because they keep your feet protected from sharp objects in the water, like rocks or coral reefs.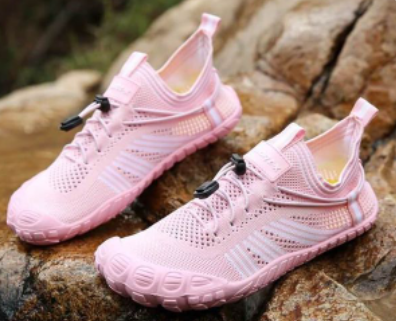 12. Sandals
The choice is yours: sandals with heel straps or barefoot if the weather permits. Avoid wearing flip-flops, however. Even though they look like they belong on the beach, they're prone to falling off at the most inconvenient times and provide little protection. Your feet are the most vulnerable part of your body, so always take care of them.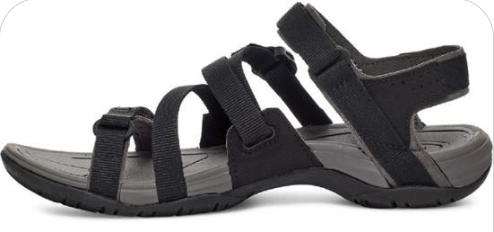 13. Wide-brimmed Hats
A wide-brimmed hat is a must-have for any paddling trip. They come in a wide variety of materials and prices, but the best kind to buy is one that you can wear while you're paddling. These hats are made specifically for kayakers because they're highly functional and well-ventilated, with a wide brim to keep your face shaded from the sun's rays. Protect your head, face, and shoulders from the sun's harmful rays by wearing a hat with a wide-brimmed design. In addition, use a chin strap or cap leash to keep your headgear in place in the event of a strong wind.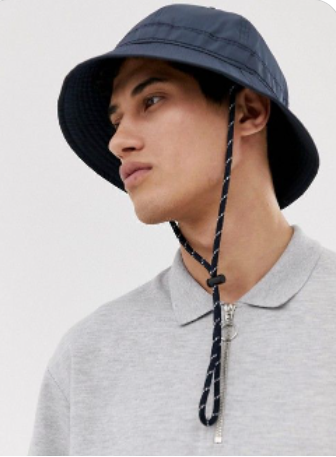 14. Sunglasses
If you're exposed to UV light for an extended period, you may develop photokeratitis or "snow blindness." Additionally, polarized sunglasses protect your eyes in high-glare situations. Wear UV-protective sunglasses at all times – especially when paddling where the sun is strong. Sunglasses with polarizing lenses are ideal because they reduce glare and protect against harmful UV radiation. Wearing polarized sunglasses can mean the difference between seeing clearly or being temporarily blinded by the reflection off the water's surface.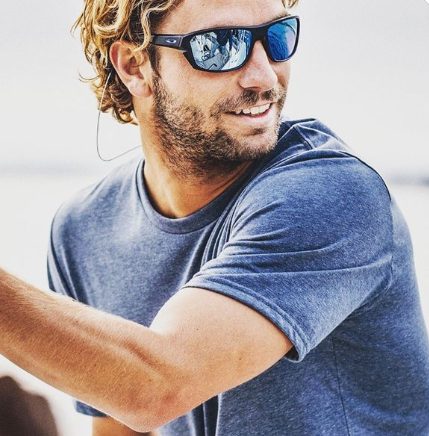 15. Glasses Retainers
A glass retainer is the most important piece of paddling equipment a kayaker needs to have. Glasses retainers help to keep your glasses secure in place when kayaking. Few things are more depressing than seeing a pair of expensive sunglasses plummet to the bottom of the ocean.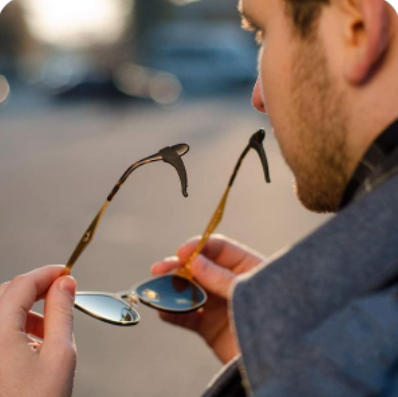 Kayaking in Winter
16. Fleece Jackets
Layer up in a warm and dry fleece jacket. It's ideal for layering because it fits in all the right places, it won't bunch up or ride up your arms, and it dries quickly. It is critical to have a warm, water-resistant jacket. You will use it as a windbreaker if you get cold easily and as a protective outer layer if you get wet. Fleece jackets are warm, waterproof, and comfortable. They have enough stretch so that they don't restrict your movement. They're also lightweight, so they won't weigh you down.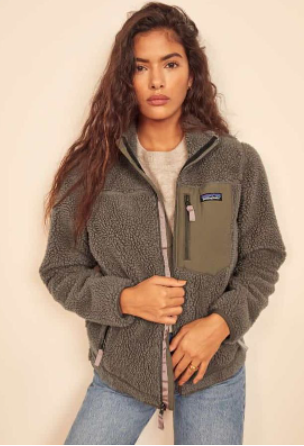 17. Paddling Jackets
Paddling jackets are great for kayaking because they're made of water-resistant materials with a hood. They're ideal for wearing while out on the water because they protect your body from the wind, rain, and waves. A paddling jacket will keep you warm, dry, and comfortable. Because they contain gaskets at the wrists and neck to keep water out, paddling jackets are great for keeping water out of your paddle shaft and keeping it dry. You can wear a water-resistant, breathable jacket for a short outing if you don't expect much rain.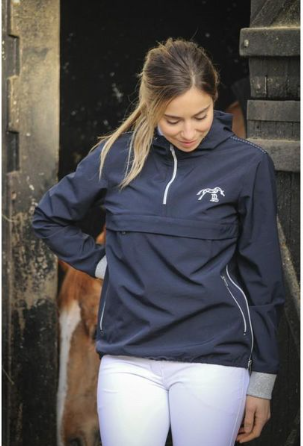 18. Dry Bibs
A dry bib is like a dry suit, but it's lighter and less expensive. They're made of neoprene or nylon with fast-drying seams to let the body breathe easier. The top is attached to the bottom via suspenders, which keeps everything in place. If you want an alternative for a wet suit, a dry bib provides the same amount of insulation without being completely waterproof. It's great for paddling when the air gets cold, and water temperatures are still relatively warm. A neoprene-coated nylon bib is ideal if you prefer wearing some other type of clothing under it instead of a wetsuit or drysuit.

19. Layered Long-sleeve Tops
Layered tops provide extra warmth and security if you don't want to wear a jacket or fleece top. Because no one enjoys being cold, your first line of defense should be a base layer and synthetic thermals that dry quickly. They act as a heat sink, removing moisture from the skin and allowing you to maintain a more comfortable temperature. As long as you don't go overboard on the mid-fleece layer, you should be fine. If you don't have a waterproof, windproof jacket as your "shell," your base layers won't do much.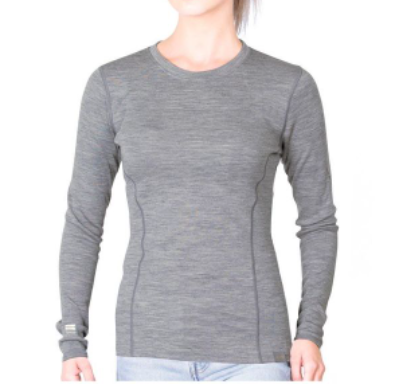 20. Splash Pants
Splash pants are durable, waterproof material that contains lots of seam sealant to keep the water out. These pants provide comfort and protection against the rain and wind. They're ideal for kayaking because they prevent you from getting wet while paddling. If the weather is a little chilly, a long pair called splash pants developed expressly for paddling should keep you warm. However, if the temperature drops significantly, you may wish to consider wearing long underwear as a base layer. In this manner, the ideal combination of heat retention and moisture wicking will be achieved.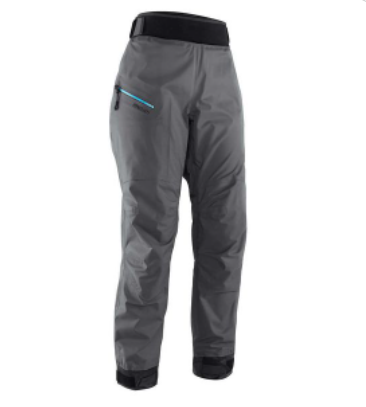 21. Wetsuits
This neoprene heat-retaining wetsuit isn't essentially blocking water in; it keeps a thin layer of water close to your skin and warmed by your body. Neoprene material contributes to minimizing evaporation, and reducing the temperature, so when you get out of the water; you will still feel normal; your body temperature does not change too suddenly.
There are many styles of wetsuits: long suits, short-sleeved "spring suits," sleeveless "Farmer Johns" suits, and several types of jackets and loose pants. Wet wetsuits are available in different thicknesses of neoprene. The thickest suits are often too bulky and make the user feel hot while paddling and are often used by divers. Most paddlers usually choose suits with a thickness of 2 or 3 mm neoprene.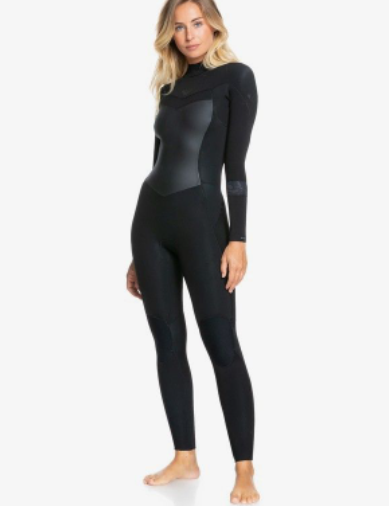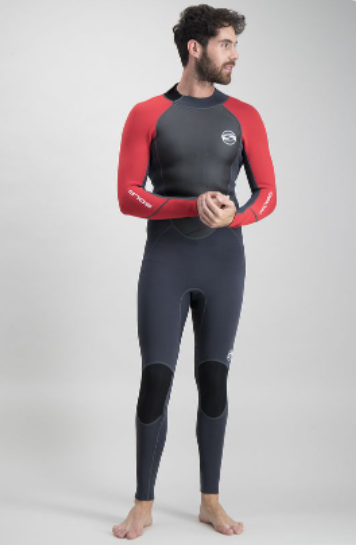 22. Drysuits
If you're paddling in cold water, over bumps, waves, or in bad weather, a drysuit is probably your safest bet. This one-piece suit is nylon, covered with a water-resistant PU coating or a waterproof/breathable Gore-Tex® laminate. This suit features rubber pads at the wrists, ankles, and neck, along with a special zipper, which will be pulled up to prevent water from entering. Therefore, even if forced to swim in the water, you will still be completely dry. Unfortunately, dry wetsuits do not offer insulation, so it needs to be paired with long underwear or a specially designed felt lining to keep warm.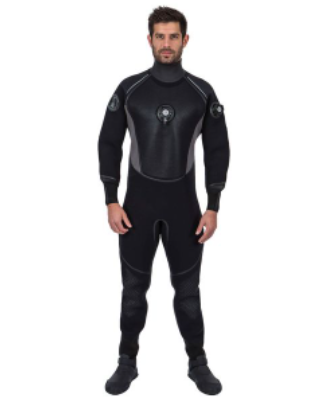 23. Beanie Hats
A beanie is another type of headwear that you should consider wearing while paddling. A beanie hat should suffice as an additional layer of warmth for your winter kayaking ensemble. These hats cover your ears and face, preventing sunburn and protecting you from the wind and cold. They're also very convenient because they keep your ears warm while protecting them from snow.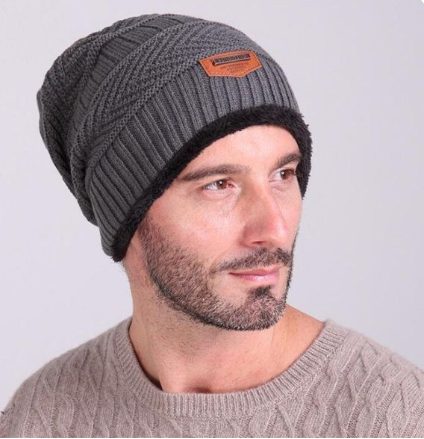 24. Balaclava Hats
Climbers use these hats to prevent cold condensation and fog. They are made of fleece or wool, and they have a mask that fits snugly over the face, armholes, and neck. Unfortunately, you can't see through them, and they look like a full-face helmet. If you're going to be in the water in severely cold conditions, a balaclava-style cap that covers your complete head, including your face and neck, is a far more prudent choice. A balaclava is a great piece of headwear to wear when paddling during the winter season. Wearing one of these will keep you warm in cold conditions without soaking you through or restricting your movement.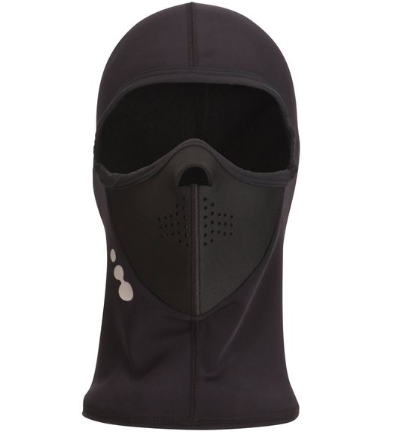 25. Neoprene Gloves
Another type of glove that you might consider opting for is neoprene gloves. Neoprene gloves are great for paddling downwind. They prevent the wind from making your hands cold and provide extra insulation. In addition, a neoprene glove is porous and insulates the palm, so you won't be left with painful hand burns like wearing wool gloves does. If you don't want your hands to feel like two blocks of ice, you'll need neoprene gloves instead of regular gloves. Of course, you can always go with pogies if it doesn't work for you. Using neoprene gloves and thermal paddle mitts can help keep your hands warm in the harshest conditions.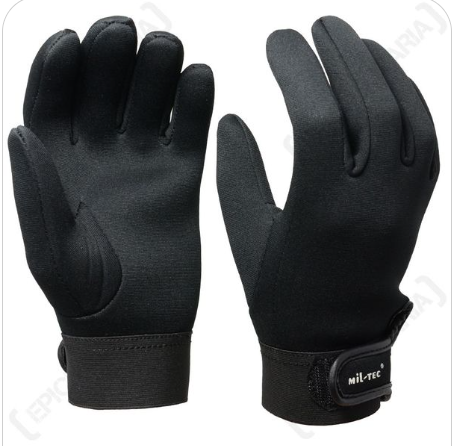 26. Paddling Booties
These booties are great for paddling because they're water-resistant, lightweight, and protect the feet from becoming wet. A pair of shoes that accomplish the same thing will suffice. On the other hand, Booties are more protective and less likely to accumulate sand and grit underfoot during put-ins and take-outs. You should stay away from flip-flops and other footwear without a back strap, as they are too easy to lose.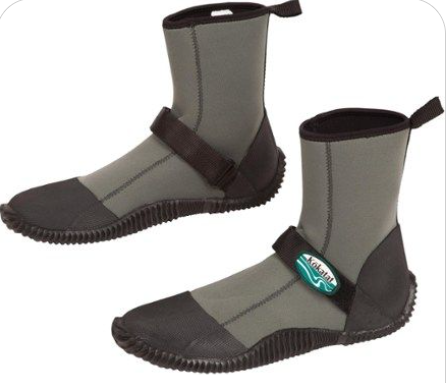 27. Waterproof Socks
Sufficiently water-resistant footwear is the best thing to put on your feet when paddling in cold conditions. They prevent water from seeping into your shoes and dampening you as you paddle. Some people even wear waterproof socks while they kayak. It is possible to protect yourself from rain and wave splashes by wearing waterproof socks or paddling booties. To keep your feet warm, you can wear thick, noncotton socks inside your boots.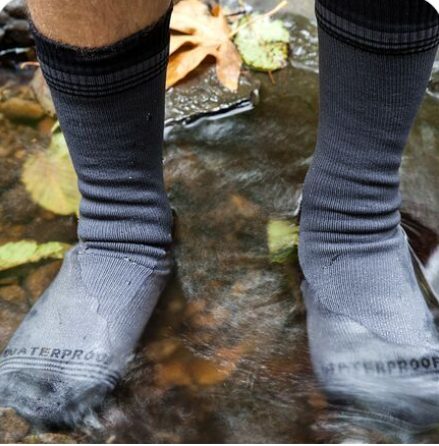 28. Long-sleeves Wetsuit Layering
Base layer: A wicking base layer isn't necessary since your wetsuit is already warm enough. To avoid the hassle of locating a changing private space, wearing swimwear inside your wetsuit is a practical solution.
Mid-layer: The warm water within and the suit's thickness help keep you warm. There are heavier wetsuits available for colder circumstances.
Outer layer: Your wetsuit is impermeable, but if you get wet, you may need a windproof outer layer. The thickness of your wetsuit, as well as the air and water temperatures, will determine if you need one.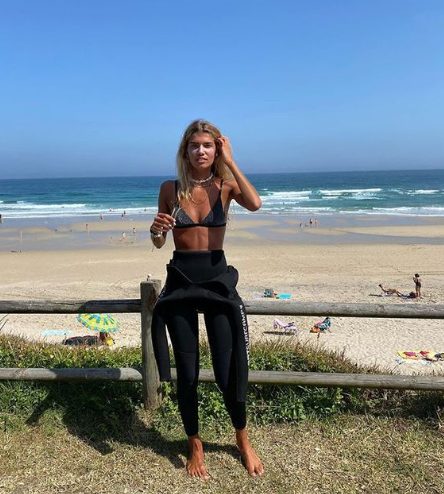 29. Short Wetsuit Layering
Base layer: Under your wetsuit, you might want to wear a quick-drying top to cover your arms. In the winter, you can keep warm and protect yourself from the sun at the same time with a long-sleeved base layer or rashguard. If the air is cool, choose a slightly more wicking top.
Mid and outer layers: Make sure you have a light fleece jacket and an extra layer that can be worn over your fleece jacket if the weather becomes colder and wetter, such as a rain jacket or paddle jacket.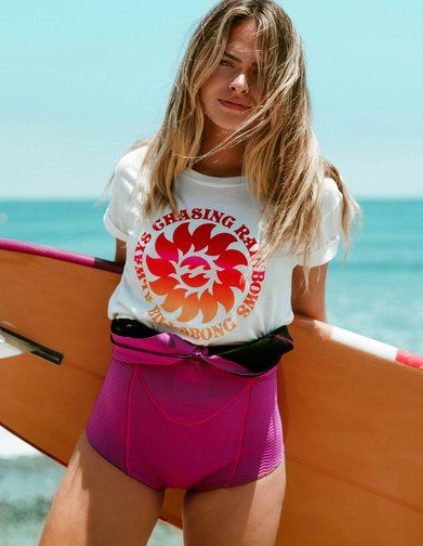 30. Drysuit Layering
Base layer: If you're going to wear a dry suit, you'll need long underwear that isn't made of cotton. Drysuit liners are also available, and some drysuits include a fleece inside.
Mid-layer: When it's cold outside, you can put a thick fleece layer on top of your long underwear.
Outer layer: No extra outer layer is required since your drysuit is windproof and water-resistant, as well as breathable.