There are many different MOSs in the Army. These are jobs based on areas of expertise and training, so you will usually study something like this for months before becoming proficient enough to hold that job title. For this reason, it's important that you find out what your MOS is before deciding whether or not you want to apply. There is no doubt that the members of the Armed Services are our country's bravest and most committed citizens, and that includes those who serve as combat medics. If you're interested in joining their ranks, then MOS 68W is for you. This article will cover everything you need to know about this army combat medic specialist.
Army Combat Medic Specialist MOS 68W is a part of Army MOS 68 List
MOS 68W Requirements: Qualifications and Skills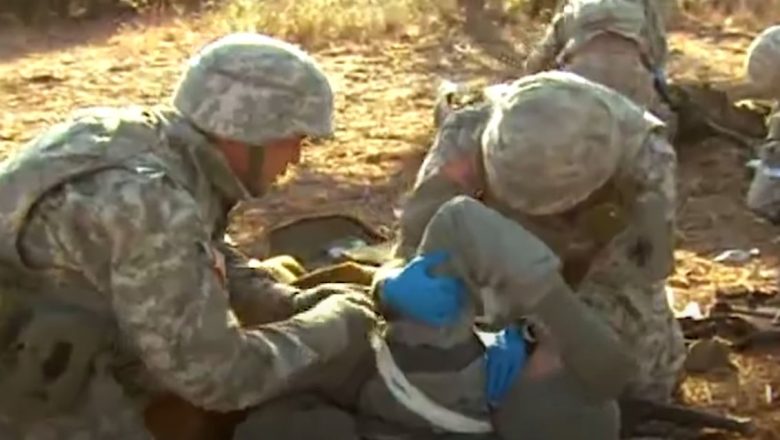 In order to become MOS 68W, there are a few requirements you need to satisfy:
Qualification
Applicants should be GED graduates. ASVAB scores must be valid at the time of application to qualify for consideration. To be a MOS 42A, applicants will undergo rigorous training, including the U.S. Basic Combat Training and Advanced Individual Training (AIT) for 16 weeks. A 101 and 107 scores on the Skill Technical and General Technical are required, respectively.
Effective Communication
The Combat Medic Specialist must be able to communicate effectively in English with patients, medical personnel, supervisors, and other agencies. Communicating effectively in the medical field is one of the most important skills that can be learned. The MOS 68W handles the equipment necessary to save lives and provide critical care to patients who require medical and surgical treatment. Sometimes, medical personnel is put in stressful environments where being able to communicate effectively may mean the difference between life and death.
Ability to work under stress
A Combat Medic Specialist must be able to perform duties effectively when faced with physical and psychological stressors such as serious injury or death of a patient, notifying the next of kin of a casualty or death, performing lifesaving surgery, or working in an environment where medical resources may be scarce due.
Combat medics must always maintain their composure when faced with dangerous situations, irrespective of how stressful they become. They also need to know how to manage themselves when faced with too much pressure or an emergency situation where every second counts. For instance, they are often exposed to blood or body parts, which can cause emotional distress or turn their stomach. The MOS 68W must be able to complete their duties effectively while dealing with seeing blood and body parts, which will likely cause them emotional distress.
Detail-oriented
Combat Medic Specialists must be detail-oriented and maintain cleanliness and order in the workplace. The MOS 68W has a physically demanding job, which can cause injury or fatigue while working 12 hours a day, seven days a week. It is essential that the MOS 68W maintains great physical conditioning so they can produce work at their maximum individual capacity.
Enjoy helping others
The Combat Medic Specialist enjoys helping others in need. It is a job requirement that they adjust their personal feelings to meet the needs of the patient to treat them effectively.
Interest in the following areas
Algebra is a very important subject which soldiers must learn well if they expect to succeed as ammunition specialists. The use of algebraic equations will be used to calculate many aspects of ammunition such as propellant, volume, and weight.
Chemistry is also very important for soldiers as they will be required to know how explosives work and what factors affect their performance. Many aspects of the job require the use of chemistry to ensure that ammunition meets strict government standards. Knowing chemistry will allow a soldier to calculate the burning rate of propellant within in order to determine the number of inches the projectile will travel in a given amount of time.
Biology will help you learn and retain information about biological structures and how they work together. Field medics are trained extensively in the field of medicine. They are trained to perform basic lifesaving medical procedures, including CPR, airway management, bleeding control, chest tube insertion, needle decompression of chest cavity tension pneumothorax, and the use of common medical equipment.
Psychology plays an important role in helping you understand more about human behavior. One of the most important skills a combat medic must have is caring for people who are scared or upset by traumatic events. Some psychologists believe that feelings of fear or anger can actually slow down healing. Other psychologists believe that it's fine to work through these feelings after treatment because they may help with coping with previous trauma.
General Science provides an overview of how science works and some basic classification for some major fields such as medicine, chemistry, physics, astronomy, and mathematics. A Combat medic has to have good bedside manners. They have to be able to communicate with their patients effectively because, without that communication, they can not help the patients.
Job Responsibilities
An army combat medic specialist, or 68W, is a hospital corpsman who has specialized training and skills to serve as a combat medic. Trained in both the medical and tactical fields of special military operations, 68Ws provide emergency medical treatment to wounded soldiers on the battlefield. A lot of soldiers are trained to serve as medics, but the very best are trained to serve as combat medics. There are many qualities that make a combat medic an invaluable asset in any army—they can save lives, they can take care of the wounded, they can stabilize them to save their lives, or if it comes down to it, they can know how to effectively administer medical treatment while under fire.
Patient care techniques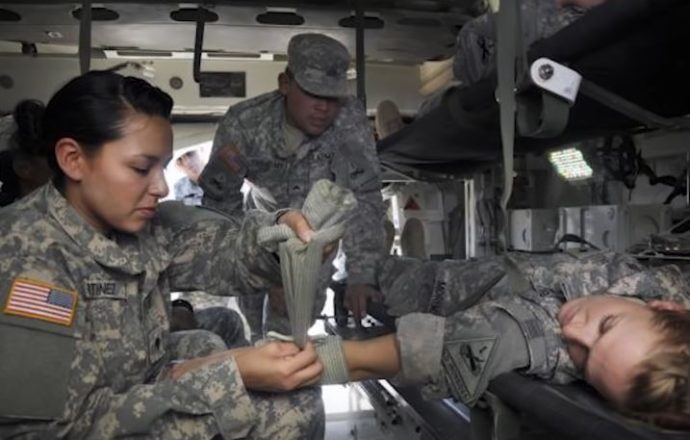 Army combat medics are often called upon to provide emergency medical assistance to wounded soldiers. Patient care is the primary role of a combat medic. They provide first-line medical care to injured Soldiers and often have to use their own first aid supplies until more extensive care can be given. They must be able to perform a variety of medical techniques, including wound care and bandaging, splinting fractures and dislocations, treating shock with I.V.s, and airway management.
Medics must turn off bandages or splints that they have placed on an injured soldier. They then remove the clothing from the patient and begin vital sign checks. After the soldier has been stabilized, he is taken to a hospital, where nurses take his blood pressure, pulse, and temperature as part of the triage process. Medics monitor various levels of stress and adrenaline in order to determine whether a wounded soldier is going into shock or if he is undergoing other bodily functions such as breathing.
Emergency medical techniques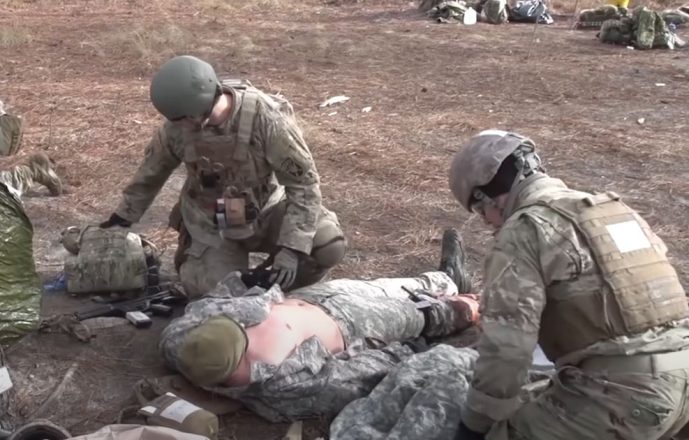 In a combat situation, a medic's ability to save lives is limited by the time it takes for the injured soldier to reach medical care. The medic, therefore, must quickly stabilize the wounded before moving them out of danger. Medics use a variety of techniques in these situations that include CPR, applying oxygen, taking vital signs, and bleeding control for severe injuries such as gunshot wounds or amputations.
The primary responsibility of a combat medic is being able to provide lifesaving medical attention in any circumstance on the battlefield. With that in mind, they are trained on many techniques that allow them to provide basic medical aid, such as "tactical field bandaging" and "emergency casualty care." In addition, Combat Medics are taught various other techniques so they can respond appropriately when someone comes into contact with hazardous substances or nuclear or biological warfare agents.
Medics perform CPR when no medical personnel is present to provide emergency care. They use a procedure that involves breathing into the wounded person's mouth or administering artificial respiration with an injection of epinephrine when the heart still beats but is no longer pumping blood. Medics must also apply oxygen to a wounded person to keep him from going into shock due to a lack of blood circulation.
Methods of sterilizing surgical equipment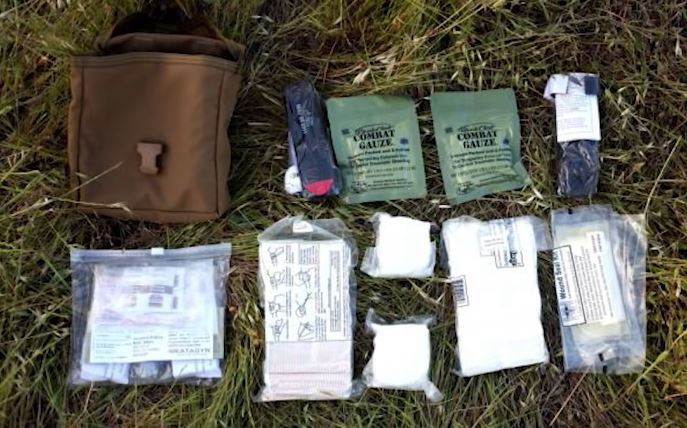 Medics sterilize surgical equipment by boiling water and memorizing numerous processes that they must complete to clean and disinfect equipment before surgery. Medics clean and sterilize surgical instruments using hot water, disinfectants, and bleaches. They also sterilize equipment for drawing blood samples, logging vital signs for treatment of shock, and performing C.T. scans by using procedures that are specific to that type of scanner.
Plaster-casting techniques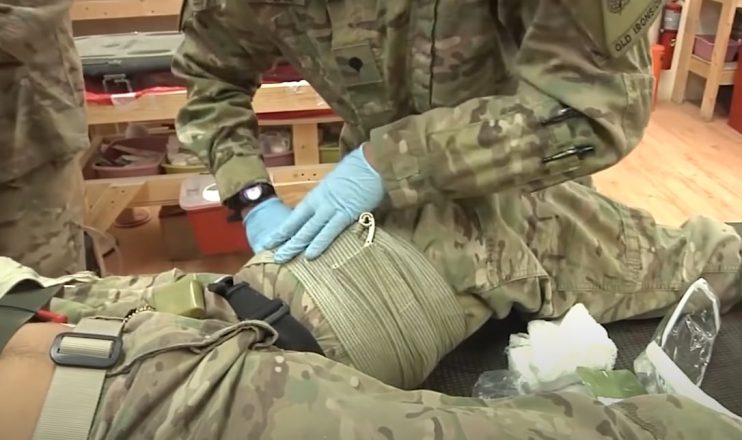 The medic casts and splints injured limbs using plaster bandages and fiberglass cloths, which are sterilized with hot water and placed over moldings made of plaster powder. This process is used to immobilize bone fractures or joint dislocations until the patient reaches a hospital. A medic often has to treat a soldier who is wounded on the battlefield as he waits for evacuation transportation. The medic must treat severe wounds in a combat zone because the injured soldier cannot be moved before medical care arrives. With this in mind, medics have to organize equipment and sterilize all equipment in order to treat severe wounds. Examples include splinting severe fractures, bandaging wounds, and applying sutures.
Salaries
As in the Army, the salary depends largely on the individual's rank or time in service. Here is a list of Pay Grade, Rank, and Minimum Monthly Pay:
Private (E-1), Min Pay: $1785
Private Second Class (E-2), Min Pay: $2001
Private First Class (E-3), Min Pay: $2104
Specialist (E-4), Min Pay: $2330
Corporal (E-4), Min Pay: $2330
Sergeant (E-5), Min Pay: $2542
Staff Sergeant (E-6), Min Pay: $2775
Sergeant First Class (E-7), Min Pay: $3208
Master Sergeant (E-8), Min Pay: $4480
First Sergeant (E-8), Min Pay: $4480
Sergeant Major (E-9), Min Pay: $5473
Command Sergeant Major (E-9), Min Pay: $5473
Sergeant Major of the Army (E-9), Min Pay: $5473
Benefits
There are several benefits associated with MOS 68W, including medical insurance, paid sick time, vacation time, free housing and food, as well as tuition assistance:
Medical Insurance
The Army MOS 68W provides a wide variety of medical benefits, including mandatory health and accident coverage. Medical coverage is obtained through the special Program. The Program offers a wide variety of medical services at participating facilities where you can visit for routine checkups, routine hospitalization and inpatient care, and outpatient care. Service members' dependents may qualify for coverage too!
Paid sick time
Active-duty soldiers and airmen receive paid sick leave in the service, which is vital for physical, mental, and emotional health. The Soldier may use up to three days of sick leave for minor illnesses such as colds, flu, and upset stomachs. Paid sick leave may be used concurrently with any other paid leave time the Soldier is entitled to receive in accordance with applicable state and federal laws.
Vacation Time
Sick leave and annual leave earned as a Soldier or as an Officer may be used as vacation (vacation leave). Vacation hours earned as a soldier may be used for any purpose the Soldier desires, except those military obligations that require immediate retention on active duty. Vacation hours earned as an officer cannot be carried over to the next calendar year.
Free Housing and food
The Army MOS 68W provides a wide variety of benefits, including housing and food allowances. Soldiers are eligible for the Basic Allowance for Housing (BAH). The BAH is paid into your bank account each month and will cover rent, utilities, furniture rental, and other miscellaneous expenses related to quarters. This allowance can be used to help offset any housing expenses not covered by the BAH, such as mortgage or interest payments on loans secured by Army-owned real estate.
Tuition Assistance
The Army MOS 68W is eligible for Tuition Assistance (T.A.) to help pay for college courses. The Soldier must be enrolled in a degree or certificate program at a qualifying institution. The tuition assistance courses must lead to an associate's or bachelor's degree or another credential such as a vocational certificate that will make the Soldier more valuable to the Army and U.S. society in general or improve the Soldier's performance of his or her duty assignments.
Clothing Allowance
All enlisted active-duty soldiers and airmen receive a clothing allowance to replace clothing that is lost or damaged while in the service. The Clothing Allowance (C.A.) is paid into your bank account each month and will cover any necessary replacement costs for uniforms, work clothes, etc.
Job Opportunities
There are varieties of Job opportunities associated with MOS 68W, as shown below:
Emergency medical technicians
Emergency medical technicians (EMTs), also known as paramedics, are health care providers who help in cases of emergency medical situations. They provide immediate onsite intervention and transport to more advanced levels of medical care for sick, injured, or wounded people.
Medical assistants
Medical assistants assist physicians by performing administrative and clinical duties that help the physician diagnose and treat patients. Medical assistants can enter data into computers, administer medications that doctors prescribe, or draw blood for lab tests. They also may give shots to patients with allergies or administer other injections like vaccinations. Medical assistants usually work under the supervision of doctors, nurses, or other healthcare professionals.
Physician's assistants
A physician's assistant (PA) is a healthcare professional with a health care education background that includes an entrance-level masters' degree. Although most P.A.s work in clinical practice with physician supervision, some are employed by hospitals, and others work independently. Physician's assistants can assist in surgery, including with anesthesia. In many places, they can prescribe medications for patients as well as perform many clinical tasks previously done only by physicians.
Health Education Specialists
Health education specialists are often referred to as "health educators." The primary role of a health educator is to educate the public about health-related issues. Topics may include disease prevention, health promotion, exercise, nutrition, smoking cessation, stress management, mental health issues, and many other health-related topics. Health educators work in many different settings, including primary care clinics, hospitals, rehabilitation centers, and in-home visits.
Paramedics
Paramedics are health care professionals that work with other health care providers to diagnose and treat patients. They work in emergency rooms but also provide services at hospitals and other locations. In some locations, paramedics can treat illnesses or injuries while driving an ambulance, which carries the paramedics to the patient's location from the scene of an accident or an emergency department visit.
Summary of MOS
A Combat Medic Specialist (MOS 68W) is primarily utilized by the United States Army and United States Air Force. This job requires a thorough knowledge of both field medicine and trauma management, though some civilian blood-borne pathogen training may be required. Soldiers who are selected for this MOS are required to meet physical fitness standards, which will be an interesting process.
The role of an Army Combat Medic is to provide emergency medical treatment primarily in combat and other tactical situations. Medics are qualified to do initial emergency interventions that can stabilize injuries, primarily intravenously given medications or fluids. As medics progress in their training, they will learn how to treat more serious injuries while continuing with the initial stabilization efforts.
FAQs
What is 68W?
The Army Combat Medic Specialist, MOS 68W, is an Army healthcare specialist qualified in emergency medical treatment and evacuation.
Is 68W a good MOS?
The MOS of combat medic specialists is one of the most sought-after jobs in the military. This specialization appeals to soldiers who are interested in providing lifesaving care to our wounded service members. For those seeking to experience varied assignments during their military careers, this job offers many opportunities for training and travel.
What does a 68W do in the Army?
The primary role of the combat medic is to provide emergency medical treatment to all types of wounds, both life-threatening and non-life-threatening, during any type of operation. He or she is also qualified to provide pre-hospital care in combat situations. The Army Combat Medic Specialists (68W) provides emergency medical treatment to combat troops and casualties on the front lines of armed conflict.
How much does a MOS 68W make?
The median total pay for all MOS 68Ws, including experience and other earnings, is $56,000 per year.