A senior's agility greatly affects their ability to safely care for themselves. These eight exercises will improve a senior's stability and mobility, as well as their cognitive function.
In fact, a senior's agility greatly affects their ability to safely care for themselves. These eight exercises will improve a senior's stability and mobility, as well as their cognitive function.
Although it is very important for seniors to stay mobile and agile for their safety and health, you can't always afford to join a gym or take dance lessons. So if you want to improve your agility at home, you can use a few simple exercises and add them to your daily routine.
Even if you are physically fit, these exercises will still improve your balance and stability greatly. This will greatly improve your ability to get up and move around as well as walk and run. If you have never done any physical fitness exercises before, these can still help you greatly in the long term.
The Benefits of Agility Training for Seniors
The benefits of agility training for seniors will greatly improve a senior's balance and stability. A stable body is much less likely to be injured or have joint problems as they get older. Your bones and muscles also become much stronger when you do physical exercise regularly. This will make you less likely to fall, which can result in hip fractures that lead to immobility and chronic pain.
Moreover, this will also improve your flexibility, which will make it easier for you to get up and move around the house without injuring yourself. It will also make it easier for you to have a faster walking speed, which is especially important when you are out and about in busy places. Regular physical exercise can also lead to better blood flow, which means your body is more able to heal quickly after an injury.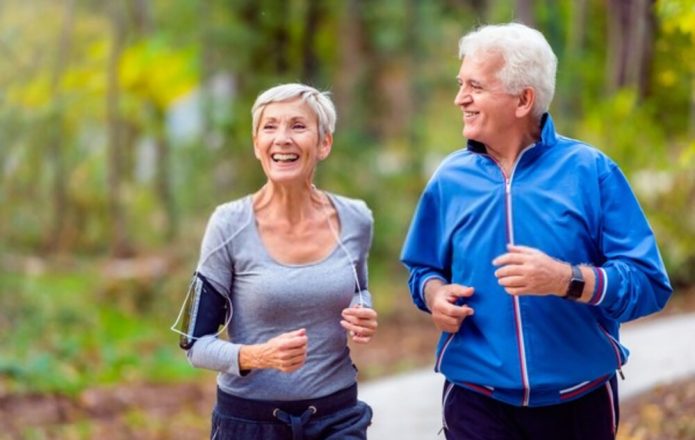 Besides, the human body constantly adapts to the stresses you put it through, by doing these exercises on a regular basis you will become much more agile and fit. This will boost your confidence and your ability to enjoy many activities that you used to like doing. Physical exercise has also been proven to increase your cognitive abilities, especially your memory and learning skills.
Lastly, if you have arthritis or other joint problems, these exercises will make it easier for you to move around and do the things you need to do every day. Daily activity is the best way to maintain good health, and physical exercise will greatly improve your health and quality of life.
These are just some benefits of daily agility exercises for seniors, but the more you do these exercises, the better your body will become. You can also add them to your daily routine for an extra boost in strength and mobility every day. You can do these exercises at home without any special equipment or equipment, so you will always be able to do them when you need to.
8 Best Agility Exercises You Can Do Every Day
Most people think that the older they get the slower they move. That's true if we only consider our physical body movements; however, there are other ways we can stay agile as our age increases.
If you're looking to increase your agility, improve your fitness, and work on memory skills, try these exercises.
Side Shuffle
The side shuffle is a good exercise to warm up your senior legs, which tend to tire easily. It also builds up your hip muscle tone, which is vital for balance and staying injury-free.
Stand with your feet just outside your hips, shoulder-width apart. Bend your knees slightly and point toes up into a short stride. Keeping your eyes on the floor in front of you and your chest up, shuffle to the right for one step, then to the left for one step. Keep shuffling back and forth for five minutes.
Carioca Drill
This is a great agility drill for senior soccer players. The Carioca Drill is a dynamic movement that works on transitions, foot speed, and balance.
The feet should be shoulder-width apart. Step forward with your right foot and then the left while keeping your chest up and shoulders back. This is one rep of the drill. Reverse direction by stepping backward with each foot and bringing your right foot in front of the left and moving then left foot back in front of your right for another rep. Continue for five minutes on each side to complete one circuit of eight reps.
Scissor Jumps
A great exercise for those with decreased speed, the scissor jump is a fun way to enhance your speed.
Start by standing on one leg, bent at the knee so you have a complete range of motion. Point toes up into a short stride and takes off into the air. In mid-air, cross your legs in front of you, landing on both feet. Repeat a total of eight times on each side. Repeat two more times on each side, this time keeping your crossed legs behind you while in mid-air.
Quick Feet
This exercise is designed to help you move your feet more quickly and stay balanced on your legs for long periods of time.
Stand still, feet evenly spaced out and a little apart, knees slightly bent in the same direction as your feet. To change directions while moving forward, simply release your foot from the rest position; move it ahead of a step before you let go of it. Continue shuffling forward with this movement pattern for 30 seconds.
Knee Tuck Jumps
This exercise combines the side shuffle with the jump. It's a great warm-up for anyone wanting to improve their stability and balance.
Stand with your feet just outside your hips, shoulder-width apart. Bend your knees slightly and point toes up into a short stride. Keeping your eyes on the floor in front of you, bend both arms in and out while lifting one knee into the air as high as you can. Lower the knee back to the ground. Repeat this knee lift motion for one minute, keeping your elbows and knees bent at about a 90-degree angle.
Side to Side Hops
Side to side hops helps maintain foot and leg strength that is otherwise lacking in the average senior. You can use a chair or wall to provide support, if necessary.
Stand with your feet hip-width apart and your arms at your sides. Hop to the right, then hop back to center, then hop to the left, then hop back to the center. Continue for five minutes.
Burpees
Burpees will do more to improve your agility than any other exercise. They will increase your cardiovascular fitness and build up your leg, hip, and abdominal strength, which helps improve balance and stability.
Stand with your feet shoulder-width apart. Bend down, bringing your hands (and toes if possible) to the floor. Then jump up into a squat position with your hands on the floor in front of you, then kick out both legs back so you are in a push-up position. Then pull your legs back in, bring your knees to your chest and stand up. Repeat for one minute.
Flutter Kicks
The flutter kick is similar to the side shuffle, but here you're moving your feet in toward your body. It's a good exercise for seniors who have trouble lifting their feet up off the ground.
Start lying face-up on the floor. Lift your legs up, keeping them straight. Then flutter your feet up and down in a straight line. Keep your knees and hips off the floor and make sure your arms are relaxed, supported by the floor.
The older you get, the harder it is to recover from an injury. Lack of flexibility and mobility can leave you feeling stiff and sore. While it's not easy to build up your strength, increasing agility is one of the quickest ways to improve your overall fitness level. Agility is highly transferable too, so as soon as you feel like running again, start doing these agility exercises.
FAQs
Why should seniors do agility exercises?
Agility exercises are a great way for seniors to improve their balance, strength, motor skills, coordination, and cognitive abilities. They also burn calories!
How do I start agility training?
Start with just a few basic exercises that you can easily do at home or in a small space. Build up your skills gradually until you can complete the entire exercise routine.
How much should seniors train?
You should train as often as you can! Daily training will help to improve your overall strength and improve your ability to do agility.
What should I do when I feel tired or sore?
You may become tired or sore from exercising, which is fine if it does not continue for too long. You may have a specific injury that is affecting your knee or ankle, so if you experience a decrease in your joint range of motion, it is best not to continue exercising until the pain resolves.
What should I do if I have joint problems?
Be sure to check with your doctor before doing agility exercises. For some people, joint problems may require modifications. If you have severe arthritis or a painful injury, you might want to skip the exercise routine and take it slow when first starting out.