Founded by one of the biggest distributors of accessories and bike parts globally, All-City bikes satisfied the market of urban-oriented bikers, commuters with the perfect style and quality. Apart from the standard commuters, they also produce some premium podium-winning road and track bikes.
If you wish to look for more bicycle brands, please check out our list of top-rated bikes brands.
Overview of All-City Bikes Brand
In 2007, the All-city bikes company was founded in Minneapolis by Quality Bicycle Products (Q.B.P.). They produce the bikes for single-speed, gravel, and messenger markets.
All-city bikes are admittedly on the premium end of the price range; they are constructed to last and require minimum maintenance and upgrades. They focus on making beautiful bikes performing well year after year.
As the light-hearted passionate bike brand, All-city serves you well on your trips to take you wherever it should be.
The urban landscape inspires All-City bikes; hence, they produce a range of all-road, road, city, and race bikes. Their goal is to make an outstanding contribution to the urban cycling culture and equipment.
All-city Bike Ranges
They have produced a range of road, commuter, trail, and track bikes at different price and quality levels. The mainframe of All-city bikes is made from the proprietary air-hardened, A.C.E. steel tubing method with an outstanding bike style. Apart from the A.C.E. steel, they also use a few Chromoly steel and aluminum for bikes' frames.
This brand designs the bikes for fixies and commuters who expect lightweight and steel road bikes. They are also custom designed and pay attention to the market of advanced bikers with a medium or high budget.
The modern bikers will be impressed by the eye-catching style and the details of bikes. Unfortunately, although it is expected, the bikes selection is limited, and they do not make any bikes for kids as other brands do.
You can get All-city bikes in some official brands. If you can not find a dealer in your place, follow the links provided under the bikes and look for Q.B.P. web, and you can see further options. Down below, some of the best bikes are waiting for you!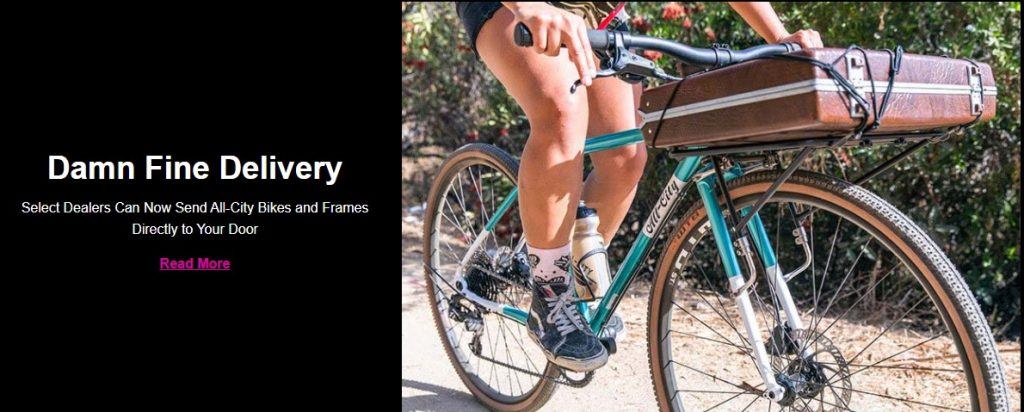 All-City Cycles Bikes Ranges
The main bike categories of All-City include:
Road Bikes
All Road Bikes
City Bikes
Race Bikes
Don't waste your time. Get started in specific models!
Most Popular All-City Bikes
Road Bikes
Zig Zag – All weather condition road bike!
| | |
| --- | --- |
| | |
| Zig Zag 105 ($2.599 Complete/ $1.350 Frameset) Frame: Extruded steel Fork: Whisky thru-axle, carbon blades, tapered carbon steerer tubeDerailleur: Shimano 105 R7000Saddle: All-city GonzoBrake: Shimano Hydro | Zig Zag Ultegra ($4.150 Complete/ $1.350 frameset)Frame: Extruded steel Fork: Whisky thru-axle, carbon blades, tapered carbon steerer tubeDerailleur: Shimano 105 R8000Saddle: All-city GonzoBrake: Shimano Hydro |
If you are looking for lightweight steel road bikes, Zig Zag will be a must choice. These bikes are designed for excellent speed, comfort, and standout style. Besides, the Zig-Zag model is designed for long-distance comfort. This brand offers two variations, including Zig Zag ultimate and 105.
These bikes feature the A.C.E frame with whiskey no.9 carbon fork and the custom dropouts and seat collar. Its flat-mount brakes offer clean aesthetics, control the descents and make reliable braking in harsh conditions.
Zig Zag has 700 x 28 c tires, which comes with enough clearance for fenders. Hence, you can use it nicely in any weather conditions, fit larger tires for even graveling. Besides, its signature engraved logo shines together with the classic look.
Additionally, its hidden fender mounts support to avoid spray-on wet surfaces with the sleek or cleverly placed fender mounts.
All Road Bikes
Cosmic Stallion
| | |
| --- | --- |
| | |
| Cosmic Stallion Force 1 $3.999 Frame: Extruded steel Fork: Columbus Futura CrossDerailleur: SRAM force 1Saddle: All-city GonzoBrake: SRAM Hydro | Cosmic Stallion GRX $2.699 Frame: Extruded steel Fork: Columbus Futura CrossDérailleur: Shimano GRX 810Saddle: All-city GonzoBrake: Shimano Hydro |
With these models, you can be free from the gravel, fire road, and ambitious riding. These bikes can be ideal for racing and training as well. Moreover, they produce three versions constructed by using the custom A.C.E steel tubing and another using titanium.
All-city makes two group set options, including Force 1, which features the 11-speed SRAM Force 1 drivetrain, and the GRX using two by Shimano GRX 11 speed mixed. The GRX version is cheaper than Force 1. The frameset from titanium is not as fully built as bikes. Hence you can customize as you expect.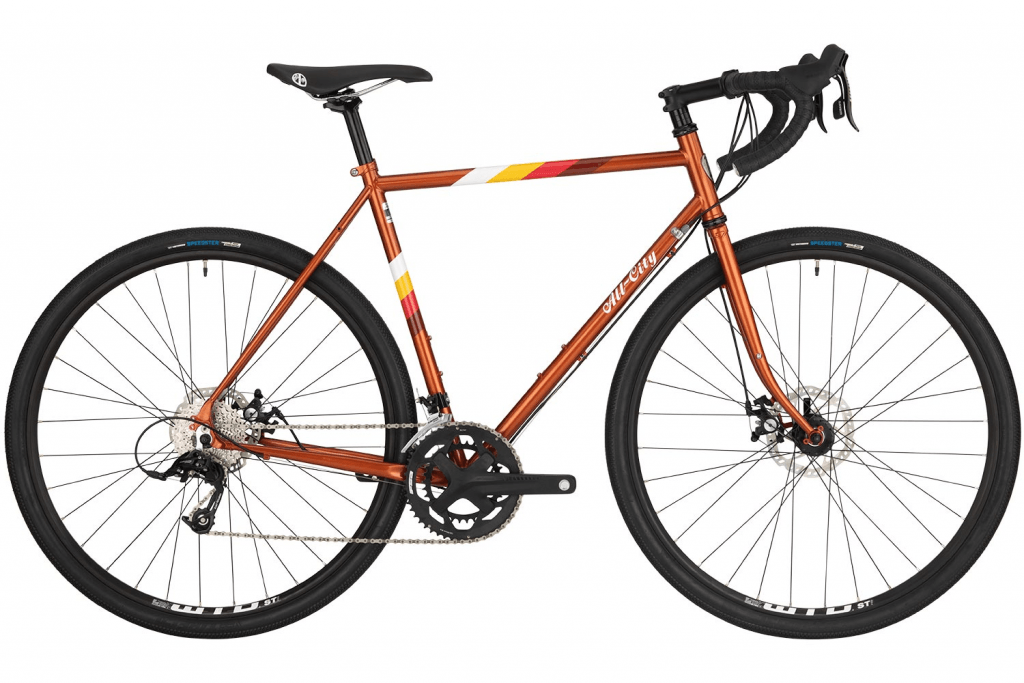 Space Horse ($1499)
Frame: 612 select chromoly steel
Fork: Space Horse Fork
Derailleur: Shimano GRX RX400
Saddle: All-city Gonzo
Brake: Shimano Hydro
This model is much cheaper than the two all-road bikes above, and it is one of the most affordable road bikes with a strong frame and fork from 612 select steel tubing. Besides, it is very versatile with 700c wheels and the clearance for 42mm tires. Thus, it is perfect for classic bike touring or work traveling.
Its 20-speed groupset will offer more than enough gear range for carrying you to the hill with a heavy load.
Gorilla Monsoon
Gorilla monsoon GRX ($2.599)
Frame: 612 select chromoly steelFork: Gorilla monsoon Derailleur: Shimano GRX RX812Saddle: All-city GonzoBrake: Shimano Hydro
Gorilla Monsoon Apex ($2199)
Frame: 612 select chromoly steelFork: Gorilla monsoon Derailleur: SRAM APEX 1, long cageSaddle: All-city GonzoBrake: Jagwire KEB-SL Black
Gorilla series are designed for cross racers and dirt track seekers. These models have the 612 Chromoly steel, the wide tire clearance of up to 42mm for 700c wheels. Hence, you can quickly deal with any terrain.
This adventurous and steel-framed bike is targeted at cyclists who like touring and bike packing. Besides, it has the routing for dropper seat posts and mounts for racks and fenders, so you can be ready to hit the mountains any time.
They offer two variations as above. The Apex one is in the bronze fade color with a lower price, while GRX is a more expensive and golden fade color.
City Bikes
Big Block ($1199)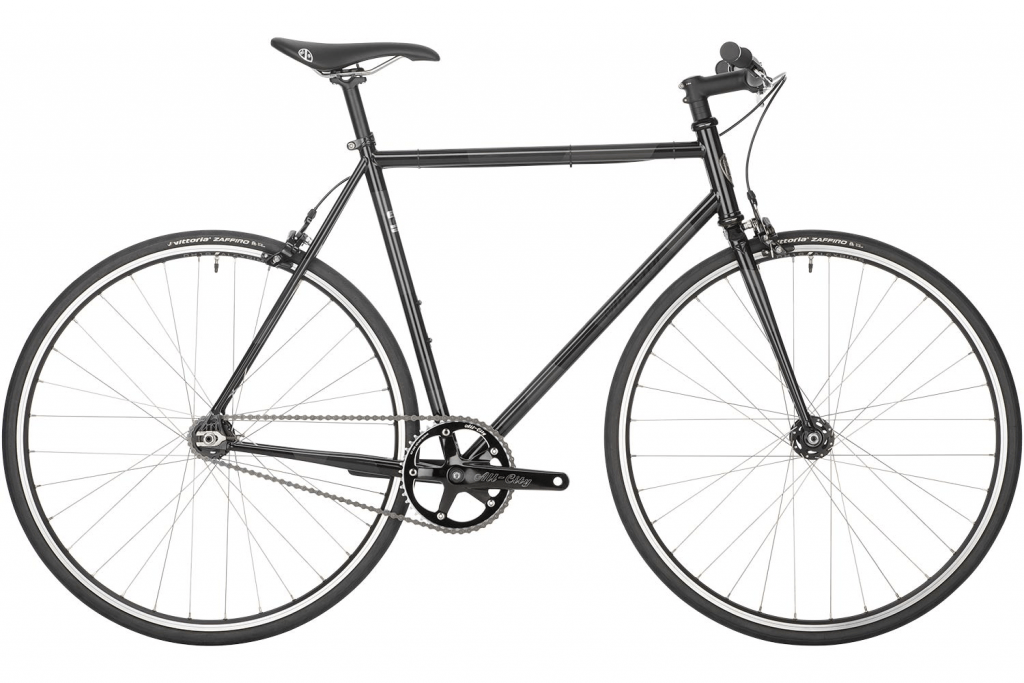 Frame: 612 select Chromoly steel
Fork: Super professional signature fork
Saddle: All city gonzo
Brake: Tektro R539
Big Block is considered the street-legal track-inspired bike, and it has a steel frame making it a comfortable bike if you ride along the city streets. With the maximum 32c tire width, this bike is a good choice for urban riding on untamed roads.
These bikes have front and rear mount points, which are helpful to attach some for extra safety. Moreover, its simple and minimalist design needs almost no cleaning or maintenance. Hence, you can enjoy more time on the saddle.
With the 700c x 28c rims and tires, these bikes are ideal for zipping around the city, traveling to work, or just visiting neighbors. Primarily, it is E.D coated for much more durability and rust prevention.
Super Professional

Super professional Apex 1 ($1650)
Frame: 612 select chromoly steelFork:Super professional signature forkDerailleur: SRAM APEX 11 spd long cageSaddle: All city gonzoBrake: Tektro HD-R280
Super Professional Single speed ($1350)
Frame: 612 select chromoly steelFork: Super professional signature forkSaddle: All-city GonzoSaddle: All city gonzoBrake: Tektro HD-R280
Super professional comes in 2 models, single speed and geared. Both use the 612 select Chromoly steel frame, wide tire clearance up to 45mm for 700c wheels; hence, these bikes can make you turn the bike from commute to the trail quickly.
The lightweight and steel framed bike is unique. It is stiff and durable for an excellent response for quick and tight cornering. Not only for touring or commuting but also it is suitable for gravel or racing.
For those looking for a bike to travel as much as possible, the single-speed bike is one of the best options with the least amount of maintenance for the long run.
Race Bikes
Nature Cross
Nature cross geared ($2.499)
Natural cross single speed ($2.009)
Frame: A.C.E air hardened, extruded steelFork: Columbus Futuna CrossSaddle: All city gonzoBrake: Jagwire SLICK black
Natura Cross is a bike for the racer. It features two variations, including geared and single speed. In addition, both models are equipped with the All-city A.C.E steel for the frame, which is durable, making it last for the lifetime of races.
Besides, the bike is constructed to take the series up to 42mm in width, although it is optimized for 33mm and 700c wheels. This bike version also comes with the SRAM Rival by groups set and the Sunrace 11-36 cassette. Thus, you are able to deal with most of the climbs simply.
Thunderdome ($1650)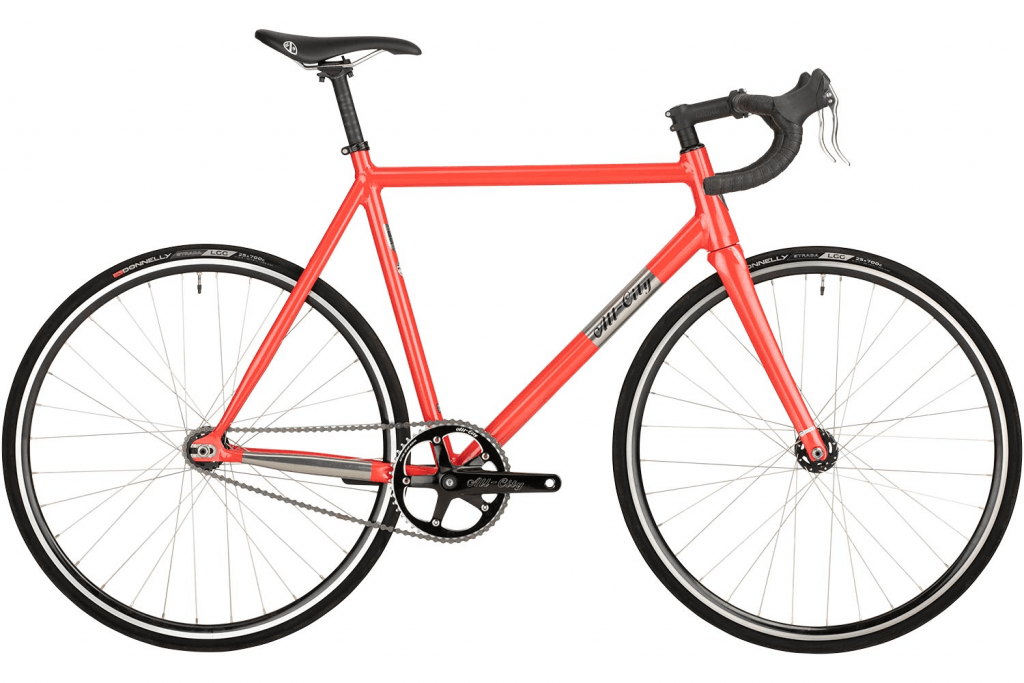 Frame: Alumasonic, TIG Welded
Fork: Whisky No. 7 RD Tapered
Saddle: Tektro R326
Brake: Black saddle
This is the only bike in All-city's product line made from Aluminum. The round profile 7000 series tubing is accompanied by the Whisky number 9 carbon fork and finished with a tapered steerer.
Thunderdome is built to last with the sliding rear dropout and the stainless steel axel pads. Moreover, its 49t chainring and 17t cassette are always ready to light up the boards at the local velodrome. Primarily, the manufacturer mainly provides the mount for rear and front brakes. All components are done in polished silver, which provides the bike with an attractive look and a professional appearance.
All-City Bike Price Ranges
As mentioned at first, all bikes from All-City are at the mid or high-end price range, so you can not find the bikes at the range less than $1000. However, they are not too expensive, and the most expensive one costs you up to $4.250 (Zig Zag Ultimate). So mostly, All-city bikes will be around $1.500- $2000.
Are All-City Bikes Any Good?
Yes! 100% good bikes, they are all made from perfect materials with nice looks and excellent features. Besides, each bike delivers a different style and color combination; you would always feel fresh on the ride. Their bikes inspire you to ride and enjoy your riding. Primarily, like my thoughts, they represent fun and enjoying what riding is all about.
All-City bikes offer a three-year warranty which is very worth it.
For the size, All-city does not provide suggested heights for their bikes sizes. They recommend contacting the local bike shop. It is not famous for riders to select the bike one size down from the usual size. Therefore, they have been sized as the seat tube length rather than the top. Because each bike will have different frame measurements, you should check out the product page before choosing.
All-city vs Surly
(All-City Space Horse vs. Surly Midnight Special)
| | | |
| --- | --- | --- |
| | | |
| Models | Space horse ($1499) | Midnight Special ($2.009) |
| Category | Gravel | Gravel |
| Frame | Steel | Steel |
| Wheel size | 650/700c | 650/700c |
| Groupset | Apex, FSA | Rival 1 |
| Gear range | 63km/h | 50km/h |
Don't miss this section if you're wondering between the Surly Midnight Special and All city space horse.
First of all, both brands are from the same company – Quality Bike Parts, hence, we will not need to worry too much about the quality.
Space horses from All-city will give you a little more upright position for the same reach; however, the steel steerer, you might find stacking spacer to get up to the similar stem clamp position on them either. Hence, the geometry differences that matter are the steeper head angle and the shorter wheelbase of the Midnight Special.
The components on the Midnight Special are a little better. Hence, it looks like you are getting a good deal with the Surly. Hence, the result is that the model from All-city will be the winner for the price.