Poor posture, stiff joints, and a sedentary lifestyle can leave senior adults feeling achy and stiff in the morning. Thankfully, there are many simple morning stretches that can help combat stiffness. Here's the list of the best stretching exercises for seniors.
Everyone knows that stretching before and after a workout can improve your performance and decrease your risk of injury. But did you know that it's important to stretch in the morning as well? There is nothing like starting the day off right by waking up with a good range of motion in your arms. Stretching is also great for relieving any stiffness or tension in your muscles, allowing them to reach full potential after an evening's rest.
Especially if you're a senior who has been struggling with stiffness and soreness in your joints, you should start making stretching a part of your daily routine. Not only can it improve strength and flexibility, but it can also help prevent injury and keep you feeling energized throughout the day.
Here are the 7 best stretching exercises that seniors can do in the morning to combat stiffness and pain.
Impact of Age on Flexibility
The two most common reasons that we lose flexibility as we age are:
Normal aging: The average person loses about 2% to 3% of their flexibility each year. The loss comes from the tissue at the joints getting tighter and making it harder for the muscles to move.
Injuries: Injuries can make you more likely to lose your range of motion because the body will tighten around the injury, causing a decrease in flexibility.
Although it is important to warm up before a workout, there is no need to stretch before bed. On the other hand, taking 10 to 15 minutes in the morning to stretch will help you wake up and feel more limber. It will also help increase your range of motion so you can perform everyday tasks such as dressing, cooking, or cleaning more easily.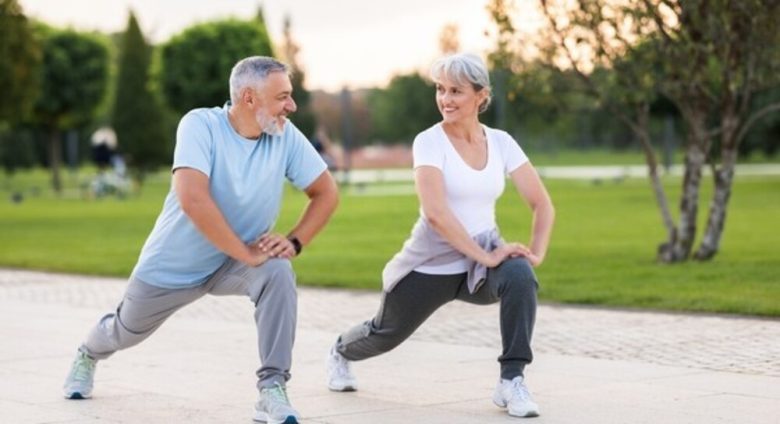 7 Best Stretching Exercises for Seniors to Do Every Day
Senior citizens often need to warm up their joints before doing other exercises as they're starting to stiffen as they age. Stretching can help prevent injuries and keep your muscles flexible, improving the quality of your life.
Most seniors find morning stretching routine, but if you're not looking forward to it or have some health concerns that make it impossible then there are still ways you can improve your life by following this routine. There are 7 best stretches for senior citizens that will help you wake up feeling refreshed without any pain in your joints.
Neck Side Stretch
This stretch will help with neck stiffness and relieve tension in your upper back, neck, and shoulders.
While sitting straight up on the edge of a bed, stretch your neck to the left and right. Hold for at least 10 seconds, then release. Repeat with the other side. Make sure to keep your shoulders and back straight and tense the muscles in your face and neck.
Side Stretch
This stretch will help you breathe better, lift weights with greater ease, and enhance performance.
While standing straight up, reach your right arm up to the ceiling, then slowly bend to your left until you can reach behind you. Keep the muscles in your back straight and tense the muscles in your face and neck. Hold for at least 10 seconds, then release. Repeat with the other arm. Make sure to keep your shoulders and back straight and tense the muscles in your face and neck.
Upper Back Stretch
This stretch will help relieve tension in your upper back and shoulders, because the shoulder blades are pulled down allowing them to relax.
While sitting straight up on the edge of a bed, slowly pull your shoulders back and down while slowly raising your chest up and out to the side. Make sure to keep your shoulders and back tense. Hold for at least 5 seconds (or longer if necessary), then release. Repeat on the other side.
Chest Stretches
This exercise will stretch your chest by gently rotating your shoulders. It not only improves flexibility but relieves stiffness.
The first stretch is a corner stretch. Find a corner in your house and place a hand on each corner. Stagger your feet, and bend the front knee forward pushing your head towards the wall. Try to squeeze your shoulder blades, or scapula together like you are pinching them together. Next, clasp your hands behind you, and push your hands downward and push your chest out. Do each of these 3 times for 30 seconds.
Standing Trunk Extension Stretch
This stretch will help tensed or stiff upper back muscles and relieve tension in the upper back and shoulders.
Stand up straight, with your arms at your sides, and lift up your chest while stretching your neck to both sides of the body. Hold for a few seconds on each side, then release. Repeat several times throughout the morning.
Hamstring Stretch
This stretch is good for your hamstrings, calves, and lower back.
Start sit on the ground with your legs straight out in front of you, and bend the leg you are not stretching towards you. Keep your back and knee as straight as you can. Pull your toes towards you, and lean forward bending at your hips until you feel a stretch.
Standing Quad Stretch
This stretch helps relieve stiffness in the quadriceps, calves, and back.
Stand on one foot and stretch your other leg up and back to the point where your knee is pointing out and hands are pointed down. Hold for 10 seconds, release, then repeat with the other leg.
There's no better feeling than waking up early on a Sunday morning and doing some morning stretches. If you're an elderly person, then these seven exercises might be just what you need to feel renewed as the day begins.
Often when people get older, they can feel stiff and their joints and muscles can feel stiff and tight. If not dealt with, this will only get worse over time, and you may even face serious injuries. Waking up to morning stretches is a great way to get your day started the right way and just think of the stretching benefits! Better flexibility, increased energy, improved mood, morning stretching can truly do it all.
Remember to Stretch Safely
When doing stretches, ease into the exercise gradually. If you are just beginning to exercise, participate in simple, low-impact exercises that are not strenuous for your joints. Here are some other safe stretching tips:
Stretch only as far as feels comfortable, don't push too hard or too deep.
Breathe: take deep breaths in and out rhythmically during the stretch, visualize breathing into your muscles to release tension.
Try different stretches with each muscle group. Stretching muscles attached to joints takes care of flexibility in those joints.
It's best to stretch in the morning when your muscles are loose. Do not stretch if you have any injury, pain or illness.
Most people have regular work out days in the gym when they stretch for best results. However when regular work outs are not an option, try these exercises at home or outdoors to make sure you get the most out of your stretching session.
Many seniors incorporate stretching into their morning routine, but if you have a chronic condition that makes it difficult to stretch safely or without much pain, consult your doctor or physical therapist before starting new stretches.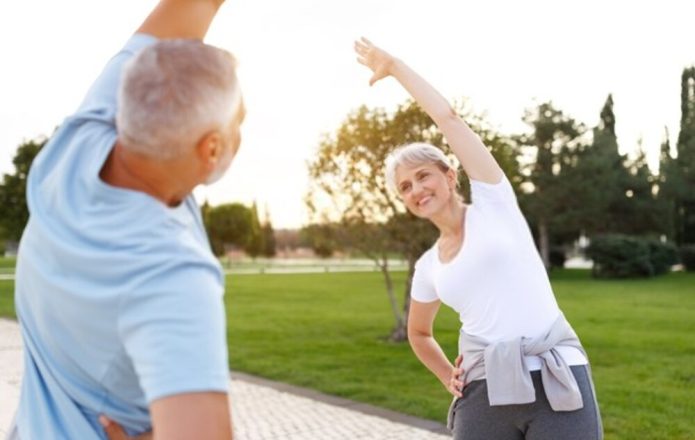 FAQs
Is stretching good for seniors?
Yes. Stretching exercises are specifically designed to make seniors feel better, lighter on their feet, and stronger in their bodies.
How do morning stretching exercises help me?
Stretching exercises help reduce the risk of falls among older adults. It can also have other health benefits, including reduced osteoporosis and arthritis.
How long do morning stretching exercises take?
Morning stretching exercises usually take less than 15 minutes and can vary depending on what you want to accomplish and how often you do the techniques.
How often should I do morning stretching exercises?
You should do these simple exercises daily, but remember that any exercise is better than none at all! If you want to get the maximum benefit of stretching, do it every day.
Which stretching exercise do you recommend I start with?
Try all of these popular morning stretching exercises to find out which one is right for you! Remember, everyone is different – what works well for one person may not work well for another.