If you are in need of finding a perfect bike for speed, then Cervelo might be the brand just for you. For more than two decades, the company's mission has been to use its aero proficiency to develop and create the fastest bicycles across the globe.
No matter if you just set a new personal achievement in terms of speed, catch up with your cycling friends on a group ride, or even win the big races, Cervélo bikes are designed to help you reach your goals. However, the question here is how you decide which Cervelo bike is the most suitable one for you.
Don't worry! In this article, I will cover all the Cervelo bikes, from road to gravel, track, and time trial that the brand is currently offering. I will also cover the design and technology of these bikes so that you can understand more about this premium bike brand's lineup. From that, you will make a better buying decision.
Part of Best Bike Brands.

Overview of Cervelo Bike Company
In fact, Cervélo was one of the first bike brands to entirely apply aerodynamics to bicycle design. It has become one of the most desirable bicycle brands among professional triathletes and riders who have regard for performance above anything else.
History of Cervelo Bike Company
Cervelo is a Canadian brand that was founded in 1995 by Gerard Vroomen and Phil White, and made its debut at the Toronto Bike Show in 1996.
Both Gerard Vroomen and Phil White have a great background in human-powered bikes since 1986, and the brand's first focus was on time trial bicycles. Until these days, the P series – time trial and triathlon bicycles – are still highly appreciated. What's more, they are going beyond the limits of frame build and development.
However, the Pon Bicycle Group (PBG) bought Cervelo in 2012. At the period of purchase, both founders continued to work with PBG Group. In particular, Phil White continued to serve as CEO of Cervélo, and Gerard Vroomen moved to the business development department with PBG.
Three years later, in May 2015, the brand signed a collaboration with British Cycling in five years. At first, the change can cause some difficulty with the bike's fit because most athletes had to try to switch their measurements. However, after winning a lot of prizes, such as two bronze, four silver, and six gold in Rio, Cervelo bicycles have proven themselves to be not slow.
Undoubtedly, Cervelo bicycles in general and their track models, have got a lot of praise. For example, British Cycling called the Cervelo T5GB track bicycle one of the best aerodynamic track bikes that the Great Britain Cycling team has ever used.
What's more, both men and women in the Team Sunweb rode these bikes in the World Tour. Even though Cervelo doesn't manufacture frames specifically for women, the brand believes that the most important thing to a great fit is adjusting the contact point.
Where Are Cervelo Bike Company
All of Cervelo bicycles are designed and engineered in Canada, but manufactured in Asia. However, the company also has a Research and Development facility in the United States that makes limited numbers of its flagship bikes. For instance, the P5X and R5CA models are manufactured together with HED in Minnesota.
The Technologies of Cervelo Aero Road Bikes
Every Cervelo bike is integrated with a number of Design Features – the innovative technologies created by the brand's engineers to enhance their bike's performance across 5 major properties: aerodynamic, rigidity, ride quality, usability, and weight. All models are typically designed to make the only important difference: a difference that you can feel clearly right after the first ride.
And the 2019 S5 model is the perfect result of an extensive redesign, combining Cervélo's innovative aerodynamics knowledge with a focus on rider's needs and riding experience. It is also considered one of the most comfortable and fastest aero road bikes that Cervelo has ever produced.
Performance of Cervelo Aero Road Bikes
It could be said that engineering is at the heart of each bicycle that Cervelo creates. Therefore, what you will feel when riding a Cervelo bike, no matter what range it is, is very different compared to other bike brands.
Cervelo bikes are an excellent balance between handling, stiffness, and comfort. Most importantly, they deliver incredibly fast speeds. And as you might know, Cervelo has created one of the comfiest and fastest aero road bikes in the industry.
In particular, the bottom bracket is lowered to drop the cyclist's centre of gravity. This, as a result, offers better stability when turning and at higher speeds. In addition, trail length contributes to the greater balance.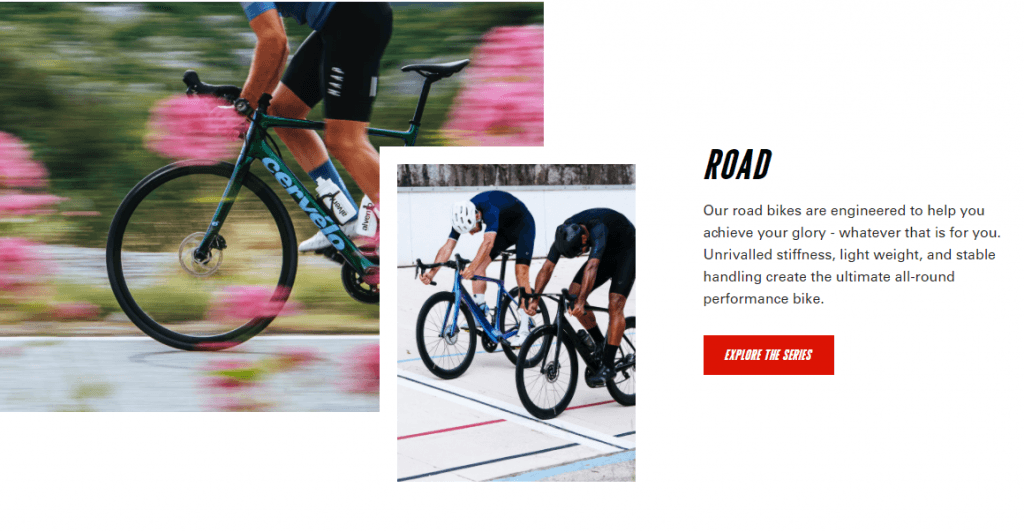 Cervelo Bike Categories
In general, Cervelo bicycles are divided into various lines geared towards specific riding styles and disciplines. There is a fun fact about the name of each Cervelo bike. If you notice, a letter in each bike name represents the intended use for each range.
For example, R indicates Cervelo classic road race bikes (including R3, R5, and R-Series), while S is used for Cervelo aero road race bikes (S2, S3, S5, and S-Series), C indicates All-Road/Endurance bikes (C3, C5), P is used in Cervelo triathlon and time trial bicycles (P3X, P5, and P-Series), and T stands for Track bikes (T4).
However, there are also some exceptions to this alphabetical naming system, which are the Caledonia All-Road bike and Aspero Gravel bike.
There are two or three models in each bike range. Cervélo uses a number to represent the model ranking. In particular, models with higher numbers are more advanced bikes (for example, R5, C5, and S5). These high-end bicycles are designed with better-modulus carbon fiber to decrease overall weight and enhance rigidity. They are also equipped with higher-end components and stronger geometries.
Road Bikes
R5
R-Series
S-5
S-Series
Caledonia-5
Caledonia
Time Trial and Triathlon Bikes
Track Bikes
Gravel Bikes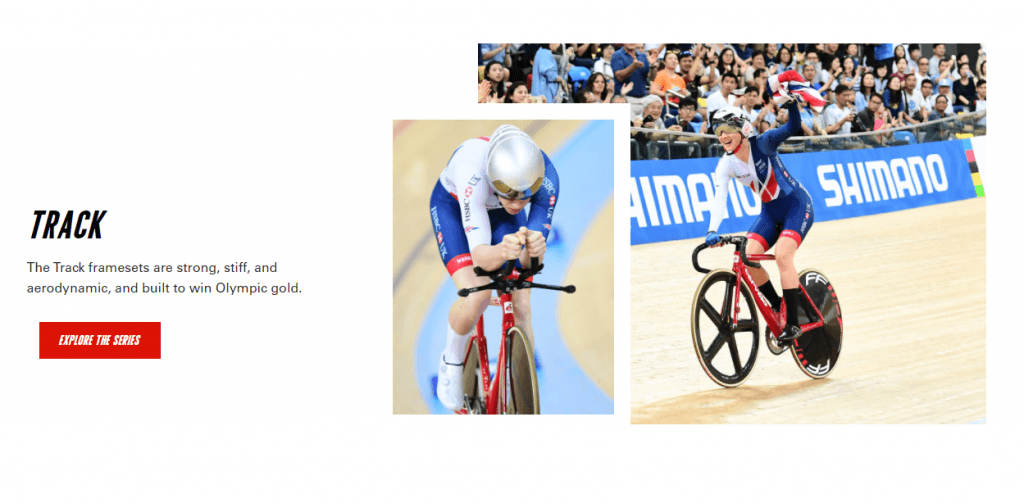 Most Popular Cervelo Bikes
As many of you may know, Cervelo is one of the most respected bike brands in the industry, with P-series triathlon bikes, S-series road bikes, and R-series road bikes. All of these models are typically designed to be used at the highest level in pro triathlon and bike riding.
Here are some of the most highly appreciated and popular Cervelo bikes:
Road Bikes: Cervelo R5/ Dura Ace Di2 Disc
Time Trial and Triathlon Bikes: Cervelo P5/ Ultegra Di2 Disc
Track Bikes: Cervelo T4 (frame only)
Gravel Bikes: Cervelo Aspero-5
Cervelo Bike Price Range
In fact, picking the suitable Cervélo bike is as simple as choosing the right model category for your cycling purposes and then choosing one that suits your budget and activity or performance needs. Top-end choices will be perfect for cyclists who need top performance without any compromise. Of course, they will need to pay more, but it is really worth it.
Road Bikes: $3,200 – $12,000
Time Trial and Triathlon Bikes: $3,200 – $12,500
Track Bikes: –
Gravel Bikes: $3,100 – $9,000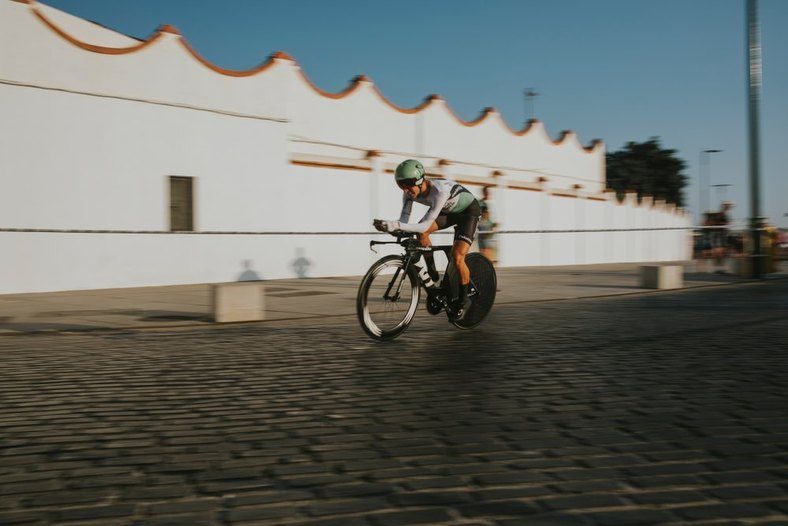 Are Cervelo Bikes Any Good?
Yes, Cervelo is one of the most renowned brands in the field of cycling. The company started its business with time trial and triathlon bikes. In fact, the Cervelo P model range has an unparalleled reputation in the world of triathlon and time trial. What's more, Cervelo time trial bicycles are among the most desirable.
Cervelo Vs. Specialized
Cervelo Bike Review
Cervelo is one of the most respected bicycle brands in the industry that offer R-Series road bikes, P-Series triathlon bikes, and S-Series aero road bikes. All of their bikes are especially designed to be used at the highest level in different races, such as professional triathlon and riding.
When it comes to road race bikes, Cervelo offers two most popular models, R5 and R-Series. These are considered the "classic" bicycles of the brand. However, they are so powerful that they become the most important weapon in terms of climbing. Cervelo develops these bikes with three top priorities in mind, including precise handling, lightweight, and sturdiness.
In addition, the company makes the most of the innovative "Squoval Max" tube geometries. Basically, these are the excellent blend between aerodynamic contours and square and oval cross-sections. As a result, it creates R-Series models with better geometries than the conventional round-tube bikes. What's more, it still offers targeted rigidness and diminishes weight in significant regions.
Cervelo R5 is considered the brand's flagship road bicycle with the most rigidity and lightweight properties. This bike is integrated with excellent "Pro-Fit" geometry for a more comfortable and flexible riding position.
Since the top-of-the-line Cervelo R5 is developed and manufactured based on professional racers' input, making them outstanding from different bikes from other brands. In addition, this makes the R5 less stack than the traditional R-Series. It also provides riders with a more relaxed and lower handlebar position, which will reduce fatigue after a long ride. It is also an attractive feature appealing to racers who are looking for the most aggressive riding position.
Specialized Bike Review
Specialized's bike range is very expensive, ranging from full-suspension mountain bikes to aero road bikes, kids bikes, electric bikes, and covering quite much anything in between. So it could be said that, in terms of bike categories, Specialized bikes offers more options for riders of all ages and skill levels than Cervelo.
As you might all know, Specialized road bikes are well-known among both professional and amateur riders. The brand is also one of the biggest bike companies in the world of cycling. Typically, the company develops quite many groundbreaking technologies that are highly sought after by lots of consumers around the world.
Even though most Specialized road bikes are particularly designed for performance, the company still puts certain focus on leading technician solutions and comfort. Through the brand's large number of models, it has strived to provide premium bikes that can compete with some of the best models in the industry. So, it is no surprise that Specialized is one of the top bike brands in the United States.
In fact, several road bikes from Specialized have been given five-star ratings by some engineering teams. What's more, their road bikes, gravel bikes, and aero road bikes are considered one of the best in the cycling world.
All in all, both Cervelo and Specialized offer some of the best aero road bikes in the industry. Cervelo bikes are typically geared towards professional riders, while Specialized provides a wider range of models for riders of all ages and riding styles. Bikes from these two brands are both high-quality and aimed at performance.
Cervelo Road Race Bikes: R5 and R-Series

In fact, R5 and R-Series are considered the "classic" road race bicycles of Cervelo. They are really powerful and considered excellent weapons when it comes to climbing. Three top priorities of these models are lightweight, rigidity, and accurate handling.
The bike takes advantage of Cervélo's "Squoval Max" tube shapes. These are the perfect combination of aerodynamic contours and oval and square cross-sections. This, as a result, makes the R-series better than the conventional round-tube models while providing targeted rigidity and decreasing weight in major regions.
R5 is considered the Cervelo's flagship road bike with the most lightweight and stiffest features. This model is equipped with great "Pro-Fit" geometry for a more flexible riding position.
One of the greatest things about the top-of-the-line model is that it is built based on input from professional racers. Therefore, it features less stack than the R-Series models, offering a lower and more comfortable handlebar position. This will appeal to riders looking for the most aggressive riding position possible.
Even though the R-Series are more budget-friendly and come in a little bit more upright and comfortable geometry, they are still geared towards high-performance racing or riding. In addition to the carbon construction, these models will save your money with mid-range powertrain options and an alloy cockpit.
In general, if you are a climber, all-rounder, or road racer, you might want to seriously consider Cervelo road race bikes. You can ride these models for different purposes, such as fast group cycling, racing, training, or simply weekend exploration.
Cervelo Aero Road Bikes: S5 and S-Series
Basically, Cervelo was considered the first bike brand to create the aero road bike concept with the Soloist Carbon model in 2001. Since then, it has developed into the brand's current S line of aero road bikes.
When it comes to aero road bikes, one of the greatest forces that racers have to overcome to expedite and keep the speed is wind resistance. And aero road bikes are especially designed to minimize drag so you can make good use of every last watt.
The S-series impresses with its sculpted aero tube shapes, full internal cabling, aerodynamic cockpit and low, aggressive riding posture. All of these features make the S-Series cheat the wind better.
When it comes to flat and rolling terrains, it could be said that nothing can beat bikes in the S-Series range. They are even on the top choice of some of the best sprinters in the world.
These bikes are suitable for climbing, but when it comes to big mountain climbing, most riders tend to prefer something from the lightweight R range.
Aero road bikes are usually less comfortable and a little bit more heavyweight than some other bikes. This is because they need to reach the smooth aero tube shapes. While more aerodynamically capable than their forerunners, the current S-series models also offer better overall riding experience and quality than previous aero bike models. What's more, they can even fit more comfortable, larger 28mm tires.
In order to maximize aerodynamic performance and rigidity, Cervelo equipped the CS28 stem for their new S5 models. It perfectly incorporates Cervelo's aero handlebars and offers an incredible built-in cable management system for easier assembly and adaptation.
Since the S-Series bikes are equipped with a regular aero stem, they can easily fit conventional round handlebars. In order to reduce aggressive riding position, these models are designed with a higher stack. Besides, the saddles are thinner to improve comfort for riders. Even though they might not be really stiff, they are still a great option if you want an aero road bike that is more comfortable to ride.
If you are a crit racer, sprinter, or just want to maximize your speed on rolling and flat trails, you might not want to miss these great powerful road bikes. Besides, if you want to have an aerodynamic advantage for your high-speed adventures, these bicycles are also a great choice.
Cervelo Endurance/All-Road Bikes: Caledonia-5 and Caledonia

It could be said that the Caledonia is one of the best endurance bikes of Cervelo all-road/endurance range. It was created in partnership with Team Sunweb as a dedicated endurance bike for gravel races in Northern France and Belgium. As you might know, endurance bicycles are typically built to last in these extreme conditions and minimize rider's fatigue while riding on rough terrains for long distances.
Endurance bikes offer much more comfort when compared to aero road race bicycles because of the more upright riding position. Generally speaking, these models are perfect for riders who aren't looking for a bike to race.
According to Cervelo, the Caledonia is designed to separate the difference between the road-orientated R-series and the gravel-concentrated Aspero, which is perfect for riders who want to do it all.
Since the Caledonia fits 35mm tires, you can hit the tarmac and explore different distant bumpy roads. What's more, it can handle gravel, dirt, and sometimes small singletrack. This model is very versatile thanks to the hidden fenders (up to 31mm tires with fenders). As a Cervelo bike, speed is still in Caledonia's DNA. So, the company equips it with shortened airfoil tube shapes to support aerodynamics.
In fact, the Caledonia model is not equipped with some compliance features, such as complicated tube intersections or micro-suspension, like lots of its competitors. According to Cervelo, it can achieve the desired frame compliance with smart tube placement and shaping.
Components are the key difference between the Caledomina and the Caledonia-5 model. The normal Caledonia uses a standard stem, saddle, and round bar. The Caledonia-5, on the other hand, features more advanced drivetrain options. For example, it comes with an aero seatpost, and all cables are completely built in an aero cockpit.
If you are riders who have made it to the big races, day in and day out, epic long-distance racers, you will not want to miss this incredible model. Besides, if you need a bike that is not only fast on the road but can also get through mud, dirt, back tracks, and gravel; or simply looking for more comfort on the road, these are a great option to consider.
Cervelo Gravel Bikes: Aspero

If Cervelo was going to manufacture a gravel bicycle, it was going to be very fast. Instead of riding on roads ready for extreme adventure, Cervélo intentionally makes the new Aspero, one of the most race-concentrated gravel bicycles in the industry.
This model is made of a high-quality carbon frame with more aggressive and lower geometry than almost all gravel bikes out there. Add to that fast handling, rigidity, low weight, and an aerodynamic tube shape, this Cervel Aspero becomes a real gravel weapon that other gravel bikes can't beat.
The Aspero models are typically made for two key races: Grinduro series and DK200 (to be renamed soon). The 650b set-ups offer more tread and tire volume, making it more suitable for the Grinduro. The 700c wheel and tire set-ups, on the other hand, are faster and better suit the DK200.
Of course, Cervelo wanted its Aspero models to feel fast and flexible regardless of settings. Therefore, it takes into account the various rolling diameters of different tire and wheel blends with an adaptable front axle.
What's more, when you vary the trail of the fork, you can get handling slower or faster with the different tires and wheel sizes. To make it balanced, the fork rake can be adjusted by 5mm thanks to the "TrailMixer" front axle. As a result, the handling stays the same no matter the tire sizes.
In order to optimize the steering geometry, Cervelo offers three different types of forks with rakes to accommodate the different Aspero frame sizes. So, you can enjoy the same handling properties no matter how tall you are.
If you are a gravel racer, you will not want to miss out on this perfect Aspero. Those who want to get faster handling might also need this bike. Cervelo gravel bikes are also a great option for off-road adventurers who need a bike that is as fast as possible and can leave added gear behind.
Cervelo Time Trial and Triathlon Bikes: P5, P3X, P-Series, and PX-Series

As you might know, Cervelo started its business with time trial and triathlon bikes. When it comes to triathlon, Cervelo's P range has an unparalleled prestige. What's more, lots of consumers sought after its time trial bikes. In fact, they have achieved lots of success at many of the biggest races across the globe.
Among different triathlon models, the P5 is considered the best one since it is approved to be Cervelo's top UCI-legal time trial bicycle. It is integrated with an advanced "Speed Riser" cockpit, making it much more simple for cyclists to adjust their positions.
If you have a tight budget, you can consider the new P-Series, which is a little bit more reasonable entry to the Cervelo P category. Even though you will not have the built-in changeable Speed Riser cockpit, the more conventional stem and bar let you adjust steering as needed. If you notice, there is a slight difference in the tube shapes. While the P-Series is not as modern as the P5, it is more budget-friendly and still an incredible fast model.
When it comes to the PX triathlon bicycles, Cervelo came up with the UCI rule book. The previous model has some shortcomings in terms of seat stays, seat tube, and non-UCI amenable tube depths. Keeping these in mind, the new Cervelo P3X has been improved on its forerunner, the P5X. In particular, the company increased the sturdiness and decreased the overall weight for improved climbing ability. More importantly, it is integrated with the Speed Riser cockpit.
Another useful thing about the PX-Series is the split base bar design. It allows you to disassemble it more easily, making it simple for transport. Both these models are geared towards the triathlon bike market, especially long-distance races. If you are going to some non-UCI events, such as Ironman, these bikes are among the fastest choices you should seriously consider. And, of course, triathlon athletes and/or time trialists will not want to miss out on these great bikes.
Cervelo Track Bikes: T4
When it comes to the track market, Cervelo also achieved great success. For instance, the British cycling team rode the Cervelo T5GB and won some Olympic medals in 2016. And that bicycle has since developed into the new T4 model, which is available for purchase to the general public.
The T4 is typically made exceptionally sturdy and stiff to meet the needs of athletes at the Olympic levels. Besides, it has been built around a very low and long geometry. The cutout saddle developed through the time trial P-series bikes and offers the added benefit of on-track aerodynamics. Nevertheless, the T4 is only available as a frame.
Fixed gear enthusiasts and track racers will absolutely fall in love with this one.
Who it's for: Track racers. Fixed gear enthusiasts.
Conclusion
So, now you know that Cervelo is one of the most well-known bike brands in the industry all over the world. Their main models are S-series aero-road bikes, P-series triathlon bikes, and R-series road bikes. All of them are typically designed to use at the highest level in pro riding and triathlon races. Therefore, its price range might not be affordable for entry-level riders, but they are really worth it when it comes to pro cycling, riding quality, and experience.