Co-op Cycles bike is a famous bike brand born from adventure love, cooperatively designed and created with REI members. This brand specializes in making affordable and mid-range bikes. They successfully make mountain, hybrid, adventure, and road bikes. If you are insane about these bikes, take a look!
Overview of Co-op Cycles Bike Company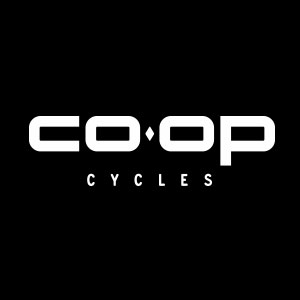 REI retailers launched co-op Cycles, and REI offers 44 Co-op Cycles products. Co-op Cycles bikes require low maintenance, upgradable, and trail-ready. Hence, you can dial the ride.
This manufacturer was established in 2017; REI decided to overhaul the former bike line and change their product lines. At present, Co-op Cycles creates various kinds of road bikes for adventure lovers.
These bikes can be used at home, in the city, outdoors, etc. It always keeps an upright riding position and civilizing functions. Besides, the manufacturer selects high-quality components over the most powerful and latest technology. Hence, being happy for years with Co-op bikes is possible.
Co-op Cycles is REI's in-house brand. REI Co-op cycles brand is one of the newest bike brands on the market.
In August 2020, they released the first fat tire bike called DRT 4.1. In September 2020, they firstly introduced E-bikes called CTY e2.1 & CTY e2.2. The most advanced full-suspension mountain bicycle – DRT 3.3, was introduced in January 2021.
Although the Co-op Cycles brand is new, people are buying Co-op Cycles possibly. The reason is that they can control the manufacturing and retailing process perfectly. Therefore, they have ways to minimize the cost but still provide good value for the price. Besides, many frames come in both as standard and the step-through kinds- categorized as the unisex.
Co-op Cycles Bikes Ranges
When it comes to bikes, REI Co-op Cycles designs six series of different bikes as below:
ARD- Road bikes
CTY- Hybrid Bikes
DRT- Mountain bikes
ADV- Adventure bikes
REV- Kid's bikes
E-bikes – CTY e2.2 & CTY e2.1
Each bike will come with its purposes and features to serve the user's needs. However, they share the same great friendly budget and value. For instance, the CTY series offer hybrid bikes, DRT offers mountain bikes. REV is designed for children, while ADV is for those who love adventure.
For more details about the Co-op bikes series, let's keep reading!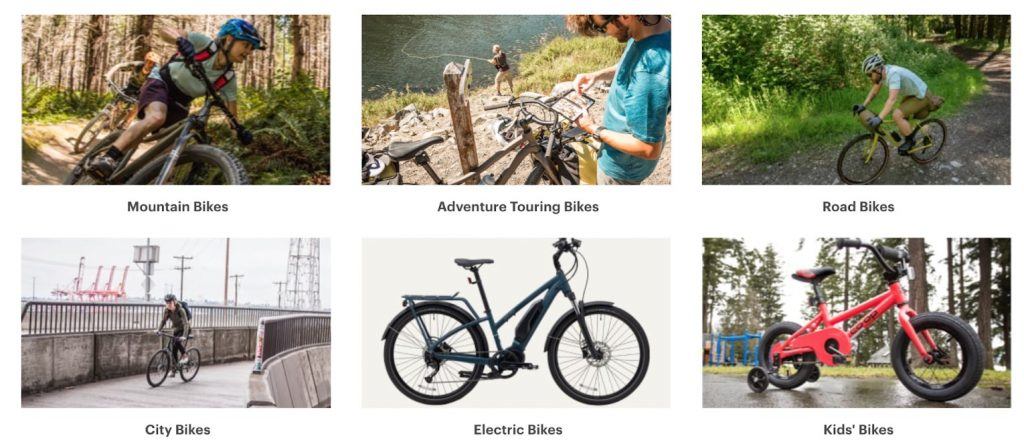 Most Popular Co-op Cycles Bikes
It's time to get deeply and detaily into each type of bike from Co-op!
ARD- Road bikes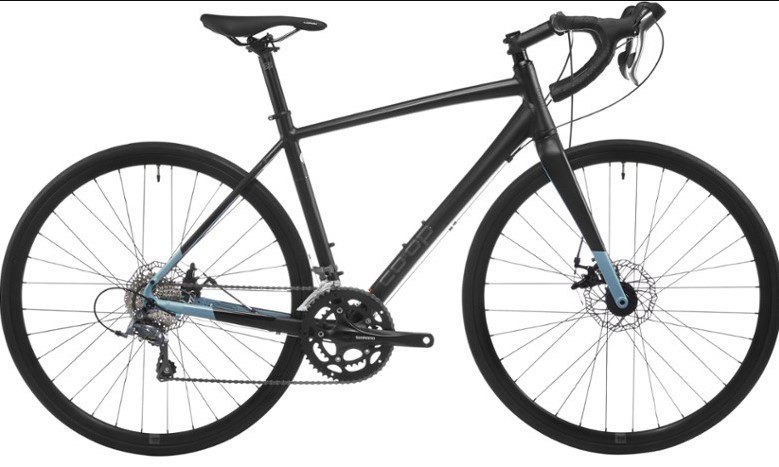 Co-op bikes offer ARD series with aluminum and carbon bikes which is an excellent choice for amateurs and mid-level bikers. Featuring the Shimano components, they are also great for experienced riders. These road bikes are much smaller than mountain biking. See also mountain bike vs road bike via this article.
This series comes with three famous and popular ARD 1.1 & 1.1W, 1.2 & 1.2W, and ARD 1.4.
The ARD 1.4 is the most expensive one, designed for advanced riders who are insane on the road all day long, live to make gravel excursions. It comes with a stiff full carbon frame, fitted with the Shimano 1.05 groupset. The Shimano hydraulic disc brake and the 22-gear make it a versatile and gravel smasher.
The 1.2 & 1.2W model is for those who want to upgrade the road bike to a higher level. This bike can do well for both gravel and tarmac roads. This mid-range bike comes with an aluminum frame and carbon forks. The model for women will come with a shorter stem and the top tube, specific saddle, and narrower handlebars.
The last one from the ARD series, ARD 1.1 & 1.1, although the cost is less than $1000, features carbon forks, Shimano components, mechanical disc brakes, and drivetrains. Discover our latest guide about 18 road bikes under $500 for your choice.
CTY- Hybrid Bikes
Co-op Cycles designed the CTY series for commuters and city riders who love ditching cars and riding the bike to school or to work. This hybrid bike lineup comes with 700c wheels and average wide tires, which is ideal for urban street conditions. In addition, several models with 47c tires are perfect for tackling unpaved and remote roads.
This series price is ranging from %500 to $1.500. Hence, it is supposed to be affordable and designed for riders who want to get to work or school simply.
CTY 3.1 is the unique model with the carbon belt instead of chain and the internal gear rear hub in terms of components. Hence, it will require minor maintenance to keep running for years.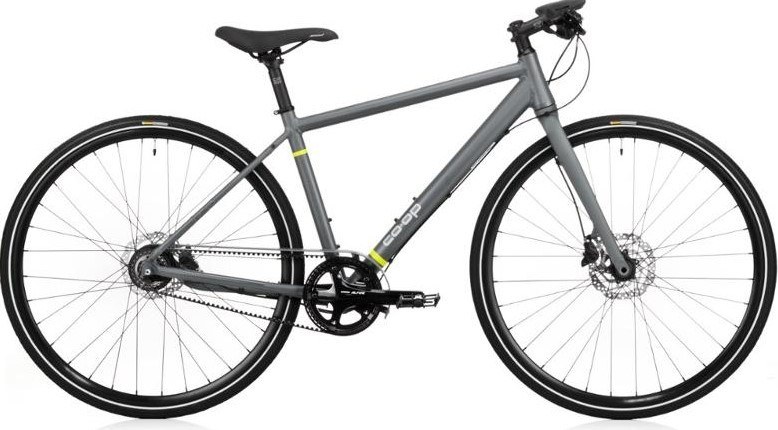 All the CITY bikes come with disc brakes. While you will have the better cable-actuated or hydraulic brakes depending on your budget. If you intend to buy a bike for riding in your free time, commute on the beaten road, and improve your health, the CTY series will be an affordable choice.
DRT- Mountain bikes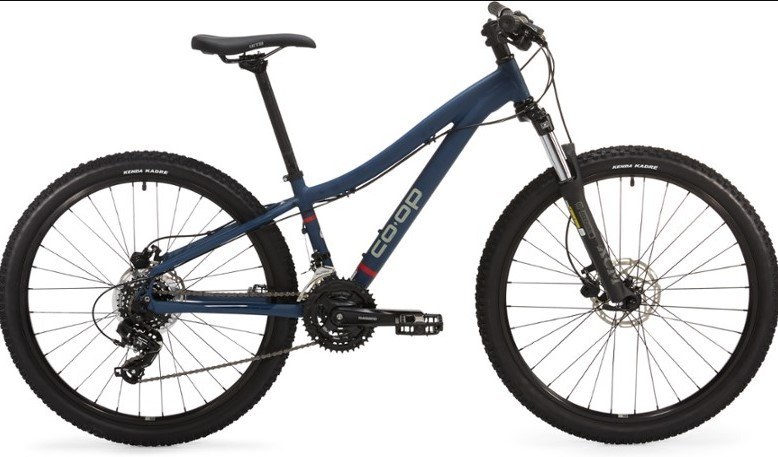 DRT-mountain bicycles perform well on daily causal rides and downhill trail attacks. These models consist of both full suspension and hardtail models, with support for various riding types.
DRT begins at the low entry-level, costing around $500/ The best full suspension melds is 3.2, which is the most expensive, around $2.500, it deserves with the front and rear squish.
Size of wheels and tires from 26,27.5, and 29″, depending on the frame and model size. It varies in dimensions, and you can easily find your best one.
Especially, DRT bikes can work well for more severe trial and cross the country rides, depending on the model you have and your budget. These bikes' components include both SRAM parts and the Shimano for entry and mid-range groupsets.
DRT 1 is a perfect model for short riders. However, it comes in only XXS size, while others offer five sizes. Co-op bike currently released 4.1 models which roll on the huge tires 26×4;8 and fitted wit SRAM SX Eagle groupset. This model is specifically for backpackers or mountain bicycles.
If you require a new mountain bikes to cross the forest or finish on single tracks, the DRT series will not let you down!
ADV- Adventure bikes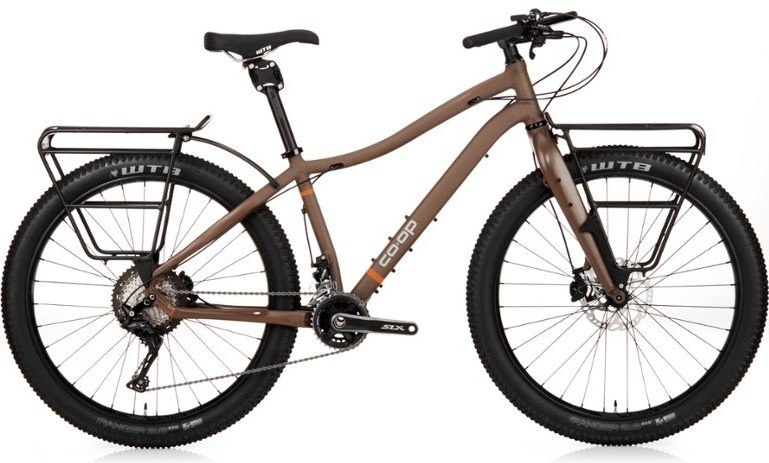 ADV series was manufactured for adventures, long bikes, and gravel rides. This series offers seven versatile bikes for dirt, gravel, and offroad riding. At present, gravel events are popular. Hence, ADV is raising its popularity too.
ADV 1.1 and 4.2 are fitted with rear and front racks. Hence, you can be willing to attend long tours and adventures.
They come with beefy tires on 700c/ 650b wheels that can deal with the different roads. Regarding the materials, ADV mainly combines carbon and aluminum, but there are complete steel bicycles.
ADV 4.2 is the newest model for expert bicycle riders who want to cross continents and travel the world safely and comfortably. However, it is the most expensive among other modes. Hence, it will deliver the most for money. If you buy this one, you will be equipped with the Shimano SLX and XT components, the H-bar handlebar, and the suspended seat post.
REV- Kid's bikes

REV – Kid's bikes series make a great value to money for kid bikes. They are designed REB for toddlers with fun and exciting sticker packs, which kids like to use for personalizing their rides.
REV also includes some mountain bikes with the front suspension and oversized tires, such as REV DRT or REV 24 Plus. These are great options for building upon trail riding skills. Most REV bikes are made for recreational rides such as around the neighborhood, park, paths, back home, or school. REV is affordable daily fun for kids. You can take a look at some of the examples of the bikes for kids in the article.
For two year or older kids, Balance bikes are the best options. With the lightweight aluminum frame and the 12″ wheels, it is easy to handle. Green and pinks are available colors with the pack of stickers.
REV 12 is designed for kids who know how to ride a bike but still need some training wheels. These bikes come with blue and red color options, removable training wheels, and the rear coaster brake for both girls and boys.
REV 16 is an excellent choice for both girls and boys with the pink and teal blue colors for four years old or older kids. In addition, it offers detachable training wheels, fun stickers, and funky bike bells.
REV 20 is made for kids from 5 years and older, which supports them in joining their parents on the everyday rides and starting the trails in parks. These bikes feature six speeds, the derailleur, front suspension with 40mm travel. In addition, it comes with various color options, including red, white, dark blue, and teal blue.
For kids less than 5ft tall, REV 24 is an excellent bike before they are ready to hop on the 26″ trail bike. These bikes come with a wide 1.95″ tire, 12 speeds, and a fork with 50mm travel. Besides, REV 24 is perfect for teaching kids basic trail riding.
Especially REV city, which is ideal for kids to ride on the city paths. It comes with the Shimano tourney components, 21 gears, and a lightweight aluminum frame.
E-bikes – CTY e2.2 & CTY e2.1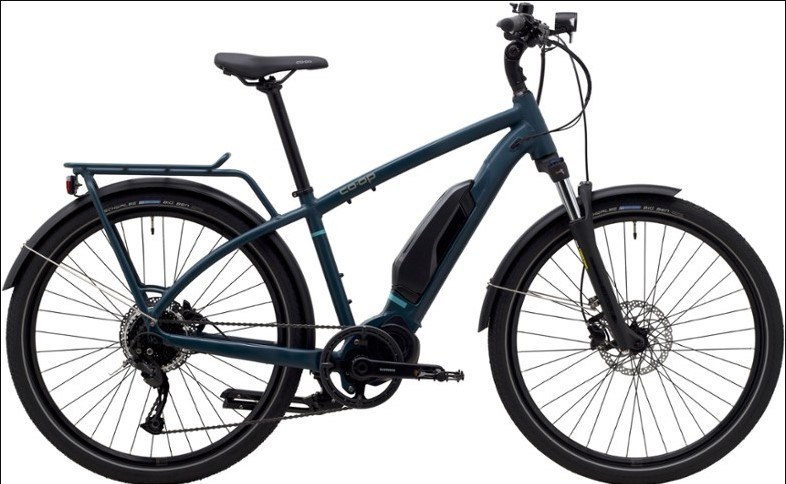 Ebikes released in Sept 2020, and they use the latest tech and trends to make new electric bike products. For example, electric bikes from Co-op Cycles are equipped with the components such as the mid-drive motor instead of hub drive, the hydraulic disc brakes, and the lockable battery.
CTY e2.2 & CTY e2.1 are two famous models that best Ebike from $2000 to $2400. CTY e2.1 is a solid E-bike designed for heavy city use. Besides, it features thick tires and a strong aluminum frame, including the integrated rear rack for handling heavy loads.
CTY e2.2 is more expensive with the powerful engine and the strong frame for handling more heavy loads. On the other hand, it features the 6061 aluminum frame, built-in rear rack, and thick and puncture-resistant tires for comfortable riding.
Co-op Cycles Bike Price Range
Like most other bike brands, Co-op releases various bike types and models with a different price range. For example, co-op DRT starts from a low level with an affordable price of around $500. While the full suspension model such as DRT 3.2 reaches up to the price of $2.500.
Co-op CTY bikes range from $600 to $1300, which is quite a reasonable price for most riders who want to have a bike for city rides. ADV series are more expensive bikes, with the price of all models being more than $1000.
Kids' bikes from Co-op cost less than $500; for the two-year-old kids, you can find the model with the price less than $140. Especially for E-Bikes, the two models cost only $2000-2300.
Are Co-op Cycles Bikes Any Good?
Yes, if you are looking for a commuter, REI Co-op Cycles will satisfy your needs with its surprising quality and price.
Firstly, most Co-op bikes feature a lightweight aluminum frame that is easy to carry up and down the stairs. In addition, its brakes always react quickly and support it to avoid running into them or flying over the handlebars.
Besides, each model comes with specific features to support the best rides.
Co-op Cycles Bike vs. Trek (Mountain bikes)
Specification comparison
| | | |
| --- | --- | --- |
| Specs | Trek Marlin 6 | DRT 1.1 |
| Size | 29" wheels 74.8 cm standover height110cm wheelbaseFor people 5'5-5'8 in height | 27" wheels74cm standover height 113.5cm wheelbaseFor people 5'9-6' in height |
| Suspension | SR Suntour front fork suspension100mm travel | SR Suntour front fork suspension100mm travel |
| Weight | 31.63 lbsHandle up to 300lbs maximum | 31.97 lbs |
Co-op Cycle and Trek bikes are famous bike brands in the market; if you are looking for a quality mountain bike, Trek Marlin and Co-op DRT1.1 are the best choices. Each model has its perks. Now, I will show you how different these models are from 2 well-known giant bike manufacturers.
Firstly, you can find Trek Marlin in the Village Bicycle in Colorado Springs, while Co-op DRT is found in the local REI.
Co-op gives you a big deal for budget, while both models come with the same overall quality. However, the Trek is around $100-150 higher.
In terms of design, I think that mostly we will like Trek more than Co-op DRT. Trek has the brake cables hidden inside the frame, and the frame looks great. Although Co-op color options are more attractive, overall, Trek's appearance is much better.
Both of these bikes have awesome derailleurs. As a result, they can change fears comfortably and smoother than others. Besides, both have the perfect brakes, which is great for mountain bikers.