Headquartered in Irvine, California, Felt Bicycles is one of a few leading manufacturers of multiple bike ranges, including road, cyclocross, mountain, track, cruiser, and electric bikes.
Felt designs their own bikes in the United States, and all of their production is in Asia. It is best well-known for their triathlon and professional bikes. The company used to sponsor Olympic and World Championship riders and currently sponsors the Proteam Rally Cycling based in the United States.

Part of Best Bike Brands.
Overview of Felt Bike Company
History of Felt Bike Company
In 1991, Jim Felt established Felt Bicycles in Irvine, California. However, the company disappeared from the in-country market due to a legal dispute with their dealers Answer Products. And Felt officially came back in 2001 as an independent company.
After sixteen years of success, Felt Bicycles were bought by the Rossignol group in 2017. At the time of the acquisition, the brand's revenue had reached $60 million. Nevertheless, the other terms of the agreements were not revealed.
Felt owns a lot of innovative new bike technologies during its history. For example, the Bayonet Fork, the brand's triathlon/ time trial model, is a great groundbreaking design that uses an outer steerer in the head tube's front, which combines extra stiffness and kinematics.
Felt is also very confident in their advanced aerodynamic designs applied to their bikes, bringing a lot of success for the company since its relaunch. Generally speaking, Felt bikes are typically designed for racers or competitors who are training for speed.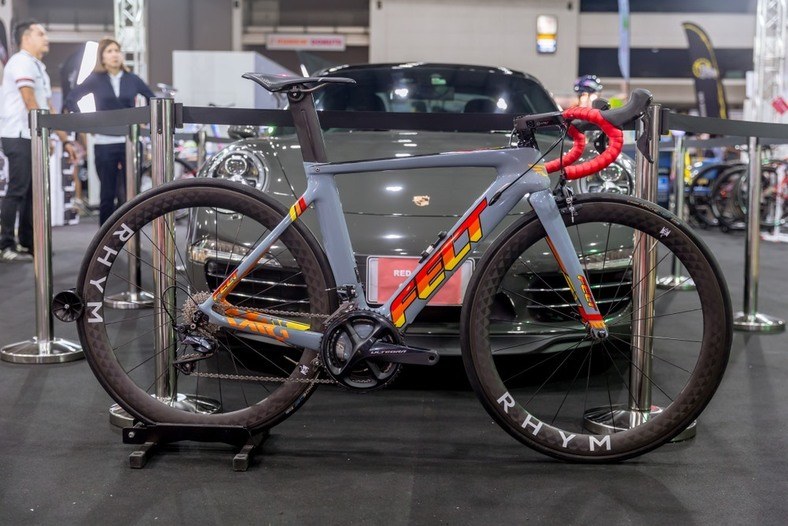 Where are Felt Bikes Made?
All the designs of Felt bikes are completed in the company's headquarters in the United States. However, their majority of manufacturing is in Asia, typically Taiwan. Jim Felt, the founder and owner, is a skillful owner, and he plays an important part in every decision made during the process of designing their bicycles.
The Technologies of Felt Bikes
As mentioned above, Felt Bicycles has various groundbreaking technologies to be proud of.
For instance, their full-suspension mountain bikes are equipped with advanced Equilink suspension. This system effectively holds the bicycle's pedaling capability in any combination of gears. This, as a result, keeps the rider in place in the correct position of the vehicle from rugged terrain.
Another innovative technology that is applied in Felt's triathlon/time trial bicycles is the Bayonet Fork. This technology further increases aerodynamic performance and rigidity by making the most of the outer steerer in the head tube.
Performance of Felt Road Bikes
If you are looking for a road bike that can handle well, climb fast, and offer a smooth feeling on the racing roads, then FR bikes will definitely satisfy you. They symbolize half of the excellent combination of the bike and the rider.
Without excess, Felt road bikes are carefully honed and tailored to meet the needs of the most dedicated road riders. More importantly, they are designed to win the battles of will, tactics, and skills on any track.
Starting from scratch, the engineering teams of Felt Bicycles designed innovative FR from the beginning. And the result is an excellent, pure road bike that is proud of its own perfect handling capability and precision-tuned frame. And this design makes sure that every rider will feel refreshed as they sprint to the finish line after a long day in the seat.
Felt's FR bikes are proved the most lightweight and stiffest model of all their bikes from the company's history of innovation. You can pedal uphills and downhills easily like an angel. Typically, when you remove unnecessary gimmicks, all that remains is a clean performance, incorporated in a bike that is your extension.
Felt Bike Categories
Felt Bicycles provides rides with a variety of models and styles to choose from, ranging from road to triathlon, time trial, cyclocross bikes, etc. Besides, the company offers a bike kit and spare parts that you can buy to make sure it matches your bike or when you need to repair or maintain your bike. Here is the available Felt bike range:
Road Bikes
Performance
Endurance
Commuting and Fitness
Triathlon and Time Trial Bikes
Gravel and Adventure Bikes
Cyclocross Bikes
Track Bikes
Outlet Bikes
Most Popular Felt Bikes
You may know that Felt is very popular for their triathlon/time trial bikes and road bikes, which are designed for racing and speed. But there are also some great models that are loved by riders of all riding styles. Let's see what those common bikes are:
Road Bikes: Felt Aero Road
Triathlon and Time Trial Bikes: Felt IA Triathlon Race
Gravel and Adventure Bikes: Felt Greed Gravel
Cyclocross Bikes: Felt FX Cyclocross Race Bike
Felt Bike Price Range
Been through comprehensive research and development procedures, incorporated advanced technologies, and careful design and manufacturing, Felt bikes are not cheap for all riders. However, the truth is that you will get what you pay for. That means their bikes are worthy for their quality, durability, and performance.
Road Bikes: $629.00 – $4,299.00
Triathlon and Time Trial Bikes: $3,199.00 – $4,499.00
Gravel and Adventure Bikes: $1,249.00 – $2,349.00
Cyclocross Bikes: $2,799.00 – $5,999.00
Are Felt Bikes Any Good?
My answer would be yes. Felt Bicycles is a popular USA-based bike brand that sponsored Olympic and World Championship cyclists, and now is sponsoring another ProTeam Rally Cycling located in the United States. The company offers great value for every bike they make. And although it is just a small company in the bike industry, Felt even surpasses some other larger brands in some areas.
Felt Vs. Trek Road Bikes
Felt Road Bike Review
Maybe lots of you have heard Felt Bicycles, regarded as a remarkable story of a rapidly growing "garage brand", has struggled for some time. And the company is now one of the most engineering-driven and advanced companies in the bike industry.
Of all Felt bike categories, the most notable bike range should be road bikes, which are categorized in three fields as follows: Performance, Commuting/Fitness, and Endurance.
The Performance bicycles are specially designed for racing, while the Endurance is ideal for those who want to ride around town or casual riding at the weekends. Its most powerful feature is the great combination of lightweight, strong disc brakes for excellent stopping power. The Commuting/Fitness models, as their name suggests, are great for commuting to your office or just leisure, fitness riding.
Pros
Come at a reasonable price
Award-winning construction and frame design
Lightweight with premium carbon fiber frame
Offer an exceptionally smooth feeling while riding
Provide riders with superior stopping power
Cons
Trek Road Bike Review
In general, Trek Bikes provides cyclists around the world with a variety of bike types and models. What's more, most of their bikes are made from high-quality components to ensure high-end products. Another great thing about Trek is the customizable bicycles, allowing you to design your own dream bike.
Trek is also well-known for their road bikes, which are usually compared with other similar types of bikes from popular bike brands. It seems that racing and long-touring models are the best of all Trek road bikes. They are designed for racing and bring riders great experience while riding and utmost comfort at the finish line.
Pros
Offer customizable bicycles for different types
Road bikes deliver high performance
Very comfortable after a long ride
Come in a wide range of bike types
High-quality build and lightweight structure
Provide a smooth feeling on the road
Cons
Felt Road Bikes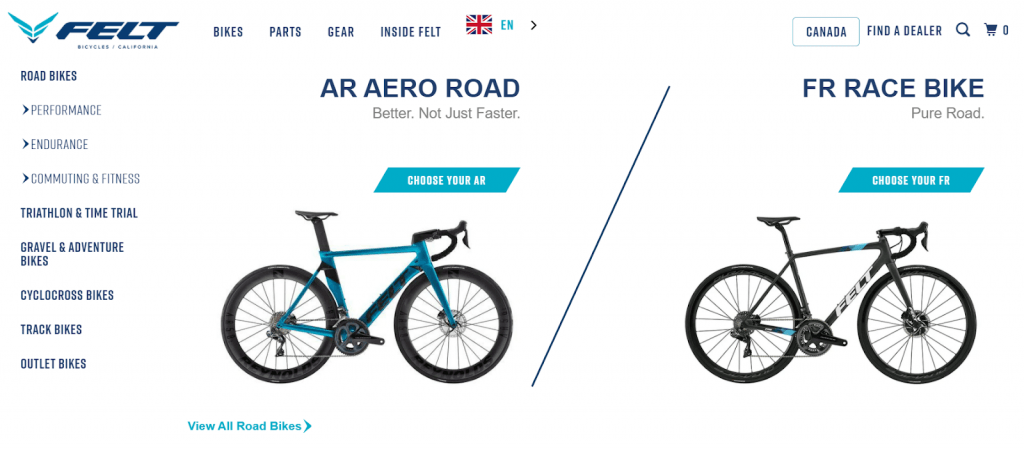 Felt Bicycles provides the market with a wide array of road bikes, including, Commuting/Fitness, Endurance, and Performance. If you are looking for a bike to climb easily or just keen on speed and racing, the Performance will be a perfect choice to pick from. It is particularly built for racing and is a great combination of an "aero" bicycle and a light bike.
However, if you are just a weekend cyclist or looking for something casual, you might want to consider the Endurance bikes. These models are very lightweight and also offer exceptional stopping power, which is necessary when riding in the city streets.
Finally, the Fitness and Commuting bike range is manufactured with the commuting purpose, just like its name implies. If you want a bike to ride every day to work or train for your health, this is the perfect one to opt for. You may want to check out this latest guide about best road bikes under $500.
Felt Triathlon and Time Trial Bikes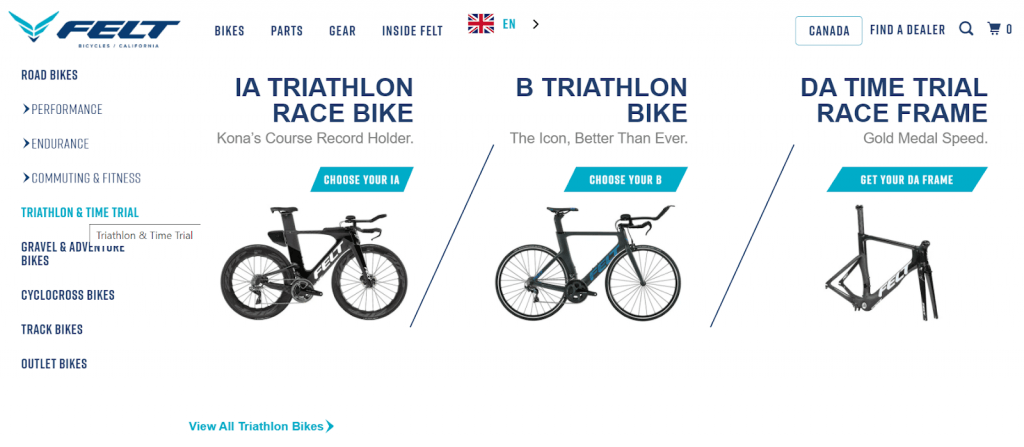 Like Road Bikes, Felt Triathlon and Time Trial bicycles are manufactured for speed. These models are entirely integrated with dedicated, time-tested handlebars with deep-section wheels and handrails. They are among the most pricey models available at Felt bike categories, but you pay for what you get, and they are really worth every penny.
In order to create innovative triathlon and time trial bikes, Felt used a lot of research and aggregated industry data. The company also spent lots of time designing effective aerodynamic frames. As a result, Felt launched two excellent Triathlon bikes and one groundbreaking triathlon frame.
Gravel and Adventure Bikes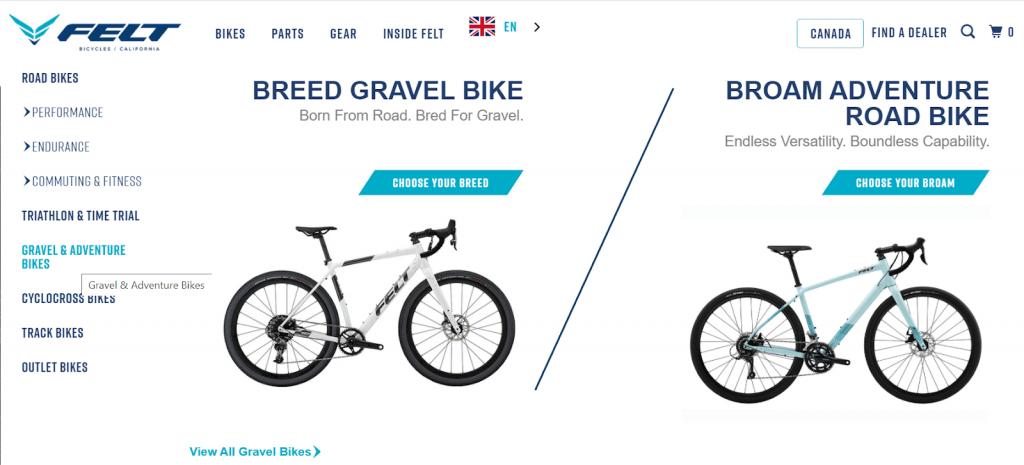 Gravel and adventure bikes from Felt Bicycles come in the same design. They are usually created with drop handlebars and wider ground clearance than road bicycle tires.
If you plan to buy a gravel bike, then your bike should be equipped with disc brakes and a single-drive system (most models offer this drivetrain set). In other words, there should be only one big cassette at the back and one chainring at the front of the bike.
There are two models in the Felt Gravel and Adventure bike category, the Broan Adventure and the Breed Gravel. Both these models are designed to let you explore farther and longer on off-roads rather than other normal road bikes. However, they are more lightweight than mountain bikes, allowing you to spend more time on the saddle without fatigue.
Felt Cyclocross Bikes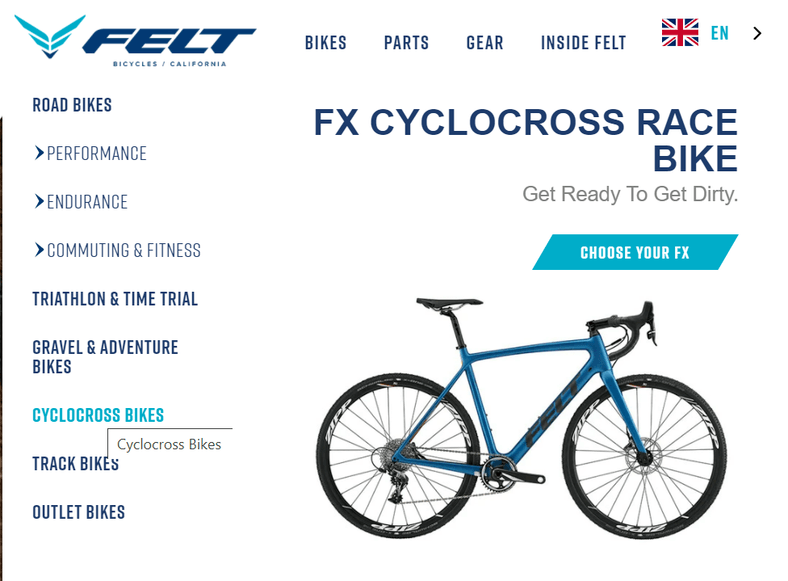 When it comes to cyclocross bikes, people always think about riding their bikes on grass, mud, or sand. Usually, cyclocross races require an effort from the get-go in about 60 minutes. Therefore, you will need a bike that is responsive and light enough in all conditions.
Felt Bicycles offer such cyclocross bikes. They feature drop handlebars with the individual drivetrain. Besides, they are equipped with disc brakes instead of conventional caliper-style brakes. There is only one bike in the Felt Cyclocross bikes, the FX Cyclocross Race Bike. However, it is considered a great race machine with proven results.
Felt Track Bikes
Track bikes are a kind of simple bicycle equipped with a single gear and don't have brakes. They are typically designed for chasing times on the boards. If you are looking for a bike to ride on normal roads, this model is not for you. They are also usually exceptionally aerodynamic.
In the track bike range, Felt offers two models, the TA FRD Track and the TK FRD Track. The TA FRD Track model comes in great style, while the TK FRD Track is more about an endurance bike. These bikes are often highly-priced because of the thorough research and development process, innovative integrated technologies, and careful designing and production. But, if you are looking for an excellent bike to learn to ride on the boards, you will need to take it.
Conclusion
In general, Felt Bicycles has gone through a lot and becomes famous for their professional and triathlon cycling. And their bikes are more about racing, speed, which are ideal for competitors and racers who want to win the championship. The price might not be affordable for all, but it is really worth it because of the groundbreaking technologies, devoted engineers who designed and produced excellent bikes.