Losing your grip strength is a common issue for the elderly. Instead of remaining idle and succumbing to this, try some of these hand weight exercises below.
There are many factors that can lead to reduced grip strength, such as arthritis, nerve damage, dehydration, or muscle atrophy. As your age increases, a lot of people find their hands are not as strong as they used to be and they may struggle with tasks like opening jars or turning doorknobs.
While there is no way to stop the aging process, you can still improve your grip strength and prevent the common issues that can occur in old age. If you are looking for ways to improve your grip strength, hand weight exercises are the way to go. One of the most important things about hand weights is to make sure you are using them correctly for maximum benefit.
Hand Weight Exercises Benefits for Seniors
Hand weight exercises are an ideal activity for seniors to help improve their grip strength. Here are some of the most important benefits and tips to keep in mind when performing hand weight exercises.
Improve your hand strength: Hand weights are a great way to build and improve muscle strength in your hands and fingers, especially if you are an older adult. These exercises will improve the range of motion and functional strength of your hands which is great for everyday tasks like picking up coins or opening jars.
Prevent or deal with painful or frozen joints: If you are experiencing joint pain, hand weights can help improve flexibility and relieve muscle spasms in your arms and hands. These weight exercises can also help with osteoarthritis and prevent frozen joints by improving your range of motion.
Improve coordination: Hand weights are great for improving your coordination, especially if you are older. They will help improve your hand and arm movements to improve your everyday skills such as writing or grasping objects.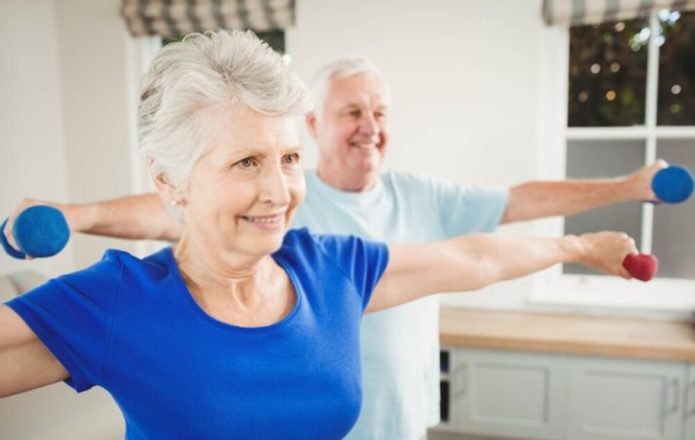 It is always important to be careful about which hand weight exercises to get for seniors. Take advantage of the benefits of hand weights and keep your joints healthy and strong.
8 Best Exercises for Seniors Using Hand Weights
There are a number of ways that you can exercise your arms. Some people choose to do arm curls and other people might like to use weight plates, but these activities can be tough on the joints.
For seniors, who are especially vulnerable to injuries, an alternative is to engage in exercises with hand weights. These exercises help build muscle strength and tone up hands and arms which can help prevent falls for seniors living in assisted living care facilities or nursing homes.
Dumbbell Weights
Dumbbell Weights are an effective way to strengthen your hands and wrists. It also helps to improve posture and movement as well as keep the arches of the hand strength. Before you get started, set up a table or stand where one can place dumbbells across their thighs. This will keep the body in a good, neutral position for use.
Place a dumbbell/weight on top of your thighs with your palms facing down. Hold the weights as close to your chest as possible. Take note that this will only work if you have two dumbbells of the same weights, one for each hand. Your muscle groups are in the hands, wrists, and forearms. With this movement, you will work all of these muscles in unison. Begin by pushing your arms to the sides as if you were trying to twist your hands around. Now, move your arms and pull them back together. Repeat this movement as many times as it takes until you feel a burn in your forearms and wrists. If a hand weight seems difficult at first, take them down a size or two until you feel comfortable moving them around with ease.
Bicep Curls
This is a pretty basic exercise that any beginner could do. It will work out the same muscle groups as curls, but this one focuses on your biceps. It can also be used to relieve stress and tension in the muscles in your arms, shoulders, and back.
To get started, stand upright with a dumbbell in each hand. You will want to bend forward slightly at the waist so that the dumbbells are close to resting on your thighs or knees. Begin by pushing both dumbbells upwards towards your shoulders. Keep your elbows close to your sides, and remember to keep the weights below shoulder level. Slowly return the weights back towards your thighs by bending them at the elbows.
Bent Over Row
This exercise is a great one for the upper part of your back, and for increasing strength in your biceps if you use dumbbells. It will also give you an overall workout by working out your thighs as well.
Begin by standing upright with a dumbbell in each hand. Bend over at the waist and make sure that your torso is parallel with the floor. Each arm should be perpendicular to the floor while holding both weights. You should have an overhand grip on one of the weights and an underhand grip on the other because you will be alternating. Pull up and bring your hands directly upward until they are in line with your torso and shoulders. This will also work out your biceps as well as upper back muscles.
Dumbbell Front Raise
This is one of the best exercises for developing strength in the triceps and front shoulder muscles. You will see improvement in your posture and your overall posture, along with full-body strengthening.
Begin by standing upright and holding the weight in front of you with both hands. Arms should be at your sides, palms facing forward. Focus on straightening out your arms as you raise them up to chest level, then back down to starting position. Do the same movement again. Repeat this movement as many times as it takes to feel the burn in your chest and arms.
This is a good exercise for the shoulders and arm muscles making it a great one to strengthen the arms and wrists.
To perform the movement, hold one dumbbell in each hand. Your palms should be facing down, with both arms out in front of your torso. Use a shoulder-width grip on the dumbbells, so that you can make full use of your arms. Now as you raise your arms, raise them up until they are parallel to the floor. If you are using two dumbbells, you can either alternate which weight goes up first or switch off and now lift both at the same time. You should keep your elbows somewhat bent as you do this.
Dumbbell Kickback
Dumbbell Kickbacks are a great option for someone who has had tendinitis in their shoulders. This exercise will strengthen the lat muscles to prevent injury and can also help you develop a rock-solid back.
Begin by holding one of your weights in the crook of your arm with an overhand grip. With your elbow sticking out, bring it straight back behind you. Slightly bend your knees and keep them slightly bent to allow for proper balance during this exercise. Now, hold the weight at the same distance from your body as before and return to the starting position.
Dumbbell Hip Hinge
This exercise is great for beginners as well as experts when it comes to shaping the backside of the body.
Begin standing with a dumbbell in each hand and your feet slightly wider than shoulder-width apart. Sit your hips back and bend your body while keeping your upper body straight. Squeeze your glutes to come back. Repeat this exercise. inhale as you bend down, and exhale as you come up. Please engage your core.
Dumbbell Crunch
This is a great exercise to strengthen your abs, as well as the lower back. It also helps you to get in shape and lose weight if that is what you are looking for. A lot of people just want to build some muscle tone though, so this can help them with that as well.
Begin by laying on the floor with your back flat and your head flat on the ground. Hold dumbbells with both hands, arms extended upward (at about shoulder eye level). Take a deep breath, and then crunch your upper abs and lower back. Do not bend your elbows. The movement should be slow at first, and then gradually speed up. Remember to keep your abs tight.
After sitting all day, it is very important to lift weights. It can also be very beneficial for people who have weak fingers or hands. Dumbbells are a great tool to have when you are wanting to tone up your body as well as improve your strength around the house.
The exercises that we have listed here are only the best of hand weight exercises and may not work for everyone, but they can work incredibly well for anyone who has trouble lifting weights in a gym.
Injury-Free Hand Weight Exercises Tips for Seniors
The risk of wearing a hand weight depends on how you use it and what kind of hand weight you are using. You will not injure your hands by following the prevention tips below.
When exercising with your hands, it is always important to be properly warmed up. Stretch each muscle group that you will be using before starting your exercise. Doing this will help increase flexibility and reduce the risk of pulling a muscle or tearing tissue when weight lifting.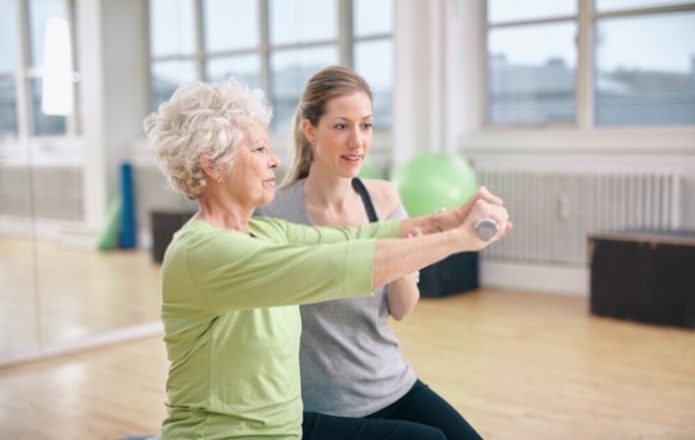 For people who are new to using hand weights, it is important to use small weights until you gain confidence. Small weights will allow you to use heavier weights in the future. In addition, it is important that you are wearing gloves when you start out with hand weights.
Wearing a weighted workout glove is a great way to build coordination, strength, and dexterity in your hands while increasing aerobic capacity, muscle tone, and overall performance. They are typically made of leather and have a weight in the palm of the glove. With gloves, you will be able to do more exercises and weight lifting.
These exercises that you'll learn in this article are the best hand weight exercises for seniors. You will never feel pain or pain after doing these exercises, which is great because you can exercise often without getting hurt! If you want to be stronger when winter is coming, do these exercises and make your hands stronger by using hand weights!
FAQs
What is a hand weight?
A hand weight is a tool used for exercise that typically weighs between two and five pounds.
What are the main benefits of hand weights?
Hand weights assist in strengthening hands and fingers, increasing flexibility, maintaining bone density, and improving balance.
Who should use hand weights?
Hand weights can be used by anyone at any age as long as they have medical clearance from their doctor. Seniors and those with arthritis, limited range of motion, or joint pain may benefit the most from using this tool.
How can hand weights help seniors with arthritis?
Hand weights can be used as therapy for those suffering from arthritis by strengthening grip strength and potentially reducing pain in the hands. Using this tool as therapy may also improve range of motion, lower body strength, and increase overall flexibility.
What are the different ways to use hand weights?
Hand weights can be used in many different ways including: by lying on the ground and doing arm lifts, standing up while performing arm movements and hand rotations, sitting on a chair and moving hands around, or sitting in a chair or on a balance ball with weights in both hands.
What are the safety precautions with hand weights?
When using hand weights, it is important to remember to: not over-exert yourself, use the proper grip techniques, and always have a spotter present when using them on a balance ball or chair.