Materials Needed
Two zip-lock bags
Water
(Thick) socks
Climbing shoes
Here are some quick steps to break in your climbing shoes:
Freeze your shoes overnight: This seems to be an odd trick, but some people reviewed that it did work effectively. Pour water into two zip-lock bags until they are about your foot's size. Then, you place the bags into your climbing shoes and lace the shoes loosely. And you put your shoes into the freezer to leave overnight. 
Wear socks with climbing shoes: For your first climbing sessions, you basically wear a pair of thick socks. The socks' extra volume helps to stretch the shoes out.
Climb with your shoes: It might be painful sometimes, but it is essential to climb with your new shoes. Your shoes will start to stretch later, and they will mold your foot.
Wear your climbing shoes around your house: You can wear your shoes while you are watching movies, TV or reading books. It will be better if you walk around. It will take about a week to break them in.
Other Methods to Break in Your Climbing Shoes Without Being Painful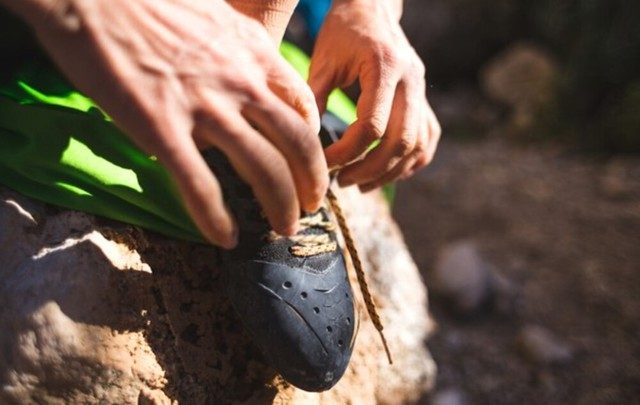 Method 1: Hot shower
It might sound strange but wearing your shoes in the shower seems to be the most effective and fastest way to stretch them. If you execute this method, you can maximize your climbing shoes' size by one dimension.
Necessary items
The process
First, you wear your climbing shoes and tie the shoelaces snuggly.
Then, you soak the shoes thoroughly with hot water when the shoes are still on. The hot water helps to mold the leather while your toes wiggle to stretch the shoes.
Even though the shoes are still wet, you walk them around your house until you feel like they start to dry.
After that, you stuff some newspaper inside the shoes for the drying process. Before your shoes become utterly dry, you should go climb in them. By doing this, you can mold them more to the position that your foot might be while climbing.
Finally, stuff your climbing shoes with more newspaper to dry the rest part. You might need to repeat this process several times so that you can get fully molded shoes to your foot.
Method 2: Use the blow dryer
This is another hassle-free method using heat to loosen and stretch the new shoes. Additionally, this method is helpful in breaking in synthetic climbing shoes.
Necessary items
A lot of socks
A hairdryer
The process
You can use socks or other fabric to stuff your shoes tightly, especially the part that gives you the most trouble.
For the next part, you take a hairdryer to warm the shoes up for approximately one minute. You should move the dryer around the shoes and feel them warm throughout to the touch. It will be better if you hold the dryer from 6 to 12 inches away from the shoes.
Try to push up the socks/ fabric against the inside of the shoes. You should do this step for a couple of minutes and bend the shoe a little bit simultaneously. Before jumping to the following step, you should repeat steps 2 and 3 several times.
Take the socks/ fabric out, and you put the shoes on. You can walk 1-3 steps and try to do climbing, a few boulders, or a few pitches. However, you should not overdo it at first; instead, you bring one more pair of shoes to change after a while.
If you still feel uncomfortable, you can repeat the whole process for more sessions. When using the hairdryer, you should focus mainly on the upper and the part where your toes will be positioned in the shoes.
Method 3: Plastic bags around your foot
This method is not so challenging but immensely straightforward and easy to do. Besides, this method is introduced and applied by a well-known climber named Adam Ondra. You can check his videos here.
Necessary items
The process
Basically, you just wrap your foot with the plastic bag and slide both of them into your climbing shoes. The friction between the shoes and your foot might cause pain when you try on the new climbing shoes. But with the plastic bag, you will find that the foot slides more easily and comfortably as there is no longer friction.
You should wear like that for a while while you are relaxing, and climbing can help to stretch the upper part a little bit.
If you feel nothing changes much, you should repeat the process as much as possible.
You only use this method when you need to stretch your shoes a small amount.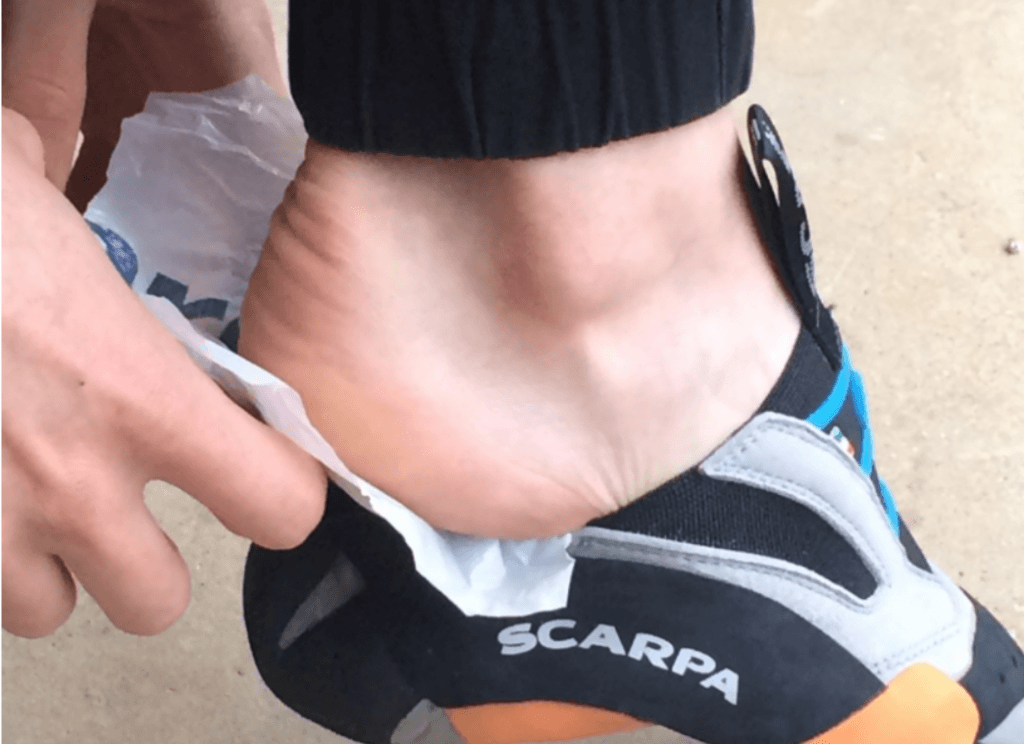 Method 4: Shrink your climbing shoes
Washing method
Simply, you wash your climbing shoes and leave them air dry utterly. When the moisture is absorbed, the fibers will minimize their size, and the shoes will shrink gradually. Additionally, it would be best if you let your shoes dry themselves before putting them. If not, the shoes might mold to your feet.
Heat method
As you can guess, heat is one of the most incredible ways to reduce your shoe size. Shoe materials can shrink well when being exposed to continuous heat, especially leather. So, you can put your shoes under the sun for a long time to shrink them. However, do not put them into the oven or microwave as they will release many poisonous chemicals from the rubber. Eventually, all you get is just damaged shoes, ultimately.
Bonus tips
Usually, synthetic climbing shoes will not stretch much as leather shoes do.
The synthetic climbing shoes will mold to your foot shape, more or less.
The methods mentioned above do not stretch the rubber parts of your shoes.
It takes you 1-2 weeks or even a month to break in your shoes, depending on the materials. So, it would help if you were patient during the process.
How Do Climbing Shoes Fit?
The climbing shoes should fit you tightly but not too tight as they can cause pain. There are a lot of different climbing styles and shoe shapes. For instance, you might hear about the bouldering. Bouldering is a typical way of climbing, and shoes are manufactured for users to bend their toes easily so that they can grab the surface. Plus, they can give you more strength in the toe area. Generally, they are tight and snuggly fit your feet as the gloves do.
Meanwhile, crack climbing is designed with a more relaxed fit. There will be some wiggle room, and your toes can lie flat. As a matter of fact, most climbing shoes give you a tighter feeling than your athletic shoes as you can maintain your balance when you hang onto the rock wall by your feet.
It is imperative to try on your shoes before you purchase them. You need to give them time to lace up, walk a while with them and ensure that you are happy with the type of feel and fit they have. In brief, your shoes need some time to appropriately mold to your feet.
Besides, for several unlined leather shoes, they can stretch a size or even two. Therefore, if you intend to buy one of these types, you should think about a tighter size than other shoes. Keep in mind that the closure system is also crucial; no matter if it is closed with laces, elastic, or Velcro, they can hold your feet securely at all times.
What Should You Seek in Your First Pair?
Getting your first pair the right size is an essential concern. You need one which is sufficiently tight and long to be ultra-comfortable and snuggly fit. When you have just started in the climbing sport, you need to make sure that you focus on learning techniques instead of the sore and pinched feet.
Therefore, comfort is the priority when considering your first climbing shoes. In fact, not all shoes stretch after some climbs, primarily synthetic or lined leather shoes. 
What Should You Find in Your Second Pair?
After climbing for a short time, you might want to challenge yourself with more challenging routes or try to climb for more extended periods. When your climbing ability advances, you will need another pair of shoes that helps you to progress your climbing to the next level.
At this stage, the shoes should be an extension of your feet that help to get the best buy on the rock. You should not purchase shoes that are too small as they will cause injuries to your toenails and toes. Besides, you might have some nasty foot problems such as hammertoes or bone spurs.
How Tight Should Your Climbing Shoes Be?
As you may know, each brand of climbing shoes has their unique size chart showing the appropriate shoe size which is compatible with your regular footwear. The reason is that each manufacturer will design different shoe layouts, which leads to your shoe size change ultimately. Typically, they tend to be bigger and wider. Hence, you should choose a size that is 1.5-2 smaller than usual.
Moreover, selecting climbing shoes depending on heel comfort and your toes positioning is also a good idea. Ideally, your toes will be curved vaguely at the knuckles as this can eliminate the crevice between your toes and the inside of the shoe. That said, your toes have to lay flat on the sole. Whenever you find that your toes are clumped, you bought the wrong size.
Regarding the heel, the climbing shoes should have a tight grip around them. To check this feature, you should tiptoe and assess whether the shoe's back rubs on your achilles tendon roughly or not. If yes, your skin will be damaged due to blisters. Otherwise, if the shoe size is too big, your feet will slip out of your shoes.
Some people may ignore the harm when wearing shoes that are too tight might cause. And these thoughts are significantly flawed. There are a lot of health problems developing from using the wrong size of climbing shoes as follows.
Bunions
Nail bed infections
Blisters
Calluses
Subungual Hematoma
Athlete's foot
Hallux rigidus
Most of these issues result in discomfort and pain in the early stages. After you expose your feet to these problems for a long time, you will have some chronic infections as well as deformities. As a result, you might need surgery owing to stiffness and mobility issues. 
Which Types of Climbing Shoes Are Suitable for You?
Different Types of Climbing Shoes
| | | | |
| --- | --- | --- | --- |
| | Neutral climbing shoes | Moderate climbing shoes | Aggressive climbing shoes |
| Advantages | ComfortableGreat for jamming into cracksAwesome support | ComfortableIdeal for difficult routesTougher gripMore powerful | Give a strong position Better grip for difficult climbs |
| Disadvantages | Less sensitiveNot for tough routes with overhangs | Quickly worn-out Not as comfortable as neutral ones | Much less comfortable Not great for fitting into cracksRubbers wear faster |
Neutral climbing shoes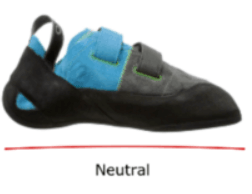 The neutral climbing shoes are appropriate for beginners. Their fit is more relaxed so that you are able to wear them during the whole day. More specifically, they will have a straight last, which places your foot in a relaxed position rather than other shoes. Thanks to this feature, beginners do not worry that their feet will be contorted in unfamiliar shoes. At the same time, they still receive all the advantages of rubber shoes for an excellent grip. 
Generally, the neutral climbing shoes give your toes a slight curl to broaden performance and do not compromise comfort. However, it does not mean that these types are just limited to beginners. Many experienced climbers select these flat-lasted shoes for crack climbing and longer climbs.
Moderate climbing shoes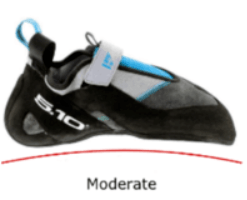 After becoming more technical, climbers can consider this type of shoe. They will be the best option for the first climbing shoes. With the slightly downturned shapes, these all-around shoes can put your feet in a powerful position. From that, you can control placements on the tough routes. 
Moreover, their rubber tends to be thinner and stickier than the neutral shoes for better sensitivity and grip on the rock. If you have already had the basic foot technique and are seeking to move to the next level, moderate shoes will be a solid choice.
Indeed, they can deal well with crack climbs, slabby routes, slightly overhung routes, and multi-pitch routes. Besides, advanced climbers can use these shoes as training shoes before wearing aggressive shoes.
Aggressive climbing shoes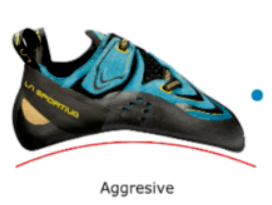 People also call aggressive shoe performance shoes. They have a downturned or visibly cambered shape bending downwards at the arch towards your toe. Thanks to this design, you will get much heel tension. Typically, the manufacturer pairs the aggressive shoes with an asymmetric last, which bends your foot into a claw-like/banana shape. 
You can transfer power seamlessly from the leg to the forefoot to gain more control over overhangs and tiny holds with this shape. Overall, this combination can put your feet in a more robust and stronger position. However, they are not the most comfortable, so climbers commonly take them off between climbs. They will be best for use at the gym or the single-pitch.
Different Types of Closure for Climbing Shoes
Velcro
The Velcro closure system is easy for you to take the shoes on and off. Therefore, many people use shoes with Velcro for sport climbing or bouldering, giving them the best performance and making them more comfortable. The first time you wear them, it might be a little bit snug. But when they stretch, it is easier for you to adjust the fit.
And this feature is also the downside when you wear shoes too frequently; the Velcro system also stretches too much. So, you should wear them only when you are climbing a rock.
Lace-up
If you like the comfort, you can think about climbing shoes lacing up. It allows you to adjust the tightness level, which seems to be immensely handy. After a long climb, you can quickly loosen the shoelaces and immediately feel better.
In general, the lace-ups provide you with the most supportive, reliable, and adjustable fit at all times. The only drawback of this closure system is that it wastes your time putting on or taking off.
Slip-on climbing shoes
Slip-on climbing shoes or climbing slippers do not have a closure system. They rely mainly on a vacuum and elastic fit. Nevertheless, several slip-on shoes are a bit of a hybrid between slippers and Velcro. Specifically, they are designed with the velcro closure towards the shoe's top, and the rest depends on the elastic vacuum fit.
Hence, they are immensely technical and comfortable when they fit as they reduce the opportunity for pressure points. After all the aforementioned features, slip-on is great for bouldering, training, thin cracks, and sport climbing.
FAQs
Are climbing shoes painful in the first place?
Your climbing shoes might be relatively tight initially, especially when you purchase shoes that can be stretched after a while of climbing. However, it does not mean that the shoes will make you hurt, as there will be a chance for you to break in your shoes in several weeks.
Can I walk in climbing shoes?
As you may know, all parts of your climbing shoes should be close-fit around your foot. If your toes are at the shoe's front, you will have much feel or control. Then, you can walk anywhere in your climbing shoes.
Should I purchase climbing shoes a size bigger?
If you are a beginner, you should buy a pair of climbing shoes whose size is half or one smaller than your street shoe size.
When do I buy aggressive climbing shoes?
Frankly, when you are accustomed to high-level bouldering and overhung sport, you can think about aggressive climbing shoes. It is good to find something with a sharp downturn that can help your toes to hang on well with the near-horizontal routes. The stiff soles can deal with small holds and techy edging while offering more support and versatility.
How to know if your climbing shoes fit?
To assess the fit of your climbing shoes, you can look at the following criteria. First, there should be no dead space, and your toes have to be at the end of the toe box. Secondly, the heel part should be secure and snug so that your shoes will not come off. Thirdly, all the sides of your shoes have to embrace around your foot. In case your toes are already in the toe box, but your shoes are still baggy, you should choose a lower volume.
Why are climbing shoes always curved?
The curved shape of climbing shoes can provide more strength rather than the flat shapes. When climbing, you need a specific position, and the curve can help you with that. To be more specific, it forces toes in a pointed position while the flat shoes keep your foot in a position facilitating hooking holds with the toes.
Can I resole my climbing shoes?
Yes, you can. For each pair of your climbing shoes, you can resole them at least three times, and you should do it based on the damage sustained.
The Verdict
As you can see, you can stretch your climbing shoes technically, but you need to be patient as it takes time. Especially if you bought the wrong size of your shoes, you could not achieve the desired result.
With several easy methods above, you now have a complete understanding of how to break in climbing shoes. Hopefully, these methods can do wonders for your climbing shoes so that you will not have to suffer during hours of climbing.