The work boots you wear are an important part of your job, which help keep you warm, dry, and comfortable. So it's important to take care of your boots and keep them in good shape, so they last a long time and can continue to do their job. And when you take care of your work boots, your work boots will continue to take care of you. There are many ways to take care of your work boots, and this guide will cover some of the most important ones.
Ways To Care For Your Work Boots
1. Break-In: Caring for Work Boots Starts on Day One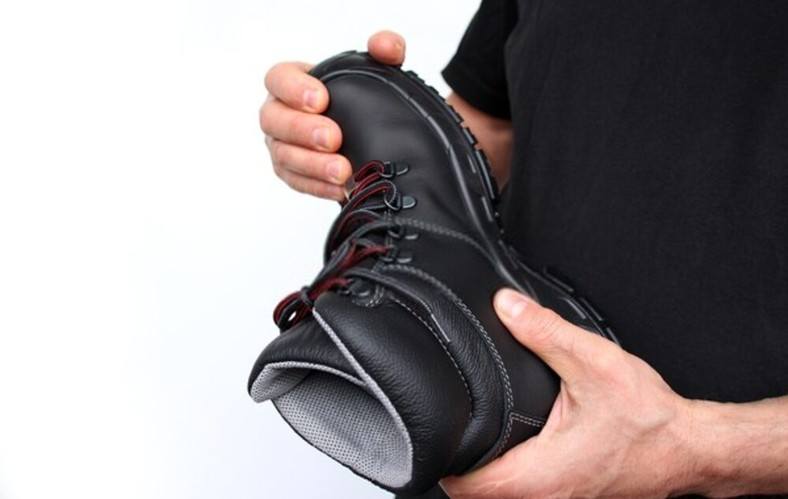 When you get your boots from the store, inspect them carefully for any flaws or defects. You can wear your new boots around the house for several days and even up to a week in order to help you through the break-in period. Keep in mind that some boots will require more time and effort to break-in. Wearing your boots to work too soon might result in blisters and hot areas. It's also a good idea to apply a waterproofing chemical once your boots have had some time to break in.
There are a few different ways to break in your boots. You can use a conditioner can help speed up the break-in process or use a boot stretcher, which will help force the boots to fit properly.
-Use Boot Stretcher: While boot stretchers aren't necessary, they can be helpful if you want your boots to break in quickly and at the most comfortable speed possible.
– The Right Way to Break In Work Boots: Breaking in your work boots slowly and correctly is essential. You will want to wear them around the house and not just go outside in them. Avoid walking around in your boots for too long, and limit walking on hard surfaces until they are broken-in enough. You'll get the most usage out of your boots this way and keep them as comfortable as possible for as long as feasible.
2. Cleaning & Waterproofing Your Boots
Cleaning and Waterproofing your work boots are essential and will help keep them in good shape for longer. Cleaning your work boots on a regular basis will ensure they look presentable and can help protect the leather from cracking and decaying.
Besides that, Waterproofing your boots will help to keep your feet warm and dry by preventing water from seeping into the boots, which can cause uncomfortable blisters or soreness. Waterproofing also increases the durability of work boots, allowing them to stand up to tough jobs for a longer amount of time.
At first, use water or a water-based leather cleaner and a soft nylon brush like an old toothbrush. Make sure to brush the seams thoroughly to ensure that all dirt is gone.
To make your boots more water-resistant, soak them and add a water-based waterproofing chemical. Clean your boots using a nylon brush and a water-based cleaning solution.
After 2-3 weeks, apply a second coat. For optimal water repellency, repeat the process a third time.
– The capacity to breathe. The breathability of leather or nubuck footwear is unaffected by water-based products. This is critical since the average guy may sweat up to a pint each day per foot. If you use an inferior substance to clog the pores of your boots, this perspiration will not be able to dissipate!
– You can apply water-based waterproofing products to wet or dry boots.
– Water-based agents contain NO petroleum, which can cause the leather to stretch and affect the fit of the boot.
– There is no need for heat! Heat is not required to permeate the leather using water-based products. Excessive heat might cause harm to your shoes.
– Water-based agents do not attract dirt. It does not harm the boot if you use it too much.
– Water-based products provide better water repellency.
Dry your boots with a gentle, clean cloth once they've been cleaned. DON'T USE HEAT TO DRY. In certain circumstances, a heat gun or hairdryer might be helpful, but we'll get to that later.
After the boots have dried, use a water-based sealer or boot oil to protect them. Only apply wax if you're in a really moist situation.
Following each cleaning, Waterproofing should be done. Although water and water-based products will be absorbed by the leather, you should inspect your boots on a regular basis. Apply boot oil or similar conditioner to keep them supple if they're feeling a touch dry.
Keeping the leather wet will prevent it from drying out and splitting later.
Cleaning leather work boots is something that you should perform as needed. It's fine to do it every few weeks; however, you might need to do it every few days. For severe filth and grime, water alone or a water-based cleanser should suffice. Saddle soap or similar leather cleansers can be used for minor cleaning. If you're using saddle soap or a similar product, rub it into the leather using a clean cloth. It also helps to condition the skin, so it's a win-win situation.
3. Waterproofing for Nubuck & Suede work boots
If your work boots are made of nubuck or suede, you need to make them waterproof. It is important for these types of work boots because they are not meant to be submerged in water, but they still need to stay dry.
To do this, apply a layer of spit or saddle soap on the top surface and then follow up with a sealant that will help protect the leather from water damage. This will also provide an attractive layer of oily wax to protect the leather.
Besides that, to waterproof nubuck or suede shoes, apply a layer of protective oil. To waterproof nubuck or suede shoes, apply a layer of protective oil.
Nubuck and suede work boots should be cleaned and waterproofed with non-alcoholic and non-acidic shoe polish in order to enhance the color and add protection against water. A leather drink is one of the best for this because you can apply it using your hands, so you don't need to use a cloth or brush.
4. Caring work boots inside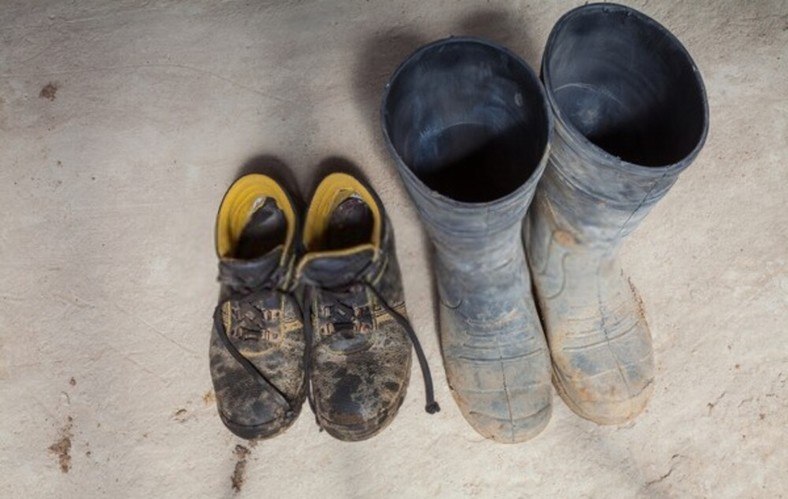 One of the most important to care about inside work boots is cleaning inside boots. By getting rid of unwanted substances, will preserve the leather and prevent premature cracking, and will also get rid of any bacteria that may cause damage to the leather. By cleaning inside your work boots, you are allowing more air in and preventing mold from forming in there too.
Ways to clean work boots inside are to use a moistened brush. You may also wipe the inside of the work boot with a moist cloth or sponge and then let it dry in the sun. Make sure you completely let them dry in the sun before wearing them again.
5. Caring work boots outside
Caring for your work boots outside is equally as important. This is important because it will prevent dirt from building up on top of your leather work boots or even rust if you are using steel toe boots. one of the most important to care work boots outside is cleaning them. Here are some guides to clean outside of types of work boots:
6. Caring leather work boots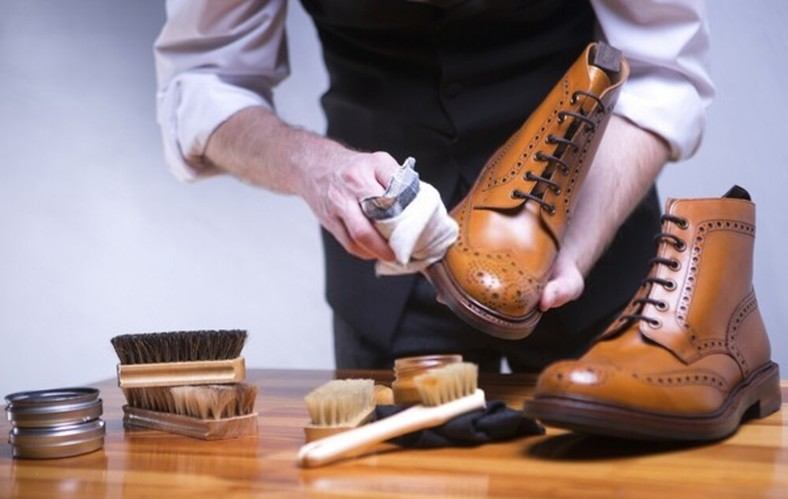 First, use a soft-bristled brush or moist cloth to remove any caked dirt from your boots, then let them air dry. Please keep your boots out of direct sunlight and away from any heaters, as they will dry up the leather.
To keep your boots in good shape, use leather polish, spray, or cream. If you are using a product for the first time, try it on an inconspicuous area of the boot to check whether it alters the color or appearance.
Apply a tiny quantity of polish on a polishing cloth or brush and massage it in circular movements onto the shoe.
With a moist towel, wipe away the residue and lay it aside to dry.
Depending on the leather finish, once dry, buff with a brush to achieve a shine.
7. Caring Suede work boots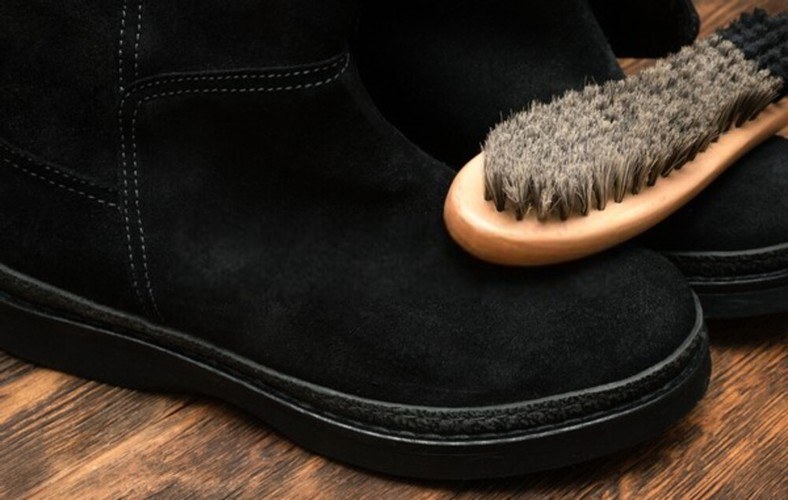 Scrub any surface stains or grime with a suede brush.
You may use a gum eraser to eliminate any scuff marks on your teeth. Simply use the eraser to massage the scuff and wipe away the rubber residue.
After that, wet a suede brush and apply a tiny bit of suede and leather cleaning to it. Then wipe the shoe, paying special attention to any regions that are severely discolored.
To eliminate any extra moisture, dab the shoes with a clean cloth and let them air dry.
After the shoe has dried, treat it with a water and stain-resistant spray to help it last longer.
To keep the leather from staining, it's a good idea to waterproof boots on a regular basis. If the leather is damp, let it air dry before washing or applying any cleaning products.
8. Caring Nubuck work boots
Remove any surface filth with a dry nubuck cloth. Then lightly brush with a nubuck brush. Circular motions should be used, with each region receiving no more than a few seconds of attention.
Remove any scuffs with a gum eraser if necessary. Simply use the eraser to massage the scuff and wipe away the rubber residue. Alternatively, use a spray-on nubuck cleaning solution and a nubuck cloth to wipe the area clean. It is critical to follow the product's directions and to test it on a tiny area before applying it to a larger area.
To eliminate any extra moisture, dab the shoes with a clean cloth and let them air dry.
To make your shoes last longer, apply water and stain repellent to the nubuck.
Remember to waterproof your boots on a regular basis to keep the leather from staining. If the leather is damp, let it air dry before washing or applying any cleaning products.
Caring the Sole work boots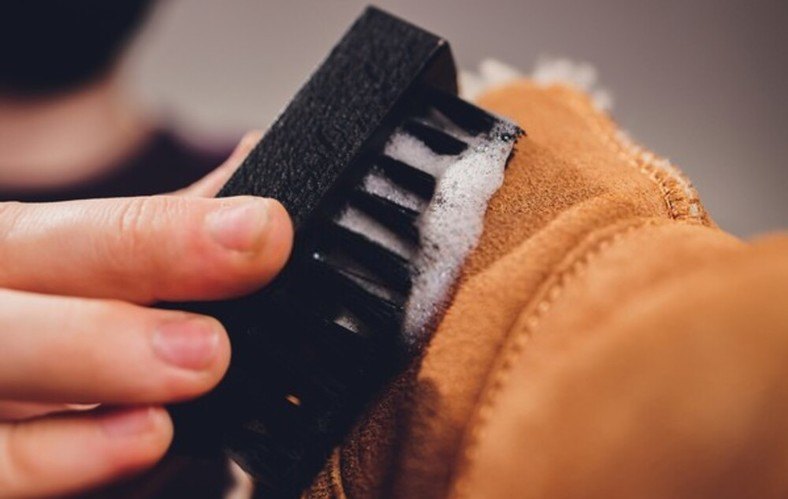 Clean your footwear of any significant particles of dirt or debris.
Clean between the treads with a strong nylon brush to remove any extra dirt. If dirt remains, soak your boots for two hours in a small bath/bucket of warm water. Remove with a firm nylon brush once more.
Finally, wipe your boots with a moist towel before allowing them to dry naturally.
Caring Nylon work boots
For mild soiling, use a dry soft-bristled brush or moist towel to remove any caked dirt from your shoes, then air dry them in a well-ventilated place. Make careful to air dry your shoes away from direct sunshine or heat sources. Never put your shoes in the dryer.
Remove the footbed and the surface for a more thorough cleaning. Wash the shoes lightly with water and a small quantity of mild detergent, then rinse with warm water to avoid excessive water penetration into the shoes. Hand washes only – do not soak the shoes or use a washing machine as doing so may cause permanent damage.
The footbed should be washed with mild soap and water and left to air dry flat.
When air drying, stuff the shoes with clean, dry paper (i.e., paper towels), then lie them flat on a clean surface. Once the shoes are dry, remove the stuffing and reinsert the dry footbed. Repeat cleaning as required.
Caring PVC work boots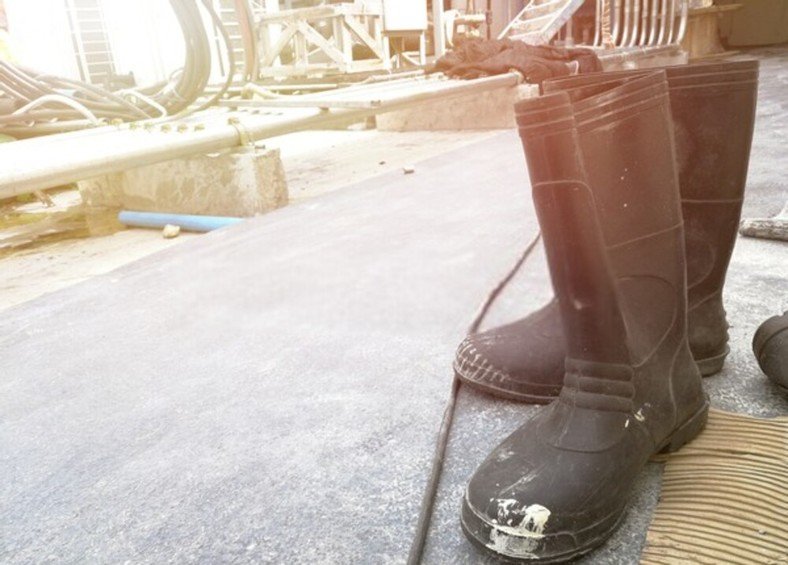 After wearing, use a soft brush or cloth to gently brush off dirt and other pollutants. Rinse with clean water and, if required, a mild detergent. Dry with a clean cloth.
Soak your gumboots in water, not solvents or harsh detergents.
Avoid drying or storing your gumboots in direct sunlight or near a heat source to avoid the rubber becoming sticky and breaking down.
Wipe the insides of your gumboots clean and wash the footbeds as needed with a light detergent and water.
Additional Suggestions
If you dry your boots over an open fire or with an artificial heat source, the leather will stiffen, shrink, and break. It's possible that the leather will peel away from the sole. Allow your boots to air dry at room temperature.
Always keep your boots in a well-ventilated, cool location away from direct sunshine and other sources of heat that might tarnish the leather.
When your boots require it, you should apply a leather conditioner. Always remember to apply a conditioner if your boots are scuffed and damaged.
Similarly, when your suede boots appear worn and before you wear them on a wet or sunny day, you could use suede protection.
Make sure your footwear isn't contaminated with chemicals. Solvents, powerful acids, and alkalis, as well as everyday chemicals like milk and salt, will cause irreversible damage to the leather. If you get your boots wet, clean them right away.
Only use high-quality cleaning products that are tailored to the material of your boots.
Storing Work Boots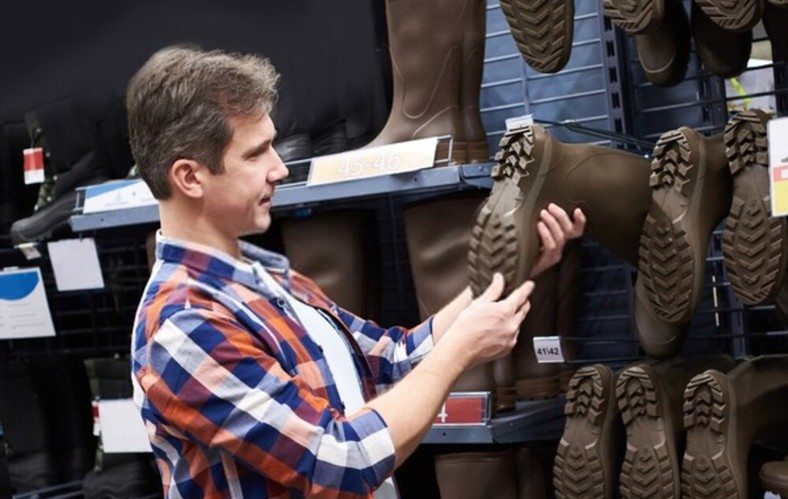 Storing your boots is also important. Ideally, you should store them in a place where they won't be affected by the humidity as much as possible. If your boots are already in a humid area, lightly spray the leather with a dehumidifier followed by oil or wax to prevent rusting and cracking. You can also use Teflon-coated patches if you don't want to purchase an actual dehumidifier, and there's no need for much moisture anyway.
Keep your feet clean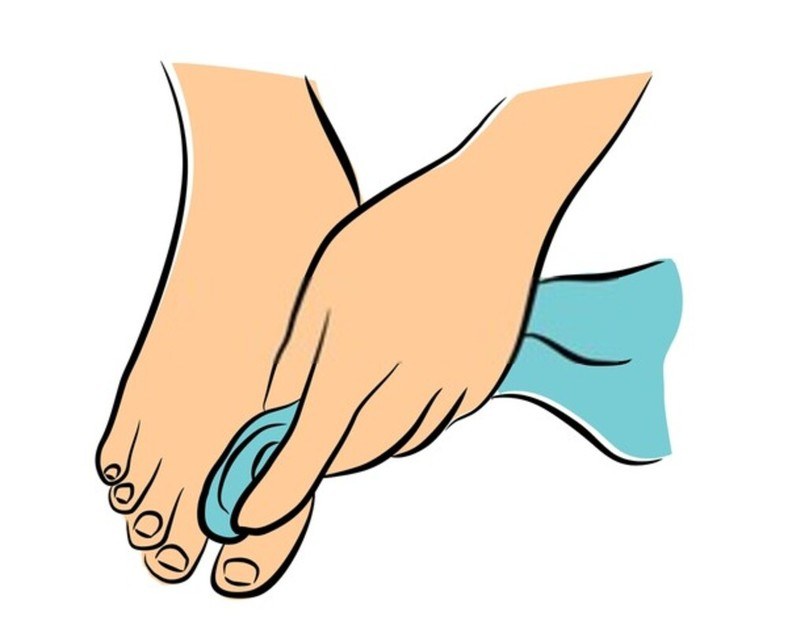 Keeping your feet clean is helpful in work boots care because if you have clean feet, then you will have to use less cleaning substance on your work boots. Fewer things to clean are always good.
Remember to keep the inside of your shoes dry and try not to walk around when your feet are wet ( but not when the floor is slippery).
Why Take Care Of Work Boots?
There are many benefits of work boots care, such as:
– Protecting your feet from infections, wetness, and cold: Yes, having good quality work boots protect your feet against the bad weather, wetness, and cold.
– Preventing damage to your feet and legs, keeping your feet dry and healthy.
– Maintaining a good appearance
– Improving the life span of your work boots
– Helping to prevent accidents at work, safer work
– Making you comfortable
– Helping to prevent bad smells
– Comfort during work
– Creating a healthier environment for both you and those around you.
How Bad Will It Be If You Don't Take Care Of Work Boots Properly?
If you don't take care of your work boots, it will be making some bad things:
– Could lead to Bad odors or foot odor
– Discomfort during work and creating an unsanitary environment.
– Resulting in decreased productivity as a possible result of foot discomfort.
– Bad effects on health It can also cause slipped disks as a result of not wearing proper footwear.
– Work boots are Damaged as a result of moisture and wetness.
– Reduced longevity, reduced wear and tear resistance
– Loss of flexibility and comfort of work boots
FAQs
How long does it take to take care of work boots?
It depends on the type of work boots you have. For example, cowboy boots care requires 30-45 minutes to be done.
Other types of work boots need little or no maintenance at all, but I would say one hour is more than enough time for them not to go bad.
How often should I oil my work boots?
This depends on the type of work boots you have. If your work boots are leather, then they will need regular oiling. For inner soles, do not oil or wax them, but regular maintenance is enough for them to protect your feet from infections and cold.
On the other hand, if your work boots are made of suede, you should oil them every couple of months.
Can I store my work boots to dry without damaging them?
Yeah, it will be fine, but you can't leave them lying in the sun or in a very, very hot room because that will be very bad for your work boots.
What is the best way to clean work boots in the field?
It depends on in which environment you're working in, but if it's mud, then you should wipe them off with rags or paper towels. If it's dust, then you should wipe them with a dry cloth that is not too rough on the surface; otherwise, more harm than good will be done to your work boots.
What is the best way to take care of my work boots?
By maintaining your work boots regularly, you can make them last longer. By oiling your work boots, you will be able to protect your feet from infections and cold weather. And by cleaning them, you can avoid bad smells and dust.
How do I know if my work boots are not good anymore?
If you have cracks or splits, then it's time to buy a new pair or take care of your old ones.
Can I use olive oil or Vaseline or alcohol on leather work boots?
No, olive oil will make the leather sticky, and you can't take care of it with a brush.
Vaseline is not a good idea; it's bad for your work boots because they'll get all sticky. There is also a risk that the leather might damage from Vaseline.
Alcohol is also not a good idea. This will make your work boots all cracked and ruined, and you can't do anything about it.