Tennis shoes are used to play tennis, play sports, or boost a cool look to hang out with friends. They can get dirty easily and require time to remove stains, deodorize and retain shape. However, after washing the shoes, it is important to keep in mind some rules to dry them properly. You do not want to melt the glue or cause mold! It's time to find out some ways to dry your tennis shoes at home effectively!
Air dry under the sun: If you are not in a rush, you can just let the shoes dry naturally with some sunlight. It's easy, cheap, and effective!
Use a fan: It takes less time than air drying and has a low risk of destroying tennis shoes; however, the shoes may have some unpleasant odor.
Use a hairdryer: You should find a cool setting of the dryer before using this method. Some shoe material quality deteriorates from the heat of the dryer.
Use a tumble dryer: Avoid high-temperature settings and longer cycles. You should never leave your shoes unchecked for more than 15 minutes.
Use a boot dryer: Boot dryers are safe for most materials and no more prone to catching fire than a hairdryer.
Steps To Air Dry Tennis Shoes: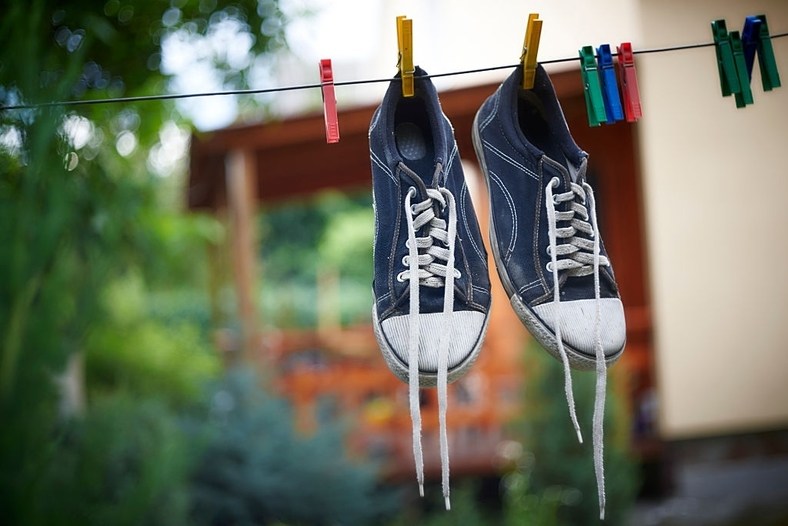 Equipment:
a rack
dry white fabric
Time: It depends on your weather and your region. Usually, it takes about a day to dry your comfortable men's tennis shoes.
Step 1: Lay Them Under The Sun.
Once you have squeezed out any excess water from the inside of the shoe, you can lay them flat on a rack in a balcony or somewhere the shoes can soak in some sunlight. It will kill the germs and eliminate any lingering odor.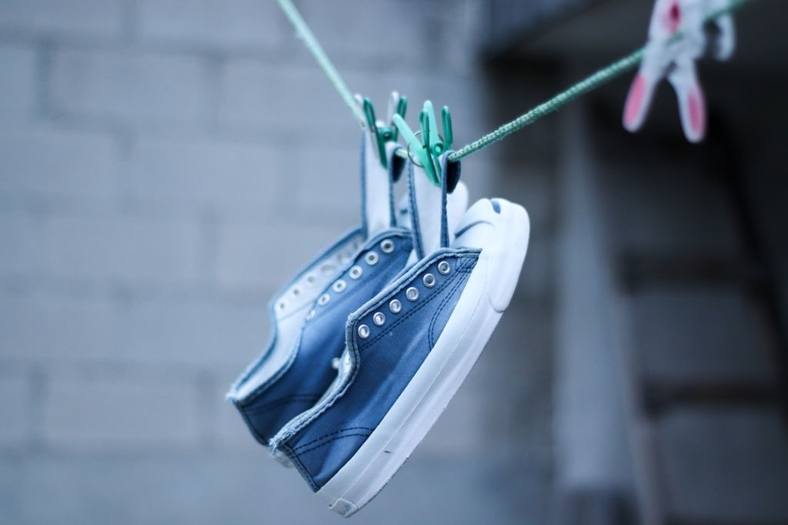 Step 2: Stuff Shoes With Some Clean Fabric
Firstly, stuff them with dry white fabric. Roll your fabric and put it into your shoes to absorb all the moisture inside your footwear. It will help to dry tennis shoes more quickly, avoid color change and retain shape.
Step 3: Squeeze Or Change The Fabric
Squeeze them tightly to remove excess water and dry them more quickly. This method will help remove an excessive amount of water from footwear components like the inner sole. Remove the sodden fabric and stuff with other dry pieces of fabric if necessary.
Protip: Remember not to stuff your shoes with paper because when they absorb water, they break into small wet pieces inside them. The ink can sometimes bleed onto them too. It would be a disaster after spending hours cleaning tennis shoes!
Steps To Dry Tennis Shoes With A Fan: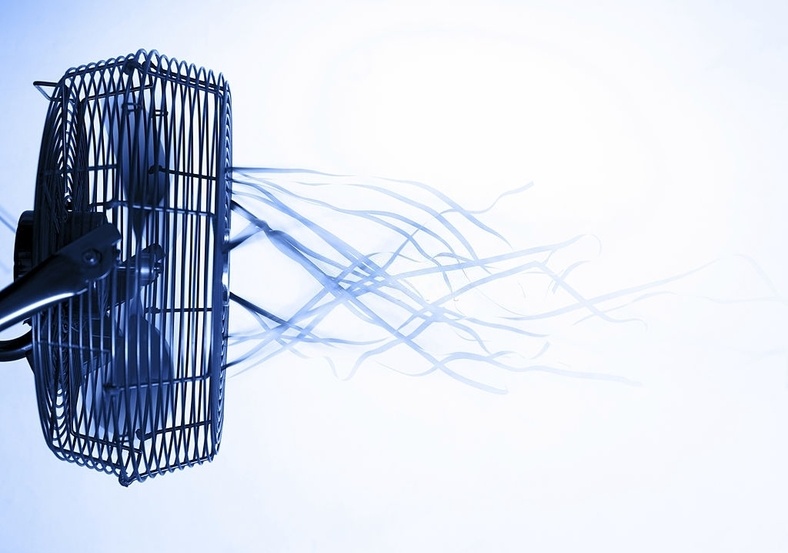 You can simply place your tennis shoes in front of the fan to dry, but I will show you how to dry your pair quicker.
Equipment:
a fan
a wire cutter
an old wire
a plier
Time: 1 to 2 hours
Step 1: Find A Suitable Fan
It should be taller than the length of your shoes and sturdy enough to allow the shoes to hang from the fan. Place a towel in front of the fan to catch the water that drops from the shoes. 
Step 2: Remove Thick Insoles Or Orthotics
You had better set them on a radiator to dry or use the hairdryer with the cool setting for a few minutes if the materials are not leather.
You can take a look at some of the examples of the best shoes for orthotics in the article.
Step 3: Cut An Old Wire Hanger And Bend It Into A Shape
Use your wire cutter to cut two six-inch (15.2 cm) lengths of an old wire. Next, bend the wire so that it is in an "S" shape. It should have a smaller hook on the one end to clip to the fan and a larger hook on the other end to hold the shoes. Repeat with the second hook.
Step 4: Hook The Small Ends On The Fan.
Keep them approximately nine inches (22.9 cm) apart so that the shoes are separated.
Step 5: Hook The Large Ends On The Lace Hole.
Open up the shoes so the inside will get as much air as possible from the fan. Hang them from the inside heel on the larger hook.
Protip: You can use pliers if your hanger wire is hard to bend.
Steps To Dry Tennis Shoes Using A Hairdryer: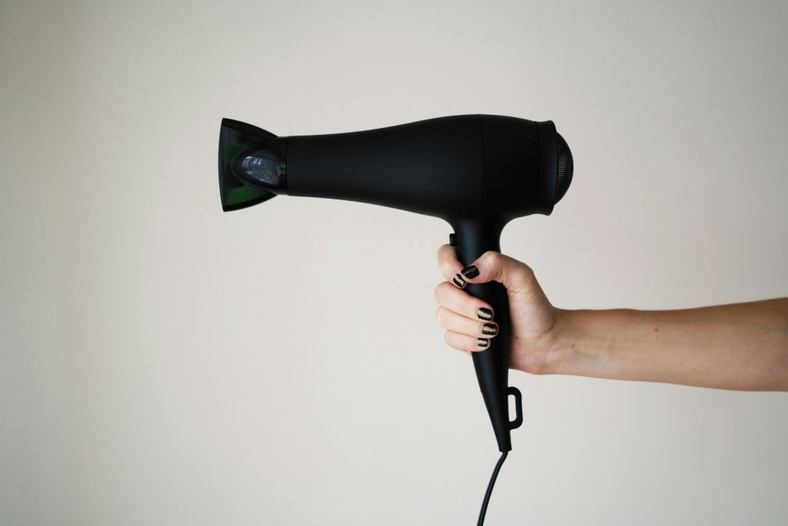 Equipment:
Time: It depends on your hairdryer. It can take you around an hour.
Step 1: Use Your Hairdryer's Cool Setting
If your dryer has multiple levels, choose the mildest level to dry your footwear as the glue which sticks shoe components all together can be melted by the heat from the dryer. If your dryer does not have a cool setting, move to other methods.
Step 2: Watch Out.
Even if this method takes you hours to hold the dryer, ignoring and drying only one part of the shoes would melt the glue or burn the fabric.
Warning: This Is Not A Recommended Way To Dry Your Tennis Shoes.
It is seen from above that using a dryer takes you an excessive amount of time and requires strict rules of heat. However, it is not as effective as laying under the sun or using a tumble dryer.
Steps To Use A Tumble Dryer: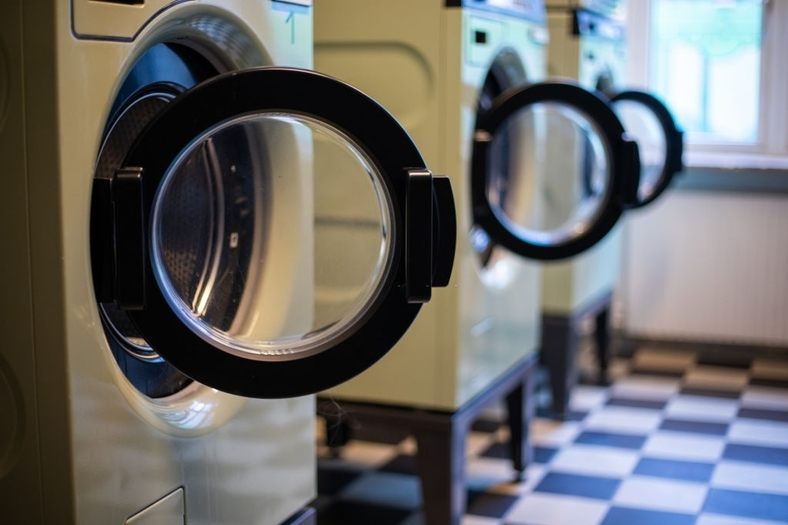 Equipment: a machine dryer
Time: 15 – 20 minutes
Step 1: Check The Label.
There is a label on the inner heel or tongue. It should tell you if you can machine dry or air-dry the shoes.
If you see a square, with an X in it, the shoes cannot be dried in the tumble dryer. You should try other solutions. If there's a circle in the square, you can dry the shoes with low heat.
Step 2: Check The Material.
If you cannot find the shoes' care label or it is rubbed off, consider what material the tennis shoes are. Knowing that materials such as cotton, polyester, or dry canvas are ideal for machine drying, you should only use natural air to dry out shoes constructed with leather, suede, or rubber. Shoes made of leather or suede material can end up cracking or bending if you put them in for machine drying. 
At the same time, you also do not want to machine dry any other kind of shoes that contain sequins or beads on the external body. Not only can the beads and other embellishments fall off, but the items can also damage the interior of the machine dryer.
Step 3: Tie A Knot.
It is necessary to tie a knot of the laces together so that the pair does not fly around the machine dryer when it is being operated. You do not have to tie the knots too hard together, as a simple half knot will be enough to secure the deal. 
Step 4: Hang The Shoes
The next thing you need to do is pick up the shoes by the laces and hang them inside the machine while closing the laces in the door. Place the laces outside the door, close the door, and secure the shoes inside the machine dryer. Here, the door will keep holding onto the laces, therefore allowing you to be hands-free while the machine does its job.
Step 5: Use Minimal Heat
The best way to dry wet tennis shoes is to set the heat levels inside the machine to "Air Dry". Most machine dryers come with this feature; however, you can adjust the temp to "low heat" if your machine dryer does not come equipped with the former setting.
The key here is to use minimal heat as you do not want excess heat to shrink the overall material and fabric of the tennis shoes. Not only will this ruin the quality of tennis shoes, but it will also shrink the pair to a smaller size in general.
Step 6: Time The Drying
Going overboard with the machine drying session can adversely affect the quality of the shoes. Usually, it would be perfect to dry the pair within 15 or 20 minutes. However, at the first time trying this method, you need to continually check the status of your shoes in increments, ensuring your shoes are not exposed to dryer heat any longer than they need to be.
Protip: If your tumble dryer comes with a rack installed inside, you just need to leave the wet shoes on the rack and the rest will be done.
Here is a helpful video about how to dry the tennis shoes in a machine dryer
Steps To Use A Boot Dryer: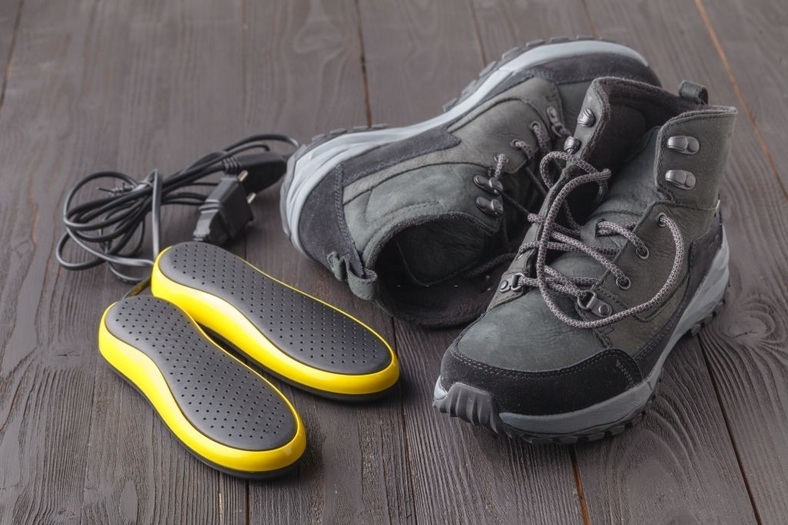 Equipment: a boot dryer
Time: 1-3 hours
Step 1: Get Rid Of The Excess Moisture.
If your shoes are still dripping wet, put them on some newspaper, paper towels, or a towel first. Offer them a quick wipe to avoid getting water on the boot dryer.
Step 2: Read The Instructions.
You would probably reckon that you've already known how to position your boots properly on the dryer. But reading carefully the instructions ensures the most efficient drying and prevents you from blocking vents, potentially causing the unit to overheat.
Step 3: Turn The Dryer On
Let your shoes dry and check them after an hour if your shoes are done or not.
Protip: The UV boot dryer uses ultraviolet light to dry the boots, so it could kill mold, bacteria and other organisms. Not only are your shoes dry but they are also sanitized and deodorized.
Warning:
Do not use propane boot dryers indoors. They release carbon monoxide, which is invisible, odorless, and toxic.
Never place your boot dryer near another heat source like a furnace or radiator.
FAQs
Can I put the shoes dỉrectly in the machine dryer without tying a knot and hanging them up?
No. The shoes can bang around in the machine dryer and get damaged.
If I am in a rush and still want to put my Converse having sequins in a machine dryer, what can I do to reduce the chance of the sequins falling out?
You can place your pair in a bag or pillowcase and then follow other steps to dry. To be more sure, you can add plenty of towels to buffer the shoes hitting the edges of the machine.
Will my tennis shoes shrink in the tumble dryer?
If you set the heat levels inside the machine to "Air Dry" or "Low Heat", you do not need to worry about this. The core problem is that being exposed to excessive heat could make the tennis shoes shrink.
Will my tennis shoes fade under the sun?
Yes, your shoes stand a chance of fading under the intense sunshine. However, you can prevent the fading by placing your footwear in some dry places which do not have direct sunlight.
How can I dry tennis shoes that are frozen after being washed?
In the winter with frosty air, you could end up with frozen solid shoes after washing them. Place your shoes next to your fireplace and stuff them with some clean white towel inside to absorb the melting ice. But remember to keep an eye on them if you do not want the shrinking tennis shoes caused by the high temperature from the fireplace.
Is a boot dryer expensive?
They have multiple ranges of price:
Inexpensive: They cost around $15 to $20 per pair. The main drawback is that those dryers do not have a fan, just a heating element, so they are slow.
Mid-range: A good-quality convection boot dryer starts at around $35 for those that dry a pair of boots and $50 for those that dry two pairs.
Expensive: High-end forced-air models that include a pair of long boot extensions usually run to about $70 or $80. Propane boot dryers are in the region of $100.
Is it noisy to use a boot dryer?
No. The boot dryer will get warm and reach its maximum temperature in 10 minutes. There are no fans or moving parts, so it will not blow air or make noise.