Damascus steel is refined from Wootz steel, a type of steel dating back to BC in India and Persia. The Arabs brought Wootz steel to Damascus, where the weapons forging industry was thriving at that time. Thus India and Persia supplied their steel ingots to the Middle East from the 3rd to the 17th centuries. However, how to make Damascus steel is still a mysterious question for all human beings.
What Is Damascus Steel?
Damascus steel is a type of traditional steel used to forge swords in the Middle East. This steel is unique in that it features prominent metallic veins with spots like flowing water. Swords made from this steel are very strong, hard to break, and have a resilient and sharp blade. However, production of this steel is currently not possible because the refining technique for this type has been lost despite people trying to do it.
Note that Damascus steel can be easily confused with swords made or sold in Damascus or the technique of double-folding the steel to produce a product that looks very similar to this steel even if it is not. Refining of this steel ceased around 1750.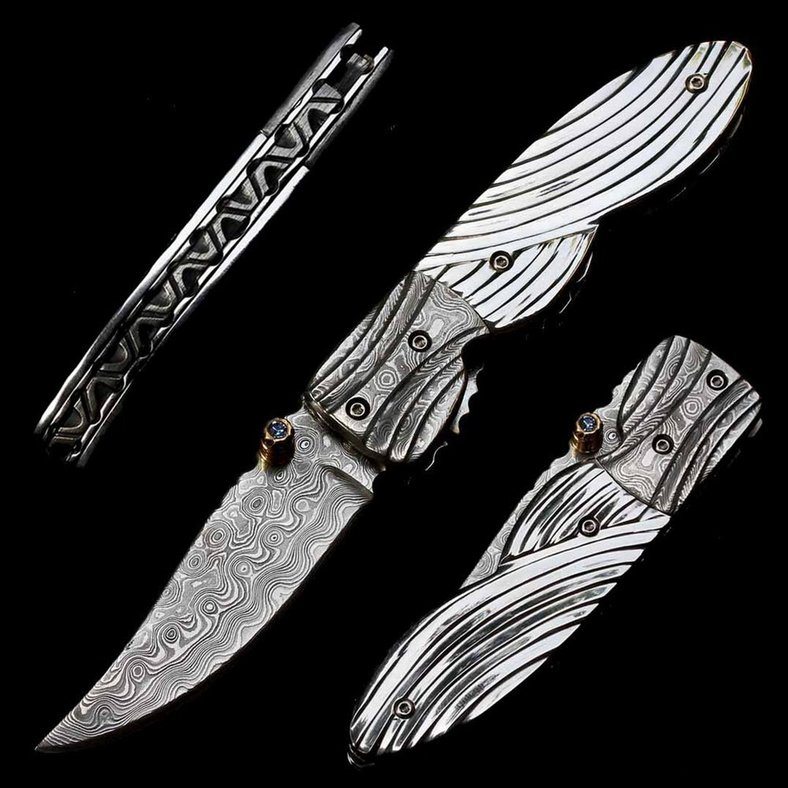 Notable Characteristics Of Damascus Steel
The remarkable feature of this steel is its textured surface, which makes many people think that the products are made from two different types of steel, and they are welded together many times by blacksmiths. Thus, you still see "imitated Damascus steel." This steel is a homogeneous mass with the distribution of carbon forming Fe3C and other impurities in a prominent chain, but its form is unclear. Although this is not the main feature of this steel and is only for decoration, it attracts much attention.
Like other traditional steels, the properties of Damascus steel are praised, such as splitting the barrel of a gun and cutting the hair that falls on the blade. Although none of the hundreds of years old swords are sharp enough to confirm the legend, scientists have found that Damascus steel swords have a fiber structure and carbon nanotubes. Through scanning electron microscopy, the scientists found Fe3C nanofibers after dissolving a sample in acid, suggesting that the nanotube structure may have encapsulated the fibers, which gives the metal its famous properties. As a result, this steel is durable and sharp and contributes to the formation of veins.
Although some modern steels are refined through chemical reactions that may have been better, the technology for refining these steels was a leap forward in their time, and they were somehow refined back into the future. So it's very flexible and tough.
Historical Vestiges Of Damascus Steel
"Wootz" comes from "ukku" – it means "steel" in Southern languages of India. However, it was known in English only in the late 18th century, when the first Europeans started to learn about making Damascus steel. Afterthat, the Indians tried to apply new ways of producing Damascus steel for more than two millennia.
You can find the earliest reference about ancient Indian steel production in the time of the Great Alexander. It happened in the fourth century BC, and the Greek ruler is said to have met 100 steel geniuses in India.
There is also clear proof of steel production in ancient society of India. It is evident, for example, in the Kodumanal region of southern India in Tamil Nadu, Historians have found a steel industry center dating back to the Chera period (founded centuries ago, 3rd BC) at that place.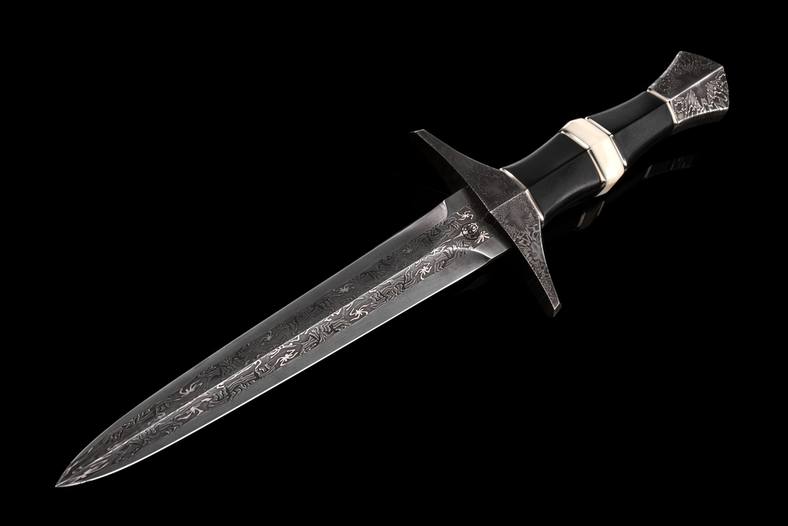 How To Make Damascus Steel In The Past
Speaking about Damascus steel, people will understand the Wootz steel production process. Through the analysis, people hypothesized that in smelting Wootz steel, add some leaves and wood and many other types of ỉon alloys to be cast into ingots. It may derive the nuggets from plant fibers, which are then forged from the steel's fiber structure and carbon nanotubes. Scientists hope to analyze the carbon nanotube structure in artifacts made from this ancient steel to recreate them or develop new materials.
History Of Damascus Steel
The technique of making Wootz steel has been a secret among the Indian metallurgists for ages. Thus, the Indians monopolize the industry and production of Damascus steel. It was produced in India, exported to places like the Roman and China.
During the Middle Ages, people exported Wootz steel to the Middle East, where it was forged into the famous Damascus blades. Then, Muslim warriors with excellent quality blades in their hands brought the reputation of Damascus steel to Europe.
At that time, there was no metal made in European countries that could compare to the high-qualified Wootz steel in India. As a result, India was the top country in the steel industry for several centuries. By the end of the 17th century, Wootz steel was made on a quasi-industrial scale while thousands of steel were carried on ships from the Coromandel to Persia.
In the early 19th century, the Europeans finally got some idea of ​​how to make Wootz steel. European visitors to India like Francis Buchanan, Benjamin Heyne record that the Indians produced Damascus steel using a crucible that melted steel and other auxiliary substances.
Crucible Process
Crucible smelting is one process of primary metal products used in pre-modern times, and the rest are Bloomery and Blast furnaces. The cooking process involves placing iron, for example refined or wrought iron, and carbon-rich materials like wood, into a crucible.
The crucible is then burned for some days at temperatures between 1200°C and 1300°C. As a result, the carbon is mixed by the iron to liquefy by lowering its melting point. This process also adds specific properties such as high flexibility, high endurance, and reduced break to the finished product.
These are properties that are essential in making a blade. After going through a cooling system, the Wootz steel is shipped and made into knives. It fully understood about the making of Damascus steel in 20 centuries. Therefore, it can be said that the ancient Indians had manufactured technology in advance.
How To Make Damascus Steel Today
Step 1: Preparation Stage
Prepare the kiln
Prepare the kiln, the temperature that you want to maintain up to 1200 degrees. In this case, you can independently place a tiny stove made of stone. The process won't take long, and it is possible to use such a furnace for many years, especially if the process of making Damascus steel and blades from it will entice you.
Prepare materials
Prepare iron ore and ordinary charcoal. Get the rock horn. Mix iron ore and charcoal, put the material in the rock horn, and heat it to a temperature of at least 1100-1200 degrees. With such heating, iron ore will be released from oxygen and recovered, and as a result of iron reacting with coal, a porous homogeneous mass will be formed.
Remove the material from the oven and let it cool. Squeeze all impurities by forging. Due to these actions, you should have a small piece of wrought iron with low carbon. Prepare a clay container that can heat the resulting iron flakes, and an excellent option would be a closed clay crucible. Put the iron and charcoal pieces in the clay pot and close it. This heating will prevent the secondary oxidation of the iron.
Prepare to cool the mixture.
Cooling of the crucible should be done gradually, slowly, simply leaving it in the cooling furnace indefinitely. To do this, heat the workpiece to a temperature of at least 650 degrees and make forgings, then, achieving the desired result, quickly astonishing in water or saltwater to heat it.
Step 2: How To Harden Damascus Steel
To harden steel, it has become both ways to start correctly. First, take it and put it in the fire over the embers. If there is no fire, heat the burner or on the stove.
Two methods of hardening steel
According to the first method, two times with an interval of 2-3 seconds, dip it in the container with oil, leave it there for the first soak for 3-4 seconds, with the second – for 5-6 seconds. Then lower the part into a container with water for final cooling.
But be aware that coal is recommended for the hardening of steels since their temperature is significantly higher than that obtained on a burner. After some time (for example, it will take about 10-15 minutes to heat the knife. – crimson means the required temperature has been reached. Use tongs to remove parts from the fire. Working in the direction of the second, more "compact" method, after heating, dip the wax portion into the seal, immediately remove and repeat this action until your part has cooled to the point where it stops penetrating the sealing wax.
Some More Good Advice
If you want to harden only part of the steel, for example, a blade only heats the cutting edge; If you are new to steel hardening, remove the item every 2-3 seconds when heating. And try to control the color when heating it, as there is a risk of overheating. In case of heat, the steel turns white, or it becomes bluish and softer.
Above is the secret of how to produce Damascus steel. I hope you like our article and keep reading from our website to learn more exciting information.