Lapierre has combined aesthetics, innovative technologies, meticulousness, and its cycling expertise in the most crucial races to deliver the most efficient and pretty bicycles for all enthusiast cyclists for more than 60 years.
Whether you are riding for fitness, sport, road, or mountain biking competition, there will always be an ideal Lapierre bike for you. The company offers a very wide range of models, from road bikes to mountain bikes, all-road and city bicycles. In addition, all Lapierre bikes are manufactured in France, following the best rules in this field.
It is true that Lapierre has been the leader in premium mountain bikes in the French cycling market. More than that, the company is conquering the world of cycling in other parts of the globe.
Part of Best Bike Brands.
Overview Of Lapierre Bikes Company
History Of Lapierre Bikes Company
Lapierre Bikes has been designing, building, and manufacturing bicycles since 1946. 2021 is the brand's 75th anniversary. Over the past 75 years, Lapierre has developed a great passion for bike riding in all cycling disciplines, including mountain, road, urban, gravel, and electric bicycles. The company's philosophy has kept moving forward by the year.
Gaston Lapierre started a small business in the cycling industry in Dijon, France, in 1946. The company has soon found huge success in the world of cycling that was going through fast growth.
However, in 1960, Gaston Lapierre passed the management of the company to his son, Jacky Lapierre.
In order to meet the increasing production volume, Lapierre Bikes built a new manufacturing plant in the industrial zone of Dijon in 1972. Besides the new factory, the company also had a new building to sell spare parts and components, with a new showroom for the bicycle collection.

Since then, the Lapierre bike brand flourished and quickly became a reference for bicycle specialists.
In 2000, Romain Mary, the Lapierre's cyclist, won the title of the French National Champion in the DN1 amateur Elite division.
A year later, 2001 was an important year for Lapierre. The brand presented a groundbreaking full-suspension mountain bicycle, the X-Control. This model was fitted with the licensed FPS rear suspension system.
This innovative technology allowed cyclists to find a perfect combination of high performance and comfort in one bicycle. That same year, Jérôme Chiotti won the French MTB Championship on the Lapierre X-Control. In addition, he was the very first cyclist to win this prize on a full-suspension mountain bike.
Becoming An International Brand – 2007
In 2007, Lapierre launched their latest development in the rear suspension, the OST suspension system, typically suited for long-distance bicycles. The three types of mountain bicycles using this innovative technology include Froggy, Spicy, and Zesty. The company built the OST platform to create the supreme all-mountain bicycle with the flawless light combination of optimized geometries, performance, and versatility. As a result, they will deliver the best possible performance on specific terrains.
In addition, the company pushed its export activities forward. As Lapierre became a global brand in 2007, the company distributed its products in most of Europe and other regions, including Asia and North America.
1946 – 2016: Constantly Evolving
At the age of 70 years in the business, Lapierre is continuously developing. Shortly after winning the 2015 DH World Championship title, the brand withdrew from the DH competition. However, the company then proclaimed a bigger team in the electric bike and Enduro competition. There were five new cyclists who took part in this new team, including Chloé Gallean, Florian Golay, Maxime Folc, Rae Morrisson, and Thibaut Daprela.
After nearly 70 years in the cycling industry, Lapierre is constantly making headway, modernizing, and developing its products to provide the cycling market with better bicycles. The company also has many ongoing projects to help it stay ahead and surprise riders with a lot of new things.
Where Are Lapierre Bikes Made?
Lapierre Bikes appreciates customer satisfaction as much as groundbreaking designs. All Lapierre bikes are manufactured in Asia and then assembled at three manufacturing facilities all over France. Typically, all of the high-end bicycles are assembled at Lapierre's Dijon factory.
The Technologies Of Lapierre Bikes
Lapierre has set high-tech standards when designing its bikes since its inception. The company's engineers are continuously developing wonderful bicycle models for mountain and road biking. In particular, they have combined the best possible construction and technology for the highest performance and ultimate comfort.
Road Technology
Racing Improves The Breed
The FDJ (Française Des Jeux) has been collaborating with Lapierre for 7 years, with the last arrival of Groupama in this cooperation. And it actually produced results. In 2016, Arnaud Demare won his first French title at Milan-San Remo in more than 20 years, while Team DSJ had its first TT win in the same period with the all-new Aerostorm DRS.
Such stellar results only reinforce last victories in the planet's biggest races, including the stages of the Vuelta a Espana and Giro d'Itali and l'Alpe d'Huez on the Tour de France. All of these things are to prove their power. As a result, Team FDJ has prevailed in the extreme world of Cyclocross, winning the French Championship no less than 8 times.
In fact, Team Groupama FDJ is extremely associated with the development of all Lapierre's carbon road bicycles. The brand's engineering team has ordinary test sessions and aggressive development with technicians, testers, and cyclists.
Design
When it comes to design and performance, the company uses the brand-new SAT (Shock Absorption Technology) for its endurance bikes. They are capable of absorbing shocks and vibrations on uneven, bumpy terrains, providing unparalleled cyclist protection. This is because the SAT elastic ring can absorb flex between the top tube and seat tube, delivering extra comfort.
Other enhancements include the Power Box, which displays top, rear, and bottom triangles that act as an extremely efficient form. What's more, the respectable lateral rigidity with little flex even on the most challenging pedals contributes to the fastest acceleration and sprint possible.
MTB Technology
Suspension
For mountain biking, Lapierre invented a groundbreaking electric shock, the EI Shock auto. It features great sensors that can calculate and assess ground and pedaling conditions. As a result, the technology keeps your rear shock in the right position so that you can focus on your riding. A removable interface is located on the side of the stem. Besides, the company put the compact battery on the downtube. In general, this technology is typically designed to simplify your ride.
In fact, Lapierre's OST+ suspension is created based on virtual pivot point kinematics. Basically, the bouncing effect of continuous pedaling is reflected by the force of the chain. It will deliver incredible performance on different terrains, both uphill and downhill. In addition, it provides the cyclist with the ultimate comfort and unparalleled efficiency, making it a new standard in the world of mountain biking.
Road & MTB Technology
Material
As you might know, the materials used for the frame's base will significantly affect its quality and, of course, performance. The company has worked day and night to perfect its specialized carbon and aluminum layups.
Since Lapierre has been working with professional aluminum suppliers, it has private access to high-end aluminum. The Supreme 6 is 1.5% more lightweight and 12% more resistant than the commonly used aluminum 7005. In addition, it features an outstanding lifespan and is available on specific models.
Carbon fiber, on the other hand, is a perfect combination of art and science. As a result, it comes in as black magic. The company created its first carbon fiber frames in 2003. Thanks to the expert's knowledge, Lapierre has been outstanding in building carbon fiber frames for bicycles for over a decade. And the company is currently still making them by hand.
You might see that this piece looks similar to another. However, carbon is exceptionally adaptable. It can flex and absorb shocks, being incredibly sturdy, or anything in between. In fact, the carbon's nature is partly due to the way fibers are arranged and partly due to the fibers themselves.
There are four different types, and Lapierre always knows how to get the most out of each one. For example, High Resistance Fiber is perfect for damping and absorbing vibrations – which you might want in the saddle, seatstays, or the whole frames. The Very High Modulus, on the other hand, is exceptionally rigid for the best possible pedaling performance.
However, if you have a chance to use the Very High Modulus, you will know that it is no joke. It is so stiff that, in fact, only the Xelius road racer can use it. The Aircode, Aerostorm DRS, and Pulsium don't use anything but the inherently stiff High Modulus because rider fatigue is higher precedence for them.
Elsewhere, the all-new Cross Carbon is built from High Resistance fibers for maximum flexibility, traction, and power.
Performance Of Lapierre Road Bikes
With the new Xelius SL road bike, you will never have to face the challenges of climbing hills or descents alone. Even when the percentages push you to dig deeper inside, Lapierre road bikes will not give you up when you need it most.
It will give you a boost when you restart and all the watts that you give it. What's more, it is lightweight enough to get you to the top in a flash. In order to create such great bikes, Lapierre has been closely cooperating with the Groupama – FDJ team, with relentless work and performance research, for many years.
With cyclists like Thibaut Pinot and facing legendary climbers, such as Angliru, Izoard, or Stelvio, the company has reinforced the climbing sensation of its Xelius SL model.
With a distinctive design and spotless lines, the all-new Aircode DRS, the third development of the aero road model in the category, is considered the new beginning in the history of Lapierre road bicycles.
It is typically designed for high speed, built to obey the laws of physics. All you will when riding the Aircode DRS is faster, stiffer, more aerodynamic, and far more comfortable than its predecessor. As you might or might not know, Arnaud Démare became the cyclist with the most goals in 2020, and of course, it was not an accident.
Reactivity, Comfort, And Energy
When developing the Aircode DRS 6.0, Lapierre wanted to enhance the rider's riding position for better comfort and greater efficiency. In terms of speed, the Aircode DRS 6.0 exhibits amazing stability and explosive responsiveness of the rear triangle because of the 3D Tubular design. Moreover, the short 405 mm bases allow for the success of curves and bends.
Versatile And High-Performing Wheels
Lapierre took advantage of its expertise in carbon to develop the all-new LP Road Disc Carbon 38 wheels. This model is integrated with the UD SL carbon frame of the Aircode DRS 6.0 model, the wheels weighing 1,518 grams. As a result, it can transmit maximum power to the cyclist and also offer versatility for any test, thanks to its flexible configurations.
Lapierre Bike Categories
With more than 3 generations of invention and experience in the world of cycling, Lapierre develops the best mountain, (electric) road, and urban bicycles for cyclists around the world. What's more, the company offers a tremendous range of different models as follows:
Mountain Bikes
Road Bikes
Trekking Bikes
Urban Bikes
Kids Bikes
Electric Bikes
Most Popular Lapierre Bikes
It is true that Lapierre provides the riding market with a very large range of bicycles. Nevertheless, not all of them are popular, which is really normal for any other bike brand. So, here are some of the most common Lapierre bikes that you can find on the market:
Mountain Bikes: Lapierre Zesty AM CF 6.9
Road Bikes: Lapierre Pulsium 5.0
Trekking Bikes: Lapierre Overvolt Trekking 6.4
Urban Bikes: Lapierre Overvolt Urban 4.4
Kids Bikes: Lapierre Prorace 20
Electric Bikes: Lapierre eZesty AM 9.0
Lapierre Bike Price Ranges
Since Lapierre has lots of different models of all riding styles, it is completely normal when their price ranges are also varied. As a result, you can easily choose a model that fits your requirements and budget. Now, let's have a look at the price range of Lapierre bikes:
Mountain Bikes: $583 – $9,350
Road Bikes: $934 – $8,532
Trekking Bikes: $525 – $3,272
Urban Bikes: $525 – $3,272
Kids Bikes: $385 – $466
Electric Bikes: $2,570 – $9,350
Are Lapierre Bikes Any Good?
Lapierre is a renowned French bike brand that is best known for its high-performance bicycles, best racing teams, and groundbreaking, industry-leading technologies. Meticulous attention to detail and a passion for a better, instinctive bicycle have kept Lapierre at the forefront of technological evolutions for decades. This also means their bikes provide the rider with great performance in most situations.
Lapierre Vs. Trek
Lapierre Bike Review
For over 60 years since its inception, Lapierre has combined meticulous attention to detail, aesthetics, technological invention, and its expertise in the races that matter most to deliver the most attractive and efficient bicycles for all enthusiastic riders all over the world.
Whether you are cycling for road or mountain biking competitions, sport or fitness, or simply for leisure, there is always a dream bike in the Lapierre bike categories, including all-road or city bikes, road bikes, and mountain bikes. Typically, all of the Lapierre bikes are created in France, following the best rules in the industry. As a result, they will deliver the best possible performance.
Lapierre has already been the leader in the premium mountain bike range on the French cycling market, and now it is conquering the other markets of the world.
One of the main goals of Lapierre is still to optimize the overall weight of its bicycles. As you might know, Lapierre bikes are some of the most lightweight models on the market. The company refuses to take any unnecessary risks that might affect the reliability of its bicycles.
Pros
Offer a wide variety of bikes in most common disciplines
Provide great bikes for both men, women, and kids
Groundbreaking EI Shock auto electric shock
Apply innovative Shock Absorption Technology
Very comfortable and smooth thanks to great shock absorption
Cons
Some models are not really that lightweight
Trek Bike Review
Like Lapierre, Trek has also made its own mark in the high-end bike market for many years. The company provides the world of cycling with excellent bikes perfectly combined with high-quality components and groundbreaking technologies.
So, when it comes to the look and performance of the bike, Trek bicycles are some of the best models. In addition, riders around the world love Trek bikes and put them on their wishlist because of the memorable riding experience on different types of terrains.
In particular, all Trek bikes today are built with a special emphasis on durability and practicality, two key factors of the brand's manufacturing philosophy. Another excellent feature about Trek bikes is that they are purposefully designed with great attention to the environment. This, as a result, has raised the value of their bikes, and Trek's eco-friendly bikes will definitely make you feel worth it.
Pros
Get a huge volume of loyal fans
Provide a wide variety of bikes in various disciplines
Constant innovation to improve its bikes' riding performance
Offer premium-quality, eco-friendly bicycles
Combined with great components to deliver a great experience
Cons
Most might be relatively expensive, yet completely worthwhile
Lapierre Mountain Bikes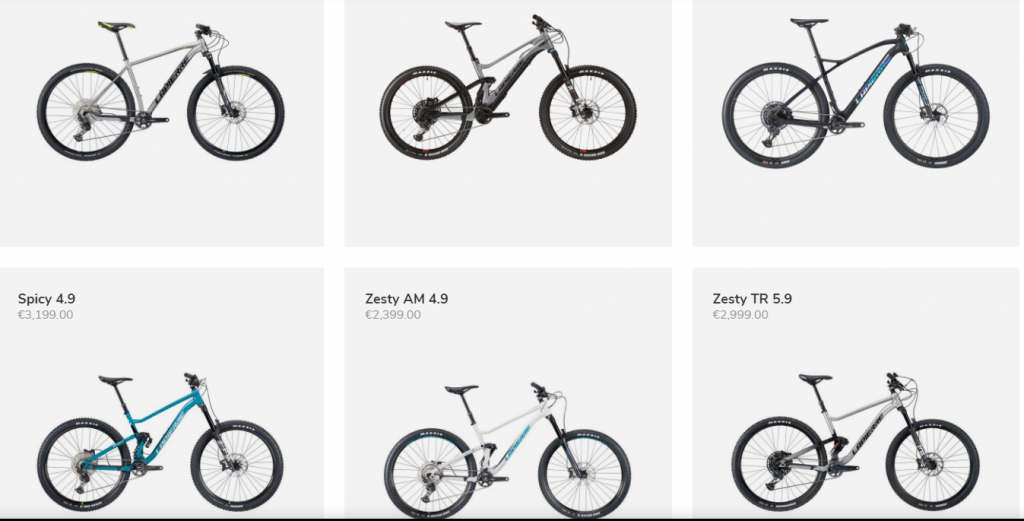 Discovering and having fun are two of the key things that Lapierre mountain bikes deliver. No matter how tough the trail is, enjoyment remains the major thing that matters most. Lapierre mountain bicycles will be your best companion that helps you conquer the most technical descents with delight.
With Lapierre mountain bikes, you can extend your limits or search for ultimate flexibility to enjoy riding pleasure without any boundaries. Generally speaking, Lapierre mountain bikes are designed as a way of life. They are your lifestyle, perfect for leisure or competition riding.
Enduro Mountain Bikes
Lapierre enduro mountain bikes will be a perfect equation. They deliver incredible pedal efficiency, no matter how long and difficult the climb is. Just start downhill and play with the elements and different types of terrains. Your trip will be sure to turn into a big game.
The company has typically designed its enduro mountain bikes to handle every terrain and be ready to race. In addition, these fully suspended bicycles are tested by professionals before officially launching to deliver the best possible performance.
All-Mountain Bikes
Play with the natural elements while pedaling through the mountains, climb up, and then go down. That is the essence of mountain biking. With Lapierre all-mountain bikes, you can enjoy all of those things since they are the results of that original spirit. They are specially created to climb, built to descend.
What's more, these models are typically lightweight and suitable for all types of trails and weather conditions, thanks to great built-in components and technologies. Generally speaking, Lapierre all-mountain bikes have only one limit: the limit you set for yourself.
Trail Mountain Bikes
If you are looking for an extension for your desire for versatility and speed, Lapierre trail mountain bikes will perfectly meet your demands. This bike category is specially built for maximum satisfaction on all types of trails.
The company's goal when creating these trail bikes is simply to ride and enjoy. Quickly descend any slope and concentrate on riding, letting your trail mountain bicycle do the job before you hit the top. Nature has no limits with Lapierre trail mountain bikes since they are agile to tackle any technically demanding trail.
Cross-Country Mountain Bikes
All of your off-road cycling adventures, descents, and climbs will be more fun with Lapierre cross-country mountain bikes. They are perfect for cyclists who are looking for extreme thrills: performance, speed, and efficiency.
These cross-country mountain bikes are not only lightweight, high-performance but also specially sized to compete. As a result, they allow the cyclists to ride faster without holding them back.
Sport Mountain Bikes
As you might or might not know, all Lapierre's expertise in semi-stiff and versatile mountain bikes are combined in its sport mountain bike range. These bikes are particularly created for comfort on gravel trails, are easy to pedal, and extremely efficient.
And, of course, they are designed to surprise riders in mind, whether it is simply for leisurely riding or a real adventure. Just fully enjoy your weekend outings and local trails with sport mountain bikes.
Women's Mountain Bikes
Lapierre is sure to meet all the needs of all mountain bikers, no matter if they are a beginning cyclist or a professional rider. In particular, the company offers gender-segregated models that fit both men and women.
However, Lapierre has also designed women-specific mountain bicycle models that perfectly accommodate the female body. Enjoy every ride with the ultimate comfort with these Lapierre's women's mountain bikes.
Lapierre Road Bikes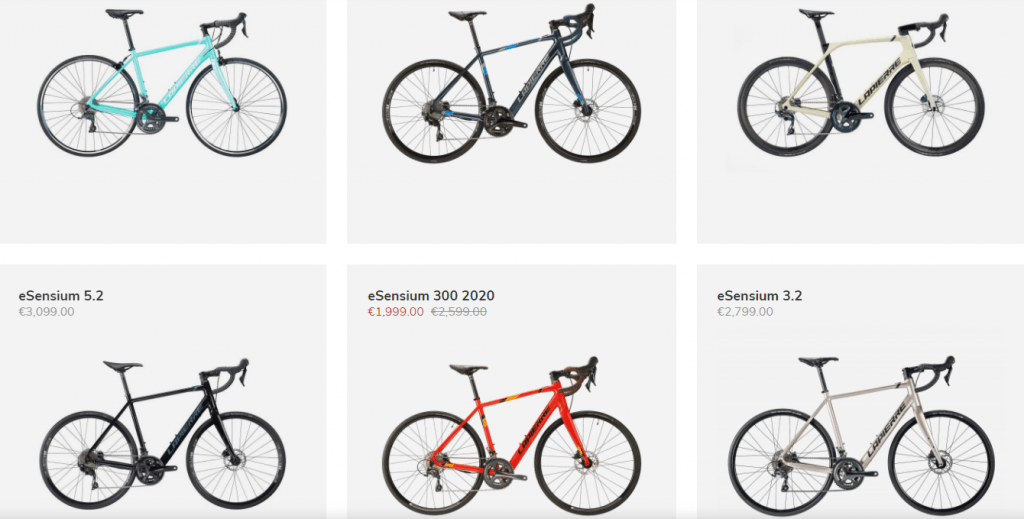 Especially created at the world's highest level in the partnership with the Groupama – FDJ Team, Lapierre road bikes can meet all riders' needs. Whether climbing the highest peaks, taking the most beautiful roads, climbing safely, or sprinting, these road bikes will become an extension of your requirements.
And with gravel riding, Lapierre opens up the realm of possibilities. What's more, you can ride at the highest level without any limit to your outings with Lapierre road bikes.
Performance Road Bikes
With Lapierre performance road bikes, nothing will be the same as before. Rediscover your practice routine, find out feelings that you never knew were feasible. You will not be a mountaineer, a climber, or a sprinter anymore. But, you will be all those three at once.
As you might know, the brand's performance road bike range is the fruit of 20 years of cooperation with the Groupama FDJ Team. In addition, all of the company's performance road bikes are tested by pros. The innovative technology that helped Thibaut Pinot and Arnaud Démare win the largest races are now at your fingertips.
Endurance Road Bikes
If you want to find a bike that will be your best traveling companion, then Lapierre endurance road bikes are a perfect option for you. When every single outing is equivalent to travel and exploration, Lapierre has envisioned a relaxed range, ideal for many hours on the saddle.
In the end, Lapierre endurance road bikes will be your ideal buddy that keeps you comfortable over the long-distance rides. There will be no limit with these models, except for your imagination in outlining the best routes.
Sport Road Bikes
The Sport road bike range has been typically created for many riders to make sports easily accessible. They are considered the spirit that has existed for 70 years at Lapierre Bikes. These models are designed for all levels, delivering great fun so that you can safely explore the sensation of freedom known as riding.
Gravel Bikes
If you are the kind of rider who wants to ride further, even when the road has come to an end, then Lapierre gravel bicycles will be your perfect adventure companion. They will take you through the trails and roads, no matter how the riding surfaces and conditions are.
Time Trial and Triathlon Bikes
Regardless of the time and other elements, just join your cycling for a common goal: perfect performance. That's the key thing Lapierre kept in mind when developing their triathlon and time trial bikes.
These models will be your best cycling buddy when you are facing against yourself during a triathlon or in a time trial. Designed specifically for traversing the air, the company's triathlon and time trial range will turn your pedaling power into road speed. They are also lightweight, fast, and aerodynamic all at once.
Women's Road Bikes
As I mentioned above, Lapierre road bikes have been typically designed at the world's highest level in cooperation with the Groupama FDJ Team. Many of these models are fitted for both male and female riders. Having said that, the company also applied its expertise gained to develop specific women road bikes, which fit the female body like a glove.
Lapierre Trekking Bikes
As many of you might not know, Lapierre trekking bikes are typically designed by adventure lovers, small and large. Start discovering new paths, start your new everyday life, and explore adventure outside the front door with Lapierre trekking bicycles.
Packed with a set of comfortable and versatile accessories, these trekking bikes are perfect for all your country excursions and urban outings. The Lapierre trekking bike models will be your best companion on all your everyday trips; no matter if they are fully equipped or not, they come with electrical assist or not.
Lapierre Urban Bikes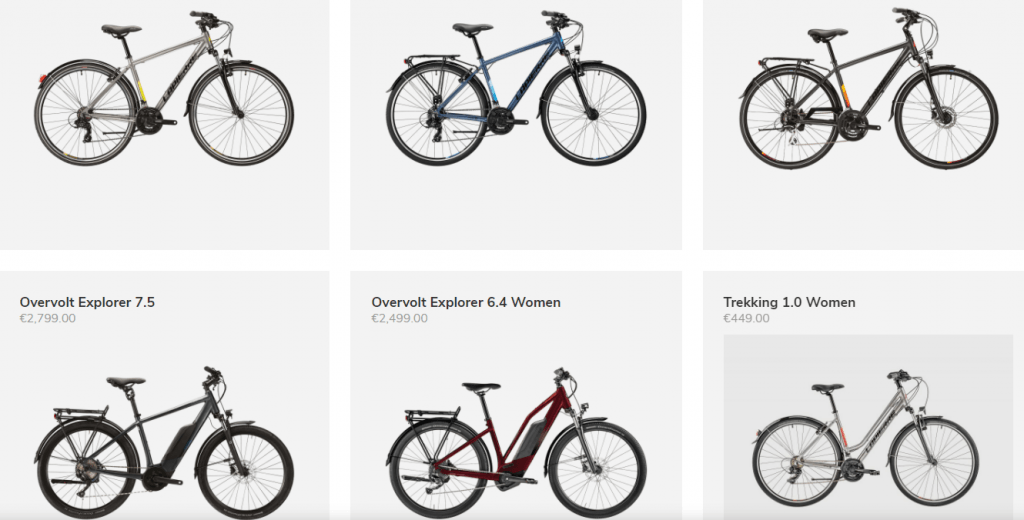 Just ride around the city streets and see it as you have never seen it before. Just leave your car in the garage. All you need to handle the urban roads and improve your avenues is now a maneuverable and comfortable bicycle. And Lapierre urban bikes are a perfect one for both leisure and travel.
Your trips in the urban areas will be fully facilitated with these urban bike models. Their frames, typically designed for urban commuting, are very easy to maneuver and will put you in a straight and relaxed riding position. What's more, they deliver optimal visibility for navigating in and around traffic completely safely. Heading out to the shopping mall or commuting to work now becomes a moment of real enjoyment.
The Lapierre Overvolt Urban is an electric urban bicycle, which is typically built for supporting city mobility with optimal comfort and safety. As it is equipped with Bosch's efficient and multi-function line motor, anyone who lives in the city and wants to travel around by bicycle with minimal power can take advantage of this model.
Lapierre Kids Bikes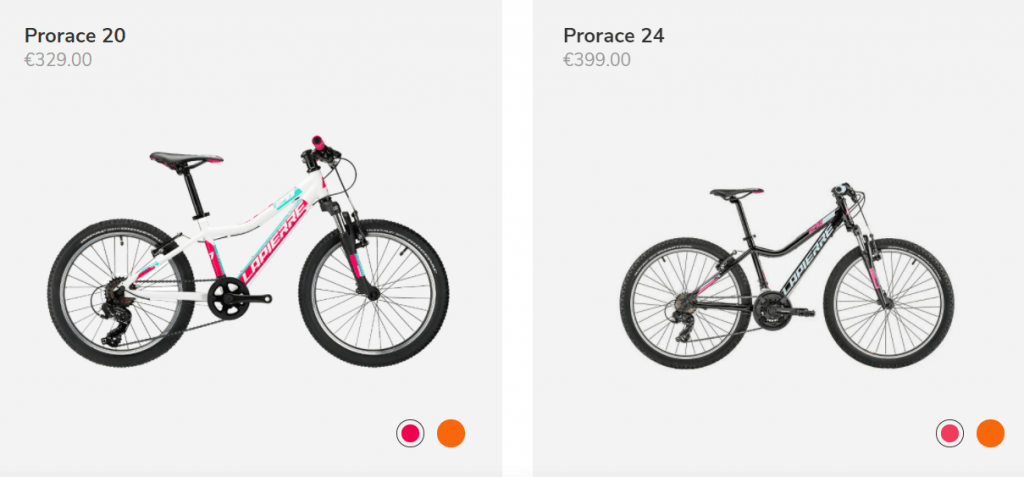 Your kids are discovering the world, no matter if they are 4 or 12 years old. On a bicycle, this adventure becomes even more playful. Let your children enjoy every ride with Lapierre multicolor, safe aluminum bicycles, which are perfect for mini adventures.
With Lapierre kids' bikes, your little ones will always feel safe when learning how to ride. The brand's Prorace line of kids mountain bicycles has been particularly built to meet the excitement requirements of your cyclists when they are in training.
Lapierre Electric Bikes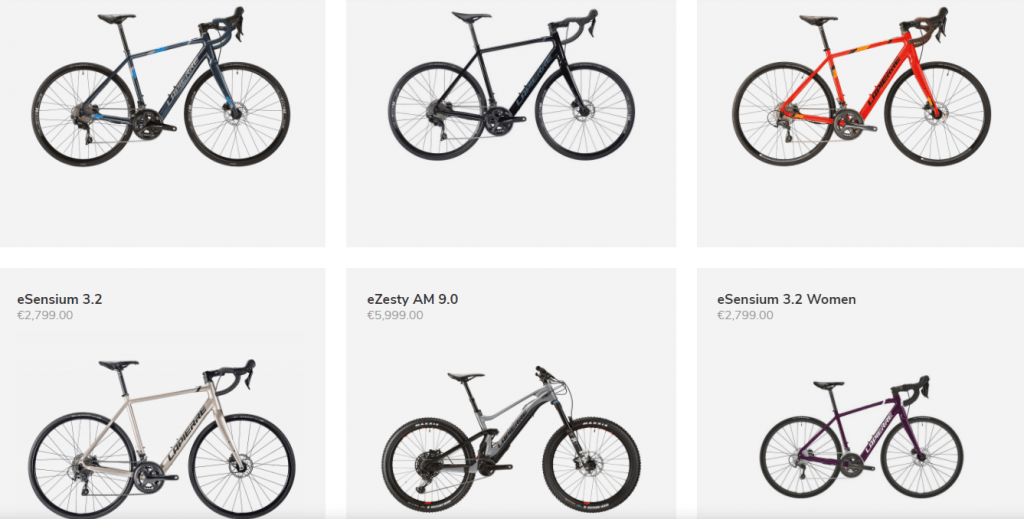 Electric Mountain Bikes
Start off the trails with nothing else but riding pleasure in mind with Lapierre electric mountain bike range. Just explore, enjoy, and start over. All things can be done easily and comfortably with these electrically assisted models.
Climb the highest mountains while you are enjoying the surroundings, handle the best and most technical trails with only one thing in mind: go faster and further for a long time with Lapierre electric mountain bikes.
No matter if you choose the All-Mountain, Trail, Endurance, or Sport mode, these models are all suitable for every rider's mood. Your job is simply to enjoy the downhills as much as uphills.
Light Electric Mountain Bikes
Let's become the master of the trails, even the scariest ones, with Lapierre Light Electric Mountain Bikes. Go beyond your limits with every outing while enjoying the maneuverability and power of the brand's hybrid electric bike range.
The motor is almost visible, with above 25km/h, allowing you to pedal comfortably without making any noise. In general, these bicycles bring a new and special experience, with a little added power when you need it.
Electric Road Bikes
Now you can recreate your relationship with the road with Lapierre electric road bicycle range. With these e-bikes, everything is possible. Just go beyond, expand your ride as the brand's wide range of electric road bikes will provide you with endless possibilities. And once in the seat, you are the only person who can set your own boundaries.
Lapierre powerful electric bikes are a perfect option to improve and extend your riding performance, allowing you to ride faster and further with ultimate comfort.
Electric Trekking Bikes
The Lapierre trekking bicycle category will open any road for riders since they are typically built for new adventures. From the road to the trails, these bikes can shake off your habits, turn them upside down. The adventure is now at your doorstep. Let's give these electric trekking bikes the boost to help you get out of your daily job. Generally speaking, these electric trekking bikes are perfect for both leisure and travel rides.
Electric Urban Bikes
If the town or city is your thing, then Lapierre's range of urban electric bikes is just for you. Forget the cars and all the traffic jams in the early morning, and these models are completely packed for town riding. They will allow the cyclist to find the city streets again, thanks to the relaxed riding position and electric assistance.
Venture out anywhere with these powerful electric urban bikes. Traveling is now easier, and your everyday routine will truly become a joy.
Electric Kids Bikes
Besides a wide range of electric bikes for adults, Lapierre also builds electric bikes for kids. These models are typically manufactured with safety in mind, with electric assistance to help your children adventure with enjoyment. In addition, they come in various colors, suitable for all boys and girls. Let your next family trip be more enjoyable and playful together.
Conclusion
With more than 3 generations of experience and invention in the cycling industry, Lapierre Bikes has created some of the best road, mountain, and urban bicycles for you and even your little ones. In addition, the brand offers great electric bikes for both adults and kids. Their bikes are stiff, responsive, and offer excellent handling and performance on most terrains.