Lynskey Performance Designs, LLC is best known for its premium design and production of high-performance titanium bicycles of various disciplines. As many of you might know, Lynskey went through a long history of establishment and development to become one of the most famous, high-end titanium bike manufacturers in the United States.
In this review, you will learn about Lynskey's history, its bike categories, and some of the most popular models. There will be more for you to explore. Let's get started!
Part of Best Bike Brands.
Overview of Lynskey Bike Company
History of Lynskey Bike Company
The Lynskey siblings grew up in the 1960s in a quite famous family with a business specializing in manufacturing custom metal, such as Boeing and Lockheed Aircraft, Coca-Cola Bottling, Kaiser Aluminum, Koehring Cranes, and Olin Chemical.
When David injured his knee, his doctor said that his running days were over. However, he was recommended choosing swimming or bike riding as an alternative for his final steps of therapy.
And David chose to ride a bike. He took part in the local cycling club and was quite successful in his cycling competition. After that, David decided that his current bike was too heavy and came up with using scrap titanium (from the factory) to design and create a better bike frame for himself.
He worked really hard to finish his bike geometry and, with the help of his brother Chris, soldered the final shape of the frame. When David raced his bike with the new titanium frame, his friends were amazed at the incredible responsiveness and lightweight of his new frame.
Soon after, David was suggested by a famous triathlete who really respected this Ti frame's looks for him to display his performance in a local bicycle show in Southern California. He did it, and so in 1986, the very first completely functional Litespeed titanium bike frame was introduced in the cycling industry. It was designed, engineered, and even marketed by the Lynskey family in Chattanooga, Tennessee.

And over the next 13 years, the Litespeed company grew. In 1997, Mr. Bill Lynskey (Dad) passed away, which was a great loss to the company and family. Finally, after much consideration, the family decided to sell the Litespeed in 1999.
Once purchased, each family member would participate in individual projects of their choice. However, their interest and passion for cycling never stopped.
After several years, the sons started expressing their yearning to team up, create, and develop a new business venture. And the decision was finally made after lots of discussions. Their plan was to "once again" manufacture titanium bike frames, focusing on custom bicycle frames for the many riders who are currently expressing a desire for custom models.
Finally, their passion for the sport and desire to keep using their favorite titanium, meral, the decision was complete. Their vision was to create a bicycle that did exactly what you wanted it to do, both in performance and appearance.
On January 1, 2006, Lynskey Performance Products ushered in a fresh and exhilarating return to the bike riding sport they liked and the metalworking they believed in. They succeeded in creating and developing Litespeed Titanium and the premium-quality products manufactured.
Now, every family member in the Lynskey is assigned different roles in the business, and each has a complementary set of skills when combined together, creating a great team.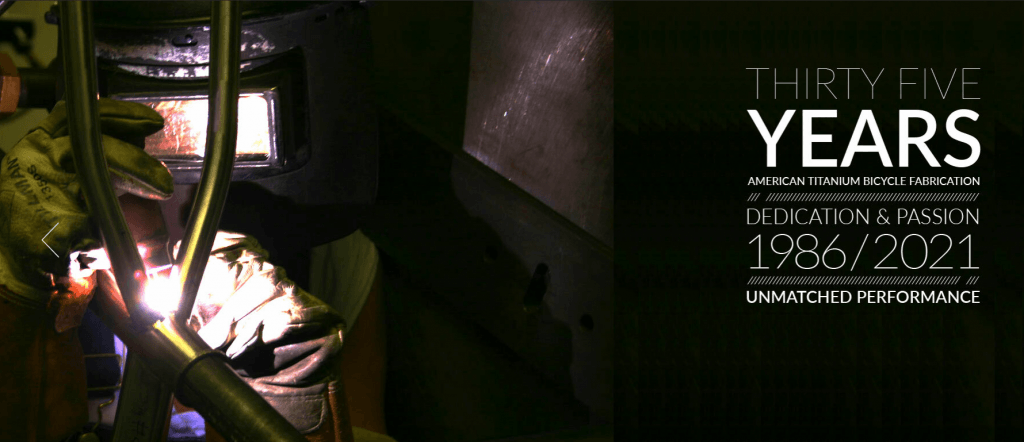 Where Are Lynskey Bikes Made?
Lynskey Performance Designs LLC is a titanium bike company founded in 1984 and based in Chattanooga, Tennessee. According to the brand, all of their bikes are designed and manufactured in Chattanooga.
The Technologies of Lynskey Bikes
As you might or might not know, the Lynskey Performance Designs company has pioneered lots of designs and advanced technologies that are still used today in titanium bikes in particular and the cycling industry in general. One of the greatest technologies should be the Helix tubing technology.
Helix tubing includes a twisted titanium pipe with the aim of achieving the advantages of both a beam and a round tube. The round tube is famous for resisting twisting forces, while the beams are great at withstanding bending. This Helix tube helps create a study bicycle while still retaining a comfortable feeling with its unique shape.
The Helix tubes first look like square tubes, then are twisted into an even, smooth spiral. Or it could be that they were initially shaped on a mandrel, starting their lives in the suitable shape without rework.
In all events, Helix tubing technology is part of what makes the Lynskey frame so special, and the mystery just makes their bicycles look more beautiful.
Besides, you can see different extensive tubing shapes, which are considered a mark of Lynskey's "Level Four" customization in the Pro Build program. As you know, every facet of the frame is marked to ensure that they deliver the purest performance possible to competitive racers.
In the end, what Lynskey wants to express is that if you can imagine your bike, Lynskey can completely build it. Give them a call, and according to Pillsbury, you will most likely be speaking directly to David Lynskey, who has hand-built around 80,000 titanium frames in his lifetime.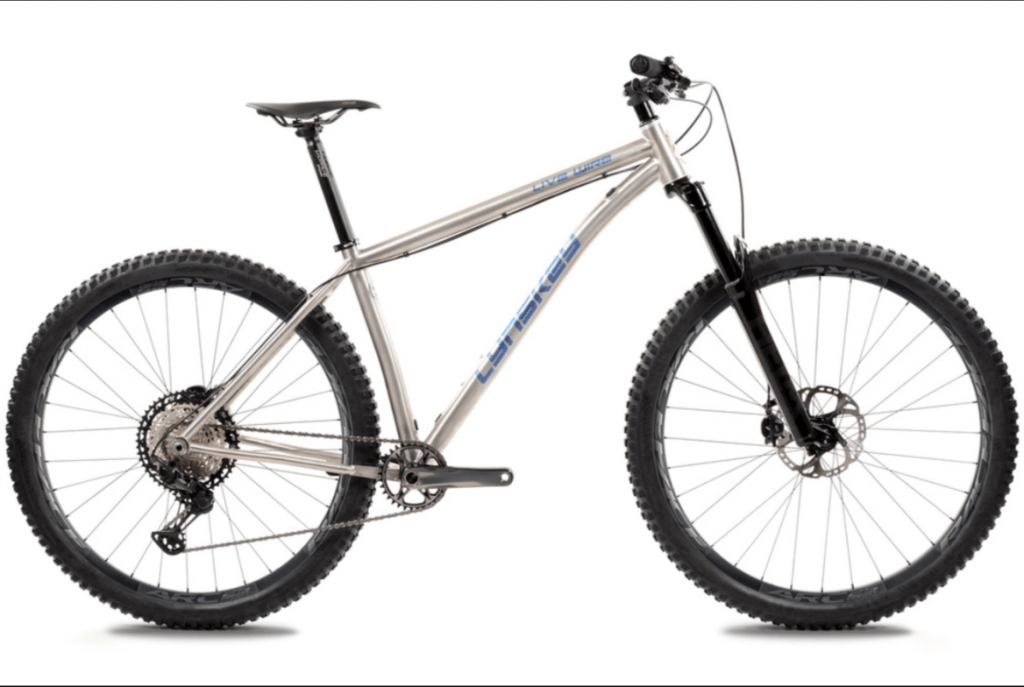 Performance of Lynskey Road Bikes
The Lynskey company has always had great strength in going beyond the bounds of its frame tubes. With a long history in metalworking, tube fabrication is second nature, and when you look at the Helix tube, it is very clear that Lynskey has its own way of making things.
When it comes to riding quality, the Helix allows you to compare Lynskey bikes with Litespeed ones. And you can even say that Lynskey bikes are more compliant. As you can see, it comes in wider tires that help. However, the twisted tubes tend to have a very delicate spring-forming effect.
The Helix corners are solid and also come in a taller and longer geometry. This means that you might need to work a little bit more. Typically, the gearing capability is incredible for the local steep hills that you usually ride. Another great thing about Lynskey road bikes is the threaded bottom bracket.
Lynskey Bike Categories
As you might all know, Lynskey is famous for its high-end titanium bikes of all cycling disciplines, including endurance riding, road bike racing, and even joining your local riding club. Besides titanium, all Lynskey bikes are made with expensive, high-quality metal, offering maximum strength, durability, and lightweight.
Let's have a look at the current models that Lynskey has to offer:
Road Bikes
Road Pro Racing
Road Sport Riding
Sportive and Gran Fondo
Gravel Bikes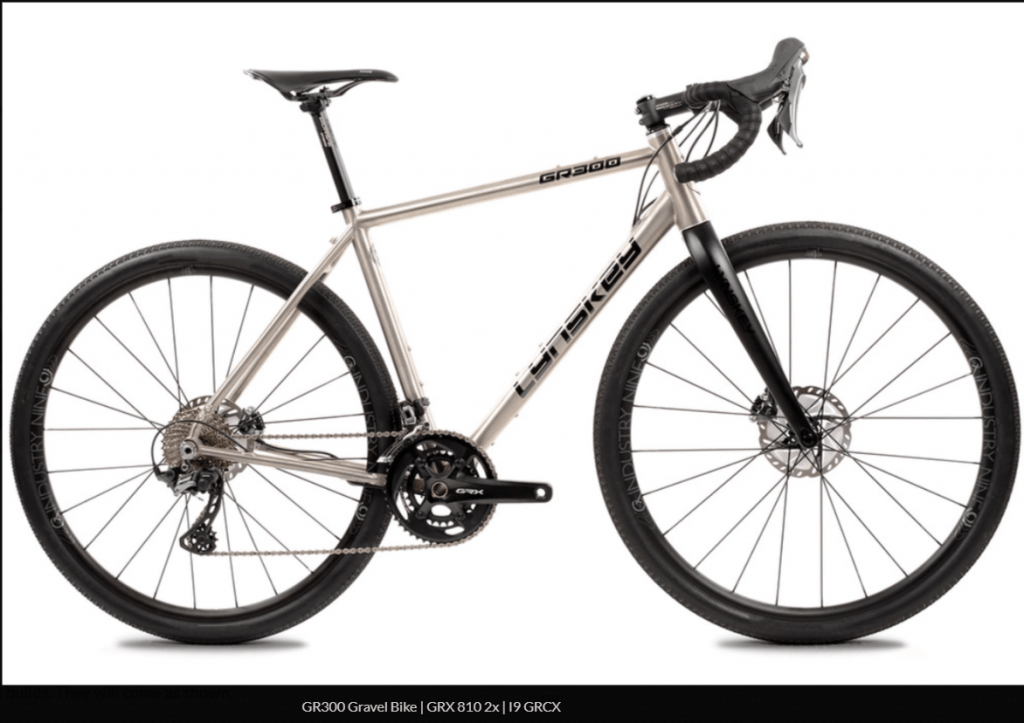 Mountain Bikes
Most Popular Lynskey Bikes
As mentioned above, Lynskey provides the market with the three main types of titanium bikes, including gravel, road, and mountain bikes. Each range has different bicycles, but here are some of the most popular ones:
Road Bikes: Lynskey Helix Disc Road Bike
Gravel Bikes: Lynskey PRO GR Gravel Bike
Mountain Bikes: Lynskey PRO 29 Hardtail Mountain Bike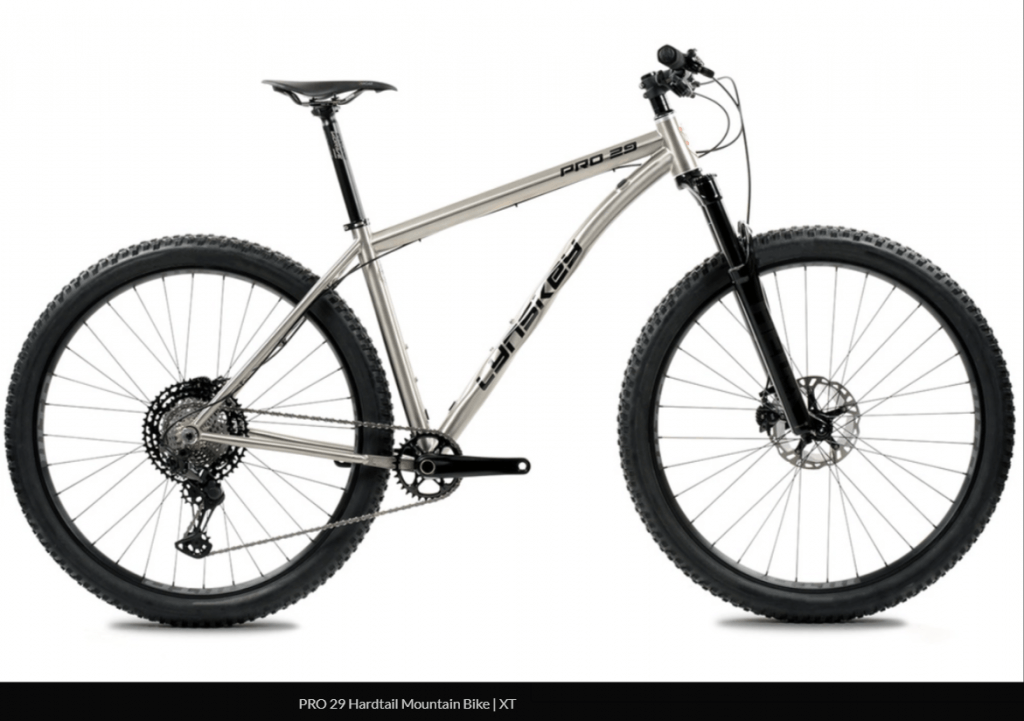 Lynskey Bike Price Range
Every bike at Lynskey is carefully designed and equipped with high-quality materials and high-end components. Besides, since all Lynskey bicycles are geared towards high-performance riders, it should come as no surprise that Lynskey's bikes are quite expensive. But, they really are valued for their quality, build, and riding experience.
Road Bikes: $3,550 – $4,450
Gravel Bikes: $3,650 – $4,650
Mountain Bikes: $4,950

Are Lynskey Bikes Any Good?
Lynskey bikes are not only beautiful but also durable and offer high performance on most roads. Their welds are also perfect, and the build, in general, is so durable that it will last for many years to come. In addition, most Lynskey bicycles are equipped with advanced technologies that enhance your riding quality and experience.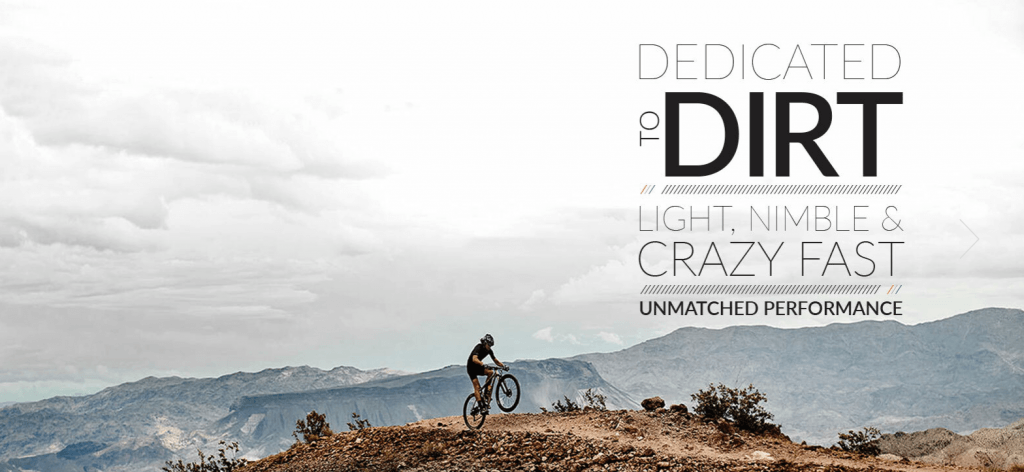 Lynskey Vs. Litespeed
When it comes to the titanium heritage of the United States, Lynkskey and Litespeed might be the two most prominent brands crossing your mind. Many of you might know that while these two companies are currently competitors, Litespeed was founded by the Lynskey family in 1986. That was when they decided to merge the commercial enterprise with their rich history in metal manufacturing into a premium titanium frame company.
Besides, you can see that both Lynskey and Litespeed are really well-known for titanium bikes. However, each company has its own target consumers. And of course, each brand has a top bicycle that makes it a legendary name for the company itself or even the cycling industry in general. For instance, Lynskey has the Helix, and Litespeed has the Ultimate.
It is true that the Litespeed Ultimate is breaking new ground in its performance, thanks to the refined and effective tube shaping. On the contrary, the Lynskey Helix is going over the edge of metalworking. These features make the Helix much more compliant yet slightly more heavyweight than Litespeed bicycles.
Since Litespeed didn't apply any kind of alloy adapters during their frame manufacturing process. Instead, the company chose to do other difficult things, making their bikes a bit cheaper to produce. When it comes to room for tires, Lynskey bikes tend to be slightly better than Litespeed's ones. In addition, its geometry seems to be relatively more comfortable across all ranges.
In terms of bike variety, both Lynskey and Litespeed offer a large selection of different models and upgrades. These features make their bicycles more special among many other available models. But when it comes to price, Litespeed's finished bikes tend to be slightly more expensive than Lynskey's ones. This is because Litespeed is targeting high-performance riders and premium bikes.
In a time when fabrication seems to be fading in the bicycle industry, Lynksey and Litespeed still shine their ways with exceptional quality, build, and performance.
No matter what bike brand you opt for and what model you will pick, you may want to upgrade your wheels later on. However, it is not necessary to do it now; typically, the Ti seat posts can be added later. In addition, you should seriously consider the bike finish, particularly when your bike comes in a matte finish, which will be more difficult to clean and maintain.
As a whole, when you are looking for an excellent titanium bike with an incredible look or something to start a conversation with, Lynskey bikes are a great choice. On the other hand, Litespeed bikes are no secret. Though they might cost you a few dollars more, you will not regret it when you spend a bit more to get an upgraded version while the price is, in reality, not really different.
But if you are buying on a tight budget, Lynskey bikes are a good option too. Their bikes are built to last for many years to come. And of course, you still have more time saving your money and upgrading, customizing your favorite bike.
Lynskey Road Bikes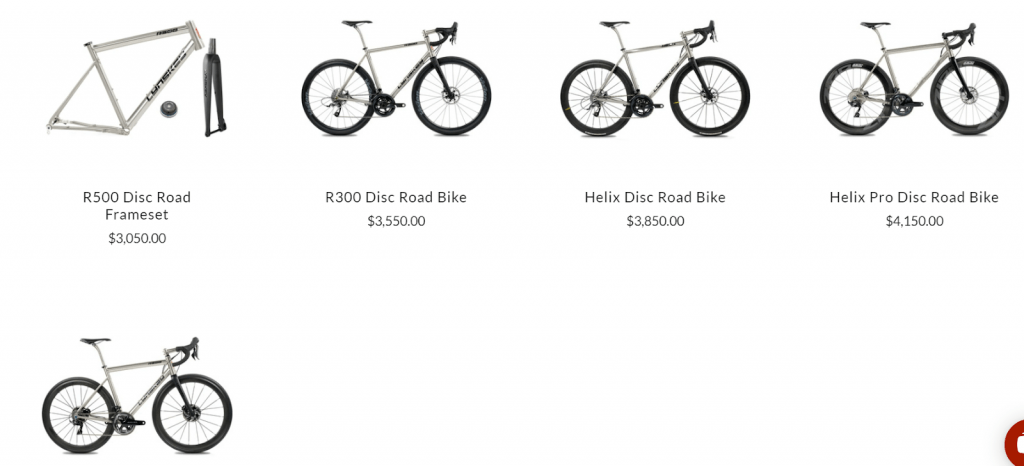 Helix Disc Road Bike
The Lynskey Helix disc road bike is typically designed for riders who need a bicycle that not only rides fast but also perfectly pedals uphills. Typically, it should bring a comfortable feeling all day long. This model offers a maximum tire width of up to 32c. Therefore, you can choose any tire size, depending on how big you want your tires to roll on different terrains.
It is a high-performance bike you have been yearning for everything from the Tuesday hammer down to Grand Fondos and Centuries. In fact, the Helix disc is best well-known road bike for its all-day comfort in the saddle. In addition to the excellent sport-level geometry, this model is also incredibly lightweight and agile.
Besides, the Helix tube set is particularly constructed to withstand the vertical bending, which then maximizes your power delivery without wasting every single watt. The signature tube of this model is integrated into the tube cable routing system. It just flows perfectly into the Helix 3AL/2V downtube. This design makes it easier to install and becomes the flawless "no rattle" resolution.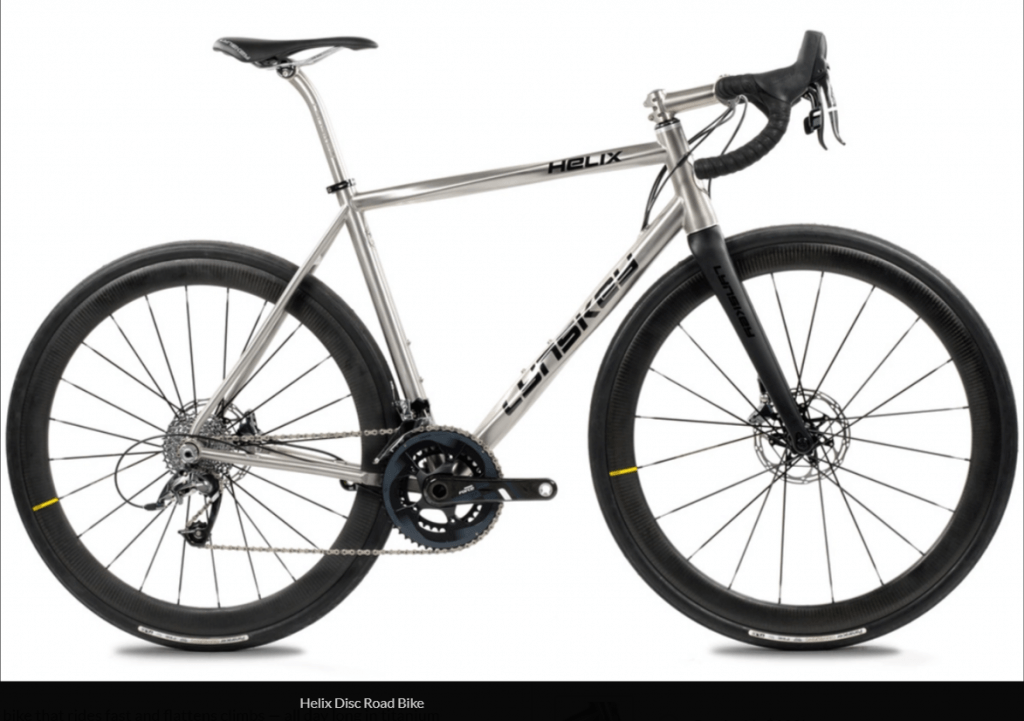 Helix Pro Disc Road Bike
This model is specially made with unique Race geometry and powerful disc brakes, providing the riders with extra stopping power that works in most weather conditions. This perfect Helix frame brings not only great handling and sturdiness but also offers lightweight and ultimate speed.
Your performance will be taken to the next level thanks to the addition of strong disc brakes. Besides, the internal cable routing system and downtube allow for better aero performance and clean transmission. In addition, the new rear end with a half fork design allows for spacious ground clearance for 32c tires.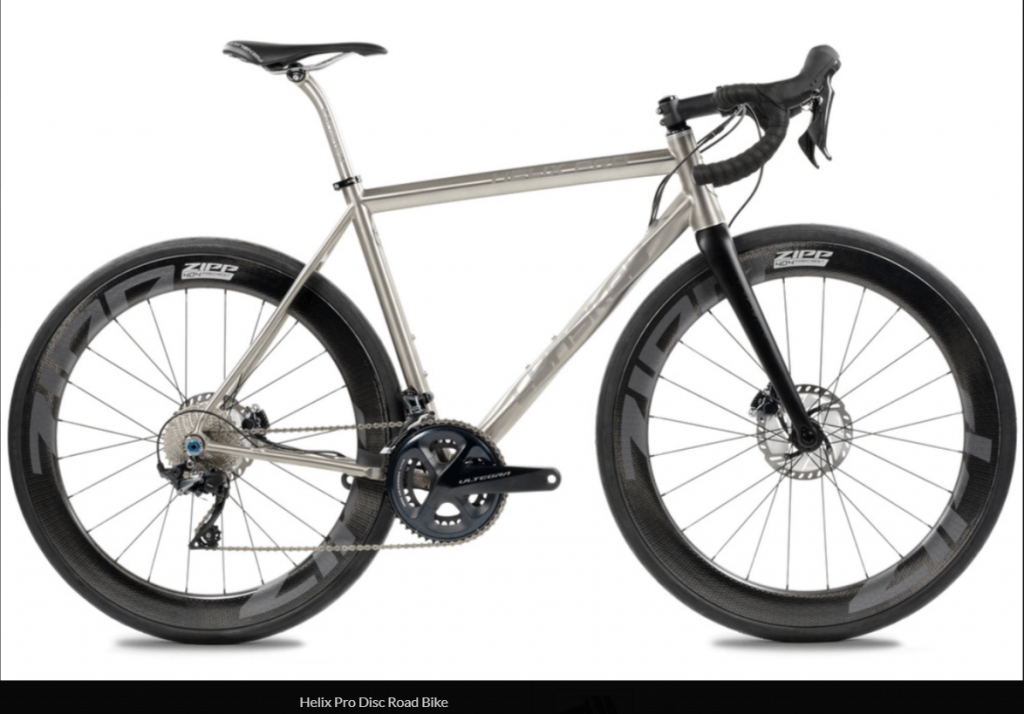 R500 Disc Road Bike
When it comes to titanium road disc bikes, it is impossible not to mention the R500 Disc model. It is considered a great bike that takes your riding skill to the next level, thanks to Lynskey Performance.
This R500 Disc road bike is typically designed to focus on races. It will be a perfect model for riders who demand the ultimate performance to handle the severest conditions on any day with the proper level of comfort. This way, racers can ride the R500 Disc bike for a long period without feeling tired or at least minimal fatigue.
If you want to get a bike enabling you to end sprint speed with confidence or simply tackle the steepest slopes, then this Lynskey R500 Disc road bike will be exactly what you are looking for. This model can glide through any terrain you might encounter. For those who don't know, it is the very first and still the only Road Disc frame built by hand in the United States with an Aerospace Grade 6AL/4V Titanium Tube Kit.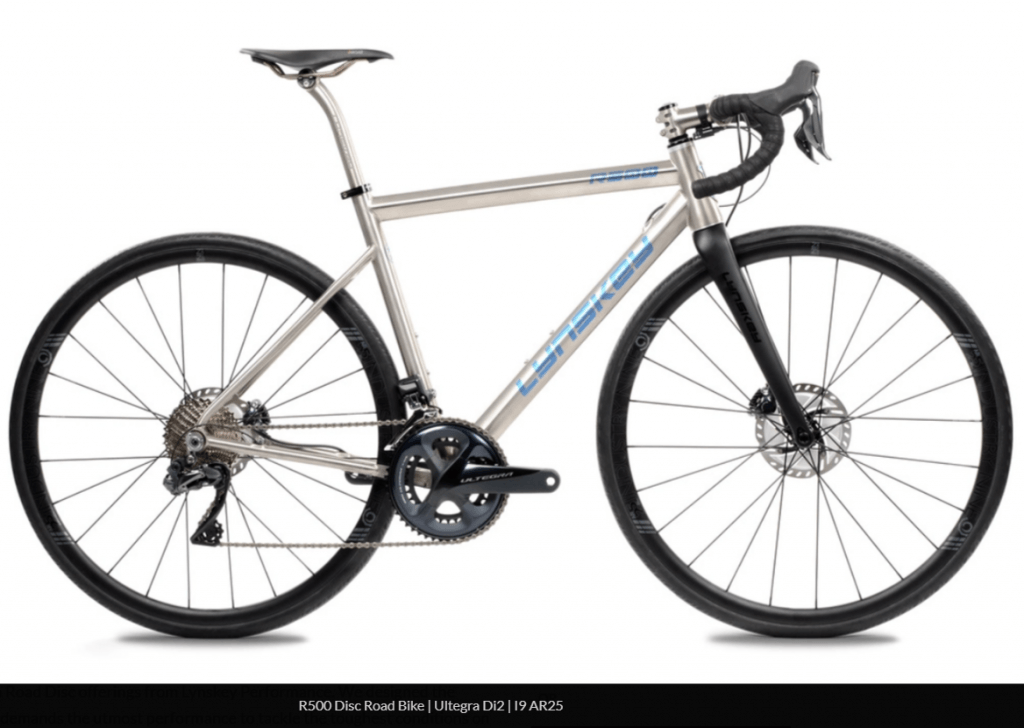 R300 Disc Road Bike
Any rider who demands the highest levels of smoothness, control, and comfort will find the Lynskey R300 Disc road bike your best companion on any trail. It allows for a relaxed riding position while still offering enough confidence to ride long-distance. With the different selections of tire width of up to 32c, you can pick any model that fits your road condition.
Like the Helix disc bike, this R300 model is also considered a legend when it comes to comfort. Besides, smoothness and lightweight are also the core of this bike, making it ideal for anyone who wants a bike for their weekend rides.
The 3AL/2V hose kit offers the ultimate vibration damping for a superbly balanced ride in any road condition. What's more, the R300 disc road bike has an incredible capability of climbing and confidence when pedaling descents.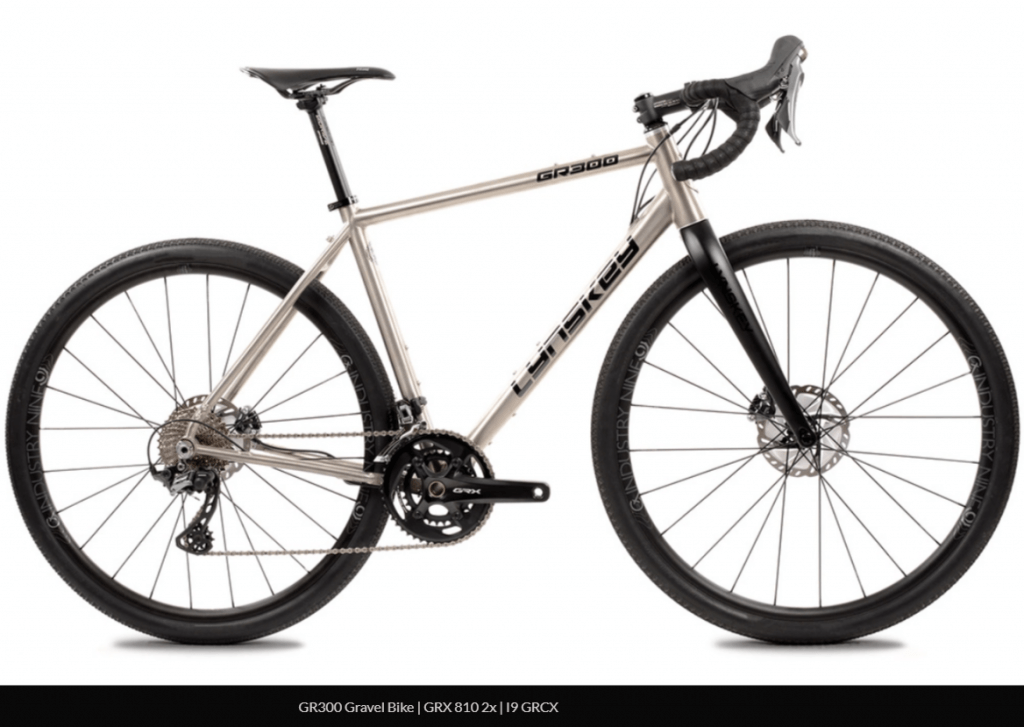 Lynskey Gravel Bikes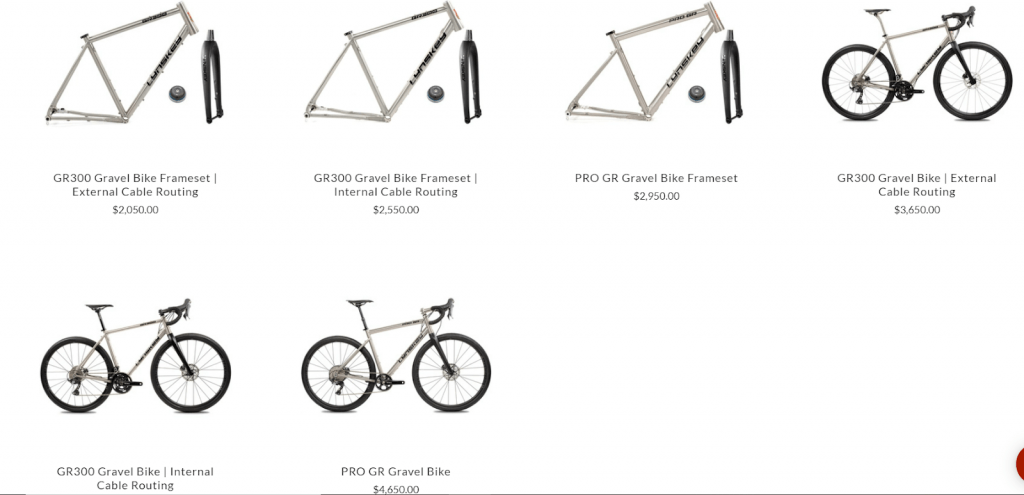 PRO GR Gravel Bike
This Lynskey Pro GR gravel bike is really a purebred and fearless monster on the road. It is considered the first and still the only manually-created gravel frame to feature an aerospace-grade 6AL/4V Titanium tube set.
Any rider who focuses on power and needs a bike that can tackle the severest conditions in any weather while still needing a smooth finish with an incredibly comfortable feeling on a titanium bike will find this a perfect choice.
The Pro GR is a perfect gravel bike with precise transmission, rigidity, and accurate handling – conventionally available only on the company's flagship Pro Level Performance road bicycles.
GR300 Gravel Bike | External/Internal Cable Routing
There are two versions of the GR300 gravel bike, including internal and external cable routing models. If you are a rider who focuses on gravel and adventure riding, you will not want to miss out on this perfect bike.
In general, it can handle all your requirements when it comes to types of terrains, such as gravel, road, bike packing, and rugged commuting. Those who yearn to hit the gravel road the next day but crave a comfortable ride in titanium bikes with a smooth finish will absolutely fall in love with this bike.
The adventurous riding geometry is typically designed for cyclists to be in the cockpit instead of on the bicycle. Besides, it can handle particularly well on loose trails, even at high speeds. With a ground clearance of 700c x max 45 or 27.5 x max 2.1-inch tires, this bike will take the rider to any terrain with the ultimate comfort.
Lynskey Mountain Bikes
Live Wire Hardtail Mountain Bike
If you are looking for a trail bike with outstanding acceleration and incredible climbing ability, then the Live Wire hardtail mountain bike will be your flawless choice. This model is typically constructed with the most enduring, strongest 3AL/2.5V titanium hardtail frame. But, more importantly, it is still lightweight, fast, and fun to ride.
The Lynskey Live Wire hardtail is perfect mountain bikes for performance-focused cyclists looking for a fast-paced bicycle where power and efficiency are valued but still have momentum for steep and downhill trails.
You will experience fantastic responsiveness and a comfortable riding position thanks to the combination of short stems and relaxed geometry. It also offers the lateral sturdiness you desire and the seat comfort you deserve because of the oversized 3AL/2.5V tube set.
With the maximum tire width of 27.5 x 3.0″ or 29 x 2.5″, this bike is a really tough cornering monster. Besides, you will get the traction you demand when you need it, thanks to the curved saddle tube.
PRO 29 Hardtail Mountain Bike
The PRO 29 is Lynskey's premium cross-country race-focused bicycle. The company has revised it many times over the past few years. However, the brand is confident that this model is the best one it has ever offered in the MTB range. It is updated to be a perfect, modern hardtail mountain bike. Besides, it is typically designed to meet today's harshest cross-country and endurance road conditions.
What makes this bike outstanding among any other model is the accurate combination of the oversized HELIX downtube, the diamond 6/4 top tube, and the lower center of gravity. All these major features provide the rider with the ultimate capability to confidently ride through any corner and maintain complete control at high speeds on any type of terrain, even the most technical trails.
With a slack head tube and a longer top tube, this new Lynskey PRO 29 is constructed out of the shorter body length and the travel suspension forks of 120mm-130mm. This design makes it a perfect hardtail that is not only strong, rigid but also ready for any race. And it could be assumed that this bike is the fastest titanium 29er hardtail mountain bike still existing.
Conclusion
If you are a serious rider who concentrates on high-performance riding, Lynskey bikes are a flawless option, no matter if it is gravel, mountain, or road bike. All of its models are refined and equipped with the best components possible to bring the best relaxed titanium comfortable feeling possible.