Mobo Cruiser is an American firm. It was founded in 1998 as a Minority and Female Owned Business Enterprise. The company is globally recognized with a head office in Los Angeles and satellite offices in Taiwan, China, and Germany. The company stays on top in the field of active & outdoor lifestyle because of its award-winning line of 3-wheel Mobo Cruisers.
If you want to get some fitness and have some fun outside without exerting too much effort, the Mobo Triton Pro Recumbent Tricycle is an excellent choice! Even if you are unable to ride a regular upright bicycle, this tricycle can still assist. The model would be highly recommended, especially for those with balance difficulties, such as a special needs person or a senior citizen.
Mobo Triton Pro Recumbent Tricycle Review
Key Features
Trike recumbent bikes are more comfortable and allow you to ride and exercise for longer periods of time. The innovative recumbent seat also provides evenly cushioned back support.
An excellent recumbent trike is a way for you to keep fit while still enjoying the outdoors. It allows you to burn more calories and have a cardio workout while putting the least amount of strain on your knees, back, and joints. This trike can be used for fitness, pleasure riding, a short trip to the store, or even dog walking.
It's meant for both genders and people of all capabilities. It can also work as a special needs tricycle for those with autism spectrum, Asperger's or down syndrome, and many other mental challenges. Individuals who have balance difficulties will also find this trike quite useful for their physical health.
Product Specs
| | |
| --- | --- |
| Wheel size | 20″ Front, 16″ Back |
| Gearing | Single Speed (Free Wheel) |
| Product Weight | 44 lbs |
| Seat Height | 12.5″ |
| Weight Capacity | 250 lbs |
| Length Adjustment | 10 Slot Adjustments in 16″ Length |
| Height Capacity | 4′ to 6′ 3″ |
I've been searching for a bike that would work for my child. She's 9 and on the Autism Spectrum. She also has muscle strength issues, so I need to find a trike that supports her movements. I ordered many trikes and returned most of them. Meanwhile, Mobo Triton Pro Recumbent Tricycle is the only one that meets all of our needs. I love its stability, adjustable and sturdy frame, reclined riding position, and rear-wheel steering.
Stability
The low center of gravity on this three-wheel cruiser brings excellent stability. There is no need to strike a balance.
Adjustable And Sturdy Frame
The frame is made of Hi-Ten steel, which is sturdy enough. The Mobo Triton Pro also has an expandable frame with 10 slots that can support all users whose height ranging from 4′ to 6′ 2″. I do not have to be worried about its durability and when my child grows up, it can be adjusted to fit her. She can use the trike now and also many years to come.
Reclined Riding Position
Getting on and off the Mobo Triton Pro Recumbent is a little harder than an upright trike. But when compared to other models, its reclined seating position helps impose the least strain on her knees, back, neck, and joints.
Rear-wheel Steering
Such a revolutionary rear-wheel steering system of this cruiser can improve your muscle strength in your arms and legs, offering a fast and pleasurable ride. With simple arm movements, dual-joystick steering provides easy mobility. This encourages those with physical disabilities to lead an active life.
Pros
Stability and low center of gravity: Thanks to its low center of gravity, the tricycle seems to be the most stable model I've ever tried. Typically, regarding stability, recumbent tricycles will be more advantageous compared to upright trikes. This is because cycling in a completely reclined position is significantly more stable than in an upright position, even with 3 wheels.
Quick assembly: Assembly is often easy and instructions are ample. This takes from twenty minutes to an hour to finish, which is much less than other models. The trike also comes with full tools. It's possible to assemble on your own based on the guidelines.
Adjustability: The major component of the Mobo Triton Pro trike's frame can be modified to a smaller size, and if needed, it can even be completely removed so that you can separate the tricycle into two parts. You can not fold the trike for transport, but to split then put it back together is quite easy in a matter of minutes. The Triton's flexibility allows it to be quickly moved and stored.
Easy to control: I personally find this trike easy to adapt to and control. My daughter, who has low muscle tone, can still ride it without any problems. The trike is for people of all abilities to use.
Light: The Mobo Triton Pro is easy to transport thanks to not only its small size but also its lightweight. In fact, it is one of the lightest trikes I've purchased, weighing only 44 lbs altogether. It's simple to move around, and you can even take it with you on your travel.
Worth the cost: It might not be the cheapest tricycle I have ordered, but the quality is beyond my expectation. You get what you pay for, and the cost here is just reasonable.
Cons
Single speed: It really can not deal with hill terrains. As a one-speed tricycle, riding on hills is challenging. I wouldn't advocate buying this unless you plan on riding it for fun and on short flat trips only.
Buying Guide: What To Look For A Good Recumbent Tricycle
Gearing
Like the original model, the pro also has single gear. This is one of the reasons why riding on any type of incline is difficult. It is not impossible, but it is extremely difficult. You'd have to be in excellent physical condition.
Handlebar
Because the Mobo Triton is a recumbent tricycle with no handlebars, it relies on push and pull levers on either side of the rider to turn the bike and for braking. It is not as difficult as it appears, but it does take time to practice a little bit before you can become used to it.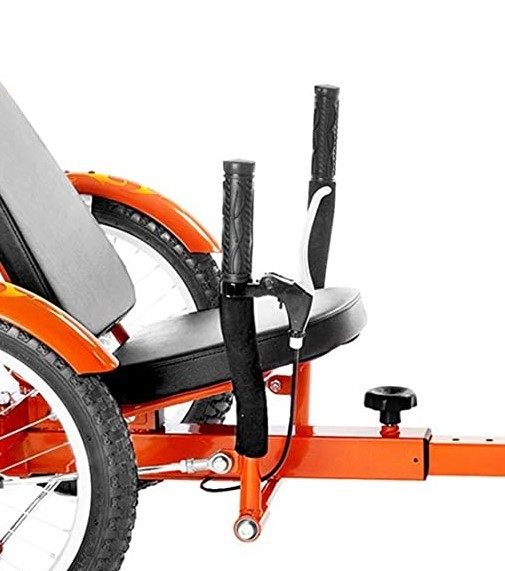 Brakes
Hand caliper brakes are used, and they perform quite well.
Tires
The rear wheels, in particular, absorb a lot of abuse. Because the cyclist's weight is distributed further back, Mobo tires take much more wear compared to tires of other trikes and will soon wear out. Even changing for better tires can only help to a certain extent. It has been only 6 months since I bought this and I have changed 3 new tires in total.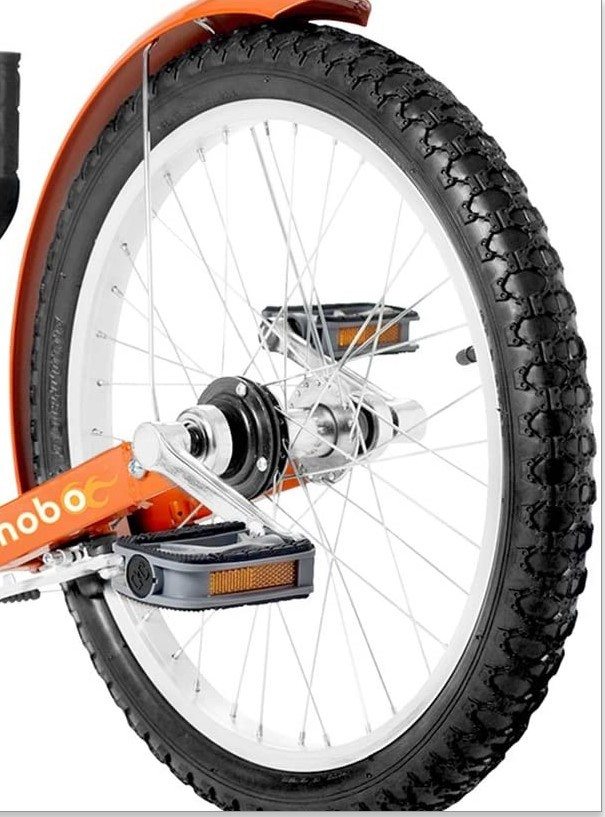 Accessories
The manufacturer ships the trike with a safety flag to put on the back, which is great for visibility. Without the flag, this trike would be easily overlooked, because it is so low to the ground. An optional basket can be purchased if needed, or if you prefer to ride with a drink in your hand, the water bottle holder attachment is also available to buy.
Weight Capacity
This tricycle can accommodate riders up to 250 pounds in weight and 6'3′′ in height, so it's very flexible. However, it's not specifically designed for overweight or tall riders who exceed those limits. See also the adult tricycles comparison chart that includes weight limit and rider height.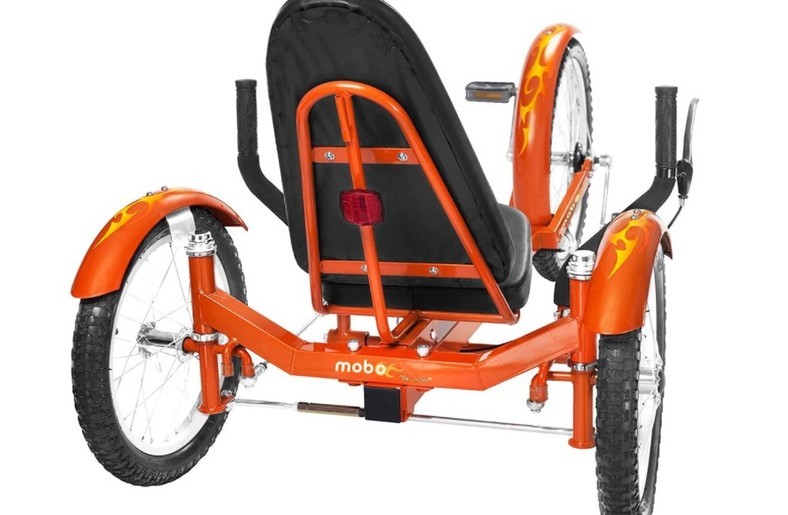 Comfort
The seat is comfy and the padding is ample.
Ability To Handle The Terrain
It is not suitable for rides in mountainous locations, off road, on gravel, sand, grassland, slick, or wet surfaces. It is specifically made for cruising on flat paved roads and slightly sloping areas only. When riding uphill, there is relatively little grip because the pedals are moving the front wheel and your weight is placed over the back. Also, avoid cycling over leaps or off curbs. Prolonged riding and strong turns and spins on this trike can worsen wear and tear.
Bike Size And Fit
The recumbent trike can be easily adjusted to fit riders ranging in height from 4'2″ to 6'3″ and weighing up to 250 pounds.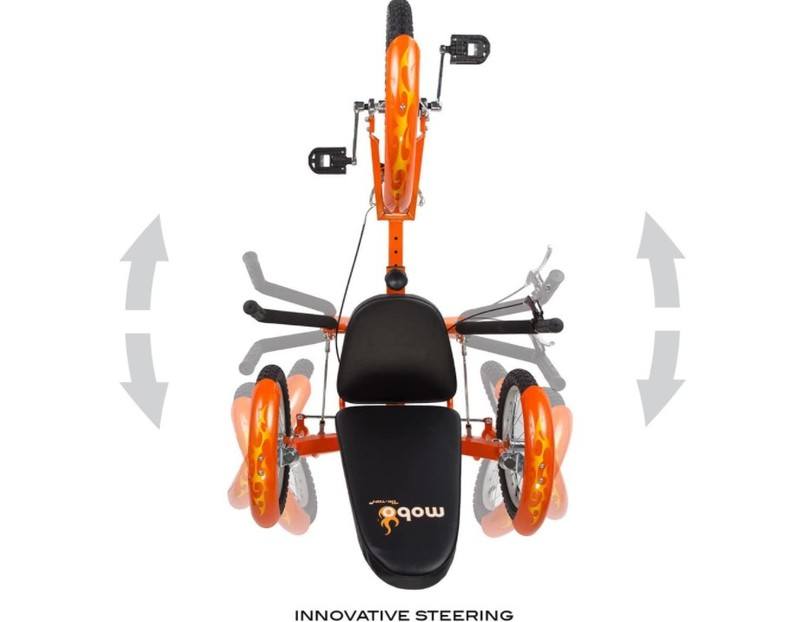 Manufacturer & Warranty Information
Mobo Triton Pro Recumbent Tricycle is guaranteed for 30 days. The warranty lasts much shorter compared to other bikes or trikes I've tried (365 days).
FAQs
Question 1: How fast in mph can I go on this Mobo cruiser?
Because the Mobo Triton Pro Recumbent Tricycle has only one gear, it cruises at the same speed as you pedal. If you are looking for a faster one, you should consider other multi-speed trikes offered by Mobo Cruise.
Question 2: What type of surface can I ride on?
To ride on flat, dry, and smooth surfaces is possible. To cycle on mud, sand, grassland, slippery, or damp surfaces is surely not recommended with this trike. It is also never a good choice if you use these trikes in areas where cars or other moving vehicles are present.
Question 3: Can I have this already assembled before delivery and ready to ride?
The bike has been pre-assembled to a degree of roughly 90%. The only thing you have to do is to install the rear wheels and seat. It is quite easy and will take you around 30 minutes. You can do it yourself or bring it to a bike shop nearby for assembly.
Question 4: I would like to put my backpack onto my Mobo Triton Pro Recumbent Tricycle when I ride. How can I do that?
The trike has no basket, but you can purchase one for your Mobo Triton Pro Recumbent Tricycle from the Manufacturer's Accessories Page: https://www.mobocruiser.com/Accessories-s/58.htm
Question 5: Can this be steered and stopped with one arm?
Yes, you can steer with one arm. You can see the hand brake lever on the right steering arm. However, if you find it inconvenient or if you can only use the left side, the brake lever can still be moved to the left steering arm.
Question 6: Is this easy and safe to ride?
Yes, you don't need to be afraid of not being recognized thanks to the safety flag. It is single speed, so you can totally control how fast it goes. People with muscle issues can also ride this safely.