Mondraker is a very young bike brand established in 2001. Even though the company also produces cross-country bikes, it only focuses on manufacturing mountain bicycles and specializing in gravity-oriented bikes.
The brand's Summum downhill bicycle was in the news when its athletes took to the podium at the World Championships in the Men's Category in 2016. There are so many more interesting things to learn about this young brand. Let's delve into it right now!
Overview Of Mondraker Bike Company
As you might or might now know, Mondraker is the newest European bike maker to enter the United States cycling market. Even though it is not absolutely a household name, lots of you might already be familiar with the Spanish brand from its radical Forward Geometry or Danny Hart's feat on the World Cup track.
History Of Mondraker Bike Company
Mondraker was established in 2001 by Miguel Pina. The brand's very first production bikes hit the market in 2002. Of the seven available models, four were mountain bikes with full suspension.
According to Mondraker's founder, the company has evolved with the original freestyle movement in mind. Therefore, there has always been a focus on powerful, gravity-driven riding in their bikes.
During the first few years, the brand positioned itself as a budget-friendly selection for consumers who are conscious about price. As time passed, the company transformed into a performance-oriented bike brand, at the same level as other popular brands, such as Yeti, Santa Cruz.
Where Are Mondraker Bikes Made?
All Mondraker bikes are assembled in Spain by qualified professionals. There are about 25 people in total building the bicycles, including finishing frame construction and complete models.
The Technologies Of Mondraker Bikes
The three major technologies that Mondraker has led that create a truly unique feel for their bikes are the Stealth Carbon, Forward Geometry, and Zero Suspension System running on the Full Suspension bikes.
Zero Suspension System
In particular, the Zero Suspension System is a double link design where the shock is compacted from both ends. This design, as a result, makes the rear suspension exceptionally sensitive to small impacts or shocks while still being able to withstand large bumps. And the key advantage of this system is to offer a stable ride while riding, which seems to minimize zero back jack and chain growth.
Forward Geometry
Not many people know that Mondraker is one of the leading companies in shorter stems and longer top tubes. These designs have been copied by many other bike makers, which now is considered the standard in designing mountain bikes. The innovative Forward Geometry provides the riders with more direct and responsive handling, higher uphill capacity, and more stability on rough and technical trails. This, as a result, boosts speed and confidence.
Stealth Carbon
Mondraker is continuously evolving their advanced Stealth Carbon with a focus on maximum quality, minimum strength, and weight claim. In addition, the carbon fiber layers have been layered for every single bike to create a frame with the best strength/stiffness/noise absorption/lightness rate possible. As many of you might know, Mondraker carbon fiber frames are famous for their special appearance and incredible reliability.
Performance Of Mondraker Downhill Bikes
Downhill and racing are Mondraker's passion and always the brand's DNA.
It has been more than 20 years since the company began producing bicycles, and if there is one thing that has made Mondraker outstanding all those years, it should be their downhill bicycles, which have exuded the brand's style and history.
It is not surprising that of all time, the company's Summum has always been the most successful bicycle with the World Cup prizes, and most of all, with the legendary 2016 World Championship at Val di Sole. In addition, this model was ridden by the MS Racing team.
This will be your perfect choice if you want to feel like one of Mondraker's global riders. It is considered a standard on the worldwide circuit with the brand-new frame from scratch. It is manufactured using the brand's cutting-edge technologies, such as MIND, a telemetry system that helps you get most of it by optimizing your suspension, the Zero Suspension System.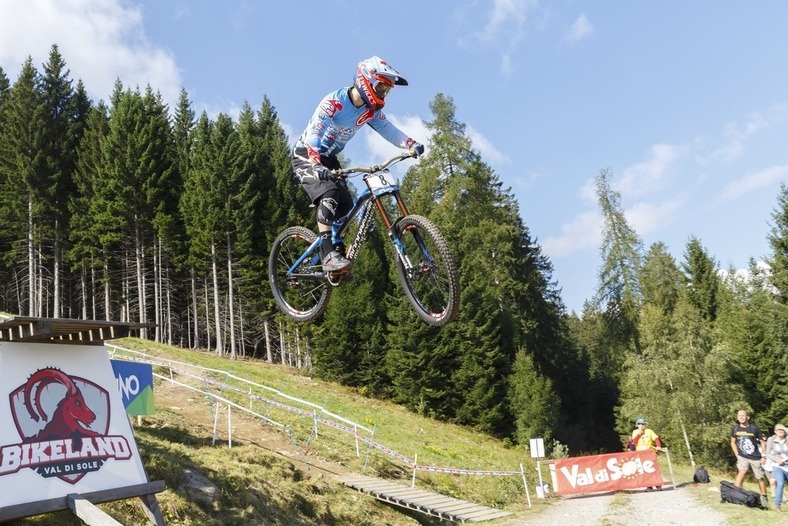 Mondraker Bike Categories
Since its founding, Mondraker has only focused on designing and evolving mountain bikes. Even though the brand limits itself to the singletracks sets, its product lineup includes the whole spectrum of mountain bicycles.
Mondraker manufactures downhill, trail, cross-country, and enduro models in both carbon and aluminum materials. Besides, the company offers off-road electric bikes and full-suspension models for kids.
Below is the detailed bike categories of Mondraker that are available to purchase:
Downhill Bikes
Super Enduro Bikes
Enduro/All-Mountain Electric Bikes
Trail Bikes
Cross-country Bikes
Urban Cross Bikes
Kids Bikes
Most Popular Mondraker Bikes
There are different models in the Mondraker's bike range, covering a wide variety of riding from ultra-light XC racers to a pointless downhill destroyer. This means that, no matter what you are looking for, there is always a Mondraker bike awaiting. Now, let's see what some of the most popular Mondraker bikes are:
Downhill Bikes: Mondraker Summum Carbon RR
Super Enduro Bikes: Mondraker SuperFoxy Carbon RR
Enduro/All-Mountain Electric Bikes: Mondraker Dusk RR
Trail Bikes: Mondraker Prime 29
Cross-country Bikes: Mondraker Podium Carbon RR SL
Urban Cross Bikes: Mondraker Thundra X
Kids Bikes: Mondraker F-Play 26
Mondraker Bike Price Range
Specializing in gravity-oriented bikes, it is no surprise that mountain bikes are in Mondraker's DNA. Having said that, the company also offers other types of bikes, such as urban cross and cross-country bicycles. Moreover, you can find a lot of kids' bikes, both conventional and electric models, from Mondraker's Kids' bike range.
Of course, with advanced technologies, high-quality materials, and components, Mondraker bikes are not as cheap as some models on the market. But you will find it worthy once you start riding a Mondraker bike. Here is the price range of current Mondraker bikes:
Downhill Bikes: $4,600 – $8,200
Super Enduro Bikes: $4,855 – $7,764
Enduro/All-Mountain Electric Bikes: $6,382 – $8,325
Trail Bikes: $4,161 – $4,699
Cross-country Bikes: $4,161 – $5,272
Urban Cross Bikes: $5,266 – $6,937
Kids Bikes: $1,033 – $3,745
Are Mondraker Bikes Any Good?
In general, Mondraker bikes inspire great confidence and can handle very well in most situations. They are also made of high-quality materials for the best performance. Since Mondraker is constantly evolving their technologies with a certain concentration on the highest quality possible, their models will not dissatisfy you.
Mondraker Vs. Specialized
Mondraker Bike Review
The first and greatest thing to talk about Mondraker bikes might be their leading technologies. As you might know, the innovative dual-pivot Zero suspension is one of the most cutting-edge technologies that Mondraker has invented. It is used in the brand's full-suspension bikes. And 2018 is the 10th year of this groundbreaking technology.
The dual-pivot Zero suspension looks like a blend of the top rocker link from a Trek with a VPP bottom link from a Santa Cruz. The company uses a floating shock for this design, which means it will be compressed by both the top and bottom links.
For those who don't know why it is called Zero, then this is because the technology provides zero brake jack, zero power loss, and zero pedal kickback. The first impression is that the design is exceptionally competitive with the best systems available to purchase. In addition, it is very effective and sharp, as well as vibrant with great impact control.
When it comes to geometry, you can see that most Mondraker bikes are relatively long, but you will not find it strange to ride. However, you might want to make some adjustments for a better feeling.
You will need to be aggressive to take advantage of the Mondraker bikes' geometry. This is not the kind of bicycle that you can sit in the saddle and pedal. But if you are in a lower traction condition, the front end tends to push out wide; then you might need to low-side.
On the contrary, you may need to push your chest forward, over the suspension fork, and navigate the front wheel through turns. Basically, just imagine that you are cornering a Mondraker trail bicycle like you are cornering almost all other downhill bikes. It might feel a little strange at first, but once you learn to trust the bike, you will find there is plenty of grip and traction, and the bicycle also offers great corners and is actually quite pleasant.
Specialized Bike Review
In terms of bike ranges, Specialized provides the market with wider categories of bicycles in all disciplines, such as full-suspension mountain bikes, aero road bikes, kids bikes, electric bikes, or anything in between. In addition, Specialized is considered one of the biggest bike companies in the world of cycling.
If Mondraker is best well-known for their downhill bikes, then Specialized seems to be more popular with their road bike range. Typically, Specialized road bikes are preferred by both novice and pro riders around the world. One of the key reasons making their bicycles are highly preferred and sought after is its groundbreaking technologies built in each model.
Another great thing that you can find on all road bikes at Specialized is the excellent combination of cutting-edge technician solutions, optimum comfort, and ultimate performance. So, you can see that the company has managed to provide the cycling market with the best quality bikes possible, which can easily compete with some of the leading premium bicycles in the industry. And that is also why Specialized has become one of the foremost bicycle brands in the United States.
Actually, Specialized road bikes have got lots of five stars reviews from some engineering teams. In fact, not only their road bicycles but other gravel bikes and aero road bikes are also highly appreciated in the bike riding world.
Generally speaking, both Specialized and Mondraker provide the market with some of the best models. While Mondraker is famous for their excellent downhill bikes, Specialized is most popular with their perfect road bikes.
Mondraker Downhill Bikes

As I mentioned before, downhill is considered the greatest passion of Mondraker. Racing and downhill are always in its DNA.
It has been over 20 years since the company started creating bikes. And if there is only one thing making Mondraker bikes apart from other models on the market, it has always been their downhill bicycles. These bikes have actually marked Mondraker's history and style.
Among various downhill models, the Summum series is considered the most successful bike with prizes in the World Cup. And more importantly, it became the legendary downhill bike in the 2016 World Championships in Val di Sole. That was when the company won all podiums, including the 1st, 2nd, and 3rd prizes. And in 2022, Mondraker wants to repeat that achievement in the same place.
By 2022, Mondraker is going to release a new version of the Summum. It is equipped with a powerful carbon frame using the company's groundbreaking technologies, including MIND. And once again, Mondraker is at the forefront of the field. But don't forget, the aluminum version presented in 2021 will still be a great option.
The 2021 Summum version starts with an ultra-innovative Stealth Alloy rig and is available in two wheel size options. It will absolutely offer speed and smiles to the same extent. There are three Summum models with unrivaled heritage, believable characters, and transcendental specs that you will absolutely love over and over again. Below are the two most popular Mondraker downhill models, the Summer Carbon RR and the Summum R.
Summum Carbon RR
For those who don't know, the Mondraker Summum Carbon RR is ridden by the MS Racing team. So, if you want to get the exact feeling like the company's worldwide cyclists, this is the bike for you.
Its frame is built from scratch and becomes a standard on the global circuit. The model is manufactured using the brand's revolutionary technologies, such as MIND. For those who don't know, this is a telemetry system that allows the rider to take advantage of your suspension, the innovative Zero Suspension System.
You will have two options, MX with a 27.5-inch wheel at the back and 29-inch wheel at the front, or a model with 29-inch wheels at the front and rear.
Summum R
The Summer R is the result of all the know-how in 20 years of designing and manufacturing downhill bikes of Mondraker.
This model was officially launched last season, equipped with the brand's renowned Stealth aluminum frame. And now, it still remains the best seller in the company's category. It is built based on all the Mondraker's expertise acquired during its twenty years of inception.
There are four different sizes and two wheel options, MX or 29-inch, for you to choose from. It will be a great downhill bike that surprises you with its super lightweight.
Mondraker Super Enduro Bikes

All the Mondraker super enduro bicycles are typically designed for cyclists who are looking for maximum thrills while delivering much more versatility than you would get from a pure downhill bicycle.
Traditional or electric bikes, it is all about downhill fun; whether you are at the city bike park or on the hardest of trails, this model will help you climb back to the top over and over again with ease. Inheriting the best characteristics of the Summum models and the newest and best technologies applied to Mondraker's World Cup bicycles, these super enduro bikes will be absolutely guaranteed and fun.
SuperFoxy Carbon RR
Even though not being an all-around downhill bicycle, the SuperFoxy Carbon RR is obviously concentrated on the downs with its 160mm rear and 170mm front travel. This so-called "mini Summum" will let you send it with the best, enjoying the feeling and lightweight offered by the advanced Stealth Air Full Carbon frame.
There is no goat track, jump, or trail that can stop you from taking it out flat. The model's DNA is obvious in any situation, with astonishing acceleration on the move. The SuperFoxy Carbon RR is a great blend for those who like the best descents coupled with riding back to the top.
In addition, this model will provide you with the best parts and components on the market to make both you and it up a notch. It features the newest generation Öhlins suspension (shock-absorbing coils at the rear) and the great quality of excellent ONOFF components.
SuperFoxy Carbon R
Just like the Summum Carbon is the most lightweight downhill bike on the worldwide downhill circuit, the SuperFoxy Carbon R is also the lightest super enduro bicycle on the market.
It is equipped with 160mm of travel at the rear and 170mm at the front. Above everything, you can easily climb to the top to start your descent all over again because of the powerful SRAM 12-speed drivetrain.
The combination of 12x157mm SuperBoost rear end and the Fox 38 fork and Öhlins TTX Air shock creates a super flickable and light model. In addition, it will allow for unmatched rigidity that makes the ride much more fun.
Mondraker Enduro/All-Mountain Electric Bikes

With a Mondraker Enduro/AM bike, you will always feel adrenaline running through your veins. It will help you live every second of your ride, do your best as much as you can. And when you head to the bottom, the noise when you tell your friends about that curved you did or that jump you have always been dreaming of, Mondraker enduro bikes can do it all.
There is no doubt that you have Mondraker DNA! That is also one of the key reasons the brand's Enduro and All-Mountain bicycles are equipped with a Zero Suspension System and Forward Geometry. And some of them are even fitted with MIND, the advanced technology allowing you to set up your suspension definitely flawlessly.
On top of that, you will feel like the greatest cyclist in the world with any of those models.
Dusk RR
If what you actually love is to cycle endless distances on your high performing electric bike, then any Dusk models and versions are exactly what you are looking for. With full battery power of up to 990 Wh, you can cycle all day long (and possibly all night) to get the most out of the enduro bikes with the integrated Shimano-motor.
The Mondraker Dusk RR is equipped with 150mm of rear wheel travel and 160mm at the front. In addition, it is fitted with a Zero Suspension System exclusive to this e-bike category. You will also take advantage of every bike (as long as you can keep up), thanks to the perfect combination of the 29-inch wheels, premium components, and the groundbreaking Stealth Alloy Evo aluminum frame.
Chaser 29
If you are looking for an entry-level all-mountain/enduro electric bike, the Chaser is a great option.
The brand ensures that you will enjoy endless rides for the best value for the money you have spent on this model. This is because it is equipped with some of the best features, including an innovative Zero Suspension System typically optimized for electric bikes, an advanced Stealth aluminum frame, and great quality components. It could be said that no model on the market gives you more than the Mondraker Chaser 29.
In addition, Mondraker is considered one of a few bike brands offering the most developing electric bikes in the field. It also shows that the Chaser 29 is part of the family. Moreover, you will even get more and more fun, thanks to the 150mm of suspension travel at the rear and 160mm at the front. And you will have two color options to pick from.
Mondraker Trail Bikes

Cycling is more than just exercise. Once you get your bike, go out, and you will enjoy every second, every pedal stroke, and enjoy the beautiful nature.
According to Mondraker, the ideal way to feel sincerely free is that way they like cycling at their company. That is the key reason why Mondraker knows how to create good-quality bicycles and electric bikes supported by over 20 years of experience in the cycling industry and with the extra value as World Champions.
Mondraker knows that there is no better way to disconnect from the day-to-day to go out and head to the countryside trails. That is why Mondraker trail bicycles, whether traditional or electric, are typically created for maximum enjoyment and no limits.
Prime 29
If you want to join the world of lightweight electric bikes integrated with powerful engines, then the Mondraker Prime 29 will be your perfect companion on the trails.
It will provide you with excellent pedaling assistance no matter where you ride, thanks to the perfect Bosch Performance Line CX Cruise GEN4 motor. In addition, the company has tweaked its famous Forward Geometry to deliver limitless ways for you to spend as many hours on the saddle as you want.
The two major hallmarks of the Mondraker Prime 29 are lightweight and comfort. The model comes in two options of wheel sizes, including 27.5''+ and 29''. Therefore, you will get the most outstanding characteristics of this bike regardless of the terrain. Moreover, the RockShox Recon Silver RL fork with 120mm of suspension travel will absolutely keep you comfortable while allowing you to face any challenge that your heart has always been craving.
Thundra
If you want to venture out exploring new mountains with an electric bike, then you will not want to miss out on the Mondraker Thundra.
The Thundra is constructed out of an innovative Stealth aluminum frame and equipped with a 630Wh battery (can be accompanied with an optional outer Simplo 360Wh battery, up to 990Wh), and Shimano E7000 motor. So, its range is nearly endless.
What's more, the brand provides the model with high-quality components, such as SRAM Level T brakes, 29-inch wheels, ONOFF components, and RockShox Silver RL fork with 120mm of suspension travel. These features ensure optimum handling in all situations and riding conditions.
Mondraker Cross-Country Bikes

Incredibly agile, sturdy, and lightweight are exactly what Mondraker cross-country bikes are. With more than 20 years of experience creating exceptional bicycles with the highest specifications, Mondraker's cross-country bikes are an excellent choice to take you to the next level. Coordinating with the PMX Racing team, the brand has won a lot of World Cup podiums and the newest World Cups on both hardtail Podium and full-suspension F-Podium versions.
No matter what your needs are, you will find a perfect bike in this category. It will be a super-lightweight full-suspension bicycle with 120mm of front travel combined with 115mm at the rear. Or it can also be a full-suspension bicycle with 120mm forks coupled with 100mm of rear wheel travel. Besides, you can find an entry-level cross-country bicycle equipped with all the guarantees you would expect from Mondraker; or simply a stiff and lightweight hardtail model.
With this cross-country bike range, Mondraker offers different exclusive technologies, such as Zero Suspension, Stealth Air Carbon, and Forward Geometry. These technologies contribute to make Mondraker's XC bikes a standard at the global races. The Chrono, Podium, and F-Podium models will help you climb to the podium's top with ease because of their incredible performance in the world's most demanding races.
Podium Carbon RR SL
Mondraker always boasts about introducing the greatest production bicycle with the most lightweight frame available to purchase today.
You heard it right. The Podium models are constructed out of the lightest frame all over the world. It weighs around only 775 grams, and logically, it comes with full manufacturer commitments. Every point of the frame is also optimized, thanks to the cutting-edge Stealth Full Carbon technology. As a result, the Podium frame can combat the fatigue that a first-class hardtail bike needs to bear while maintaining the weight as small as possible.
It is not surprising that this is the bicycle that Team PMX Racing members compete at World Cup races when conditions don't allow for a bike with a complete suspension, such as the F-Podium DC. in addition, the carbon fiber layer can ensure the ultimate stiffness and compliance.
What's more, you will get yourself a treasured bike if you add into the combination of SRAM's XX1 AXS wireless transmission and Mavic's Crossmax Carbon wheels. Without any doubt, this is considered the most lightweight and efficient hardtail model that Mondraker has been able to create after over 20 years of experience building very efficient entry-level bikes.
Mondraker Urban Cross Electric Bikes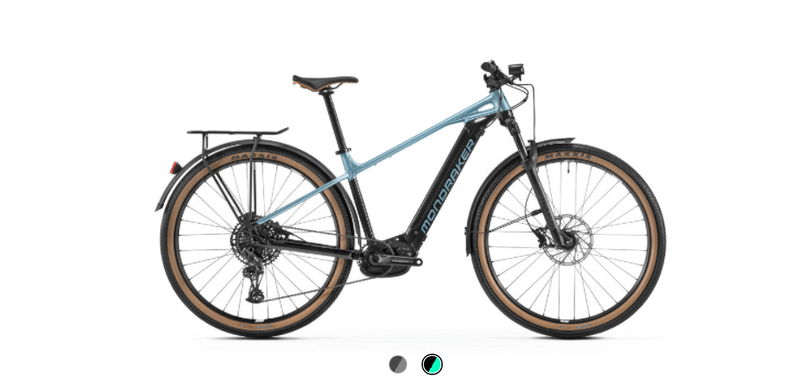 For enthusiastic riders, leaving your car at home and hitting the road with your bicycle is considered the best thing you can do for both yourself and the earth.
It improves not only your physical and mental health but also the quality of your life and our environment. And that is more than enough reason to consider getting yourself an electric bike, such as the Mondraker Thundra X or Prime X. They are equipped with all features to be ready for city life, including lights, rack, and fenders. In addition, they are combined with tires compatible with tracks in rural areas.
As you know, the Mondraker Urban Cross is a perfect blend of innovative technology and endurance. Therefore, you can completely depend on it very often and then enjoy beautiful nature when you have the right time to disconnect from your workdays.
And on top of that, you will get additional pedal assistance with enough range for you to ride all day long. Without a doubt, it's a lifestyle that over time, and fortunately, many of us are using it. In general, a good option for us and our planet too.
Prime X
The Mondraker Prime X is considered the brand's signature urban cross bike, allowing the rider to enjoy his bicycle in his own style with confidence and comfort.
Whether on the road or remote countryside, the feeling of cycling along the road will put a smile on your face. The model is equipped with fenders, a 120mm travel fork, lights, and a luggage rack, meaning you will be entering a world you won't want to return to.
Head to work in the morning, get some work done, and then enjoy the serenity due to the surrounding roads and countryside that surrounds you on your way home.
What's more, the Bosch Performance Line CX G4 engine is meant to be limited to you, and with its special looks and characteristics, you will make everyone around you jealous.
Mondraker Kids' Bikes

It could be said that Mondraker is one of a few bike brands offering plenty of bikes for kids on the market. And its richest range of kids' bicycles in Mondraker's history continues to grow.
Knowing how mountain bikes and Mondrakers feel to you, you will definitely want your kids to enjoy it as much or even more than you. That is the main reason why Mondraker has created a wide range of bicycles for all of them, 3 years old and up. Typically, the brand has developed these bikes with everything they have learned in the last 20 years of experience and with all the groundbreaking technology, no matter if it is a traditional bike or an electric bike.
In particular, the Grommy range offers models perfect for kids to learn how to balance on a bicycle. The Play range, on the other hand, is typically designed for both boys and girls to learn to be confident with two wheels while making the most of a little support. Therefore, they can share their rides with Mondraker models, no matter what their abilities are.
On the contrary, the Leader and Factor series are great for those who want to elevate themselves to the maximum. And, of course, with the mindset of becoming the top racers of the future.
We are talking about an electric bike or traditional bike, having fun and enjoyment, and getting cracking in a kind of sport, such as mountain biking. No matter what it is, the Mondraker kids' bike range will provide you with everything you need to equip your kids with cycling skills.
F-Play 26
The Mondraker F-Play 26 is a bicycle built with all of the brand's DNA. And it is a much higher value than any of Mondraker's adult bikes.
The model is equipped with a cutting-edge Stealth Evo and Zero Suspension System frame typically created for it. Therefore, it allows for excellent performance, and you will find it challenging to keep up with kids riding this bike, whether they are pedaling uphill or downhill.
Your children will become the cycling companions you have always wanted them to be, thanks to the 120mm of suspension travel integrated into the F-Play 26. And they will eventually have a bike to help them out when needed.
Play 26
With more than 20 years of experience making first-class bicycles, Mondraker is always proud of creating safety bikes for kids in terms of quality and performance. And the Play 26 will be an ideal bike for your children to have fun in the mountains.
Equally interesting, the Mondraker Play 26 model is equipped with 100mm of front travel suspension, allowing your kids to enjoy both the climbs and descents. This is also thanks in large part to the internal 250Wh battery and powerful Mahle Ebikemotion X-35 engine. This combination will give your children a wide range to spare and start getting out exploring some new, thrilling adventures.
Grommy 16
The Grommy 16 is a special electric bike allowing you to see your kids enjoy themselves with their bikes like never before.
This model is equipped with a seat height ranging from 43cm to 58 cm, making it suitable for children aged 5 to 8. The Mondraker Grommy 16 will help your kids get balance and start controlling the bike flawlessly.
With the 6061 aluminum frame, this bike weighs just around 8.5 kg. In addition, its powerful battery and motor allow for up to hours of use at full speed. By all means, that doesn't mean that you can't control the power at all times simply.
Factor 26
One of the major goals of Mondraker as a bike brand is to create bicycles to fit the needs of all cyclists. That's why the brand has continuously manufactured the Factor range to provide younger riders with the exact same package as their full-suspension adult bicycles.
Therefore, the Factor 26 is constructed out of the 6061 Stealth Evo aluminum frame, cutting-edge Zero Suspension System, and excellently tuned geometry, offering exceptional performance.
In this way, the Factor 26 model's lightness and agility, with 120mm of front and rear suspension travel, will allow the cyclist to make the most of all the experience that Mondraker has gained during the past 20 years of building bicycles on their bikes integrated with 26-inch wheels.
Leader 26
If you want your children to join mountain biking as in the past without any added help from a motor, then the brand-new Leader 26 will be exactly what you are looking for.
One of the most outstanding features of this Mondraker Leader 26 is the ultra-lightweight Stealth Evo aluminum alloy frame. Your kids deserve to enjoy great sports and rides without any disadvantage. Therefore, a light bicycle is very important and will take them everywhere. This also means that they will have a great time cycling and absolutely want to cycle more.
In addition, the bicycle is equipped with a 100mm suspension travel fork. So, the only thing you have to do is watch your kids riding and having fun.
Conclusion
So now you know that Mondraker is a great bike brand developing excellent bikes capable of offering ultimate performance for mountain bikers. Their mountain bike range is very diverse, ranging from downhill to trail, cross country, super enduro, enduro/all-mountain, and urban cross. In addition, Mondraker offers a very wide array of kids' mountain bikes, both traditional bikes, and electric bikes. So, you can get a great model for you and your little ones.