Nukeproof was established in 1990 in Grand Rapids, Michigan. It was the brainchild of John Muenzenmeyer, the company's founder. As an ardent cyclist, John has the purpose of creating reliable, innovative, and suitable solutions to meet the needs of the rising mountain biking market in the 1900s.
Nuke Proof Industries has pioneered its design by taking advantage of outlandish materials, such as carbon fiber and titanium. The company was really famous for their beautiful high-end aluminum and carbon hubs.
It is true that Nukeproof Industries has come a long way to get where it is today. So, let's explore its history, advanced technologies used in different types of bikes that offer incredible performance in this article.
You can find more bicycle brands like this one in the top 60 best bike brands in the world.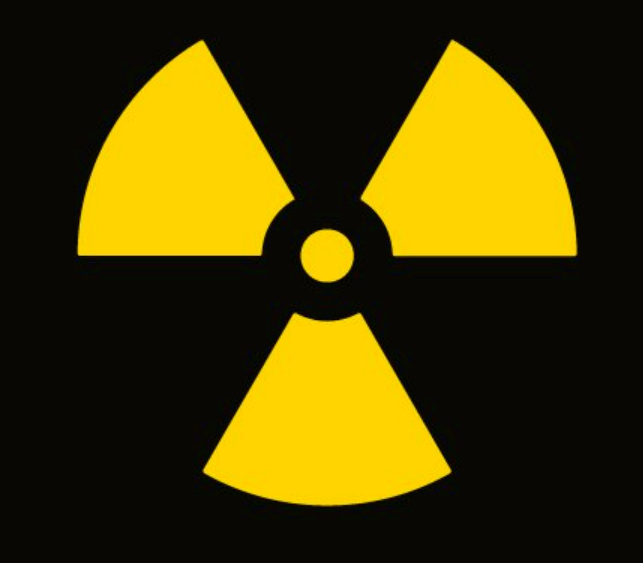 Overview of Nukeproof Bike Company
History of Nukeproof Bike Company
Nukeproof started their life in the early days of the 1900s. It was founded by a passionate rider, John Muenzenmeyer.
After the success with the renowned carbon and aluminum hubs, Nukeproof bikes continued to manufacture carbon fiber handlebars, titanium frames, and some groundbreaking components. Unfortunately, Nukeproof had to struggle to stay in the bicycle industry due to the bike boom after the 1900s in the United States.
Luckily, Michael Cowan, a Northern Irish Downhill racer, a longtime fan of Nukeproof, saw an opportunity to save the company in 2004. And three years later, in 2007, the brand launched its very first bike-related product, titanium springs. Right after that were 760mm and 800mm handlebars, gravity led products, which were really rare at that period.
At Interbike 2010, Nigel Page, a former Downhill Masters World Champion, and Micael Cowan decided that it was the right time for Nukeproof to start research, develop, design, and create their own bikes. And this really paved the way for the development and the brand's first downhill bike frame: the Scalp.
It seems that Nukeproof truly got lots of success and development in 2013. This was the first time that Sam Hill, Three-time Downhill World Champion, would race for the brand. Before changing to full-time enduro racer, Sam Hill continued to win two World Cup prizes using the Nukeproof Pulse model. What's more, he also won three EWS general titles on the Nukeproof Mega.
Where Are Nukeproof Bikes Made?
All the Nukeproof bikes are designed and manufactured in Belfast, Northern Ireland. The company continues to grow while preserving the proud history and traditions built by the racers. Besides, their bikes are sold through certain independent bicycle dealers in different countries in the world.
The Technologies of Nukeproof Bikes
One of the most well-known technologies of Nukeproof is the aluminum and carbon hubs. This system was first researched and developed by Nukeproof Industries with the use of peculiar materials, such as carbon fiber and titanium.
After that, the company continued to make carbon fiber handlebars, titanium frames, and many other cutting-edge components. Their technologies were very famous and represented at different races by lots of athletes. One of them was James Bethea, a local courier hungry to win with a unique warm-up attitude.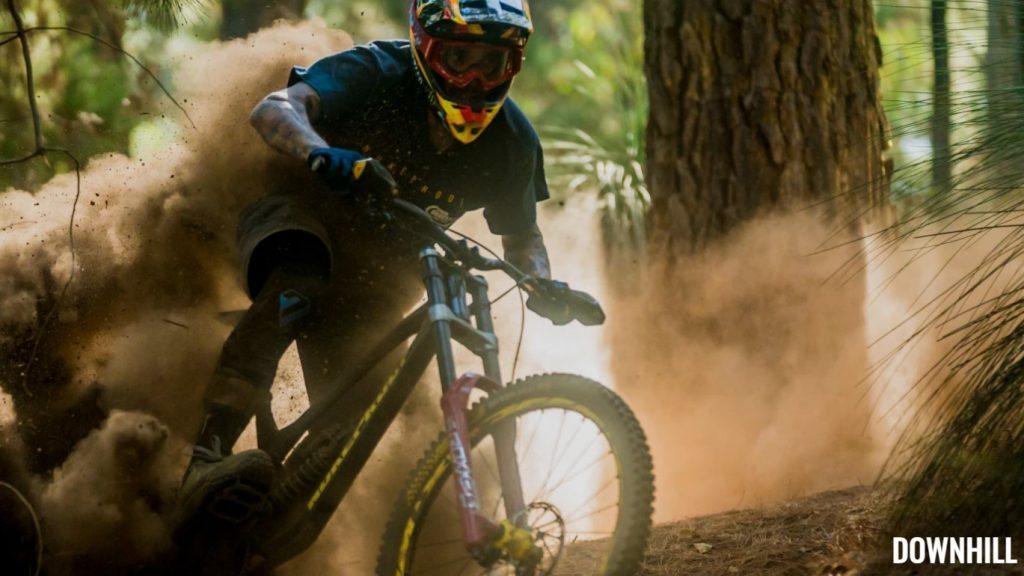 Performance of Nukeproof Bikes
It could be said that the Mega series is the winning product of Nukeproof. It actually has brought lots of successes for the company in different races. Therefore, the brand decided to improve this model with additional optimized geometry. What's more, it now comes in a conventional frame size that is suitable for different riders.
Not only the Mega models but other bikes from Nukeproof are also of good quality and offer excellent performance. This is because they are equipped with advanced technologies and great components.
Let's take the new suspension kinematics as an example. It can produce an undoubted amount of grip and traction. This, as a result, offers endless reserves without sacrificing bounce or support. Other than that, the leverage ratio is also enhanced to provide more scope needed for specific suspension setups.
As a result, your bike can master even the toughest trails easily, and you will experience an incredibly stable ride without any feeling of sluggishness.
Nukeproof Bike Categories
Just like many other bike brands on the market, Nukeproof offers a very wide range of bikes, including models and styles. From kids to adults, the road to trail or mountain bikes, and electric bikes, there is always a suitable model available at Nukeproof for you to choose from. Let's see what bike categories Nukeproof are offering:
Downhill
Hardtail
Super Enduro
Adventure
Enduro
Kids
E-Bikes
Trail
Most Popular Nukeproof Bikes
Many of you might have heard of the Mega bike when searching for the best Nukeproof bikes. However, the company provides riders with a lot more models that are quite popular. Here are some of them:
Downhill: Nukeproof Dissent 297
Hardtail: Nukeproof Scout 290
Super Enduro: Nukeproof Giga 290 Carbon
Adventure: Nukeproof Digger
Enduro: Nukeproof Mega 290 Carbon
Kids: Nukeproof Cub Scout 24
E-Bikes: Nukeproof MegaWatt 297
Trail: Nukeproof Reactor 290 Carbon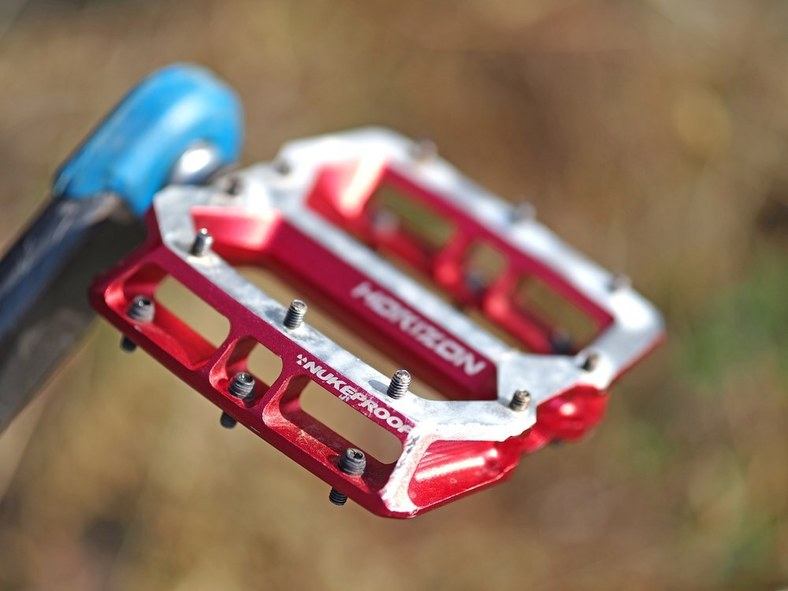 Nukeproof Bike Price Range
This bike brand offers a large array of price ranges, depending on bike categories, models, and equipped components. But in general, their bikes come at a reasonable price so that anyone can get one that is suitable for their budget (from average to high-end models) and purposes.
Downhill: $2,739
Hardtail: $616
Super Enduro: $3,561
Adventure: $2,465
Enduro: $2,465 – $3424
Kids: $890 – $1,164
E-Bikes: $6,163
Trail: $2,465 – $3424
Are Nukeproof Bikes Any Good?
My answer would be yes. No matter what your purpose is when you are looking for a new bike, Nukeproof bikes will offer exceptional value, from the price to performance. It is also a reliable bike brand that provides different bikes trusted by various pro riders around the world. Its Mega model is considered one of the best Enduro bikes not only in this bicycle range of Nukeproof but also compared to other famous brands.
Nukeproof Vs. Santa Cruz
Nukeproof Bike Review
As mentioned above, Enduro bikes are probably the winning product of the company, thanks to the appearance of the legendary Nukeproof Mega bike. In the 2009 Megavalanche Downhill Marathon Race, this model was first introduced by Nukeproof. Now in its fourth development, the Mega model has been updated with a better suspension system and geometry. By increasing the seat angle and reducing the head angle, the new Mega offers a much more comfortable riding position.
In addition, the bike allows riders to go at a faster speed thanks to the revised suspension kinematics. This adjustment is considered a great movement that boosts the mild bump sensitivity. Typically, this is a great feeling that you will feel at almost all Nukeproof bikes, not just the Mega series.
Another great thing about Nukeproof bikes in general, and Mega models in particular, is the incredible mid-stroke support. This design helps to pump or corner much more straightforwardly. Besides, you will be inspired to feel more confident to go through the roughest trail thanks to the enhanced end stroke development.
Nukeproof has been still using their race team to go beyond the bounds of their bicycles, parts, and components. As a result, riders will have a chance to get the best bikes possible.
Santa Cruz Bicycles Review
As you might know, Santa Cruz is very famous for producing bike frames made of carbon fiber or aluminum. Typically, both types of materials are good-quality to ensure the bike's quality. In addition, the brand manufactures several bicycle-related parts and components, such as handlebars, rims, and grips.
But that doesn't mean that all Santa Cruz bikes are equipped with their own components. To ensure the best quality for every model, the company uses parts from other well-known brands, such as RockShox, Fox, SRAM, Maxxis, etc.
Even though Santa Cruz is just a young bike company, it has captured the headlines in the industry since it is considered one of the bike brands that offer the largest category of bicycles on the market. One of the greatest advantages of Santa Cruz is the various models at an affordable price. But for those who are looking for a high-end model to make the most of the bike and trail, the Santa Cruz full-carbon pro Heckler trail bicycle will be a perfect one.
Nukeproof Downhill Bikes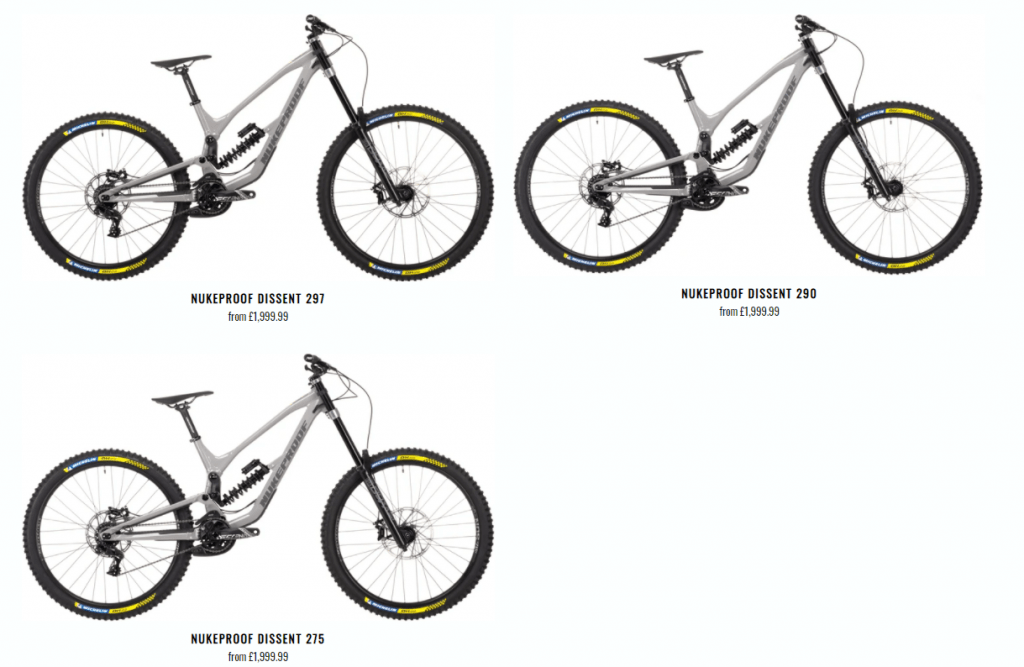 Nukeproof is quite famous for their racing lineups since it is in their DNA from the beginning days. The company's downhill bikes are also a perfect range that comes from the test and development through the collaboration with some of the fastest racers in the world.
Great fun, three crown forks, and 190mm+ of suspension travel are the three key features of Nukeproof Downhill bikes. The company offers only three models in this range.
These models share the same great features, including high-quality frames with great adaptability, lightweight and sturdy aluminum tube set, and long suspension travel.
Nukeproof Super Enduro Bikes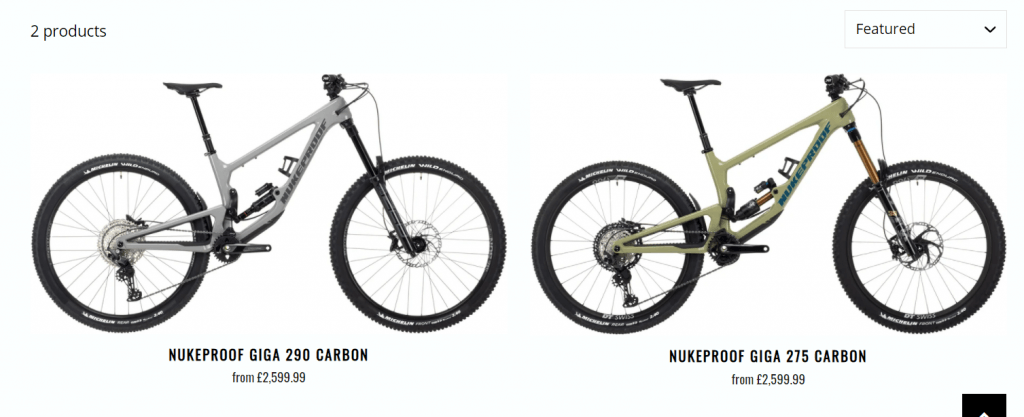 It could be said that super enduro and enduro ranges are the two most powerful categories of Nukeproof bikes. There are only two bicycles in the Nukeproof Super Enduro bikes that are equipped with a singly crown fork at the front and 170mm+ of suspension travel at the back. They are typically created to dominate high mountains, steep downhills, or simply bike parks.
If you are a demanding rider who wants to get a bike with incredible capabilities and performance to conquer any rough trail, this is just what you will need. Nukeproof super enduro models are not only designed to be longer, bigger, rougher but also faster.
Nukeproof Enduro Bikes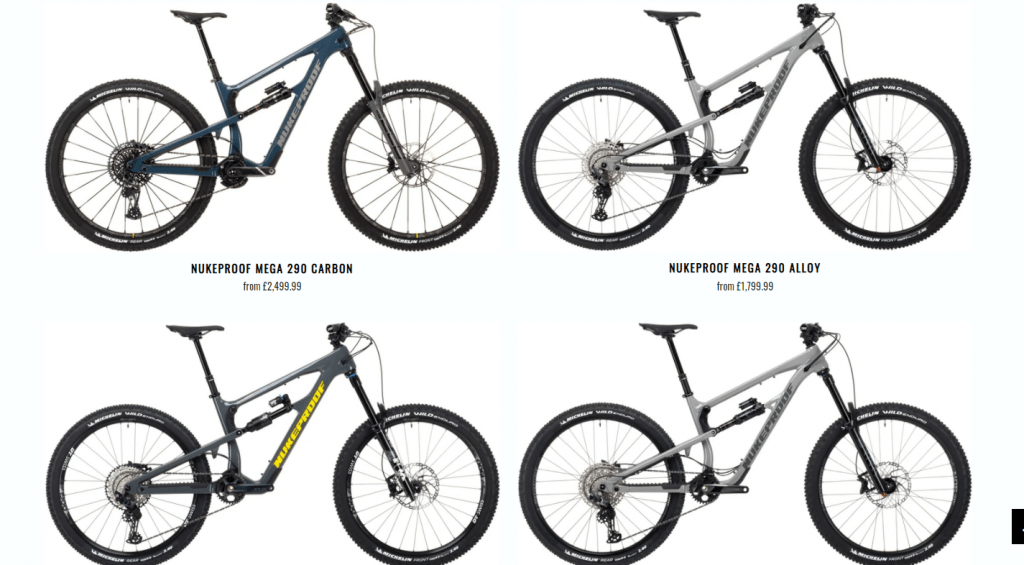 It can be said that Nukeproof enduro bikes are a kind of do-it-all bike. It is typically designed for fast descent with maximum performance and efficiency. Equipped with single crown forks, 160mm+ of rear travel, and aggressive geometry, these bikes are really powerful. They are strong enough to traverse long muddy tracks, gnarly descents while still being able to climb back to the top of the mountain effectively to prepare for the next step.
Nukeproof Electric Bikes

The Nukeproof MegaWatt bike category has the same DNA as the company's Enduro World Series winning Mega. Its geometry is particularly designed to focus on gravity with 170mm of rear suspension travel. This model is really a great one for riding on rough trails or simply exploring the big, new mountains. Typically, it is combined with the great advantage of electric bikes' pedal assist in helping you get on the top effortlessly. We've compiled a list of top 23 best electric bikes under $1000 you should buy.
Nukeproof Trail Bikes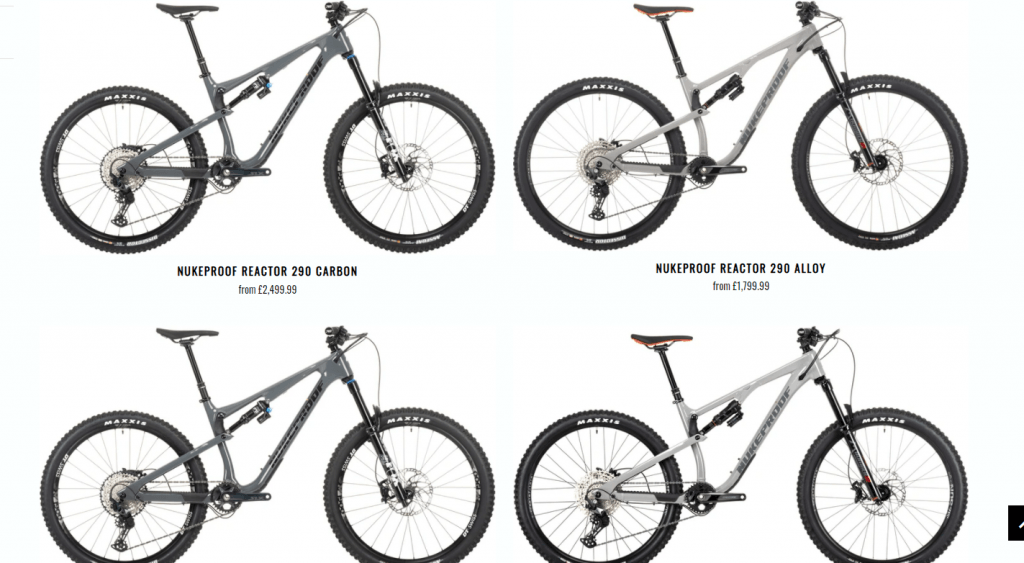 Versatility might be the key thing when it comes to Nukeproof trail bikes. These bicycles are constructed with full-suspension, powerful pedaling machines, and short travel (you can choose between 120mm or 150mm).
The geometry is specially created to tackle technical trails faster and more easily. At the same time, they bring great fun and playful moments on the journey. And then they propel you back to the top of the mountain incredibly quickly than you think they could.
Nukeproof Hardtail Bikes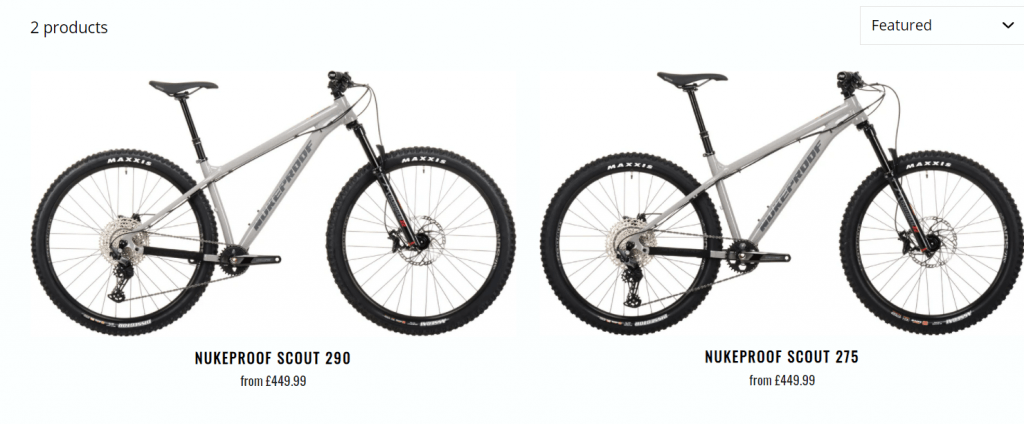 All hardtail bikes at the Nukeproof are equipped with only front suspension without rear suspension. And that's why they are called hardtail bikes, as many of you might already know.
Like the previous model, these bikes are constructed out of a geometry that concentrates on gravity, making these hardtails even "go crazy" on downhill terrains. In addition, the sturdy rear end works efficiently to get you back to the top faster.
Nukeproof Adventure Bikes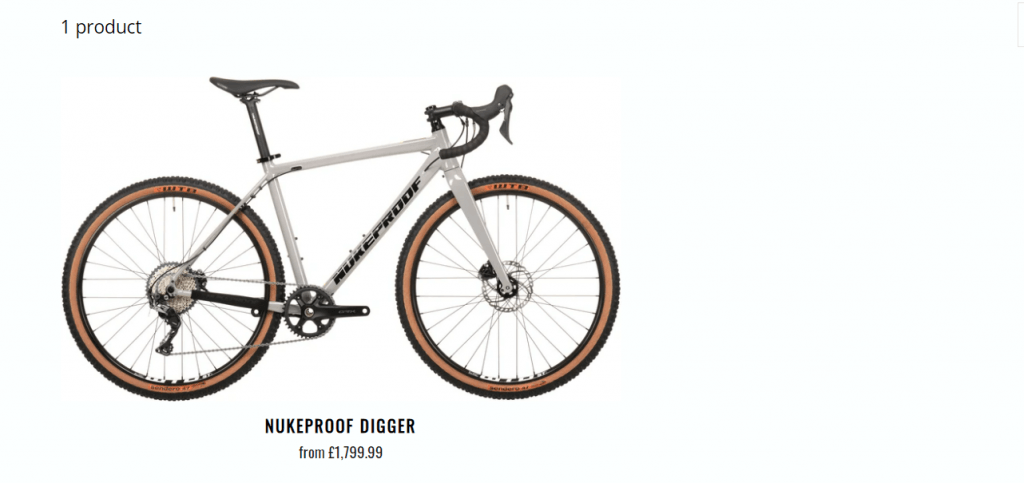 These adventure bicycles are just a great, thoughtful combination of off-road and road technologies, creating something really furious and wild. From going through overnight adventures to shredding lanes or getting dirt on your regular commute, Nukeproof adventure bikes can do it all.
The most unique thing about this bike range is that all models are designed based on the inspiration of the company's athletes and their yearning for a training bike that can do it all with some small extra things.
They come in a versatile design with a perfect blend of a mountain bike's soul and the performance of a gravel bike. What's more, they are equipped with fenders, bike packs, and added capacity for extra panniers. In addition, the sturdy frame is ideal for going anywhere, from large adventures to simple commuting, that makes the road from your home to your office more interesting.
Nukeproof Kids Bikes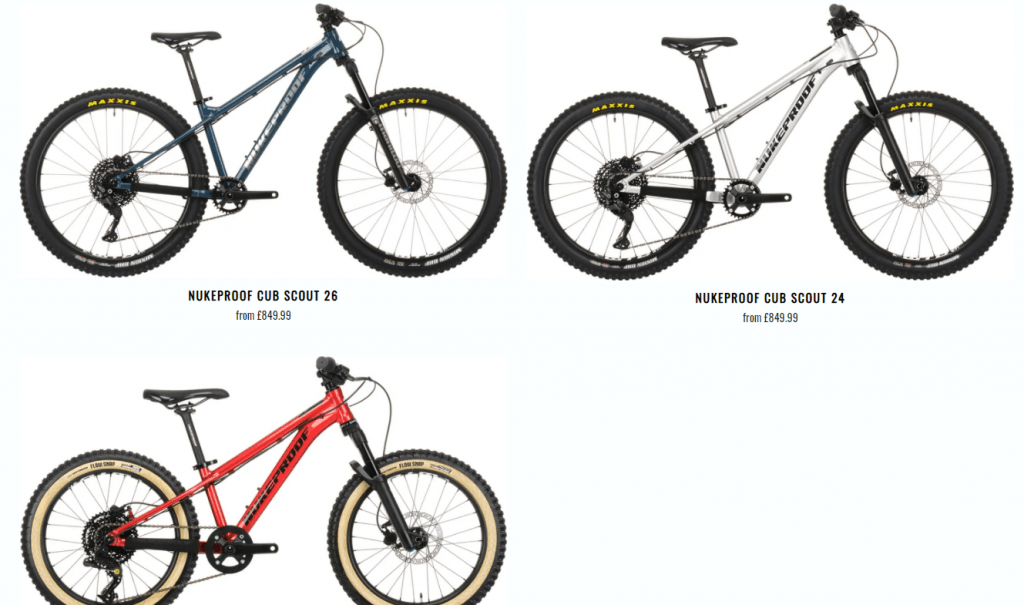 The two most outstanding features of safety kids bikes that make them relatively popular among younger riders are the small refined suspension and height certain geometry. In addition, the company equips their kids bikes with specific finishing kits to make these bikes the next generation of trail Urchins.
The Cub-Scout range is not only a simple kids bike. It is inspired by the brand's award-winning Scout line of adult hardtail bikes. And the company has redesigned it from scratch to make it more suitable for a small hardtail mountain bike for kids.
The new design helps kids learn to ride on different trails, gives them inspiration on the way, and acts as an ideal platform for your kids' progression in the long term. Typically, all Nukeproof kids' bikes are tested and developed with the help of the company's kids. The brand has really manufactured a premier line of lightweight kids bicycle lineup to not only inspire but also nurture your children to become the future EWS or World Cup winners.
Conclusion
Nukeproof has always been working with their engineers and race team to break fresh ground for their components and bikes. And the result is that riders can get the best bicycles possible at a specific bike range on the market.