Orange Mountain Bikes manufacturer created their easy-to-recognize brand. They have been producing a variety of mountain bikes, from full suspension to steel hardtails.
Let's see what they bring for riders!
Make sure you've checked our list of the top 60 most popular bikes in the world.
Overview of Orange Bikes Brand
Orange is a giant experienced manufacturer. Since 1988, they have made complete suspension bikes. Although their brand is recognizable, they have a different, rugged frame, unique folded swingarm, and vintage look.

Orange bikes in the High-end product line are produced in the UK. Orange entry-level and mid-range models are built in a unit in Taiwan. At the moment, Orange has dealers in 26 countries in the world.
History of Orange Bikes Brand
In 1988, Orange Bike was launched by Lester Noble and Steve Wade, a company based in Halifax, UK. Most of the bike parts are made in-house by their engineering and design team. They are often outsourced to the country out of the UK to maintain retail prices down. However, Orange does for only cheap models. All their high-end models are still built locally in Halifax.
In 2015, They had a new owner, and Orange was changed to be under new owner Ashley Ball who also successfully operates Bairstow's Sheet Metal in Halifax. The local company still pays attention to quality over quantity. Apart from changing owners, nothing changed.
Orange Bikes Ranges
Orange manufactures a wide range of bikes. Mountain bikes are the most famous and unique. Mountain bikes from Orange are for multi-purposes that make them more significant and more outstanding. Their mountain bikes are divided into different ranges, including Gravity, Suspension trail, Hardtail trail, Hardcore hardtails, Junior Trail, and all-mountain bikes.
Orange bikes will consist of both 29″ and 27.5″ versions with different suspension travel. Their trial hardtails features travel between 100-130mm, while Hardcore Hardtail features between 130-150mm.
They have both Shimano and SRAM components and different types of geometries suiting different riders. Their MTB bikes include the model with 16″, 20″, and 24″ wheels. Their durable aluminum and steel frames are especially solid with a five-year warranty.
Most Popular Orange Bikes Models
All-Mountain bikes
Enduro bikes are made for downhills. However, it is no slouch on the climbs also. These bikes are designed for those who believe in getting the turns and drops jumps. They are strong and lightweight frames and components. It is perfect for those who want to crank up and hammer down things.
Besides, they are designed with a competitive edge and the perfect choice of all-mountain battles.
Stage 6 is one of the best standard models.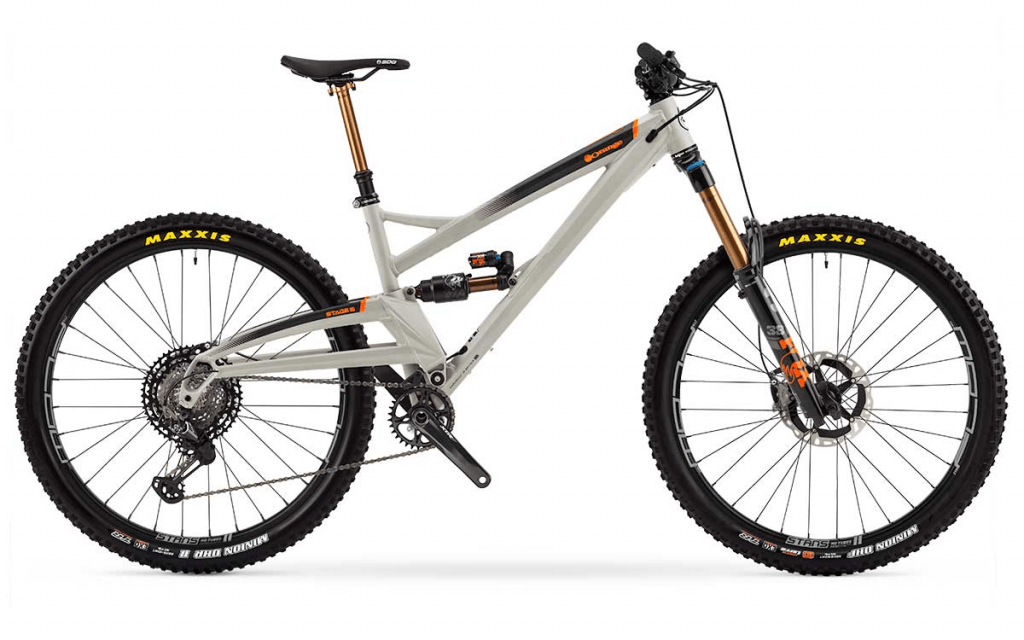 Orange Stage 6 RS
Travel: 150mm rear and 160mm front
Wheel size: 29"
Frame: Alloy
Weight: 31.52 lbs
Orange stage 6 features the entire suspension with the splendid 6061-T6 Monocoque aluminum frame. 29" is their best-selling product. Not only jaw-dropping components, but they also have discreet internal routing, in 10 color choices, and a five-year warranty.
They make without compromises and mercy to the trail beneath it. Besides, they have large amounts of travel, allowing them to behave like their own biker. For example, the Fox Factory 36 offers 160mmm of travel, while the Fox Float X2 factory provides 150mm travel in the back.
Its 12-speed drivetrain comprises the SRAM XO1 eagle rear derailleur, the SRAM cassette, and the Sram GC Eagles chain. Thus, it provides more gearing to get you uphill with ease. Its wheels and tires are a great blend of Stans Flow MK3 and Maxxis Minion 2.5/2.4" comprehensive.
This Orange stage 6 will be ideal for confident riders who fall in love with racing enduro bikes. We've compiled a list of top affordable mountain bikes you should buy.
Gravity
For the Gravity/ downhill category, 327 and 329 are the latest models in the line.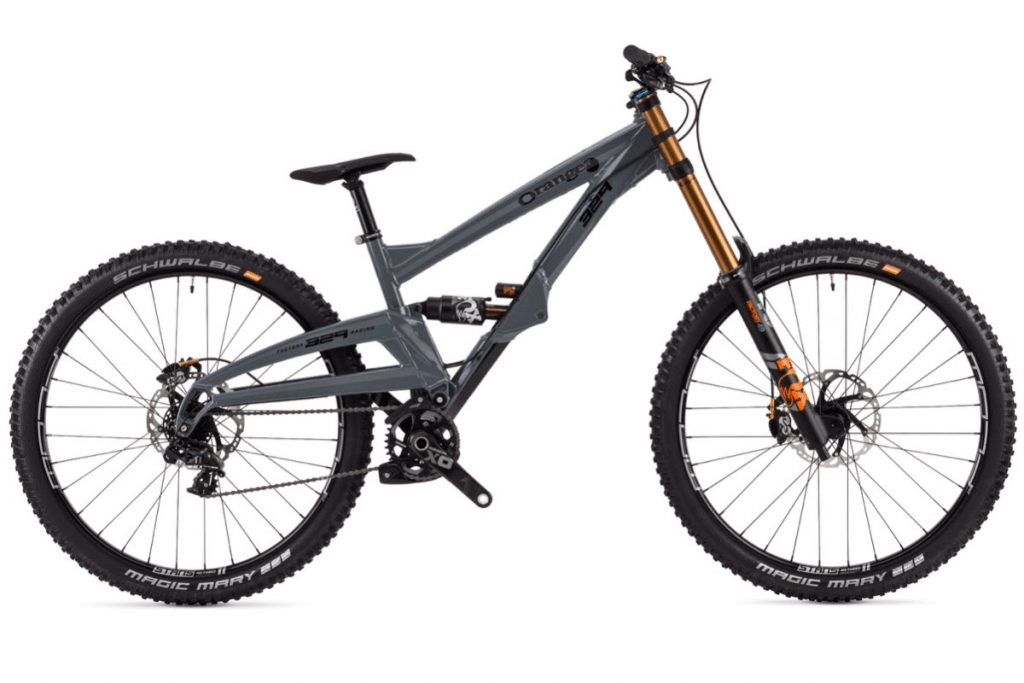 329 Orange Factory ($7.200)
Frame and Fork: 6061-T6 Monocoque UK formed custom aluminum tubing
Wheel size: 27.5
Brake: Shimano Saint
Saddle: SDG I-Fly saddle I-Beam
Most riders will be interested in 29" wheels which provide them the edge for getting ahead. After a lot of development, they can introduce the 329 models, which are the first 29" wheeled downhill bikes. It is designed to handle as closely as the 327 models, uses the 29" wheels to deal with the rough stuff, and charges the straights but still offers the selection in ruins.
It features a single pivot design. Hence, you will have more time riding and less time-wrenching. It is through downtube shock mount cradles the 250mm metric shock for delivery 190mmm travel and providing the scope to position the pivot point precisely where it should be to bring the small bump and big hit plushness.
The frame shock curve is the smooth ramp that lets the rear shock tweak simple and easy on the fly.
Suspension Trail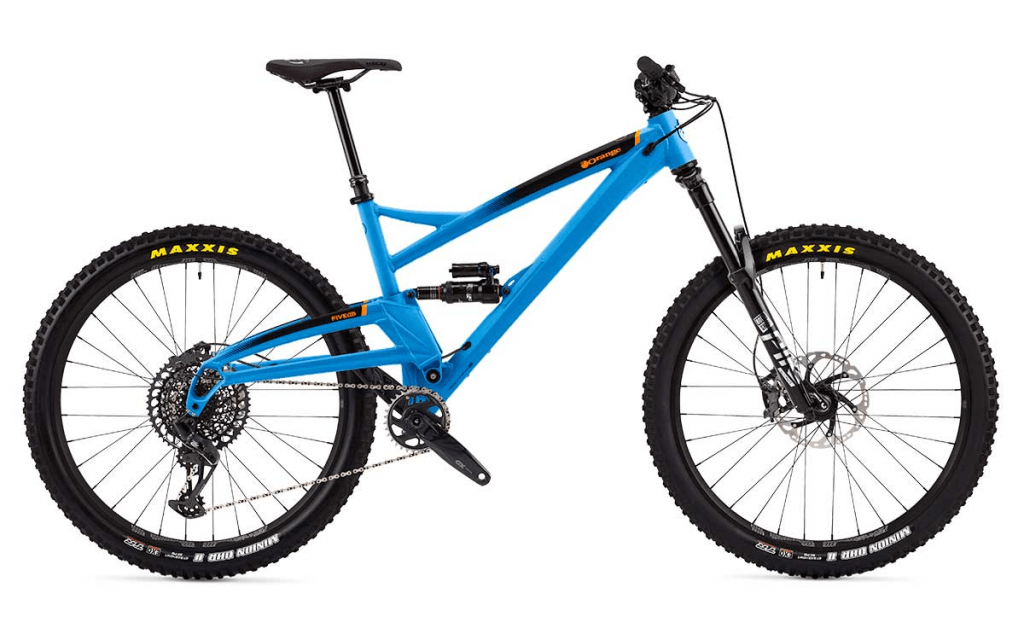 EVO RS ($5.500)
Frame & fork: 6061-T6 Monocoque UK formed custom aluminum tubing
Wheel size: 27.5″
Travel: 140 front / 130mm rear
Brake: Shimano SLX 203/180
Saddle: SDG radar steel rail black
This model features Evo frames which have all features you need from Orange. Evo's offset symmetric pivot provides scope to run different sizes of chainring or chain lines. Its geometry is built for reducing the offset fork, which lets you lengthen the cockpit and keep the rider's weight in balance in the sweet spot while still creating the most of the front wheel's grip in turns.
It also comes with the slacker Evo head angles allowing the fork to perform well, right in the fire line, and keep things stable with the long wheelbase. It also features bottle cage mounts which are convenient and useful for long rides.
Hardtail Trail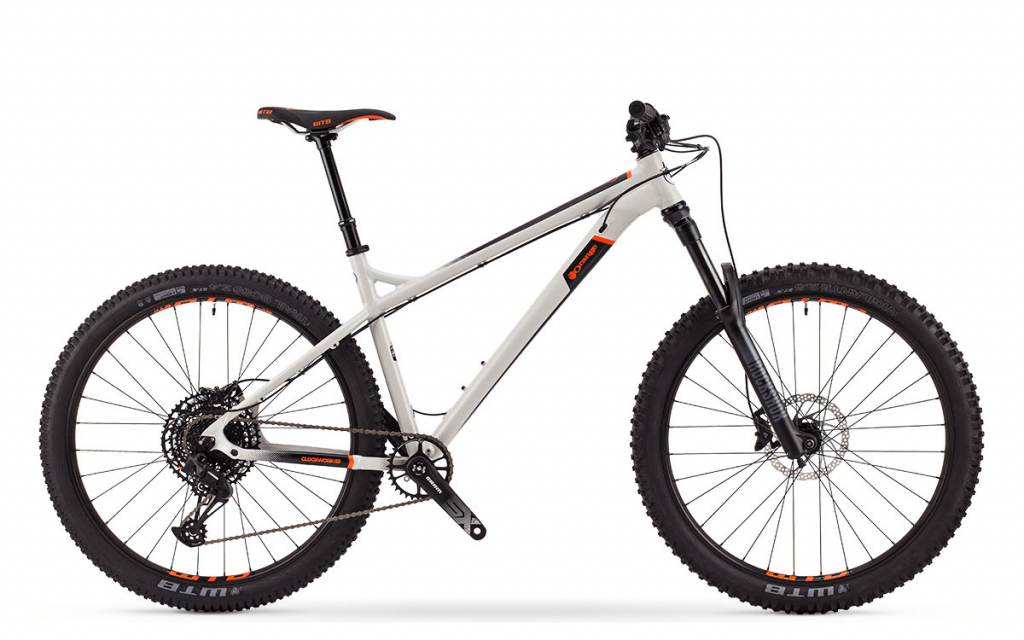 Clockwork ($1.850)
Frame & fork: 6061-T6 Monocoque UK formed custom aluminum tubing
Wheel size: 27.5"
Travel: 140 mm
Brake: Shimano Deore 6100 180/180
Saddle: WTB Silverado Comp
If you are fast, clean, and wild riders, this hardtail trail is the best for you. It has a fast and responsive chassis combined with the geometry for encouraging speed on the trail if it points up or down. They gain the extra 10mm of fork travel, bumping it up to 140mm, the slacker head angle is at 65 degrees, and the lower bottom crankset lets you keep going for full speed.
Besides, its super lightweight frame design makes it more convenient and easy to ride.
Hardcore Hardtails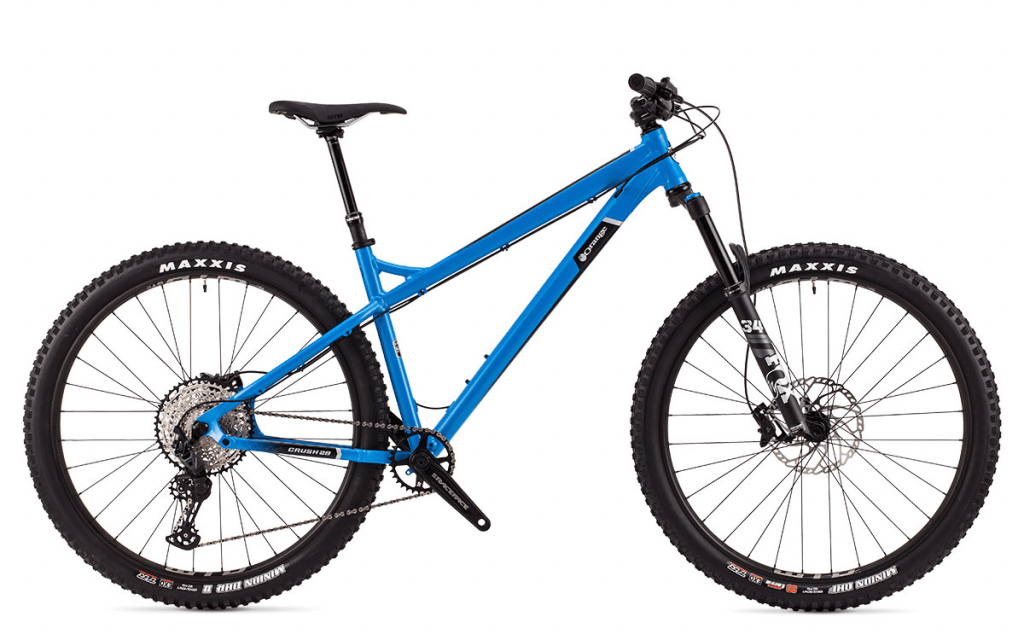 Crush 29 Pro ($2.500)
Frame & fork: 6061-T6 Monocoque UK formed custom aluminum tubing
Wheel size: 27.5"/ 29"
Brake: Shimano Deore 6100 180/180
Saddle: WTB Silverado Comp
This Crush pro is a mid-range hardtail bike featuring the 6061-T6 custom-butted aluminum frame, which is super durable. In addition, it is very stiff, ensuring outstanding performance and softness to save your back from destruction.
Its head tube angle is slacker than on other trail bikes. However, this bike is lower and longer, with 64 degrees, which means you will be more confident to control the risks on the rides. It is available on both 29" and 27.5" wheels. The 27.5" model will be suitable with the Fox 34 performance fork with 150mm travel, famous for having the perfect ratio of bang for the buck.
This bike is of good quality at affordable SRAM components, and the rear derailleur is Sram GX eagle 12 speed while the cassette is 11-50T SRAM NX Eagle. Its bottom bracket is SRAM up, offering a lot of clearance that lets you go harder over the more significant obstacles.
Its Shimano SLX brakes are especially perfect for the money. Its 180mm rotors will stop the bicycle on the dime when needed.
Junior Trail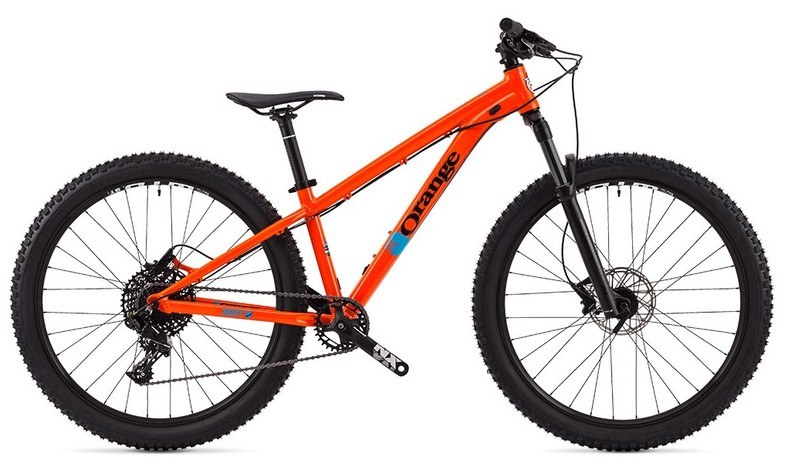 Zest ($1.200)
Frame & Fork: 6061 aluminum
Wheel size: 26
Brakes: SRAM level 180mm/160mm
Saddle: WTB Silverado Sport
Junior trails released Zest, which features the more petite frame fit for experienced riders who need a smaller fit while still maintaining proper mountain bike performance. Although it is built to the similar exacting specs as the iconic aluminum Clockwork frame, they offer 26" wheeled.
The geometry on Zest models is bang up to date, long top tube and short stem with a long wheelbase for stability. Its frame has the internal routing for the dropper Seatpost and the neat external cable. Besides, it has the SRAM 11-speed drivetrain with the Rockshox 30 silver solo air fork providing comfort and durability for riders needing the small frame format.
E-Bikes
Orange manufactures the electric bikes to assist MTBs to the trails. These bikes are powerful and purposeful, and ready to go. Their Phase MX is excellent for mullet wheelset lovers. It has the de-facto available chassis, smooth-rolling from the front wheel, and clearance for 27.5 rear ends.
Apart from Phase, they also offer the Surge models, which have Shimano's tried and true E8000 pedal system. It provides enough additional juice when you need it. Its motor is small. Hence, no need to sacrifice the geometry seen on the Alpine 6.
Their Orange E-bikes are super versatile thanks to 4 modes of motors, including ECO (maximizes the range), TRAIL (encourages sports riding), BOOST (max support), WALK ASSIST 9grandual assist pushing the bike).
The max power of this motor is 500W which will make a huge difference when riding. Moreover, the battery is easy to switch on the trail. Hence, you can do two battery rides without fuss. Orange bikes are perfect for riders who handle injuries, adapt to the creeping old age, or expect some more excitement on the trail.
Road Bikes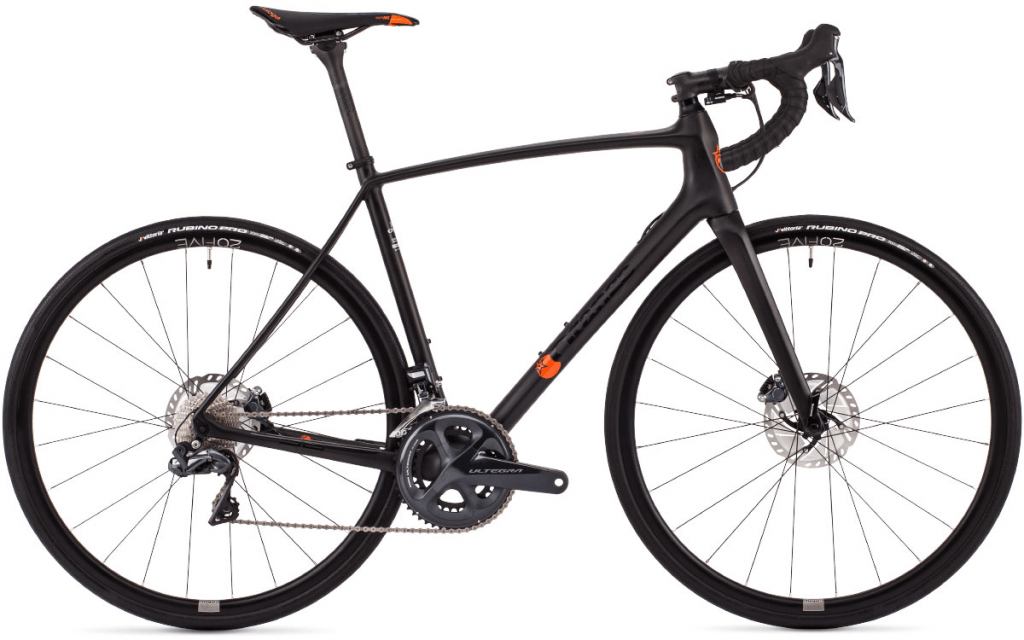 RS9 ($3.900)
Frame & Fork: Unidirectional Carbon Fibre Monocoque
Wheel size: 700c
Brakes: Shimano Ultegra R8000 hydraulic disc
Saddle: Prologo Kappa RS
Although they keep their attention on the mountain bike, they also make some excursions into road bikes. Now, they have two models of road bikes, including RS9 and Speedwork. I am going to let you know more about one more popular model, RS9.
R9 features the best SRAM components, including the SRAM RED and SRAM RED etap. This model also retains the rugged and recognizable tubing. Its frame and fork are manufactured from lightweight and stiff carbon.
If you find a light and fast road bike allowing you to win all races, this model should be one of your considerable choices. R9 also features the disc brakes, which is legacy remaining from MTB models. Thus, it will be more suitable for climbing and descending terrains.
Orange Bikes Price Ranges
Orange bikes are pretty expensive compared to some familiar producers. However, the high price is equal to the unique characters and designs built in the UK. You will find most bike models from Orange are ranging from $2000-$7000. There are also some models at a price from $1.200 to $2000.
Are Orange Bikes Any Good?
Although Orange bikes' price is not very affordable for some riders, it still performs perfectly and completely. You can buy Orange bikes from their official Orange website or other retailers such as Tredz or SunsetMTB.
Orange makes its frames in-house. That is why they offer a five years warranty on frames. This is more than many bikes on the market that show you how proud and confident they are in their bike's quality.