Cicli Pinarello S.p.A. is an Italian bike brand founded in 1952 by Giovanni Pinarello. The company is located in Treviso Pinarello and is best well-known for its premium road bicycles. However, Pinarello also provides the cycling market with other bike types, including city, track, cyclocross, and mountain bikes.
In fact, there are lots of leading pro cycling teams that ride Pinarello bikes, such as Movistar and Team Ineos, Telekom, Team GB, and Banesto. Here in this review, you will get to know Pinarello's history of inception, its bike ranges, prices, and other popular models. Without any further ado, let's get started!
Part of Best Bike Brands.
Overview of Pinarello Bike Company
History of Pinarello Bike Company
Giovanni Pinarello, the founder of the Pinarello bike brand, is the eighth of the 12 brothers born in the town of Catena di Villorba, northeastern Italy, in 1922. This place is only around 5 minutes from the brand's current headquarters in Treviso.
Pinarello began producing bikes at the early age of 15 at a local manufacturing plant. Nevertheless, he left that job to begin his professional cycling career in 7 years, from 1946 to 1952.
Although Pinarello won lots of races, people might remember his professional riding career when he won the Maglia Nera at the Giro d'Italia in 1951.
A year later, Pinarello was again promised a spot at the Giro d'Italia. Unfortunately, he had to give up his place for a new cyclist on his team at the last minute. As compensation, the team compensated him 100,000 lire, the amount he spent to set up a small workshop.
However, over the next few decades, the company started to slow down. Instead, Pinarello began sponsoring its first professional team in 1960 and won its very first Tour de l'Avenir championship in 1961 with Guido de Rosso. What's more, the company eventually won the first Giro d'Italia in 1975, thanks to the Jolly Ceramica team and Fausto Bertoglio.
It was not until 1988 that Pinarello won its very first Tour de France award. At that time, Giovanni Pinarello began to hand over the management of the company to his son, Fausto. And Fausto is still operating the company today.
1988 was also the time that Pinarello first collaborated with Team Reynolds, which later became Banesto, Caisse d'Epargne, and eventually Movistar, an incredible partnership that lasted 26 years until Movistar moved to Canyonbikes in 2014.
The 1990s was considered a successful decade in the professional ranking. In particular, Pinarello won every Tour de France from 1991 to 1997 with the help of Bjarne Riis, Miguel Indurain, and Jan Ullrich, among others.
Moreover, the relationship with Team Sky/Ineos in 2010 acquired even more prizes when Sir Bradley Wiggins claimed Tour de France and Hour Record wins in Pinarello as well as Chris' four Tour wins.
Where Are Pinarello Bikes Made?
Even though Pinarello is an Italian bike brand, not all of its bike frames and components are produced in its headquarters. Accordingly, all Pinarello bike framesets are manufactured in the Carbotec Industrial of China and Taiwan.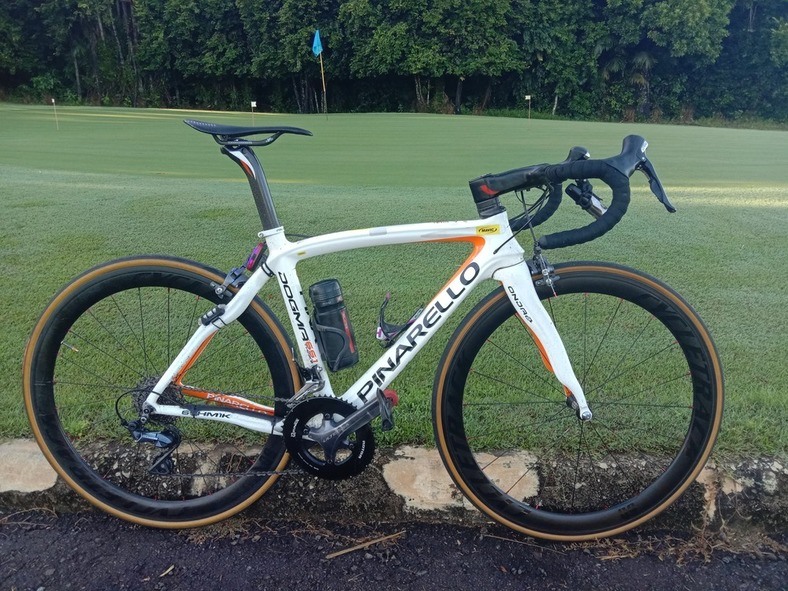 The Technologies of Pinarello Road Bikes
Pinarello is relatively well-known for the advanced technologies integrated into their models. Among different technologies, here are some of the most modern, innovative ones
Carbon T1100 1K
Most Pinarello bikes are equipped with high modulus and high tensile carbon fiber together with the company's proprietary Nanoalloy Technology. This, as a result, delivers outstanding performances whatever the road throws at you.
TiCR
This system is considered the most sophisticated internal cable routing in the entire cycling industry. It allows the installation of wi-fi or electromechanical groupsets and wholly hides cables in the stem/bar or incorporated handlebars. Finally, this system will improve the overall aero performance and protection.
Flatback Profile
It is compliant with the 3:1 UCI rule and offers an aerodynamic advantage thanks to the truncated aerofoil. In the end, you will feel the extraordinary aero performance and low lateral wind drag.
Onda Carbon Fork
This cutting-edge Onda Carbon Fork has been a special technology of Pinarello since 2000. It features a distinctive fork shape, offering accurate turning capabilities, balance, stability, and also decrease in vertical and horizontal shocks.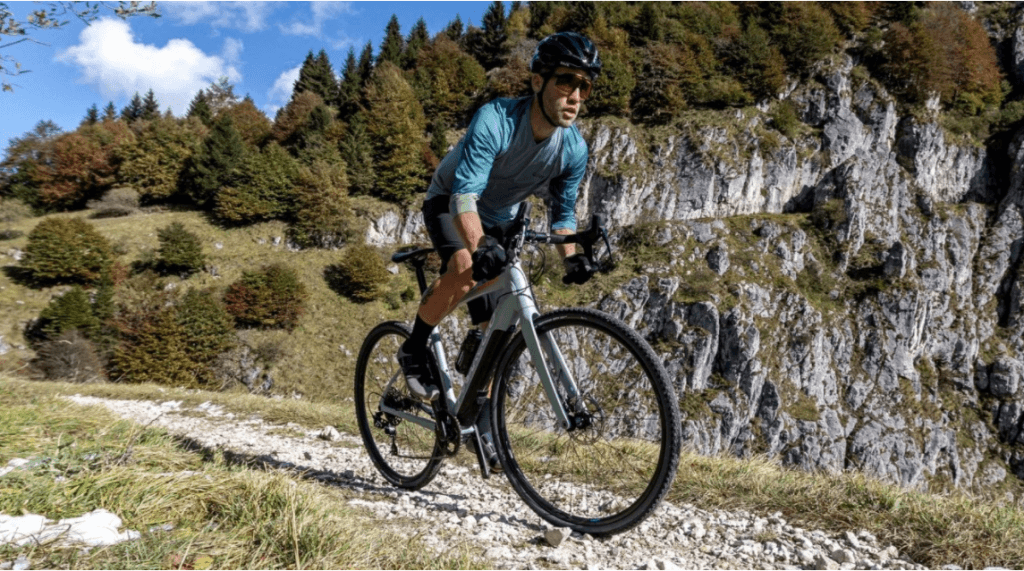 Performance of Pinarello Bikes
Every bike that Pinarello creates is typically built to make the riders' dreams come true. There are a lot of reasons why having a Pinarello bike is more than just owning a bicycle. These great features include Italian DNA, the brand's history and heritage, continual innovation, unique design, and GC's unrivaled victories.
Even though all Pinarello bikes have some changes in engineering and aesthetics, there are some things that stay the same at Pinarello. Each of their bikes is imbued with two important things: Italian DNA and a racing soul. They are particularly designed to conquer the victory, but it is also important to showcase the brand's legacy and take pride in where they come from.
Just like a fine wine with a soil character, Pinarello bikes take their great spirit from the Bel Paese, its elegant sensibilities, its extraordinary culture, and many other small traits. Regardless of competitors, Pinarello bikes are not going to change that. Instead, the company develops in their own way for a really different riding feeling.
Pinarello Bike Categories
It could be said that Pinarello is a great bike brand allowing people to choose bikes with a better design than most other brands in Italy or even all over the world. Their bikes are a perfect combination of craftsmanship and riders since the art and ingenuity of cycling have a positive effect on the cyclist's body and soul.
Since Pinarello focuses on producing road bikes with high-end quality and some other premium types of bikes, there might not be as many categories as other bike brands have to offer. However, each bike range includes some subcategories with different models for specific purposes. Here is the list of the available bike range that Pinarello offers:
Road Bikes
Competition Road
Endurance Road
Gravel Bikes
Competition Gravel
Endurance Gravel
E-Bikes
Supercharged
Urban Bikes
Most Popular Pinarello Bikes
For those who don't know, Pinarello bike categories include some of the most sought-after models of the 21st century, which have been ridden by Team Sky/Ineos to much Grand Tour success. Below is the list of some of the most common Pinarello bikes in all ranges:
Road Bikes: Pinarello Dogma F12 RED ETAP AXS
Gravel Bikes: Pinarello Grevil Force ETAP AXS
E-Bikes: Pinarello Nytro Grinta Apex
Urban Bikes: Pinarello Nytro Urbanist Deore
Pinarello Bike Price Range
Generally speaking, Pinarello bikes offer excellent handling without sacrificing too much on comfort and all-day riding. You might think that their bicycles are a little bit expensive. But in fact, Pinarello makes "better value" premium bikes than almost all available Italian bike brands. So, their prices are considered worth every penny.
Road Bikes: $2,250 – $13,500
Gravel Bikes: –
E-Bikes: –
Urban Bikes: –
Are Pinarello Bikes Any Good?
Pinarello bikes are built to be a durable, high-end model with a beautiful design. In general, you will feel incredibly comfortable and smooth when riding a Pinarello bike, regardless of bike models or ranges. Their bikes offer outstanding handling without compromising too much on comfort, even when you ride it all day long. So, it could be said that Pinarello bikes are high-quality, comfy, relaxed, fast, and exact handling in most situations.
Pinarello Vs. Cervelo
During a storm, a rigid, stiff bicycle can certainly withstand the effects of inclement weather. And it can and will definitely get you to the nearest safe place. And when it comes to bike stiffness, Pinarello and Cervelo are among the most reliable models.
Before going into the detailed review of these two famous bike brands, let's take a look at the comparison of Pinarello and Cervelo's major factors, including frames, components, and riding experience.
Frame
Pinarello bike's frames are typically built to decrease drag by at least 5 percent. This number is even more than that of Cervelo bikes while still keeping its aesthetic clean.
In addition, Pinarello's handlebar is a Talon Ultra type, which offers a 20% contact area at the front. This design not only enhances clean aesthetics but also minimizes cable drag by at least 85 percent. Particularly, when it is combined with the direct-mount brakes, increasing stopping power and riding confidence.
Cervelo bikes, on the other hand, are built with a fork that is 17% more rigid forks and 35% shorter head tubes than the brand's other designs. As a result, you can lower and put more weight in the front end without affecting the stem angles.
On average, Cervelo bikes' frames feature a 145mm low headtube with 72.5 degrees of angle and 73.5 degrees in the seat post.
Components
Pinarello bicycles use 11-30 cassettes, making them more straightforward to shift between gears. On the other hand, Cervelo cranksets provide the riders with 11-25 11-speed, which is perfect for those who want incredibly fast rides.
Opposing the use of the Shimano Dura-Ace components, Cervelo chooses to use Rotor cranks, and the brand also uses aluminum cranks to give the ride needed stiffness.
In addition, the 52/36 chainrings offer reliable and efficient performance no matter what surface you are riding your bike on.
On the contrary, Pinarello has designed its forks and chainstays for the hydraulic disc version to enhance bike stiffness. For example, the company has improved the direct-mount brakes for the rim version, contributing to the outstanding braking system and power.
Riding Experience
When it comes to the riding experience, it seems that Pinarello bikes do better than Cervelo bicycles. This is because of the strong design that allows Pinarello bikes to provide more stable and quieter descents.
What's more, Pinarello bicycles are at their best when cornering with magnificent grip and acceleration on the road. As you might all know, Pinarello bikes are considered one of the racing champions in the cycling world. And, of course, their bikes are focused on stiffness.
Cervelo's riding experience, on the contrary, is exceptionally responsive and nimble, providing the cyclists with the impression that they can always ride faster and faster. Moreover, their bikes are great for both weekday and weekend rides, thanks to the narrow wheel design. The main reason for this is that it is strong and can resist just anything you could throw at it.
Pinarello Bike Review
As many riders already know, Pinarello is an Italian bike company established in 1952 by Giovanni Pinarello. The company has been focusing on producing high-quality road bikes since its inception. However, Pinarello also provides the cycling market with other types of bikes, such as cyclocross, mountain, city, and track bikes.
Among various models, the Dogma is considered the flagship race bicycle of Pinarello. It was ridden in the Grand Tour and won the championship. This model is particularly constructed out of an asymmetrical geometry, ensuring bike stiffness, while flat tubes are designed to provide excellent aerodynamic properties.
Other bicycles at this professional level include Bolide and Gan. Besides these high-end, pro-level models, you can also enjoy other regular bikes if you are a beginning rider. The options are Razha and Noer, which are specially built with comfort in mind and help cyclists go longer without fatigue.
If you are finding a great mountain bike, then you can pick the Dogma XM, while the Dogma XC is a great option for those who are looking for an excellent cross-country race bicycle. Both these bikes are equipped with the same geometry as the premium road model. However, the brand has slightly adjusted some features to ensure they suit specific riding purposes.
Besides, Pinarello offers different models for different riding styles and goals. These include the Crossista+ for cyclocross, Grevil+ is perfect for aerodynamic sticklers, and the Mercurio is ideal for those who love hybrid rides.
Pros
Come with a classic lugged frame
Offer incredible power transfer
Equipped with powerful disc brakes
Fitted with wide 28mm tires
Provide several flagship road bikes in the industry
Cons
Sometimes you might feel vibrations on the road
Cervelo Bike Review
The Cervelo bike brand has been in business since 1996. This company was based in Canada. And during a Bike Show, their bikes were introduced to the public in Toronto.
As many cycling enthusiasts and pro riders know, Cervelo is best well-known for its racing bikes. It is also one of the most sought-after bicycle brands in the cycling industry.
Besides, Gerard Vroomen and Phil White, the founders of Cervelo, concentrated on triathlon and time trial bikes, which are still at the forefront in developing the in-frame pack. In addition, the company offers a large array of bicycles in S-series aero bikes, R-series road bikes, and P-series bikes for all triathlon and pro riding.
When it comes to these great triathlon bicycles, you can see that they are built with a more upright geometry and dropped downtubes, which shield the saddle and are hidden behind the front wheels.
What's more, these models are exceptionally lightweight and stiff, thanks to the bottom bracket shell constructed with an oversized tube and extended 11mm to the left.
These are bicycles specially made for all terrains. They feature a higher ground clearance to accommodate larger tires and the Squoval max shape to offer more consistent rigidity with fewer weights.
Pros
Offer excellent front-end handling capability
Equipped with high-quality components
Incredibly fast handlebar for a better experience
Cons
Wheel sizes are just average
Verdict
Generally speaking, Pinarello offers a fast riding feeling and can give you the lead, but only if you are willing to brave the extreme riding experience; it has to follow.
Cervelo's handlebar provides the riders with the good advantage of aerodynamic and great handling. Nevertheless, it seems to lack grip and is a little bit less comfortable for riders with large hands. What's more, the handlebar doesn't feature bar tape, posing a risk of slipping even when you are riding it in cool weather conditions.
If the handlebar problems are fixed, Cervelo bikes might be slightly better than Pinarello ones. But on the whole, both Cervelo and Pinarello bicycles are worth investing in and offer you a good riding experience, as you might expect.
Pinarello Road Bikes
With the coolest Pinarello road bikes, conquering mountains and crossing the finish lines become much easier.
According to Pinarello's CEO, the company tries to make bikes with the best combination of different purposes, such as sprinting, climbing, and daily rides. In other words, Pinarello bikes are typically designed to focus on a collection that is suitable for a wide variety of rider needs.
Nevertheless, the brand's bike range has started to grow in recent years. In particular, Pinarello provides the cycling market with new additions built for mixed terrains, such as the Gan GRS. Below are some of the best road bikes that Pinarello has to offer.
Dogma F RED ETAP AXS
It could be said that the Pinarello F Red ETAP AXS is considered the art of balance. For those who don't know, seven of the last 10 Tour de France tournaments have been defeated on a Pinarello Dogma, and the newest generation is now ready to remain that successful legacy.
According to Pinarello, the brand has applied the culmination of its team's skills and experience. And Dogma in general, and the Pinarello F Red ETAP AXS in particular, is the showpiece of engineering that delivers improvements in comfort, handling, and aerodynamics. All of these great features are wrapped in a package, which can sprint, descend, and climb with the same flair. All in all, the Pinarello F Red ETAP AXS is a perfect road bike for you, no matter what the road throws at you.
Dogma F12 RED ETAP AXS
Pinarello compares this Dogma F12 Read ETAP AXS as a model that can end the discussion again. For more details, the Dogma F12 is considered the symbol of competition. Every time when people are talking about this bike, they talk about its beautiful Italian design, perfection, quality, and excellence. And this Dogma F12 is likely to become the most successful bike in history that concludes the discussions.
It is constructed out of high modulus and high tensile carbon fiber materials and equipped with proprietary Nanoalloy Technology, delivering outstanding performance in different terrain and weather conditions.
In addition, this model is fitted with the most modern internal cable routing in the entire cycling industry. Accordingly, the system allows for both mechanical or electrical installation of groupsets and totally hides cables (when it comes to the disc version) in the stem/bar or built-in handlebars for better aerodynamic protection and enhanced performance.
Dogma F12 Grenadiers
The Pinarello Dogma F12 Grenadiers comes in a pure Italian design and is considered the weapon of all classes.
The design here is not just about making the bikes look great, but it is more about combining engineering geometrical and aerodynamic demands properly and perfectly. And at Pinarello, the brand's designing team owns the skill of knowing how to deal with all of these needs, combining them together while creating a fascinating object.
In addition, the Dogma F12 Grenadiers is particularly designed with 10% more lateral stiffness at the bottom bracket compared to the Dogma F10 model. This means that the bike will offer more power.
Besides, there is no cable on the handlebar for the Disc version, while the rim brake version features only one cable coming down to the front brake,
Prince Ultegra
Positivity and pure emotion are what you will feel when riding a Pinarello Ultegra. This is because the company's designing and engineering teams transferred the wonderful riding experience of the perfect Dogma F12 to this all-new Prince Ultegra.
As a result, the Prince Ultegra provides the riders with excellent technical characteristics and performance standards that surpass a lot of high-end road bicycles in the cycling market out there.
The Prince Ultegra inherits the Dogma F12 complete TiCR cable integrating system, which offers a considerable aerodynamic advantage. This is also a reason why the Prince Ultegra can be a true replacement for Dogma F12.
Paris 105
As said by Pinarello, the Paris 105 is specially built for endurance and ready to conquer the highest prize in the road events.
This model is a bike developed, designed, and created to provide cyclists with ultimate comfort without sacrificing the racing spirit of each bike at Pinarello. Moreover, it offers a real balance between a comfortable riding feeling and responsiveness, which is a key feature of any road bike, and typically here is the Paris 105. This is because the company's Pinalab technicians found the solutions to improve the Paris 105's geometry.
And thanks to its striking characteristics, Paris 105 shows its special focus on long-distance, which is also one of the key features of the Pinarello DNA.
Gan 105
Besides the Paris 105, the Gan 105 is another incredible model born for long distances. Once you get on this bike, you will feel that you can't stop riding it.
In fact, the Gan 105 is directly derived from the Dogma F8. However, it features some specific changes, making its frame less extreme. But don't worry because it still keeps the feeling and style of Pinarello bicycles.
The key properties that arose from the Dogma F8 include an asymmetrical frame and new high-strength carbon, which is a little bit less stiff.
Bolide TT Dura Ace Di2
Let's control every race against time with this amazing Pinarello Bolide TT Dura Ace Di2. This model was born based on Pinarello's experience and the constant pursuit of new success. It is inspired by all the characteristics of the Bolide.
In particular, the Bolide TT Dura Ace Di2 is specially built with a further decrease in aerodynamic drag and a considerable decline in the overall weight of the bike (reducing the frame weight by more than 350 g).
You can find the perfect combination between functionality and design on this Pinarello Bolide TT Dura Ace Di2, including lightweight, aesthetics, stiffness, and aerodynamics. All of these features help distinguish each individual element and give the bike a unique and incomparable shape.
It is immediately apparent that the new concave tube allows you to "bring" the bottle into the frame. This, as a result, will significantly reduce turbulence in an important area. Besides, this model is equipped with much more amazing features, including a sloping top tube with an enhanced section, the new rear brake cover integrated with innovative technologies of the aviation industry, and the advanced aerodynamic front dropouts adapted from the Pinarello Bolide HR model. And more importantly, each of these small parts provides the Pinarello Bolide TT with a further enhancement in aerodynamics over the previous model.
Maat Italia
The Maat Italia is particularly born to be fast on the road. It is considered the most innovative track bike in the cycling industry. This is because the company designed the model by listening to and engaging with engineers and athletes of the Italian National Team in all design stages.
In particular, these design phases include stages from defining frame specifications and new integrated handlebar design to study specific technical characteristics and geometries with remarkable lateral rigidity.
Crossista Ultegra RX
Those who are looking for a bike to ride through obstacles and mud will fall in love with this wonderful Pinarello Crossista Ultegra RX.
Accordingly, Crossista is considered the brand's weapon exclusively for Cyclocross competitions. The company has optimized this bike's geometry and equipped the rear triangle with the groundbreaking "Felix stays" technology. This, as a result, can ensure accurate handling in the technical parts of the most difficult races or tracks.
What's more, the Crossista's frame shapes are typically built for ease of carrying on the rider's shoulder when passing barriers. The company also redesigns the profiles of the tubes to significantly reduce mud build-up.
Look Gravel Bikes
No matter if it is just a short spins on the track or multiple days of escaping, Pinarello gravel bikes will absolutely take you as fast and far as you want.
Grevil Series
Pinarello first introduces itself to the world of gravel and implements it in a radical way with the Grevil series.
The Pinarello Grevil is typically designed and engineered to run for miles on all types of terrains while keeping the Pinarello riding feeling and featuring versatility as a key strength.
They are the fast and powerful maneuverability of the classic 700c x 25mm wheels on asphalt or 42mm tires "up", gliding on dirt roads or muddy grasslands. However, 650b wheels can also be used with tires up to 2.1", and the Grevil series will have no further limitation.
It could be said that the Grevil series represents the ultimate expression of Pinarello's know-how. In particular, the rear rack design allows for wheels up to 700x42mm or 650bx2.1''. Besides, the E-Link is integrated into the Shimano Di2 and the front fork with improved flap for disc protection and optimum aerodynamics.
Pinarello E-Bikes
In general, Pinarello electric bikes are not only lightweight but also offer superb handling, making them a high-performing electric bike. In other words, they are everything you would expect from Pinarello regular bikes, but with a little bit of added power for whatever the roads throw at you.
Nytro Gravel Force
An explosive boost is exactly what you will feel when riding a Pinarello Nytro Gravel Force electric bike.
The development of the Nytro Road electric road bicycle, the brand-new Nytro Gravel, is a pedal-assisted electric bike that can challenge any gravel and ride on all types of terrains. They are designed to be ready for your next adventures in any event.
Constructed of an asymmetrical carbon fiber frame, the T700 is a high-end electric bike that offers high performance and incredible maneuverability while maintaining the low weight, thanks to the Fazua Evasion system's motor and battery housed in the down tube. Moreover, it can provide extra space for tires up to 650Bx2.1'' or 700x42c.
Nytro Grinta Apex
Let's get all-road pleasure with Pinarello Grinta Apex. This model will provide the cyclists with pure freedom. As you know, gravel has incredibly extended mobility on roads that cyclists hadn't even thought of until yesterday. With this amazing Nytro Grinta Apex, you can even ride further because of the propulsion of its Fazua Evation engine. This system can also help you overcome the barriers on the road and enjoy the fun.
Accordingly, you will get three different levels of support with the Fazua Motor, including breeze, River, and Rocket.
At the breeze level, you will get light, continuous, and strong wind of 100 watts even at low rider power. The river mode, on the other hand, offers a more sporty and progressive feeling, which provides an extra-smooth riding experience. Besides, the exact support power is up to you and your own strength. You will also get a lot from the motor (210 watts max).
The last motor level, rocket, will provide you with exceptionally aggressive assistance, enabling you to overcome the steepest slopes even when you are using the medium driver power (250 watts maximum).
Pinarello Urban Bikes
Nytro Urbanist Deore
Move faster with the Pinarello Nytro Urbanist Deore. This new model will be a perfect option for city commuting or city mobility. This is because of its low weight, allowing the rider to put it into other vehicles and take it to the office.
The Nytro Urbanist Deore delivers remarkably natural and powerful assistance. Therefore, it will be ideal for your weekend away or city riding.
Since this is also an electric bike, it is equipped with a great Fazua Motor, with three levels from low to high: Breeze, river, and rocket.
If you want to enjoy a gentle, leisure ride with a bit of pedaling assistance, you can choose the breeze mode. On the contrary, the river mode will offer a more comfortable and smoother riding experience, thanks to its sportiness and progressiveness. It offers maximum motor power of 210 watts. The highest level of pedaling assistance is the rocket mode that allows the cyclists to handle the steepest sections even when riding at moderate power. This mode offers a maximum power of 250 watts.
Conclusion
Pinarello is considered a bike brand that offers not only high-quality but also beautiful bikes of various disciplines. Many people even refer to Pinarello as a boutique bicycle brand.
Although their bikes don't come at a low price, they are equipped with the most advanced technologies and state-of-the-art frames. As a result, Pinarello bikes offer an outstanding riding experience. What's more, you can completely believe in their road bikes since the brand offers some of the best road bicycles on the market.