It is true that Scott has brought lots of innovation and progress to the world of cycling for years. They pride themselves on their love for invention and their promptitude to pursue excellence. It is this value that makes Scott a notable bike manufacturer among various popular bicycle brands.
Part of Best Bike Brands.
Overview of Scott Bike Company
History of Scott Bike Company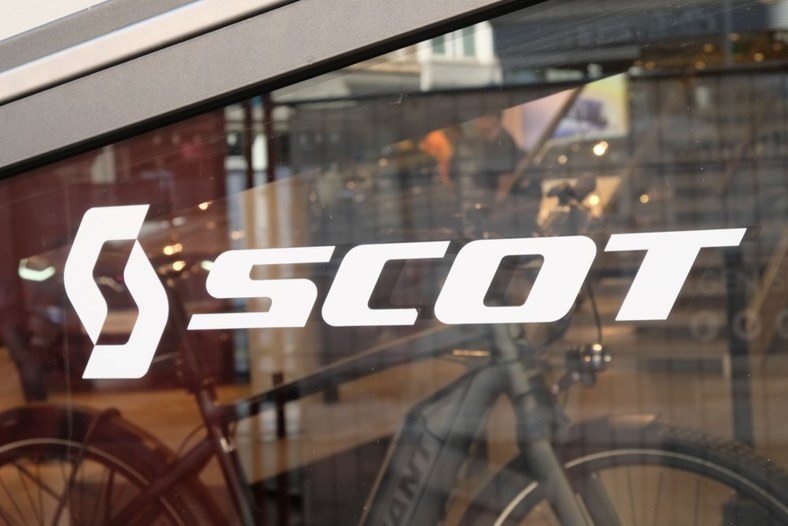 In 1988, Scott first began to sell Taiwanese mountain bikes. A year later, Scott's Charley French started pursuing invention in the bicycle industry. The very first aerodynamic handlebar was invented by him, and it was considered one of the most outstanding innovations in the history of bike riding.
Scott started to produce mountain bike suspension with Unishock in 1991. In the previous year, the company had recruited Pascal Ducrot, and now he is the Vice President of Scott. After that, Pascal Ducrot invented the Endorphin, which was the first carbon mountain bike during the period of 1995 and 1996.
In 2003, Scott first introduced the Genius, a completely unique idea. It was a mountain bike equipped with a full-suspension system, and the shock can be adjusted in 3 different modes. This model then became very famous really fast after the introduction of Scott.
Scott paid lots of attention to the lightweight of their bike models from the very beginning. They constantly plan to create the most lightweight mountain bike on the market, and they really succeeded time and time again. For example, the Addict road bike model was introduced by Scott in 2007. This model is made of the most lightweight frame available these days, with a weight of only 750 grams.
In 2010, Scott continuously presented the new technology – iTwin Loc lever. This is an advanced suspension technology that allows you to select a suitable travel setting while your hands can still be on the handlebar.
In 2011, a year later, Scott collaborated with Bosch, and this partnership made Scott the top leader in providing easy-to-operate electric bicycles. Scott was very successful with their first 27.5-inch wheel size e-bike in 2012.
In fact, Scott Bikes was established in 1958 and is a part of Scott Sports, a brand in Switzerland. In the beginning, the company concentrated on motorsports and winter sports. The first modern aluminum ski pole was invented by the founder of the company, Ed Scott. This was considered the first successful product of many other firsts.
But nowadays, Scott Sports has widened their production to manufacture bicycles, racing and winter-sports equipment, running clothes and apparel. It is worth noting that bikes are currently the largest lineup of Scott products, accounting for around 80% of Scott's revenue.
Where Are Scott Bikes Made?
Scott Sports begins producing all of their suspension forks and carbon frames in the new factory in South East China. The new 6000 square meters manufacturing plant is now moving from a 4-month trial stage to the production stage.
The Technologies of Scott Bikes
For those who don't know, Scott was one of the first bike brands to utilize carbon fiber in the production of their bike frames. And it was considered the carbon expert in the bike industry.
Before opening new molds of frames, Scott always designs and manufactures their carbon frames with a virtual test. The company designer team will validate the concepts first to make sure that the new frames integrate with the general Scott properties.
After that, Scott's engineers will create a 3D model of the new bike frame. In order to build the most advanced frame, the team uses the industry's most innovative CFD and FEA tools, as well as dynamic and composite structural software. With these tools, the engineers can analyze and assess the weight and mass, stiffness assessment, stress distribution, aerodynamic functioning, and suspension properties of the bike frame in relation to spring and kinematics levels.
Performance of Scott Road Bikes
Scott offers lots of excellent road bikes to the market. Among them, the new Addict RC lineups are very popular among road riders and those who are looking for a bike for road racing. This model is specially designed to meet the needs and requirements of the UCI World Tour team Mitchelton. It offers an excellent riding experience and will be a perfect choice for aspiring everyday riders.
The new Addict RC model is made of an advanced carbon frame to bring the super-lightweight structure while still being stiff. What's more, it is entirely integrated with cable routing and excellent aero properties. This design makes it an ideal bike no matter how you look at it and use it.
In fact, if you have a chance to try on the new Addict RC bike, this model is really an excellent high-performance road bicycle. So, whether you just want to hit the local road with your friends or train for the biggest races in the world, the new Addict RC bike will really make it possible.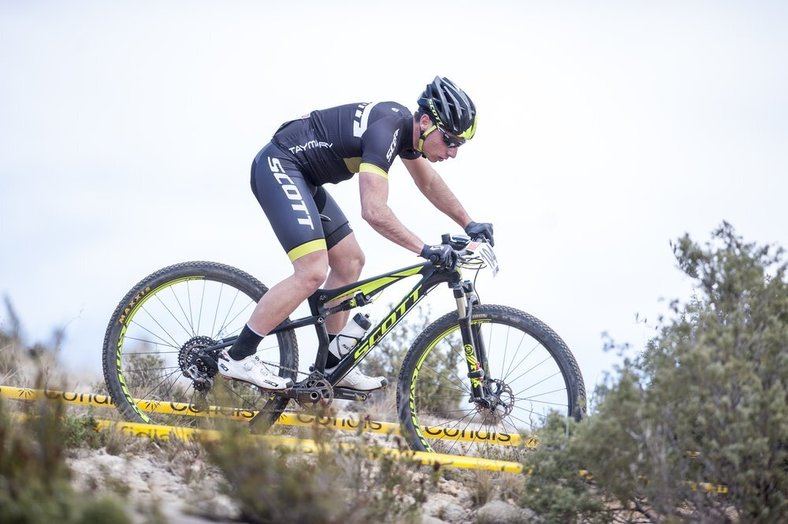 Scott Bike Categories
Since the design and production of the first bike in the 2000s, Scott has continuously developed dozens of bikes for different fields.
In 2021, Scott offers a large array of bikes of different styles and models from different categories as follows:
Mountain
Road
Gravel/Cyclocross
City Urban
Trekking
Women's Bikes
Future Pro
Junior
Electric bikes
eMTB
eRoad
Most Popular Scott Bikes
Scott is famous for the innovative technologies applied in their bikes. So, let's have a look at some of the most popular models from this bike brand:
Gravel Bike: Scott Addict Gravel
Mountain Bikes: Scott Spark
Road Bikes: Scott Addict RC
Contessa Women's Bikes: SCOTT Contessa Spark RC 900
eBikes: Scott Strike eRIDE 930
Scott Bike Price Range
Are Scott Bikes Any Good?
Scott is one of the best world-renowned bicycle brands that only produces high-quality bikes using high-end materials. Besides, Scott offers a wide array of bikes in various models and styles. Another great thing about Scott bikes is the versatility. You can use a Scott bike for different purposes. And the best thing when talking about Scott bikes is that they seem to offer better value than several comparable models.
Scott Vs. Trek
As many of you might know, both Scott and Trek are widely known for their premium-quality, high-end bikes. In fact, these two bicycle brands are very close to a quality prospect, making a lot of riders wonder which one would be better. So, in this part, I will give you a detailed review of Scott and Trek bikes to answer that question.
Generally speaking, Trek and Scott are very reputable brands in the bicycle industry, famous for their excellent-quality bike products and models. When it comes to price tag, bikes from both brands are nearly the same. Nevertheless, if we go a little bit in detail, Trek offers a wider range of entry-level bikes so that beginning riders will have more options. Scott, on the other hand, focuses more on mid-range models of full-suspension and hardtail bikes.
Two of the most popular bike categories of both these brands are road bikes and mountain bikes.
Trek Road Bike Review
As mentioned above, Trek provides various models of bikes in all categories for all levels of riders, and their road bikes are also not an exception. Trek road bikes are designed for different purposes or riding styles, including racing, endurance, and gravel, and they usually come in diverse colors, designs, and specs.
You can find three different series of road bikes from Trek, which are Emonda, Domane, and Madon. Among three series, Emonda bike models are the most popular ones that have been wildly successful and loved over the past decade.
Besides regular road bikes, Trek also provides riders with several high-end electric road bike models.
Trek Mountain Bike Review
Currently, Trek offers over 120 mountain bike models, including normal MTB bikes and electric mountain bikes. Their regular mountain consists of different ranges, such as Enduro, DH, and SC bikes. Each category contains more than 20 models coming in various designs that are suitable for different levels.
Over the past few years, Calibre and the Super Caliber brought lots of achievements for Trek. They are considered two of the best revolutionary, unique Trek mountain bikes.
This proves the leading technology and innovation that Trek successfully applied to their bikes. Almost all Trek bike models are equipped with Shimano and SRAM drivetrains, Rock-shox and Fox suspension, except for several entry-level models.
Scott Road Bike Review
Currently, Scott offers 4 main series of road bikes, which are Addict, Contessa, Metrix, and Speedster. Just like Trek, Scott road bikes also come with various styles and designs that are suitable for different levels. In particular, Speedster and Metrix series are typically designed for beginning riders, while Addict and Contessa series are great for advanced cyclists who are looking for mid-range or high-end models.
Almost all Scott high-end bikes are made of high-quality carbon frames and the latest SRAM and Shimano groupsets for the best riding experience.
It seems that Scott made some sense for the triathlon by offering "plasma" family aero bicycles.
When looking at Scott's selection for road bikes, you can see that most of their models are a little bit smaller than their counterparts.
Scott Mountain Bike Review
When compared to road bikes, Scott mountain bikes seem to be a lot larger. The main models of Scott MTB bikes are Ransom and Spark.
Unlike their road bicycles, the company provides awesome mountain bikes for beginners at very competitive prices. There is no doubt about the quality of the bike brand and its reputation while offering affordable and competitive prices, making them very popular among entry-level riders.
Similar to the Trek, the Scott premium and mid-range bicycles are integrated with excellent SRAM and Shimano powertrain components. Besides, rock-shox and fox suspension are equipped for better cushioning. Scott their self-made synchronizer and framework components to build the other parts of the bike.
Conclusion
It is really hard to tell which brand is better because both Scott and Trek provide the market with great-quality bikes at competitive prices. Their reputation is also the same, making it even more difficult to come up with the final decision.
However, if you are a beginning rider, Trek might be a better option because their road bikes come with more models and styles than Scott. In contrast, Scott will be a good choice for pro riders who don't really care about designs.
Scott Mountain Bikes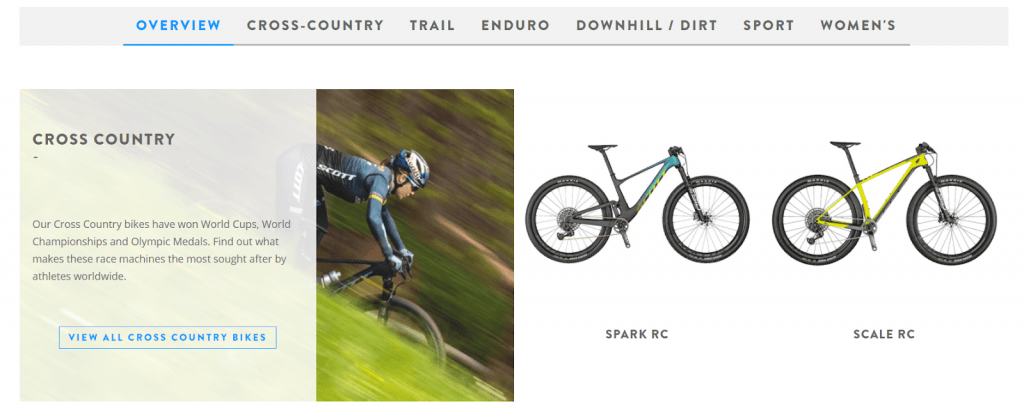 In general, there is a Scott bike for anyone with any requirement or riding style. This bike brand provides a wide array of mountain bikes, including enduro, cross-country, and downhill bikes. Different categories consist of various models, so let's have a look at the overview of most of Scott's popular mountain bike range.
The two main features that Scott focuses on their XC mountain bikes are bar hardtails and lightweight. In other words, you will experience a Scott XC bike with the least amount of travel and nearly the most lightweight.
In fact, the full-suspension system has been used in previous years when people are riding their XC bikes. This is because it can significantly reduce the overall weight of the bike, leading to tougher to ride. Currently, Scott provides three major XC MTB bike models, with two versions particularly designed for women. Related mountain bikes under $1000 you not miss.
Scott Road Bikes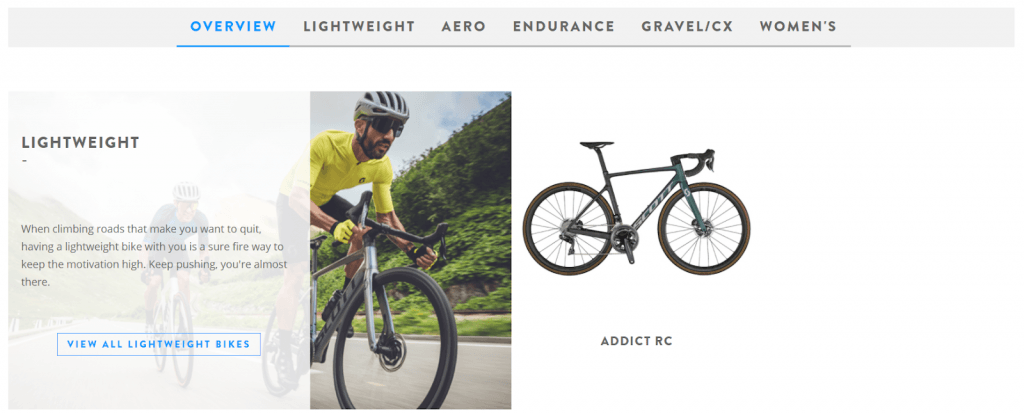 From the beginning of the 2000s, Scott has been manufacturing road bikes of different styles, including TT, endurance, and aero models.
You can really be sure that Scott road and even triathlon bikes are of top-quality among lots of other brands. This is because their current line of bikes has earned WorldTour fame and pro ratings for both triathlon and road.
Trek road bikes are made from either carbon or aluminum frames. So, you can easily pick a favorite or suitable material for your purpose.
In general, Scott has a good road bike for you, no matter if you want to climb to the top or even win a triathlon competition.
Scott Hybrid Bikes
The Scott hybrid bike category is the only range that has only one bike, the Sub Cross.
It is a kind of flat-bar bike with an excellent ability to ride both on and off-road. This model is particularly designed for commuting, leisure or recreational riding, or for those who just want to explore daily adventures on their bikes.
The Sub Cross 50 is a basic model that is equipped with only rigid forks. Other higher-end models will be integrated with suspension forks so that they can absorb more impacts, bumps, and shocks on the terrain.
Scott hybrid bikes are made for women and men, so it is not surprising that they design different frames for each target rider group. Women's bikes have a significantly lower standover height and sturdier top tube. The entire bike is made of aluminum to reduce the overall weight while still increasing the durability of the bike. Scott also uses disc brakes for all bikes for maximum stopping power, even in wet weather. Read our latest guide about hybrid bikes for women.
Scott Gravel/CX Bikes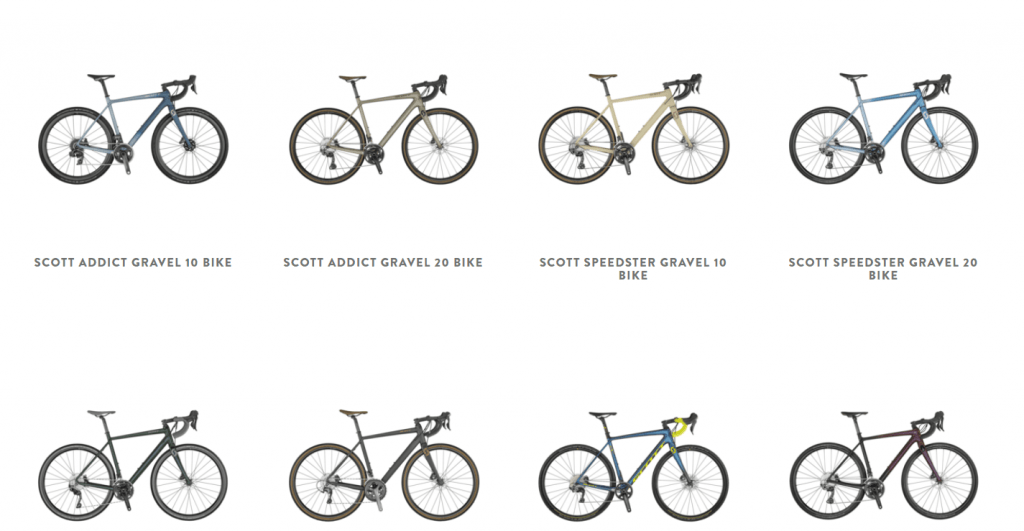 Gravel and CX bikes have made a bit of a comeback in recent years, and Scott has capitalized on this by enlarging their types of both CX and gravel bikes.
Currently, Scott provides quite a large amount of CX and gravel bicycles coming at all price ranges, making it possible for anyone. There are two models that are high-quality and can be used anywhere, including the Contessa Addict Gravel and Addict Gravel. Made of high-end carbon frames and powerful disc brakes, these models are built to last. They allow you to ride further and longer than your normal gravel bike without feeling fatigued.
If budget is your priority, you can consider the Contessa Speedster Gravel and Speedster Gravel models. Both these bikes are manufactured to do it all but coming at a more reasonable price. The aluminum frames also make them more lightweight while still being sturdy enough.
Addict CX RC is the only CX bicycle model from Scott. This bike is made of carbon fiber and is a kind of race bike typically produced for racers to test on the cyclocross trail.
Scott E-Bikes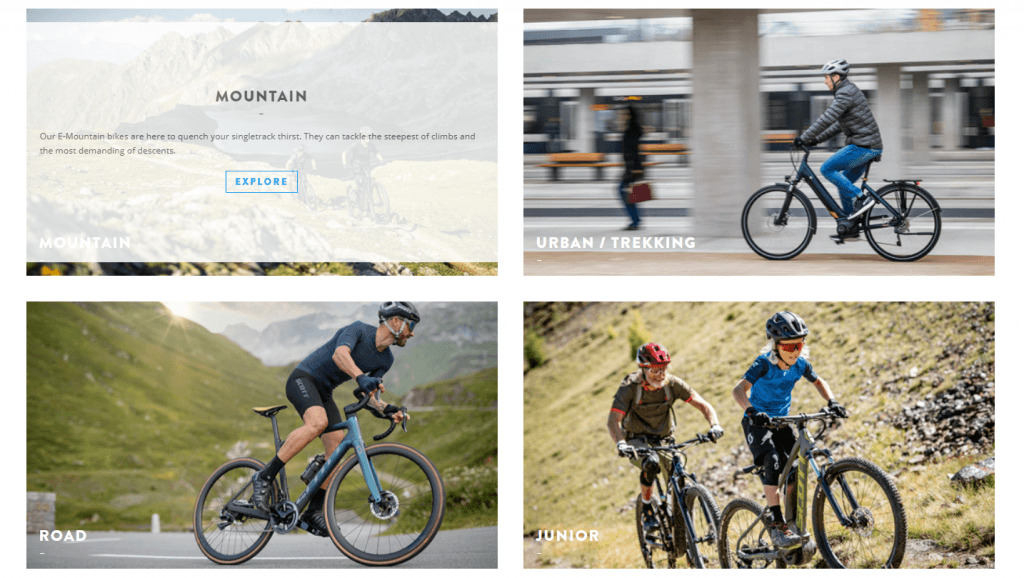 Recently, Scott has also expanded their bike categories by offering comfortable electric bikes. The company provides only mountain e-bikes and kids e-bikes. However, there are different models and styles in each range, so you can easily choose a suitable one for you, your child, and other family members. And you can pick one that fits your riding style and type of trail.
If you want to shred the trails without sweat or ride to your office wasting less energy and faster than a normal, unassisted bike, Scott's e-bikes will be a good option to start with.
Scott Kids' Bikes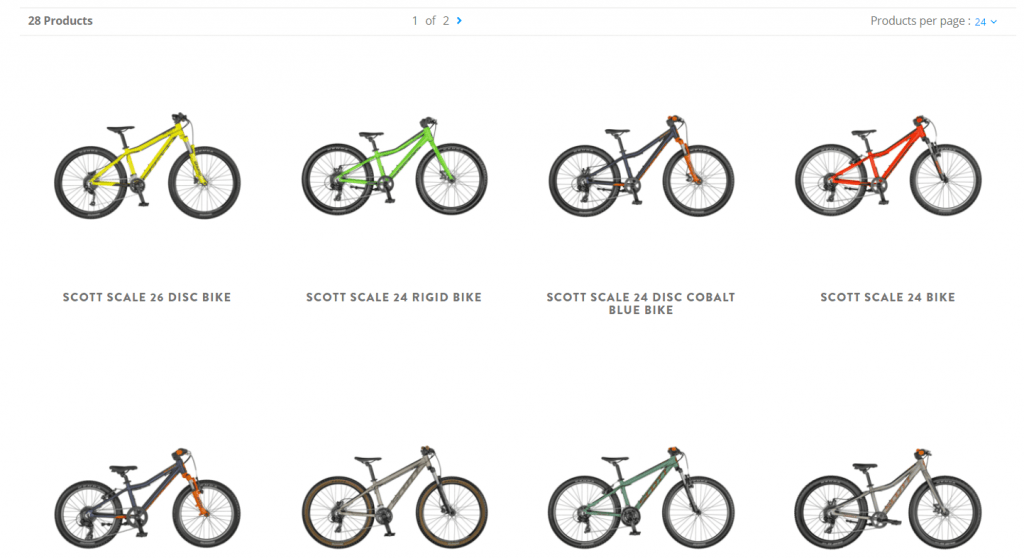 Fortunately, Scott also offers a relatively wide array of kids' bikes, which are sorted into two main ranges: Junior and Future Pro.
Scott's Junior bicycles, as their name suggests, come in small wheels to be suitable for your children. However, they are typically designed to grow with your kids in mind. For instance, the stem lengths and seat post are particularly manufactured to be easily adjusted to fit your kid's height.
The interesting thing about Scott's kid bikes is that they are equipped with similar technology that you can see on adult bikes. This is also one of the main reasons making their bikes for kids apart from many other competitors.
Conclusion
Since their foundation, Scott has been leading in innovating new sports technologies and applying them to their bikes. It is true that Scott has made a mark on riders all over the world.
Now, Scott is so popular that now you can purchase their bikes from different platforms all over the world, from the brand's website to other affiliated dealers. Another reason for the Scott bikes' popularity is that they offer a wide array of bike types at a reasonable price point. What's more, lots of bikes from Scott are used by professional road riders, mountain cyclists, and triathletes.