Just like other manufactured products, shoes encounter lots of problems and also cause various types of issues for wearers. In fact, different types of shoes will have specific effects on different people. What's more, those who already get foot problems will even suffer from serious issues.
Having said that, there is always a way for every matter. So, in this article, I will give you information about some common footwear problems and practical and simple solutions to the 10 biggest shoe problems. Keep reading to find your own answer.
See also foot problems and how to deal with metatarsalgia?
Footwear Common Problems
Walking or running can put additional pressure on your feet. Some people might cram their feet into cramped shoes, put them in the unnatural corners of high heels; run on the hard pavement and asphalt; incubate them in thick socks and shoes; or simply stand on their feet for an extended period. It's no surprise that your bones, skin, and complex musculoskeletal and ligamentous systems in each of your feet sometimes can't withstand that pressure.
And here are some common problems that most of you might face when wearing the wrong shoes, walking or running in the proper manner.
Women Aching Feet
There are a lot of common foot diseases associated with shoe selection, typically among women. The American Orthopedic Foot and Ankle Association (AOFAS) has found that more than three-quarters of women experienced foot pain. Not surprisingly when you notice that most of them wear shoes that are narrower than their feet. Shoes that are too narrow, too loose, too tight, or have an unnatural shape can result in or even worsen foot problems.
According to some surveys, nearly half of women feel throbbing or dull pain on their feet. While more standing or walking might be the main cause, the culprit is usually poorly fitting shoes. As fat cushioning on the soles of the feet will thin over time, older women may notice this issue might grow with age.
Athlete's Feet
Regardless of the name, athlete's feet can occur on any person, not only long-distance runners or other athletes. Fungus are one of the main culprits causing severe burning, itching, scaling, and pain that often appear between the toes or the soles of your feet. These microorganisms tend to grow in warm and humid places, such as bathroom floors. Besides, sweaty socks or tight shoes are also an ideal environment for them to thrive.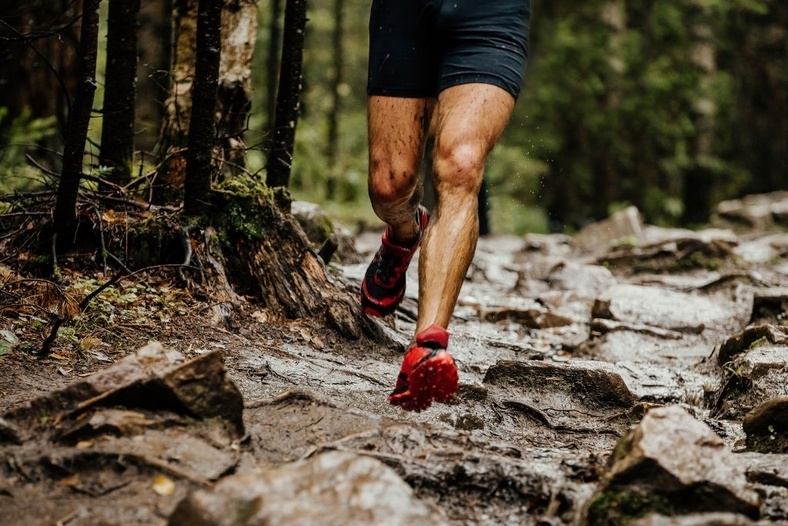 Blisters
There are different reasons resulting in blisters on your feet. For example, too small or tight shoes, rough marks on your socks or shoes usually scrub against sensitive areas on your feet. And your body will respond by creating a fluid-filled sac called a blister. The skin below the blisters tends to be relatively soft, causing pain when you walk or run. Fortunately, these blisters usually go away on their own if you keep them clean and protect them from further irritation.
Bunions
If you find a lump on the side of your foot, typically at your big toe's base, this might be a sign of bunions. When the base of your toe is pushed out of its original place, then bunions are created. This causes your feet to swell, which can result in pain and inflammation. Instead of pointing straight ahead, the big toe might also regularly brush against the other toes.
Calluses and Corn
In fact, your skin can protect itself from continual pressure and friction by forming solid layers of skin cells at the spot of the irritation. The skin cells will create round and kernel-like bumps, commonly known as corns. You can usually see these corns on the top or between your toes. Calluses, on the other hand, regularly build up on the sole. However, sometimes they might also appear elsewhere on your feet. They are usually yellow, flat, and thick.
Hammer Toes
Hammer toes often occur when one of your smaller toes is shaped like a claw. Dislocated toes or muscle or nerve issues in your feet that makes the toes curl up rather than lying flat. Those who suffer from diabetes are more likely to experience hammer toes. In addition, you can face this problem if you usually wear too short shoes.
Heel Pain
Different physical activities like running or other foot issues, such as high arches, flat feet, etc., can cause pain and inflammation in the plantar fasciitis ligament. This ligament runs from the ball of your feet to your heel. And the consequent inflammation is usually known as plantar fasciitis, you can learn how to treat plantar fasciitis at home.
When you have plantar fasciitis, you might experience pain during your first steps of the day or after a long time of inaction. This foot problem can also result in calcium deposits, which are commonly known as heel spurs at the place where the plantar fascia attaches to your heel. Both heel spurs and plantar fasciitis can be caused by ill-fitting shoes, a quick and unexpected increase in physical activities, or stress in your foot from sudden weight gain.
Fortunately, you can solve this problem in almost all cases if you get the right shoe orthotics, mild stretching, and decent rest.
Solutions To The 10 Biggest Shoe Problems
If you wear a pair of shoes and feel as comfortable and cozy as your slippers, it might not always be the same just after an evening or several weeks of wear. That's one of the reasons that a lot of shoe stores let their customers return bought and worn shoes. There are different reasons for that feeling, such as shoe's construction, materials, or fit. As you know, even the size of the most expensive shoes doesn't match the width and length of each foot.
And the fact is that, wearing the wrong type of shoes will lead to lots of foot problems, either mild or serious. And below are solutions to the 10 biggest shoe problems you might face. Let's take a closer look at each one.
1. Too Tight Straps
One of the biggest shoe problems is too tight straps. In fact, lots of leather straps stretch over time with wear. However, you can completely reduce the time it takes to break in when exposed to water. H2O is commonly known as its great use of gentle stretching leather and molding it to your foot shape. So, before you wear your new shoes out for the first time, you can try to spray them with plain water. Remember to wear your shoes around until they completely dry.
2. Blisters
Blisters tend to occur on the bottom of your feet, and are usually caused by friction or irritation between the bottom of your shoes and your feet. Fortunately, you can completely avoid these issues by providing your feet with extra cushioning at the soles. The soft padding can absorb shocks and friction thanks to the soft layer of cotton on the foam, which will significantly decrease the development of blisters.
3. Arch Pain
One of the main reasons for arch pain might be the lack of support in the middle of your feet. In this case, it is better to wear wedges rather than skinny heels or choose a new high arch running shoes. Wedges are considered better at distributing the overall weight of the shoes and the ball of your feet evenly. However, you can still wear heels if you want. Just remember to choose models that are shorter than three inches.
4. Sweaty Feet
If your shoes are too narrow, they might result in blisters and overheat your feet. You can avoid this problem by choosing a new pair of shoes at the end of the day when your feet might get swollen. Besides, it is recommended to opt for breathable leather and canvas during summer or hot weather. Rubber and patent leather should be used in winter and colder weather. If you want to wear socks in your shoes, it is better to go for cotton socks instead of other artificial materials. This is because they can absorb moisture and sweat, keeping your feet dry and cool.
See also wide shoe size charts: understanding wide feet & narrow feet.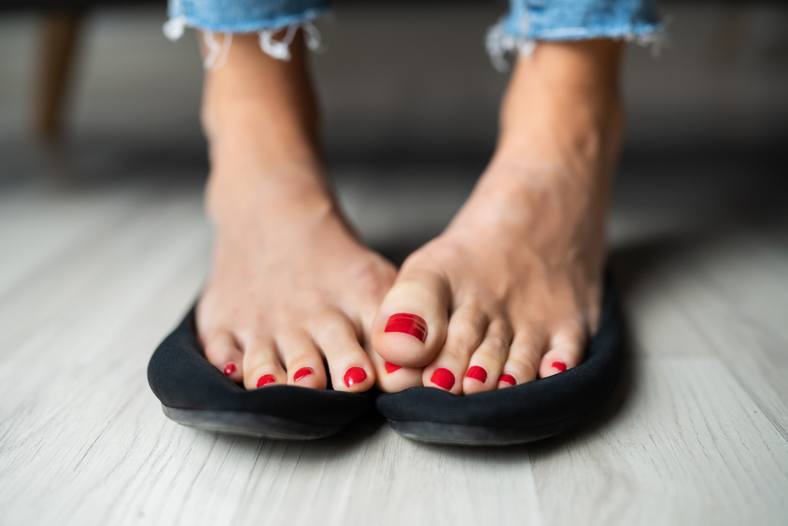 5. Cuts On The Back of Your Heels
When you wear shoes that dig into your skin too much, you might experience lots of pain. Even though you might think they are just too narrow, the issue here tends to be more about too large shoes. If your shoes are too big, your feet might move around and this seems to be the biggest cause of the cuts on the back of your heels. In such a case, you can consider taping your heel with pads in the rear area of your shoes. The cushioning will protect your heel against shifting in and out the shoes and your skin. This, as a result, helps you avoid potential cuts.
6. Calluses
It is common that the dead and hard skin can build up on the soles for standing all day of your feet and the sides of your big toes. They are really tough and difficult to remove. However, you can prevent this condition by wearing the right-fitting shoes. You should avoid getting your feet stuck into a pair of too tight or small shoes.
You can wear tights or socks in your shoes to interfere with undesired rubbing. In case you already experience calluses, you can soak, apply a pumice stone, and moisten your feet regularly to reduce the condition. You can also use a foot file to get rid of them.
7. Heels Sinking Into Grass
When you have to attend a splendid outdoor wedding, you should reconsider high heels. In fact, various types of high heels can sink into the grass, ground, and even carpet. This makes it much more difficult for you to move.
If you want to wear skinny heels, you can wear a heel cap to provide more surface area to your heel bottom. By doing this, you can decrease the possibility of getting stuck in the grass or ground. Or else, you should wear wedges, which give your feet the same length as your heels, but are much more comfortable to wear outdoors.
8. Scuffed Leather
Just a visible scratch can make your beautiful, new pair of shoes look like old and poorly-made ones. Even though there is no good way to entirely prevent this condition, you can still polish your shoes regularly to improve the scratches. In fact, the scratches will build up less if you polish your shoes often.
It is highly recommended to polish your shoes once a month. Make sure you wash them carefully before polishing. Besides, if your shoes are made of patent leather, you will need to take better care of it as it is usually more susceptible to deep scratches.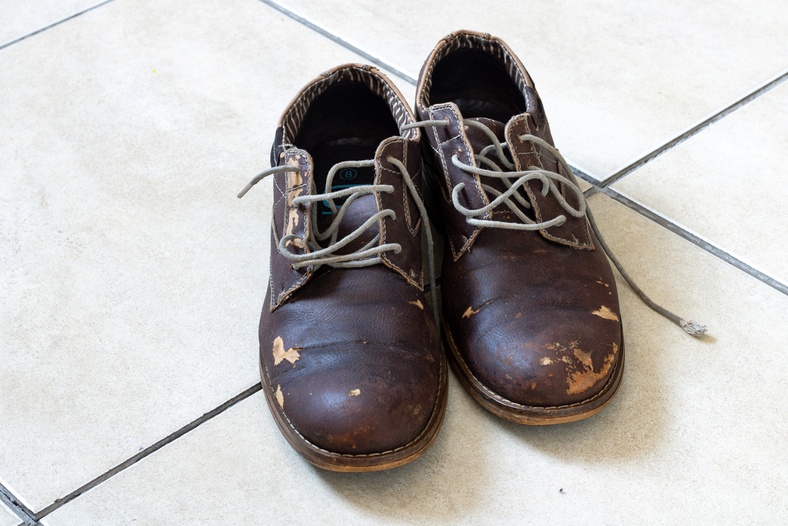 9. Wobbly Heels
The fact is that not all shoes have a strong and solid metal shank connecting the heel to the inner sole of the shoes. Hence, before you decide to buy any shoes, make sure you try them on and walk around to ensure that the heels don't wobble. You might not know that chalky heels are a better choice in most cases.
10. Soles Wearing Off
Dressy shoes' soles tend to be worn out faster when you wear them on the streets often. This will make your shoes look less beautiful. You can consider sole protectors for added slip resistance and durability. For example, you can add rubber soles for your boots to the bottoms of your shoes to prolong your heels' lifespan. If you don't know how to do this, get a professional to do it. 
Conclusion
As you see, choosing suitable footwear might not be the first and only important factor you need to consider, typically if you have foot problems. It is more important to notice your issues, and visit a podiatrist because they can recommend to you whether to get extra treatment. This way, you can prevent further problems.