If standing for long hours is a requirement of your job, this article is exactly for you. The content below will provide you with useful tips for standing all day. Do not hesitate; jump into it now.
Many people must work on their feet all day due to the specific characteristics of their jobs. Standing for long hours day after day can cause a wide range of problems to your feet and legs. If you have foot problems before, they might get worse due to prolonged standing. So, my article shares some useful tips for improving the case. Teachers, cooks, hair cutting staff,… anyone with standing jobs can easily apply.
How To Get Used To Standing All Day
Choose the right shoes.
The right shoes must be the first thing to be noticed, as shoes affect your feet a lot, especially when you stand for long hours. The heel of the shoes should be between ¼ inches and 2 inches for the best situation of your feet.
Moreover, the shoes should have arch support for reducing weakness and soreness in both your legs and feet. If arch support is not included, you can buy arch support insoles and a good-quality sneaker for arch support from stores.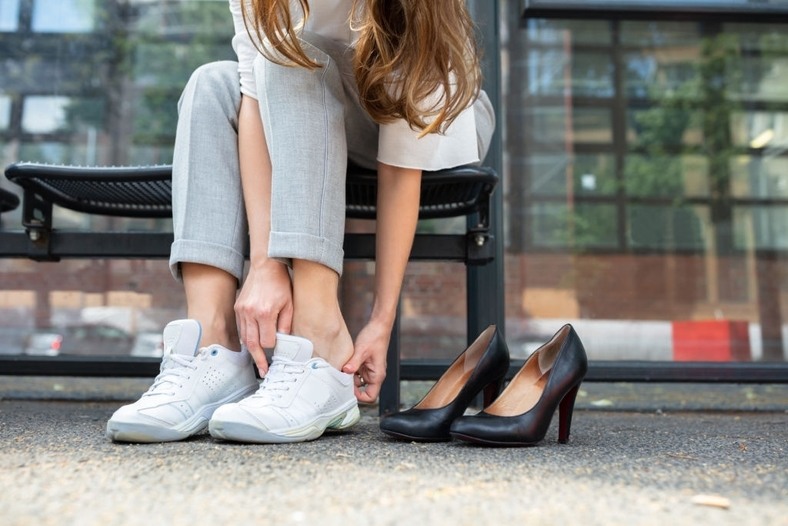 Related: good shoes for standing all day
Wear the fit size.
Wearing too big or too small shoes will cause discomfort, and if you work on your feet all day, the comfort will last all day. Small sizes can also make it hard to circulate and make your feet unbreathable, which is very terrible. Thus, choosing suitable sizes is extremely important.
In several cases, you might need to insert insoles with arch supports or custom orthotics, so taking a half size larger will be the right decision. This will also help you to be fit for your shoes later in the day.
Take advantage of breaks.
During your working time, take sitting breaks when possible. Furthermore, you should use your lunch break entirely for sitting and resting and should limit walking around for errands. When you sit, your feet, your legs, and also your back can take a rest, too.
Keep in mind your posture.
Bad posture may lead to tons of problems with your feet, legs, and back. An imbalance in stress distribution within your muscles can cause pain or injury for your body parts. This can easily happen when you work on your feet all day.
Thus, you should pay attention to your posture. Keep your back straight with your head up and your shoulders in line with your spine and hips. Besides, you should walk from heel to toe in each step. Right posture will help stress to be distributed evenly, which prevents your feet and back from problems.
Stretch if possible
Standing for long hours can make your muscles overstressed, and thus, stiff and painful. Therefore, you need to stretch regularly to make them relax and give them some comfort. You can refer to several basic stretches below.
5 Simple Stretches For Standing All Day
The following are simple stretches which you can do at night, after a full day working your feet. They can help your muscles to be healthier and enhance your flexibility in general.
Inchworm
This stretch concentrates on the forward fold, which will help you to loosen tight hamstrings. You should follow the steps as below:
Stand and keep your feet hip-width apart. Fold forward and put your palms down and keep them flat on the mat.
Bring your hands forward in order to be in a high plank position.
Bring your hands back toward your feet and then stand up.
Repeat these acts five times slowly.
Figure 4
This stretch helps your hips and glutes to be opened. It includes the following steps:
Lie on your back, bend your knees and keep your feet flat on the mat. Next, put your left leg across your right leg (the left ankle over the right knee).
Put your arms around the right leg, then pull your right thigh toward you while keeping your back on the floor.
Slightly press your left knee away by your left elbow.
Keep the posture for a half minute and then switch sides.
Reclining twist
The stretch will be very useful for your back after a long-standing day, especially when you have low back pain.
Lie on your back, pull your left leg to your chest while keeping your right leg straight.
Exhale and twist the left knee through the center of the body. Next, press the right hand on the left knee and broaden the left arm.
Keep the posture for a half minute and repeat on the other side.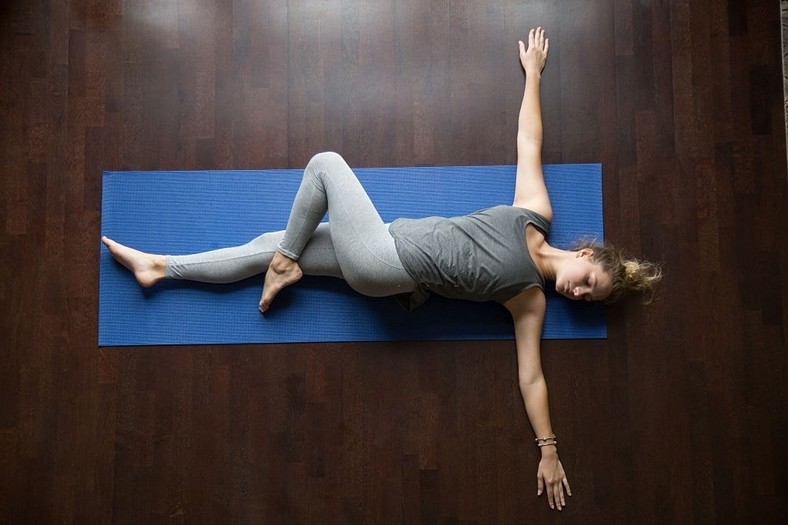 Child's pose
The stretch concentrates on your arms and spine and should be performed with the following steps:
Sit on your heels while keeping your knees out wide.
Bend forward, lower your chest and keep your forehead on the ground.
Put your arms long forward with your palm placed flatly on the ground.
Keep it for a half minute.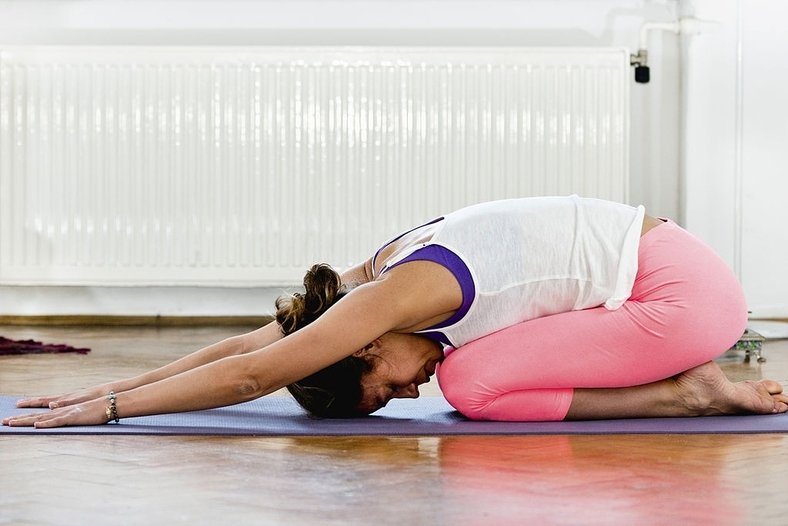 Tree pose
Tree pose is a simple stretch, but it can bring lots of benefits for people who stand all day. It helps to strengthen the leg muscles and improve endurance. You should do the followings when performing tree pose:
Stand up hip-width apart.
Move your weight into your left foot, then lift your right foot off the floor, bend your right knee and pull the right foot up to the inseam of your leg.
Put your hands at your hearts or raise them long up to the ceiling.
Keep the posture for a half minute before switching sides.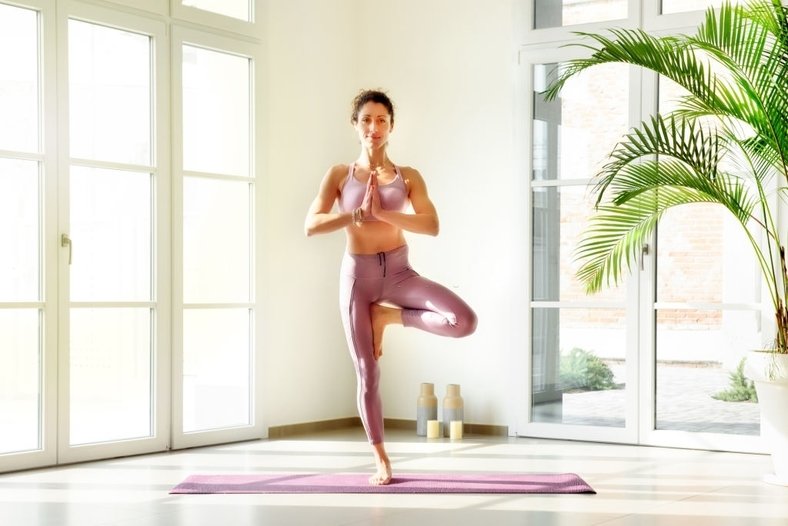 Tips For Standing With Your Work Boots Or Heels
For standing with your work boots or heels without pain, you should first take time to choose the right pairs for your feet. As you will stand with such boots or heels all day, they should consist of specific features such as support and ergonomic features, comfortable features, and protective and safety features. The heel should be within ¼ inches and 2 inches, as mentioned above, for the best safety and comfort.
Besides, you should wear suitable socks for supporting your legs and feet while standing for long hours. Compression stocks are highly recommended for people who stand all day at work due to their special benefits. The socks can ease swelling in your feet and keep your feet from varicose veins. They can also prevent your legs from being tired and achy and improve blood flow, making you feel better when you need to stand for a long time.
Furthermore, you should also note several tips for standing with your work boots or heels all day, such as: standing with weight distributed evenly on both feet; half of the weight should be put on the front of your feet and another half on the heels; standing tall and straight,… You can combine these to have the most comfortable feel and prevent your back, legs, and feet from being hurt and remember choose a comfortable work boots for standing all day will help u in this case.
Care For Your Feet At Home
After a long working day, your tired feet need to rest and relax with proper care. Below are some typical ways to take care of your feet every day.
Use Epsom salt
Pour warm water into the footbath, add a half cup of Epsom salt, and then soak your feet into it. You will feel extremely comfortable, as Epsom salt can soothe calluses and decrease pain and inflammation. It is a very easy but effective way to make your feet comfy.
Massage
Gently massage your feet, or using a tennis ball to roll on your feet from heel to toe will make your muscles relax. If you do it regularly, it can soothe your tired muscles and make your feet recover better and better.
Use ice
Ice can be used for reducing the symptoms of swelling and inflammation, provided that you do not have vascular problems. Fill up the bucket with water and ice, and then put your feet in such a bucket, and you will feel the improvement in your feet.
Go To The Podiatrist When Necessary
If your foot problem gets worse or it does not improve day by day, you should consider going to the podiatrist. As you work on your feet all day, they need proper and timely care and healing. You can also arrange an annual checkup each year to ensure the health of your feet particularly and your body generally. Please read more how to deal with metatarsalgia when your foot has problems.
Frequently Asked Questions
This part offers a number of questions and relevant answers in terms of working on feet all day and related tips and solutions.
Is it bad to stand on your feet for 8 hours?
Although standing is a normal posture of humans, standing for too long regularly can lead to a wide variety of health problems such as sore feet, swollen legs, muscular fatigue, low back pain, and other similar problems.
Does your body get used to standing all day?
Yes, it does. You can train your body to deal with working on your feet all day without pain by proper alignment and muscle toning. You should also take care of your feet carefully after each working day to make them healthy enough for long standing hours.
Are compression socks good for standing all day?
Yes, they are. Compression socks , with their distinctive weave, can help to improve optimal circulation and blood flow. Thus, they are good for people who work on their feet all day.
What does standing for 8 hours do to your body?
Standing all day can cause lower-limb muscle fatigue that can be prolonged if you continue the work requiring long-time standing. This can bring back pain and musculoskeletal disorders to your health.
Is it good to soak feet in hot water?
Yes, it is. Putting your feet in warm water after standing at your workplace for a long day is an efficient way to relax your feet and yourself. Warm water will help to soothe your muscles, relieve pains and give you comfortable feelings.
Does standing count as exercise?
Standing is not the same as running or cycling. Simply standing has not been proven to improve your health. Thus, it does not count as exercise.
How long in a day should you wear compression socks?
It's better to wear the stocks within the day, from the morning till you go to bed in the evening. You should also prepare at least two pairs of compression socks so that you can wear one when another is being washed.
How long should you elevate your feet?
It depends on the swelling situation of your feet. You can start elevating for around 20 minutes twice a day, then proceed with 30 minutes or an hour.