One of the sports that both women and men choose to practice in their free time is yoga. Yoga is a method of training the mind and body that originated in India. This practice helps you feel peaceful, calm your mind, and relax after stressful working hours. However, to have the most effective one hour of Yoga practice, you need good methods and appropriate clothes.
It's pretty common to feel anxious about what to wear for yoga. Sure, you could just throw on some clothes and go, but if you're like most people, you want to make sure the clothes are appropriate for your needs and the class requirements. Fortunately for you, we've put together this article on what to wear for yoga!
So before your next practice session (or even before signing up!), read through this list of do's and don'ts, pick out a couple of new outfits, and get ready to give new meaning to the term "comfortable clothing."
We hope that these pointers will help alleviate some anxiety when it comes time for a class.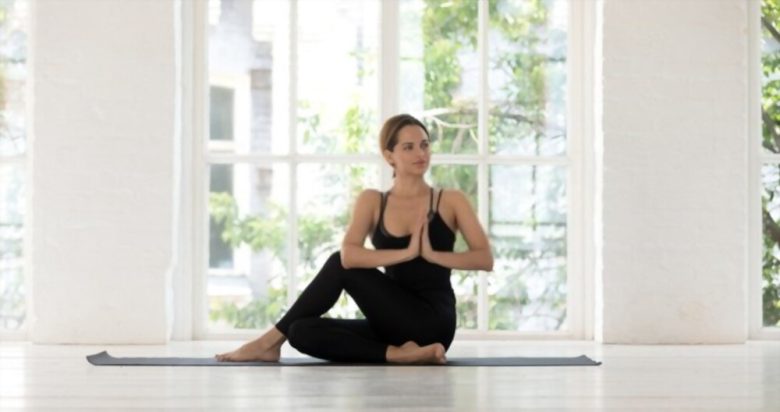 1. Leggings With An Over-The-Heel Design
Yoga attire has become the latest fashion trend, attracting individuals of all ages. They give comfort while maintaining an attractive and put-together appearance. They can be carried from the gym to class, the supermarket, or even just about the house. Spice up your style with some of the most adorable yoga clothing you'll ever see.
Of course, soft leggings are a cute addition to yoga clothes. Over-the-heel leggings are a new trend that I've noticed. This is beneficial for keeping your leggings in place and making yoga poses more comfortable. Naturally, these are available in a range of different colors and sizes. See what shoes can be combined with leggings.
2. Leggings That Are Both Breathable And See-Through
Leggings are a wardrobe mainstay for many, and a good reason. They're comfortable, light, packable, and super functional. Plus, they can be worn with many workout outfits for versatility in your routine.
A recent trend is for leggings to have partially see-through sections that create a unique design. This see-through section is typically made of a stretchy mesh fabric that matches the color of the leggings. Not only does this add to the cuteness of the leggings and overall design, but it also makes them more breathable and hence more comfortable.
3. High Waisted Leggings
High-waisted leggings are not a new trend, but they have a resurgence in popularity. High-waisted designs can be very comfortable and flattering for women who prefer to wear leggings. This is because they help support your back and hold everything in place, which is particularly important for moving through yoga poses. Plus, these leggings tend to be of a slightly thicker material than other styles, meaning that you'll get more durability from them.
4. Coated Leggings
Coated leggings are a popular option for women who want to be comfortable doing yoga and feel pretty in the process. They're made of a stretchy fabric that has been coated with an anti-sweat material. This makes it ideal for sweaty conditions, such as during hot yoga classes or sweating after a hard workout. Coated leggings come in all kinds of styles and patterns.
One of the best things about coated leggings is that they tend to be less expensive than other yoga clothing items such as yoga pants, allowing you to splurge just a little bit more on great accessories like yoga mat bags and the like.
5. Drawstring Leggings
Even though drawstring leggings are traditionally a staple for men and women who are on the go, these yoga pants have become more popular with yoga enthusiasts. They're the perfect clothing item for those who like to do both light and heavy strength training and want the flexibility that comes with wearing leggings. In addition, most models have multiple drawstrings so that you can adjust the fit, making them a great choice if you have a long torso or short legs.
6. Cropped Leggings
Cropped leggings are a kind of women's apparel consisting of cotton and spandex. Cropped leggings have become popular with women who prefer to wear a shorter length. They're typically about 2-4 inches above the ankle, giving you a more fashion-forward look. Cropped leggings are also great if you prefer lighter materials (such as rayon) over heavier cotton blends.
Cropped leggings are becoming more and more popular for men and women. They come in a wide range of colors and designs, and they're certainly not just for yoga enthusiasts. While many people wear them as fashion statements, they can also help you feel confident with your fitness routine and enhance your overall appearance.
7. Hypercolor ultra-High Leggings
This type of yoga garment uses Hypersonic technology to improve oxygenation to your muscles, promote blood circulation, and enhance your exercise performance. In addition, these leggings allow muscles to tone and recover faster after a yoga workout.
8. Pleated Leggings
While most pleated clothing items are for women who appreciate a more prestigious look, these leggings are very popular with yoga enthusiasts. They come in a range of different colors and designs and are great for increasing the fit of your yoga pants or leggings and adding an attractive visual aspect. Pleated leggings can be worn during the practice session and well after you're done. I'm guessing you've never seen a yoga costume quite like this before. This pleated style can impart a more textured appearance. Additionally, the fabric helps keep you cool.
9. Stirrup Leggings
Stirrup leggings are a great way to add some flair to your workout wardrobe. These leggings usually have stirrups on each ankle; their name stems from.
The most notable feature of stirrup leggings is the design on the bottom, where the foot is positioned in a so-called "stirrup." Stirrups can be placed at the ankle, mid-calf, or knee level (with more than one stirrup on some models). It helps maintain your leggings in place and is an excellent choice for dancers; also, they look adorable and unusual.
10. Cutout Leggings
Cutout leggings are a new addition to the vintage-inspired legging collection. They come in various styles, with cutouts on both the front and the back.
These leggings feature cutouts in the fabric that allow you to show off your skin. Cutouts can be placed in all kinds of interesting spots on the leg, such as around the knees or lower down towards the ankles. Unlike other trendy yoga clothes, cutouts are not just for fashion-forward individuals. Instead, they're great for adding an attractive visual aspect to your practice and showcasing a unique design.
11. Wunder Under High-Rise Tight 28″ Full-On Luxtreme
These versatile tights are designed to fit your body like a second skin, feeling soft and smooth to the touch. Uses lycra fibers to stay in shape, wick away sweat, and cool four-way stretch, perfect for yoga or the gym.
12. Inseam Yoga Pants
If you haven't heard of inseam yoga pants, there's a good chance you've seen them. Some women do not like the traditional tight fit but are passionate about wide-leg pants with a high waist; then, Inseam yoga pants are a great choice for you. You can pair it with a sports bra, making you more comfortable after an intense yoga session.
13. Loose Pants
If you're interested in wearing loose clothing, loose pants are a great idea. They'll give you the comfort they want while showing off the exercise pants underneath.
These remind me of genie pants, but they also appear comfortable. It's hard to imagine doing hot yoga in one of these.
Loose pants are comfortable to wear. They are extremely lightweight, breathable, and highly durable. Pants include an elastic waistband with a fitted elastic waist panel. The legs are wide enough to give you room to move around but enough to not be distracting. Plus, the wide leg allows you to move freely.
14. Fitted Sweatpants
Keep the oversized sweatshirts you received in college for nighttime. However, you're looking for something a little more adorning and presentable. Yoga sweatpants have become popular, and they're soft, comfortable, and cute!
There are quite a few training pants for men, but sweatpants are a fashion and personality model. These pants give you a break but don't take away from your workout comfort. The trick to choosing these sweatpants is to choose the right pants with a moderate width that is not too tight on the ankle, good fabric.
15. Yoga Shorts
Do a quick morning yoga before going to work, giving you more energy and perfect shape. Besides training, you should prepare yourself with appropriate yoga attire such as shorts combined with a tank top and denim jacket; this can be a sporty set to help you complete your classy look.
Some models of men's yoga shorts are designed with built-in linings for safety and comfort during bending and stretching exercises. In addition, you can find men's knee-length shorts. In particular, avoid yoga pants that are too thin and see-through or made of cotton.
16. Men Yoga Pants
You can choose a loose pair of pants, not too wide, not too tight. Brands that specialize in providing yoga clothing offer a variety of yoga pants in various sizes. Consider when choosing leggings with high flexibility coupled with comfort, breathability. If you are concerned about exposing your body when doing stretching and bending movements, you can combine it with a pair of shorts outside.
18. T-Shirt With Stretchy
A tight-fitting T-shirt is also a fashion item, it can help your movements become more flexible, not entangled. T-shirts with stretchy are perfect for casual wear and comfortable to wear. Yoga t-shirts will keep you cool; you can use them as a base layer for yoga.
This type of t-shirt stretches to fit your body effortlessly, making it extremely comfortable to wear. The handle also helps you stay relaxed and lazy when doing exercises that require focus and adjustment, such as hot yoga or yoga for beginners.
19. Tank Tops
Many yoga moves require hand movements with advanced basic home yoga exercises, so a tank top can make you more comfortable. Should choose a deep-cut tank top to avoid revealing the goods. They are designed to allow free movement and stretch. Tank tops will help you exercise more effectively and allow you to regain a more flexible and relaxed posture.
The tank top is sewn from good sweat absorbent fabric, easy to move and move. The seams rest comfortably on the skin to avoid irritation. Round neckline and sleeveless for more freedom of movement. The fitted bodice creates a snug fit that doesn't wrinkle and looks healthy.
20. Long Sleeve Yoga Shirts
The long sleeve yoga shirt is an excellent choice for yoga people. The long sleeves ensure that your hands and arms are protected throughout the exercise, and they help keep you warm if you practice yoga in cold air.
The long-sleeved version of this shirt is made of a thicker fabric that can be worn on its own during cold seasons or layered under a jacket when it's colder outside. The t-shirt's hemline sits at hip level, offering more coverage than some other similar styles on the market, but without making it too baggy or unflattering on the body.
21. Loose T-Shirts
The loose T-shirt is for all types of yoga, but we especially recommend it for hot yoga. It is a good option for women or men who want to wear a t-shirt to exercise, and the shirt will not be too tight on the body and give you an exciting feeling.
Besides, it also brings dynamism and charm, showing off a strong and masculine beauty to the wearer. In addition, this type of t-shirt can also be worn to participate in many other sports such as basketball, football, tennis, jogging, etc.
22. Sport Bras
Bras offer a comfortable fit with a snug fit that's not as uncomfortable as bras. Bras also help you sweat more easily, feel more comfortable during exercise.
Yoga is a way to get rid of your sweat and a way to get rid of stress and even comfort. Many people are afraid of sports bras because they feel uncomfortable, but it is completely false. Choose Yoga sports bras are relatively lightweight with excellent support for your chest, although the waist can be high or low as you like.
23. Cut Out Racerback Bras
The racerback bra is a sports bra with a wider back section. In addition, the back section of the bra is cut out, so there is no extra fabric around the shoulders. This makes it a unique and stylish choice for sporty women who want to be in charge of their style and watch what they wear.
A twisted Racerback bra combined with the corresponding high-waisted pants is one of the professional yoga clothes many young people choose. This outfit is comfortable in your workout and trendy whether you're outside or in the gym.
24. Bonded Mesh Uppercut Sports Bras
Sometimes basic black is too boring; bold colors also seem too dark for your skin. So, you can try pairing a shimmery but subtle metallic bra, neckline with matching leggings. You will stand out when practicing yoga or walking outdoors. You'll quickly forget that you're sweating too much when you own the full set of Bonded Mesh Upper Cut Sports Bra.
25. Crop Tops
Yoga crop tops have been popular female wear for many years. They are very fashionable in yoga, jogging, and other sports activities. Crop tops are a favorite for women who do not like to wear clothes too tight or difficult to breathe.
This is suitable sportswear for most women; you can pair it with French-cut leggings if you want more coverage. In addition, you can choose to add a matching wide-leg skirt and outer jacket for those of you who pursue an acute, active style.
26. Essence Twist Tank
It's not as classic as a regular tank top; the Essence Twist Tank has extra twist detailing on the front. In addition, using XT2 anti-odor technology eliminates sweat odors without chemicals and protects your clothes for longer.
27. Velour Cropped Tank
If you want a more trendy change, this felt tank top and velvet leggings are a perfect choice. Suitable for all situations such as yoga, jogging, gym, or even walking, etc., you will stand out when choosing this style.
28. Strappy Sport Bras
An attractive, comfortable shirt is frequently included in yoga attire. Typically, these tops are flexible and cut to allow for greater movement. While you can always get a standard strapped sports bra, there are several adorable strappy back tops to complement your clothes.

You will find a wide variety of sports bras with high-cut shoulder straps and strappy backs. They are made from more sporty, stretchy fabrics, so you can be sure that your bra will not only give you the support needed for whatever activity you plan to do but will also help keep you in place.
29. Nicolette Tops
Paired with sexy lace details and spaghetti straps, this tracksuit can help you with any daring gala. This sporty and cute tracksuit will help you look more sexy, soft, and delicate. Whether you are working out or heading to the street, this outfit will serve as a guiding light to your style.
30. Yoga Jackets
Jackets are another hot style when it comes to yoga attire. Let's face it, you don't want to spend your entire day wearing a sports bra or tank top, but you also don't want to forego your entire look or comfort. Yoga jackets are a thing, and they're the ideal fashion piece.
There are many kinds of yoga jackets. This jacket is usually thin and lightweight, better to stick to your body to be flexible in your movement. Usually, this kind of sportswear is made of polyester fibers and has a very fine texture, making it light and comfortable to wear.
31. Cropped Long Sleeves Tops
Many types of sportswear can work very well in the gym, and long-sleeved workout tops are no exception. In addition, these tops are great for covering up a good amount of skin, with most falling somewhere between thin and thin-to-medium weight.
It is a versatile, comfortable piece that can be worn with other items for a different look. For example, you can pair your long-sleeved top with leggings and boots for an everyday casual look or your favorite shorts when it is time to go yoga.
32. Sleeveless Mesh Tank Tops
A no-sweat tank top is ideal for people who sweat a lot when working out. These tops can also be dressed up by pairing them with a long sports bra or tank top underneath, which gives them an interesting texture. A no-sweat tank top is ideal for people who sweat a lot when working out. These tops can also be dressed up by pairing them with a long sports bra or tank top underneath, which gives them an interesting texture.
33. Criss-Cross Tank Tops
Unusual criss-cross tank tops go with everything. However, having a one-of-a-kind top enables you to mix and match it with your more straightforward pieces. This way, you'll still stick out without being too outlandish.
This is a very popular style of tank tops, which has a unique criss-cross design. They are very comfortable and suitable for any occasion. You can easily match them with leggings or shorts to go for a night out or work out. This sportswear is not only suitable for yoga but also your jogging.
34. Athletic Hoodies
Athletic hoodies are very useful during exercise. A hoodie is a wardrobe staple, and it's far more versatile than you may realize. With an athletic hoodie, you're not just getting your hands on a really warm sweatshirt. You're also getting a piece that can be worn while working out or lounging around at home. Athletic hoodies are perfect for yoga practice and sports. This lightweight style comes in various colors like white, black and gray, etc.
35. Onesie
Wear a workout bodysuit? Yes, you read that correctly. There are yoga ensembles that are little more than a onesie! Although it is form-fitting, think how comfortable these would be. Complete your workout with this onesie, featuring a flattering silhouette, a keyhole that opens back and pairs with a high neckline. This is considered a new item that many Yogis are looking for.
It is more challenging to find the best clothing for yoga in some situations, especially if you are doing competitive yoga. The combination of the pants and sleeves in a seamless design allows you to focus on your body and do not worry about the pant's subsequent hyperextension.