​​TCX is a well-known boot manufacturer based in Montebelluna, Italy. TCX is owned by the Novation Group who also owns Kayland and Jolly, two non-motorcycle footwear companies. The Novation Group and TCX have recently teamed together to create the customized Nike-branded motorcycle boots that you see James Stewart and Ryan Dungey wear. The next question that many of you usually think of is where TCX boots are made. The answer will be revealed in this post. We will also discuss whether TCX boots are worth the prices. So let's get started!
See also: most comfortable motorcycle boots
TCX Brand Overview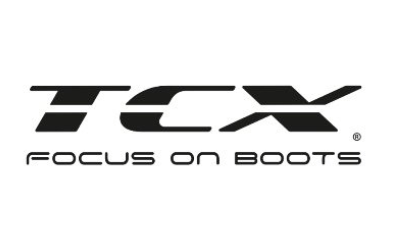 TCX's story started in 1999, with the brand's release of the first motorcycle boots with an international patent, the T.C.S​® (Torsion Control System)​. Thanks to this system, the foot's movement will be controlled while wearing the boots, both laterally and longitudinally, protecting your ankle from injuries.
Today, TCX has become an industry leader in Italy, expanded distribution overseas, and gained significant market shares in Europe. TCX covers almost all models and styles on the market, from road racing and off-road boots to touring and leisure boots in all styles; they also include footwear for women.
They had the chance to acquire the GORE-TEX license in 2002. As many of you know, it is pretty tough to obtain a GORE-TEX license. You must maintain a very high quality and manufacturing standard, which is still their primary goal.
TCX has always been dedicated to developing its safety systems and high-tech solution for its boots. In 2015, TCX agreed on a significant deal with JV International, their partner for the Michelin Tech Soles, to produce functional motorcycle outsoles.
Today, TCX boots are being distributed in 58 nations. They have three different agencies for direct sales in Italy, Spain, and France. They're also operating a fully-owned subsidiary in the USA, TCX Boots USA.
Popular Regions Make TCX Products
For a long time, Italian bootmakers were widely regarded as producing the most excellent boots in the industry. However, most of them have relocated production to Eastern Europe, Southeast Asia, China, or even Africa for a competitive price. TCX is one of the few companies that still manufactures almost all of its boots at company-owned factories in Italy and Europe.
TCX has had its factory in Romania for over 20 years, allowing them to oversee all aspects of its manufacturing process. Before being delivered to the Romania factory, all raw materials are checked carefully at their headquarters in Montebelluna, Italy. TCX makes the boots in the Romania plant, does the first quality check, and then sends the finished boots back to Montebelluna. When the boots arrive in Montebelluna, a final quality check is performed to finish the process. Every TCX boot is designed and crafted in Italy. For the production of all prototypes, they have an R&D department and a stitching team.​​
Are TCX Boots Made In China?
While most TCX boots are constructed in Italy and some European countries, there are TCX boots made in China. Boots made in China aren't necessarily low-quality. TCX follows stringent quality control for their boots then there should be no issues.
For all TCX boots, no matter where they're made, safety is their priority. TCX is the first brand in the footwear industry that has CE Certification on all boots. The brand is awarded this certification at a European level as a guarantee that the boots have passed strict safety tests.
The journey for quality at TCX started with careful sourcing and in-house material testing. Once the selected materials meet the TCX's standards, boots are tested by their team of riders in extreme circumstances. Therefore, it can be said that the quality of TCX boots is unparalleled in the industry: several collections with a variety of styles, functions, and technology make the ideal boots for every rider.
Are TCX Boots Good?
TCX is a high-quality Italian motorcycle boot brand that places a priority on craftsmanship and performance. TCX specializes in one thing and does it well: making some of the finest motorcycle boots in the industry. Along with a small subsidiary that makes boots and shoes for military and emergency workers, TCX keeps committed to its slogan: 'Focus on Boots.'
For the money, TCX boots offer good value with a lot of features. These boots are reasonably priced for track riders, but consider where you will be riding – if you're more road-oriented and spend a lot of time strolling around in your bike gear, consider some more touring-oriented boots.
TCX boots are equipped with the Gore-Tex Membrane, offering features such as excellent waterproof, resistance to extremely high temperatures, and high resistance to tear and wear. The TCX's unique fabric of the Gore-Tex prevents the water from getting through the Gore-Tex membrane while letting the perspiration evaporate quickly. As a result, TCX boots have a waterproof covering that allows them to be worn in any environment while ensuring optimum comfort and breathability.
TCX offers both racing and off-road boot lines in various styles for you to choose from based on your needs and preferences. Their exclusive Michelin® Burnout soles are used for the TCX racing line, inspired by the 'Power Supersport Evo' tires, which are designed to offer excellent grip onto the peg and higher resistance to wear and tear. On the other hand, TCX off-road boots come with Michelin® MX Hybrid soles, ensuring optimum stability and traction and making them much lighter.
Most TCX boots have a Double Flex control system that has been examined to increase the leg's front and back flexibility, allowing for up to 18 degrees of front flexibility and up to 15 degrees of back flexibility, thus preventing your ankle joint's overextension and protecting your foot from injuries.
TCX Boots Prices
TCX offers various price ranges for each of its boot lines. The price of TCX road boot lines, including sport, touring, adventure, and SPEEDWAY boots, ranges from $150-$250, while TCX Off-road boots retail from $200 up to $500. Besides, TCX also has an Urban 24/7 line, including sports performance, lifestyle, city, and vintage boots, which retails from $160 to $300. You can also find TCX boots for your kids with a price tag of about $140.