Are you looking for a reliable tool to mix colors and get their corresponding names? Look no further than the Color Blender with Names. This innovative tool allows you to combine two colors and instantly generates the blended color along with its name. It's a handy resource for designers, artists, and anyone working with colors.
Two Color Blender With Color Names
Percentage
Here's how the Color Blender with Names works:
Color Selection: Begin by selecting two colors from the color palette or entering their hexadecimal values. The tool supports a wide range of colors, allowing you to experiment with different shades and hues.
Blending Process: Once you've chosen your colors, the Color Blender with Names employs advanced algorithms to blend them seamlessly. It calculates the appropriate ratios and proportions to create a harmonious mixture.
Mixed Color Name: After the blending process, the tool reveals the resulting color's name. This feature sets it apart from standard color blending tools, as it provides you with the specific name associated with the mixed color.
Color Information: Along with the color name, the Color Blender with Names displays additional information about the blended color, such as its hexadecimal value, RGB value, HSL value, HWB Value, CMYK Value and Ncol Value. This comprehensive data ensures precise color representation and allows for easy integration into your projects.
With the Color Blender with Names, you can create beautiful and customized color blends while effortlessly identifying their corresponding names. This tool simplifies the color mixing process and provides you with valuable insights into the colors you're working with.
Benefits of Using the Two Color Blender with Names
Efficiency: The Color Blender with Names streamlines the color blending process, saving you time and effort. You no longer need to manually mix colors and search for their names separately. Everything is conveniently available in one tool.
Enhanced Creativity: By having immediate access to the names of blended colors, you can unleash your creativity and make more informed color choices. This tool expands your color palette and inspires fresh design possibilities.
Accuracy and Consistency: The advanced algorithms used in the Color Blender with Names ensure accurate color blending and consistent naming conventions. You can rely on the tool to deliver precise results consistently.
Integration and Sharing: The Color Blender with Names provides various ways to integrate and share your blended colors. You can easily copy the hexadecimal or RGB values for direct use in your design software. Additionally, the tool allows you to share your color combinations with others, fostering collaboration and feedback.
In conclusion, the Color Blender with Names is a powerful tool for seamlessly blending colors and obtaining their corresponding names. Its efficient workflow, enhanced creativity, accuracy, and integration capabilities make it an invaluable asset for professionals and enthusiasts alike. Start using the Color Blender with Names today and unlock a world of vibrant and precisely named color possibilities.
The Basic Color Mixing Charts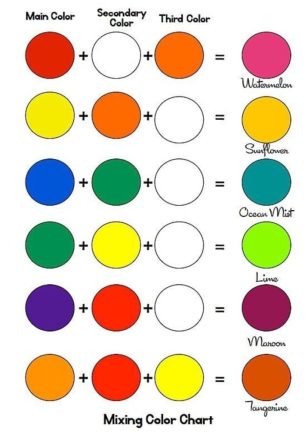 Here's an example of a 2 color mixing chart:
How to Get a Color Name of a Hex Code?
To determine the name of a color based on its hex code, you have a couple of options. You can either select a predefined color from a provided list, or you can enter your own hex code to find the nearest color name in our extensive database. Let's explore how you can easily obtain the desired color name along with additional information such as the hex code, RGB value, HSL value, HWB value, CMYK value, and NCol value.
Option 1: Select a Color
Choose Color 1 or Color 2 from the available selection.
Pick the color that closely matches your desired shade.
Option 2: Enter a Hex Code
Input your specific hex code into the provided field.
Our system will search our comprehensive database for the closest color name that corresponds to your hex code.
You will be presented with the color name, along with detailed information about the color's characteristics, such as the hex code, RGB value, HSL value, HWB value, CMYK value, and NCol value.
By utilizing this method, you can accurately identify the name of a color based on its hex code. Our extensive database ensures that you receive the most relevant and precise color information.