If you like boots, you have probably heard about Doc Martens vs. Solovair. In fact, both brands are really renowned for producing high-quality boots that meet consumers' everyday requirements. In the end, the ideal pair of boots should be comfy and appropriate for a variety of situations.
For beginners, both Solovair and Doc Martens boots tend to be nearly identical and have a long history. For years and years, Solovair, whose name basically means "Sole Of Air," manufactured Doc Martens in Northamptonshire, England. They were advertised under the name "Dr. Marten of Solovair" at the time.
The rivalry between Doc Marten and Solovair has existed for decades. The brilliance of this competition is that it has obligated both brands to carry out extensive research in the footwear industry. As a result, the biggest winners are the boot connoisseurs who will accept nothing less. Continue reading to find out more about Dr. Martens vs. Solovair.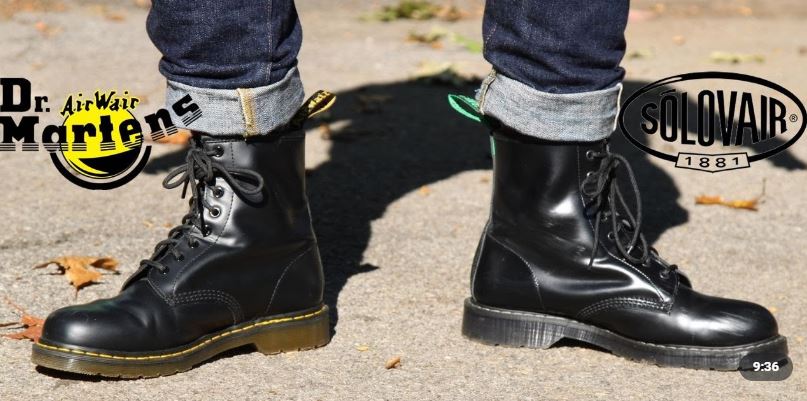 A Quick History of Solovair and Dr. Martens Brands
Solovair Brand
The Northamptonshire Productive Society (also known as NPS), which acquired the Solovair brand, was founded 130 years ago on Thrift Street in the town of Wollaston by a group of five men who owned and managed the company. This company was sited in a dove house, and the men were recognized as "The Duffers" in the town.
Unlike so many other new companies, the Duffers struck gold right away, landing a year-long contract to manufacture army and combat boots for the government.
The demand for high-quality boots grew over time, and the 5-man boot-making company grew to an 80-employee business just before its 10-year anniversary. The expansion necessitated the construction of a larger structure to accommodate more employees and machines.
Unfortunately, the boot industry began to decline in the 1980s, and the NPS was on its way out when, just before the breakdown, a man from Wollaston town, Ivor Tilley, asked to purchase the company, save the business, and keep their workers employed in 2006. They agreed, and he followed through.
After over 10 years of changes, adversity, and reconstruction, the Solovair business still stands currently. They attribute their success to incorporating new advanced technology with old-fashioned hand-crafted skills that have been used since the beginning.
Martens
The Griggs family of Wollaston, England, was busy at work in 1901, producing reliable, sturdy, and robust footwear in the English Midlands for more than half a century.
After hearing about the wounded doctor Klaus Maertens from Munich, Germany, who invented an air-cushioned sole for his shoes while recovering from an injured foot 15 years before, the Griggs family opted to attempt their hand at a much comfier formation in 1960. The classic 1460 boot was founded, and it later became a brand symbol.
The Doc Martens boot brand, thanks to its inventive soles and premium leather tops, has endured decades and a lot of various trends while remaining famous. These boots were popular among everyone from rock music to hippies and everyone in between.
In the year 2000, the company faced financial difficulties and nearly lost everything. To make one last effort to try to save the business, Doc Martens Originals were reintroduced in 2007, and sales shot through the roof.
Numerous fashion designers also personalized the brand's 1460 boot. This not only saved the brand but also restored its former popularity.
Doc Martens vs. Solovair: What's the Difference?
Basically, boots are becoming increasingly popular, and many people consider wearing them with any outfit. As a result, boot sales are increasing, as is the need to fully comprehend boots in order to purchase a pair that works perfectly for you.
Dr. Martens and Solovair are two popular boot styles on most people's wish lists. A detailed comparison is provided below to help you understand the complexities of these boots.
Design
In terms of appearance, both boot styles are very comparable. The leather on the Solovair is shinier, but both models are produced of high gloss corrected grain leather. That is, it has been smoothed to remove the blurry, skin-like look of full-grain leather. Both Solovair and Dr. Martens have eight pairs of eyelets, tri stitching, a springy rubber sole, and mono sewing along with the eyelets and at the counter.
The Solovairs, on the other hand, has a possibly a bit stubbier look on the outside of the boot, and the stitching is substantially more subdued. Most men dislike the signature bright yellow stitching on Dr. Martens. As such, they prefer the Solovairs' more clear-headed stitching.
Others, however, believe that the yellow stitching is the entire point of wearing a boot like this. On each boot, the seam, like the outsole, plays a different role.
Leather
In fact, Doc Marten boots are extremely popular among the British working class. Dr. Martens' boots are made from a classic, soft leather that is recognized for its rigidity and sturdiness. A few Doc models are made with Nappa leather, which has a smooth texture and a sleek finish that differs from the normal soft leather.
Another type of leather used on most Dr. Martens boots is trademark lamper. Generally speaking, it is a type of coated leather that provides the boot with a gleaming appearance. It is not as stiff as other types of smooth leather, but it is strong enough. Nevertheless, you may want to perform maintenance procedures to keep its gleaming sheen.
Ajax, Antique Temperley, Arcadia, Brando, Buttero leather, Crazy Horse leather, Grizzly leather, Greasy leather, Quilon leather, Red Cambridge Vegan, Soft-T leather, Suede, and Virgin leather are some of the other common types of leather found on Dr. Martens boots. However, Dr. Martens doesn't say much about the source of their leather.
Solovair, on the flip side, comes in both matte and shiny, greasy leather, whereas the 1460s model has a moderate shine. The boots are also manufactured out of high leathers, the most popular of which is seamless rectified leather.
This special leather is made by separating full-grain leather, sanding the grain exterior to remove any shortcomings, and afterward applying a synthetic coating to make it sparkly. Because the leather is organic, it can be easily waterproofed and polished. Another common material used to make Solovair boots is patent leather. It is really similar to soft corrected leather, except that the finished layer is patented.
Solovair, just like Dr. Martens, uses a variety of leathers for their boots, including Gaucho leather, Greasy leather, Horween leather, Nubuck leather, Rub-off leather, and Suede leather.
Both leather types, generally speaking, are corrected grain, which means they are incredibly smooth and soft to touch, although this Solovair's leather is noticeably more sturdy. While Doc Martens have a far looser fiber structure, Solovair's leather is more genuine. Neither of these leather is a great boot leather. Having said that, Solovair is denser and less cheap looking. They will require a difficult break-in period, but it will be worth it in the long term.
Soles
The outsoles of Dr Martens are considered one of the most popular features. Dr. Marten (a doctor in the German Army during WWII) created the soles of his very first shoes out of abandoned German Air Force rubber. At first, these shoes were advertised as an answer to age-related foot pain. In particular, they are super soft and have excellent shock absorption, making them ideal for walking.
Polyurethane foam is used to make the insole, which molds to your feet after some time. A lot of people who wear Dr. Martens review no issues, but industrial workers and those who must be on their feet for extended periods of time claim that they do not prevent foot pain as well as more expensive boots.
Solovair boots, on the flip side, have air-cushioned soles manufactured with the same leather shears and machines that were used to make the first Dr. Martens boots. As such, they deliver an unmatched level of comfort and cushioning while walking for an extended period.
Sizing and Fit
Sizing for Dr. Martens' boots varies depending on the model and style. Basically, you should wear normal socks and then measure your feet from toe to heel to determine your correct shoe size. Notwithstanding, it is still best to go to the shop and try on the desired shoe style.
The fit and sizing of the Solovair boots are typically calculated using a particular guide. Accordingly, you wear regularly-worn socks, stand on a scrap of paper, and spot the length of your feet with a horizontal length. You may also want to add around 0.25 inches (7-8 mm) to the final length measurement for the best fit.
Which Brand Is The Best Value For Money?
When making comparisons between these two famous brands, I considered much of what I experienced, studied, and discovered on my own, as well as tons of reviews and comments from other buyers. Although I believe both brands are reputed and reliable, stylish, and premium boot companies, I might choose the Solovairs this time.
Even though Dr. Martens has a large inheritance and their boots are more elegant and, some might argue, comfier than Solovair, I still prefer the Solovair leather.
Solovair boots tend to be more expensive than Dr. Martens boots, but if you are going to spend a lot of money on a great pair of boots, it is completely worth it to spend an extra $50 or so to have a pair that will last you, at least, somewhat longer.
Another reason I believed Solovair was a better choice was because of the boots' soles. Quite a lot of customers complain that Dr. Martens' boots are difficult to resole, which is a drawback for the brand.
Both boots appear to run slightly larger than the average boot size, so double-check your feet size, perhaps by trying the boots on in a retail store, to ensure you buy the correct pair.
Dr Martens and Solovair both appear to have reasonably supportive insoles and comfortable midsoles, but a few buyers believe Dr. Martens will require insoles for additional arch support and comfort if you are on your feet for an extended period of time.
I genuinely think that both boot brands are among the best in the shoe industry and that buyers of all types have loads of options. The boots are made from high-quality materials by a few of the best professionals and designers in the industry.
The better boot, I actually think, is in the minds of the public. You will have a reliable boot brand providing protection for your feet regardless of which brand you pick.