Whales stand out as some of the biggest and most spectacular creatures that have ever graced our planet amid the astounding variety of gorgeous and awe-inspiring species that call the world's waters home. Their sheer size and weight are enough to leave anyone in awe, and the category of the heaviest whales showcases their incredible mass.
From the awe-inspiring blue whale, hailed as the largest creature ever known, to the enigmatic sperm whale, renowned for its immense size and captivating aura, these majestic leviathans surpass the limits of our imagination. Exploring the realm of the 20 most weighty whales on the planet, we embark on a quest to unveil the astonishing records held by these extraordinary denizens of the sea.
Join us as we explore the remarkable dimensions and scientific marvels of these behemoths of the deep, showcasing their incredible size and shedding light on their vital role in the delicate balance of our marine ecosystems.
1. Blue Whale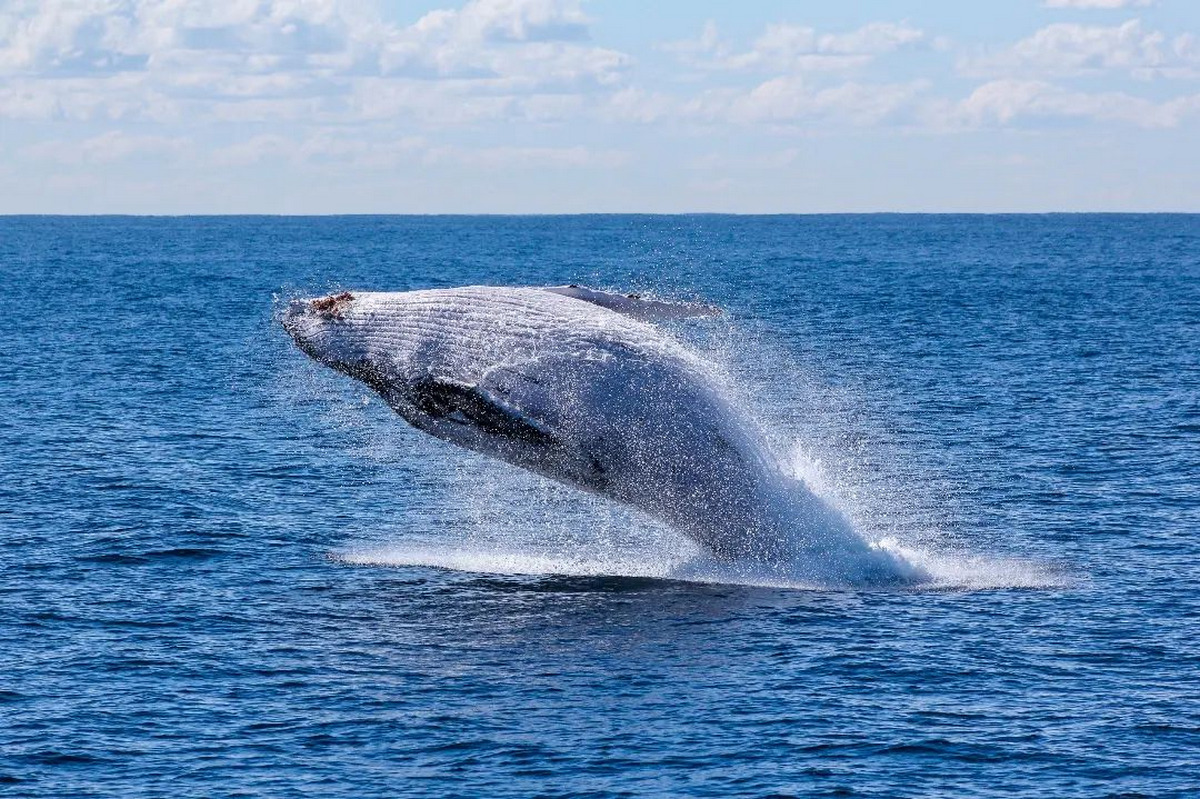 Blue Whale Via instagram
| | |
| --- | --- |
| Binomial Name | Balaenoptera musculus |
| Size | Up to 418,878 lbs |
| Life Span | 80 – 90 years |
| Diet | Krill, small fish |
The blue whale, the largest whale, and animal on Earth, measures up to 100 feet long and weighs over 410,000 pounds. Notably, the blue whale's tongue alone matches the weight of an elephant, while its heart rivals that of a typical automobile. Sadly, due to historical hunting practices, modern blue whales typically reach a maximum length of 75-80 feet.
This magnificent creature, with its slender body and bluish-grey shades, has been on the endangered species list since the 1960s, with an estimated population of only 5,000-12,000 worldwide. All oceans include blue whales, which typically swim at a pace of five mph but are capable of 20 mph. They eat an astounding four to eight tons of krill every day to maintain their enormous size.
2. North Atlantic Right Whale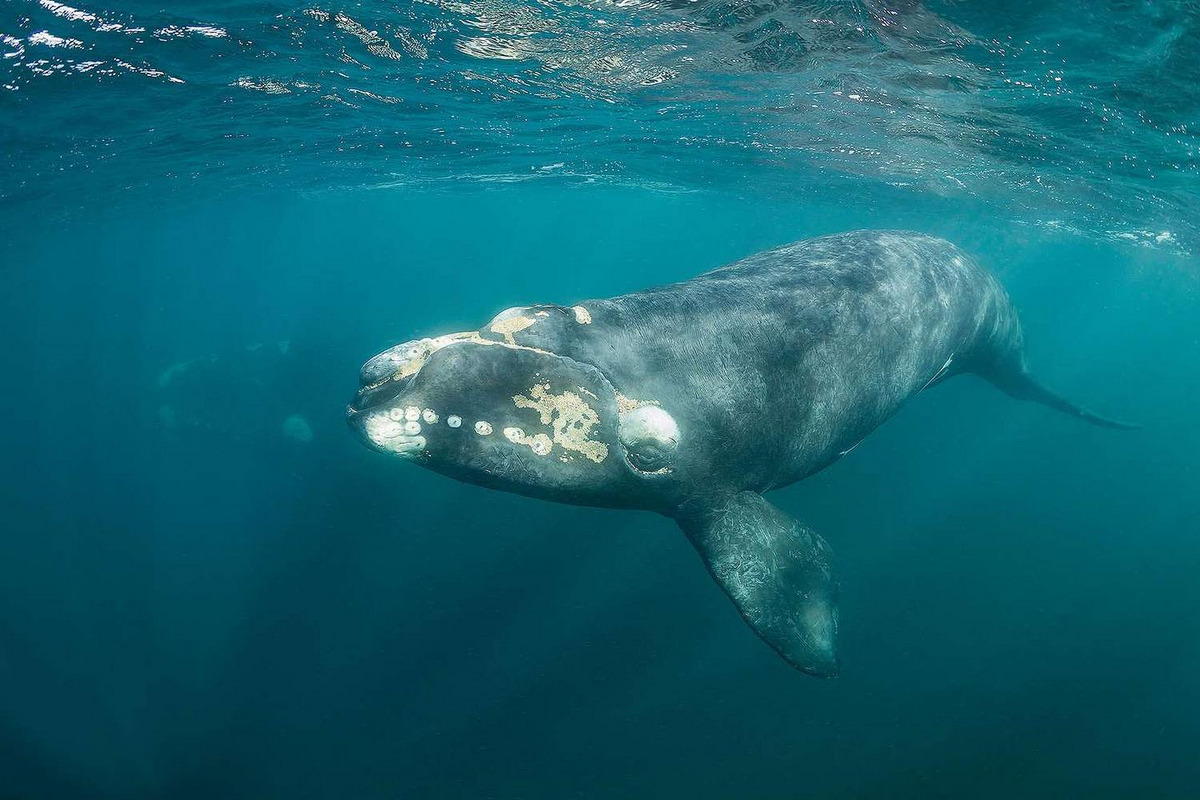 North Atlantic Right Whale Via instagram
| | |
| --- | --- |
| Binomial Name | Eubalaena glacialis |
| Size | Up to 233,690 lbs |
| Life Span | Up to 80 years |
| Diet | copepods (tiny crustaceans) |
The North Atlantic right whale exhibits impressive recorded weights, with some individuals reaching up to 230,000 pounds. As the largest among the three subspecies of right whales, North Atlantic right whales generally display adult weights ranging from 80,000 to 150,000 pounds. With only about 400 individuals left in the world, the North Atlantic right whale is regrettably one of the most severely threatened whale species.
These magnificent creatures are easily identifiable by the distinctive white callouses adorning their heads. Their habitat spans from the southern coast of the United States to the New England region, extending all the way to the western coasts of Europe.
3. Bowhead Whale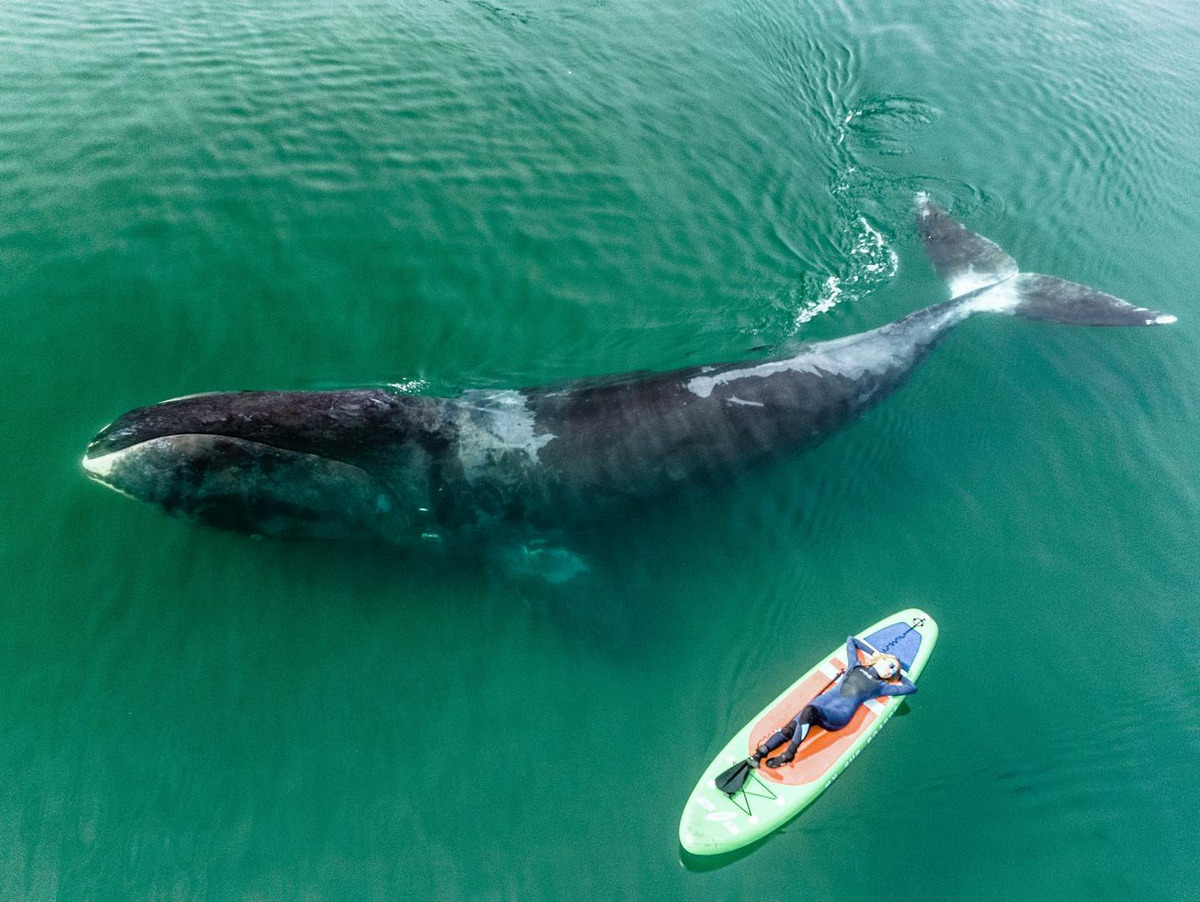 Bowhead Whale Via instagram
| | |
| --- | --- |
| Binomial Name | Balaena mysticetus |
| Size | Up to 220,462 lbs |
| Life Span | 200 years |
| Diet | zooplanktoothern, krill, copepods, mysids, amphipods, and many crustaceans |
The bowhead whale thrives in the frigid northernmost arctic oceans, displaying remarkable adaptations to its native habitat's extreme cold. One notable feature is the presence of extensive blubber layers, measuring up to 2 feet thick in certain regions of their bodies, which significantly contributes to their substantial mass.
Remarkably, the largest recorded bowhead whales have been documented weighing up to an impressive 220,000 pounds. Regrettably, the bowhead whale population has suffered greatly due to historical whaling practices, and currently, three of its subspecies find themselves listed as endangered. These magnificent creatures predominantly inhabit the waters of the Arctic and sub-arctic oceans, demonstrating their strong preference for these regions.
4. Northern Pacific Right Whales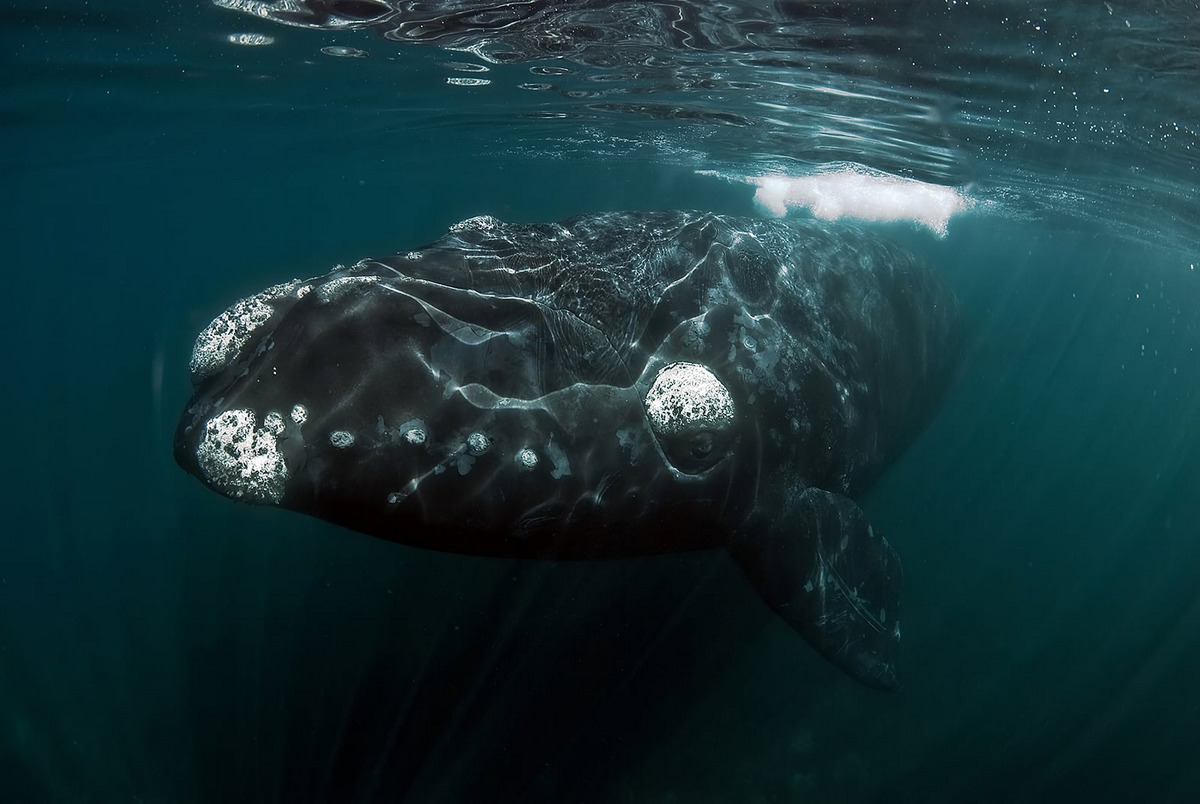 Northern Pacific Right Whales via Save-whales
| | |
| --- | --- |
| Binomial Name | Eubalaena japonica |
| Size | Up to 176,370 lbs |
| Life Span | Up to 100 years |
| Diet | zooplankton, including copepods, euphausiids, and cyprids |
The North Pacific right whale is a significant example of a baleen whale, distinguished by its possession of baleen plates utilized for filtering food from water instead of having teeth. Females of this species surpass males in size, reaching a maximum length of 55 feet. Notably, the North Pacific right whale showcases a remarkably sizable head, accounting for approximately one-quarter of its total body length, featuring distinctly arched jaws.
This species exhibits a broad physique, devoid of a dorsal fin, and primarily displays a black hue accompanied by sporadic white patches on its ventral side. Presently, two distinct populations, or stocks, of North Pacific right whales are acknowledged: one inhabiting the western North Pacific, near Russia, and the other dwelling in the eastern North Pacific, near Alaska.
5. Southern Right Whales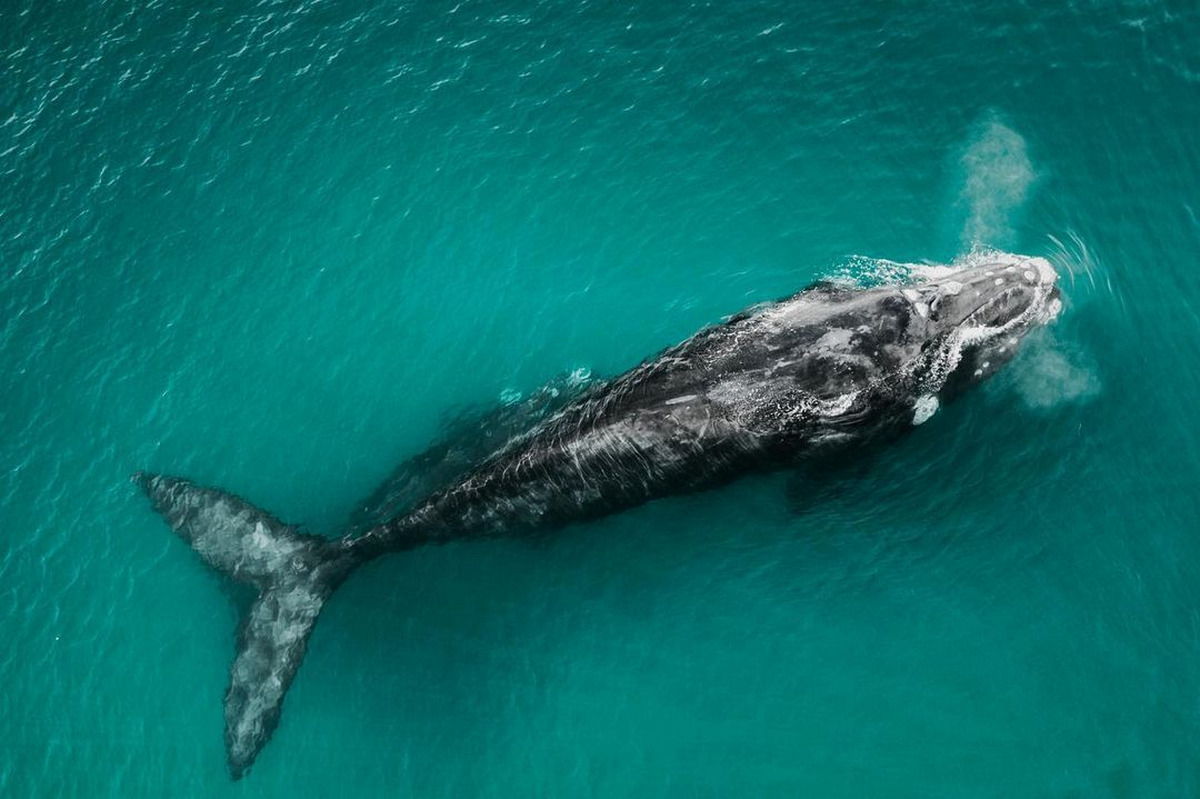 Southern Right Whales Via instagram
| | |
| --- | --- |
| Binomial Name | Eubalaena australis |
| Size | Up to 176,370 lbs |
| Life Span | Up to 80 years |
| Diet | copepods, krill, mysids and plankton |
The Southern right whale possesses a robust, ebony physique, often displaying distinct white patches on its belly and chin, complemented by a substantial head adorned with callosities. These whales lack a dorsal fin but boast wide, paddle-shaped flippers. Their enormous size spans from 43 to 56 feet in length, and they can support up to 176,000 pounds of weight.
Spanning a vast expanse, southern right whales can be found across the Southern Hemisphere, occupying regions between approximately 20 degrees South and 65 degrees South. In adherence to a seasonal migration pattern, these whales journey between their high-latitude feeding areas during the Austral summer and their low-latitude breeding grounds in the Austral winter.
6. Fin Whale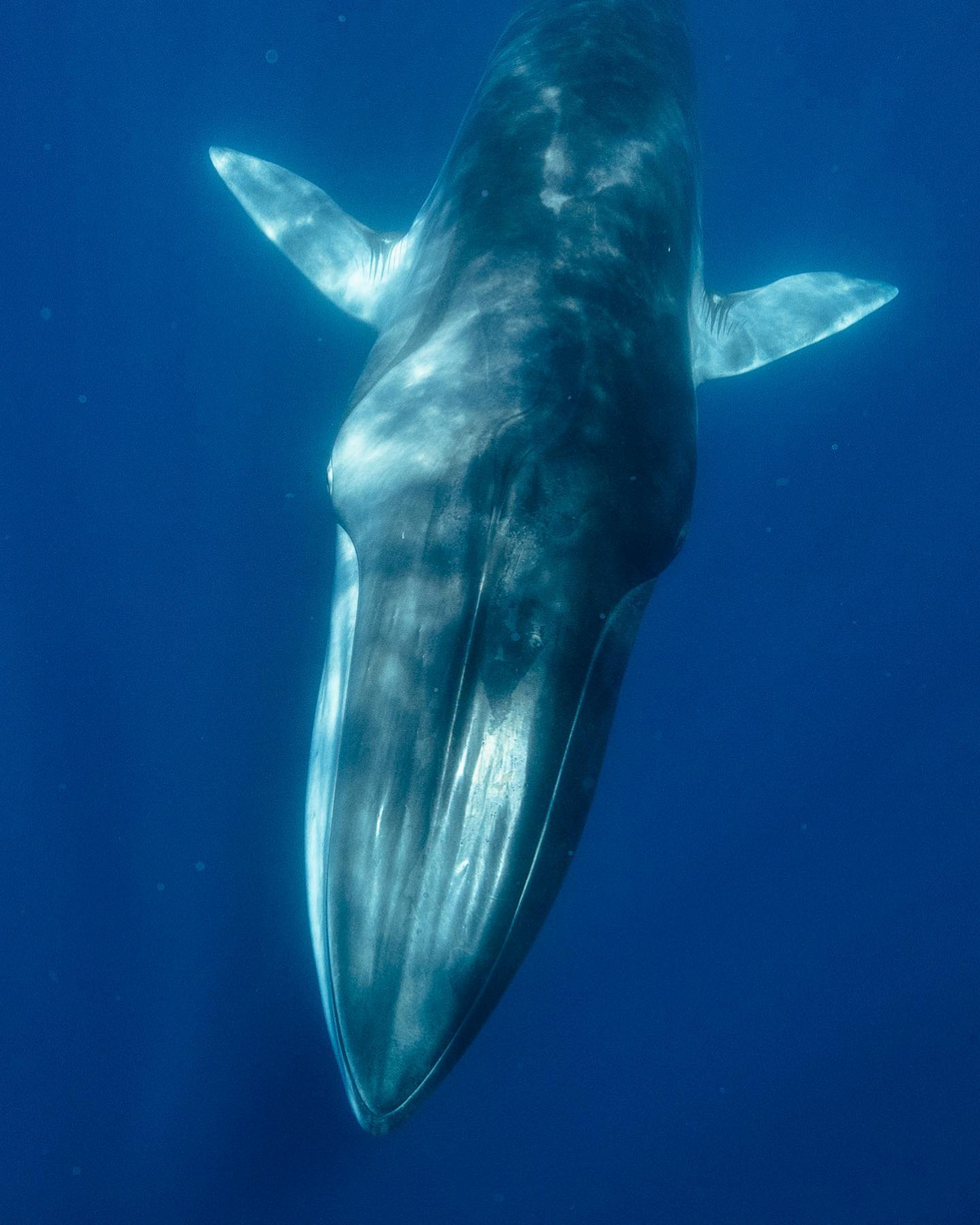 Fin Whale Via instagram
| | |
| --- | --- |
| Binomial Name | Balaenoptera physalus |
| Size | Up to 163,142 lbs |
| Life Span | Up to 90 years |
| Diet | krill, small schooling fish (including herring, capelin, and sand lance), and squid |
The Fin whale, averaging a weight of 100,000 pounds, ranks among the largest whale species, second only to the blue whale. Notably, individuals of this species have been recorded to reach weights of approximately 163,000 pounds.
Fin whales exhibit a preference for the expansive offshore regions found in all the major oceans. Their migratory patterns span from the Arctic to the Antarctic waters, encompassing various temperate and tropical areas which serve as their breeding grounds. Remarkably, Fin whales have been observed engaging in reproductive activities with their immense counterparts, the blue whales, leading to documented instances of hybrid species.
7. Sperm Whale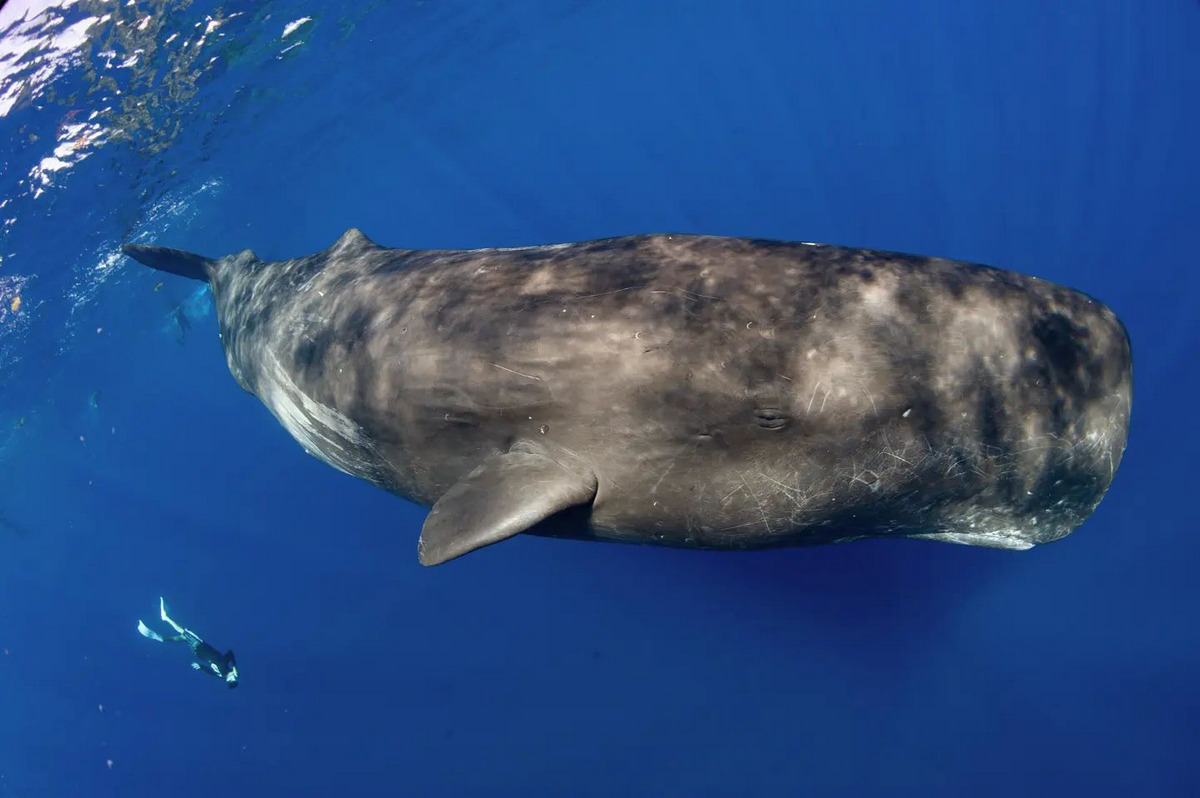 Sperm Whale Via instagram
| | |
| --- | --- |
| Binomial Name | Physeter macrocephalus |
| Size | Up to 126,663 lbs |
| Life Span | 70 years |
| Diet | squid, sharks, skates and fish |
The sperm whale, renowned as the largest among toothed whales, possesses the unique adaptability to thrive across various marine habitats, allowing its presence to span oceans worldwide. The female population exhibits a social inclination characterized by cohesive group dynamics, while their male counterparts adopt a solitary existence, venturing out in search of mating opportunities.
Notably, the sperm whale achieves an impressive average length of 67 feet (20.5 meters) and can weigh up to 126,000 pounds in the case of males. It is worth considering, however, that the impact of historical whaling practices might have resulted in the diminished overall size of these magnificent creatures, as hunters in bygone eras specifically targeted the largest individuals.
8. Humpback Whale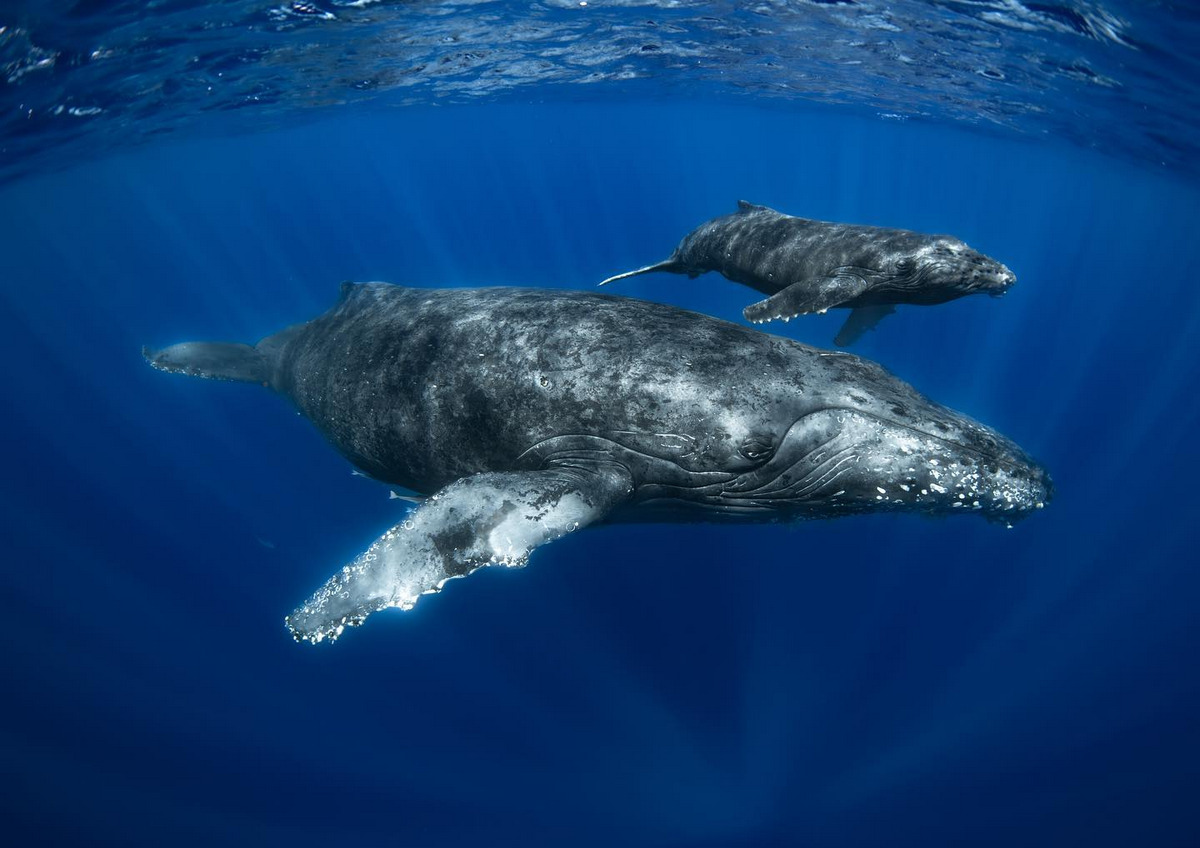 Humpback Whale Via instagram
| | |
| --- | --- |
| Binomial Name | Megaptera novaeangliae |
| Size | Up to 88,184 lbs |
| Life Span | 80 – 90 years |
| Diet | small crustaceans (mostly krill) and small fish |
The humpback whale is renowned for its unmistakable characteristics, distinguishing it as a prominent species among whales. Notably, its distinctive head shape and elongated pectoral fins render it easily recognizable. Furthermore, humpback whales exhibit a propensity for breaching that surpasses that of most other species, and they frequently linger at the water's surface. Consequently, they present an excellent opportunity for observation and photography above the waterline.
As migratory creatures, humpback whales engage in winter birthing and rely on their extensive fat reserves during their arduous journey. This task is facilitated by their impressive maturity weight, which can exceed an astonishing 88,000 pounds.
9. Sei Whale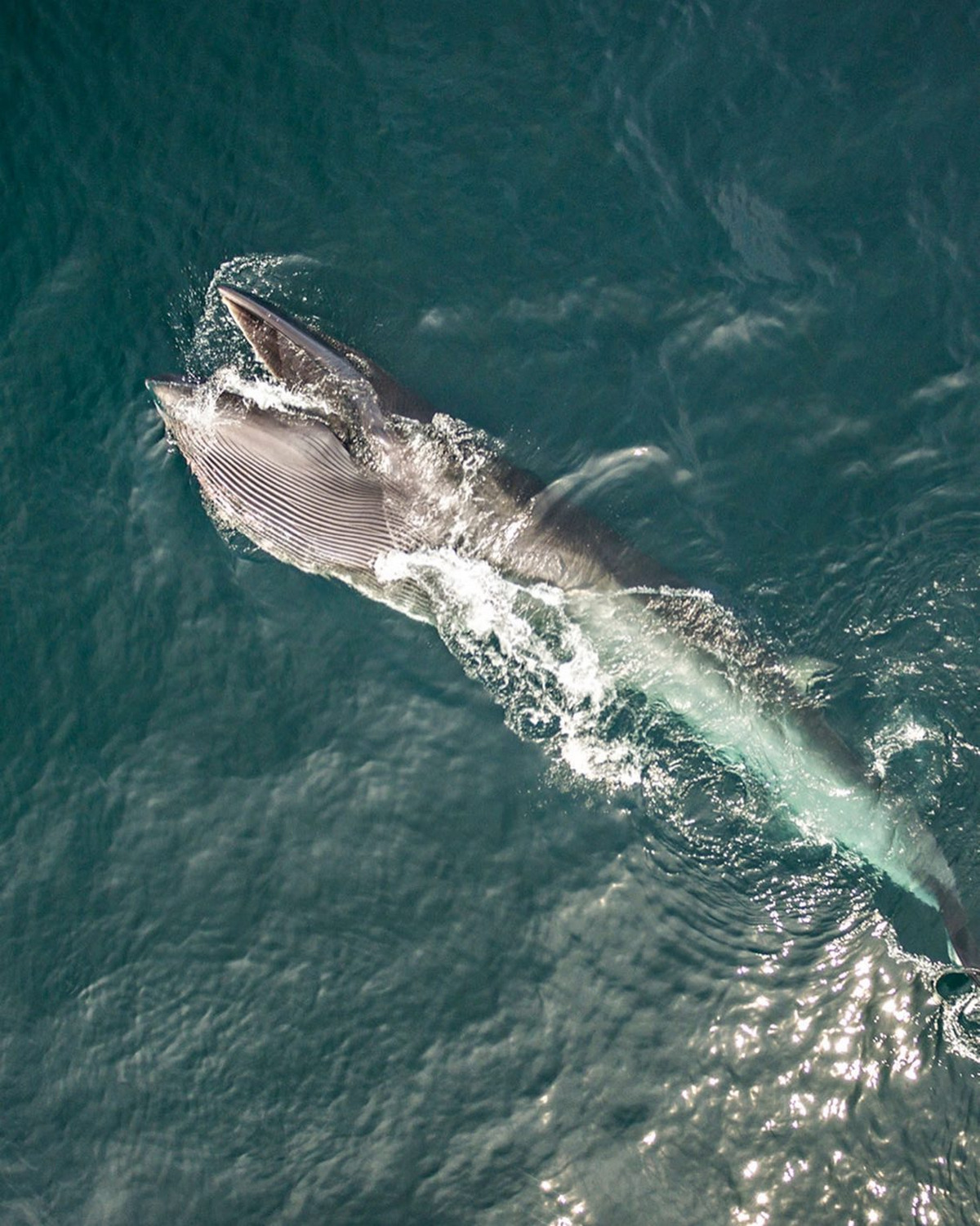 Sei Whale Via instagram
| | |
| --- | --- |
| Binomial Name | Balaenoptera borealis |
| Size | Up to 83,225 lbs |
| Life Span | Up to 60 years |
| Diet | plankton (including copepods and krill), small schooling fish, and cephalopods (including squid) |
The sei whale, a majestic species, exhibits a preference for deep, offshore waters and can be found dwelling in numerous oceans and adjoining seas across the globe. In terms of size, the largest recorded weight attributed to the sei whale is approximately 83,000 pounds. However, their average weight range typically spans between 24,000 and 34,000 pounds.
As baleen whales, sei whales rely on krill and various zooplankton to sustain themselves. While it remains classified as an endangered species, the outlook for the sei whale has significantly improved due to the implementation of global restrictions on whaling operations.
10. Gray Whale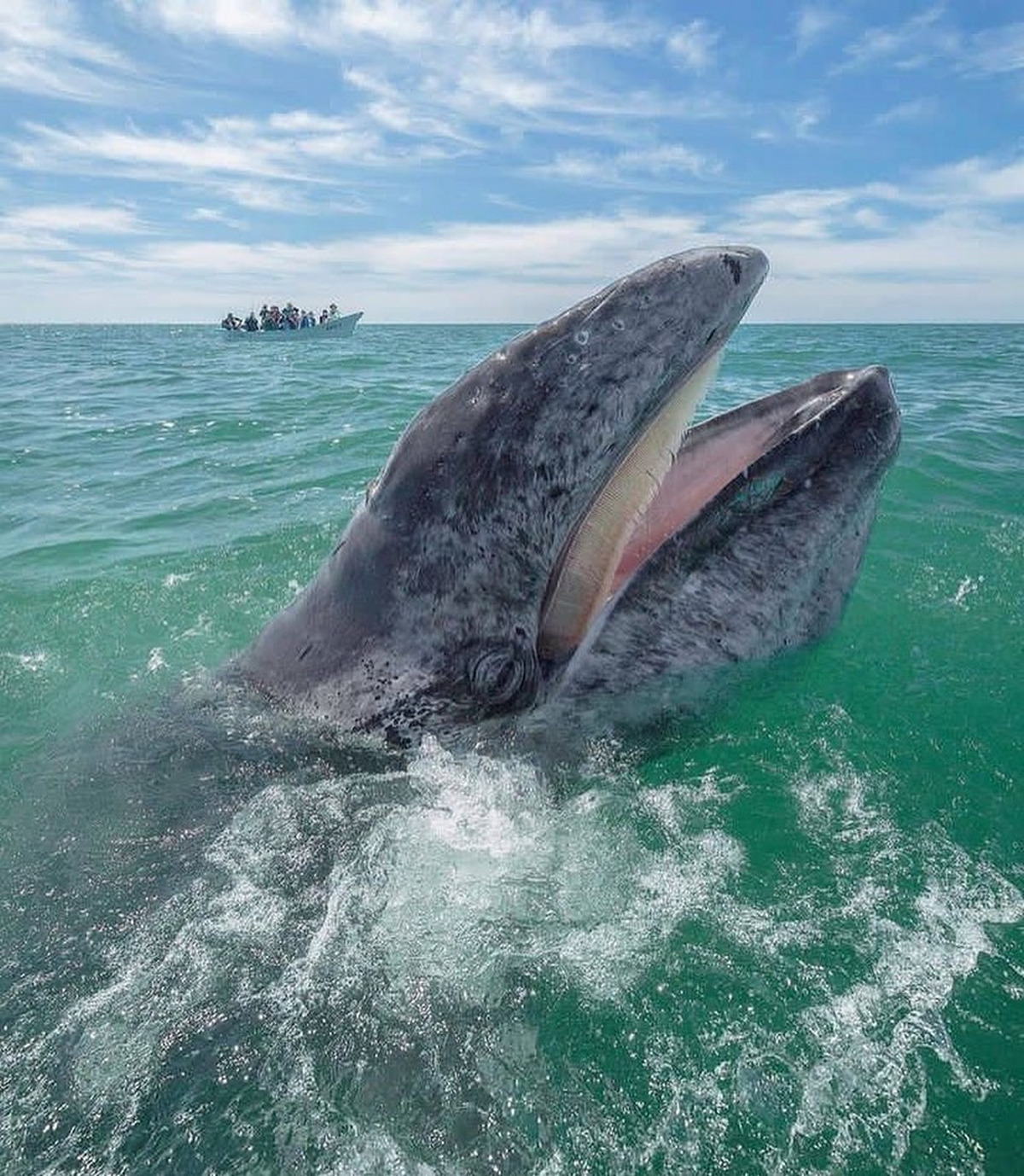 Gray Whale Via instagram
| | |
| --- | --- |
| Binomial Name | Eschrichtius robustus |
| Size | Up to 79,366 lbs |
| Life Span | 50 – 60 years |
| Diet | amphipod crustaceans |
Gray whales, aptly named for their distinctively speckled gray physique, possess diminutive eyes positioned above the corners of their oral cavity. Their pectoral flippers, characterized by their paddle-shaped and broad structure, facilitate seamless navigation in the vast expanses of the deep ocean.
Primarily sustenance for gray whales comes from amphipod crustaceans. During the summer months, these majestic creatures engage in feeding activities within the northern Bering and Chukchi seas. Additionally, certain populations can be found along the Pacific coast, partaking in summer feeding rituals in the waters of Southeast Alaska, Oregon, Washington, British Columbia, and northern California.
11. Bryde's Whale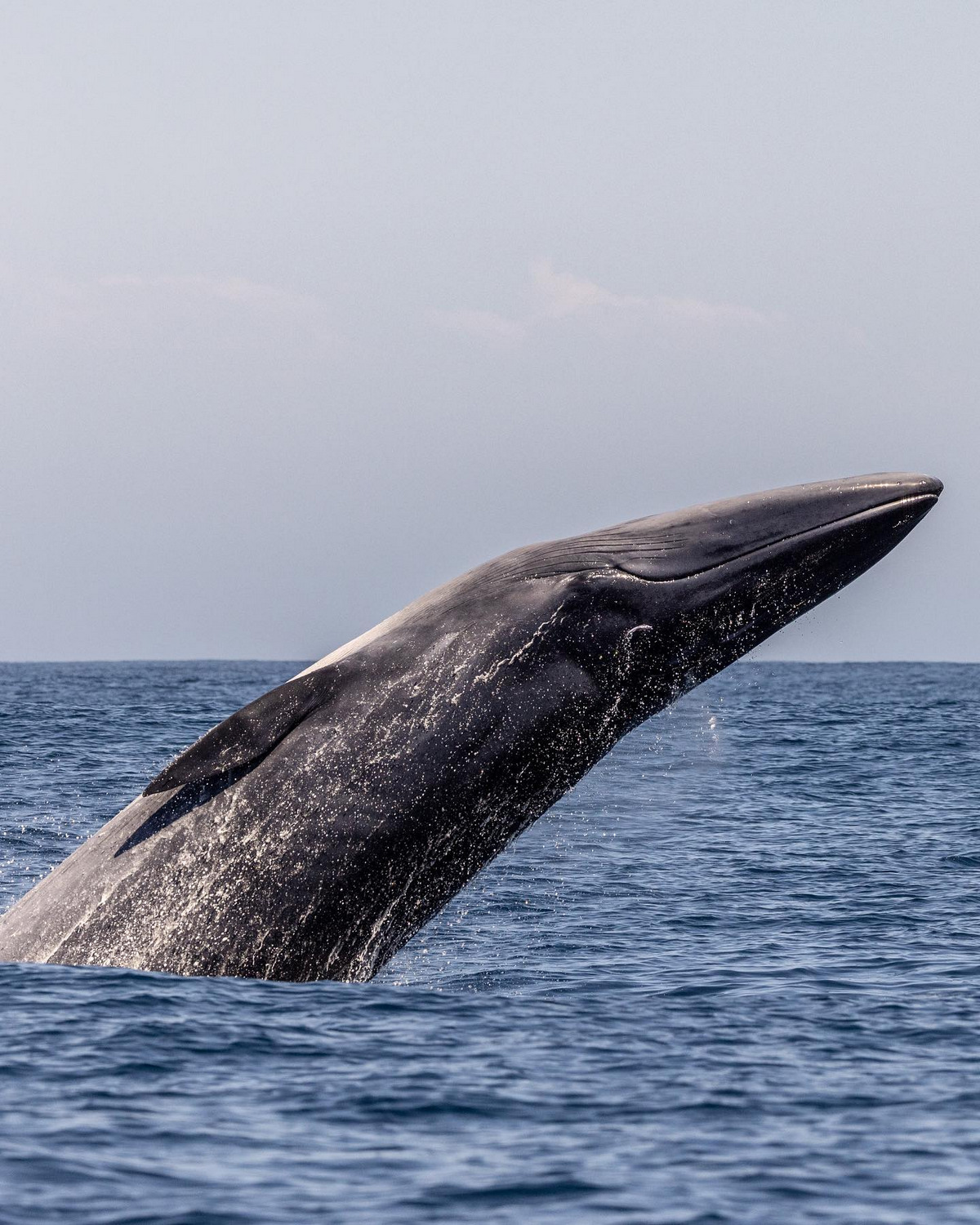 Bryde's Whale Via instagram
| | |
| --- | --- |
| Binomial Name | Balaenoptera brydei |
| Size | Up to 55,116 lbs |
| Life Span | 50 – 70 years |
| Diet | krill, copepods, red crabs, shrimp |
The Bryde's whale complex comprises two to three species of rorquals currently undergoing ongoing research and classification. Rorqual is a term used to classify the larger species of baleen whales. The predominant Bryde's whale species can be found in the warmer tropical waters across the world's oceans. These whales primarily feed on anchovies, often leading to confusion with the sei whale, which also inhabits the same region.
The highest recorded weight for a Bryde's whale is 56,000 pounds, while their average weights range between 26,000 and 55,000 pounds. Remarkably, Bryde's whales are among the few species of whales that are not currently endangered, earning them a place on the "not concerned" list.
12. Baird's Beaked Whale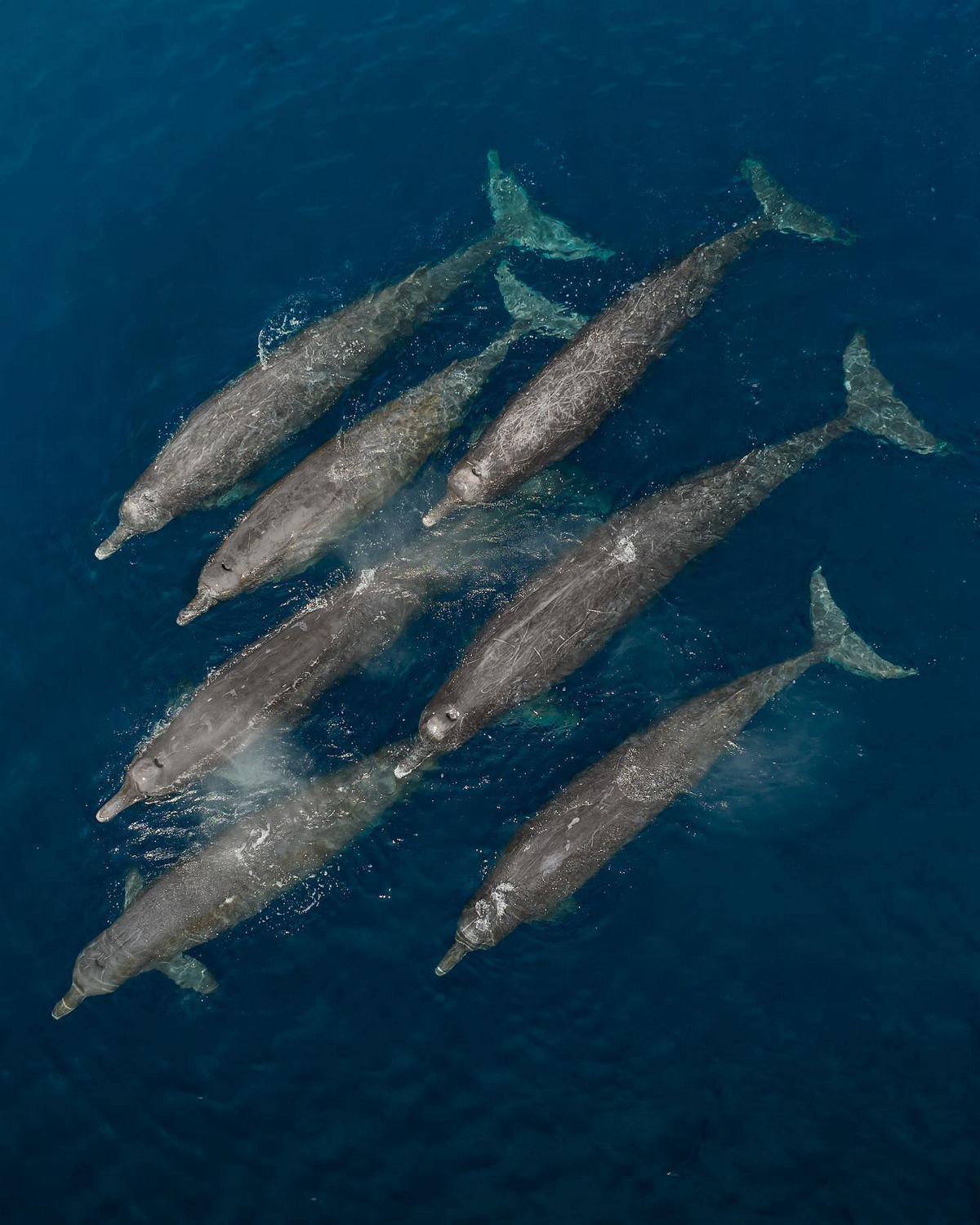 Baird's Beaked Whale Via instagram
| | |
| --- | --- |
| Binomial Name | Berardius bairdii |
| Size | Up to 30,865 lbs |
| Life Span | 84 years |
| Diet | squid, skates, ratfish, rockfish, and octopus, as well as pelagic fishes such as mackerel and sardines |
Baird's beaked whales, belonging to the Ziphiidae family, stand as the largest members within the beaked whale category. The females exhibit an impressive length of approximately 36 feet, while the males are slightly smaller, measuring around 35 feet. These majestic creatures reach adulthood with the potential to weigh up to a remarkable 30,865 pounds.
Distinguishing between different beaked whale species can prove challenging due to their similar appearances. This difficulty is further compounded by their relatively modest body sizes, elusive and timid nature, and inconspicuous blows. The elusive nature of beaked whales in the wild often leads to generalizations about the entire genus without specific identification details.
13. Arnoux's Beaked Whale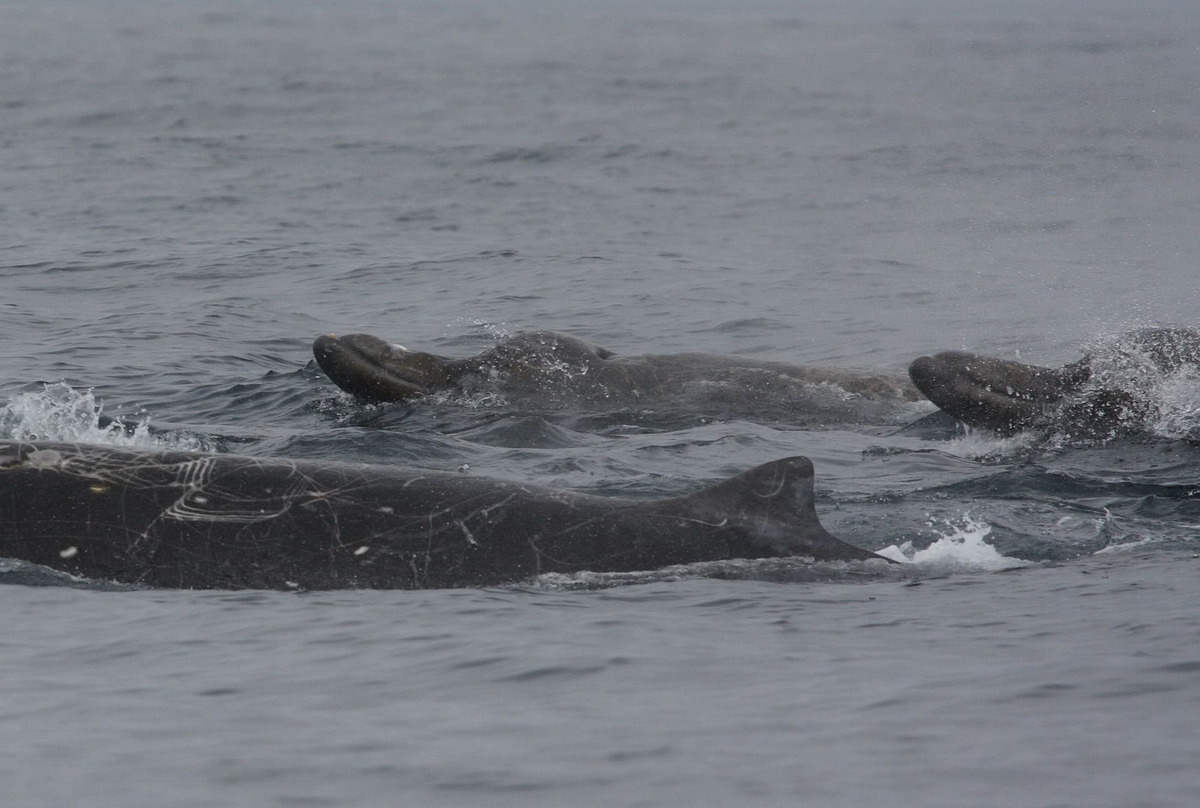 Arnoux's Beaked Whale via Whales.org
'https://us.whales.org/whales-dolphins/species-guide/arnouxs-beaked-whale/
| | |
| --- | --- |
| Binomial Name | Berardius arnuxii |
| Size | Up to 30,865 lbs |
| Life Span | Up to 84 years |
| Diet | squid, skates, ratfish, rockfish, and octopus, as well as pelagic fishes such as mackerel and sardines |
Arnoux's beaked whales exhibit remarkable characteristics that distinguish them in the marine world. With an impressive length of approximately 32 feet, these whales possess a distinctive dolphin-like beak and a prominent forehead. Notably, an intriguing and somewhat endearing trait of Arnoux's beaked whales is the presence of two sets of front teeth in their lower jaw.
While predominantly dark in color, the males of this species may display a mottled appearance due to white scars, which are evident reminders of past encounters with other males. Additionally, Arnoux's beaked whales can exhibit brown or orange shading on their bodies. This coloration arises from the temporary presence of microscopic algae, commonly known as diatoms, that coat their bodies.
14. Southern Minke Whale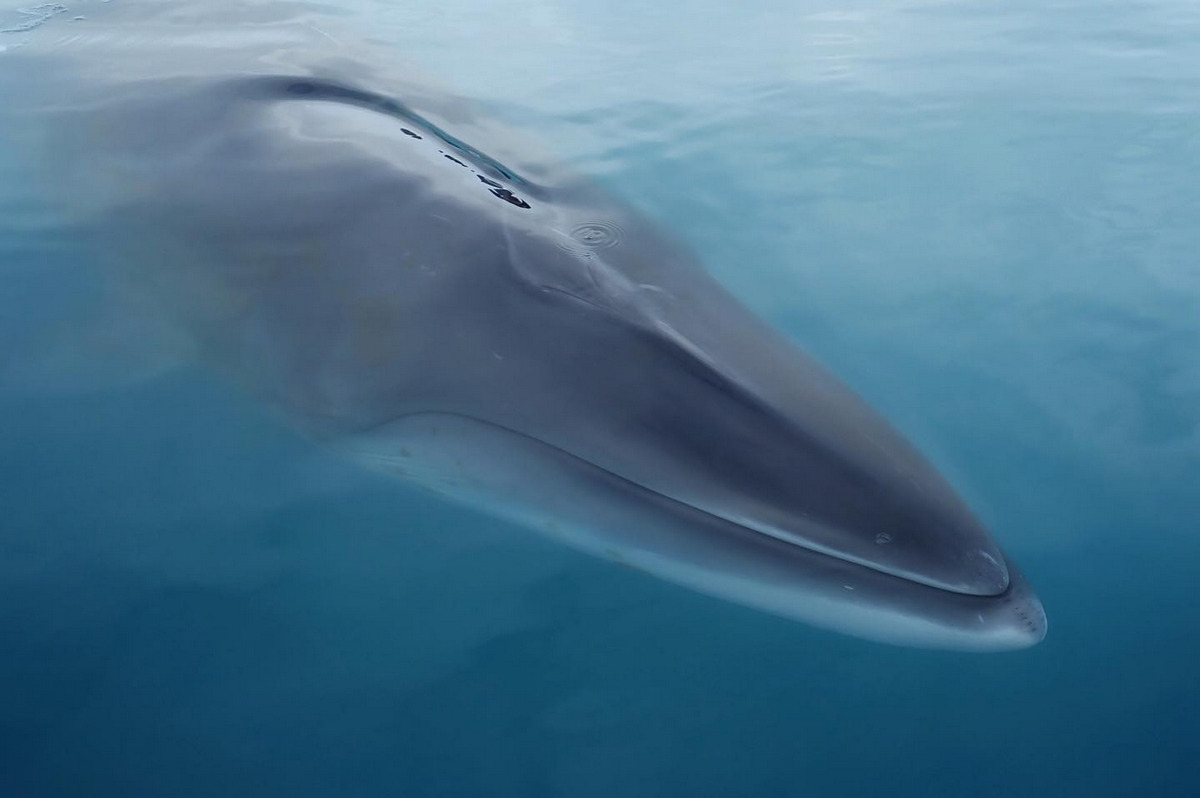 Southern Minke Whale Via instagram
| | |
| --- | --- |
| Binomial Name | Balaenoptera bonaerensis |
| Size | Up to 418,878 lbs |
| Life Span | Up to 50 years |
| Diet | crustaceans, plankton, small schooling fish |
Elegant and agile, Southern minke whales are exquisitely adapted to their natural habitat. Their sleek bodies facilitate effortless navigation through the water, while their elongated flippers grant them exceptional maneuverability. Possessing a dark hue ranging from black to deep brown, these whales exhibit captivating pale bellies.
Distinguishing themselves from common minke whales, which bear distinct white markings on their flippers, Antarctic minke whales boast an unadorned appearance. Despite belonging to the same rorqual family as the colossal blue whales, renowned as the largest creatures on Earth, Southern minke whales appear diminutive in comparison, seldom exceeding 10 meters in length and weighing approximately 22,900 pounds.
15. Orca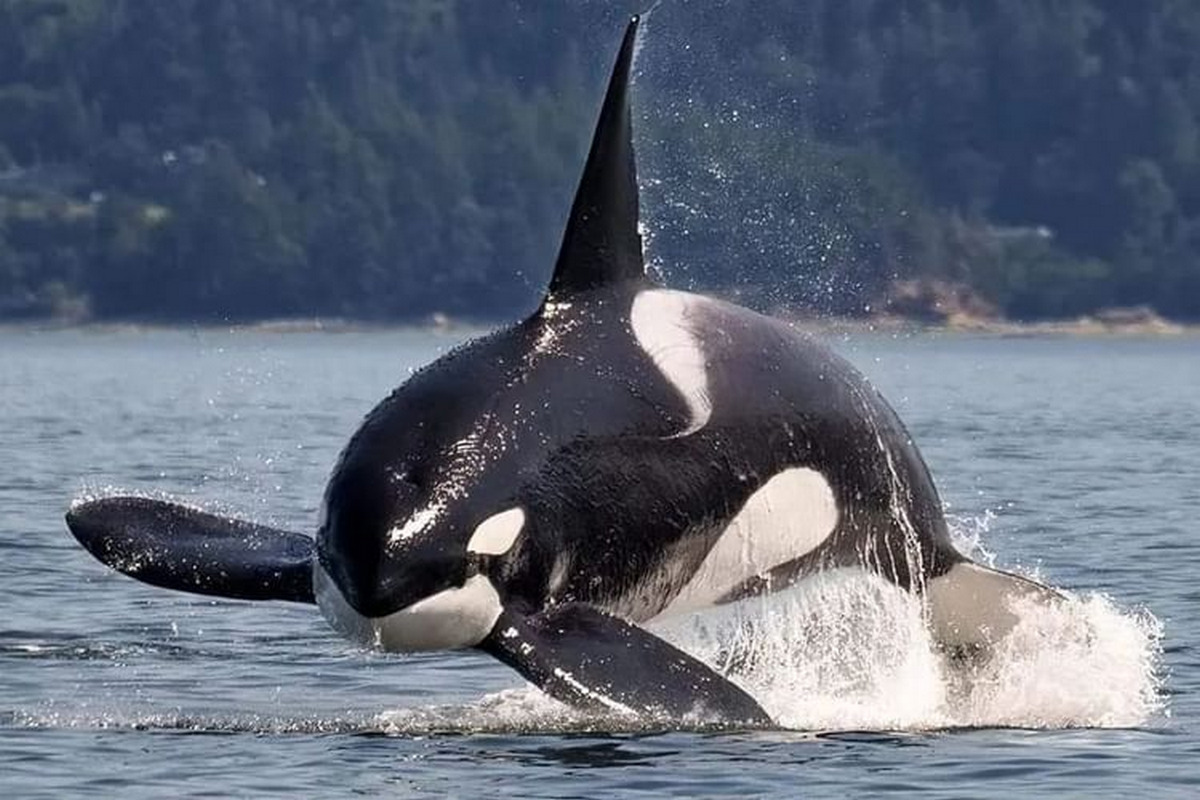 Orca Via instagram
| | |
| --- | --- |
| Binomial Name | Orcinus orca |
| Size | Up to 22,046 lbs |
| Life Span | 50 – 90 years |
| Diet | schooling fish, minke whales, seals, stingrays, and sharks |
The Killer Whale, scientifically known as Orcas. Classified as toothed whales, these magnificent creatures inhabit diverse marine environments, spanning from the Arctic to the Antarctic regions. Renowned for their remarkable sociability, Orcas exhibit pack-hunting behavior reminiscent of wolves. Their diet primarily consists of seals, penguins, smaller whale species, calves, Chinook salmon, dolphins, rays, and smaller shark species.
As apex predators, Orcas possess highly developed senses of hearing and smell. They rely on echolocation and demonstrate a wide range of vocalizations for communication purposes. These fascinating marine mammals can reach lengths of up to 26 feet, with females generally being slightly smaller and weighing approximately 22,000 pounds.
16. Common Minke Whale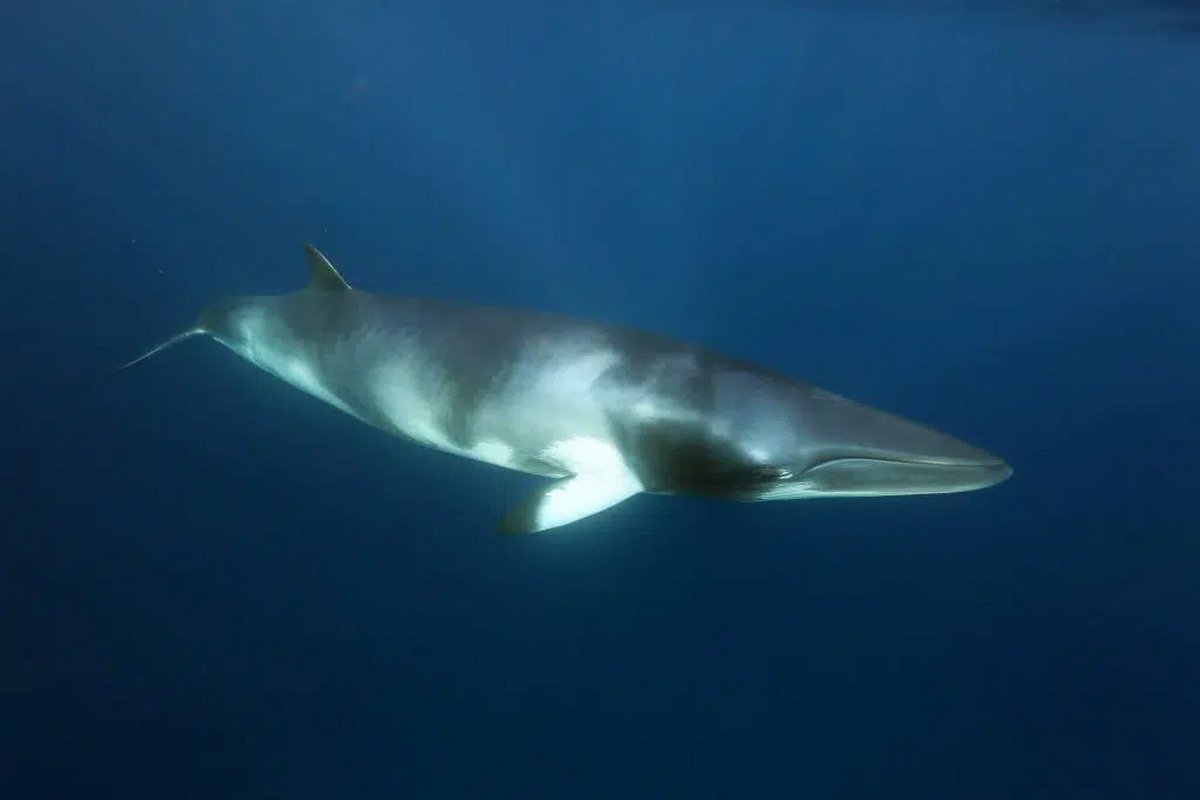 Common Minke Whale via Whales.org
| | |
| --- | --- |
| Binomial Name | Balaenoptera acutorostrata |
| Size | Up to 18,409 lbs |
| Life Span | Up to 50 years |
| Diet | crustaceans, plankton, and small schooling fish |
The common minke whale, renowned as the smallest among baleen whales, typically attains a length of approximately 29 feet. Distinguished by their streamlined and lustrous physique, these whales display a captivating array of colors, including shades of black, dark brown, and grey, accentuated by a contrasting lighter underbelly that gleams gracefully beneath the water's surface.
With their elongated and tapered snouts, complemented by straight mouths that bestow an endearing semblance of a frown, these majestic creatures possess a distinctive characteristic atop their flat and ridged heads—namely, a pair of blowholes. What truly sets the northern hemisphere's minke whales apart from their southern counterparts, however, are the captivating white "armbands" encircling their flippers, which serve as a captivating testament to their uniqueness.
17. Northern Bottlenose Whales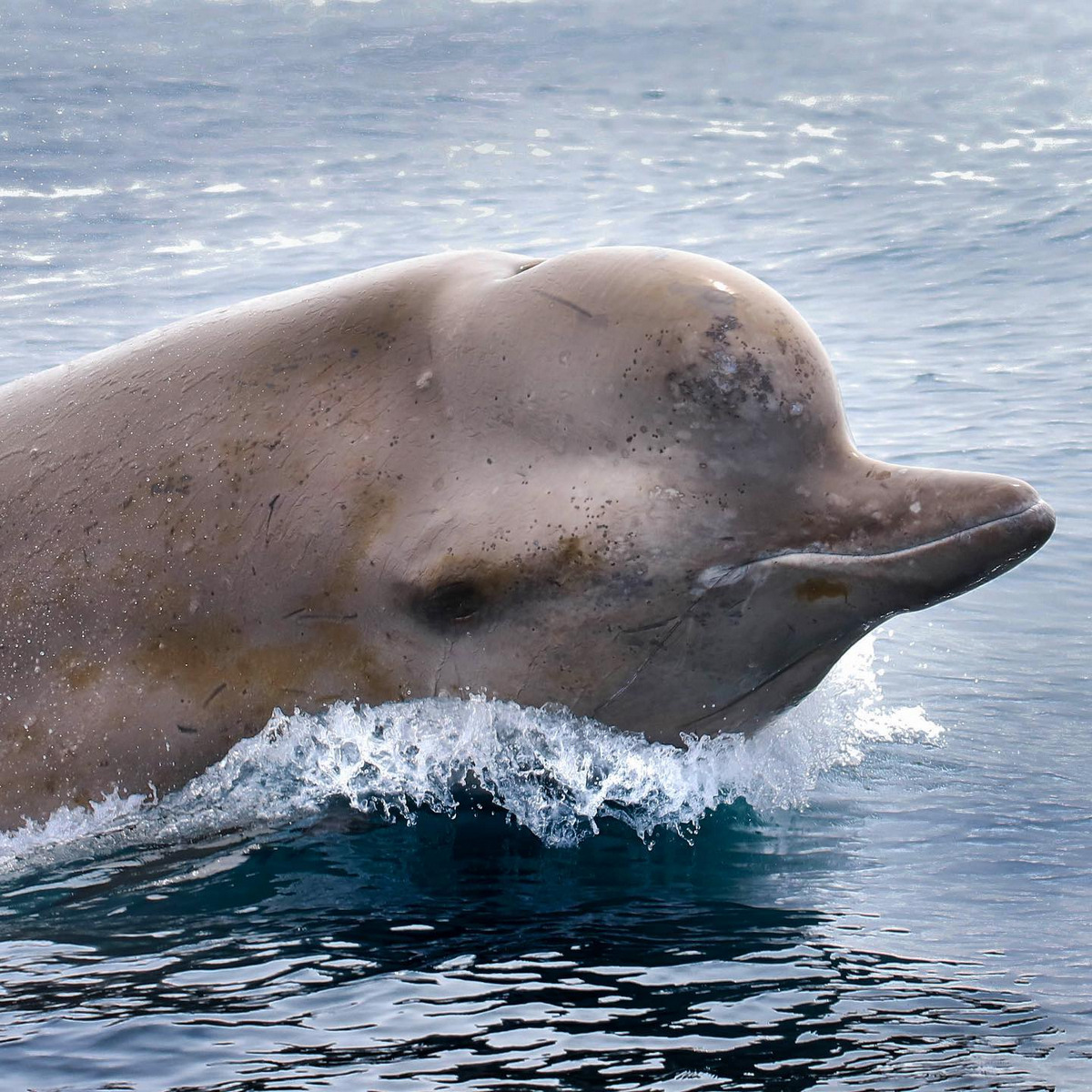 Northern Bottlenose Whales Via instagram
| | |
| --- | --- |
| Binomial Name | Hyperoodon ampullatus |
| Size | Up to 16,535 lbs |
| Life Span | Up to 37 years |
| Diet | fish and invertebrates |
The Northern Bottlenose whale, a member of the Ziphiid family (beaked whales), is renowned for its profound affinity with the deep-sea environment. Notably recognized as one of the most adept divers among mammals, this species boasts an exceptional capacity for deep-sea exploration.
As its nomenclature implies, the Northern Bottlenose Whale predominantly inhabits the North Atlantic Ocean, where it thrives in depths exceeding 500 meters below the ocean's surface. This remarkable adaptation to the deep-sea ecosystem has shaped its dietary preferences, primarily consisting of deep-sea squids. Additionally, the Northern Bottlenose Whale sustains itself by consuming redfish, skates, and dogfish that inhabit these oceanic depths.
18. Southern Bottlenose Whales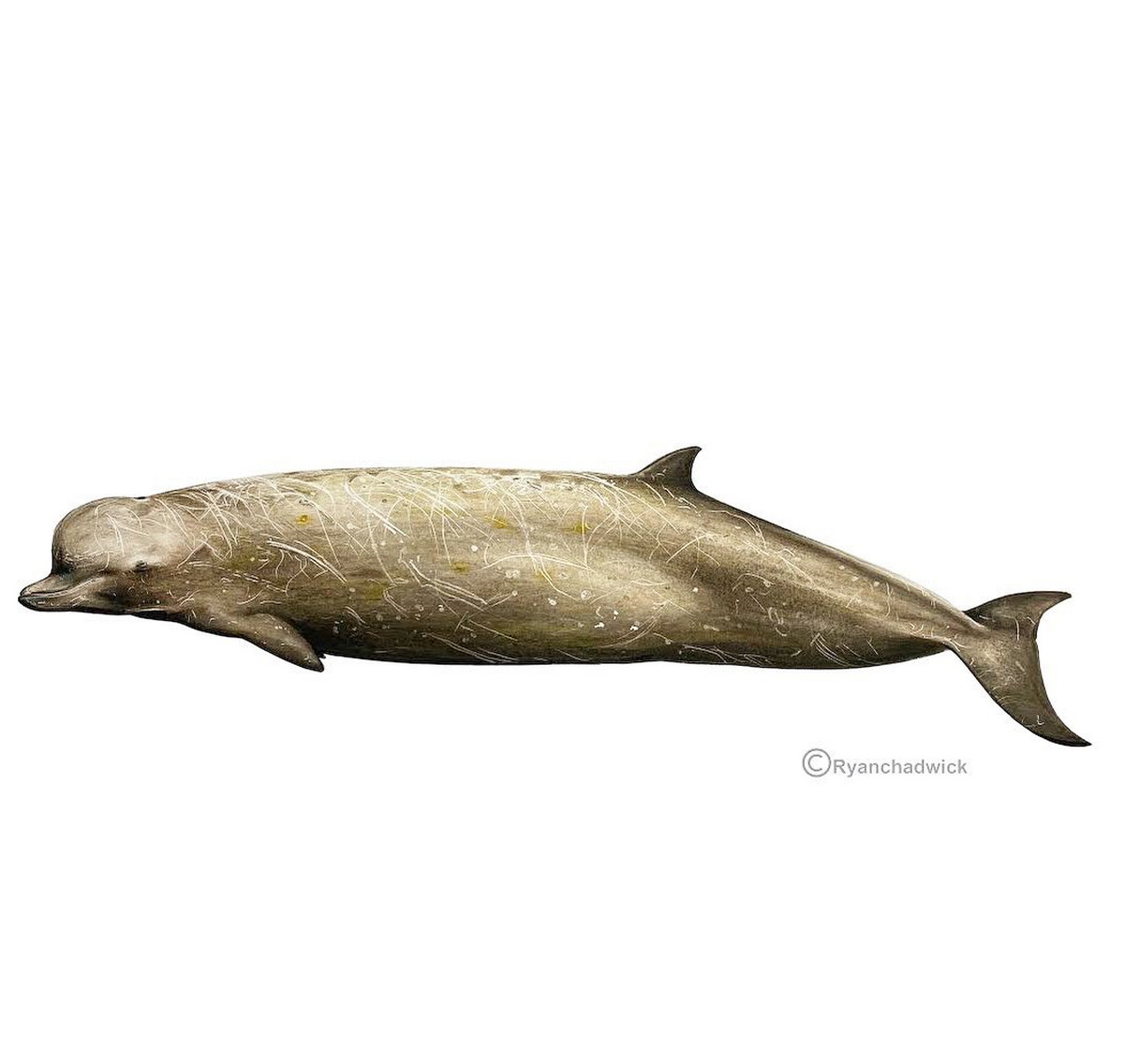 Southern Bottlenose Whales Via instagram
| | |
| --- | --- |
| Binomial Name | Hyperoodon planifrons |
| Size | Up to 13,228 lbs |
| Life Span | Up to 50 years |
| Diet | squid and some deep-water fish species like Patagonian tooth-fish. |
The Southern bottlenose whale is a robust and sizable beaked whale characterized by a prominent bulbous melon, which notably increases in size as males mature. The forehead exhibits a steep incline, while the beak, although compact, possesses distinct features resembling that of various dolphin species.
The body showcases a pale tan or olive brown hue, often bearing extensive scarring, particularly among older males. The belly and flanks have whitish markings that are probably the remains of scars from confrontations with cookie-cutter sharks. Additionally, the southern bottlenose whale's head, face, and belly exhibit a paler cream coloration. Generally, females have a darker complexion and a smaller, less pronounced melon.
19. Tropical Bottlenose Whales

Tropical Bottlenose Whales via Whaleopedia.org
| | |
| --- | --- |
| Binomial Name | Indopacetus pacificus |
| Size | Up to 8818 lbs |
| Life Span | Up to 37 year |
| Diet | squid and fish |
The Indo-Pacific beaked whale, sometimes called the tropical bottlenose whale or Longman's beaked whale, was formerly thought to be the rarest cetacean in the world. However, this distinction has now been surpassed by the spade-toothed whale. Longman's beaked whales exhibit resemblances to both mesoplodont beaked whales and bottlenose whales, resulting in significant taxonomic confusion.
Juvenile specimens display a short beak akin to bottlenose whales, while the observed adult females possess elongated beaks that slope gently, leading to a barely noticeable melon organ. Furthermore, the dorsal fins of adult individuals appear unusually large and triangular for beaked whales, in contrast to the relatively small and swept-back dorsal fins observed in juveniles.
20. Pygmy Right Whale
Pygmy Right Whale via Ourmarinespecies
| | |
| --- | --- |
| Binomial Name | Caperea marginata |
| Size | Up to 7,716 lbs |
| Life Span | Up to 70 years |
| Diet | copepods, euphausiidae |
Pygmy right whales exhibit distinctive characteristics, such as their compact and ridged heads, which are further emphasized by their well-defined jawlines. As these whales mature, their jawlines become increasingly pronounced. Being filter-feeding mammals, pygmy right whales possess ivory-colored baleen, comprising approximately 213 to 230 plates on each side.
Unlike their larger counterparts, pygmy right whales possess sleek bodies and a small, curved dorsal fin resembling a sickle. Their flippers are slender and compact, and their undersides exhibit a mesmerizing pale hue that stretches from the lower jaw along the belly and extends to the tail.