The Army Infantryman is the backbone of the United States' ground forces. Among their many responsibilities, they are responsible for using their knowledge in combat tactics to lead Soldiers in battle, carry out mission objectives, and return home safely. The average Army Infantryman salary is $42,731 per year which is a higher common salary for military jobs.
Part of Army MOS List.
Army Infantryman Requirements: Education & Other Qualifications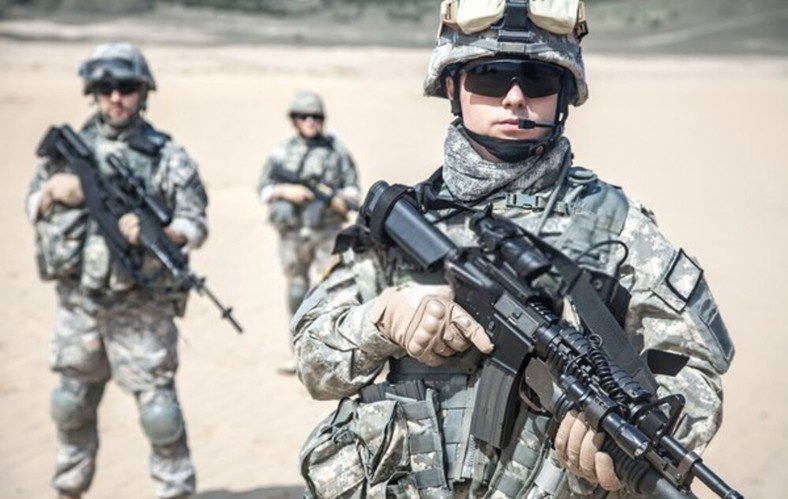 Education
Fundamental Requirements
Must be 17 to 34 years of age. Max Age: 35.
Must have a high school diploma or GED
Must pass a series of tests to prove your physical health
To join the Army Infantry, a candidate needs a high school diploma or GED. The Army also accepts those who have completed at least four years of high school and can pass the ASVAB test.
ASVAB stands for Armed Services Vocational Aptitude Battery. An ASVAB consists of five subtests: Word Knowledge, Paragraph Comprehension, Arithmetic Reasoning, Mathematics Knowledge, and General Science.
In order to join the military as a combat specialist, you must be a United States citizen and meet the minimum education requirements. Then you have to take ASVAB test and score an 87 or higher. Better scores on the ASVAB increase your chances of getting into this career
The higher the score on the ASVAB the better are your chances for winning this job.
Applicants for Infantry MOS must be United States citizens, male, 17 years of age, and not over the age of 35. Prior to entering MOS 11B, all applicants must sign an Enlistment Contract to serve for at least 4 years.
Inductees will live in barracks on post during basic training. They will be required to wear uniforms at all times while on the post. After completion of basic training at Fort Benning, Georgia, Soldiers will attend Advanced Individual Training (AIT) in their Military Occupational Specialty (MOS).
Weapon Qualifications
Inductees will be required to qualify on the M-16A2 rifle, M9 pistol, and the AT-4 anti-armor weapon. Also, they must qualify in accordance with AR 350-15 and DA Pam 350-38 using the M203 grenade launcher. Inductees will also be required to qualify on a rifle course of fire at a Department of Defense (DoD) facility within two years following completion of basic training.
No high-security clearance is required
Members of this MOS are not required to obtain a national security clearance.
strength requirement and physical profile requirement of 111221
Inductees joining the Army must have a strength requirement of 110 pounds, and a profile requirement of 111221. The weight limit does not have any waiver for applicants over the age of 39. Physical profiles are set according to AFQT scores. See AR 600-9 for a complete list of physical profiles required for enlistment in the Army.
See also: Army Weight and Height Standards.
Eye Vision
Correctable vision must be 20/20 in one eye, and 20/100 in the other, so that the person can see at least as well as a person with normal sight.
Red/Green color discrimination is required for soldiers performing the duties of the MOS 11B. "The soldier must also be able to distinguish the colors red and green. If a person cannot see these colors, they will not be able to perform their job duties."
Physical fitness standards
Inductees will be required to pass the Army Physical Fitness Test (APFT), which consists of 2 minutes of push-ups, 2 minutes of sit-ups, and a 2-mile run. The APFT must be passed prior to enlistment in Basic Combat Training (BCT). There are two versions of the APFT. One version includes the sit-up event, while the other does not. This version must be passed by both male and female applicants prior to enlistment. The push-up event is only required for male inductees. Female inductees are not required to complete any upper body strength testing but must meet all other PFT requirements.
Basic Combat Training (BCT)
Inductees reporting to Fort Benning will be assigned to the 3rd Training Brigade, where they will attend BCT. This 14-week training program is designed to train inductees in basic soldier tasks, including marksmanship, hand grenade training, patrolling techniques, and combat tactics. Inductees will receive instruction in chemical warfare operations and nuclear-biological-chemical defense. In addition to combat training, inductees will receive instruction in drill and ceremony techniques, Army history and customs, physical security/occupancy of U.S.
Advanced Individual Training
After completing BCT, inductees will be assigned to one of the following specialties:
Intensive Care (ICU)
Inductees that do not wish to serve in a combat position may elect to enter into the service in an ICU. This is the only MOS that does not require an enlistment contract. All requirements and responsibilities listed for Infantryman (11B) apply. The only difference is in job duty: "induction requires four years commitment; ICU requires two years.
Interior Electrician
This specialty does not require an enlistment contract. All requirements and responsibilities listed for Infantryman (11B) apply, with the exception of the requirement to sign an enlistment contract. The only difference in job duty is that interior electricians are not required to qualify on the rifle, AT4, or grenade launcher. Also, there are no additional weapon qualifications for this MOS.
Light-Wheel Vehicle Mechanic
This specialty requires an enlistment contract. All requirements and responsibilities listed for Infantryman (11B) apply, with the exception of the requirement to sign an enlistment contract. Light-wheel vehicle mechanics are not required to qualify on the grenade launcher, AT4, or M16A2 rifle. However, they must maintain an 80% average on the weapons qualification (rifle and AT4). Also, there are no additional weapon qualifications for this MOS.
Mechanic/Material Handler (MOW/MAW)
This specialty requires an enlistment contract. All requirements and responsibilities listed for Infantryman (11B) apply. The only difference in job duty is that the mechanizer/material handler is required to qualify on rifle, AT4, and grenade launcher. Also, there are no additional weapon qualifications for this MOS.
Job training for 11B requires 14 weeks of One Station Unit Training (OSUT)
The Army Basic Training and Jobs Training Program uses a structured 14-week program called One Station Unit Training. It is designed to teach the soldier how to apply himself in combat conditions and learn the basic fighting skills he will need in the Army. The training includes everything from Drill and Ceremony (DC) skills, such as standing at attention without moving, left, right, marching in formation with proper spacing between ranks; understanding military customs; learning about personal hygiene; unarmed combat skill sets including hand-to-hand techniques; how to use weapons like an M16A2 rifle and AT4 anti-tank weapon; and small arms weapon ranges familiarization through live-fire shooting events.
One Station Unit Training (OSUT) is an Army training process that creates more skilled, educated, physically fit soldiers more quickly by combining some of the phases of training. This means they will learn more in-depth combat skills and have more opportunities to apply what they are learning hands-on. Although it takes longer to complete OSUT than Basic Combat Training (BCT), there are benefits:
The soldier gains experience with a variety of weapons and explosives during Phase I.
Skill sets such as camouflage, stalking and anti-personnel mines are taught in Phase II instead of after finishing BCT and going directly into combat.
If a unit is deployed overseas before the soldier finishes OSUT, he will be in better shape when he returns because he will have completed the BCT program first.
There are more opportunities for individual training during Phase III.
The soldier will develop good manual dexterity in his hands during Phase II, instead of needing to learn these skills later when they come in handy in combat.
Soldiers who have completed OSUT are better prepared for combat because they have learned about the basic fight-or-flight responses by doing physical training and learning about weapons and explosives used to defend themselves. This means they can arrive or leave the battlefield ready each time.
Army Infantryman Responsibilities
A Soldier must learn many skills before being sent to a combat zone, but the first thing he'll have to do is qualify on his weapon. This ensures that all Soldiers can defend themselves and their comrades if necessary. A Soldier's primary job is to engage enemy forces in direct combat, but he must also be able to move quickly over terrain and transport equipment. Infantrymen are taught how to engage the enemy in close-quarters battle, operate in units of two to four soldiers, coordinate fire support for their units, and utilize communications equipment. They also do dirty jobs like digging latrines and filling sandbags.
Fire Team Member
The fire team is the smallest unit in the Army and consists of three or four soldiers. The team leader is second in command of the squad and is responsible for his team members' skills, performance, and well-being. He must be able to communicate to his squad leader what the individual needs are for each fireteam member.
Squad Leader
The squad leader has many responsibilities, including leading his squad's fire teams, manning the radio, and keeping track of supplies and weapons. The squad leader could be either a staff sergeant, sergeant first class, or a specialist who has volunteered for this position. They plan routes that will bring them into contact with enemy forces and tell their men when to move into attack positions.
Combat & Reconnaissance Missions
The combat and reconnaissance missions involve a Soldier's ability to plan and execute missions to gather intelligence, assess enemy intentions and assess the situation on the ground. That is why the Soldier who has been assigned as a scout will be equipped with many types of small arms, from the M16A2 rifle to an M203 grenade launcher. They will be trained to move through the hostile territory as they seek out enemies' positions, capture prisoners or gather intelligence.
Support & Security Missions
These Soldiers provide security for airfields, power plants and headquarters. They also drill their fellow Soldiers on how they can do this job – by learning each other's jobs – so everyone knows how to do his part in an attack.
Indirect Fire Support
The indirect fire support mission involves the Soldier's ability to provide artillery, mortar, and rockets with targeting information. That is why Infantrymen are capable of using many types of small arms, including the M240 Machine Gun, the M249 Squad Automatic Weapon (SAW), or even an AT4 anti-tank weapon. These Soldiers also know how to coordinate fire support for their unit by learning how the different types of direct-fire weapons operate when fighting enemies in contact.
U.S. Army Mobilization
A Mobilizing Soldier must be able to keep his mind on the job when his unit is preparing for deployment. This means that he must be prepared to fight in the event of enemy contact, whether it is in the water, on land or in the air. He must also be ready to carry out duties while traveling hundreds of miles through different countries and climates.
Prisoners of War (POWs)
An American POW must remember that he is expected to keep secrets that could jeopardize other Soldiers' lives. He is also expected to obey the orders of his captors and not attempt to escape. Some U.S. POWs have been known to resist, even in the face of torture and death, but they must understand that this can endanger other American Soldiers' lives as well as innocent civilians.
Communications
The communications team is responsible for delivering basic Soldier communications – such as the latest news – to Soldiers in the field. Its members maintain the telephone and communications equipment, coordinate Soldier postal service, and disseminate information. They also operate radios and teletype machines for commanders in the field, and use cryptographic techniques to send sensitive messages.
Additonal Skills
Physical Condition
While on a mission, an Infantryman must be able to do many things at once. It is essential for him to have a strong body and mind, as he will need to stay on course while under enemy fire.
Intensity
In order to perform his job as a soldier, the Infantryman must stay alert and ready to react at any moment. He will need to be able to maintain high levels of energy for long periods of time – even during sleep – through intense training and sound nutrition.
Discipline & Energy Level
The Infantryman must be able to exercise discipline and energy level under pressure or threat from the enemy. He will need this ability to remain focused on tasks that are sometimes simple or mundane.
Statistical Data
The Infantryman is often privy to information that is not shared with the public, so he is bound by strict security protocols during missions. He must know how to remain calm when communicating with others. He will also need the endurance and strength to learn the most advanced communications techniques without losing his ability to comprehend basic information quickly.
Salary/Wages of Army Infantryman Compensation
Salaries for Army Infantrymen depend entirely on their experience and skills. A qualified Infantryman who works in a pay grade E-4 will start at $10.05 per hour. A Soldier will earn $20.50 per hour working in the army as an Infantryman. The lowest pay grade for an Infantryman is E-1, which starts at $7.84 hourly.
Here is a list of Pay Grade, Rank, and Minimum Monthly Pay:
Private (E-1), Min Pay: $1785
Private Second Class (E-2), Min Pay: $2001
Private First Class (E-3), Min Pay: $2104
Specialist (E-4), Min Pay: $2330
Corporal (E-4), Min Pay: $2330
Sergeant (E-5), Min Pay: $2542
Staff Sergeant (E-6), Min Pay: $2775
Sergeant First Class (E-7), Min Pay: $3208
Master Sergeant (E-8), Min Pay: $4480
First Sergeant (E-8), Min Pay: $4480
Sergeant Major (E-9), Min Pay: $5473
Command Sergeant Major (E-9), Min Pay: $5473
Sergeant Major of the Army (E-9), Min Pay: $5473
The lowest monthly payment for an Army Infantryman is $1785. The highest monthly payment is $5473, which the Sergeant Major of the Army can make.
Benefits of Army infantrymen's Employment
All military men and women are provided with health benefits, life insurance, medical care, education loans, retirement savings plans, and tuition assistance through the Post-9/11 GI Bill; even enlisted personnel receive access to personal insurance coverage (Dependent Care).
Medical Insurance
The U.S. Army provides medical insurance coverage to active-duty soldiers and their families for service-connected injuries or illnesses during their service, as well as birthdays, holidays, etc. Soldiers may carry up to 40 percent of the total annual insured value of their medical coverage during any given year. For example, an individual can carry up to 20 percent of the annual insured value (up to $300) on his/her military health insurance plan for personal use during any given year; this money can be used to cover all bills incurred through emergency room visits—including ambulance rides–in the event he/she becomes sick or injured outside of base facilities or other U.S.-based facilities (such as a hospital).
Vacation Time
If a soldier is on active duty, he/she is granted paid vacation once a year. The length of the vacation varies from service to service, but it is generally somewhere between 4 and 8 weeks.
Retirement
All soldiers employed by the Army are eligible for a retirement annuity, which comes in the form of a monthly check after they have completed 20 years, or 26 years with time served in combat arms branches.
Special Pay
Army soldiers receive a special pay stipend, as well as access to the various course and training scholarships. For example, enlisted personnel can receive education funding for training courses that allow them to upgrade their military skills; such courses include those that train soldiers in advanced strategic thinking skills (such as cyber and counter-terrorism) and those that advance their knowledge of computer technology (such as IT-based combat arms skills, such as: J4T, CBT).
Housing: Allowances for living expenses, utilities, and maintenance
Army personnel currently live in barracks/homes within the post or facility where they are assigned. The Army offers a variety of options to soldiers to customize their housing arrangement. Housing allowances are available for some soldiers who are married or have children, who choose to live on the post rather than off-post. Soldiers can also opt to purchase their own home within a specific geographic area of the U.S., which they can purchase through the freeze on prices paid by the Department of Veterans Affairs for homes purchased before October 2008. The price of homes purchased before this date is still frozen by law, but it is largely due to the housing market collapse during 2007/ 2008 where home sales greatly exceeded sales in 2008/2009.
Food: Allowance for the on-base dining hall and access to tax-free department and grocery stores
Soldiers are provided with health care, free food, transportation, housing, medical care at most major military hospitals, retirement benefits, education payments for earning college degrees, etc. On-base food is generally high quality and consistent in quality year-round. There are also tax-free locations where soldiers can buy goods that are not sold at post-retail outlets or base commissaries. These include grocery chains with locations near post that have prices that are often cheaper than the commissary's prices.
Education: Army members can earn full-tuition, merit-based scholarships, allowances for books and fees, plus an annual stipend
All soldiers are provided with education benefits. For example, enlisted personnel can receive full-tuition benefits for their training courses (such as CBT). Soldiers may also choose to attend college full-time on the post or through the Federal Pell Grant program. The Department of Veterans Affairs' Post 9/11 GI Bill offers soldiers access to military student loans that cover their tuition costs. Some posts also offer scholarships to students who will be attending university on the post (or with family members assigned to the post). Soldiers may choose to use these scholarships for their training courses.
Infantrymen Civilian Job Opportunities
As an Army Infantryman, one of the civilian job opportunities for 11B is in a law enforcement agency. There are typically three levels of law enforcement in the United States: municipal police, county sheriff's department, and state police. As an Army Infantryman in a military criminal justice program or internship, he/she can work with the various levels of law enforcement.
In addition to being a part of these agencies, soldiers can also find employment with federal agencies such as the FBI or Secret Service. In some cases, soldiers also find employment within state agencies such as state troopers or correction officers. In this case, they can still work with local and federal agencies while supplementing their income through other civilian jobs outside their military careers (such as law enforcement).
The Army is resourceful when it comes to civil service jobs. The Army will typically support individual soldiers' civilian career goals through career counseling and additional training in various areas of the civilian world. While most, if not all, of the civilian jobs listed in this entry are sponsored by the Department of Defense/Army, there are also many jobs in the private sector that do not require military jobs for employment.
Some of the skills that are learned during the time spent with the army help in acquiring a civilian job. These skills can include everything from following procedures to developing patience, which is all-important on any job.
Infantrymen are renowned for being great at handling high-stress situations. This is usually due to the fact that during their duties they are constantly put into high-pressure environments where there is constant danger of enemies attacking. These pressures, however, can cause stress and lead to mental health issues such as anxiety disorders, panic attacks, PTSD, and depression.
In conclusion, as an Infantryman's career progresses, he/she will be exposed to all aspects of military culture through various programs and training. These challenges can help him/her to become a future leader of the United States Armed Forces.
Army PaYS Program
A new program has been developed to help soldiers adjust to life after they retire from the military. The program is designed for those who are interested in finding civilian employment but are not sure where to start.
This program is called "Army PaYS." It stands for Partnerships Attitudes Youth Success. The goals of this program are to provide an inclusive environment that helps service members make a successful transition into civilian society with the use of mentoring and career services, as well as individual counseling support. The Army PaYS Program will also create partnerships between military and private organizations with programs that support veterans in achieving work readiness skills, such as interview training and resume development. These partnerships can be mutually beneficial: employers can take advantage of a pool of trained and qualified applicants.
Partnerships Attitudes Youth Success (Army PaYS) Program is designed to help eligible separating soldiers make the transition from the military to civilian employment. The overall goal of the program is to help eligible soldiers prepare for their successful transition into civilian employment, by providing mentoring, counseling, and career development support.
To participate in this program, service members must be within six months of an impending separation or any separation date after October 1st, 2014. These service members will be referred to as "PaYS Soldiers." Each PaYS Soldier receives a one-on-one mentorship with a Department of Defense peer mentor who will assist in a job search and provide coaching for resumes.
Summary of Army Infantryman Career
It's not just about fighting for this soldier. It's also about the pride he takes in protecting the nation and fighting for freedom. The Infantrymen who serve in the Army are part of one of the most elite fighting forces in the world. Doing so requires strength, tenacity, and grit — but no amount of training can prepare a Soldier for the actual horrors he may face on the battlefield. Ultimately, it is bravery, dedication, and determination that allow these Soldiers to overcome all odds and accomplish their missions.