For most of us, we usually walk or run without considering how our feet contact and interact with the ground. However, if you notice your feet are unusually painful at the end of the day, you might have supination or pronation. Both these foot conditions can cause injuries and even affect your overall foot health.
So, in this article, I will explain what supination and pronation are so that you will know if you pronate or supinate. I also recommend some exercises and tips to help you correct your supination and pronation. Without further ado, let's delve into it now!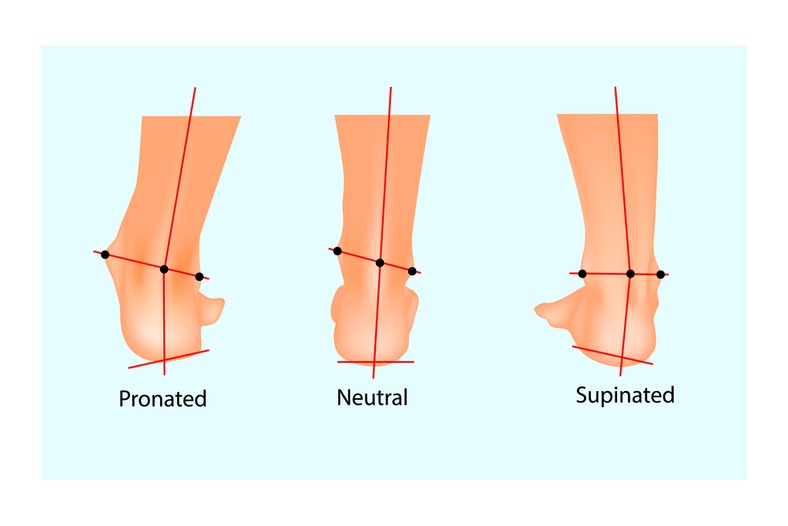 Pronation Vs. Supination
Generally speaking, pronation and supination are two common terms used to identify the upward and downward direction of your foot, arm, or hand. For example, when your forearm and palm are facing up, then it is supinated. On the other hand, you have pronation when your forearm and palm are facing down.
However, things get more complicated when it comes to foot pronation and supination. In general, these two terms refer to your manner of walking and how your weight is distributed when you are standing, walking, or running with durable shoes for walking, running, work & everyday.
If you feel that your weight tends to shift outside of your foot while you are walking or running, then you might have supination. Pronation, on the flip side, means that your weight shifts more toward the inside of your foot.
Normal people will get their weight balanced on their feet while they are moving. However, your feet will lean out if you deal with supination and lean in for those with pronation.
It is best for your foot to roll forward in an appropriate stride. Besides, your pronation should be neutral. Ideally, it should be a straight line when you are looking at the back of your knee, ankle, heel, and foot.
Excess supination
When you notice lots of stress putting on the outside of your foot while walking or running, that might be a sign of excess supination. If you pay attention to your shoes, you can see the uneven wear on the outside of the outsoles.
On the other hand, excess supination is a cause of excess strain on the ankles and remember choose a good shoes for ankle support. It can lead to some foot issues, such as bunions, shin splints, calluses on the outside of your foot. More seriously, you might suffer from pain in the balls of your foot and heels. Another term for excess supination is underpronation.
Different types of pronation
There are different types of pronation you might face, depending on your arch or stride:
Neutral or normal pronation: When your feet roll inward naturally, around 15 percent, and can absorb impact and shock, keep your legs and ankles in correct alignment, then that's a sign of neutral pronation. This might make you less susceptible to some popular injuries of several pronation types.
Underpronation: Also known as aka supination. This foot issue happens when your feet roll outward from your ankles and put lots of pressure on your outer toes. Typical people who have high arches tend to have more possibility of suffering from underpronation. And this can result in some foot problems, such as plantar fasciitis, shin splints, Achilles tendonitis, and other impact-related injuries. See also how to treat plantar fasciitis at home?
Overpronation: This occurs when your feet roll more than 15 percent, either downward or inward, you might have overpronation. Those who have flat feet tend to get this condition more than other people. This issue can lead to the iliotibial syndrome, which might hurt the outside of your knee.
Excess pronation
Excess pronation, also known as overpronation, has some common issues. The typical one is that your foot rolls inward, and the arch of your feet will flatten out. In this case, you will notice uneven wear on the outside of your shoes, particularly the outsoles.
In fact, overpronation is much more popular than underpronation. You might suffer from pain in some parts of your body if you overpronate:
Arch
Ankle
Heel
Knee
Shin
Hip
Back
Causes
It is completely common that you were born with your feet that might develop underpronated or overpronated. One of the most popular reasons is due to high arch or uneven leg length.
However, this condition can also happen if you get injured, standing, walking, or running on too hard surfaces. Other common reasons could be pregnancy or obesity.
Possible injuries
When you suffer from pronation or supination, it's best to see a podiatrist to assess your gait and get the right treatment. This is even more important if you are a professional athlete, runner, etc. Getting the right orthotics shoes can help you avoid these issues:
Heel spurs
Ankle sprains
Tendinitis
Plantar fasciitis
Metatarsalgia
What's more, your physical therapist or trainer can recommend some exercises and stretches to help you run or walk in the right way.
Tips For Pronation Of The Foot
When your ankle rolls in a little bit while you are running or walking, that is the sign you pronate. It also pushes your body down on your arch and flattens part of your feet. Even though pronation is considered important for allocating your total weight over your feet, it can cause some issues if you overpronate. It is probably due to the flattened feet, which results in pain and increases the possibility of injuries.
Fortunately, there are several ways you can do to correct your pronated feet. Let's see what those tips are.
Always wear low-heeled and supportive shoes. These types of work boots are typically crucial when you are walking, running, or doing some activities. Ideally, opt for shoes with thick soles because they can offer a more stable base. In addition, the shoes need to be comfortably fitted and can support your feet well.
It is highly recommended to buy shoes when your feet are puffy or sore. Ideally, you should try on your new shoes at the end of a long day at work or doing other activities. This way, you can make sure that your shoes will not be too narrow.
If possible, you should have your gait accessed at your doctor's office or a running shoe store. This will help you find the most suitable shoes for your foot condition.
Choose one-size-fits-all orthotic insoles. Orthopedic insoles without a prescription are usually made to support your arch and reduce the shock of walking, running, or exercising. Moreover, they can help you avoid potential injury. This is even more helpful for people with flat feet. Besides, you might want to use extra arch inserts for added support, typically if your shoes don't have integrated arch support insoles.
You might have to trim some of the insoles to fit your shoes
You will need to exchange inserts between different pairs of shoes if you buy 1 pair of insoles only, except you wear the same shoes all the time.
It might not be necessary to get typical insoles for athletic shoes like a cool outdoor basketball shoes with stronger midsoles and extra arch support.
It is quite easy to find over-the-counter orthotics at almost all athletic stores and departments. Or you can also buy them at online stores.
It is best to lose weight if you are overweight. Extra weight can put more pressure on your feet, typically the arches of your feet. As a result, it can raise the possibility of getting overpronation. To limit this risk, you should keep your weight in the appropriate weight range for your height and can consider to buy a new high quality walking shoes for overweight walkers. Here's how to do it:
Always consume healthy food. Have a balanced diet, and do exercises for at least half an hour per day.
Stretch your feet and legs on a daily basis. By doing this, you can minimize muscle strain, which can develop overpronation.
Perform a demi plié. Stand on a flat floor with your legs together. Rotate your feet so that your toes are facing out while keeping your heels together. Then gradually lower yourself down, bending your knees. Keep your heels flat on the floor while you are lowering yourself, and return to the starting position.
Roll your feet for extra balance and stability. First, stand with your feet hip-width apart. You can use a chair for extra support. Then gradually roll your body to your foot's edge, and then roll back to the center of your foot gravity. Remember to do this slowly to avoid flipping your ankles.
Perform seated calf stretches. Sit in a chair while keeping your legs stretched out in front of you. Bend your feet, then flex forward at your waist, leaning toward to touch your toes. Maintain this position for around 1-2 seconds, then release.
Getting Medical Care: If your pronation is serious and can't improve with exercises, you might need to visit your podiatrist for the right assessment and treatment.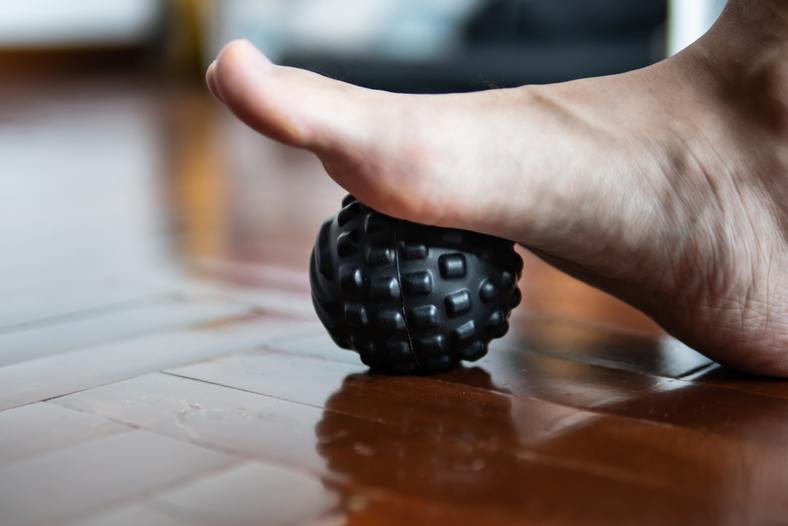 Tips For Supination Of The Foot
Here are some great ways you can do to improve and correct your supination:
Wear the right type of footwear
One of the best high arch running shoes for people with supination is any model with flexible and lightweight designs. You might want to consult with your podiatrist first because they will recommend the best type of footwear for your specific foot condition. Here are some tips you should keep in mind before choosing your shoes:
Measure the width and length of your feet to get the right fit
Always wear the same types of socks that you will wear with your new shoes (for instance, running socks should be worn with running shoes)
Opt for shoes with arch support, large toe room, and added cushioning
It is better to buy and try on your new shoes at the end of the day
Don't buy snug-fitting shoes and expect that they will stretch over time
In general, you should replace your running shoes quite regularly, depending on the frequency you wear them. However, it should be replaced after 6 months or even sooner if you notice any signs of tear and wear.
Orthotic inserts
You should choose orthotic insoles, which are typically designed for supination, for better control of your motion. They also support your heel and arch. These inserts are easily found online or at running shoe stores. They can also be customized by podiatrists.
Proper form
It is really crucial to fix your poor posture and the wrong running techniques to deal with excess supination.
When you are walking or running, try to land gently with your feet and make contact with the ground closer to your midfoot instead of your heels. Ideally, you should land with your flat feet and prevent curving your toes. Besides, you should perform short strides because they are considered easier and better to keep your form proper while you are moving.
Exercises
You can choose to do one of the following exercises to keep your muscles strong and flexible. This might lead to a neutral gait:
Calf stretch
Put your hands on the wall
Move one leg back, keeping it several feet behind the other leg. Keep your feet strongly on the floor.
Bend forward at your front knee. Remember to keep your back leg straight. You must feel stretched in your ankle and calf muscles.
Keep this stretch for around 30 seconds. Then repeat it 3 times for each leg.
Plantar fascia stretch
Sit down on a chair
Cross your right ankle above the knee of your left leg.
Hold your toes with your right hand and softly stretch them forward at your ankle. Put your left hand on the plantar fasciitis, running from the heel to your arch. You will feel like a tight band if you perform right.
Keep this position for around 10 seconds. Then repeat it 20 times on each foot.
It is highly recommended to do these exercises every morning for the best results.
Knee stretch
Cross your left leg behind your left leg while you are standing on a floor
Keep your hips level, and bend to the right side. Remember, don't bend backward or forward. In addition, you should feel stretched at the outer left thigh and knee.
Maintain this for about 10 seconds, and repeat it 3 times for each leg.
How To Choose Shoes For Pronation
It is really important for those suffering from pronation to wear well supportive and fitting shoes. They will need shoes with a roomy toe box and the right cushioning. People with excess pronation also need more balance and stability. Therefore, a pair of shoes with heel cushioning and a firm, strong midsole will be the best option for them.
Here are some tips on how to choose shoes for pronation you should keep in mind:
It is recommended to opt for stability a perfect running shoes if you have pronation. This is because they will help distribute the impact and shock while you are running more evenly to reduce the condition.
EVA medial posts will be helpful for your condition a lot. Sometimes, you can choose types that are extended to your heel for the best support.
Opt for shoes with firm midsoles. These types will provide you with more arch support. People with overpronation might need to have added cushioning for better motion control.
How To Choose Shoes For Supination
If you are reading this part, you might know your supination type. And it's time to find the best shoes with the ultimate amount of cushioning and support for your supinated feet.
Since people with supination tend to suffer from impact-related injuries while walking or running, they will need more balance, flexibility, cushioning, and support in the heel to stabilize the outward rolling of the feet. And here are some tips on how to choose shoes for supination.
Opt for models with excellent midsole cushioning to get added shock absorption
The cushioning or padding should be on the outside of the affordable running, walking shoes to prevent outward rolling of your feet
It would be better to get cushioning in the heel
Opt for a model with high flexibility for better even distribution of impact
In case your supination is serious, and you need to wear custom-made orthotics by your doctor, you will need to find a pair of shoes that both fits your feet and your orthotic inserts. 
Related: Best Shoes for Supination
Conclusion
Pronation and supination are popular terms used to describe the upward and downward direction of your foot, arm, hand, or forearm.
You might have a higher risk of getting injured if you are supinated or pronated. You can try some tips above to correct your supination or pronation. If the condition is serious, it is highly recommended to visit a podiatrist to get an assessment and proper treatments.