Are you tired of the same old hairstyles and looking to add a touch of elegance and timelessness to your hairdos? Look no further than the captivating world of hair sticks! This comprehensive guide will take you through effortlessly styling your hair with these versatile accessories. Hair sticks, simple yet enchanting, offer a myriad of possibilities to elevate your everyday look or add a dash of sophistication to special occasions.
Whether you're a beginner or a seasoned enthusiast, this guide will walk you through everything you need about hair sticks – from their diverse materials and designs to mastering a range of stunning hairstyles. So, get ready to embrace the allure of hairstyles as we unlock the secrets to creating captivating hairstyles that will leave everyone in awe. Let's dive in!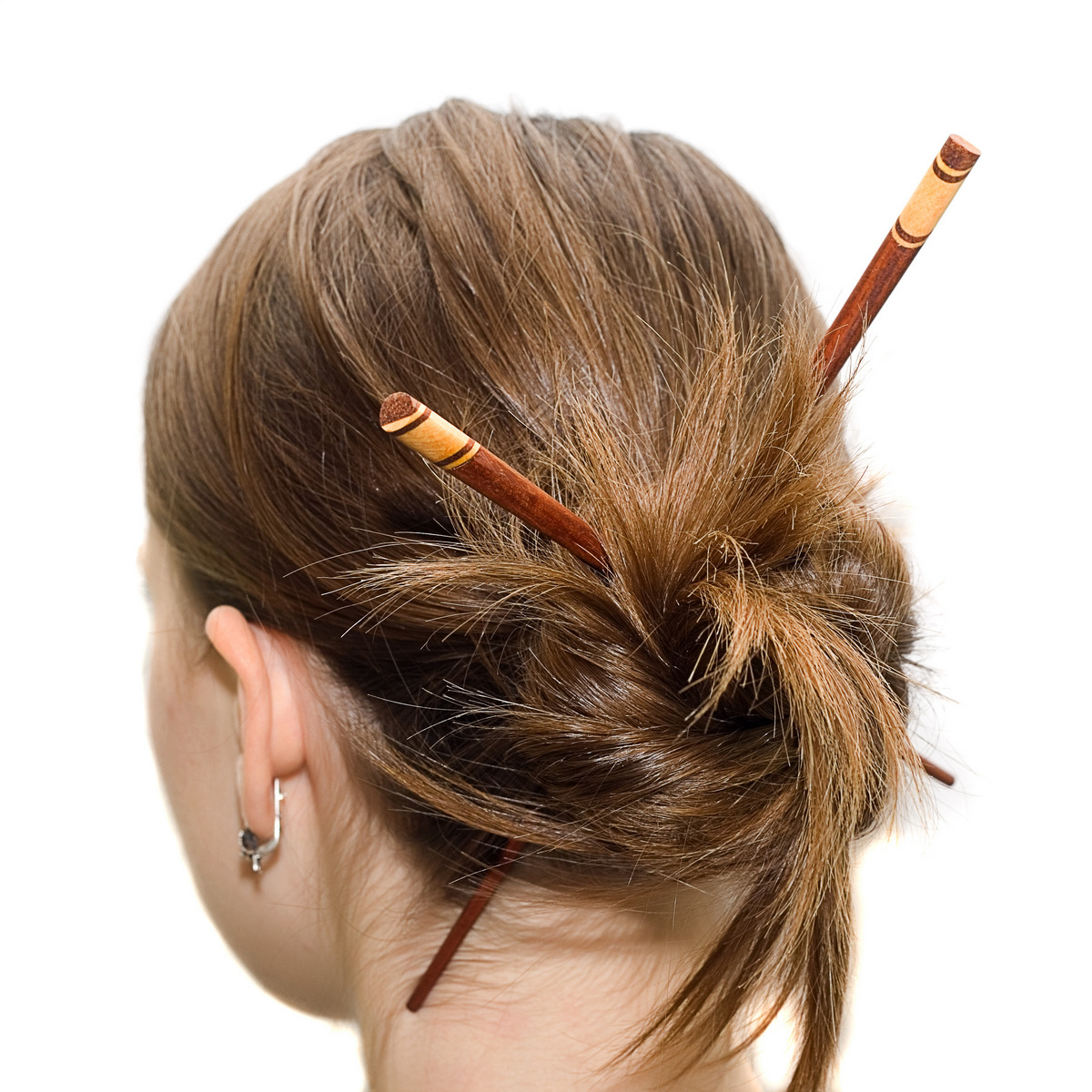 Key Takeaways
Hair sticks are timeless accessories used centuries to style and secure hair in intricate and elegant ways.
Hair sticks are made from various materials, including wood, metal, plastic, bone, and gemstones, each offering unique qualities catering to different hair types and preferences.
There are different types of hair sticks, including single-pointed, double-pointed, wooden, metal, plastic, decorative, and gemstone hair sticks, each with its specific designs and uses.
Pros of using hair sticks include timeless elegance, versatility in creating various hairstyles, hair-friendliness, long-lasting hold, eco-friendliness, and opportunities for personal expression.
Cons of using hair sticks include a learning curve for beginners, limitations in styling complex hairstyles, suitability mainly for medium to long hair, risk of loss due to their size, and potential hair damage if not used correctly.
Choosing the right hair stick involves considering factors like hair length, texture, hairstyle complexity, and the occasion to achieve a secure and stunning hairstyle.
Preparing your hair before using hair sticks involves washing, drying, and detangling for a smooth and manageable base.
Different hairstyles, such as the Classic Bun, Messy Updo, French Twist, and Chignon, can be achieved using hair sticks with step-by-step instructions provided.
Tips for hair stick mastery include practicing with loose hair, using hair sticks with a pointed end, experimenting with different grips, combining hair sticks with other accessories, and using decorative hair sticks for added charm.
Proper care for hair sticks involves gentle insertion and removal, avoiding bending, wiping after use, avoiding harsh chemicals, dedicated storage, overcrowding, and gluing loose parts to maintain their longevity and functionality.
Introduction
Before we delve into the world of hair stick mastery, let's begin by exploring some information on hair sticks that are captivating timeless hair accessories.
What Are Hair Sticks?
Hair sticks are timeless hair accessories that have been used for centuries to effortlessly style and secure hair in intricate and elegant ways. Hair sticks are adaptable tools that make it simple to make various beautiful hairstyles. They have their origins in many cultures all over the world. These slender, elongated pins are typically made from various materials, such as wood, metal, plastic, bone, or even precious gems, each offering unique qualities that cater to different hair types and personal preferences.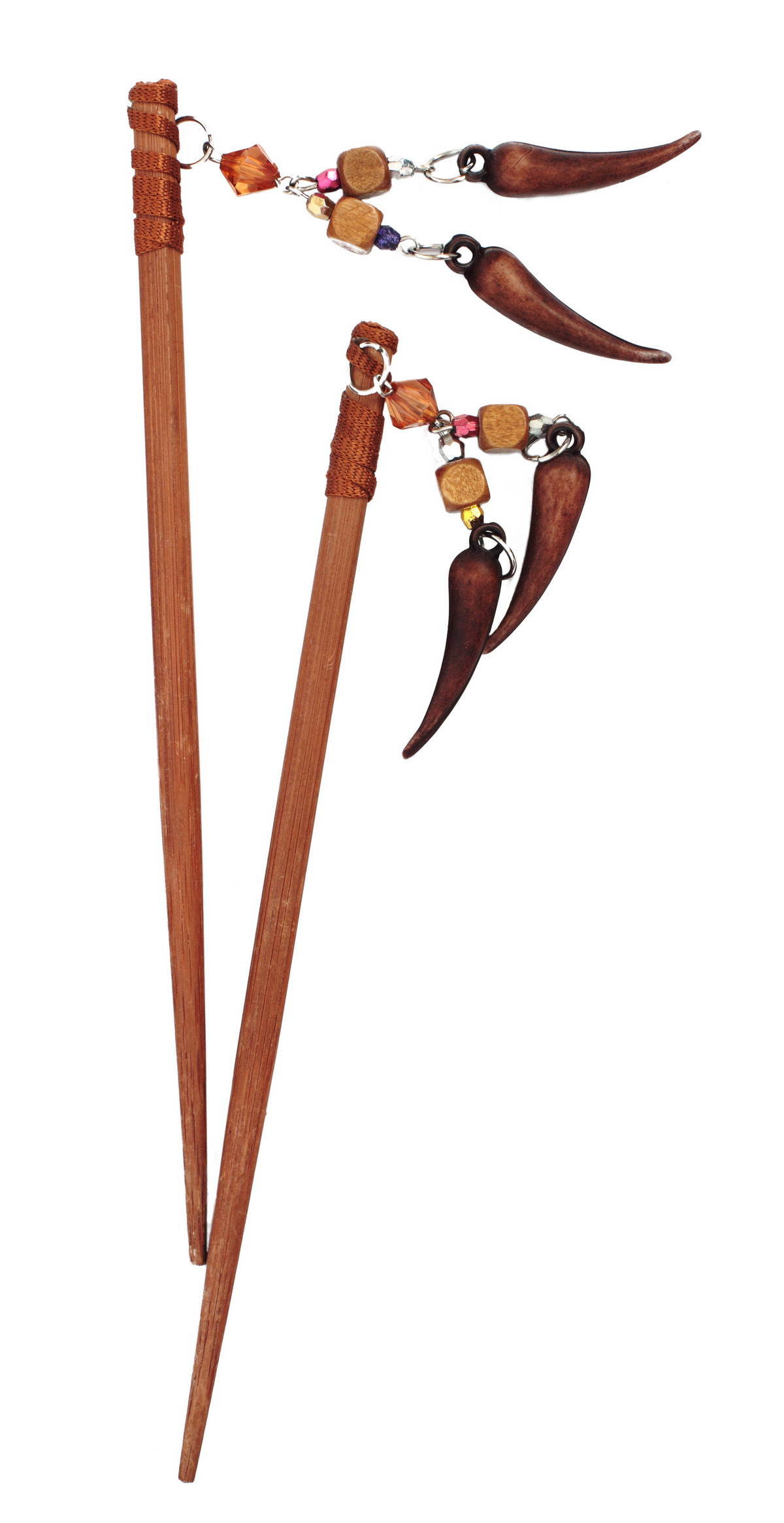 Materials Used To Make Hair Sticks
Hair sticks come in a diverse range of materials, each with its distinct characteristics and visual appeal. Wooden hair sticks exude a rustic charm and are often lightweight, making them perfect for everyday use. On the other hand, metal hair sticks add a touch of sophistication and durability, ideal for securely holding more intricate hairstyles. Plastic hair sticks are a practical and affordable option, perfect for experimentation and casual styling. Additionally, you can find hair sticks adorned with decorative elements, such as crystals, beads, or intricate carvings, to add a touch of personal flair to your hairstyle.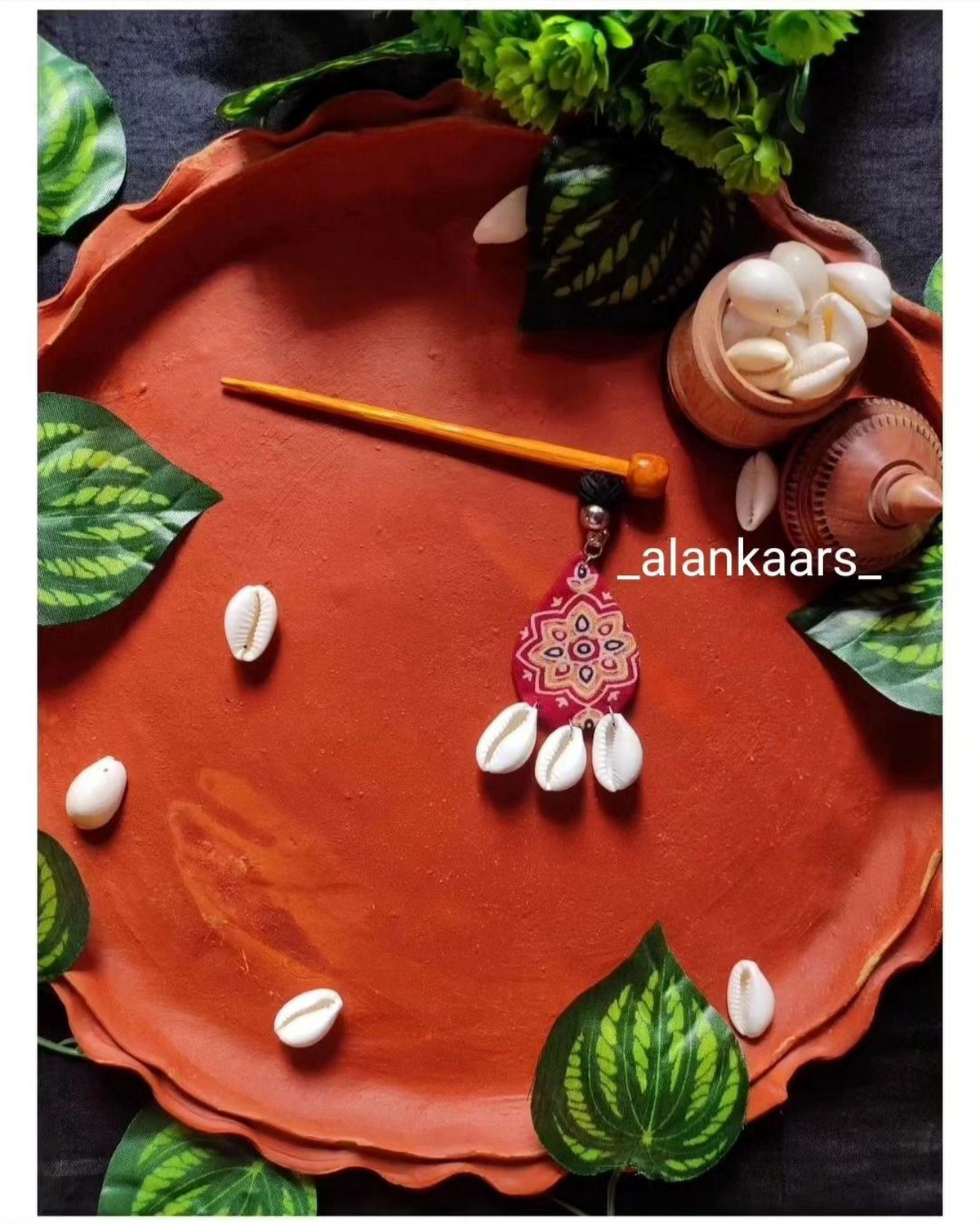 Different Types Of Hair Sticks And Their Designs
Regarding hair sticks, the options are delightfully diverse, catering to various hair lengths, styles, and personal preferences. Here are some of the different types of hair sticks and their captivating designs:
Single-Pointed Hair Sticks: These classic hair sticks feature a single-pointed end, perfect for securing hair in simple buns or half-up hairstyles. They come in various materials and designs, from sleek and minimalist to intricately carved patterns.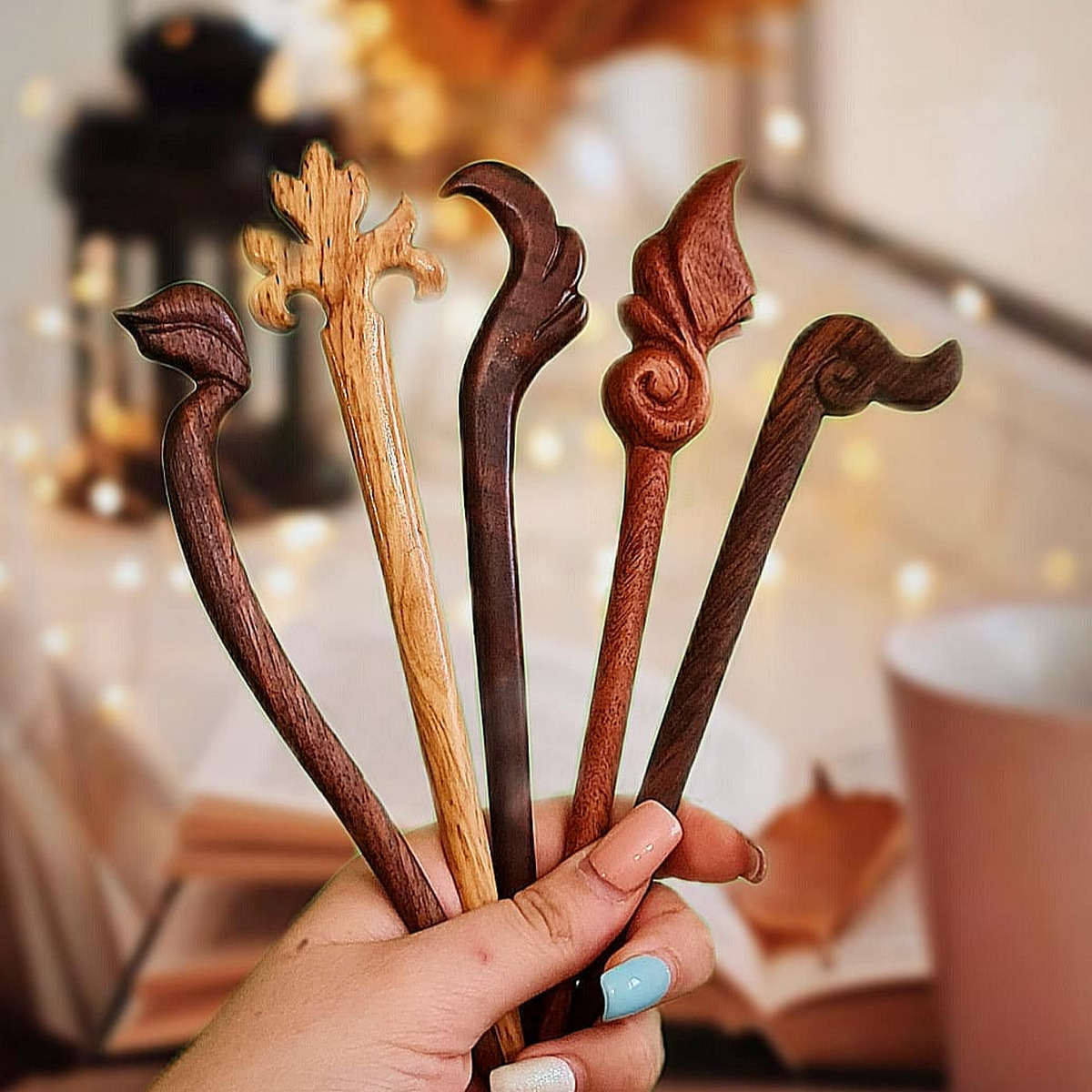 Double-Pointed Hair Sticks: With two pointed ends, these hair sticks provide enhanced stability and hold more elaborate updos and intricate hairstyles in place. They offer versatility and charm, often adorned with decorative elements like beads or gemstones.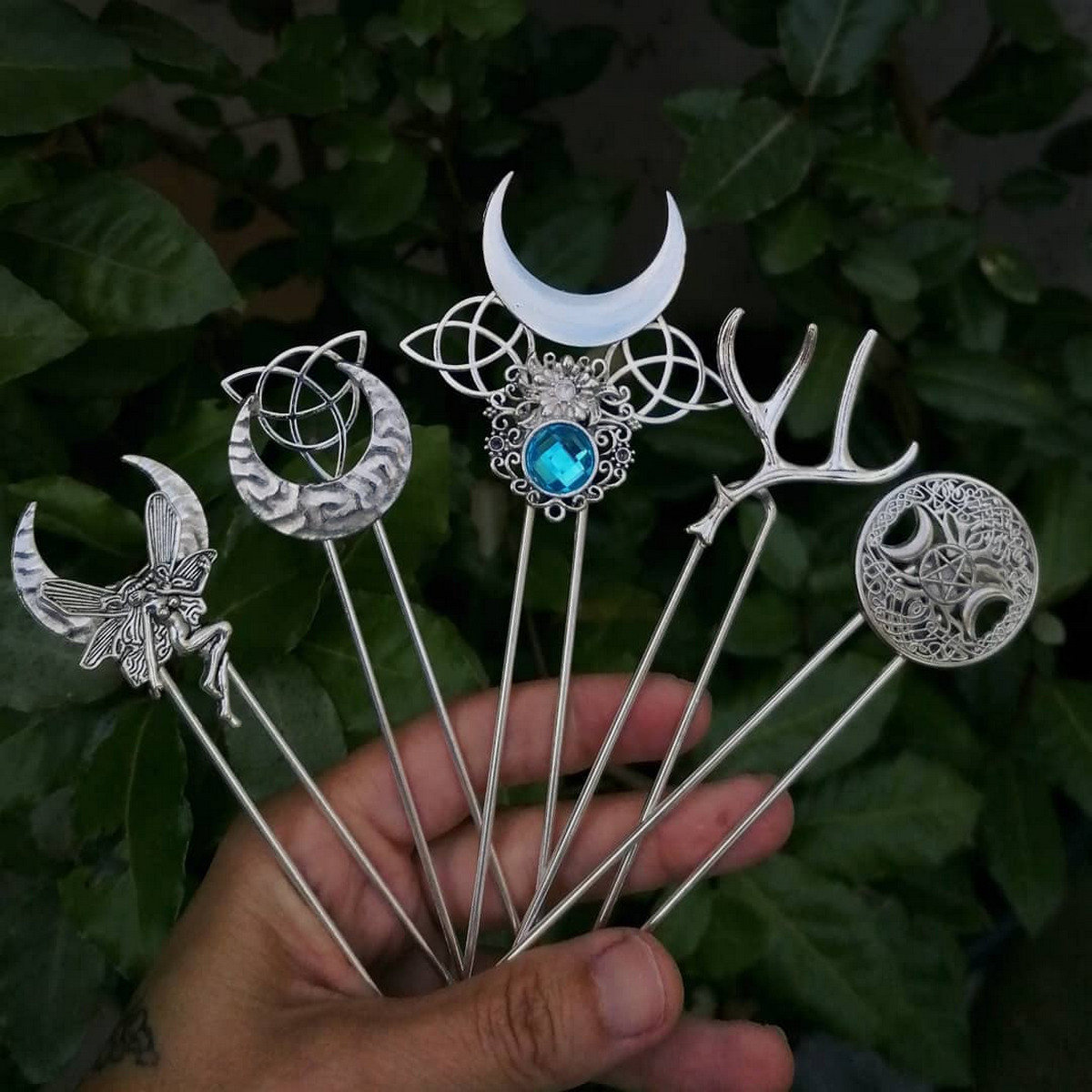 Wooden Hair Sticks: Wooden hair sticks embrace a rustic allure and radiate simple elegance. They are lightweight and suitable for everyday use, available in various lengths and shapes, making them compatible with different hair types.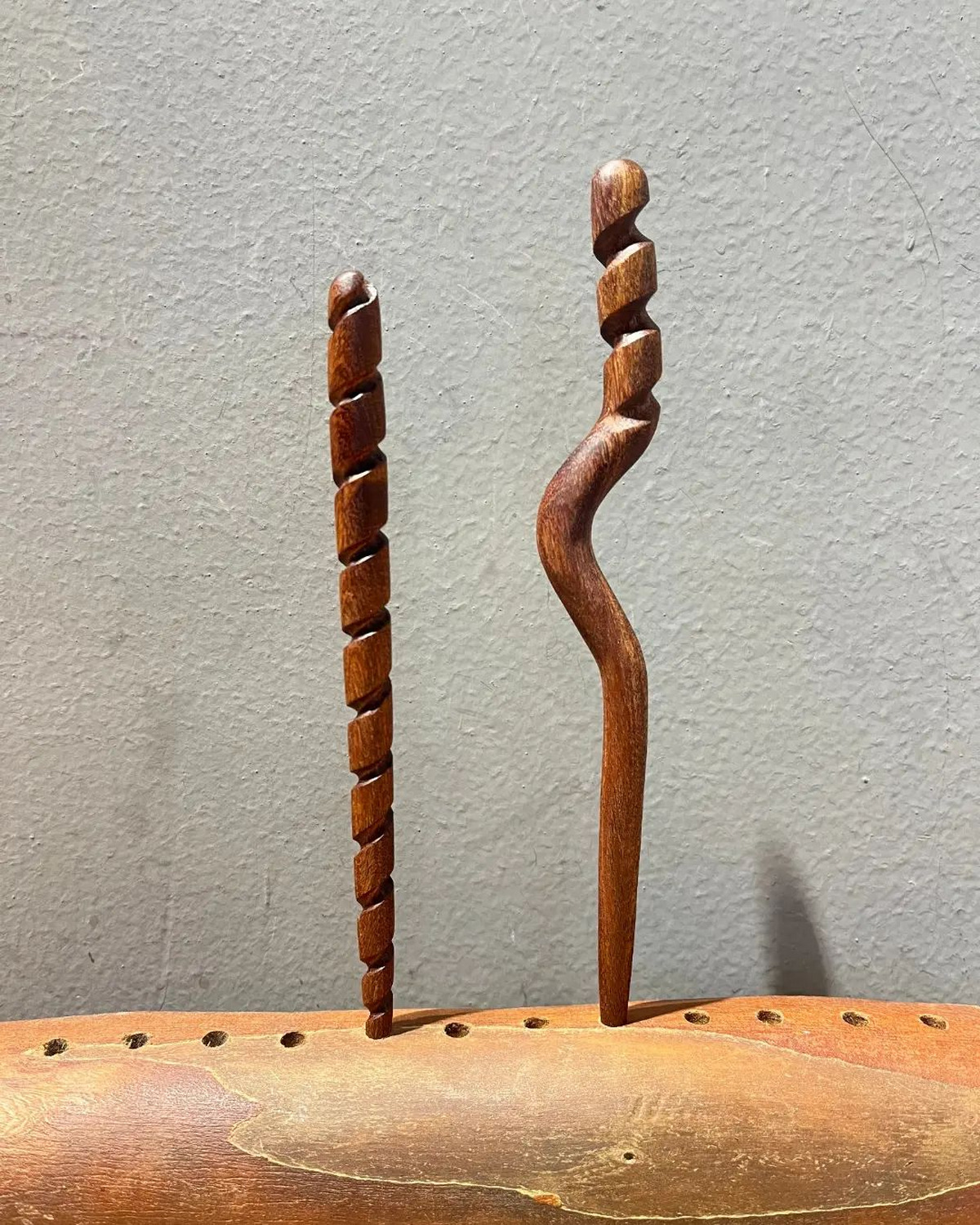 Metal Hair Sticks: Infusing a touch of sophistication, metal hair sticks are durable and add an element of luxury to your hairdos. Their polished finish and sleek designs make them excellent choices for formal occasions.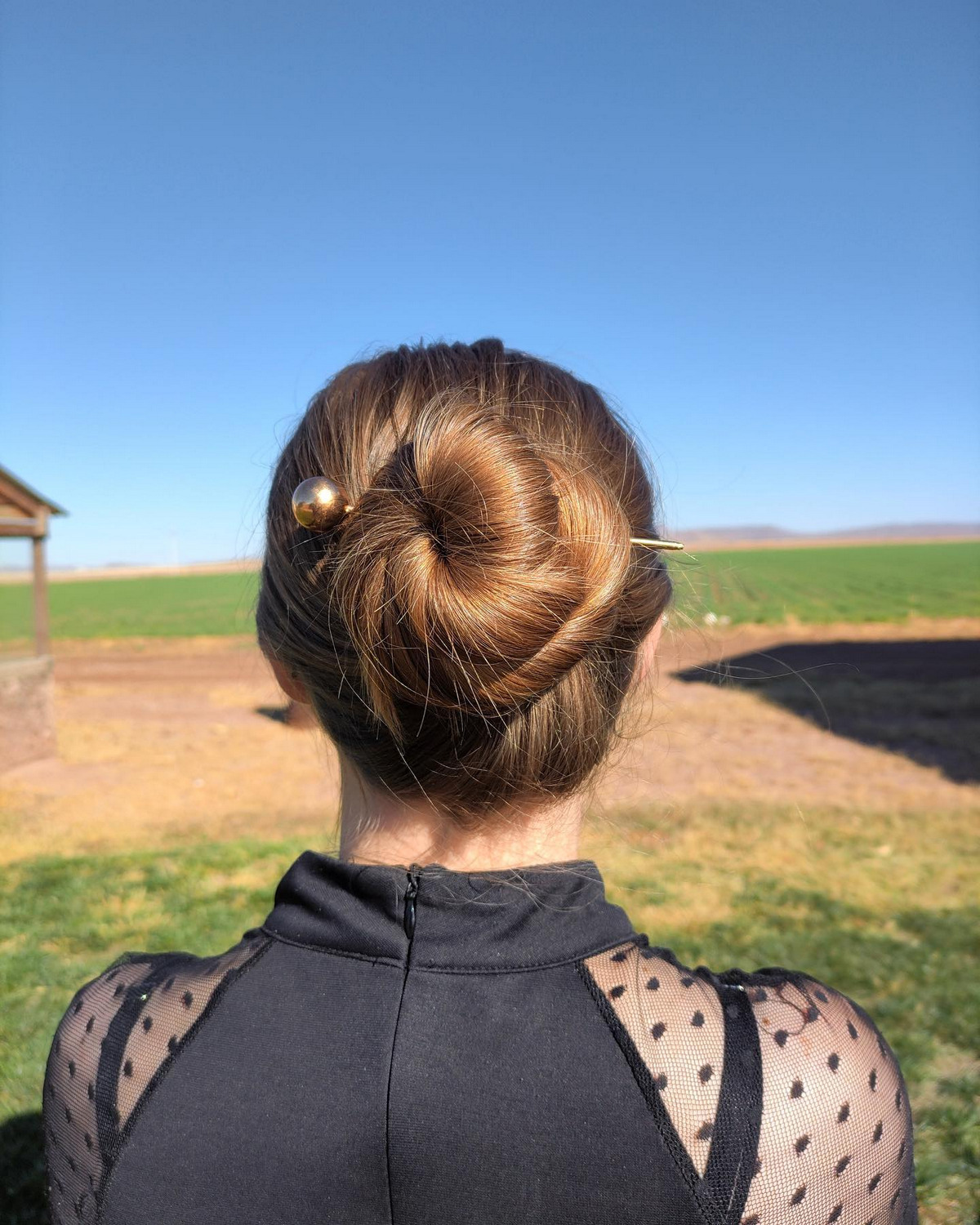 Plastic Hair Sticks: Practical and affordable, plastic hair sticks offer various colors and designs. They are perfect for experimenting with different hairstyles and can be a fun addition to your collection.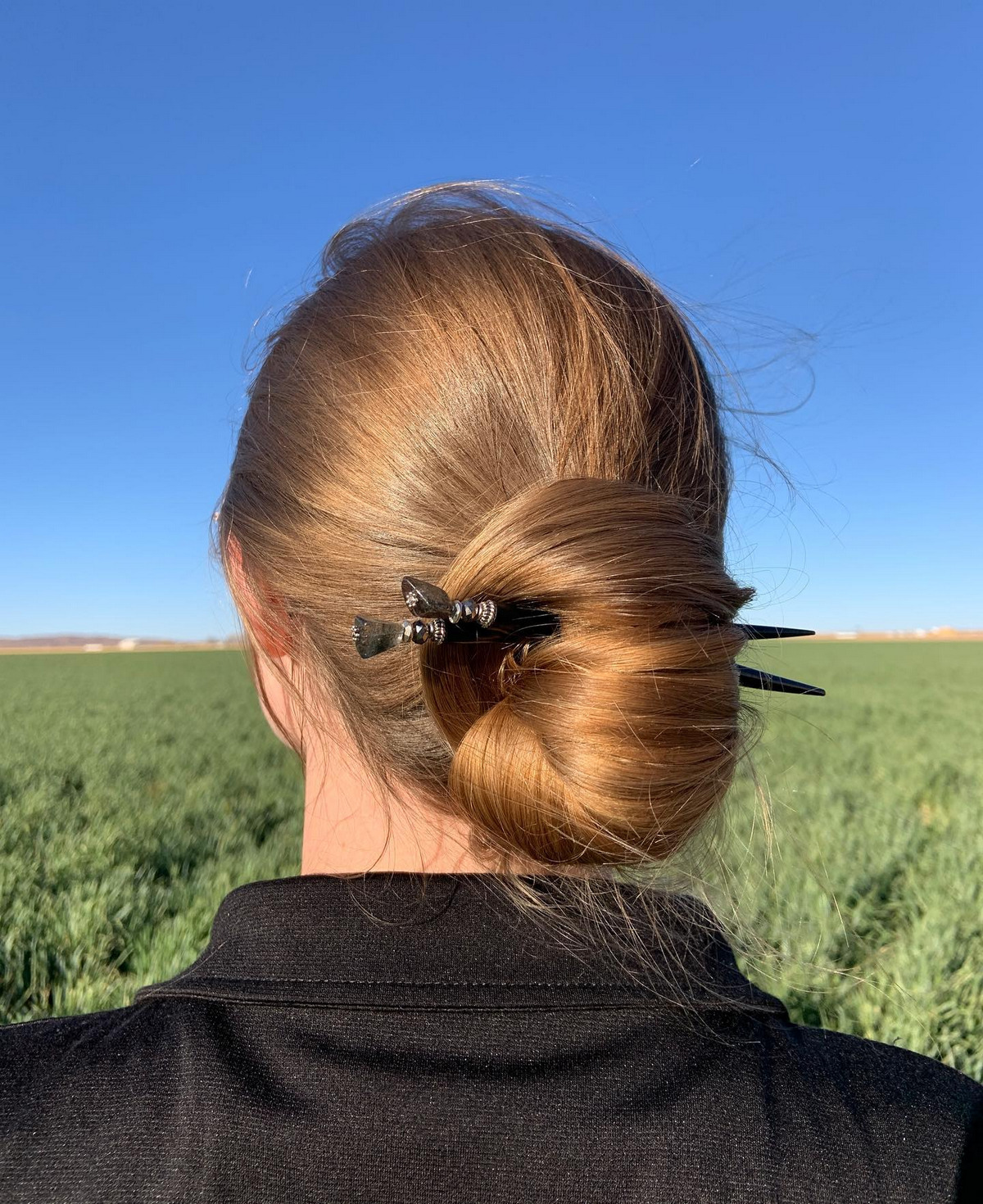 Decorative Hair Sticks: For those seeking a unique touch, decorative hair sticks come embellished with crystals, beads, or intricate carvings. These eye-catching designs add a touch of personal flair and make a statement with any hairstyle.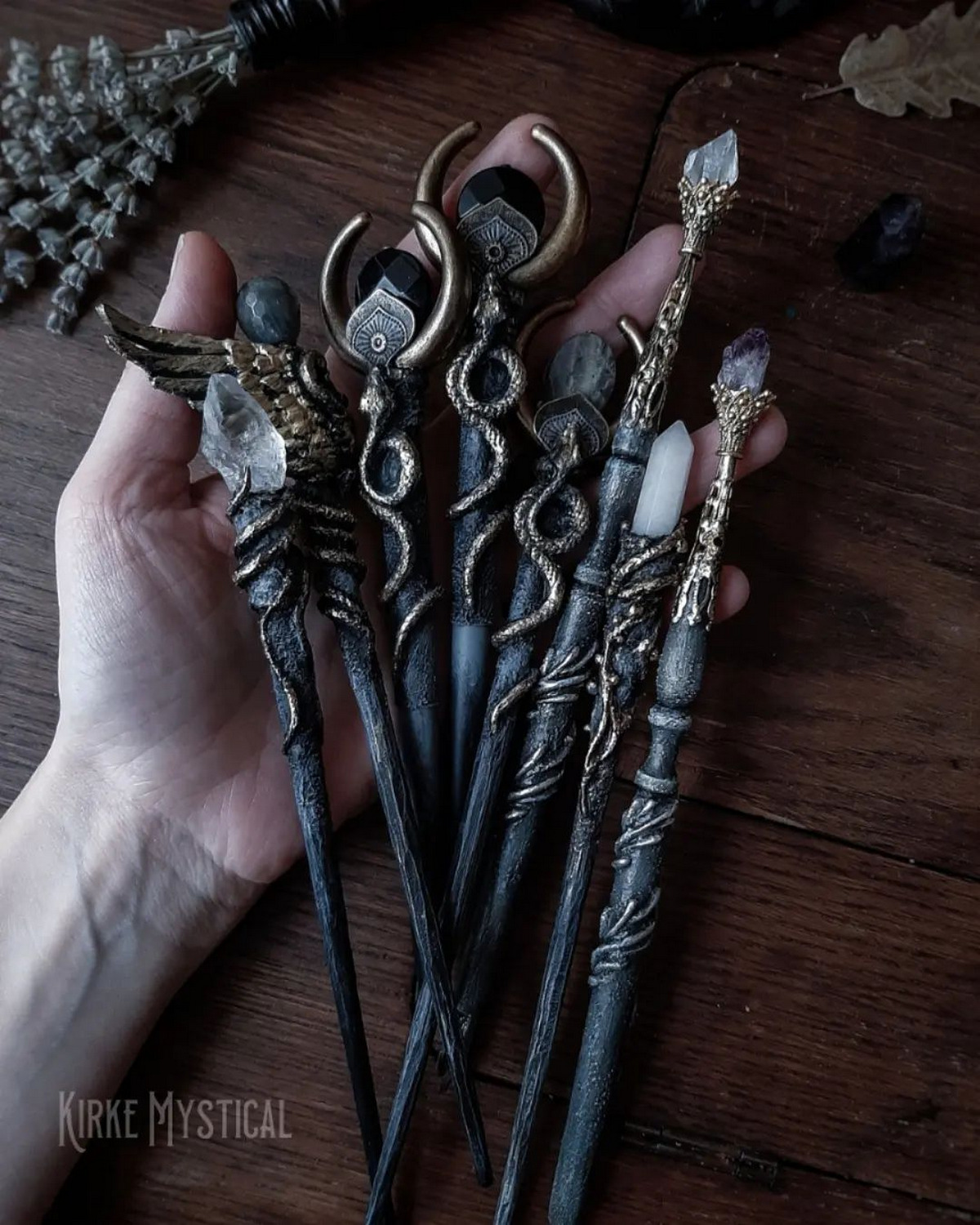 Gemstone Hair Sticks: Adorned with precious or semi-precious gemstones, these hair sticks elevate your style with a hint of luxury and charm, making them perfect for special occasions.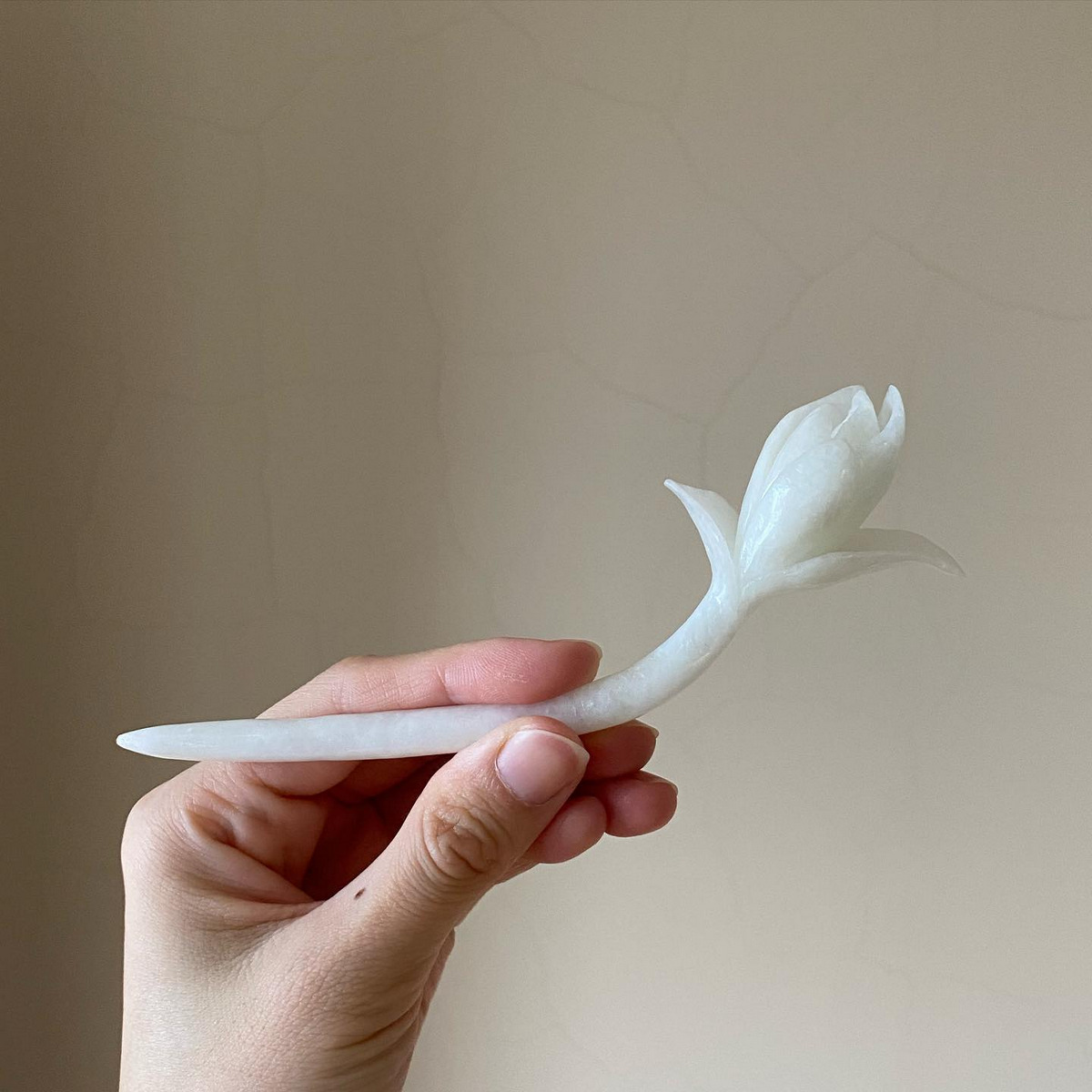 Pros And Cons
Hair sticks, with their undeniable charm and versatility, offer many advantages that make them a beloved choice for hair styling enthusiasts. However, like any accessory, they also come with considerations. Let's explore the pros and cons of using hair sticks to help you make an informed decision before incorporating them into your hair care routine: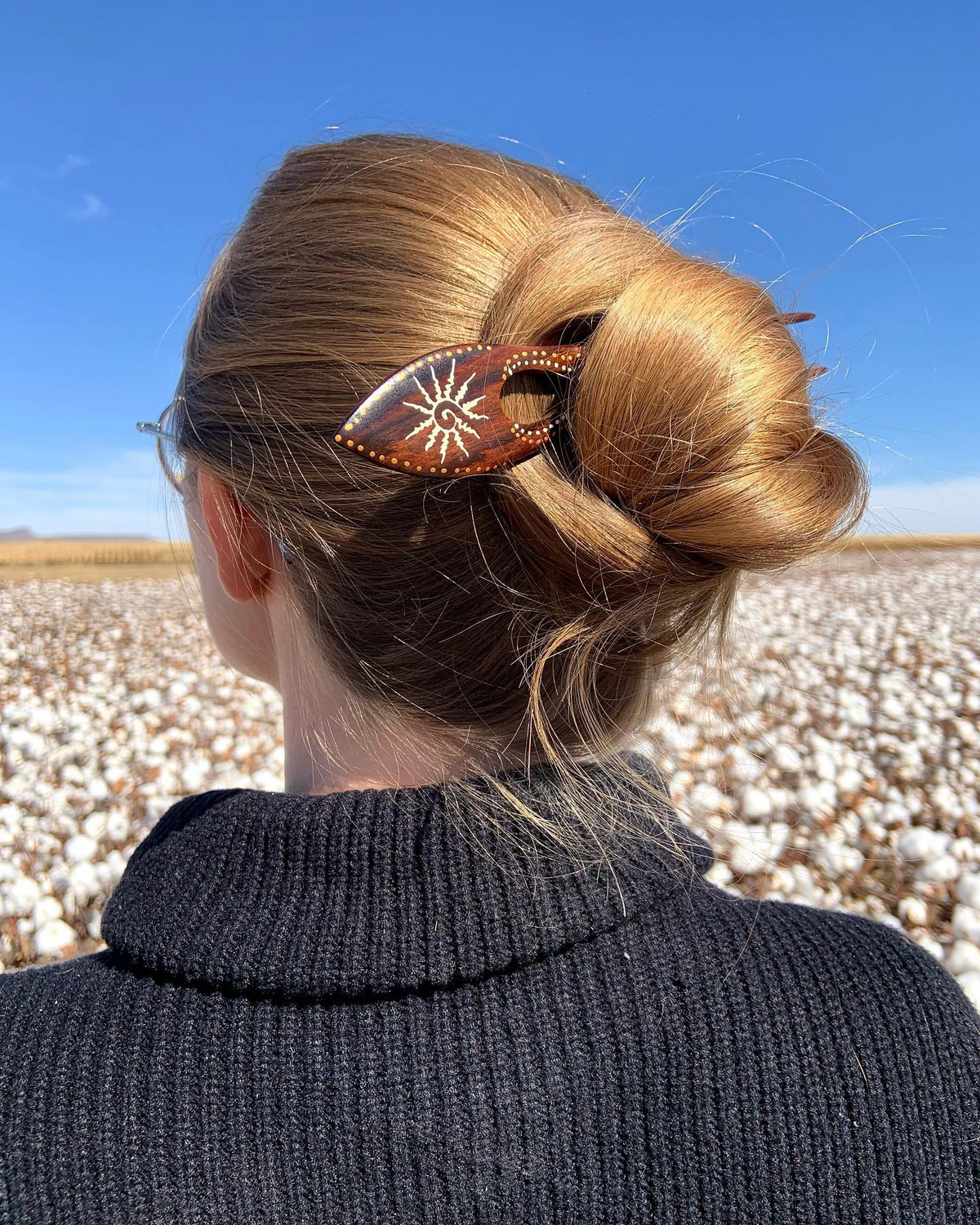 | | |
| --- | --- |
| Pros | Cons |
| Timeless Elegance: Hair sticks exude a timeless elegance that can elevate any hairstyle, adding a touch of sophistication and allure to your look. | Learning Curve: For beginners, mastering hair sticks may require practice and patience, as it involves a different technique than traditional hair accessories. |
| Versatility: With an array of designs, lengths, and materials, hairsticks offer endless possibilities to create various hairstyles suitable for both formal occasions and casual outings. | Limited Hairstyles: While hair sticks are versatile, some complex hairstyles may require additional pins or accessories for added support and creativity. |
| Hair-Friendly: Unlike traditional hair ties or clips that can cause breakage and damage, hair sticks gently secure your hair without tugging or pulling. | Hair Type Dependency: Hair sticks work best on medium to long hair; individuals with short hair may find limited styling options with these accessories. |
| Long-Lasting Hold: Hair sticks offer a secure hold, ensuring your hairstyles stay intact throughout the day, even for those with thick or unruly hair. | Risk of Loss: Due to their size, hair sticks can be easy to misplace or lose, requiring extra care when storing and handling them. |
| Environmentally Friendly: Many hair sticks are crafted from eco-friendly materials like wood or bamboo, making them a sustainable and planet-friendly option for hair accessories. | Hair Damage (Improper Use): If not used correctly, hair sticks can potentially cause damage to the hair or scalp, especially if forced through tangled or fragile strands. |
| Personal Expression: Hair sticks come in various designs, allowing you to express your individuality and complement your style with unique and artistic pieces. | |
Choosing The Right Hair Stick
Understanding your hair type and length is essential when choosing the perfect hair stick. Different hair types require varying hold levels and support, and the right hair stick can make all the difference in creating a stunning and secure hairstyle. Here are some key considerations to remember:
Hair Length: The length of your hair will dictate the length of the hair stick you need. Longer hair may require longer hair sticks to effectively hold the hair in place, while shorter hair can be managed with shorter hair sticks.
Hair Texture: Consider the texture of your hair—whether it's thick, fine, curly, or straight. Thicker hair may require sturdier and more robust hair sticks for a secure hold, while finer hair may work well with slimmer and lightweight options.
Hairstyle Complexity: If you prefer intricate and elaborate hairstyles, look for hair sticks that offer enhanced stability, such as double-pointed or metal options. For simpler styles, single-pointed hair sticks may be sufficient.
Occasion: Consider the occasion you'll use the hair stick. Formal events may call for more elegant and embellished hairsticks, while everyday, practical designs can complement casual outings.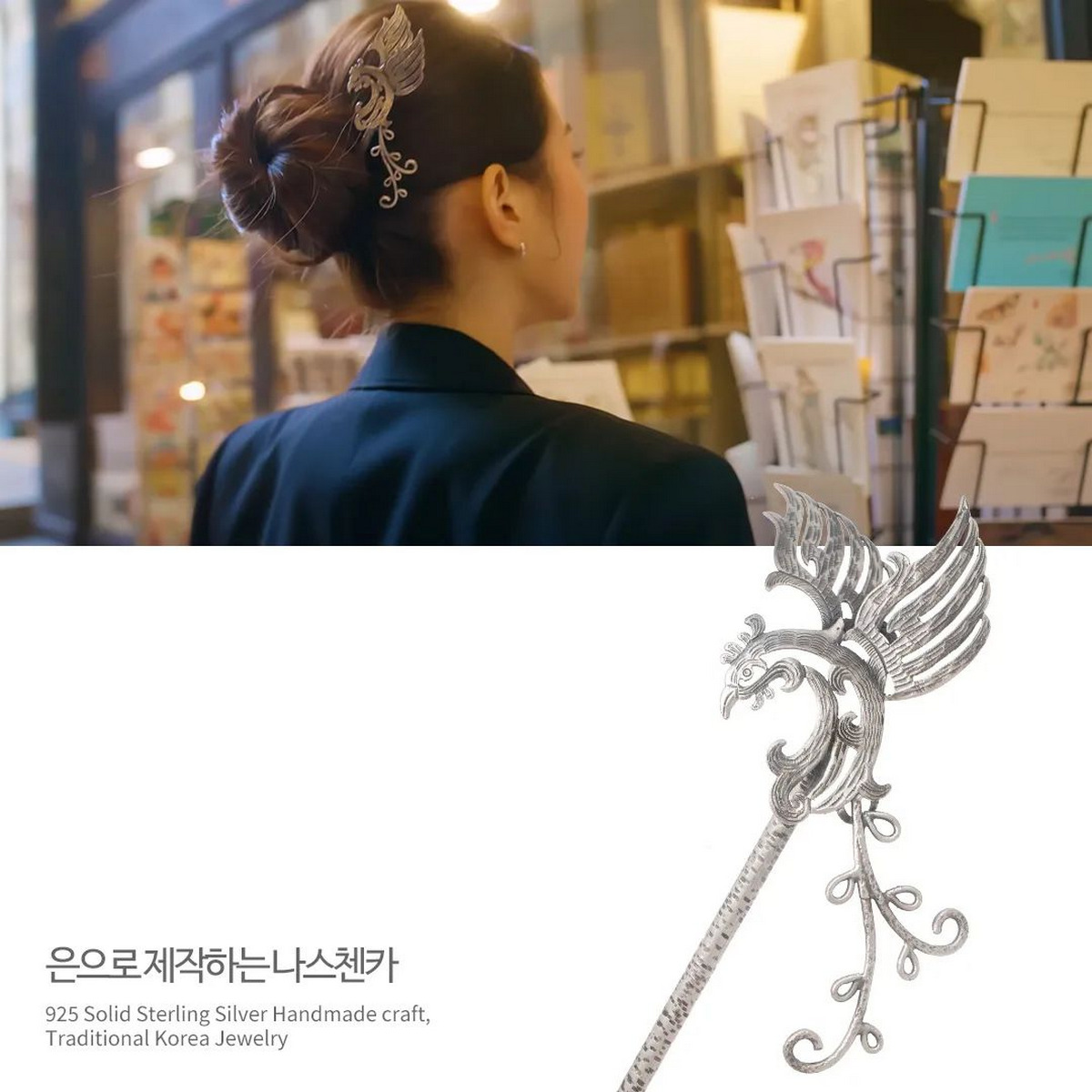 How To Use Hair Sticks
Using hair sticks to craft elegant and sophisticated hairstyles is a delightful art that, with a little practice and guidance, anyone can master. Below, we provide a step-by-step guide to achieve a variety of captivating hairstyles with hairsticks.
Preparing your hair for hair stick styling (clean and dry):
Start with clean hair: Begin by washing and conditioning your hair to ensure it's clean and free from excess oils or product buildup. Freshly washed hair provides a smoother surface for the hair sticks to grip.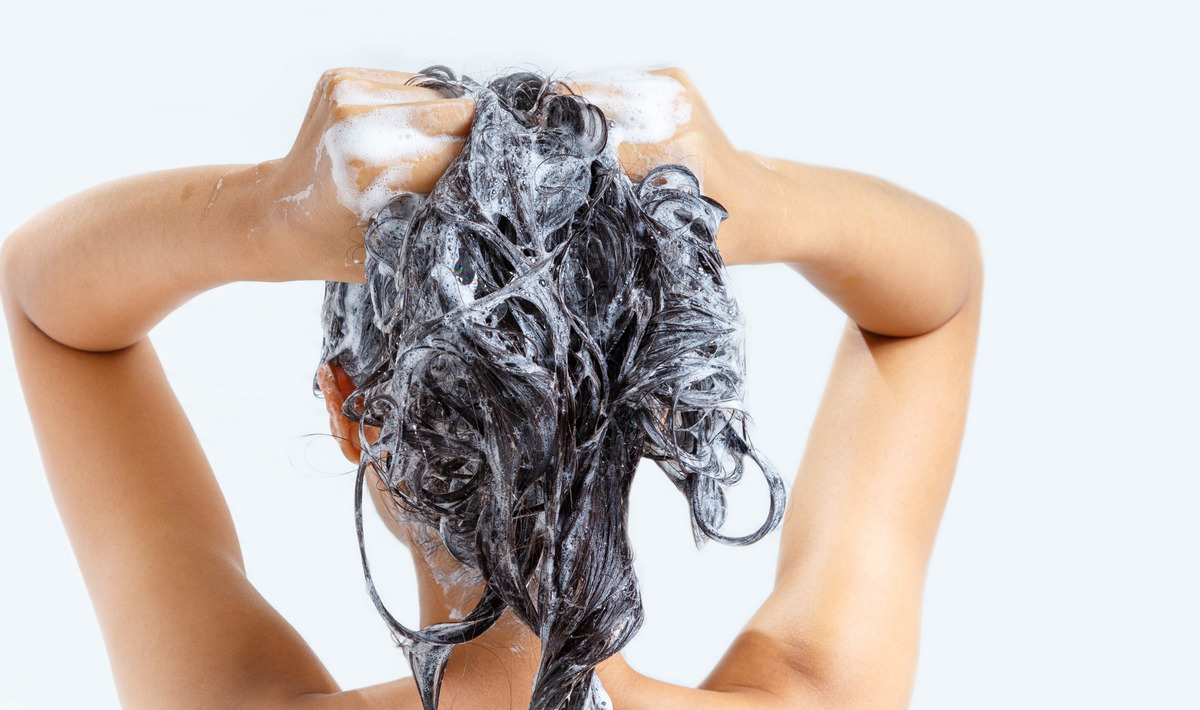 Dry your hair thoroughly: Working with dry hair when using hair sticks is essential to avoid slippage and achieve a secure hold. Use a hairdryer if needed to dry your hair before styling completely.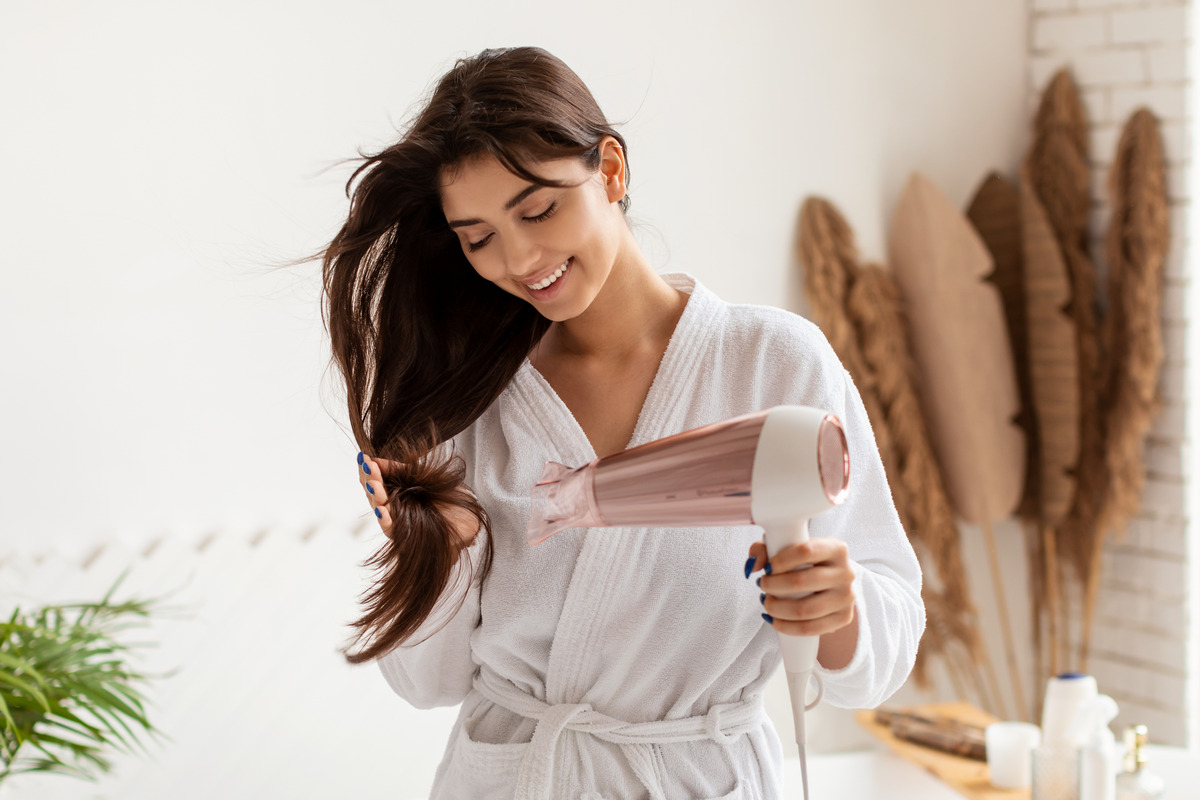 Detangle gently: Brush your hair gently using a wide-toothed comb or a detangling brush to remove any knots and tangles creating a smooth and manageable base for your hairstyle.
Here are step-by-step guides on using hair sticks to create different hairstyles.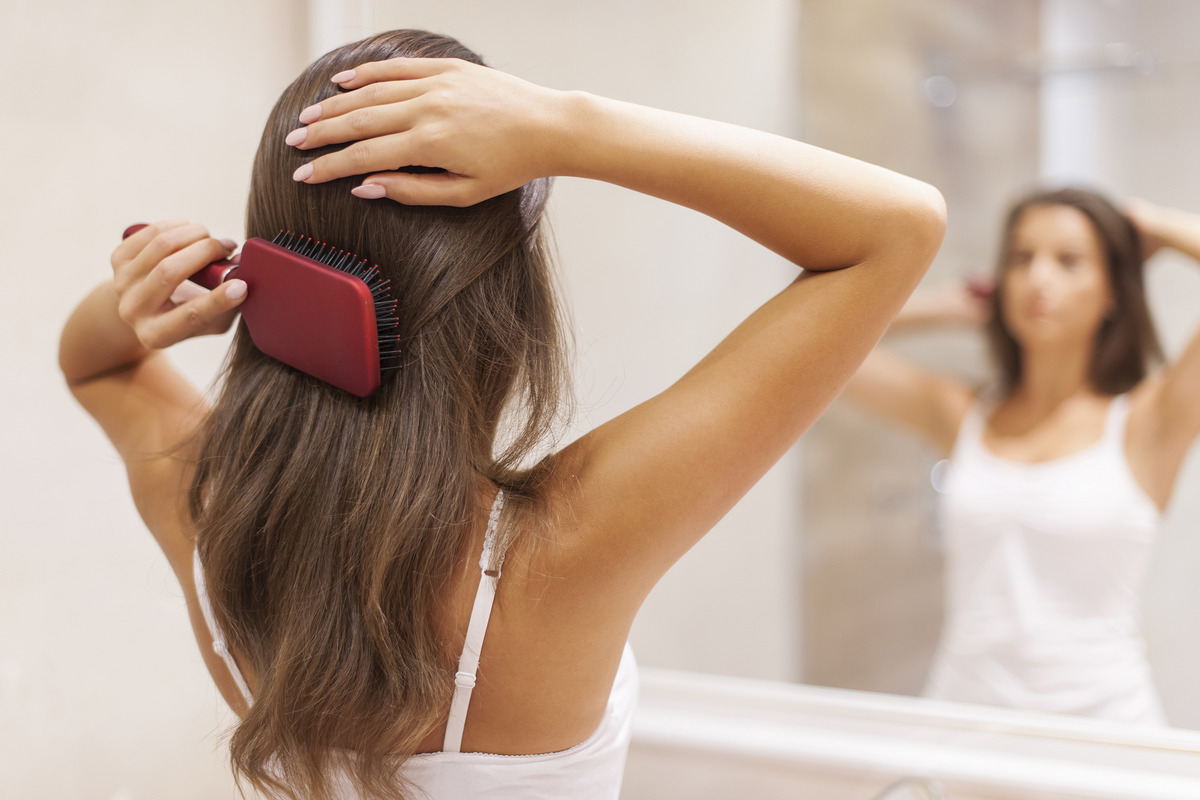 Classic Bun
This section will demonstrate the Classic Bun utilizing hair sticks in detail. Let's get started with the steps to achieve a flawless Classic Bun using hair sticks:
Step 1: Gather your hair
Begin by holding your hair together in a ponytail using one hand. Position the ponytail at the desired location where you want the bun to sit. This will serve as the foundation for the bun.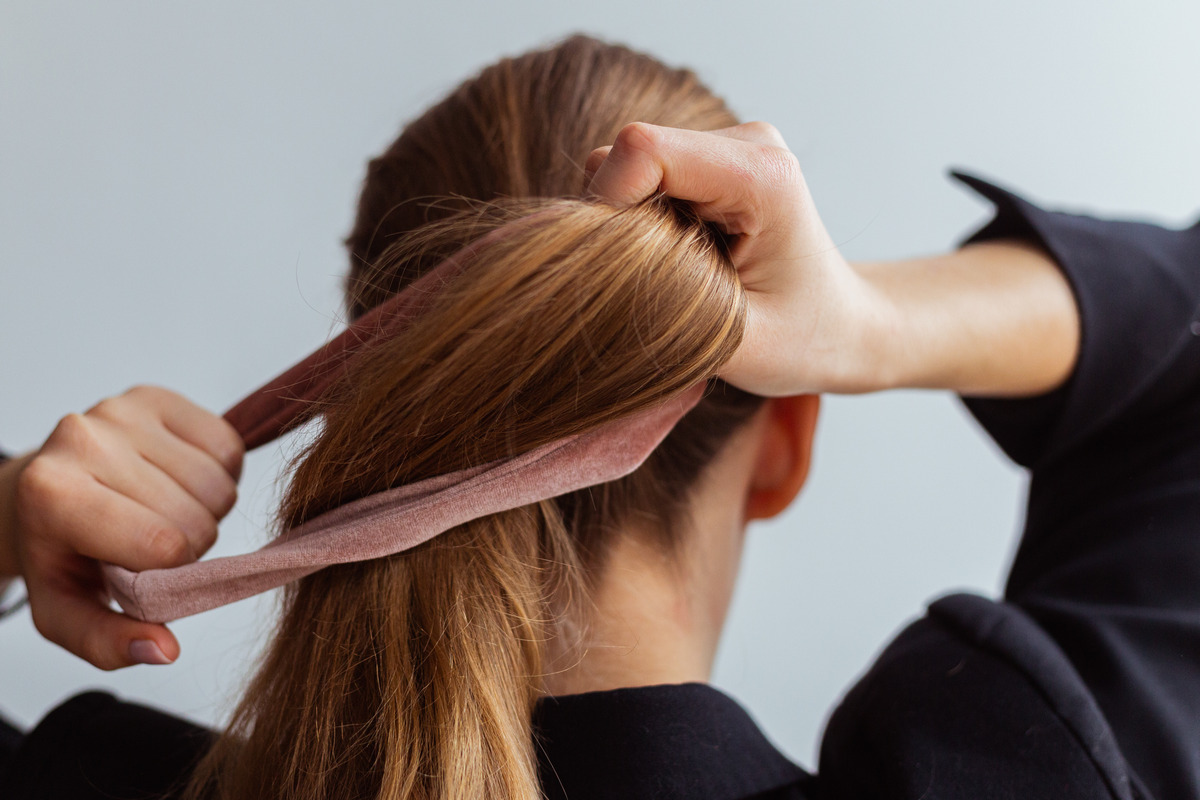 Step 2: Twist and secure
Now comes the part where you create the bun shape. Horizontally twist the hair stick, wrapping the hair around it as you go. Keep twisting until all your hair is neatly wound around the hair stick, forming a beautiful bun. Please make sure the hair is wrapped so it holds its shape.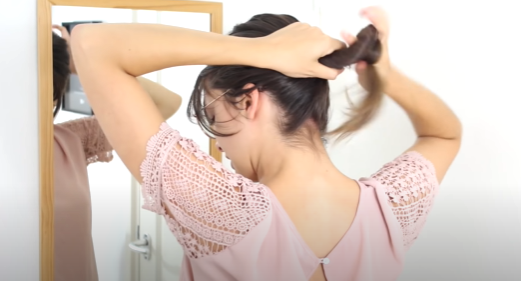 Step 3: Insert the hair stick
Take a hair stick with your other hand and hold it vertically. Carefully insert the hair stick through the center of the ponytail, starting from its base and gently sliding it upwards towards the scalp. Ensure the stick is positioned straight and centered to maintain a balanced bun.
Step 4: Secure the bun
To give your bun extra stability and ensure it stays in place all day, take the hair stick and gently push it deeper into the bun. This will anchor the bun firmly. Alternatively, if you prefer a more secure hold, use a second hair stick and create an "X" pattern by inserting it through the bun. This will add extra reinforcement and keep your bun intact, no matter how active your day gets.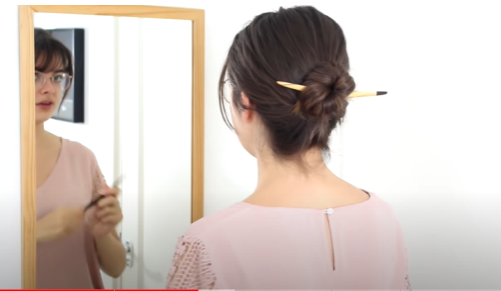 Messy Updo
This section will offer a step-by-step tutorial on how to make a Messy Updo with hair sticks. Let's dive into the steps. Embrace the carefree and whimsical nature of this in steps:
Step 1: Prepare your hair
To start styling, give your hair a textured and carefree vibe by loosely twisting or braiding various sections. Remove some strands loose to achieve that relaxed, effortlessly messy look.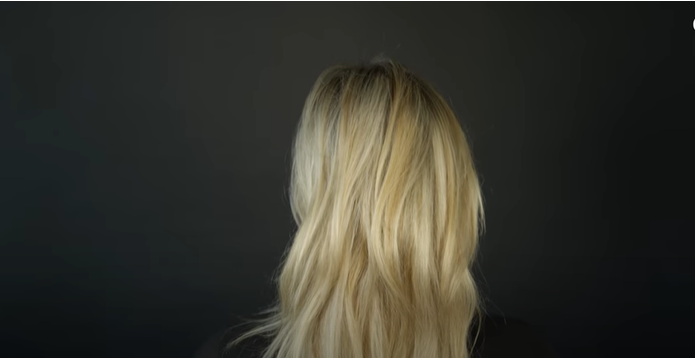 Step 2: Gather the hair
Bring all those sections together at the nape of your neck once you have your hair with loose twists or braids. Imagine if you were gathering it to create a low ponytail.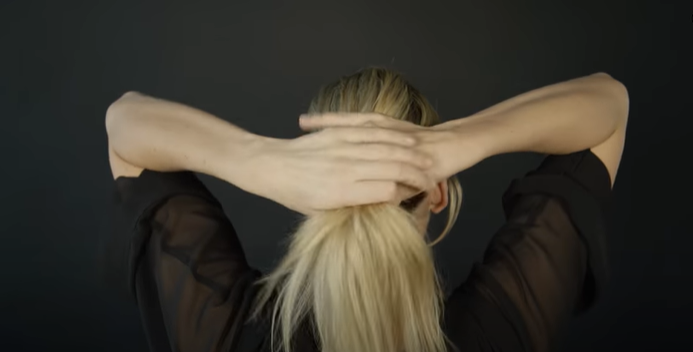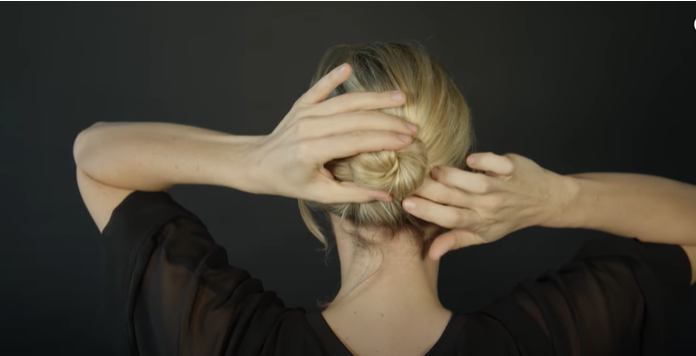 Step 3: Insert the hair stick
Now, with the gathered hair in one hand, insert a hair stick diagonally through the mass of twists or braids. This interlock the twisted sections, forming an artful and naturally messy updo.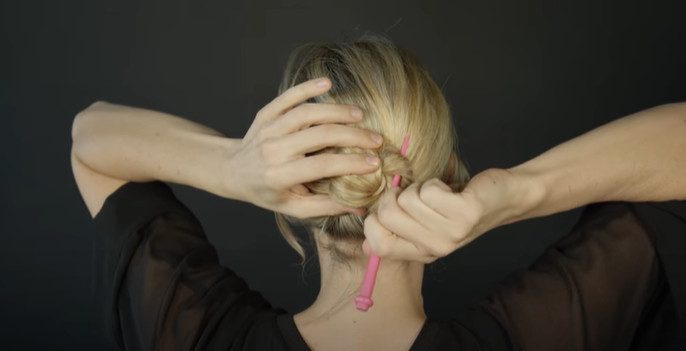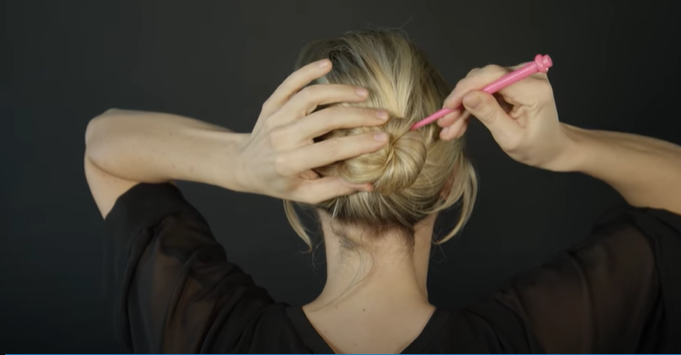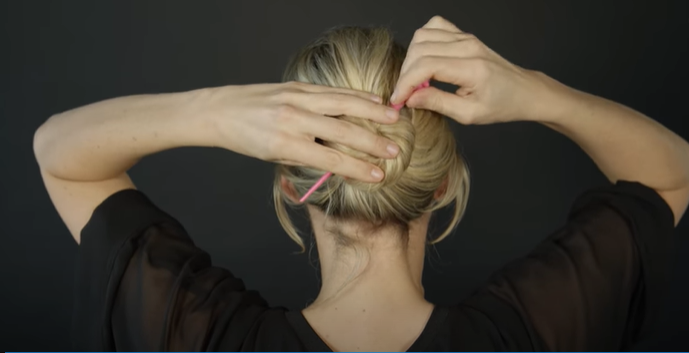 Step 4: Adjust and loosen
To perfect the casually tousled appearance, gently pull on the twisted sections. This will allow the updo to loosen up further, giving you that desired messy and undone allure.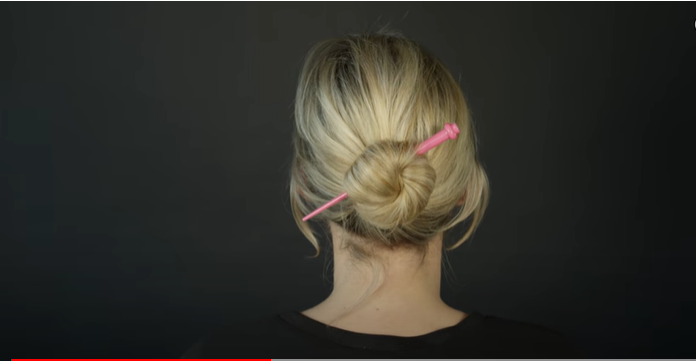 Additional tips: To enhance the messy look even more, carefully pull out a few face-framing strands or let some wisps of hair fall free around your ears.
French Twist
Follow these instructions carefully for a stunning and graceful look:
Step 1: Gather your hair
Start by brushing your hair to eliminate any tangles or knots. Using your dominant hand, gather all your hair at the nape of your neck as if you were creating a low ponytail. Hold the gathered hair firmly with one hand to keep it in place.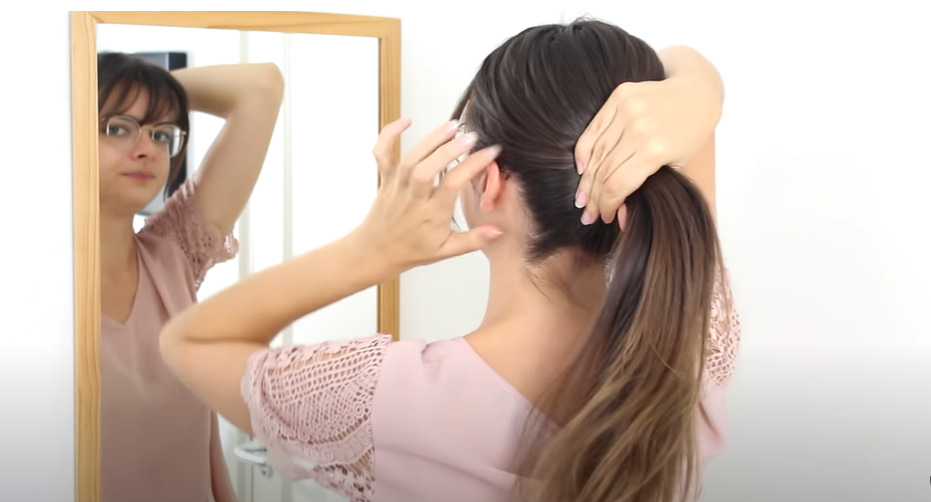 Step 2: Insert the hair stick
With your other hand, position the hair stick horizontally through the center of the ponytail, close to your scalp. Make sure the hair stick is placed parallel to the floor for stability.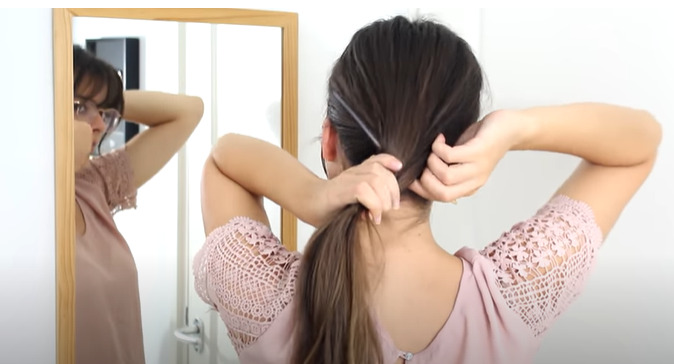 Step 3: Create the twist
Using your fingers, create a gap or opening above the hair stick between the hair and your scalp. Carefully flip the entire ponytail up and through this gap so it's now pointing upwards toward the ceiling. As you do this, the hair stick will act as an anchor, holding the twist in place.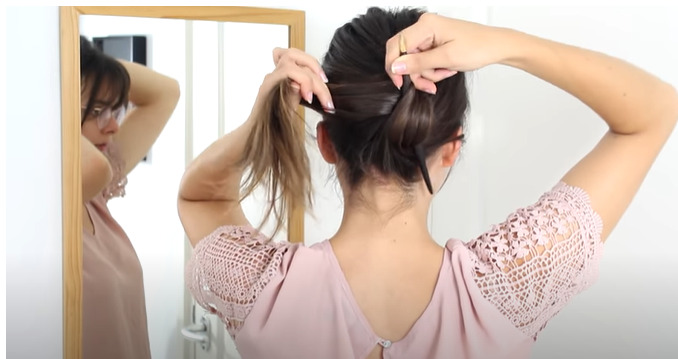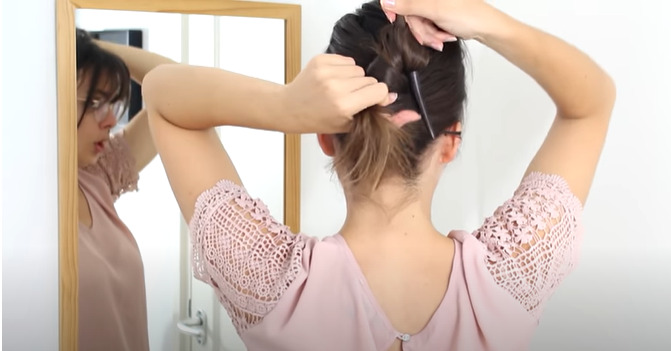 Step 4: Secure the twist
With the ponytail now flipped up, tuck it under the hair stick and gently guide the stick downwards, following the path of the twist. The hair stick will secure the twist in place, keeping it neat and well-structured. You can insert additional hairpins if needed to ensure everything stays in position.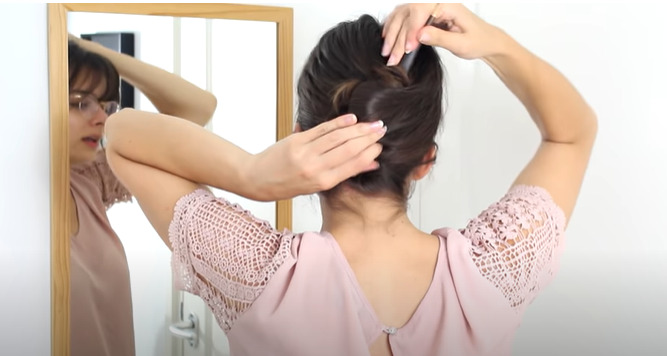 Half-Up Hairstyle
If you're looking for an elegant and creative way to elevate your Half-Up Hairstyle, using hair sticks can add a touch of sophistication and individuality to your look. Hair sticks provide a secure and stylish method to hold the gathered hair in place, turning a simple Half-Up Hairstyle into a polished and refined statement. Below is a guide to using hair sticks to create a Half-Up Hairstyle:
Step 1: Gather the top section
Start by selecting the top section of your hair you want to style. This section typically includes the hair from the crown of your head to just above your ears. Use your fingers or a comb to gather this section and hold it firmly with one hand. Leave the rest of your hair loose and flowing for now, as it will be styled later.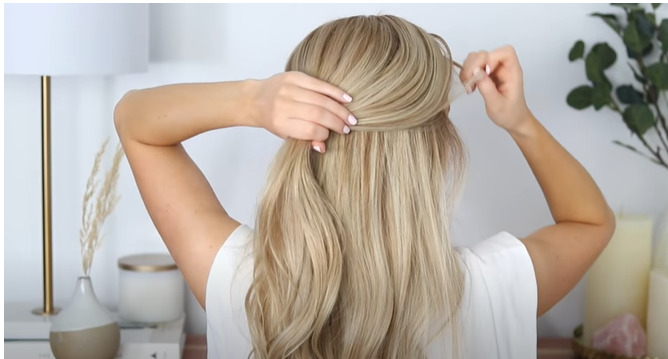 Step 2: Insert the hair stick
With the top section of your hair in hand, take the hair stick with your other hand and prepare to secure the Half-Up Hairstyle. Position the hair stick vertically at the top of the gathered section, near your scalp. Gently insert the hair stick, sliding it down through the gathered hair parallel to the hair's natural direction of growth. As you do this, the hair stick will act as an anchor, holding the top section of your hair in place.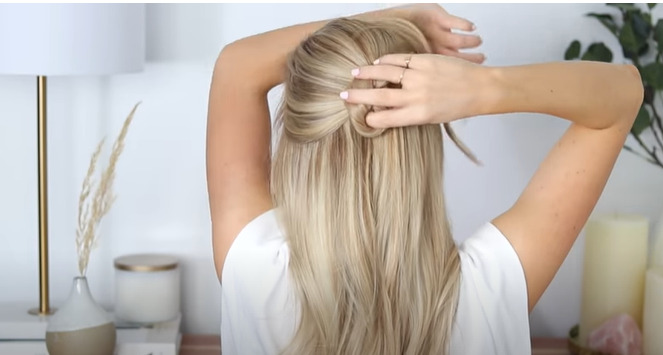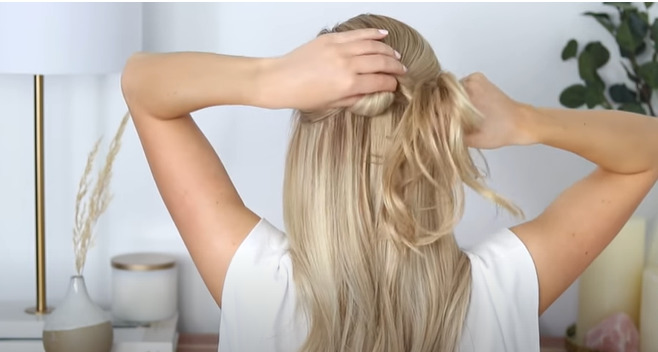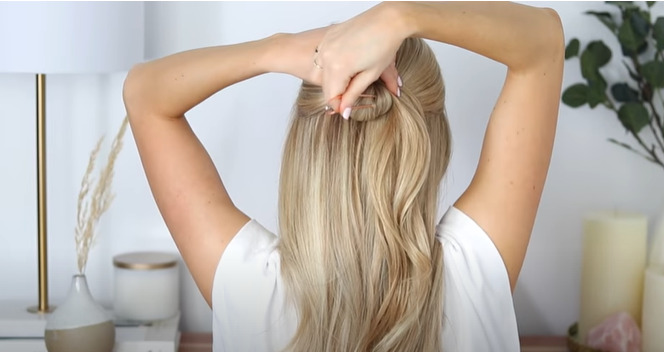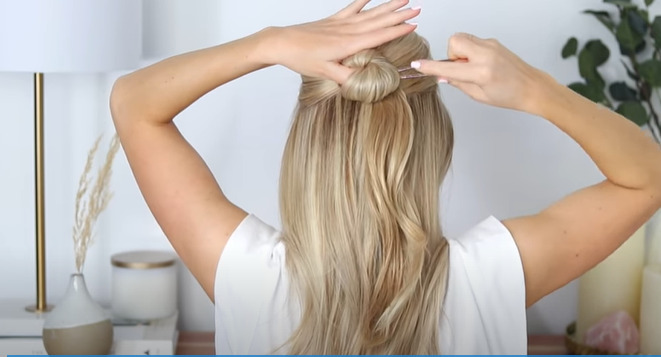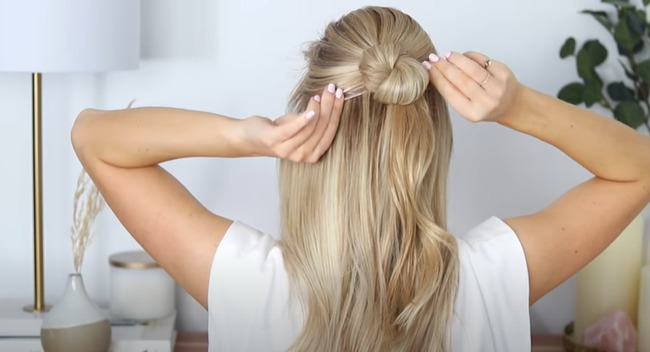 Step 3: Adjust and secure
Once the hair stick is in place, you can adjust the top section of your hair to achieve your desired style. You can leave the hair as it is for a classic Half-Up look, creating a simple and elegant half-updo. However, you can twist the gathered hair slightly before tucking it under the hair stick for a more intricate and textured look. Your Half-Up Hairstyle will gain depth and dimension; as a result, giving it a distinctive and customized touch.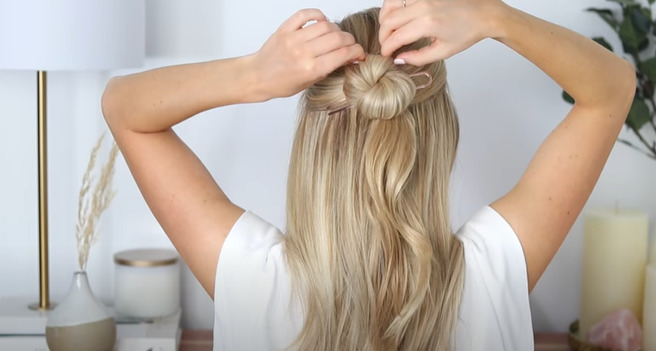 Step 4: Accessorize (optional)
You can spice up your Half-Up Hairstyle by inserting ornamental hairpins, flowers, or other accessories, according to your preferences and situation. These embellishments can further enhance the beauty and charm of your Half-Up look, making it even more eye-catching and stylish.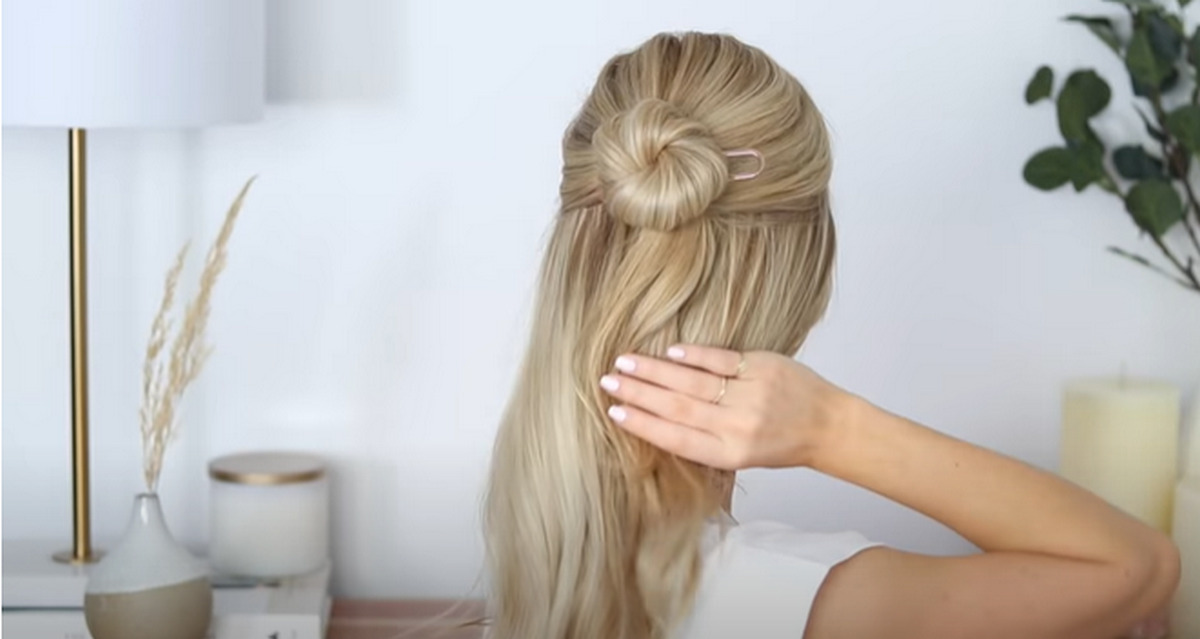 Tips And Tricks For Hair Stick Mastery
Whether you're a beginner or an experienced user, these tips and tricks will help you elevate your hair stick game and achieve stunning hairstyles with ease:
Practice with loose hair: Start practicing with loose hair before attempting more complex updos. This will help you get comfortable handling the hair sticks and understanding how they hold your hair.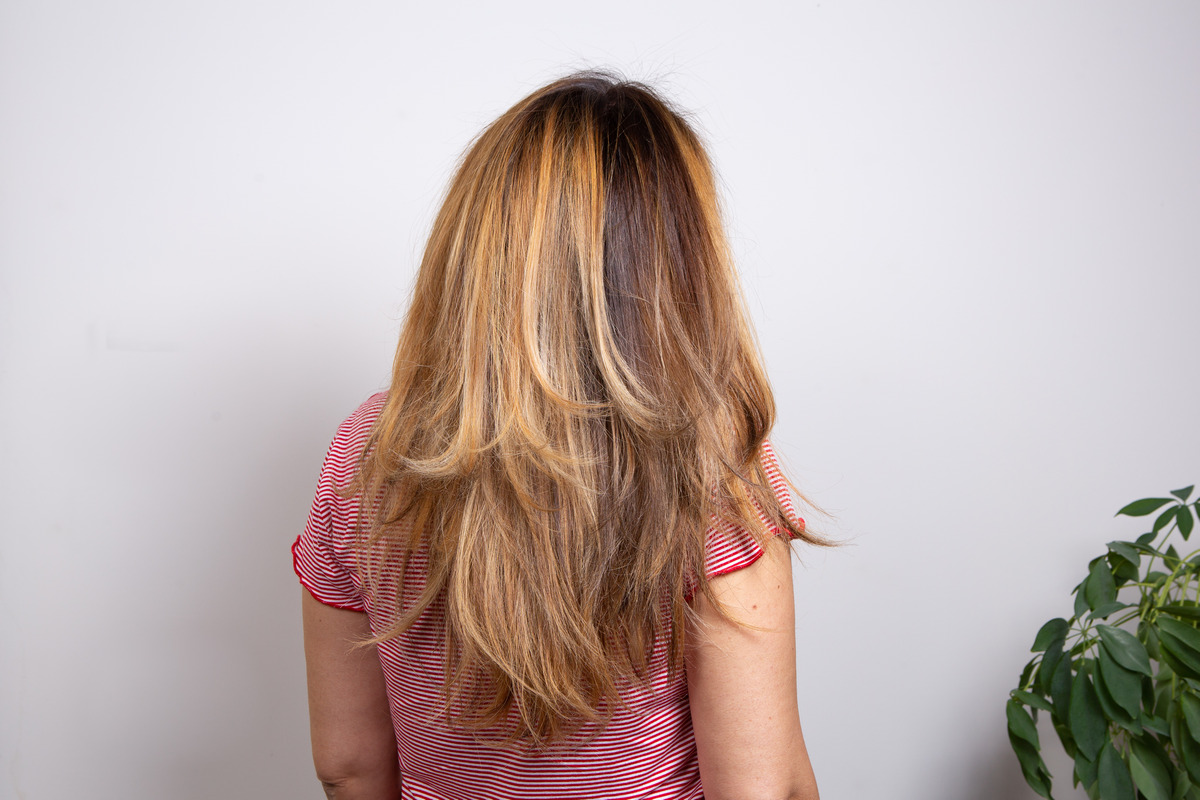 Use hair sticks with a pointed end: Hair sticks with a pointed end are easier to insert and secure, making them ideal for beginners. As your confidence grows, you can try out different designs.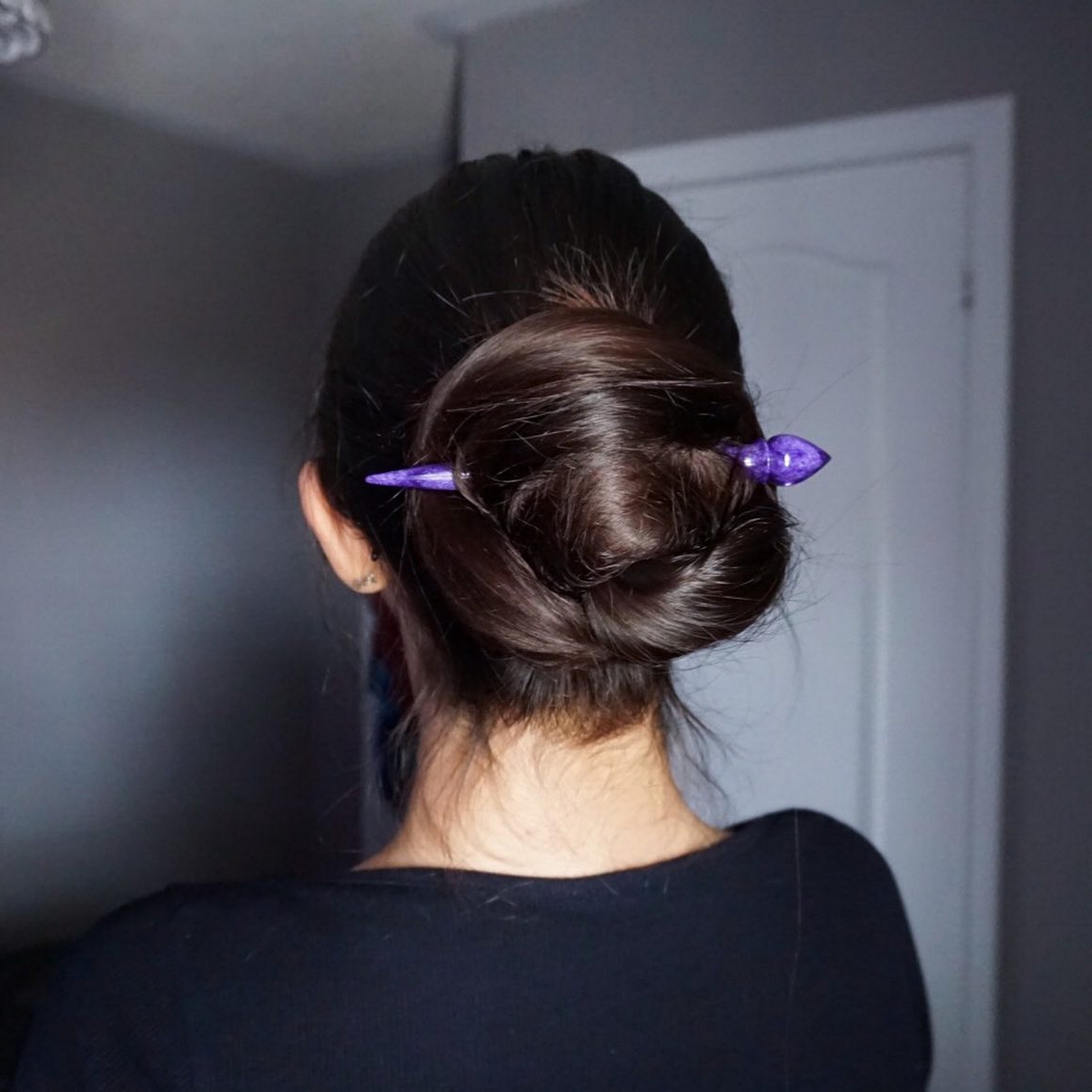 Experiment with different grips: Explore different ways to grip the hair stick when inserting it into your hairstyle, such as twisting or gentle push. Find the technique that works best for you.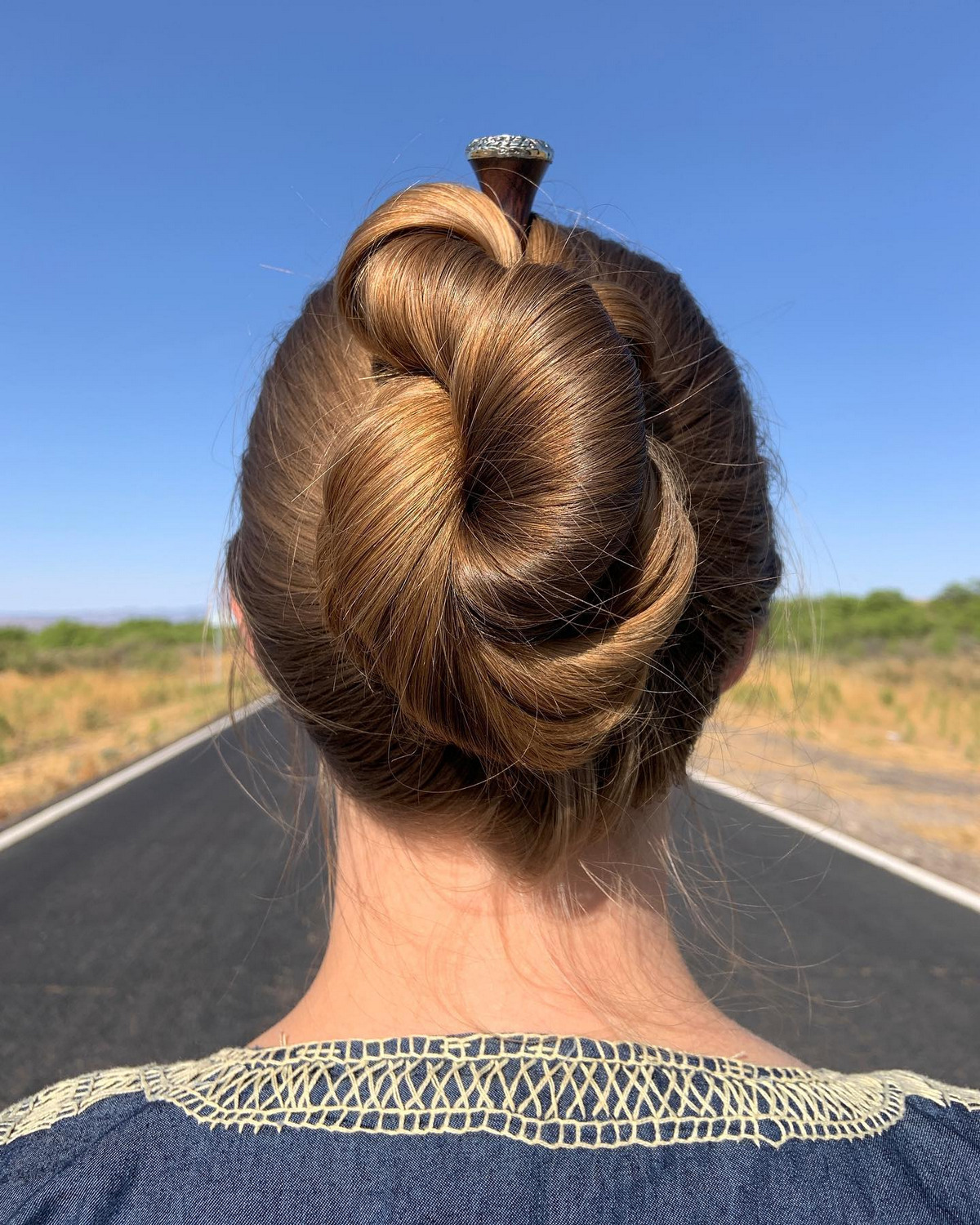 Combine hair sticks and other accessories: Introduce hair sticks into hairstyles that incorporate other accessories, such as hairpins, barrettes, or hairbands, to add complexity and uniqueness to your look.
Decorative hair sticks: Enhance your hairstyles with hair sticks adorned with crystals, beads, or unique carvings. These embellishments add a touch of glamour and charm to your overall look.
Clean regularly: After each use, wipe your hair sticks down with a soft, moist towel to eliminate any buildup or debris. Store your hair sticks securely and organized properly to prevent damage or misplacement. Consider using a designated container or hair stick holder for safekeeping.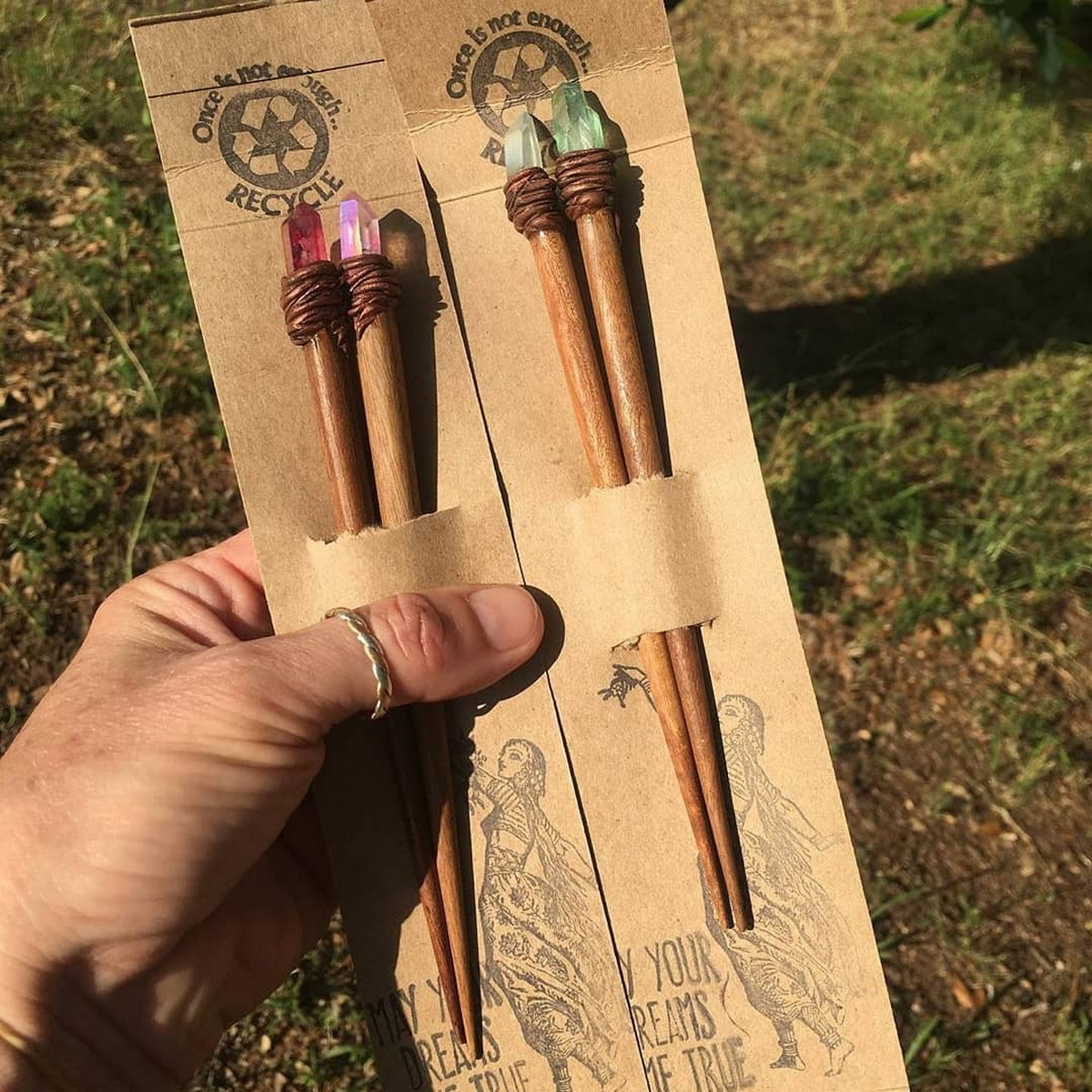 Caring For Your Hair Sticks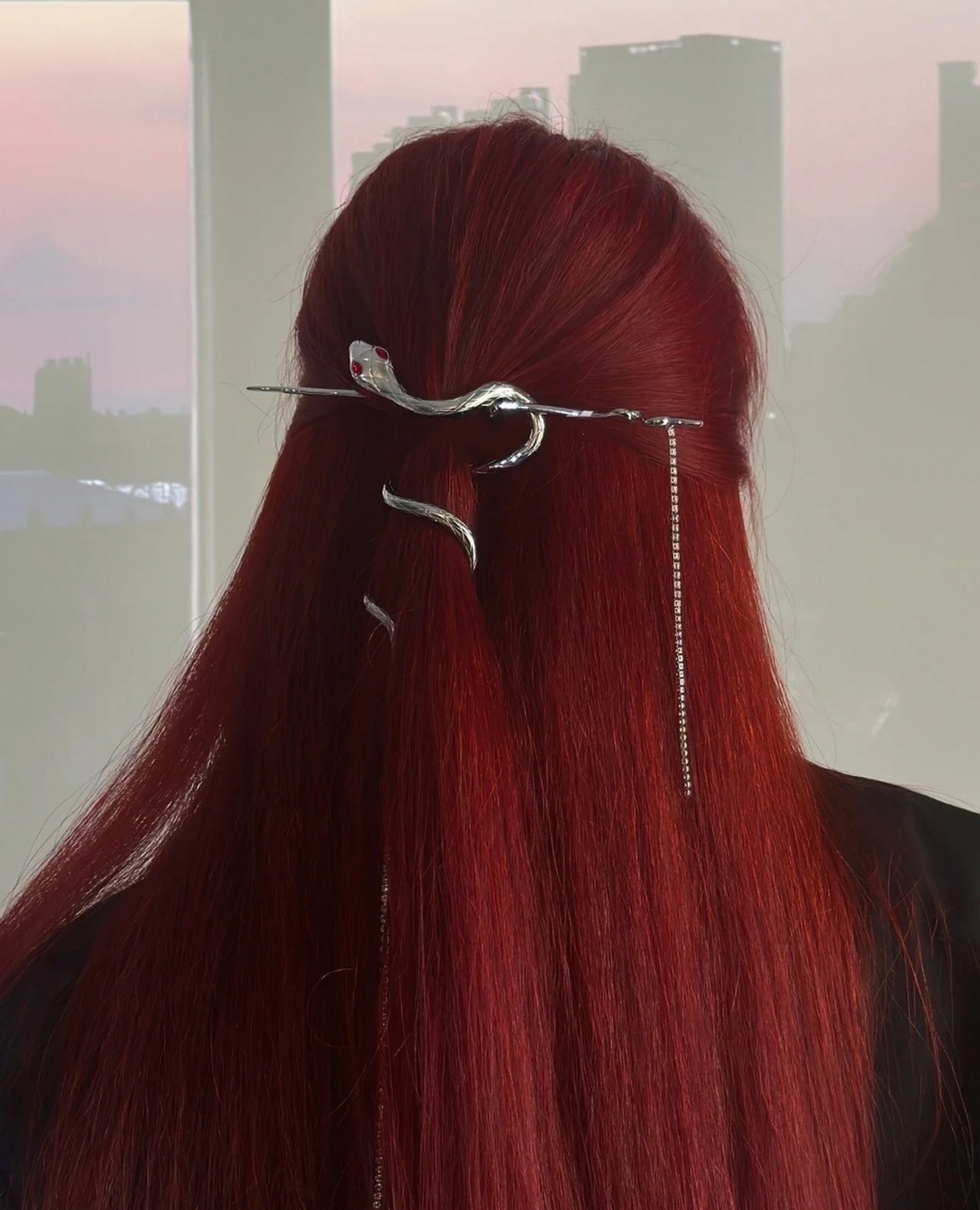 Proper care and maintenance of your hair sticks are essential to ensure their longevity and continued functionality. By following these tips, you can keep your hair sticks in excellent condition and enjoy their timeless beauty for years to come:
Gentle insertion and removal: Handle hair sticks carefully, avoiding excessive force during insertion and removal. Gently slide the hair sticks through your hair to prevent bending or breaking.
Avoid bending: Hair sticks are typically made of sturdy materials, but they can still be susceptible to damage if mishandled. Avoid bending or twisting hair sticks, which may weaken hair's structure.
Wipe after use: After each use, wipe your hair sticks with a soft, damp cloth to remove any hair products or oils that may have transferred onto them.
Avoid harsh chemicals: Refrain from using harsh cleaning agents or soaking your hair sticks in water, as this could damage certain materials or weaken adhesives used in decorative elements.
Dedicated storage: Designate a specific container or holder to keep your hair sticks organized and protected when not in use. This prevents them from getting lost or tangled with other accessories.
Avoid overcrowding: Store your hair sticks in a way that allows them to remain separate and prevents them from rubbing against each other, which can lead to scratches or damage.
Glue loose parts: If your hair stick comes loose from its decorative end or cap, carefully apply a small amount of strong adhesive to reattach it. Ensure the glue is dry and secure before using the hair stick again.
FAQs
What Is The Meaning Of A Hair Stick?
Hair sticks are small, slender rods typically made of wood, metal, or plastic. They are designed to hold hair in place, creating elegant and functional hairstyles.
Are Hair Sticks Suitable For All Hair Types?
Hair sticks can be used with various hair types: straight, wavy, curly, and coily. However, they may be more effective on medium to long hair lengths.
How Do I Insert Hair Sticks Into My Hair Without Damaging It?
To avoid damaging your hair, inserting hair sticks carefully and gently is essential. Part your hair where you want to create the style, then twist or gather the hair into the desired shape before sliding the hair stick through the bun or twist, avoiding tugging or pulling excessively.
Are Hair Sticks Comfortable To Wear All Day?
The comfort level of wearing hair sticks all day depends on the individual and the hairstyle. Some people find them comfortable, while others may prefer to use them for special occasions or shorter durations.
Can I Use Hair Sticks On Wet Hair?
Damp hair is more prone to breakage; hence it is typically not advised to use sticks on damp hair. Letting your hair dry partially or completely before using hair sticks is best.