Suede has always been a favorite material for consumers as it is pliable, delicate, and soft to the touch. However, once suede shoes get dirty, it is difficult to deal with stains and smudges without messing the pair up. Be careful with any brush and cleaner!
But don't worry! I'm here to show you some basic tricks and tips to help you keep your shoes in good condition.
Important Rules:
Do not use the washing machine under any circumstances: You can only hand wash them.
Find and read instructional cleaning tags on the shoes first: If your shoes come with cleaning instructions, you should follow them as they are ideal solutions.
Keep your shoes from water and liquid cleaners (except for those used for suede); if needed, use as little as possible: Water would change the texture of suede when it dries.
You should invest in special tools for suede: Use the right products to help retain the original shape, color, and texture of the shoes. If you want to keep things as simple as possible, the suede eraser and the suede brush are must-have items.
You may want to check out this latest guide about comfortable moccasins shoes.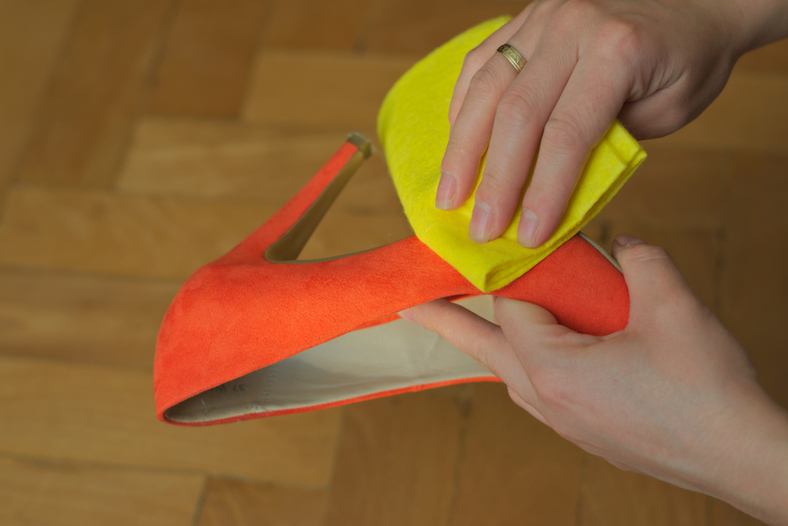 Steps To Clean Suede Shoes
Equipment:
a suede eraser
a suede brush
a suede cleaner
a suede protector
a shoe tree
Step 1: Take The Laces Out And Put The Shoe Tree In To Keep The Shoes' Shape.
Step 2: Use The Suede Eraser
It functions like a pencil eraser, so you can rub it to any dry, superficial marks using moderate pressure. Do not use any soap for replacement as the suede eraser can restore the original texture and finish of the material.
Step 3: Use The Suede Brush
Next, you need to rub the horse-hair brush onto the footwear. It will help to get rid of all debris that you lifted out with the eraser.
Protip: In this step, if you do not have the suede brush, you are free to use an old toothbrush instead. It functions similarly to a suede brush and efficiently loosens up the dirt without damaging the material. However, the more stubborn stains could be a bit challenging to deal with.
Here is a video showing you how to use the suede eraser and the suede brush:
Step 4: Use The Suede Cleaner
If you still have to confront any oil-based or color-based stains, spray the suede cleaner thoroughly on the shoes and let it dry naturally for a couple of minutes. Then, you brush the shoes with the suede brush again to remove all those residual particles. This product is effective in removing food dirt and grease.
Protip: You can use the white vinegar to remove food stains by letting it absorb for some seconds and rubbing it using the brush or wiping it with a clean towel.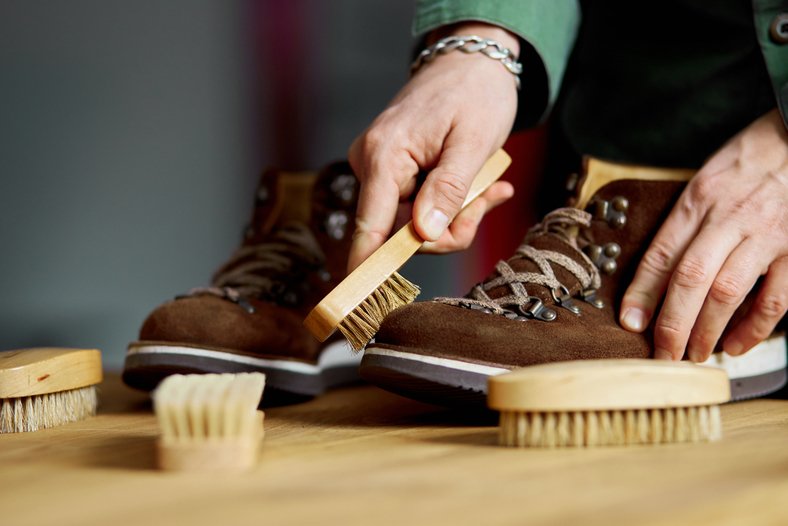 Step 5: Use The Suede Protector
Spray the liquid all around the shoes from a distance of 2-3 inches and dry the pair naturally. This step is additional, but it is recommended so that your shoes will be protected against rainwater, sunshine, salt stains, oil, and dirt. It also avoids a discoloration of the suede and imparts more strength to the leather.
You may doubt the benefits of this item, but performing a simple task by dropping some water into your shoes with and without the suede protector will show you the differences. The water will absorb into the shoes quickly without the protector, which would cause damage to the form and texture of leather in the long run. But the one with the protector will be left with the beady appearance of water droplets.
FAQs
How can I clean the black suede shoes not to fade the color?
Black suede shoes are charming and delicate to have in the footwear collection. However, cleaning can be a rather challenging task as the color may fade away. You need to follow the recommended steps above to clean your pair, at least with the suede eraser, brush, and protector, then fill the scratched or faded spots with black suede dye. Especially, using the suede protector regularly and avoiding direct sunlight for an extended time may shield your shoes from discoloration.
How can I protect my white suede shoes to keep the color?
Before wearing it to go outside, remember to check the weather if it is raining, get away from wet grass, motorbike, and any sporty activities that would cause ingrained marks to the surface. To keep the color perfect like the first day, follow the regular steps to clean them and do not hesitate to use the suede protector. Last but not least, put them in a box and store them in a dry place when not in use.
How to clean blood stains in suede shoes?
Blood marks are difficult to clean, as blood is high in protein and requires hydrogen peroxide to break down its structure. Pour a few drops of hydrogen peroxide into the cotton balls or clean towel and gently dab it on the stain and wait for a minute until it comes out.
Can I use soap and water to clean my suede shoes?
No, you can only dry-brush your shoes when it has suede material on it. When treating this kind of leather, you need to avoid excessive water that would ruin the soft texture. The soap can also fade the color away and leave you with a patchy color coating. Don't be thrifty when it comes to suede! Buy yourself a kit of the suede eraser and brush to keep your pair in perfect condition.
How can I clean my suede shoes soaked in excessive water?
Firstly, you need to gently dry your pair in a dry place at room temperature. Being exposed to the heater or excessive sunlight can warp or crack the suede. Just be patient, so the original shape of your footwear was retained. Once it shrinks, it's hard to bring back the soft texture.
Secondly, stuff your shoes with a shoe tree or some clean white tissue. It helps to absorb water inside the shoe and hold its shape. Do not use the newspaper as the ink may run on your shoes. Blot your outer leather with some cloth to soak up as much water as possible.
Now move on to the cleaning steps. Do not rub, scrub or wipe forcefully so that you don't break off the brittle and stiff hairs. If your shoes are still wet, use the hairdryer with air-dry mode. At the same time, lift water stains and dirt with the suede eraser, then brush it off using the suede brush. Gently brush it in a circular motion until it's dry and smooth.
Finally, spray the suede protector to maintain the soft outer coating and avoid damage in the long run. The next time you go outside, please check the weather and go to dry places when it's raining.
Can I use my pencil eraser to replace the suede one?
It may sound a little crazy… but yes, you can! Find yourself a clean one and rub it to the stains. It works!
How can I remove chewing gum from my suede shoes?
The point here is that chewing gum softens when heated and hardens when frozen. Put the ice cubes in a plastic bag to avoid getting water on the suede. Place that bag on the gum for about 15 minutes. When it gets firm, scrape the gum off. Follow instructions to get rid of stains using the eraser, brush, and the suede cleaner above.
How to remove chocolate stains from suede?
Chocolate stains can't be treated right away with an eraser or a brush, as melted chocolate is easily spread to other unaffected parts of your shoes. First, stuff your ice cube into a plastic bag and place it on top of the chocolate. This will harden the chocolate and make it easier to remove. Then take a butter knife to scrape off dried chocolate. If your shoes still have some stains, spray the suede cleaner and wipe the debris with a clean cloth. Brush your pair again with a suede brush to make sure they are completely clean and soft.
Can I use baking soda to clean my suede shoes?
Yes, you can, but it only works the best with oil and food stains. Baking soda is well known to be able to absorb grease, food dirt and remove unpleasant odors. Sprinkle baking soda all over your footwear and use a toothbrush or some soft brushes to rub in circular movement for about 15 minutes. Finally, brush it off with a suede brush; and your shoes should be clean and odor-free.
Can I use baby wipes on suede shoes?
No, I do not recommend this solution. Sometimes it works, sometimes not. It depends on the type of baby wipes. They contain alcohol which may not be the perfect amount needed for the suede. The best way is to invest in special treatment for suede.