If you are really a huge fan of WWE, you must know John Cena. Besides his incredible performance, you might wonder how tall John Cena is. And this article will let you know that.
John Cena is prominent for his WWE career and subsequent switch to acting. The 45-year-old began lifting weights as a child and later decided to follow bodybuilding. In 1998, John Cena earned a bachelor's degree in exercise physiology from a well-known university Springfield College in Massachusetts.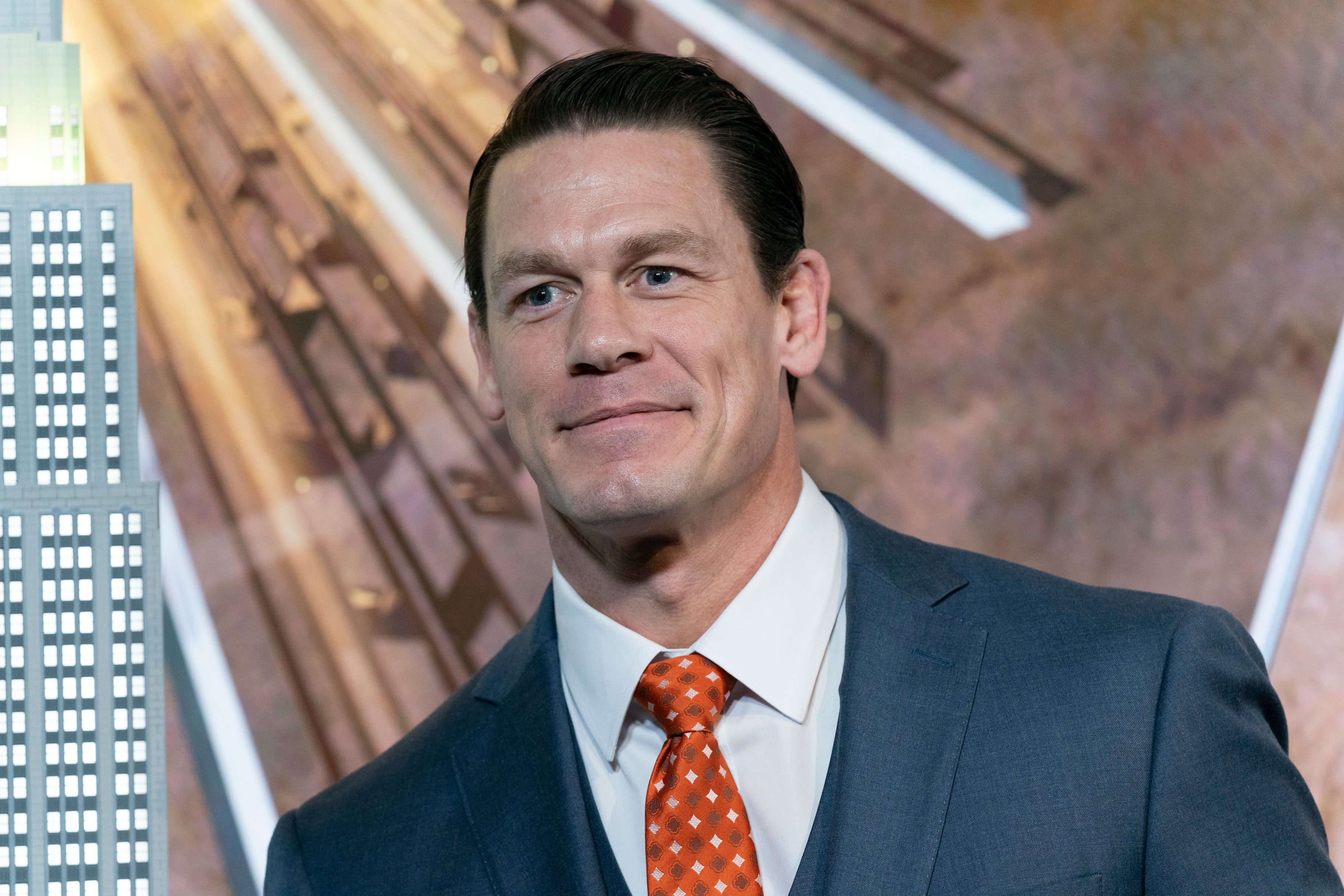 As a consequence, it is not shocking that John Cena has huge biceps and also can lift massive amounts of weight, as demonstrated by his ring exploits. But how tall is John Cena actually, and how much weight does he have? All of these questions and other related ones will be uncovered in this blog post. Keep reading to learn all these interesting facts about John Cena.
Who Is John Cena?
Before discovering the real height of John Cena, let's get to know him with some facts about his career as well as personal life. John Cena is a wrestler, television personality, and actor. In 2000, John Cena won the UPW title under the alias "The Prototype."
He then signed a contract with Ohio Valley Wrestling in 2001. John Cena won the widely-known OVW heavyweight championship in February 2002 and made his WWE first appearance the next June. John Cena even won the United States Championship 2 years later. Since then, John Cena has continued to expand his brand by releasing a hip-hop album and appearing on TV and in movies.
If you are curious about John Cena's achievements and recognition, you can check out our list of the top 20 greatest wrestlers of all time. Known for his impressive wrestling career, Cena has won numerous championships throughout his career, including 16 World Championships, and has been recognized by several prestigious organizations and media outlets for his success in the industry.
John Cena's Early Life
In West Newbury, Massachusetts, John Felix Anthony Cena, commonly known as John Cena, was brought to the world on April 23, 1977, as the second boy of five to Carol Cena and John Sr.
John Cena developed an early interest in sports and exercise. He was a regular fitness junkie by the age of 15, and then after his high school, John Cena went to Springfield College in Massachusetts to learn exercise physiology and fulfill his potential on the football pitch. John Cena was a Division III All-American offensive lineman as well as the captain of the team at Springfield.
Despite his dad's wishes, John Cena decided to leave Massachusetts in 2000 to pursue a career as a bodybuilder in California. The 6-foot-1-inch ambitious star found the transition difficult. He only had $500 in his wallet to get across the nation and bring. He scrubbed toilets and rolled up towels at a Gold's Gym located in Venice Beach to pay the bills. John Cena had to live in the 1991 Lincoln Continental because he could not really afford a place to live.
John Cena's Facts
| | |
| --- | --- |
| Real name/full name | John Felix Anthony Cena Jr. |
| Name | John Cena |
| Nickname | Doctor of Thuganomics, The Champ |
| Birth date | 23 April 1977 |
| Birth place | West Newbury, Massachusetts,United State |
| Nationality | American |
| Zodiac sign | Taurus |
| Religion | Christian |
| Father's name | John Cena Sr |
| Mother's name | Carol Cena |
| Brothers' names | Matt Cena, Steve Cena, Sean Cena, and Dan Cena |
| Qualification | Graduated in Exercise Physiology |
| Height | 5 feet 11 inches (approx. 1.80m) |
| Weight | 250 lbs (approx. 113 kg) |
| Hair color | Light brown |
| Eye color | Blue |
| Shoe size | 11 US |
| Sex orientation | Straight |
| Marital status | Married |
| Spouse/wife | Shay Shariatzadeh, Elizabeth Huberdeau (former wife) |
| Career | Actor and professional wrestler |
| Net Worth | Approx. $60 million |
John Cena's Professional Wrestling Career and Move to Hollywood
According to Fandom, the well-known American wrestler began his professional life with Ultimate Pro Wrestling in 2000 as "The Prototype." John Cena rose really fast through the ranks of wrestling entertainment, winning the Ultimate Pro Wrestling heavyweight title in his first appearance in 2000, propelling him to fame and success.
The UPW champion decided to sign with the Ohio Valley Wrestling (OVW) institution, a WWE training school, in 2001. John Cena, after that, won the OVW heavyweight title in 2002. As a consequence, John Cena became a full-employment professional wrestler.
The OVW heavyweight title holder began performing in the WWE's Smackdown division. In 2005, John Cena won the WWE championship and eventually took part in the Raw division. There, John Cena started building his portfolio and popped up as the brand's face.
John Cena's trademark wrestling transition was the "spine buster," in which he picked up his enemy, spun him around, and dropped him before conveying the "attitude adjustment." This entails flipping adversaries onto the floor after they have been placed over his shoulders.
With John Cena's cousin Tha Trademarc, the former rap artist put out an album named You Can't See Me in 2005. It debuted at No. 15 on the well-known Billboard 200 chart.
While wrestling, John Cena started acting in action films such as The Reunion (2011) and 12 Round (2009). In 2021, John Cena appeared in The Suicide Squad and F9: The Fast Saga. In movies such as Playing with Fire (2019), Blockers (2018), Vacation Friends (2017), and Trainwreck (2015), John Cena demonstrates his adaptability.
The famous wrestler most lately played the lead role in Peacemaker (2022), a Television series predicated on a DC Comics supervillain. His love of writing has led him to write a kid's book, Elbow Grease, as well as titles such as Be a Work in Progress (2021) and Elbow Grease: Fast Friends (2020).
John Cena's Real Height and Weight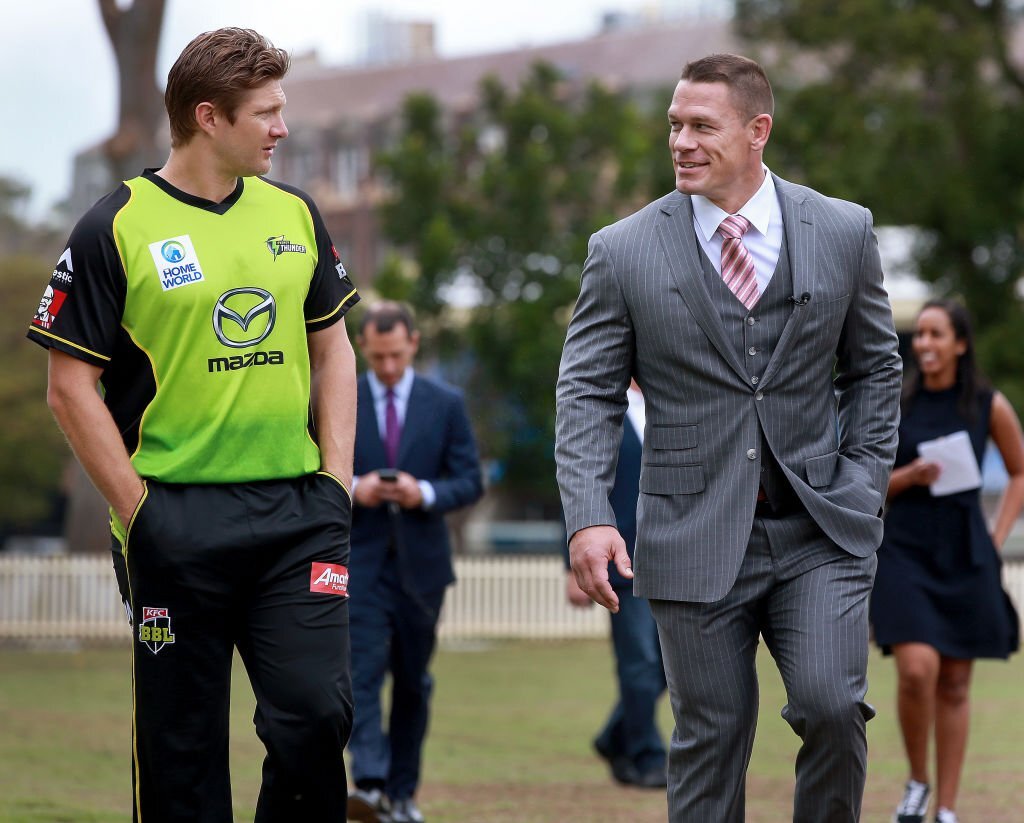 As per Jacked Gorilla, John Cena consumes eight small meals per day as well as a variety of supplements for the best possible muscle growth and recovery. His workout fundamentals and diet have managed to help him achieve a body mass of 251 pounds despite being 6'1″ tall.
John Cena's workout standards emphasize muscle development. As a result, he does a variety of heavy lifting using standard gym equipment such as barbells, and dumbbells, as well as his own body weight, to complete workout sessions from top to bottom.
Every day of the week, John Cena applies himself to various body parts, enabling the muscles he is not continuing to work to relax. In addition, John Cena also has a gym session plan that includes a day off to allow his entire body to relax and recover.
The former wrestler's diet is typically low in simple carbohydrates and high in lean proteins. What's more, John Cena consumes complex carbohydrates, such as peanut butter, which provide him with energy while also encouraging healthy fat loss.
John Cena's Net Worth in 2022
As previously stated, John Cena is a professional actor and wrestler. His net worth as of 2022 is $60 million. And, of course, his main source of income is from acting and performing as a professional wrestler.
In his youth, John Cena was interested in wrestling. He aspired to be a pro wrestler. He amassed the most titles in WWE history. He has a large number of Instagram followers, nearly 17.4 million.
John Cena's Family
Before finishing the article, let's learn some interesting facts about John Cena's family.
If you're curious about the famous wrestler's siblings, you might want to check out our article on left-handed celebrities. Interestingly, John Cena has a younger brother named Matt who also pursued a career in professional wrestling. With this article, you'll find out who else in Hollywood is left-handed and the unique qualities they possess.
John Cena's Parents
John Cena's mom and dad are Carol Cena of French-Canadian and English ancestry and actor John Cena Sr. of Italian descent.
John Cena's Siblings
Dan Cena, Matt Cena, Steve Cena, and Sean Cena are the names of John Cena, also known as the professional wrestler, former rapper, and actor's four brothers. Steve Cena is the eldest of five siblings, while the second son is John Cena.
John Cena's Wife
John Cena has had two marriages. In 2009, the professional wrestler got married to Elizabeth Huberdeau for the first time. They were married until 2012.
The former rapper's current wife is Shay Shariatzadeh, a normal engineer and Iranian-born Canadian citizen. They planned to marry in 2020.
John Cena's Children
The WWE superstar has no kids currently and he shared reasons why he doesn't have children right now in an interview with Today.
Bottom Line
John Cena stands 6 ft 1 inch (around 1.85 m) tall and weighs 112 kg (around 250 pounds). He has a great bulky body that allows him to play any action scene. John Cena also keeps his body in shape by doing a variety of training sessions.
As previously mentioned, his workout principles emphasize muscle development. As a result, he does a variety of heavy lifting using standard gym equipment to complete gym sessions from head to toe. This way, the WWE superstar can maintain his perfect height and body weight.