Pivot Cycles has been existing since 2007, and the company is widely known as one of the best bike brands to produce innovative mountain bikes built for races. It could be said that Pivot is considered the most expedient and genuine bike brand available on the MTB market.
The company is led by engineers who are keen on new technologies, high performance, and competition. And all of these features are the most crucial properties of Pivot bikes.
Even though Pivot Cycles started by manufacturing trail bikes made of aluminum frames, they are now moving on to producing carbon bikes, except for only one model made of steel. The company also provides the market with various types of bikes, including all-mountain, trail, enduro, DH, fat, XC, dirt jump, gravel, and electric bikes.

Part of Best Bike Brands.
Overview of Pivot Bike Company
History of Pivot Bike Company
Pivot Cycles was founded by Chris Cocalis in 2007. It is a bike brand based in Phoenix, the United States. The main reason why Pivot Cycles took first place and was an instant success was because the founder, ChrisCocalis, teamed up with Dave Weagle and licensed the innovative DW-Link suspension technology.
Mach 4 was the very first bike of Pivot Cycles. It is a kind of bicycle that endures to this day, and it is an astonishingly great full-suspension trail bike.
Other than that, Pivot's bicycles were some of the first models to integrate other groundbreaking technologies, such as Fox's Live Valve suspension and Shimano Di2 shifting. These game-changing technologies make Pivot bikes exceptionally high performance.
While Pivot Cycles is just a young bike brand, the company's founder has decades of experience in the bicycle industry. Specifically, Chris Cocalis established a flourishing brand, Titus Bikes, in 1991. But he sold it in 2006 to start Pivot Cycles. Prior to that, he was also a great BMX racer, manager of a bike store, and a certified mechanic with the American Racing Federation.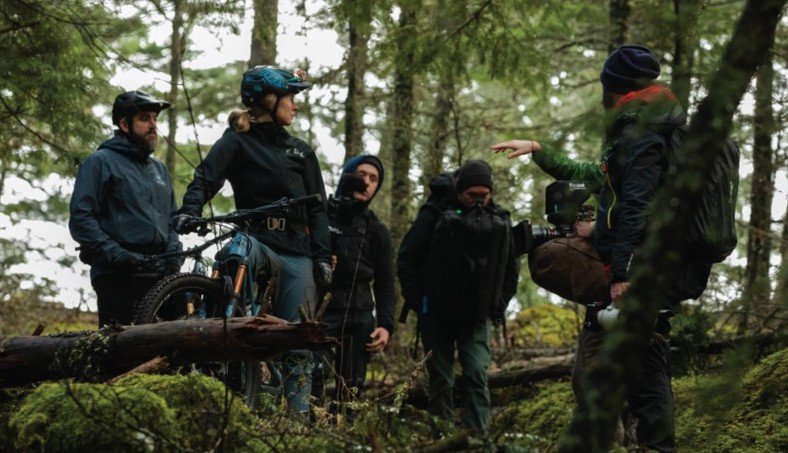 Where Are Pivot Bikes Made?
All the bike frames of Pivot Cycles are made in Taiwan. Nevertheless, all the hydroforming molds and other tools are manufactured in the United States and then delivered to Taiwan. What's more, the company produces the welding machines in the USA and then ships them to Taiwan. This process will ensure standards of high-quality manufacturing at a fraction of the initial cost.
The Technologies of Pivot Bikes
Besides building a team of staff with the right knowledge and experience, Pivot Cycles has also found a way to incorporate leading-edge technology to make their bikes a preeminent position in the world of premium mountain bikes.
Besides, the company has maintained close working relationships with component manufacturers, including Fox, Shimano, Maxxis, DT Swiss, WTB, KS and Reynolds, to make sure that their bikes are integrated with the best components and offer better performance.
In order to manufacture different models and prototypes more quickly, Pivot makes the most of CNC machining and 3D printers. In addition, the company is continuously seeking a better design and higher performance to apply to their bikes by using higher-quality materials and exploring and harnessing new technologies.
This is also the main reason why Pivot's bikes can easily traverse muddy trails, jungles, and the harshest, most rocky terrains thanks to its exceptional design and build.
Performance of Pivot Bikes
During its short but rich founding and manufacturing history, Pivot Cycles has teamed up with some famous brands to produce bike models that are more durable, stiffer, and have higher performance. For instance, Chris Cocalis, the company's founder, has designed the PF92 BB standard with Shimano and partnered with FSA to make the durable BB386 EVO.
In addition, Pivot redesigned the rear axle spacing to 157mm. This design is also known as the Super Boost Plus and used on 29ers and long touring bikes.
More than that, Pivot introduced a completely new suspension and linkage design on its Phoenix DH bike. The greatest advantage of this design is to allow it to utilize bigger wheels without sacrificing handling. Therefore, you can maneuver and control your bike better on any type of terrain.
All in all, if you are looking for a modern and advanced bike that pushes the boundaries and standards of the bicycle industry, then Pivot Cycles is just a perfect option to go with.
Pivot Bike Categories
As you might know, Pivot Cycles is instinctively a racing bike brand that produces bicycles with racers in mind. Therefore, you will find machines that are made for races in all Pivot's bike categories.
That's also the reason why you will find Pivot bikes sold around the world and with a stellar reputation in the mountain biking industry. Let's take a look at the bike range of the Pivot Cycles.
XC
Trail
Enduro
Downhill
Dirt Jump
Fat
Gravel
E-Bike
Most Popular Pivot Bikes
As you can see in the previous part, Pivot is famous for their mountain bikes. Since there are so many types of models in each bike category, you might not know which bike is just right for you. So, let's see the most popular Pivot bikes as they are always preferred by a lot of riders around the world.
XC Bikes: Pivot LES SL
Trail Bikes: Pivot Trail 429
Enduro Bikes: Pivot Mach 6
Downhill Bikes: Pivot Phoenix 29
Dirt Jump Bikes: Pivot Point
Fat Bikes: Pivot LES Fat
Gravel Bikes: Pivot Vault
Pivot Bike Price Range
Pivot uses carbon fiber to produce their bikes, except for the only model in the Dirt Jump range that is made of steel. This is the key reason for increasing their frame prices, which results in higher overall prices of all their bikes. They offer a wide range of models in different styles, making them suitable for every riding style and budget.
XC Bikes: $5.099.00 – $6,899.00
Trail Bikes: $7,299.00 – $7,499.00
Enduro Bikes: $7,399.00 – $7,499.00
Downhill Bikes: $7,999.00
Dirt Jump Bikes: $1,599.00
Fat Bikes: $4,550.00
Gravel Bikes: $5,699.00
Are Pivot Bikes Any Good?
Pivot Cycles provide the market with one of the best bikes with racing success. Their bikes might be a little high-cost, but you pay for what you get. All Pivot bikes are gone through a thorough research and development process as well as high-quality manufacturing.
Pivot Vs. Santa Cruz
Pivot Bike Review
Pivot Cycles started out their bikes with the aluminum prototype, then their frame was gone through the in-house creation, and the final bike is manufactured in the factory. So, you can see that every Pivot bike made of carbon fiber is a part of the development process. And this is also one of the most innovative designs of Pivot Cycles.
Pros
All bikes are built with race-ready success in mind
Integrated with cutting-edge DW-Link suspension
Almost all Pivot's bikes are constructed out of fiber carbon
Has a great reputation in the mountain biking industry
Cons
Frames and bikes come at a little bit pricey tag
Santa Cruz Bike Review
Santa Cruz bikes are considered some of the best bikes out there. Even though they are more costly than almost all their counterparts, the prices are very reasonable. The company manufactures their bikes with high-quality aluminum and carbon materials. What's more, all other components are from reliable Shimano and SRAM.
Pros
Most models offer excellent performance on different terrains
Created to be fun to ride and easy to handle
Can control bikes through the toughest terrains
Offer a great versatility on any trail
Equipped with state-of-art Virtual Pivot Point technology
Cons
It might be slightly pricey for beginners
Pivot XC Bikes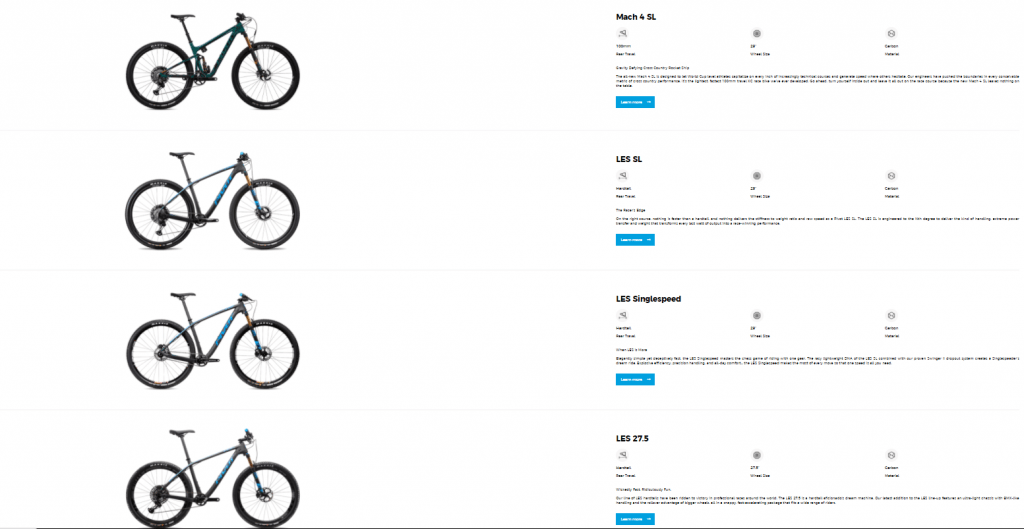 When it comes to Cross-country bikes, Pivot Cycles offer both full-suspension and hardtail bikes. It can be said that their XC bikes reflect the latest trends in cross-country races. Pivot's hardtail models were conventionally ridden and still are a great option because they are more lightweight and don't need frequent maintenance because of the only suspension fork.
Pivot's full-suspension bikes, on the other hand, are becoming more and more popular, especially in the professional class since their bikes are more lightweight and agile. And, of course, they are also more technical to meet the toughest terrain conditions. Currently, Pivot Cycles offers four models in the Cross-country bike range, including one full-suspension bike and three hardtail models.
Pivot Trail Bikes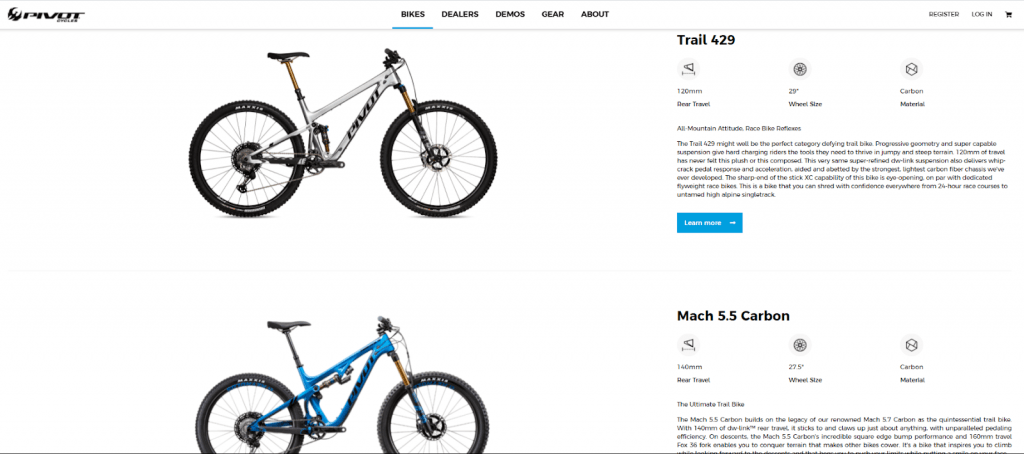 Pivot Cycles has 2 models in the Trail category, including the Mach 5.5 carbon and the Trail 429. Their trail models specifically feature suspension travel between 120mm and 150mm, and most are full-suspension bicycles. They are a great solution to decrease the gap between Enduro and XC bikes by bringing a better ability of climbing and descending stability.
Even though they are not as long as Enduro bicycles, they actually surprise you with the great ability to handle different terrains. Both the Mach 5.5 and the Trail 429 models are constructed out of carbon frames, reducing the overall weight of the bike and enhancing power transmission to riders.
Pivot Enduro Bikes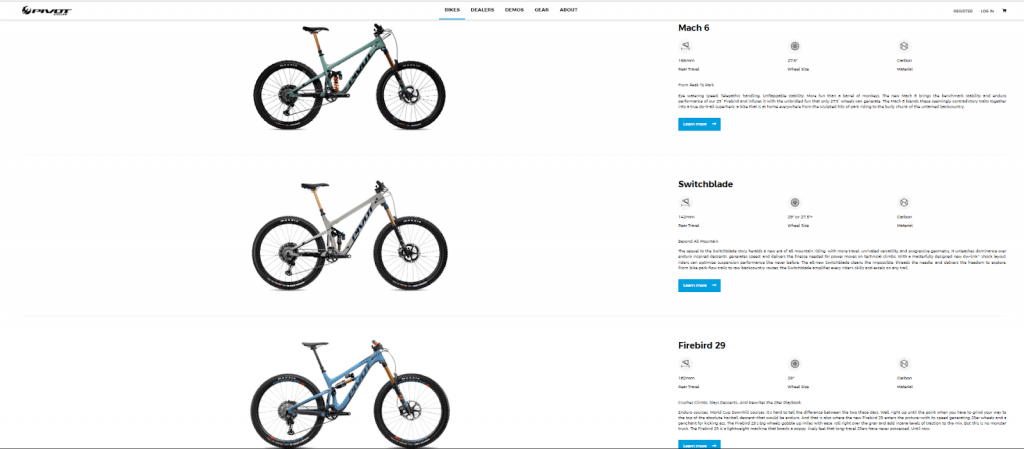 Enduro bikes are a great combination between trail and DH bikes. These models are usually equipped with suspension travel between 140mm and 170mm. And more and more people are challenging these types and pursuing their ideal suspension travel. In this exciting bike range, Pivot Cycles offers three different models, the Firebird 29, the Mach 6, and the Switchblade.
According to Pivots, their Enduro bikes are designed to perform well at descending without sacrificing climbing ability. Hence, you don't need to use an uplift when you are riding at a trail park. Pivot also sponsors a number of EWS riders so that these models feature a racing pedigree and have won some phases with the company's Factory team. You can check the top list of 18 beginner mountain bike here.
Pivot Downhill Bikes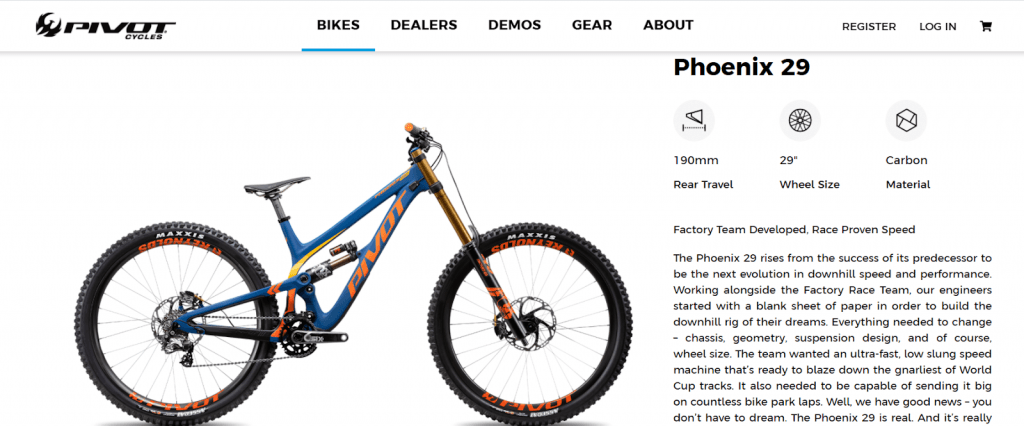 Downhill bikes are considered the toughest type of mountain bike out there. The suspension travel they are fitted with is currently in the never-before-seen territory. And as a result, you can see that the jumps and tracks used in almost all races are more severe than ever. Pivot Cycles offers only one bike in their Downhill bike range, the Phoenix 29. However, this is one of the most popular ones.
This model is ridden by Bernard Kerr and some sponsored riders. It is really a home race-bred bicycle used in the World Cup scene, just like the black line you can see at Whistler bicycle park.
Pivot Electric Bikes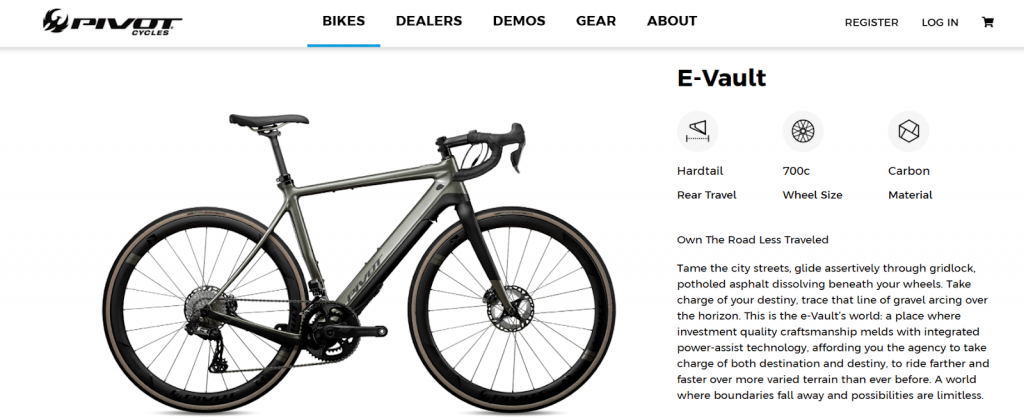 Electric bikes are an excellent way to help people who can't ride around without assistance. Or they can also be a fun method to enjoy every ride. What's more, you can enjoy more fun on trails with electric mountain bikes and get to specific destinations more easily, even for the strongest riders. In fact, it is completely normal to see pro riders have an electric bike as a great restorative tool during their rest days.
The only but great electric mountain bike that Pivot creates is the Shuttle. This model is equipped with the same geometry and technology as other unassisted mountain bikes that you usually see. However, its weight is heavier because of the integrated battery and motor. Having said that, it would be worth it if it helps you ride for a longer period on tougher roads.
Pivot Dirt Jumps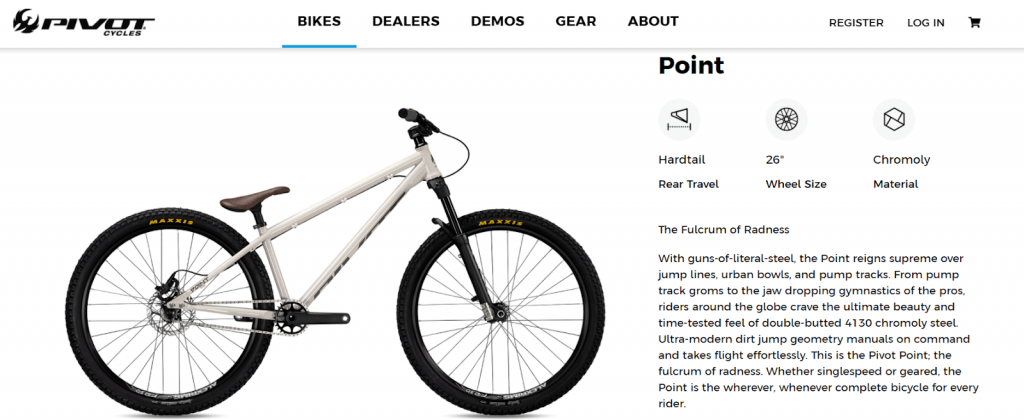 Dirt Jump is considered one of the most versatile bikes among other types of affordable mountain bikes. They usually have smaller wheels for better agile and nimble handling capabilities. There is only one bike in the Dirt Jump bike category of Pivot Cycles, which is the Point model.
Since Pivot sponsors riders participating in these races, this Point bike is typically designed for racing. Dirt jump bikes are usually constructed out of aluminum or steel materials, making them more heavyweight than other types of bikes. However, it is necessary for them to resist a lot of drops and potential damage after plenty of jumps. Hence, they are generally bomb-proof.
Pivot Fat Bikes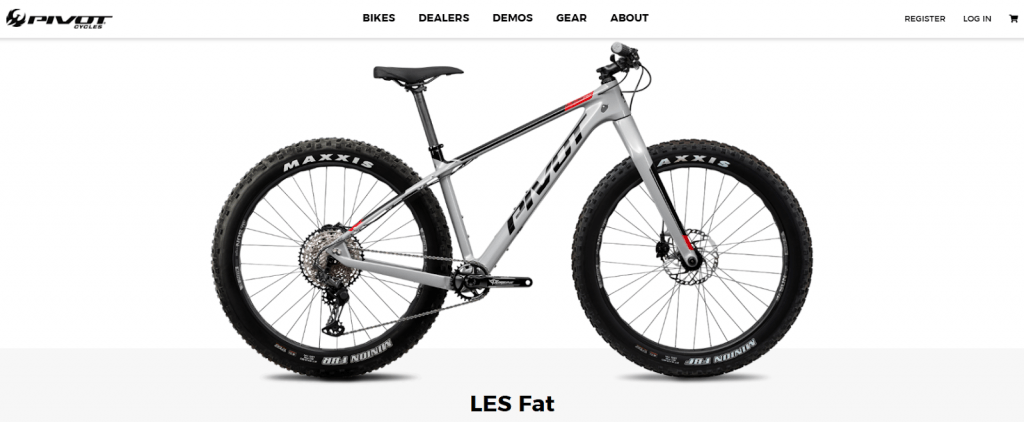 Fat bikes, as their name implies, are a kind of mountain bike with fat tires. They are particularly designed with large clearances so that you can fit the most massive tires you can think of (of course, not truck tires). These bikes offer a lot of benefits, such as the great ability to ride in all weather conditions, and they are especially helpful in the snow.
But the greatest advantage of this bike should be the improved traction. This, as a result, allows you to ride easily on both smooth bumpy roads as well as the toughest trails. Like other bike categories, Pivot has only one bike in this fat bike range, the LES Fat model. It is manufactured, making the most of the innovative LES technology in Pivot's cross-country bikes. It is true that Pivot has designed an excellent rigid fork bicycle, allowing you to ride regardless of the weather. Read our latest guide how to riding a fat bike on the road ?
Pivot Gravel Bikes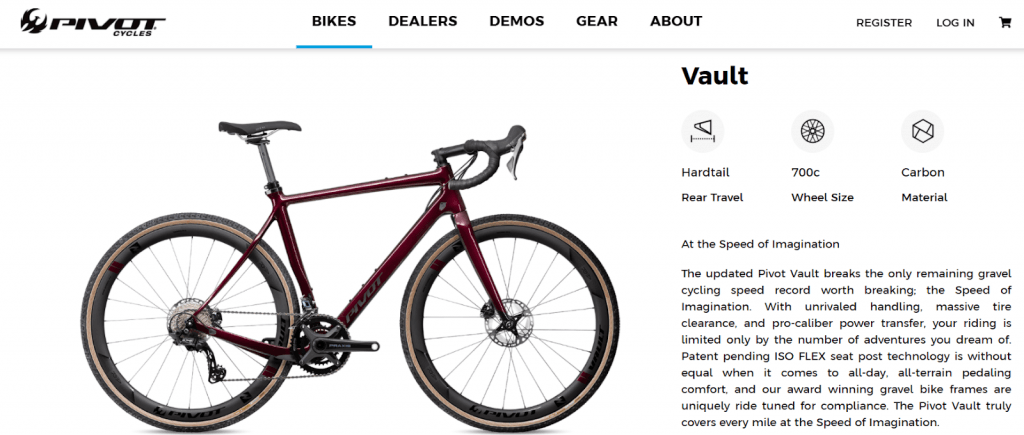 Gravel bikes not only offer fun and smooth off-road rides but also are designed to provide riders with larger tires and more features. They can handle more rudimentary things than you may think they could.
The only gravel model in the Pivot gravel bike range is the Vault. It is constructed out of the carbon fiber frame to ensure lightweight and sturdiness. What's more, it is very comfortable to ride on the road in the morning to your office. You just feel relaxed, like on a mountain bikepacking adventure.
Conclusion
Even though Pivot Cycles is just a young bike brand out there, the company has been making waves in the world mountain bike since its founding in 2007. Because of the founder's previous experience in the mountain biking industry, the company has been in the lead of research and development both on and off the track.
Pivot also sponsors some famous and successful athletes and produces incredible mountain bikes. Their bicycles might be expensive, but they are usually well-invested bikes to come with the price tag.