Pokémon is a popular anime series in the era. Surely everyone has heard and watched at least 1 episode of the Pokémon cartoon. The film follows the journey of Satoshi (Ash Ketchum), a Pokémon master. He participates in the battles of creatures called Pokémon. In the process, he has met and made many friends who are also excellent and cute Pokémon trainers. Let's see how pretty, intelligent, and talented Satoshi's friends are.
1. Misty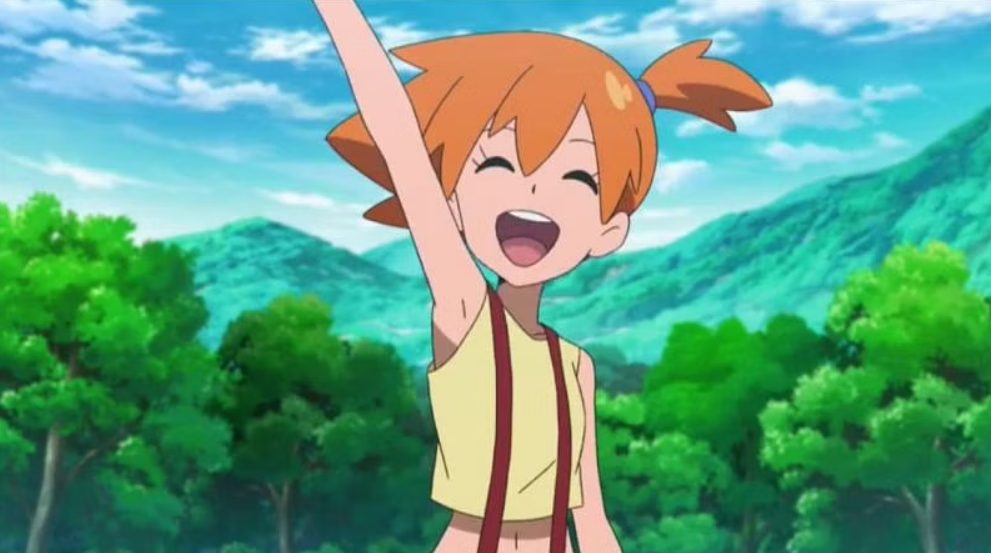 The first on this list is Kasumi, who is popularly known as Misty. A best friend who has been with Satoshi since the first Anime of the series. She is the leader of the Hanada City Gymnasium. She specializes in water-type Pokémon, at first she is described as having a cruel, stubborn, and impatient temperament, but gradually shows herself to be a kind and rather a sensitive person. She is the caretaker and protector of Togepy throughout the series.
2. May (Haruka)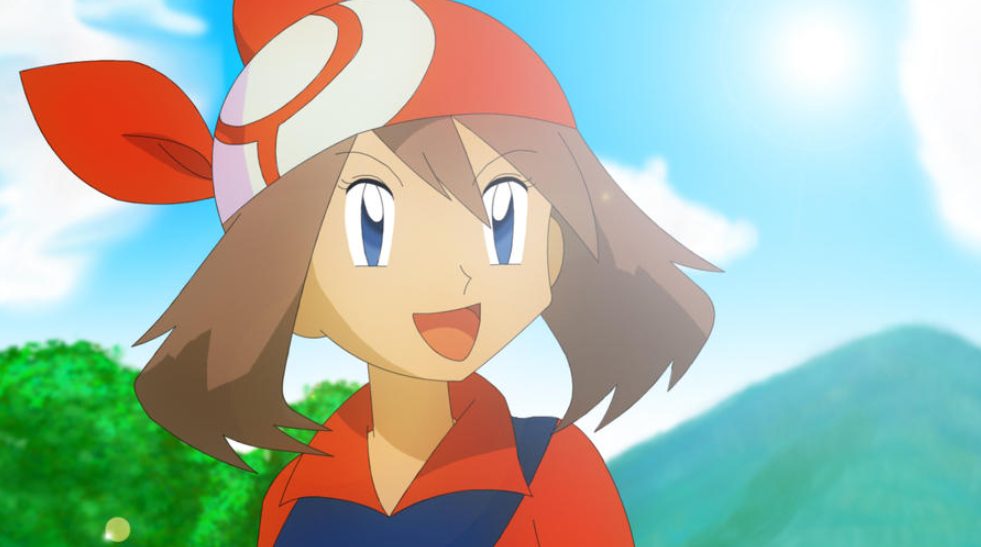 Haruka is a young, mischievous and energetic girl. She is a coordinator currently traveling through different regions to compete in the Pokemon Contest. She begins her journey by traveling around Hoenn with Satoshi, Takeshi, and her younger brother Masato. At first, she had no interest in Pokémon she just wanted to travel and explore new lands but when she met Satoshi and Takeshi she changed her mind.
3. Hikari (Dawn)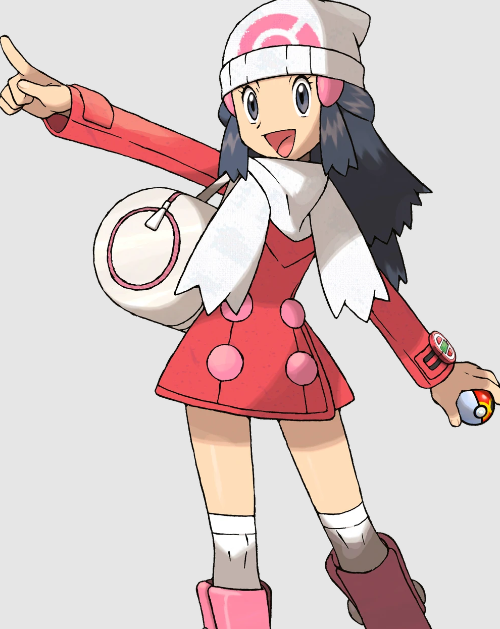 Hikari (Dawn) – is a lovely and friendly girl from Sinnoh, she is also an excellent coordinator, and her mother is also a senior Pokémon coordinator. During her journey in Sinnoh with Satoshi, she won many medals at Pokémon Contests. she participated in many competitions in different spots such as Sinnoh, Hoenn, Isshu (Unova), and Johto. Dawn's Pokémon are highly regarded as Quivala, Buneary, Mamoswine, and Pachirisu, and the last indispensable character is Piplup.
4. Iris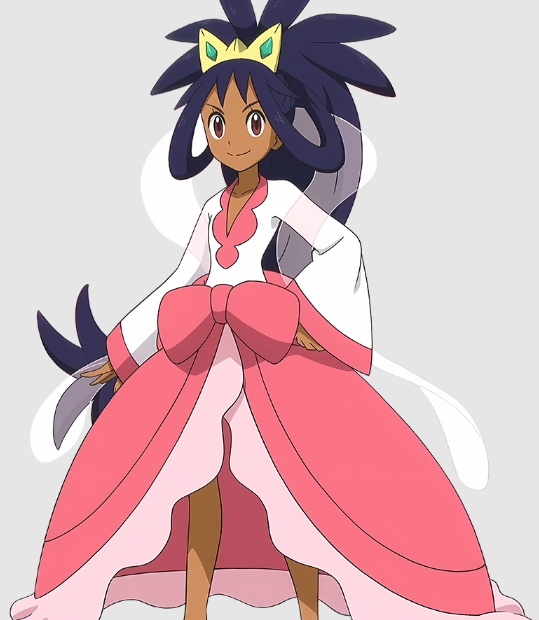 Unlike the other girls doesn't have a friendship-like relationship with Satoshi. Instead, it's closer to an infamous sibling relationship. Iris is a young girl with a tomboyish personality, and super adventurous, she has a strong love for Dragon Pokémon, she trains and plays with them. She is always brave to stand up against evil and help players. The Pokémon she possesses include Kibago, Doryuzu, Emonga, Kiryu, and Fukamaru.
5. Serena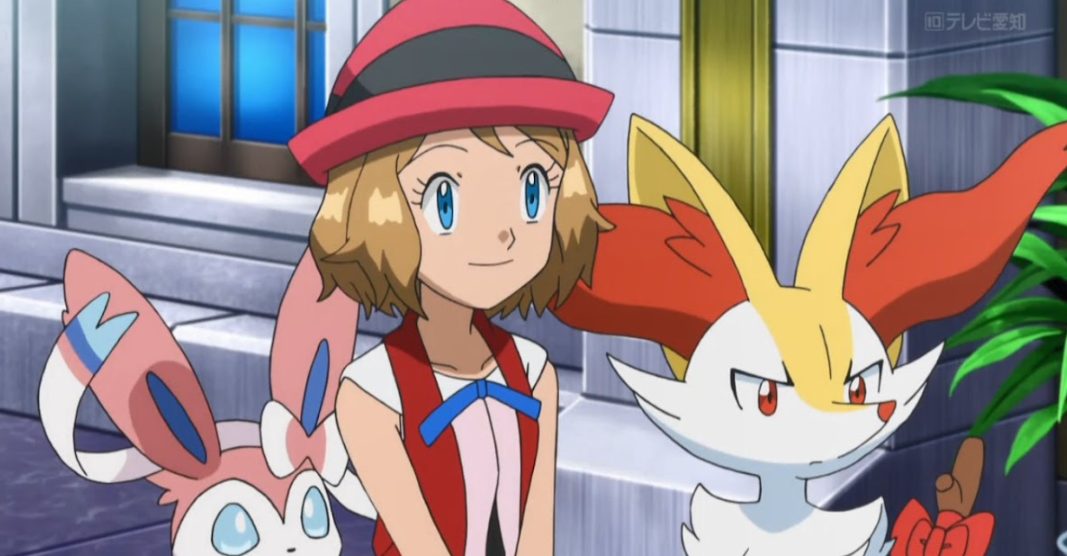 Serena is a companion with Ash (Satoshi) on a journey in the Kalos region. She is a Pokémon trainer and performer, her wish is to achieve the title of Kalos Queen, the highest honor a Pokémon performer can achieve. The Pokémon she owns are cute like Braixen, Pancham, and Sylveon.
6. Officer Jenny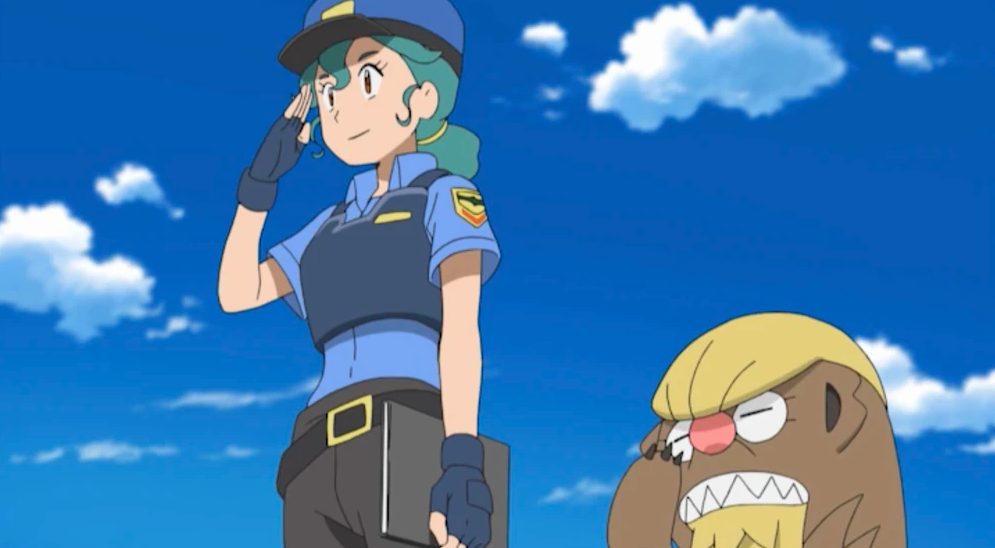 Officer Jenny – She is a policewoman who uses Pokémon in her missions. The Pokémon she owns include: Growlithe is the most popular Pokémon used by the Jenny family. Arcanine was used to help Ash and his friends track down Pokémon Hunter J.
The Squirtle Squad is a gang of abandoned troublemakers adopted by Officer Jenny, who uses them to put out fires. Spinarak was used by jenny in the city of Catalina, living proof of the one who stopped The Black Arachnid and many more Pokémon with different powers. You can read more at the link below.
7. Nurse Joy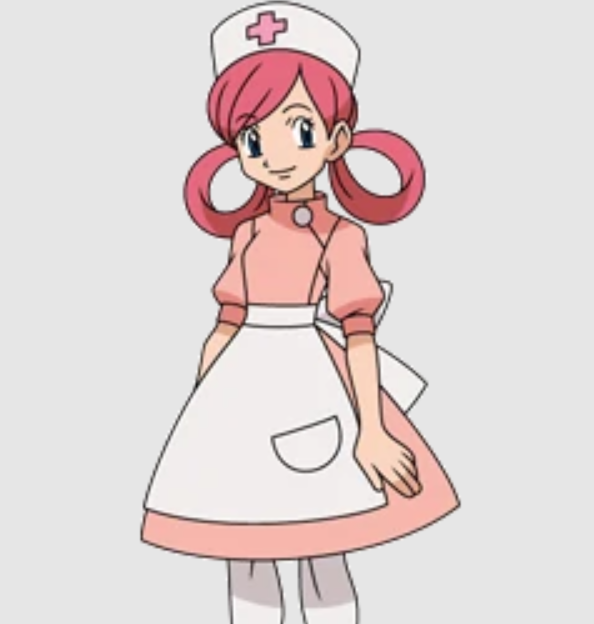 Nurse Joy – is a kind nurse with pink hair who runs the Pokemon center (which takes care of Pokemon that are seriously injured after battles). She is a relative of Officer Jenny mentioned above. She is a master at healing pokemon and is stronger when combined with Chansey.
8. Jessie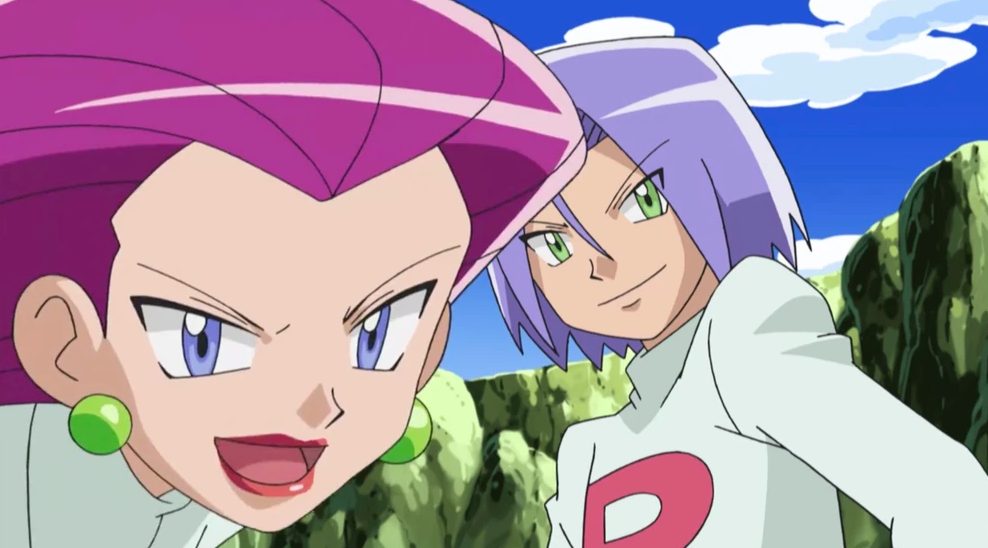 Jessie is James' partner in Teams Rocket. They are the famous villains in the entire series, in each episode, they always try to steal Ash's Pokémon with various plots. for more than 2 decades persistently stealing Pikachu, Jessi and James they do not learn from their mistakes but always think of new plans in the whole series. Jessie has always loved her Pokémon, but she won't keep the creature for too long. Despite being Ash's opponents, sometimes both Jessie and James turn into allies to support Ash.
9. Cynthia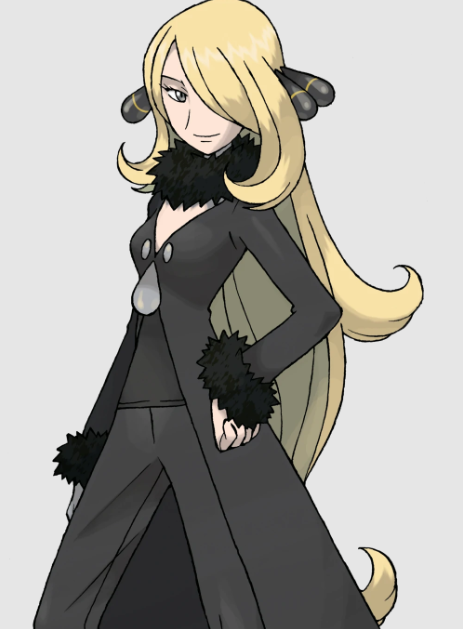 The champion of the Sinnoh region – Cynthia. The girl loves to go around to learn about Pokémon lore. Cynthia helps Team Diamond, Pearl, and Platinum a lot on their journey, especially in their great battle with Team Galactic. She loves cycling since she was a child and often races with her Garchomp.
10. Sabrina
Sabrina used to be the commander of the Rocket organization. She once fought fiercely with Kanto's PokéDex trio at the Silph Co. Later, receiving Giovanni's instructions before going into seclusion, Sabrina returned to Saffron to continue as Leader. Pretty soon, she became a famous actress in Unova.
11. Karen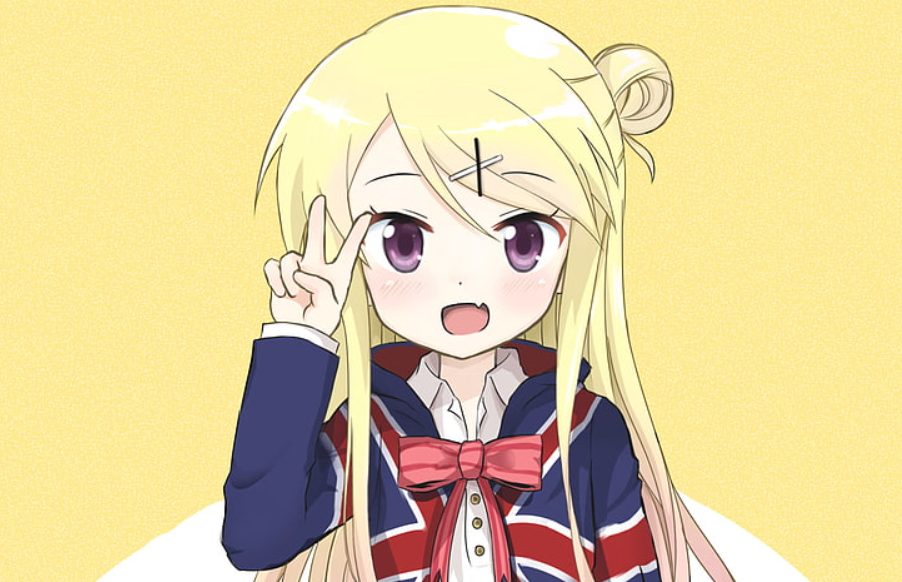 Karen has a companion named Will. Will and Karen were once Masked Children who were trained and raised by Ice Mask. Unlike Blue and Silver, both of them volunteered to be subordinates of the "Eternal Ice Wall". After the master was defeated by the PokéDex holders, the two, along with Koga and Bruno, formed a new group of the Four Heavenly Kings of the two Kanto-Johto regions, making a new beginning for themselves.
12. Lorelei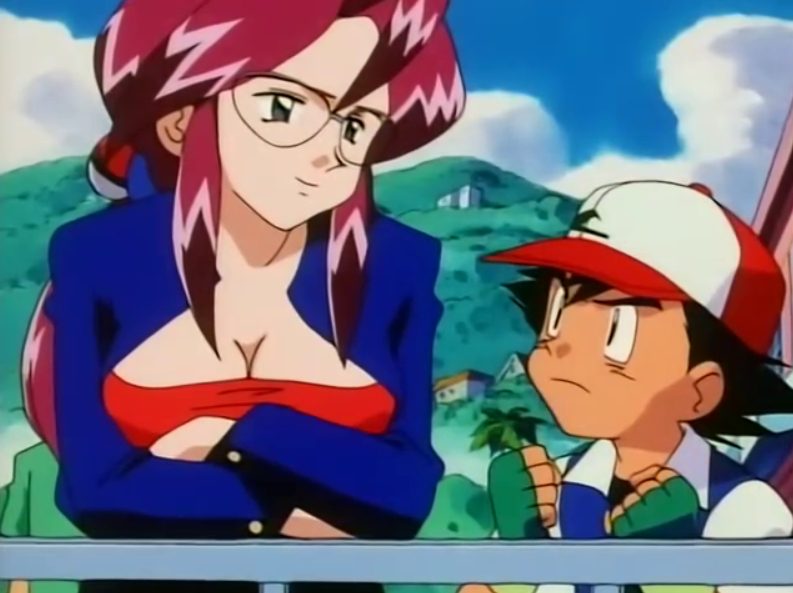 Lorelei was once a member of Lance's Four Heavenly Kings, whose goal was to destroy humanity to build a better world for Pokémon. She keeps a small camera in her makeup case to communicate with Agatha. Lorelei has the special ability to create dolls of opponents out of ice and then use lipstick marks on them to freeze any part of the opponent. Red, Sabrina, and Sird have been suffering from injuries from this move for a long time. Later, when Lance's group disbanded, she returned to her hometown.
13. Kris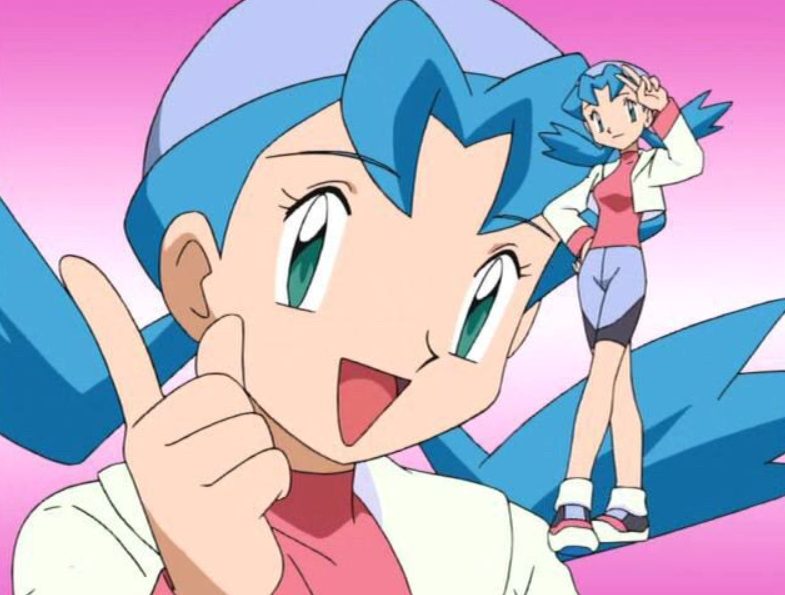 Kris is known as Crystal. She is an expert at catching Pokemon. This is a skill she developed as a child after an accident. At that time, Crystal's arms were broken, so she practiced using her feet to kick Poké Balls. Although later when her hands are healed, she still keeps the habit of kicking the ball, not throwing the ball with her hands. Crystal's personality is quite serious and disciplined, in contrast to Gold's sloppy nature. She works as Professor Oak's assistant instead of Daisy.
14. Agatha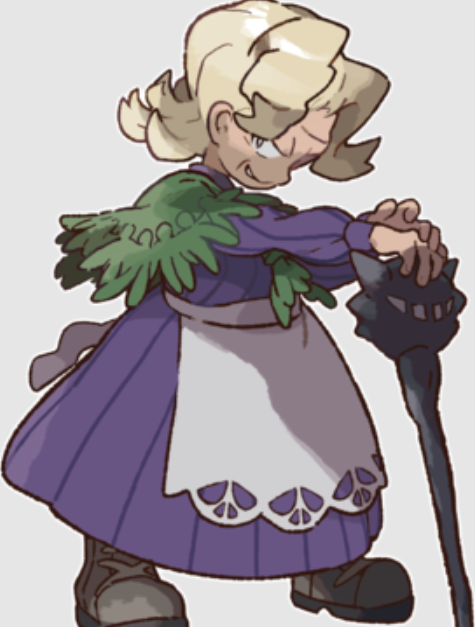 Agatha is a member of Lance's Four Heavenly Kings group whose goal is to destroy humanity to create an ideal world for Pokémon. She uses the rings – mind control devices to coerce Bruno into joining the party and to command the Pokémon to rule the legion. Agatha possesses a special Arbok that can change chest prints to give her the most beneficial ability in battle. In her youth, she lost to Oak in the finals of the Pokémon convention. She also could not understand why Oak left the "research team" to develop PokéDex. Agatha once swore no to Oak and anyone who sided with him.
15. Clair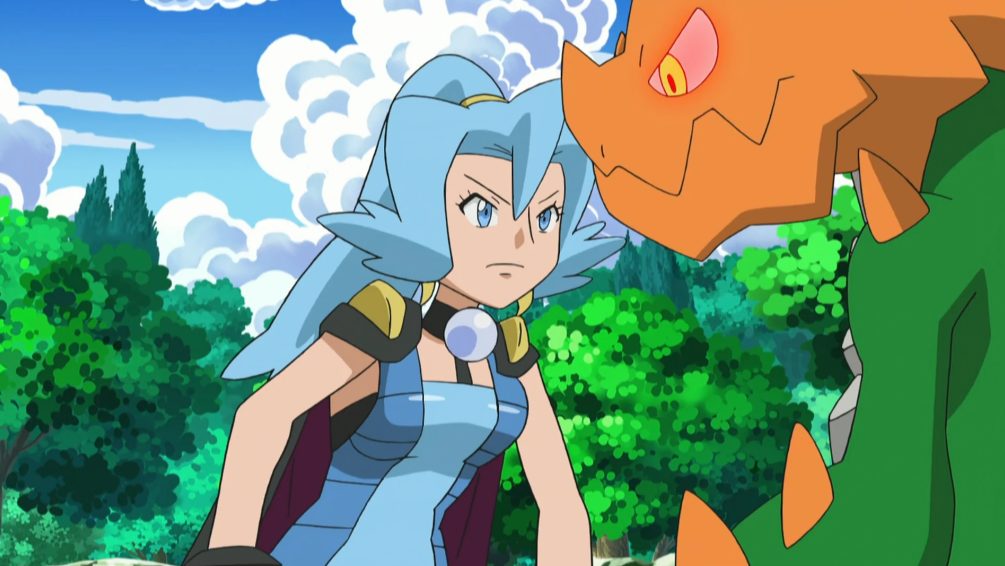 Coming from a long-standing family of Dragon-type Pokémon, Clair herself is endowed with a natural talent for controlling dragons. She always wishes to fight strong opponents to prove her ability. Aside from the elder, Lance was the only person she deeply respected.
16. Professor Aurea Juniper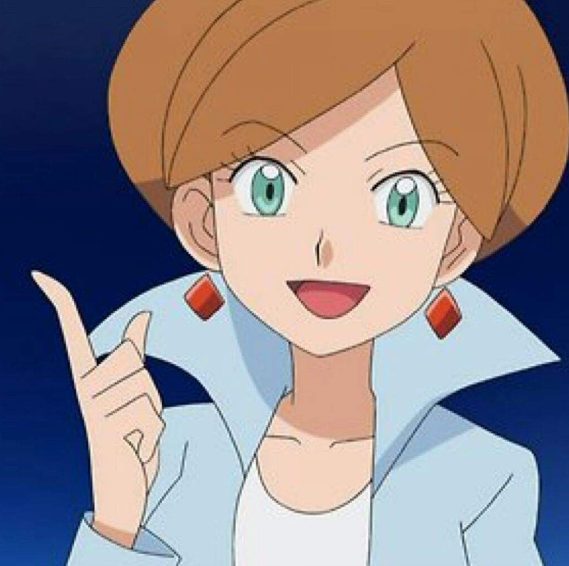 Aurea Juniper is a Pokémon professor working in the Unova town of Nuvema. She specializes in the study of the origin of Pokémon. She is also good friends with Fennel, who specializes in Pokémon dreams.
17. Sapphire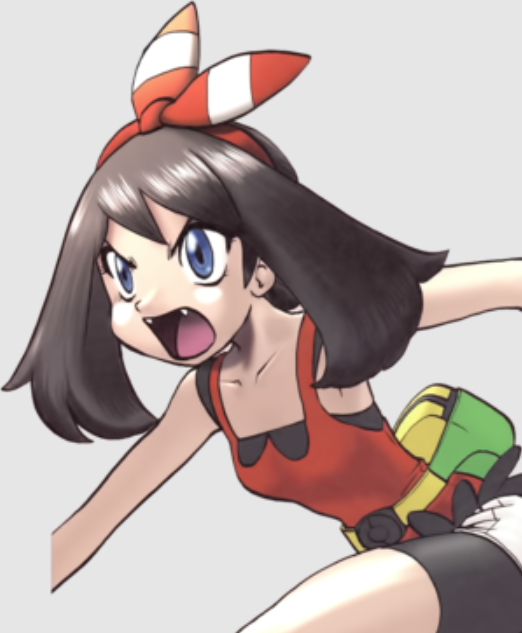 Sapphire is a Pokémon trainer and the daughter of Professor Birch. She often helps her father in the field work and over the years she has developed some skills, health, and senses that are much more acute than ordinary people. Because of her constant exposure to nature, she doesn't like the idea of beautifying Pokémon instead of leaving them as natural as they are. After going through many things, she learned to appreciate beauty more. Sapphire was the first to conquer all the badges in his land. Due to her skills, she has the title of The Conqueror.
18. Argenta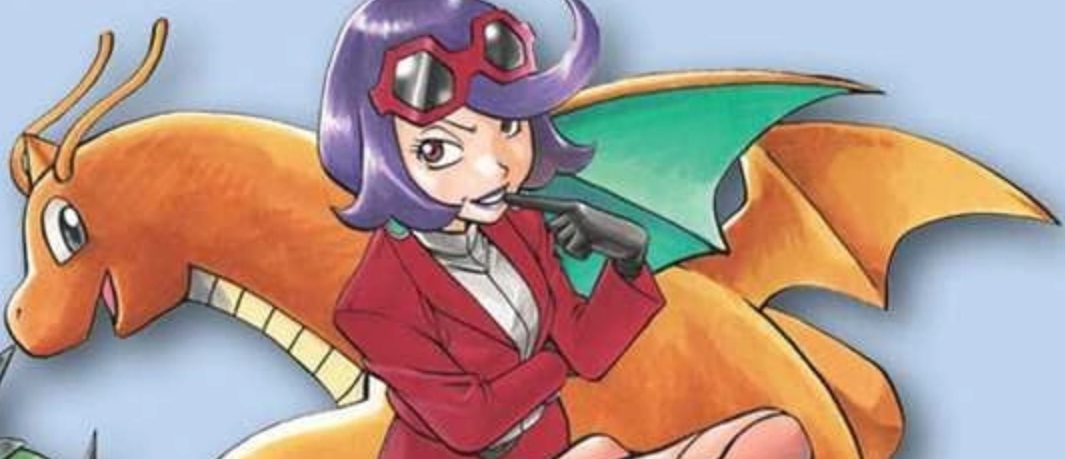 Argenta – the head of the Battle Hall. Argenta is well aware of the relationship between Pokémon types, and her challenge in the Battle Hall is also based on this correlation.
19. Fantina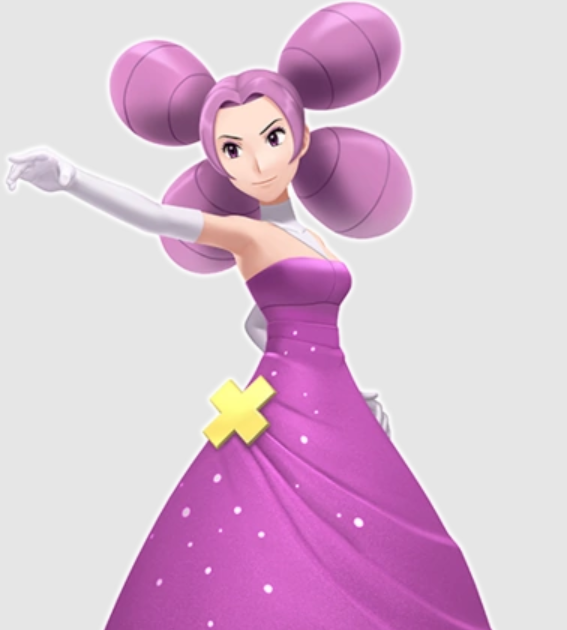 Fantina – As the Gym Leader of Hearthome, Fantina specializes in Ghost-type training. She has a strong passion for Pokémon Contests (Fantina entered the Contest with Jasmine). Fantina often uses Drifblim to move instead of using other means. Since she is not a native of Sinnoh, her way of speaking is a bit odd.
20. Phoebe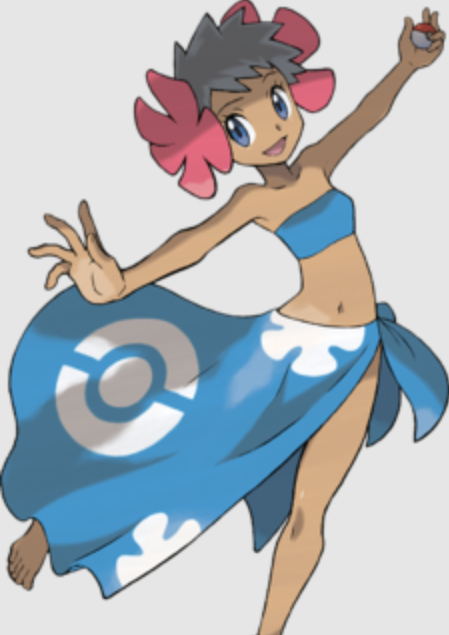 Phoebe is a member of Hoenn's Four Heavenly Kings, Phoebe was summoned by Steven to help prevent disaster from happening to the land. Phoebe trains at Mount Pyre, where she says she has developed the ability to communicate with Ghost-type Pokémon.
21. Lenora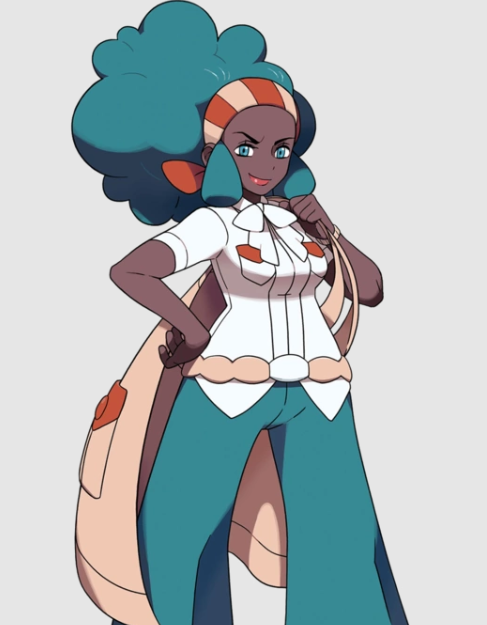 Lenora is the Gym Leader of the city of Nacrene. She is a Normal-type leader. She is also an erudite archaeologist. Lenora and her husband Hawes run the Nacrene library and museum system.
22. Jasmine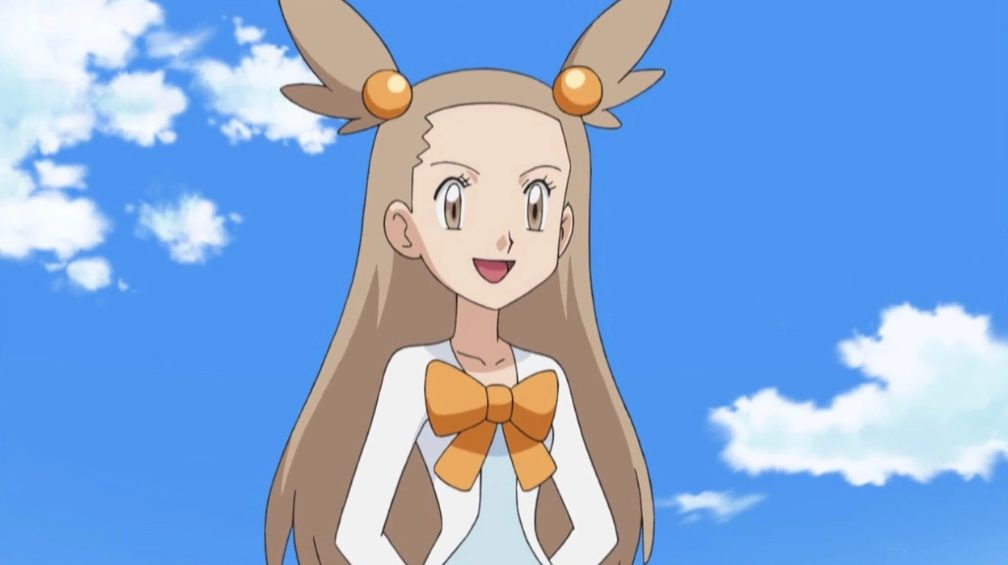 Jasmine is the Leader of the gymnasium in Olivine City. She specializes in the Steel type, with the nickname "Steel Wall". In addition to her job as the Leader, she also works as a guard for the city's lighthouse. Jasmine has a beautiful appearance and a likable personality. She once helped lead the restoration of Ecruteak City after it was destroyed by Team Rocket. Later, she went to Sinnoh with the determination to conquer the Pokémon Contest.
23. Erika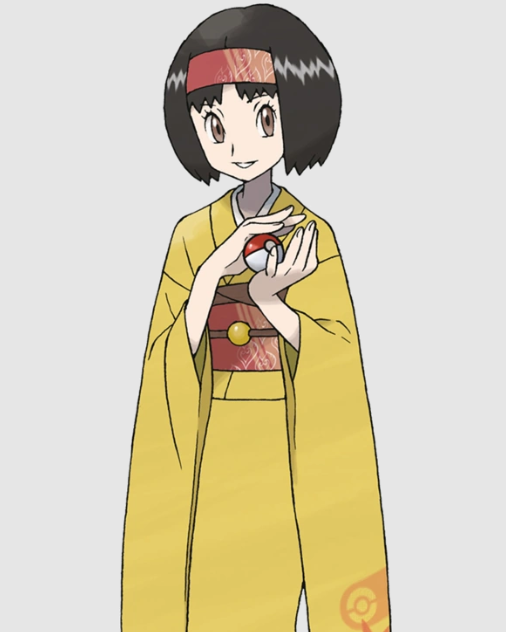 Erika – is a noble lady who always appreciates traditional beauty. she is the gym head of the Celadon City Gymnasium. She specializes in training grass-type Pokémon and has fought against Team Rocket and other Righteous Leaders in Kanto.
24. Flannery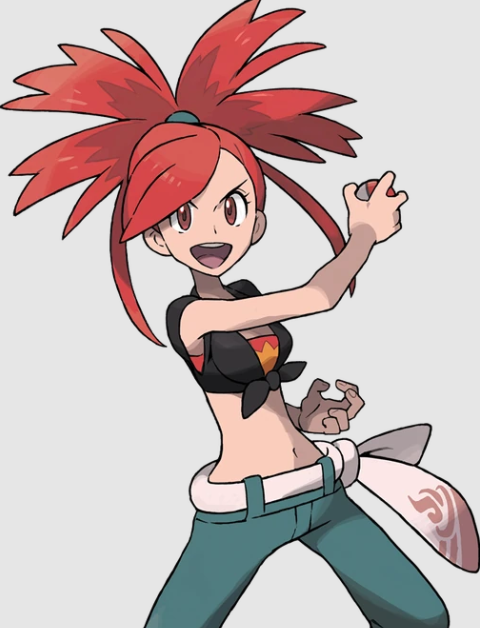 Is an energetic and enthusiastic young girl. In the RS part, Flannery is the newly appointed Leader of Hoenn just like Norman. Her grandfather was once one of the Four Heavenly Kings, and that's what inspired her to become a powerful Pokémon Trainer.
25. Whitney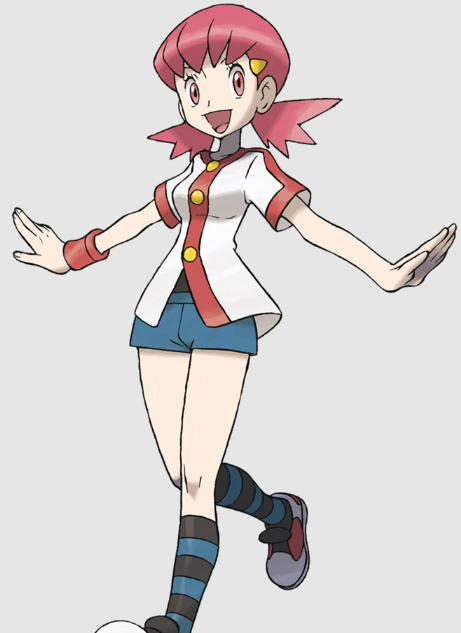 Whitney is a dynamic and personality young woman, Whitney holds the position of Leader of the city of Goldenrod. Although she seems to be short-tempered and competitive, there are times when Whitney can be quite bitter. She is a close friend of DJ Mary and has collaborated many times with the Goldenrod radio station where Mary works as a special guest.
26. Glacia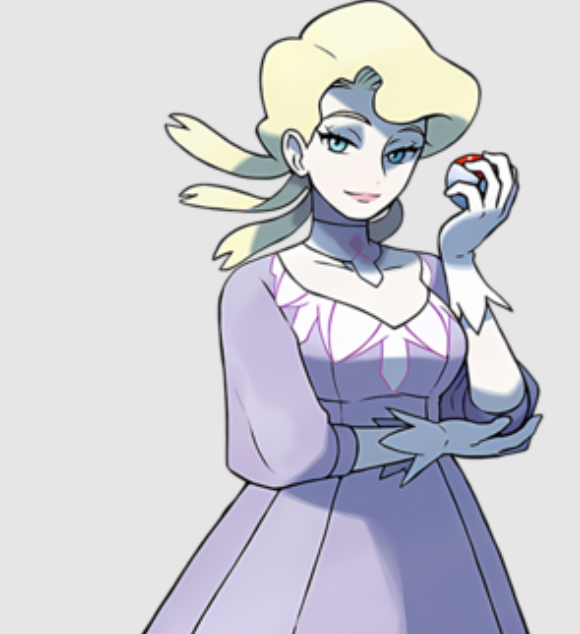 Glacia is the third member of the Hoenn Elite Four. She specializes in using Ice-type Pokémon. Glacia is a tall, slender young woman. She has light cream blonde hair that hangs loosely behind her head, blue eyes, and fair skin. Glacia is summoned by Steven to help prevent disaster from happening to the land.
27. Daisy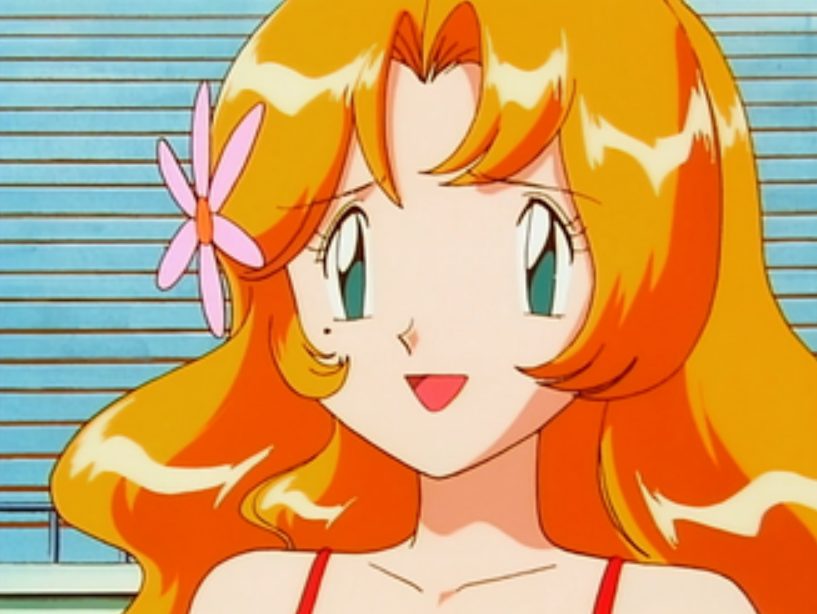 Daisy worked as Professor Oak's assistant and laboratory manager in Kanto while the professor went to Johto. She has a Chansey received from her grandfather and a Clefairy used for the Pokémon Contest. When she was a coordinator, she was a very close friend of Courtney – the leader of Team Magma. In the Platinum part, Daisy has become a famous doctor of her strength.
28. Sird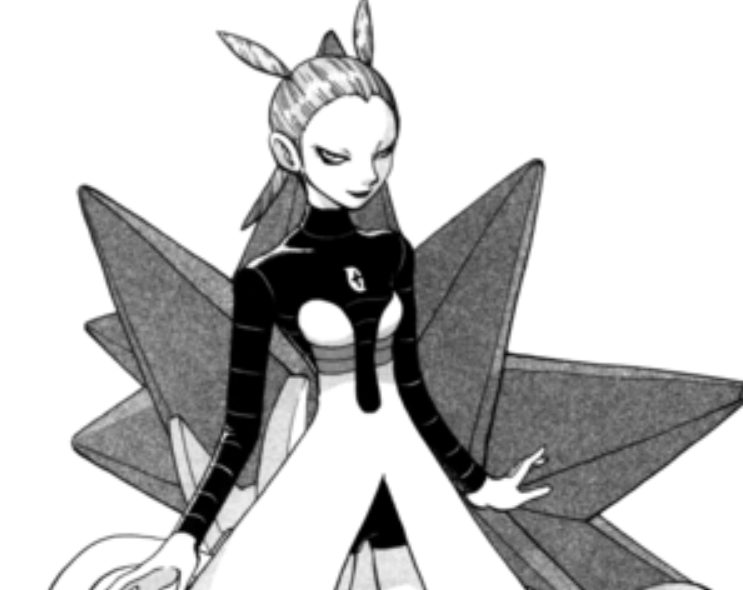 Originally the Commander of Team Galactic under Cyrus, Sird joined Team Rocket as well as helping Archie in her desire to learn more about space Pokémon like Deoxys or Jirachi. A girl full of cunning and extremely unpredictable, it was Sird who was the direct agent that made Red's team petrify at the end of the FRLG arc. After that encounter, she also became obsessed with PokéDex. Sird even went so far as to brainwash a Grunt in Team Galactic to carry out her scheme.
29. Jupiter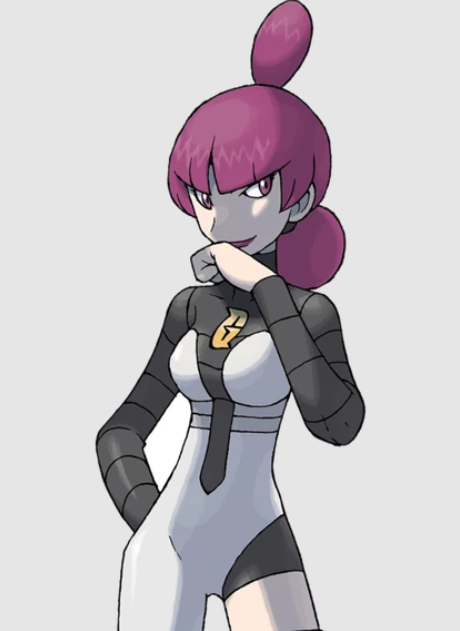 As one of the four Commanders of Team Galactic, Jupiter is loyal to Cyrus. She possesses remarkable strength, having single-handedly defeated Platinum, Maylene, and Candice in the first duel. Jupiter is also the only one in the Command that knows about Sird's whereabouts.
30. Shelly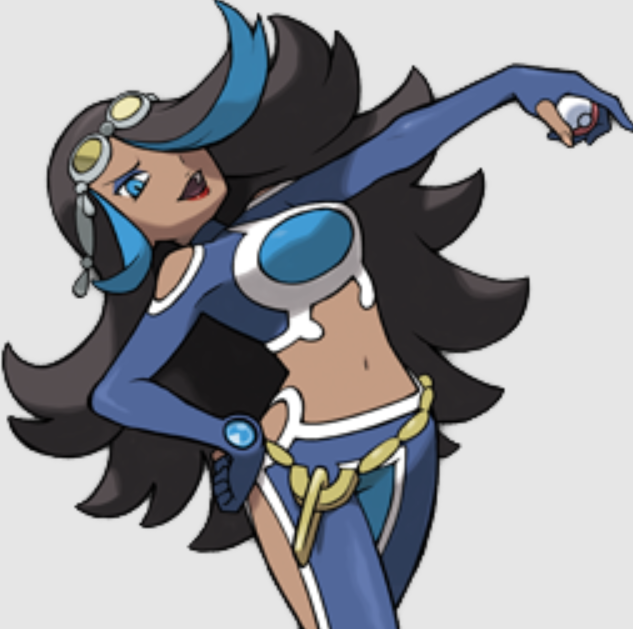 Is the only female member of Team Aqua's trio of SSS commanders. Possessing the ability to think quickly and sharp helps Shelly a lot in battles.
31. Marina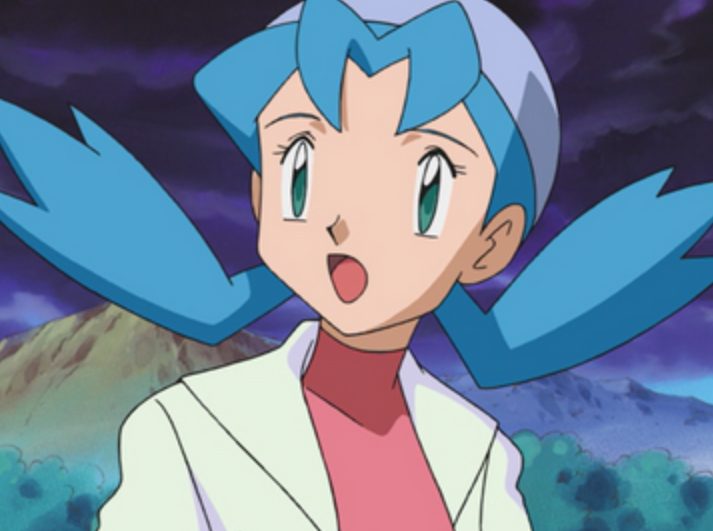 Marina is a cute girl with blue eyes and white skin, she likes cute things and especially loves Pokémon. Vincent likes her but she has a crush on Jimmy. She, like Misty, is a water-type Pokémon trainer.
32. Chloe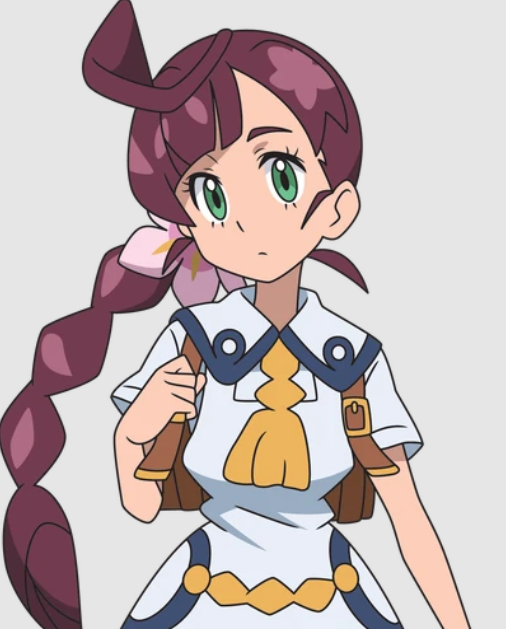 Chloe is one of capturing characters in her region. She is the daughter of Professor Cerise. This cute little girl is a supporting character in the Pokemon Journeys. She rarely appears in the series because she is busy with school, but when she does appear, her childish or angry personality is always shown through her personality.
33. Elaine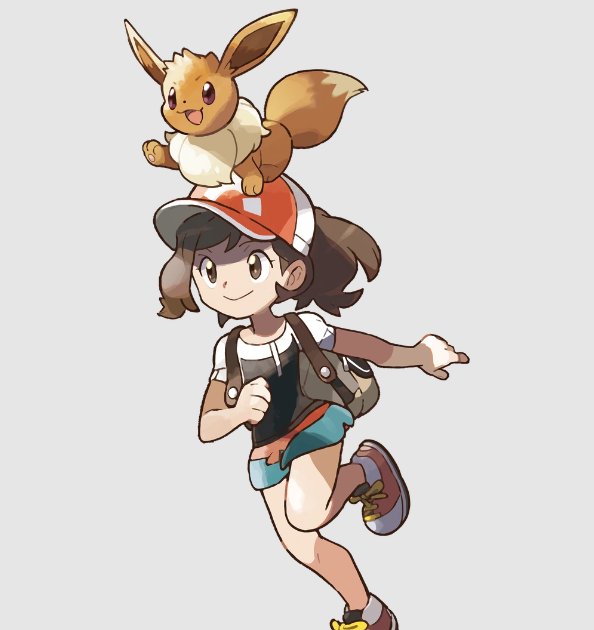 Elaine is a girl young, bad and low and has white skin, a ponytail, and brown eyes. There's always an Eevee sitting on top of Elaine in every anime episode.
34. Hayley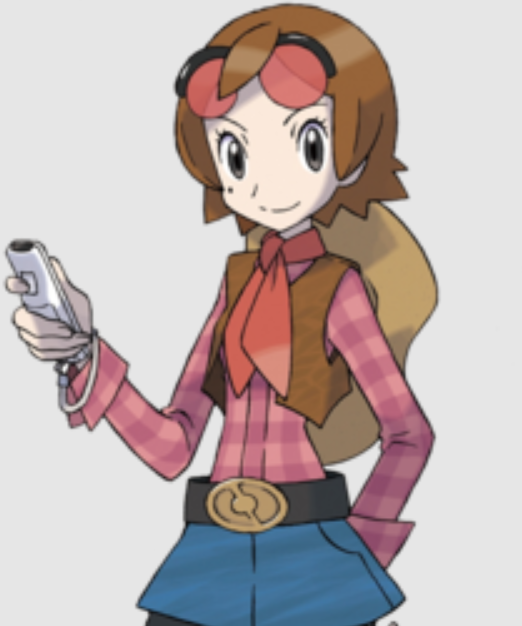 Hayley – Bebe's friend, and owner of a Pokémon farm. She allows the trainer to send Pokémon to the farm for safekeeping. So her everyday clothes are often styled by midwestern farmers in the United States.
35. Professor Sonia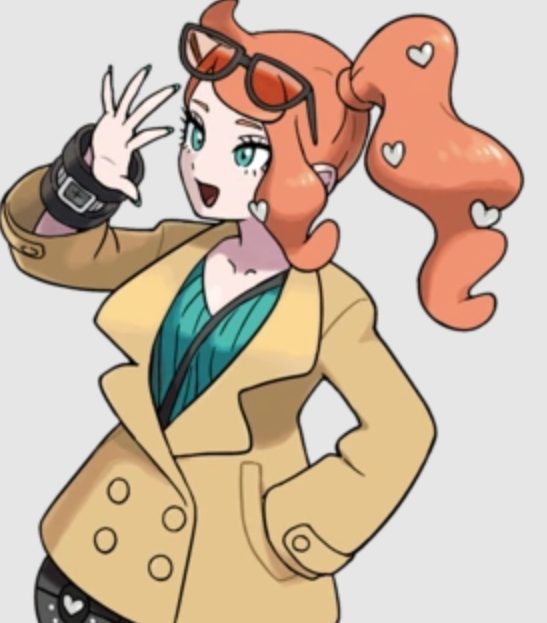 Professor Sonia is a character that managed to take the entire internet as well as the Pokemon community by storm. And it is because of her presence that the anime becomes even more fun to enjoy. On the outside, she might not seem all that impressive. However, Sonia provides practical advice to assist the player character to make her one of the most fascinating professors in the series. Professor Sonia is a woman of quality and value for the audience.
36. Nessa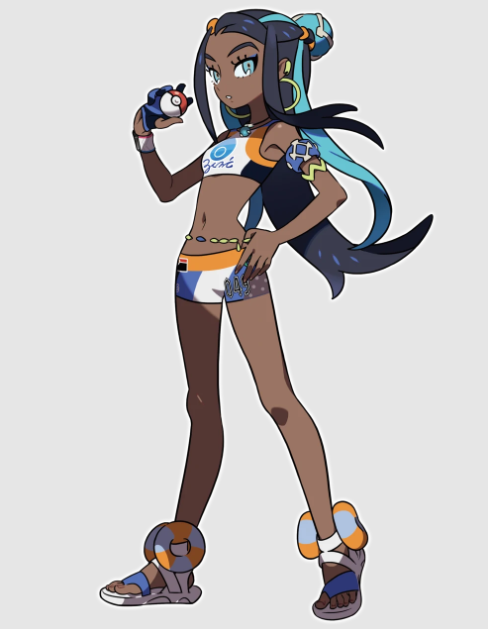 Nessa happens to be a gym leader. Moreover, she is from Hulbury Stadium. Needless to say, she is the gym leader of the Hulbury Gym and is recognized for her excellence with Water Type Pokemon. she is one of the best trainers you will find on the character list right now. Nessa is also known for having a strong team of Pokemon. And this team includes beasts like Drednaw and Milotic that can change the game with their skills and powers.
37. Professor Ivy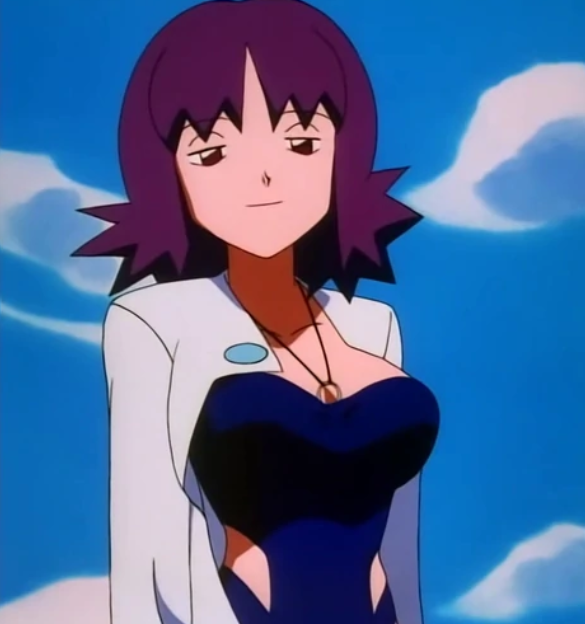 Professor Ivy is from Valencia Island and has a total of 3 assistants. She is also extremely smart. She is known for her seductive appearance and happens to entertain the audience with her intelligence and character theme. Moreover, she was the one who handed the GS Ball to Ash, and from that point onwards, things started to get interesting for the audience in the anime.
38. Kako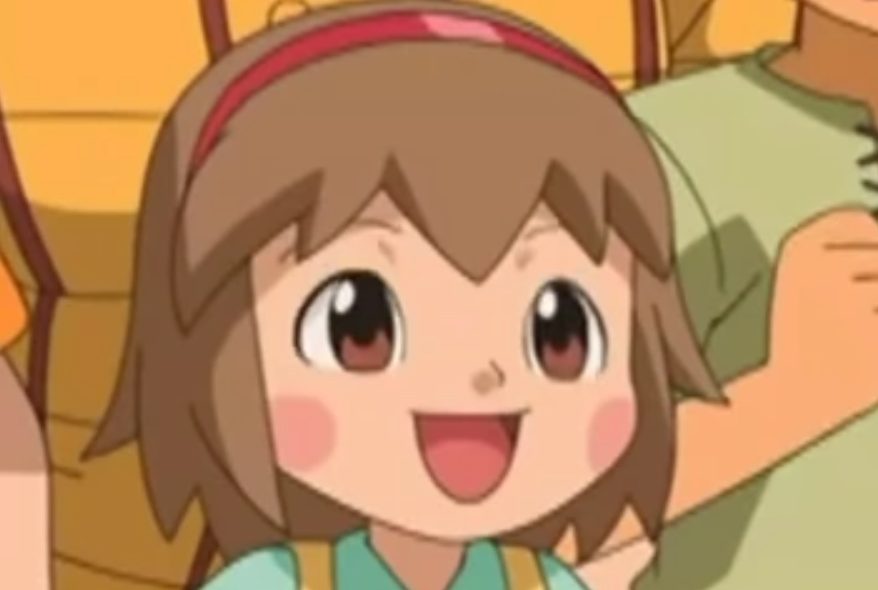 Kako – she is a supporting character in Giratina and the Sky Warrior, she meets Ash's guild on a train with Sylvan, Shun, and Taka. She possesses a Pokémon named Teddiursa. The train was then attacked by Magnemite, Magneton, and Zero's Magnezone, but was chased away by Ash's guild. then she said goodbye to Ash and started the trip to Gracidea.
39. Galea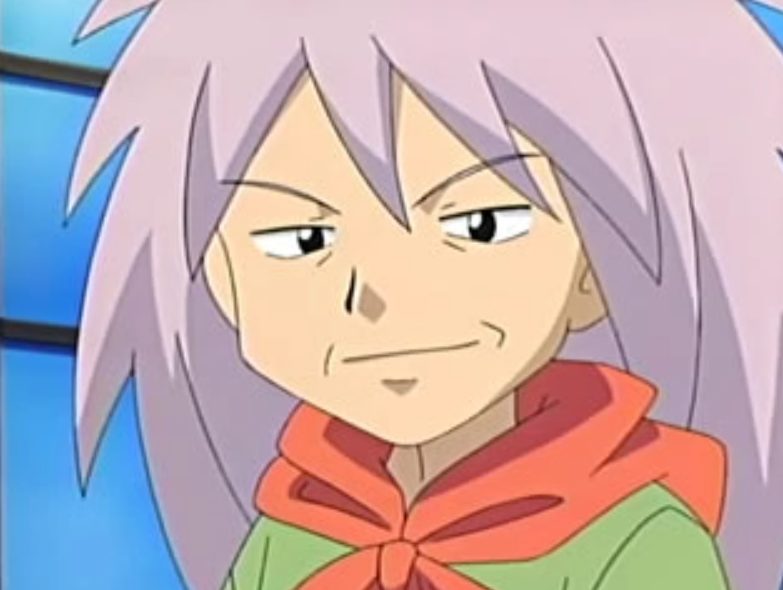 Is another character that might seem a bit old at first but has a lot of qualities to offer. She is situated in the Kanto region which would explain her appearance in the show and happens to be associated with Tiffany in the series. The idea here is that her personality is beyond interesting for a trainer. She goes ahead and challenges Ash for a battle, only to test Corphish's strength.
40. Mallow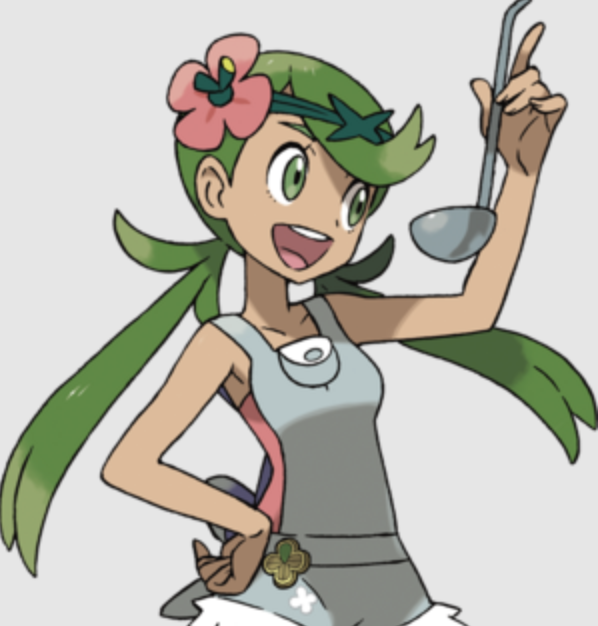 Mallow (Mao) a student at the Pokémon School on Melemele Island, is an old friend of Ash's. She is a talented chef for both humans and Pokémon. Mallow has best friends Lillie and Lana. She is a fan of Grass-type Pokémon.
41. Lillie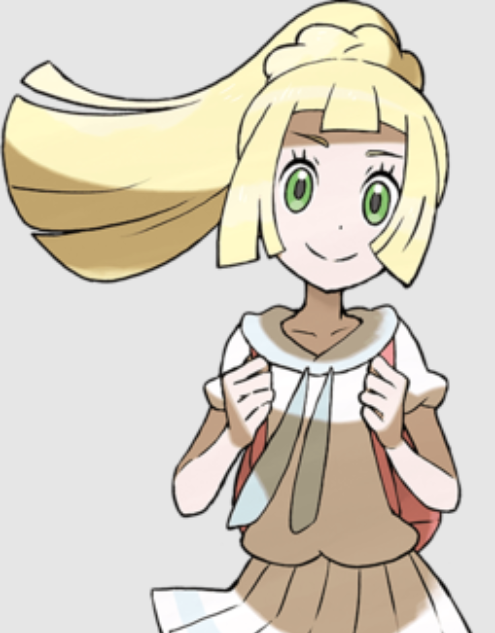 Lillie – Mao's best friend. She appeared in the anime series Pokémon Sun and Moon, Pokémon Ultra Sun, and Ultra Moon. She saved and cared for Nebby, an Aether Foundation research subject, knowing that the organization would eventually kill it.
42. Lana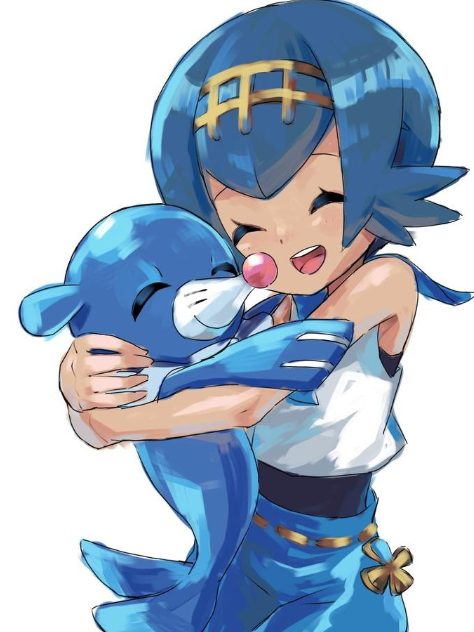 Lana, whose Japanese name is Suiren, is the Experimental Captain of Brooklet Hill on Akala Island. She is an expert on water-type Pokémon. She appeared in the Pokémon Sun, Moon, Ultra Sun, and Ultra Moon anime series. She is a person who always gives people a sense of reliability. The Pokémon she possesses include Araquanid and Wishiwashi.
43. Bonnie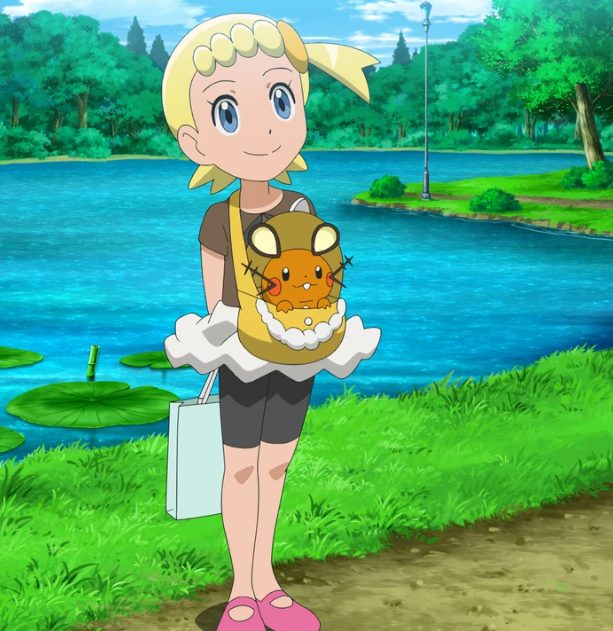 Bonnie – Ash Ketchum's old companion in Kalos. She has a special love for Pokémon and dreams of becoming a Pokémon trainer despite being underage. She and her brother Clemont had very interesting experiences during their time with Ash's guild. Although she loves her brother very much, sometimes Bonnie will be annoyed by her brother's excessive protection.
44. Angie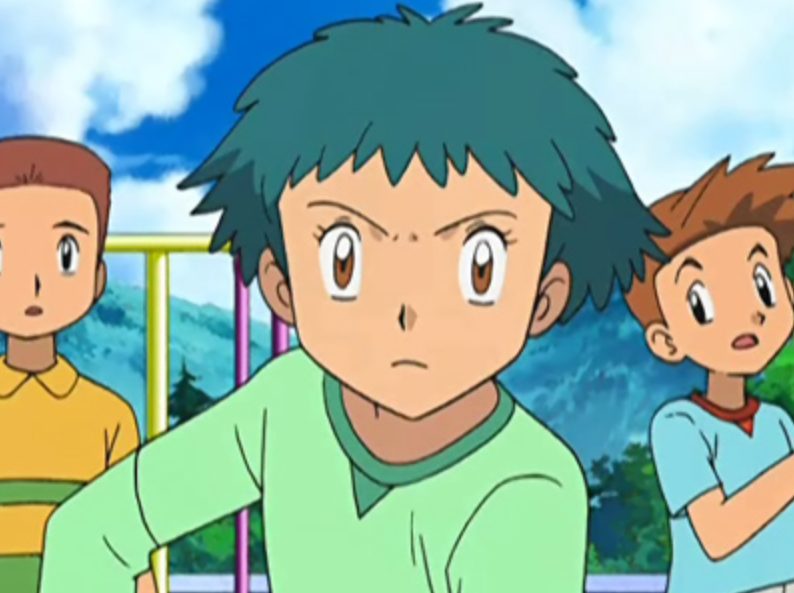 Angie and Ash met in the Sinnoh area when they attended the week-long Summer School program. The start doesn't go as well as Ash thinks Angie is a boy. This angers her and the two begin their journey in the wrong way. Angie is part of the Red team along with Ash Ketchum. She is a Pokémon caretaker at Solaceon Town Day Care owned by her family.
45. Macy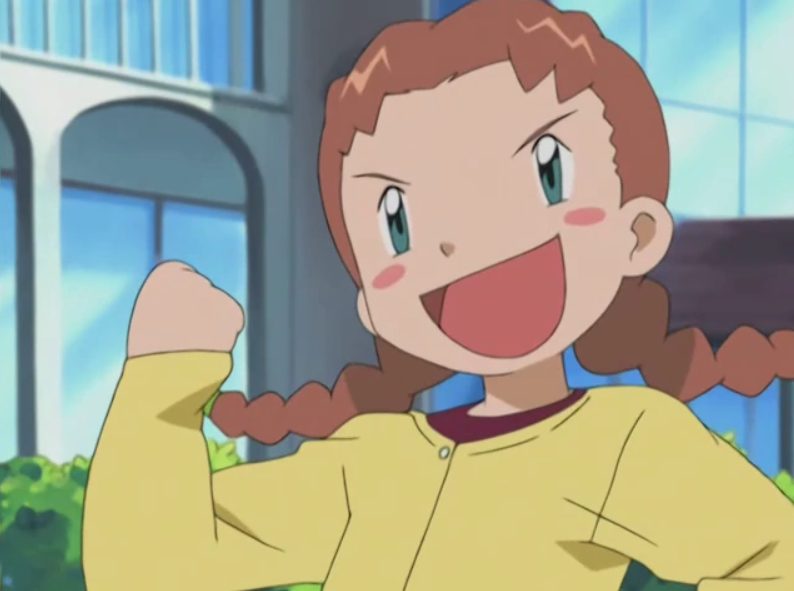 Macy is a Pokémon trainer from the town of Mahogany. Ash Ketchum and Macy helped each other when Team Rocket stole Pikachu and her Vulpix. During the hot pursuit, Macy slipped and rolled over a slope. Ash intervened just in time to save her life. Macy immediately falls in love with him and tries to impress him. However, Misty tries to brush off Macy's attempts to impress Ash.
46. Jacqueline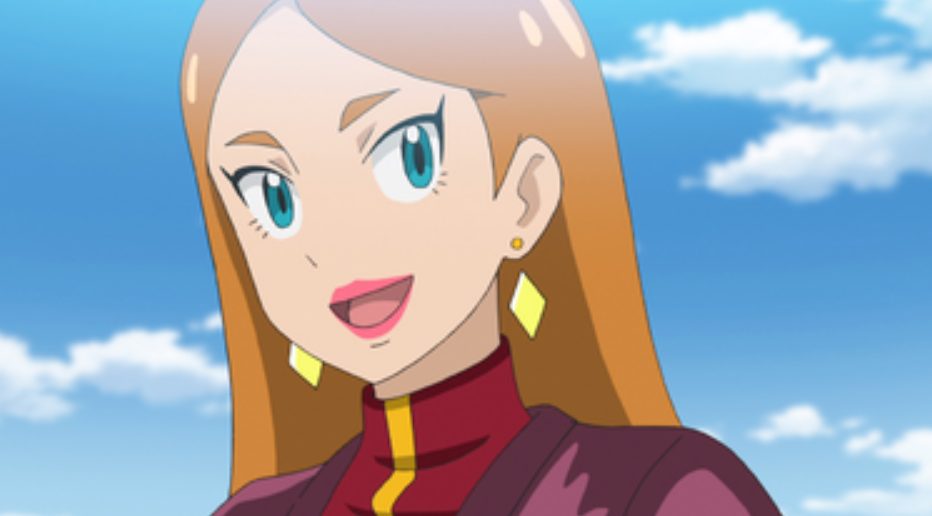 Jacqueline is one of the notable characters in the show who happened to appear in the Sobble Spies Stealthy Strategy episodes. And it is during this episode that the girl gained attention from the masses as someone who can't be ignored at all. One of the biggest features about her is that she is an actress who has a ton of characteristics going on for her. Moreover, she happens to have an Inteleon who disguised himself and fought with Team Rocket causing them to explode.
47. Lanette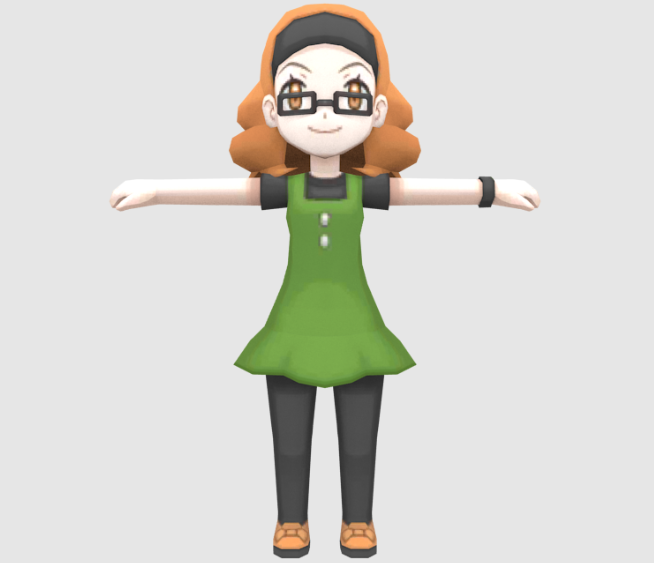 Lanette – Coming in from the Hoenn region, She is a mechanical engineer who works for computers và là em gái của Brigette. She is responsible for impressive Pokemon Storage Systems.
48. Daniela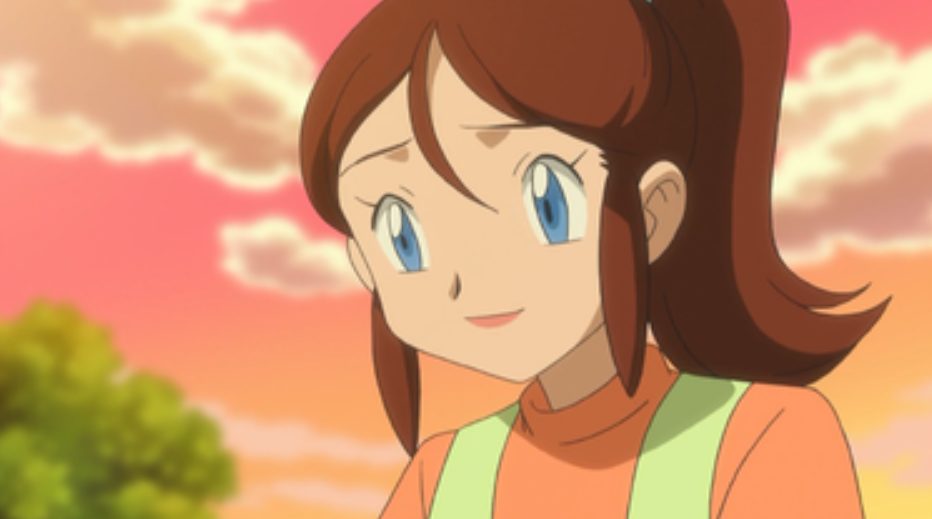 Daniela – she is one of the solo characters who happens to appear in the episode titled Here Comes The Trubbish Squad. This character is associated with Karena as well. And this association is what makes them worthy of this connection. She is a teacher in Pokemon Day Care. And she teaches Kindergarten students as her profession. Her class happened to befriend a Trubbish at times. However, she did not allow them to keep it. But the children disobeyed her, and after many events, Daniela had a different attitude to Trubbish.
49. Princess Salvia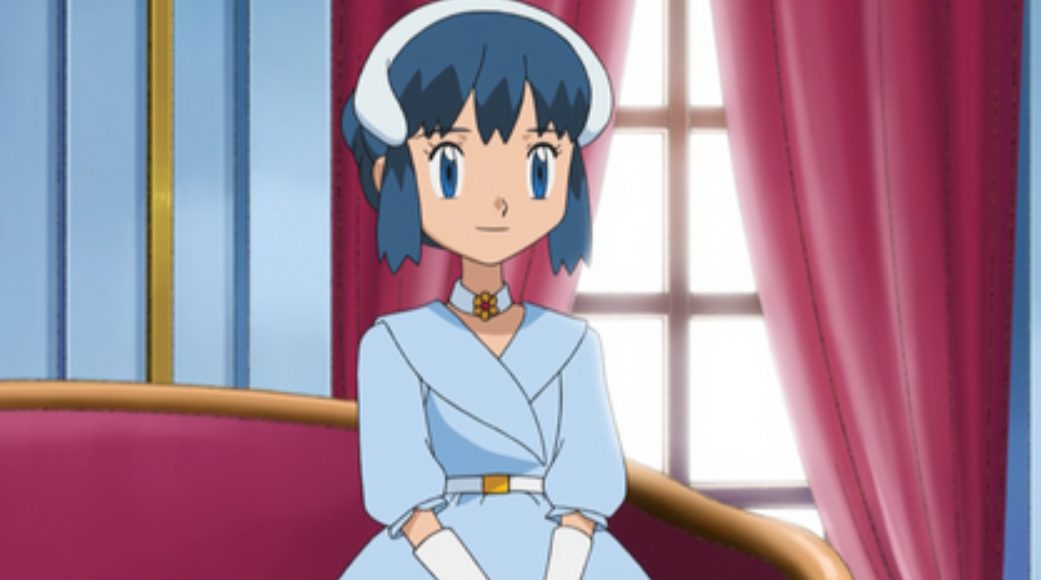 Princess Salvia – is a person with royal duties but also a Coordinator, she always spends her time training her Pokémon Togekiss in hopes of one day participating in a Pokémon competition.
50. Freesia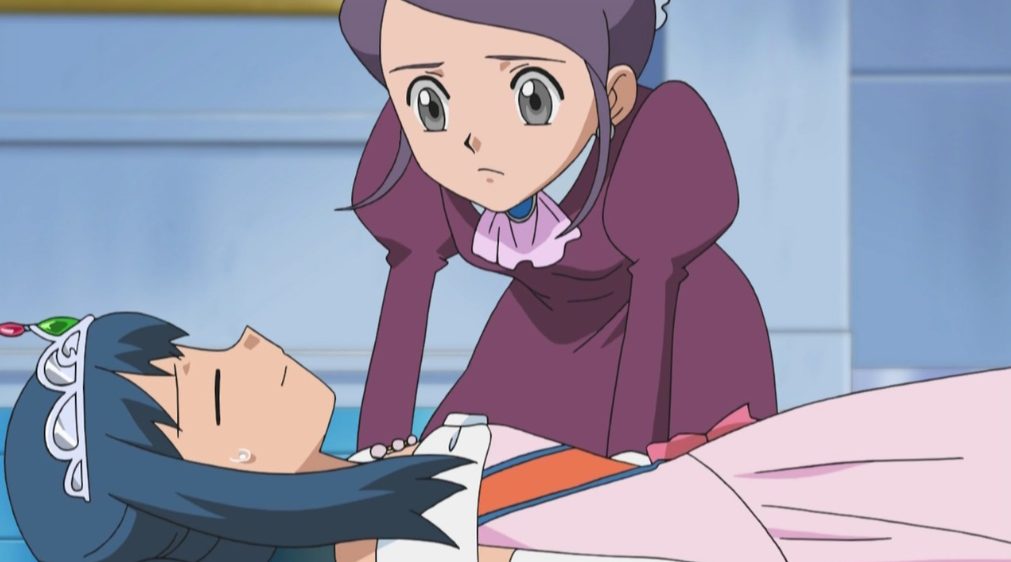 Freesia – Princess Salvia's butler. She meets up with Ash and his friends outside the Arrowroot Town Competition hall. She asked Dawn to swap places with Princess Salvia so she could enter the Pokémon competition. And she will be by Dawn's side to advise as well as help her complete the required royal duties.