Box braids are one of the most popular protective styling options for African American women. Whilst many women traditionally choose to wear their box braids long, short box braids are becoming increasingly popular amongst women that want a hairstyle that is easy to style, easy to wear, and super-low maintenance. Short box braids can easily be styled to look just like a classic and classy bob or you can even have your natural hair braided into an easy-to-wear pixie cut.
Protective hair styling is essential for African American hair during the summer month when sweating, high humidity, and other water-based activities can wreak havoc on the hair and cause it to frizz. Short box braids pose the most popular no-nonsense solution to this problem. Because box braids often use hair extensions, there are tons of ultra long versions of the style floating around.
But this protective style can also be worn in a bunch of shorter styles that are bouncy, fun, and face flattering. Some of the advantages to wearing your box braids in a shorter style are that they're lighter, easier to care for, and take less time to install. If you've always worn your box braids down to your waist, you'll be surprised at how a shorter style can change the appearance of your face, or you might just be after the trendy, collarbone-length looks that are so popular right now.
1. Chic Short Box Braid Bob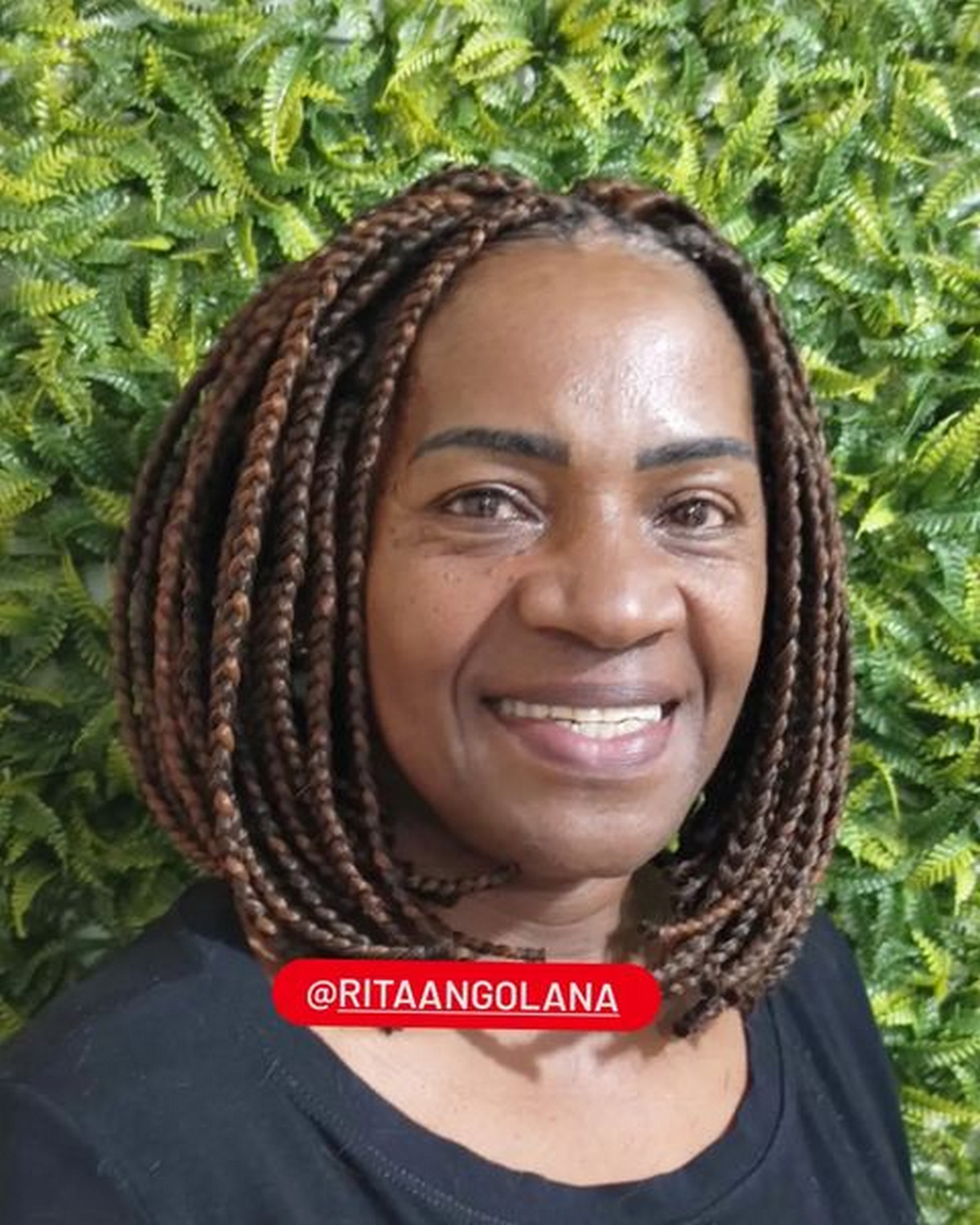 Sometimes, keeping it simple with a clean set of box braids is the perfect way to go. With clear beads to secure the ends and a statement makeup look, you can't go wrong. First up we have this chic braided bob. The hair has been styled into a side part and features simple and trendy box braids in a length that sits just below the chin. These braids are easy to wear and they will suit everyone. You can recreate this look or try using thicker braids, you can try different hair colors too.
If you are looking for a chic and edgy look, try the trendy bob box braids. This style features a blunt cut that falls just above the shoulders, giving you a stylish and modern look. Check out these 40 ideas of bob box braids for some inspiration to elevate your braided bob game.
2. Bold Blue Braids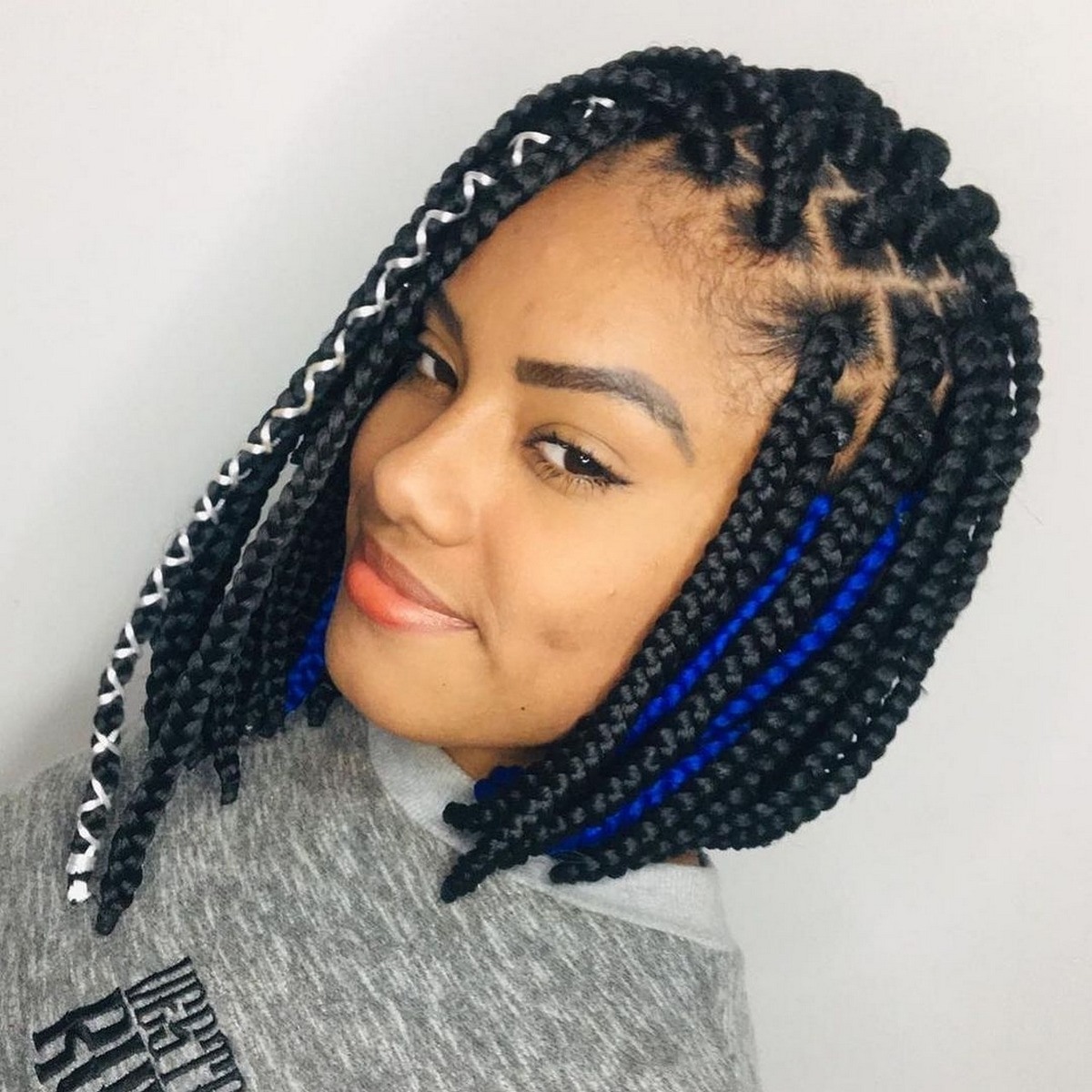 Looking for a bolder hairstyle to try? Then you need to check out this next look. The hair is braided into chunky box braids with funky partings. Some of the braids have electric blue hair weaved into them and one braid is accessorized with a blue cord too. This is a vibrant hairstyle that is perfect for the ladies that want to make a statement. Recreate the beautiful blue look or try a color of your choice.
3. Classic Short Bob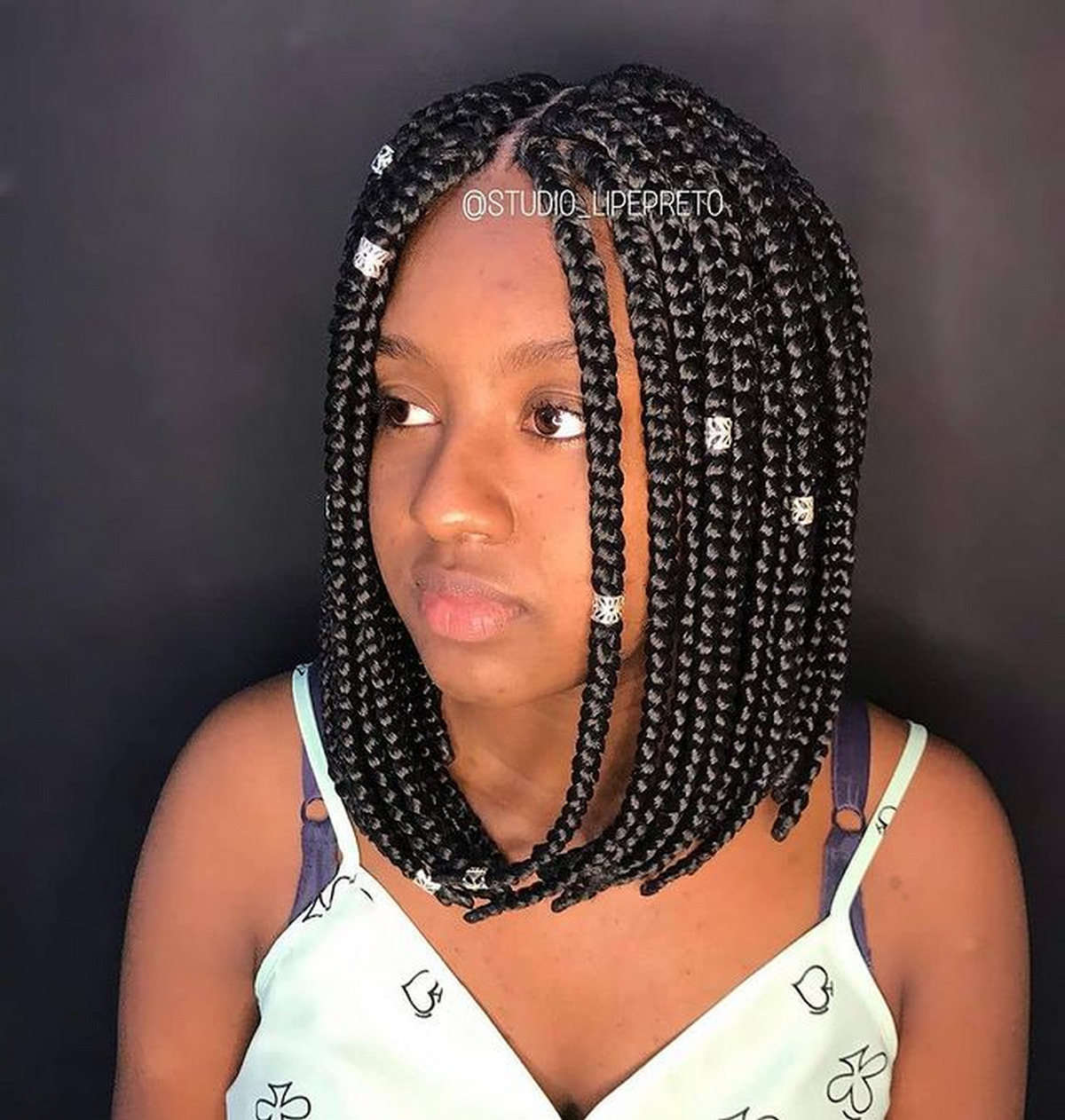 When it comes to cute bob hairstyles, we always have to start our list with the classic short bob that is not too short and reaches the shoulder for giving you the perfect bob look. It's all about keeping the length proper and assembling the hair in the right way to make them look perfect.
If you are a beginner and are willing to take the easy road for safety, we suggest you start with black braiding hair if your natural hair is black. Your braids can be of small or medium size for keeping things simple. Make sure to part your hair properly to achieve the right bob.
4. Blonde Tribal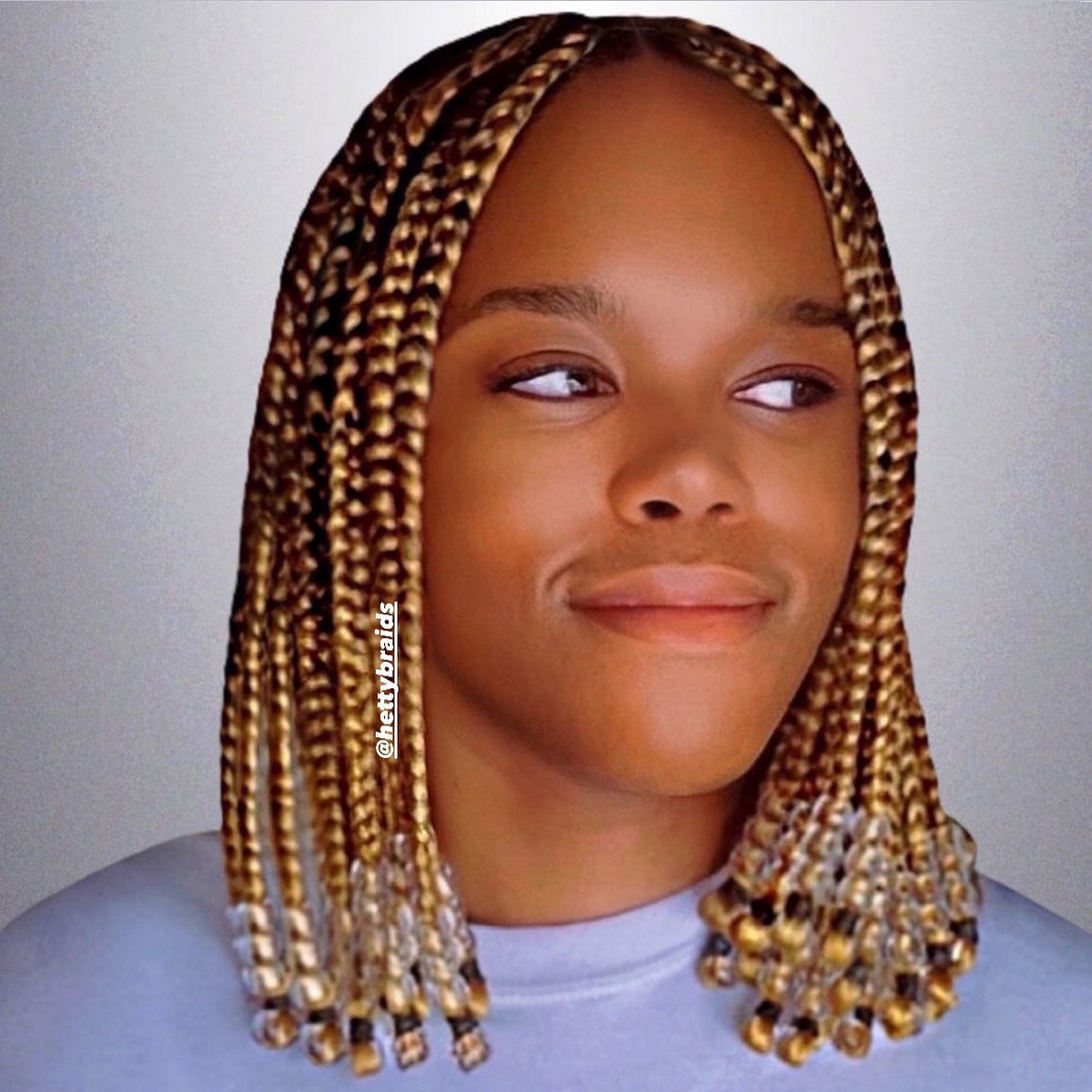 Blonde hair looks the best when turned into a bob shape, no matter if it is a long bob or a short bob. If you do not have naturally blonde hair, it doesn't mean that you cannot try out a blonde bob look. Rather, choosing blonde braiding hair will help you achieve that braided bob look quite easily.
When you are choosing your hair, make sure that you have picked the right shade of blonde according to your preference. Your natural black hair will create the black-roots appearance along with the blonde once the braids are done, and this elegant hairstyle will make you fall in love with it instantly.
For a unique and stunning look, try blonde tribal box braids. These braids are not only beautiful but also a great way to show your personality. You can add accessories like beads to make the style even more eye-catching. Check out these tribal braids for more inspiration on how to style them.
5. Silver, Short And Sweet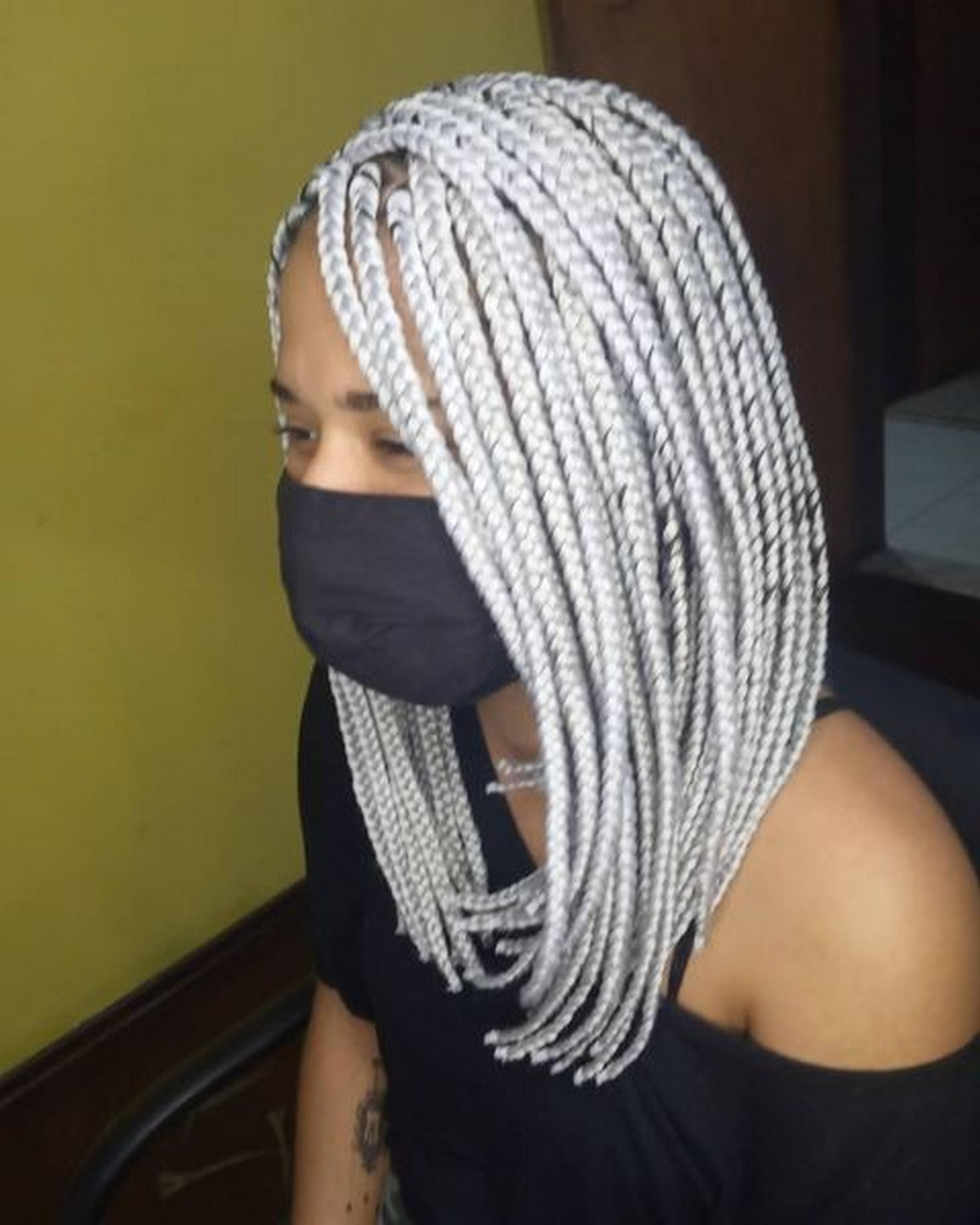 Silver Grey box braids are a chic and stylish choice for African American women if you can style it the proper way. These silvery strands look beautiful on women because they seem unusual and mysterious. Gray colored extensions can also be used to temper darker hair colors to give them a subtle dusky look.
Grey and silver hair box braids are the most popular color trend this season, and it looks fantastic with short braids and black roots. So that the look improves with time, have your stylist blend your natural hair with your plaits. These short braided styles may appear complicated, but they're pretty simple to create. Use your hair as the foundation for each braid, then add extensions and beads to create a stunning design.
6. Braids In A Box With A Clip Embellishment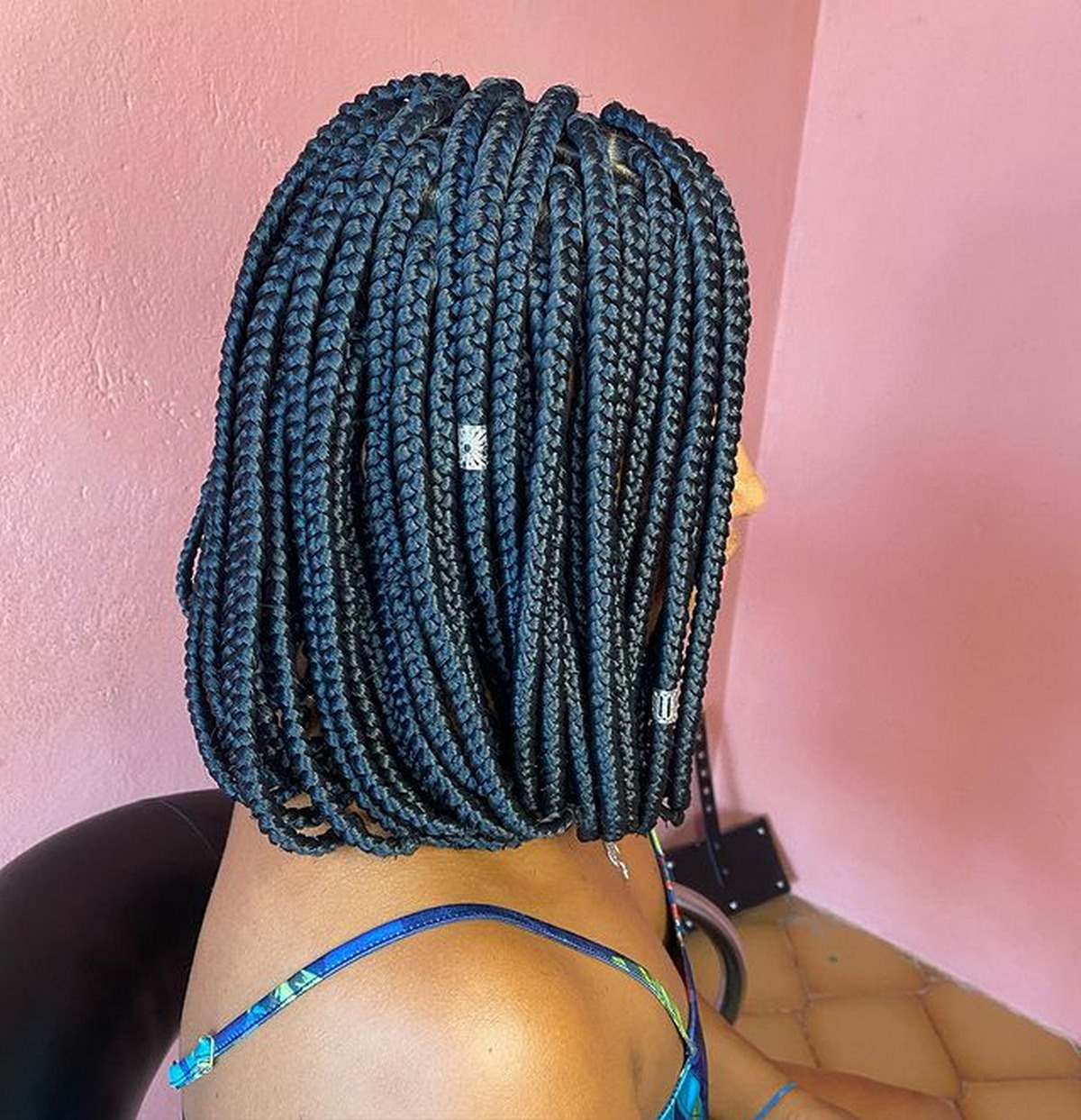 Short hair doesn't always have to be boring! Even if your updo styling options are limited, short braided hair looks excellent when embellished. Use rings and clips to add color, intricacy, and texture to your outfits. These clips are easy to use, won't damage your hair, and can be removed in seconds, making them excellent for special occasions. Just make sure there's enough hair around the clip to keep it from falling out and tangle your braids.
Enhance your short box braid styles with a clip embellishment like bows, flowers, or beads. This will make your braids stand out and add an extra flair to your look. Check out this stitch braids hairstyles article for more inspiration on how to decorate your braids.
7. Blonde Box Braids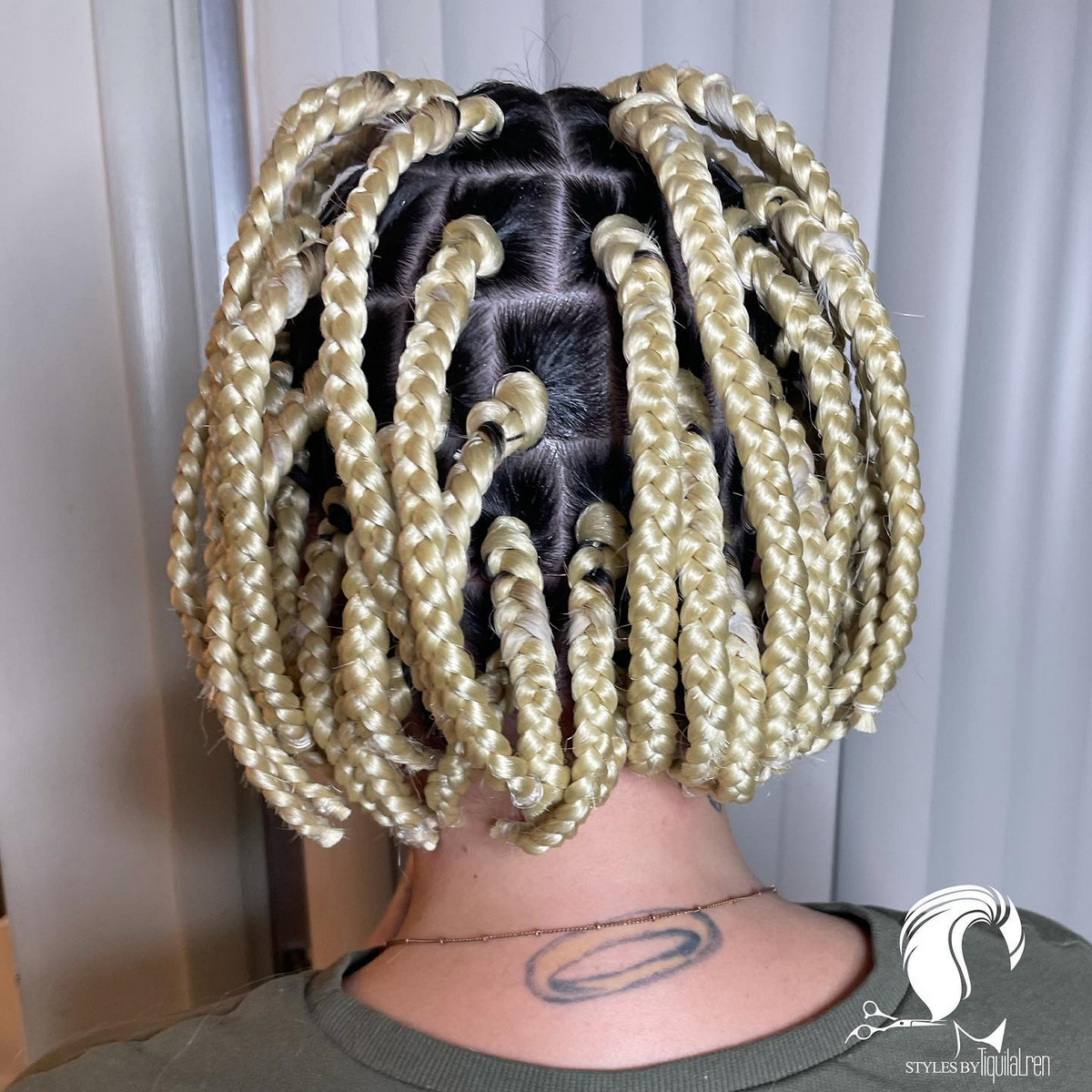 Blonde box braids are a fantastic technique to grow your hair, but what if you want something else right now? Box braids look very different when transplanted onto short hair than when seen on long hair. The braided pattern shows through because of the shorter length, emphasizing the style.
This hairstyle is simple to get and requires little maintenance: simply wash and condition your hair as usual, then divide it into two even parts at the ear level. Divide each quarter into three smaller portions, ensuring the first one isn't too long.
8. Feminine Side Parting On Short Box Braids
Have your stylist braid your hair with an extreme side parting if you want a short style as attractive as possible. This will make it easy to pull your hair across one side of your face. This adaptable shape is ideal for balancing asymmetric or rounder features and flatters many facial types. These days, short, box braid styles are popular.
You may either mimic your favorite celebrity's class or have your hairdresser create a brief box braided hairstyle for you to achieve a unique yet fashionable look. You should know how to choose and maintain the proper braid hairstyle for the most outstanding results.
If you want to add some edge to this feminine look, consider getting braids with shaved sides. This style can give your short box braids a bold and unique twist, while still keeping the feminine side parting intact. Plus, the shaved sides can help keep you cool during the hot summer months.
9. Color-Flashed Short Box Braids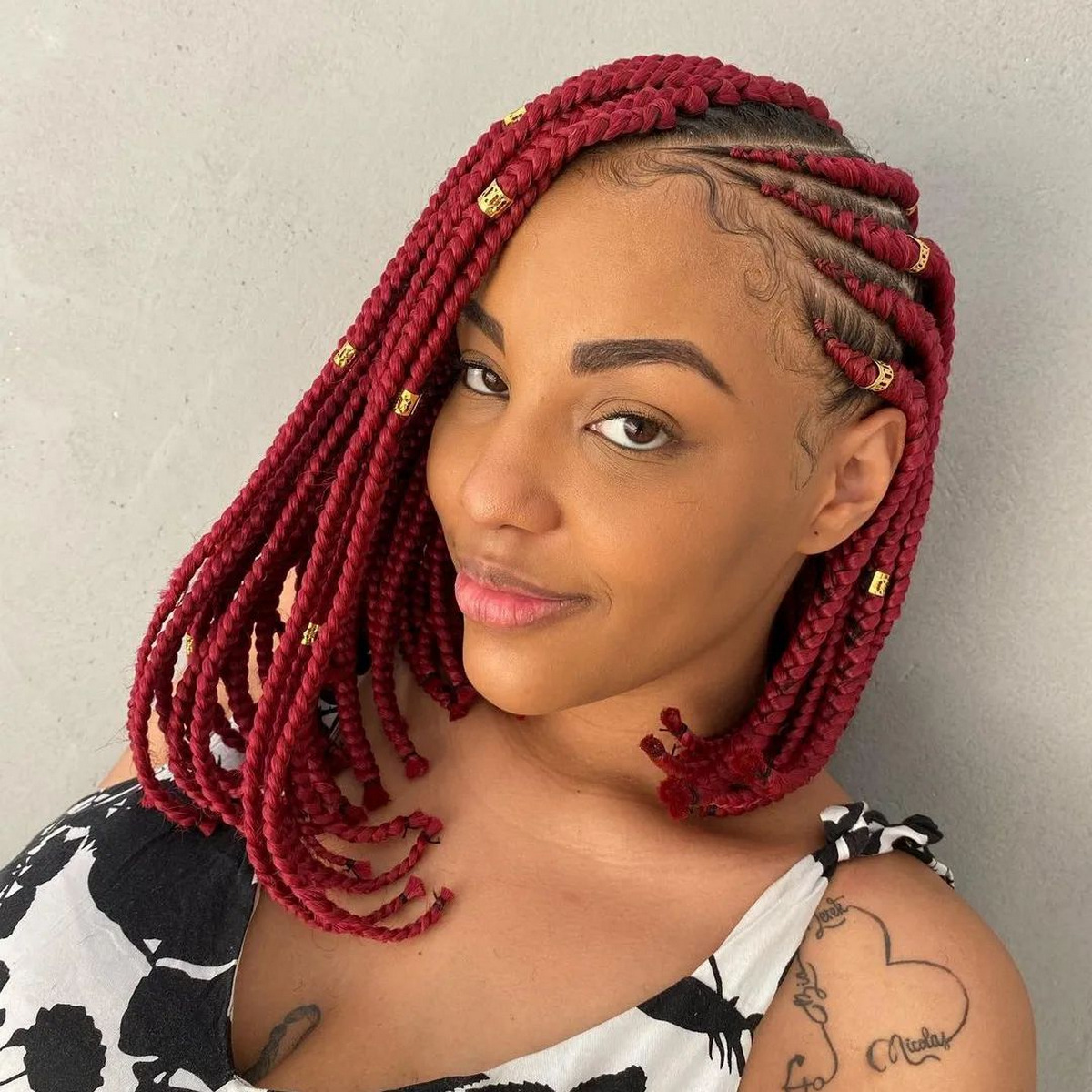 We all seek a simple yet trendy look from time to time. Using a color braid with an introductory class is an easy fix. Short Box braids are simple to put together and keep your hair out of the way. Finding the proper color paint to achieve the desired aesthetic without looking weird or excessive is the most challenging aspect of this design. Many various colors go with every skin tone, so take your time and figure out what looks best on you!
10. Honey Blonde Box Braids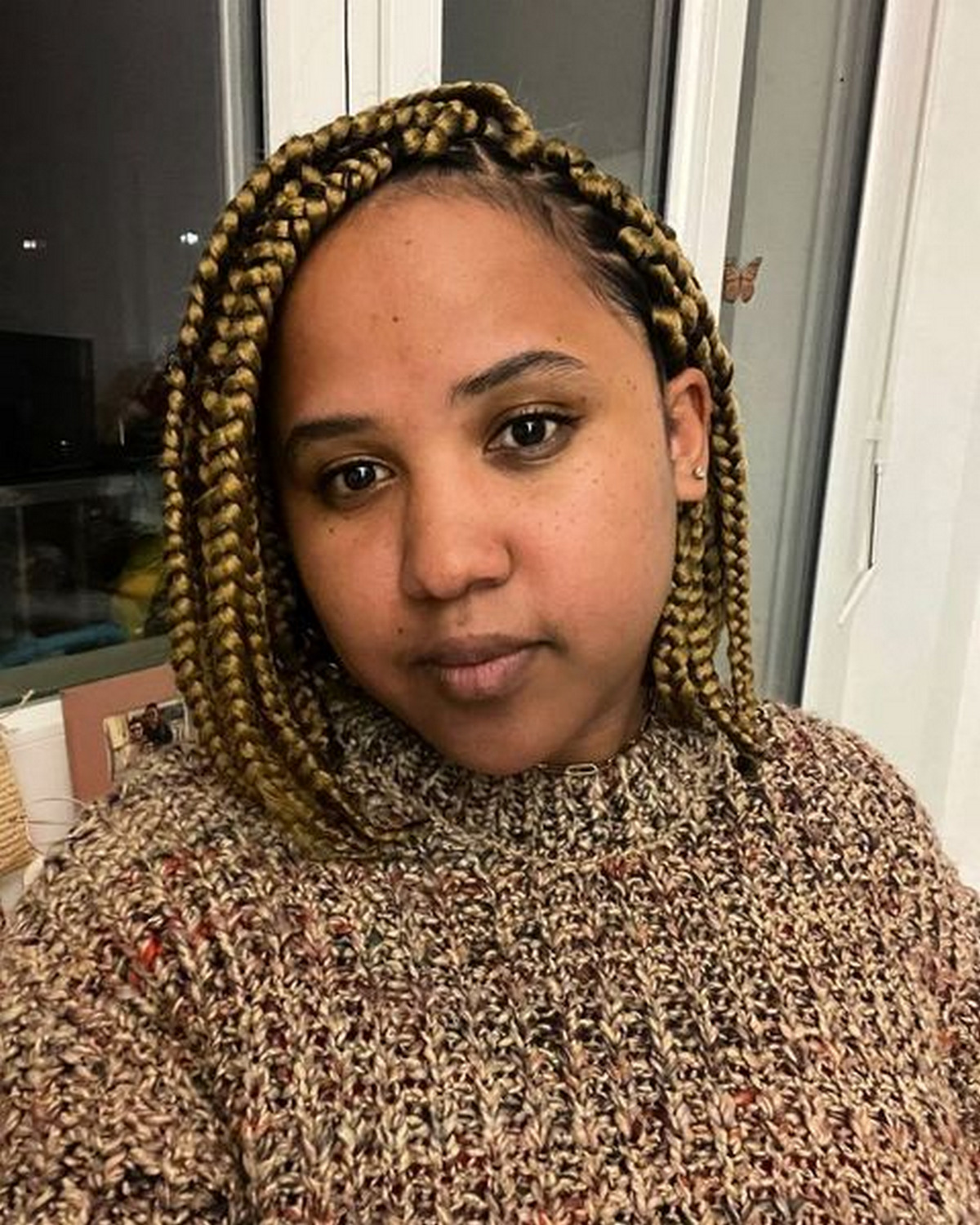 Blonde box braids are a protective braiding style with a square or box-shaped division and colored blonde. There are plenty of edgy and stand-out ways to wear box braids, but going blonde beats them all! Box braids are a fantastic technique to grow your hair, but what if you want something else right now?
Box braids look very different when transplanted onto short hair than when seen on long hair. The braided pattern shows through because of the shorter length, emphasizing the style. This hairstyle is simple to get and requires little maintenance: simply wash and condition your hair as usual, then divide it into two even parts at the ear level. Divide each quarter into three smaller portions, ensuring the first one isn't too long.
11. Box Braids, Short and Sweet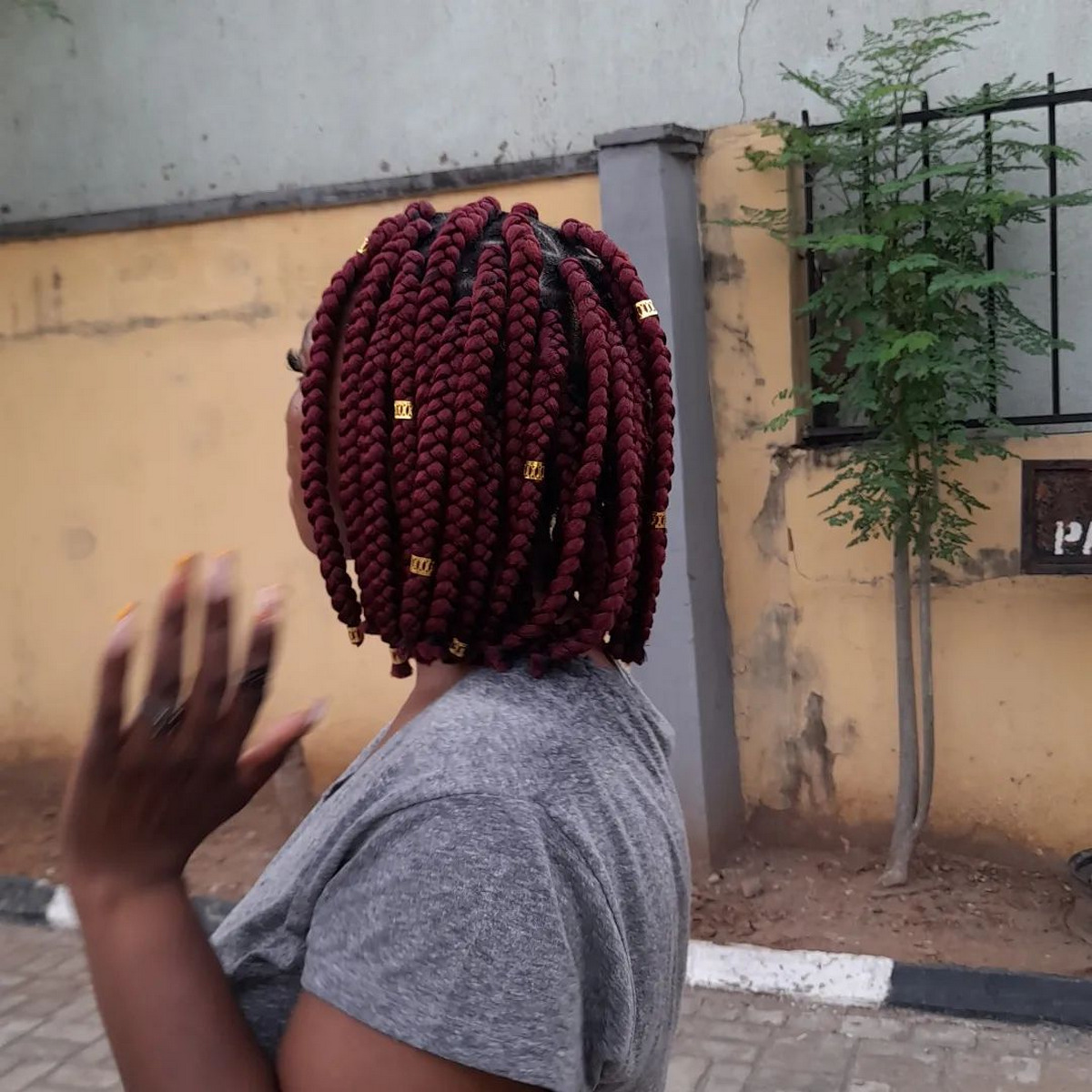 Short and sweet box braids that brush your chin are the most attractive design possible if you have delicate features, a long slender neck, and a slim or oval-shaped face. These braids are feminine and delicate, drawing attention to your face. Hair extensions, in addition to your hair, are required for short box braids. For an ultra-feminine style, go for dark brown or black hair extensions.
12. Double Bun Detail On Short Box Braids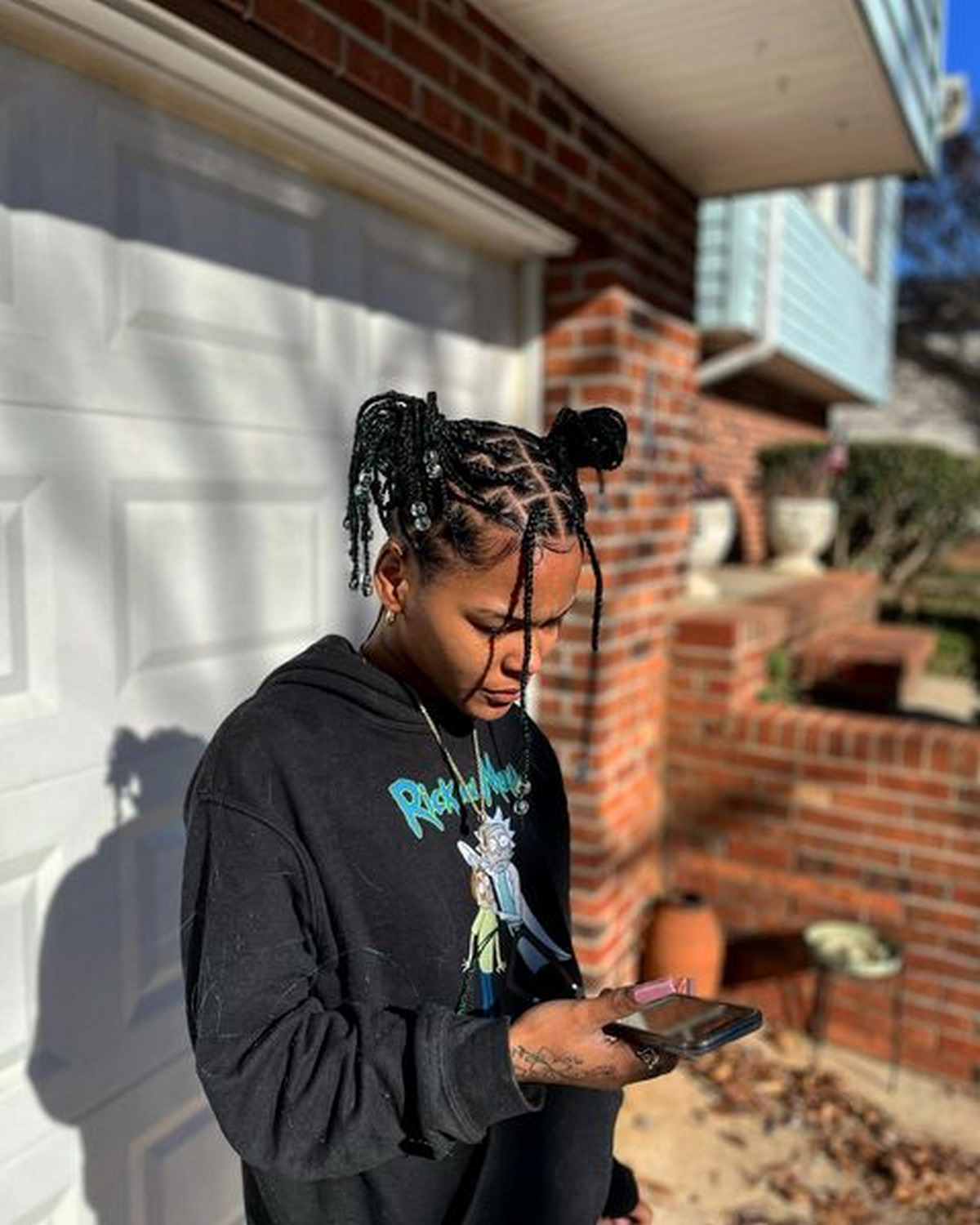 When it comes to hairstyles for black women, box braids, cornrows and twist braids will always make the list. Buns are a common way of wearing these protective styles because they are suitable for just about any occasion and can be customized from loose and messy to tight and elegant and everything in between.
Who says a gorgeous updo can't be achieved with short hair? Short hair is just as adaptable as long hair, and your brief box braid bob can easily be transformed into new and exciting looks. This is a great example: twist your braids onto the top of your head to produce double buns for a gorgeous and whimsical look. It's a super-chic and stylish ensemble that you can wear to office parties or other formal events.
To give some variety and personality to your short box braids, try adding two cute buns at the top of your head. This style is perfect for those on-the-go or running errands. For more ways to style your short box braids, check out these 35 stunning braids for short black hair that are perfect for any occasion.
13. Jumbo Hair Box Braids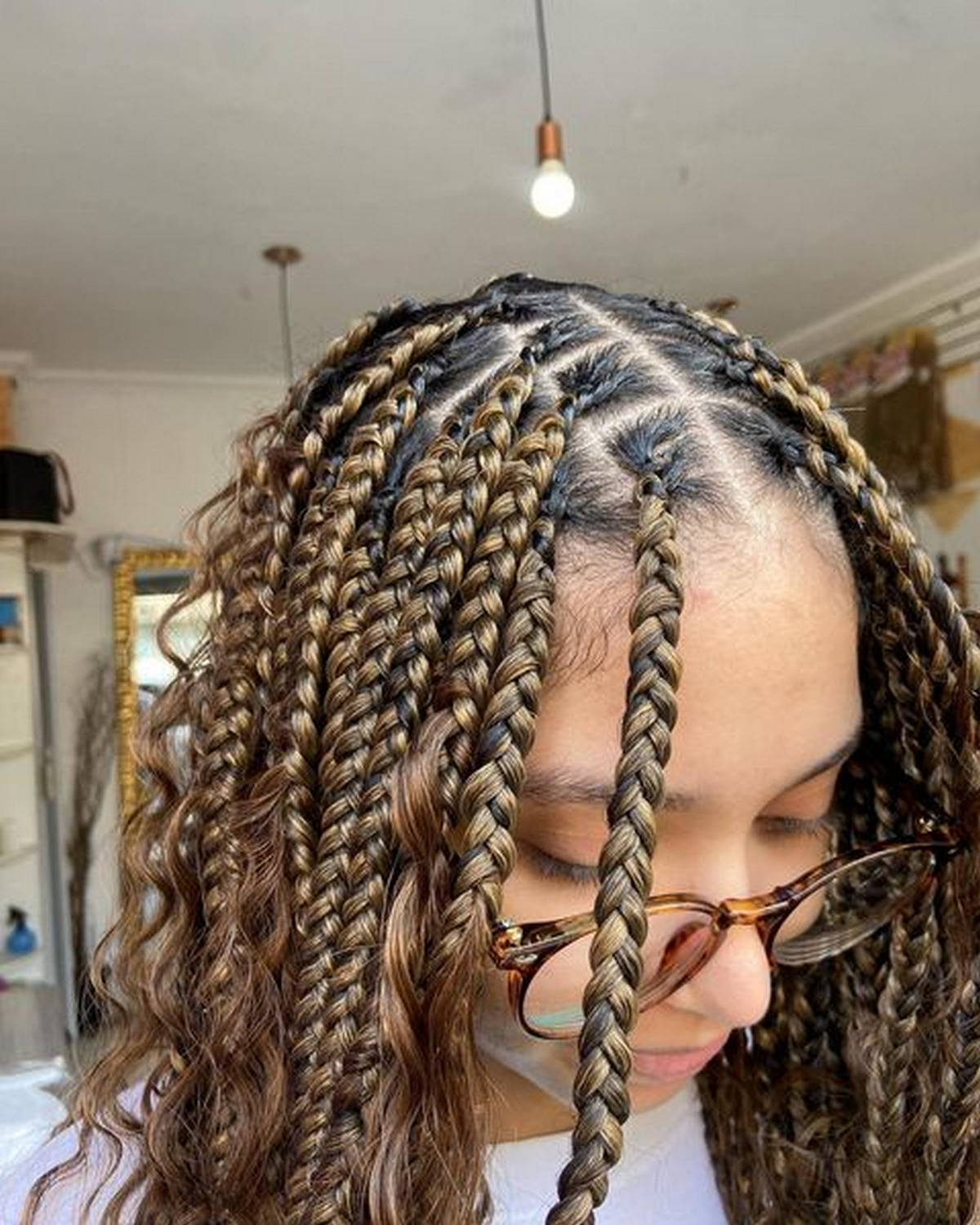 Ladies with cute and young faces can opt for this jumbo hair box braids gorgeous hairstyle to attend a party. In this style, you need to side part the hair first. Then you need to create the box braids over the head to make this hairstyle.
This style looks best when the hair strands are highlighted in silver in length and black on the roots. This hairstyle is perfect for girls with round faces as well.
14. Ponytail Box Braid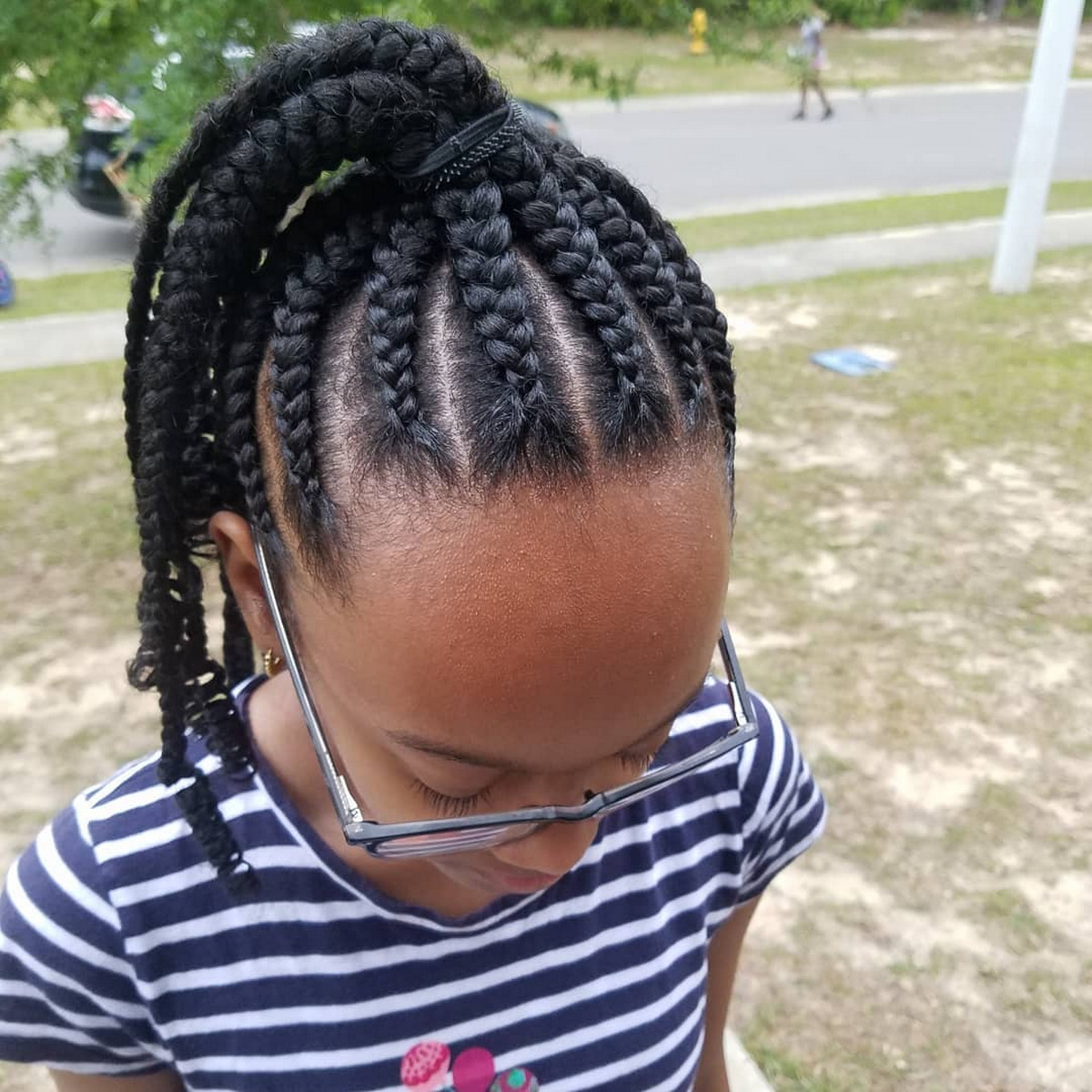 Do you enjoy your box braids but are sick of them slipping into your face all the time? There's a no-nonsense strategy that's almost too easy to put into practice! Sweep a dozen braids out from your face along your central hairline and fasten them with a big hair elastic, and you're ready to go! To keep everything in place, spritz with your preferred hairspray.
This Ponytail box braid hairstyle is perfect for women who want to change their look from their short box braids. You can pull your hair into a regular, but you'll need a little extra volume if you have box braids. Make two loose braids, each secured with two hair clips. Then twist the braids together to form a single large braid and secure it with a large hairband.
15. Box Braids In The Pixie Style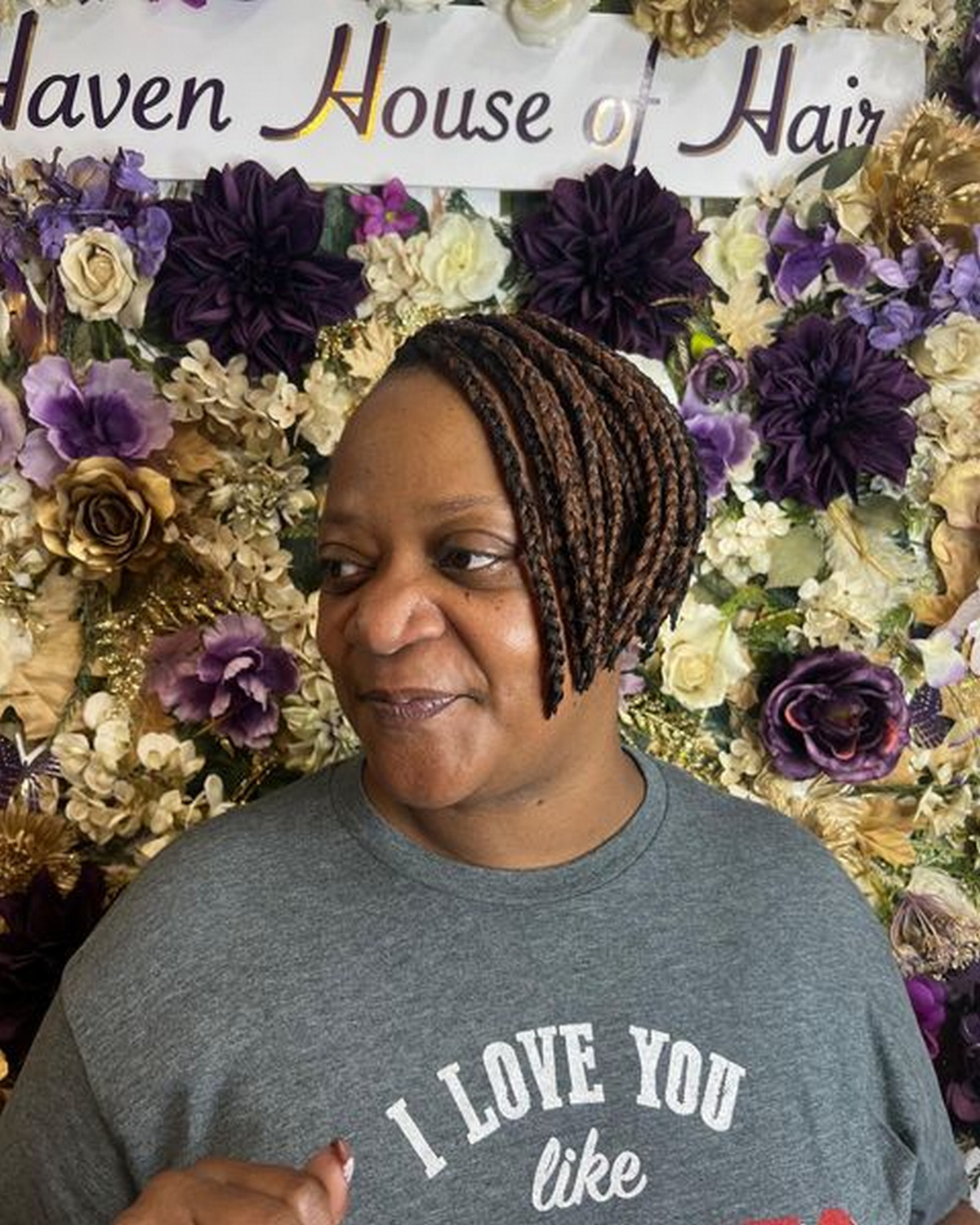 Pixie braids are hitting the ramp hard! These braids are no more just an African thing. Women all over the world are embracing this hot style which is a symbol of effort and beauty. Pixie braiding makes an enthralling hairstyle because these can completely transform your look. Adding to it, there are multiple possibilities of the way you can wear these braids. No wonder, these braids make a chic style in itself!
Ask your hairdresser to build box braids out of your natural hair for a short and sweet appearance if you want to protect your hair for the summer but don't want to spend the money on box braid extensions. Box braids can last up to three weeks, giving you plenty of opportunities to appreciate the look.
If you're seeking a more daring and edgier look, why not try box braids in a pixie style? With box braids being so versatile, it's no wonder why they work so well with so many hairstyles. You can achieve a stylish and chic look by combining box braids and a sassy pixie haircut. Consider trying out this bold look with 36 Chic and Stylish Pixie Hairstyles for Women – Hood MWR and showcase your confidence.
16. Box Braid Bob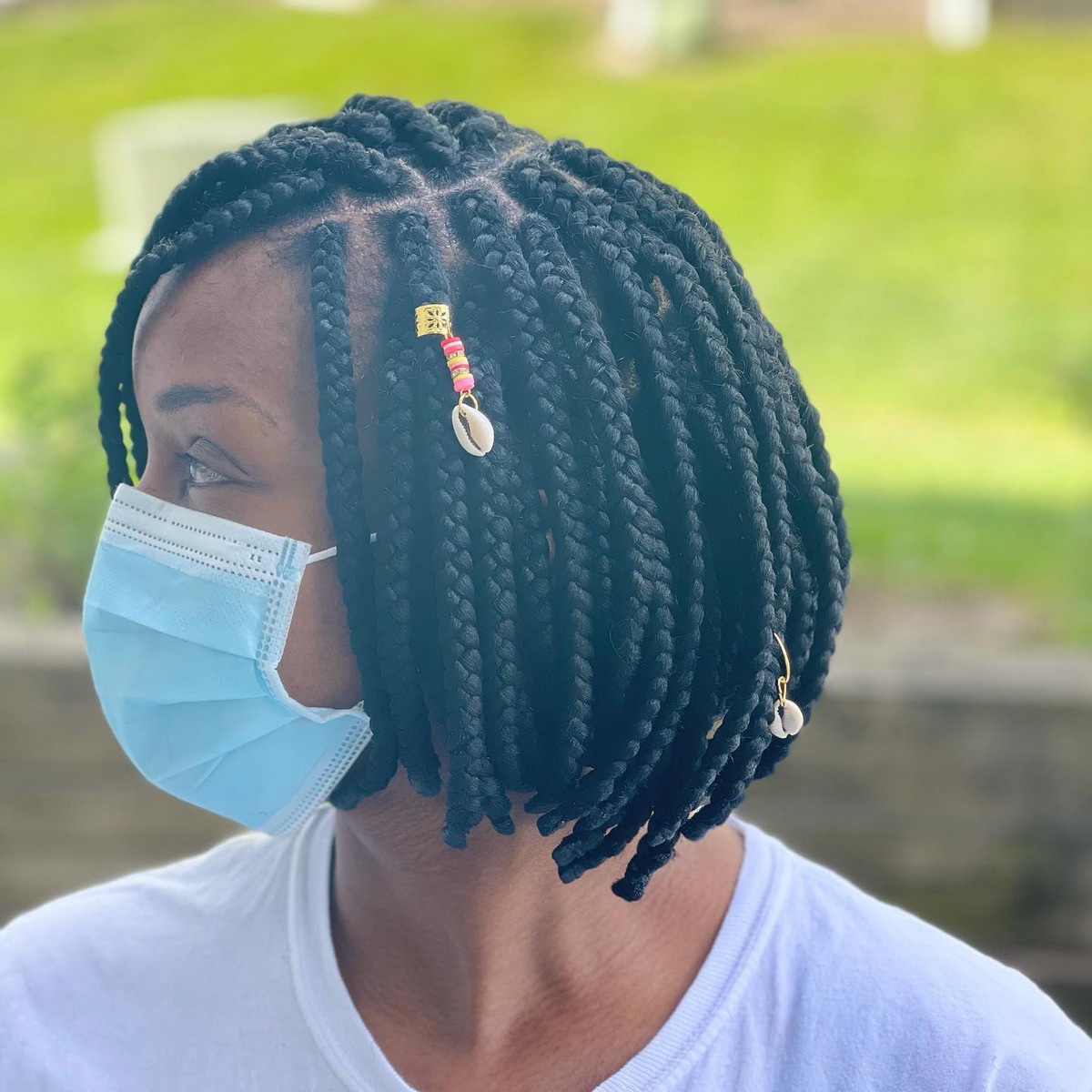 You can carry this chic pixie bob braids style anywhere because it is very easy to carry and anyone can rock it. Get a good bob cut of medium length. Create an off-center partition in your hair. Now divide the hair on each side into small sections and subsections as described above. Start making each subsection into a braid until all of the hair is done. Make sure the braids are tight.
17. Mid Length Braids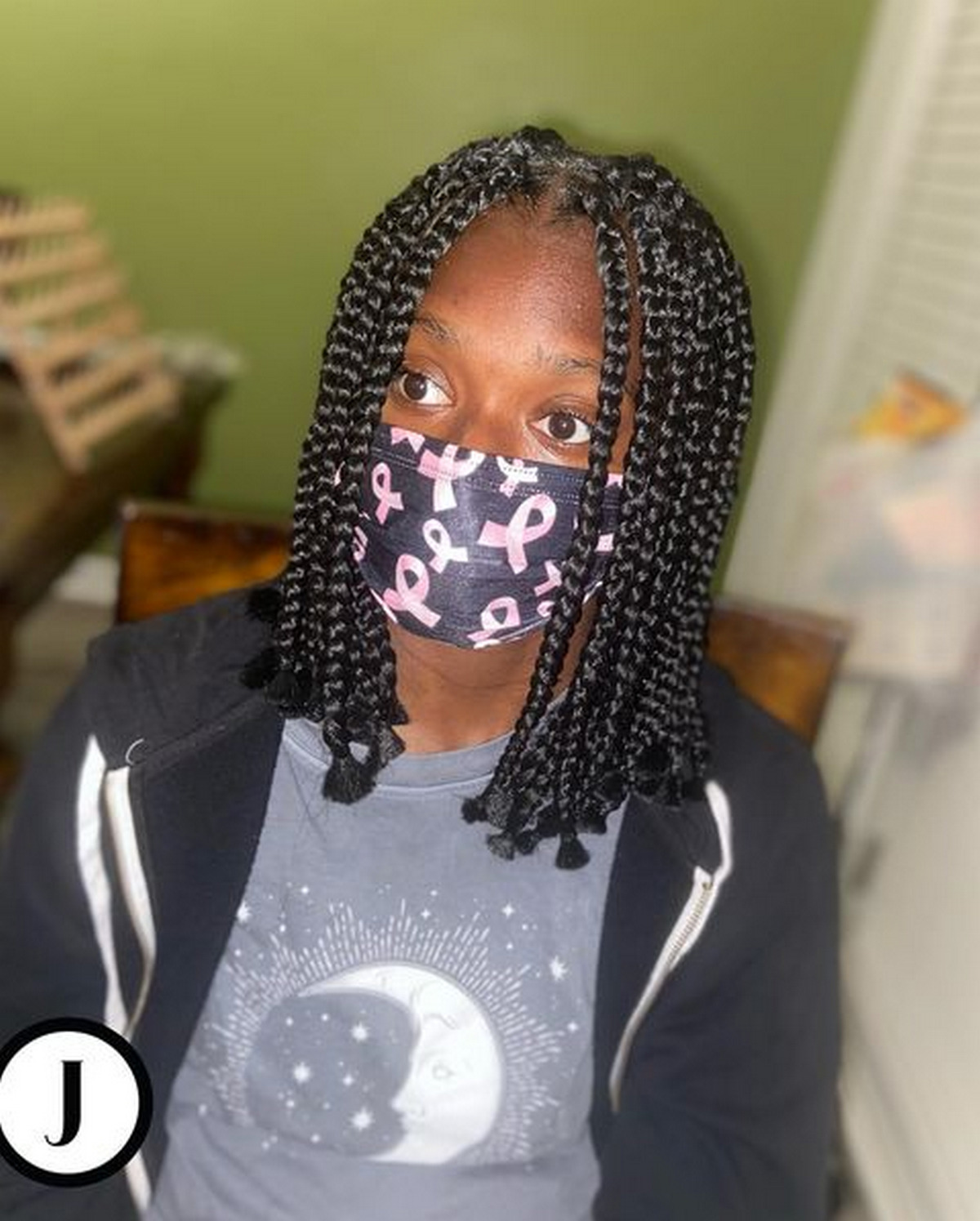 Medium box braids styles are a protective hairstyle for natural hair that's done by sectioning the hair into boxy divisions and braiding it from the roots to any length between shoulder and chest. Not a fan of too many extensions to go with your box braids? No problem! With its medium-length form, you will still have as much fun and versatility!
This style is similar to the one mentioned above except that you can carry it in a longer length. So, the steps to make are the same. The only difference is that you should get long bob hair cute. Almost 3.4 inches below the shoulder length.
If you have medium length hair, try out these medium box braids hairstyles. These braids are perfect for any occasion. They require minimal care and maintenance while being stylish and elegant. With the right styling, you can rock any look from bohemian to chic with these braids.
18. Brown Highlights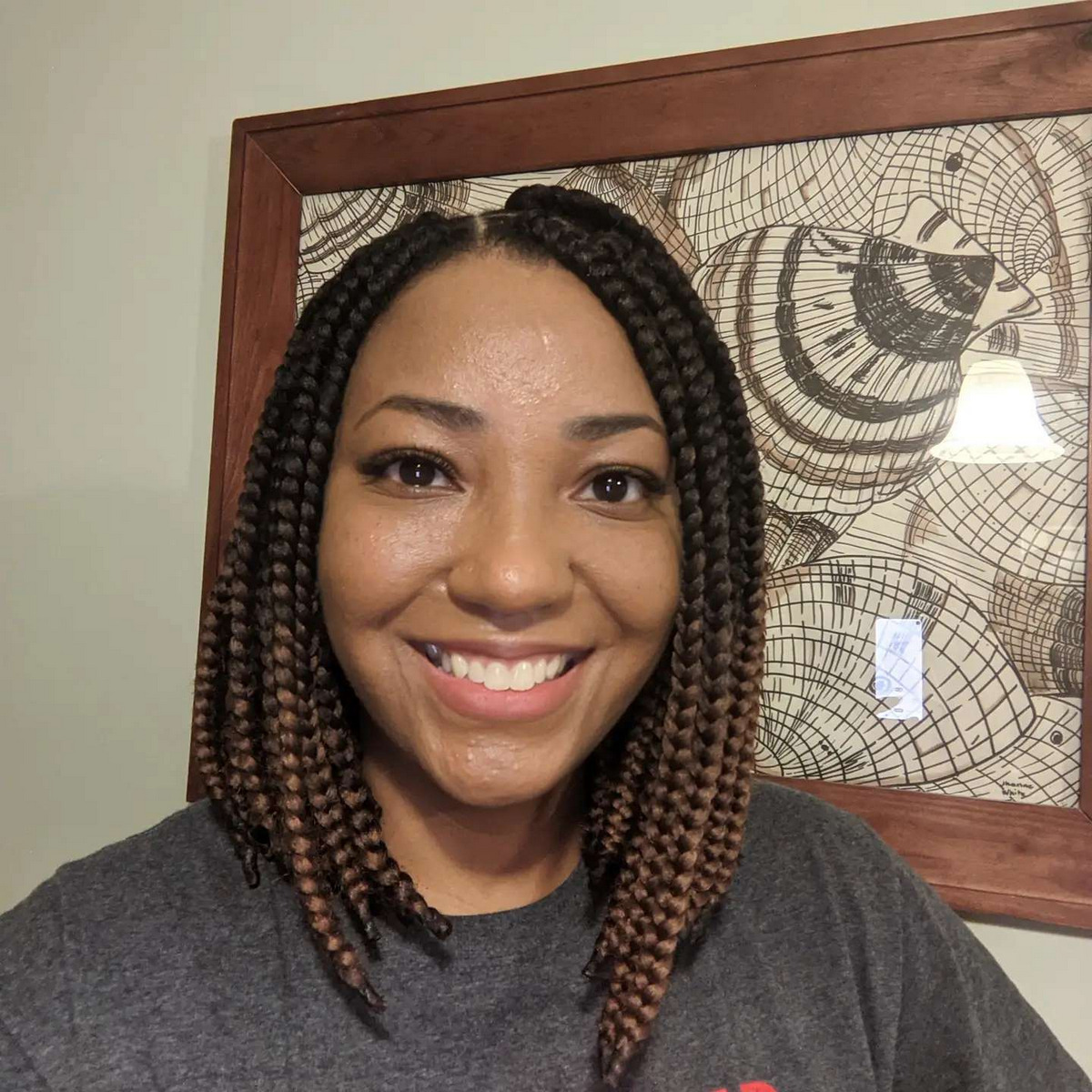 If you want to add a subtle touch of highlights to your hair, then we suggest opting for black and brown highlight braiding hair for your braids. While the black braids will work as the base color, you can use the brown braids to create those highlights.
This picture is a perfect example of pixie braids with brown highlights. Most of the braids are black, but there are random placements of brown pixie braids for that highlight effect. The ends are perfectly styled and this medium-length bob style is screaming cool-girl vibes!
19. Black And Purple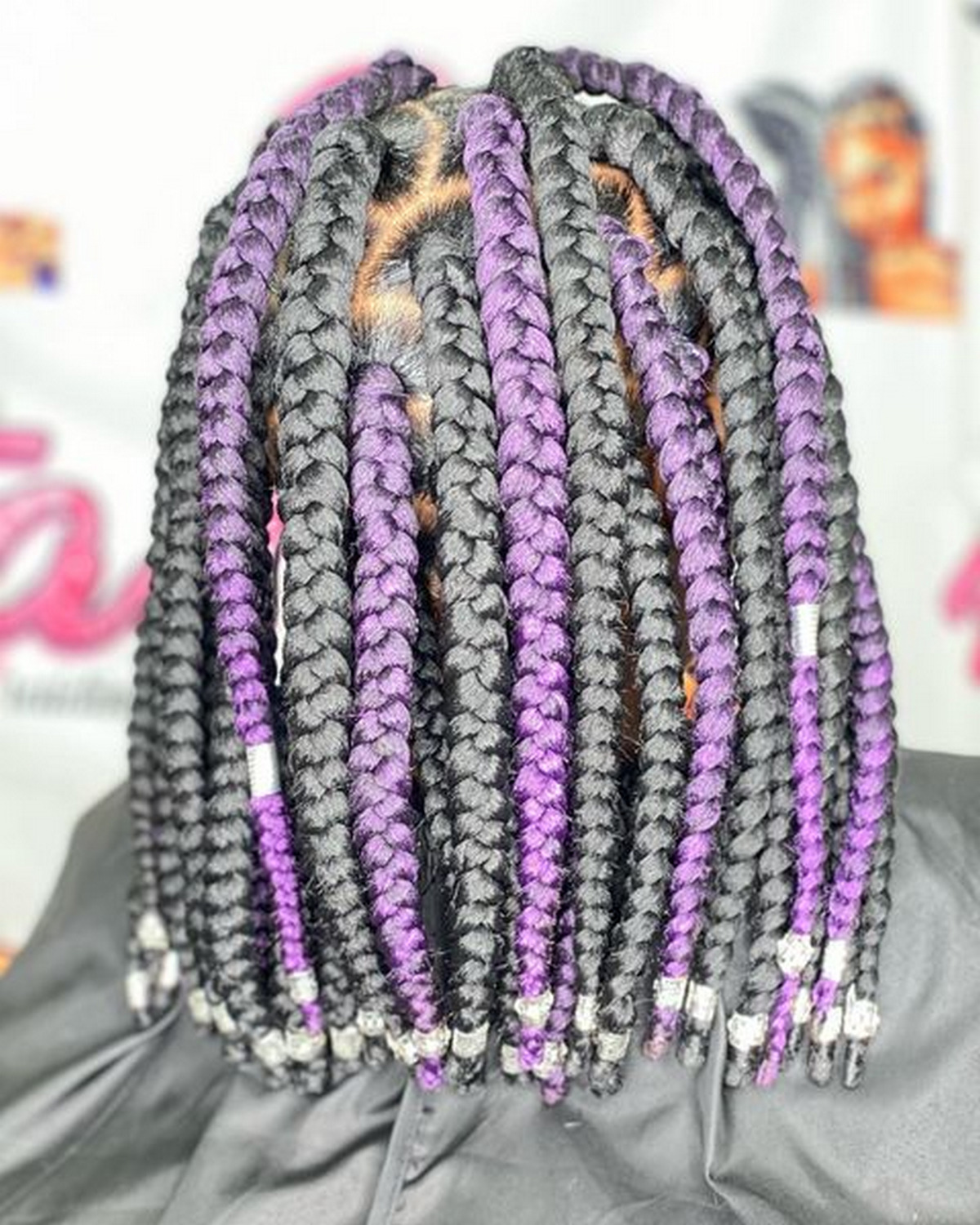 The beauty of box braids is in their versatility. When you're super concerned about hair health, experimenting with new styles can be intimidating—it can feel like damage is right around every corner. With box braids, you can turn up the dial on creativity without the risk of damaging your curls and coils, whether you're opting for a braided bob black and purple.
Did you know that darker shades of purple tend to look more subtle and could be a good fit if you are more conservative about color. Lighter shades of purple tend to create a more dramatic, vibrant, and eye-popping look. Incorporating two different colors in your braided style will only showcase your creativity. So while you're at it, why not combine a regular color with something that is bold and dazzling?
Adding a touch of purple ombre to your black box braids can give a unique and fashionable twist to your hairstyle. There is a great deal of variety in purple hair shades which can complement all skin tones in unexpected ways. Try mixing black and purple in varied ombré shades to add a modern boho vibe to your look.
20. Blue Box Braids With Loose Ends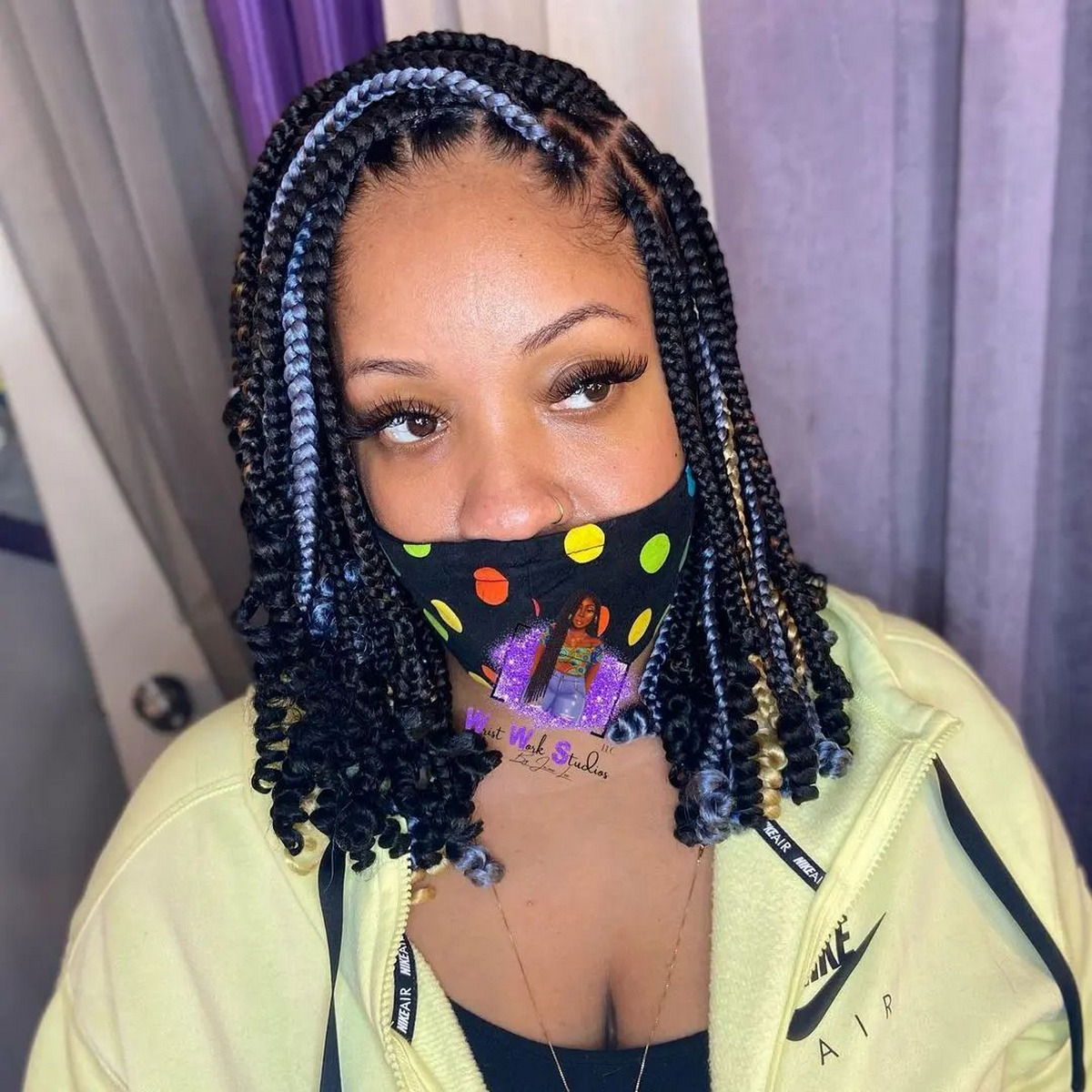 There is no need to make all of your mane blue. Only a half or a third of blue locks mixed with black or brown twists can create an outstanding appearance while keeping the hair as natural as possible. The loose, straight, and crimped ends of this short box braid style give the impression.
Braid four to five large braids across the top of your head and 3/4 of the way down. To finalize your look, tie a top knot at the top part of the braid and add loose ends. This looks best in medium-length braid styles, although it may be worn in any hair type.
21. Short Hair Blonde Box Braids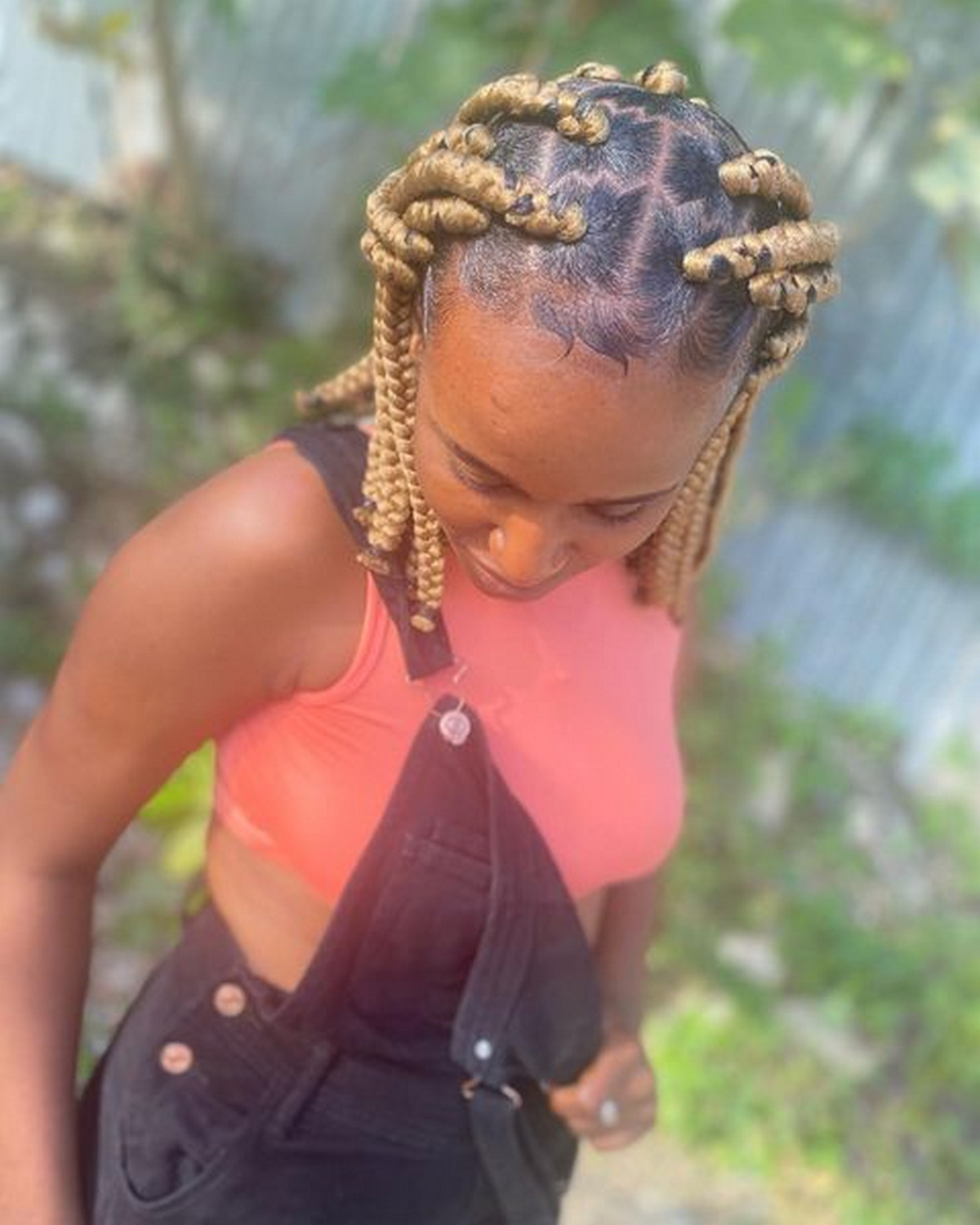 Blonde hair is probably one of the most fastidious hair colors and if you want to get this shade without dyeing and damaging your hair, we highly recommend you to go for a weave or blonde box braids. Blonde hair with black short box braids is both beautiful and edgy.
Black hair ties should be used to fasten each end. The procedure is simple and quick, and anyone may complete it. This is something that anyone, from a novice to a seasoned stylist, should try. Let's look at the steps one by one!
If you're looking to add some color to your short box braids, consider going for beautiful blonde hair for dark skin tones. These braids are perfect for adding depth to your style and making your hair stand out. Check out our article on 35 Beautiful Blonde Hair for Dark Skin Tones in 2023 for some inspiration on how to rock this look.
22. Caramel Short Box Braids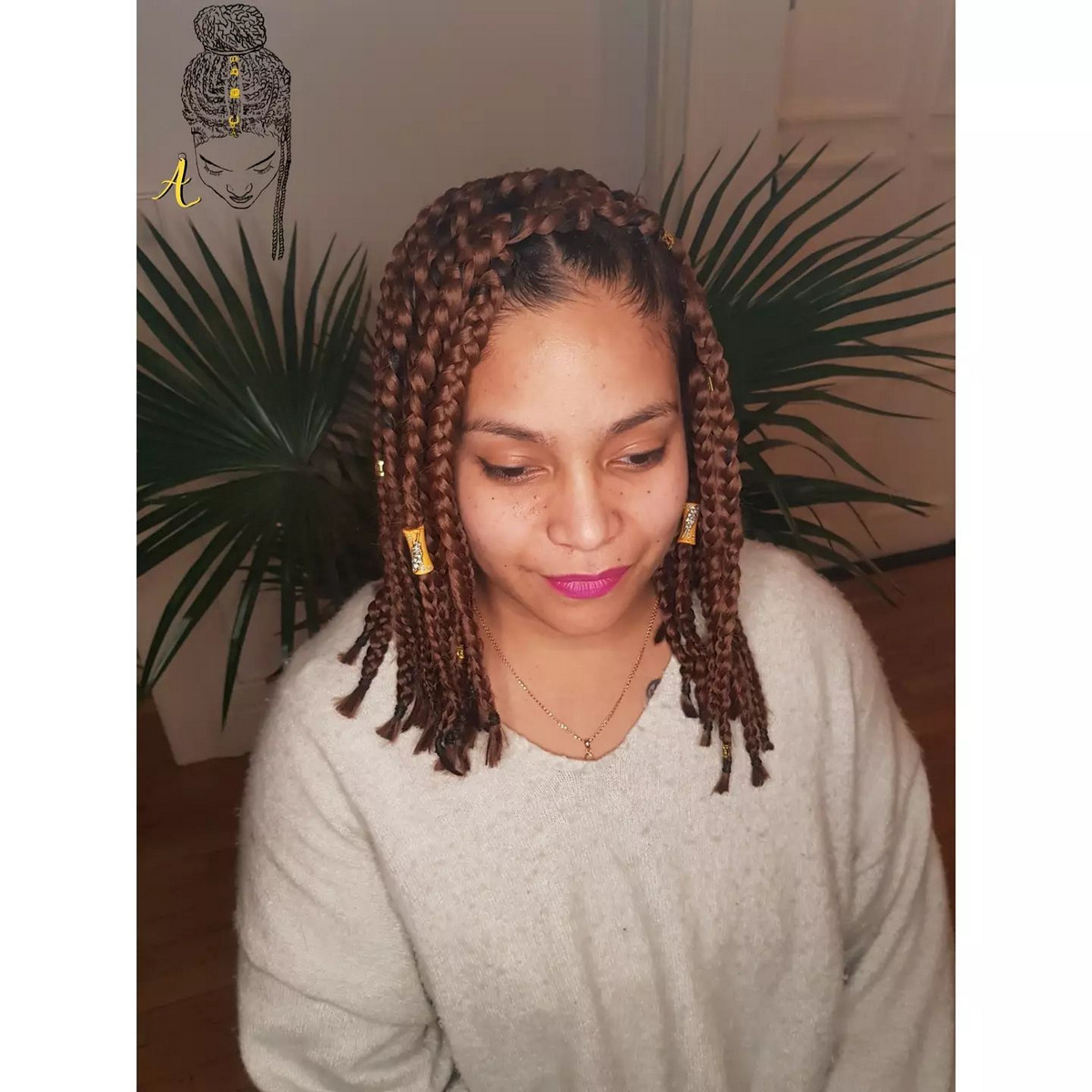 Placing your box braids at different levels around your head is an easy way to add uniqueness to a short box braid haircut. For example, on the side of the head, you could have one braid on top of the other. Stack them at different heights on the front for a more dramatic appearance.
The Caramel Short Box Braids technique is suitable for all hair types, but it looks particularly excellent on dark brown or black hair since it highlights natural tones. This method is also low-maintenance. Caramen box braids are a protective braiding style with a square or box-shaped division and colored caramen. There are plenty of edgy and stand-out ways to wear box braids, but going caramen beats them all!
23. Asymmetrical Bob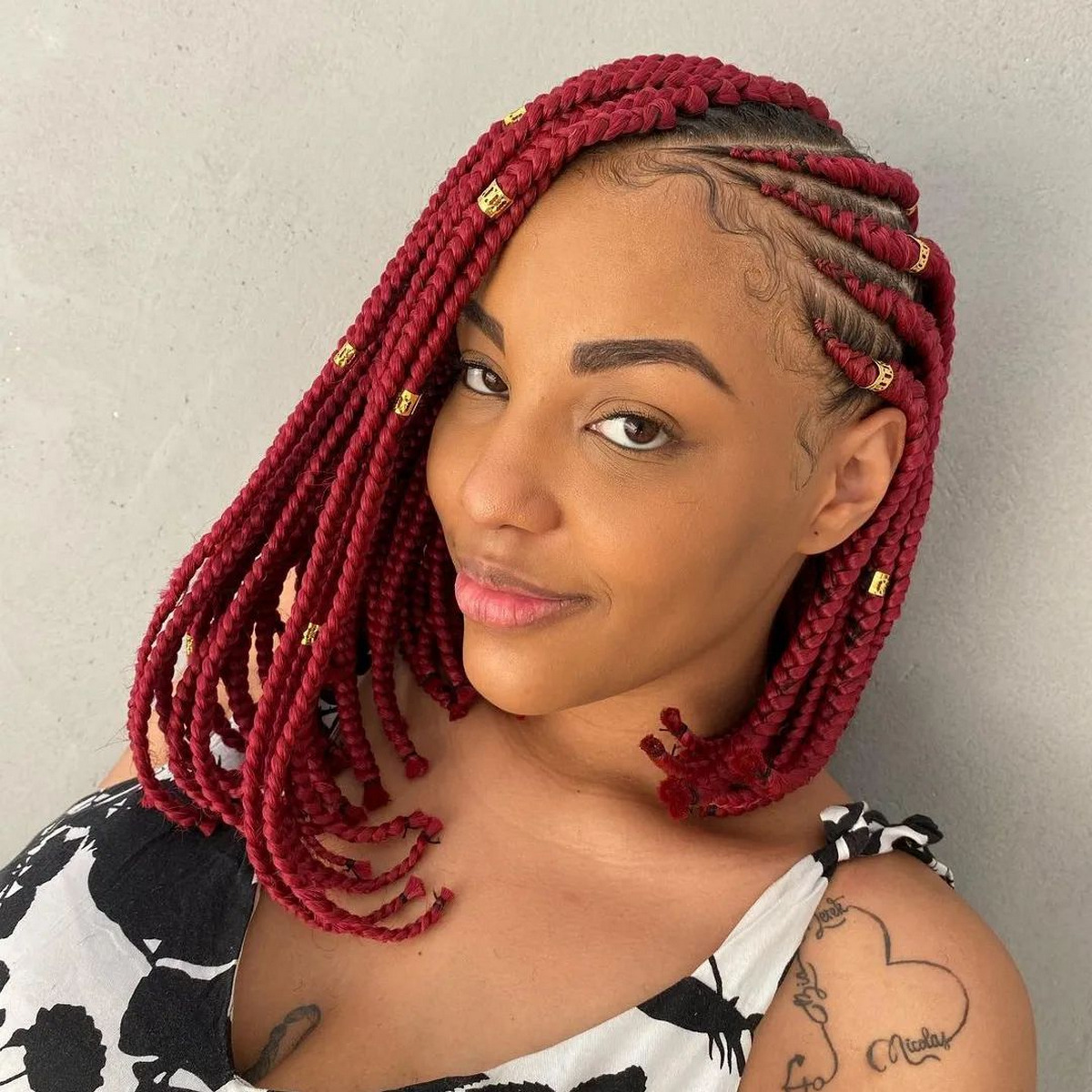 Bob box braids might be making a comeback. And why not? These cute short braids can be rocked for work, formal events, date nights, or a casual evening out with friends. If you don't like equally-shaped ends, you can go for asymmetrical bob box braids instead. Bob box braids are a type of box braids that resemble a bob haircut.
They are usually between short to medium in length; they can be as short as chin-length and as long as collarbone length. Bob box braids serve as a protective style for naturals; they are easy to maintain, can be styled in different ways, and just as easy to take out.
When it comes to pixie braids, the asymmetrical bob gets a different type of cool vibe because of how uniquely the hair is styled. The braids cover one of your eyes entirely, and the style looks exquisite with all the vibrant braids.
Achieve a modern and edgy look with an asymmetrical bob. This hairstyle has become increasingly popular in recent years, and for good reason. It can add volume and depth to your hair by creating an uneven cut that adds movement and texture. Check out these inverted bob haircuts to get inspiration for a fresh new look.
24. Elegant Bob With A Side Part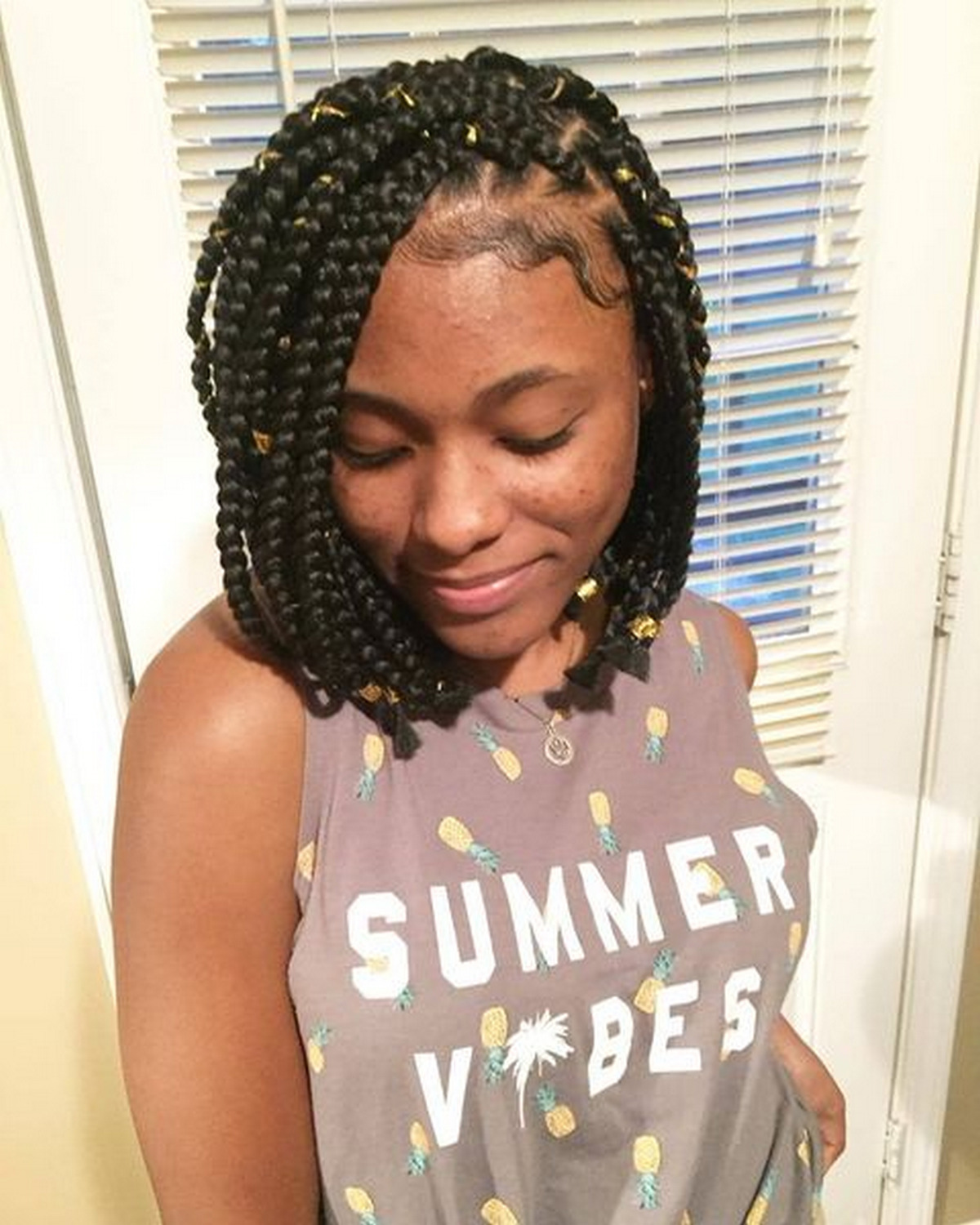 We have a cute and pretty bob to show you. The hair is braided with a side part and the bob is a longer length. We love this version of braided bob because it is stylish, chic and elegant. Hair like this will suit everyone and it is perfect for those who need hair that does it all.
If you need a beautiful but easy to wear style for say work, but also need a glam look for the evening. This hairstyle will have you covered. We also love how one side of the bob features feed in braids. This gives the braids a more neat and elegant look.
The next hairstyle we have to show you is so stylish and beautiful. Here we have a box braid bob where the braids have been swept to one side. By having all the braids styled this way, you get a chic and glam look. A hairstyle like this can be worn for any occasion and it will keep you looking trendy every day.
25. Pixie With A Short Box Braid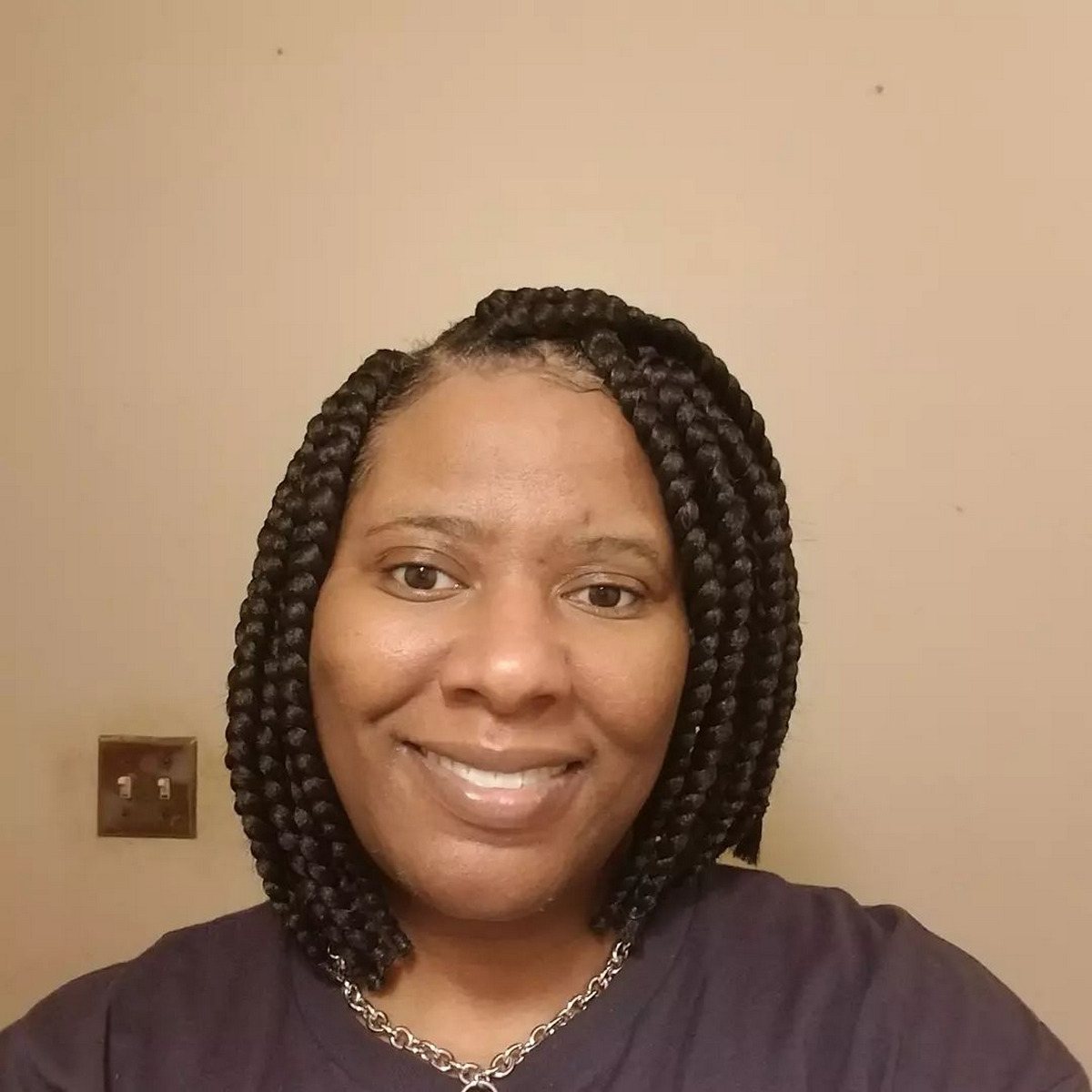 Short box braids with pixie fairies are my favorite. They're some of the most accessible and versatile hairstyles, and they may be worn every day to look fresh as if you've just gotten out of bed. The purpose of this style of braid is for the ends to contact.
You can usually pull them back when brushing your hair for a side-swept look. This can be done with a comb or brush, bobby pins, or a high ponytail holder to keep it in place. The secret to this style is that the box braids' ends should touch and not be too short so that they can be seen from underneath your hair.
26. Simple, Chic And Bobbed Box Braids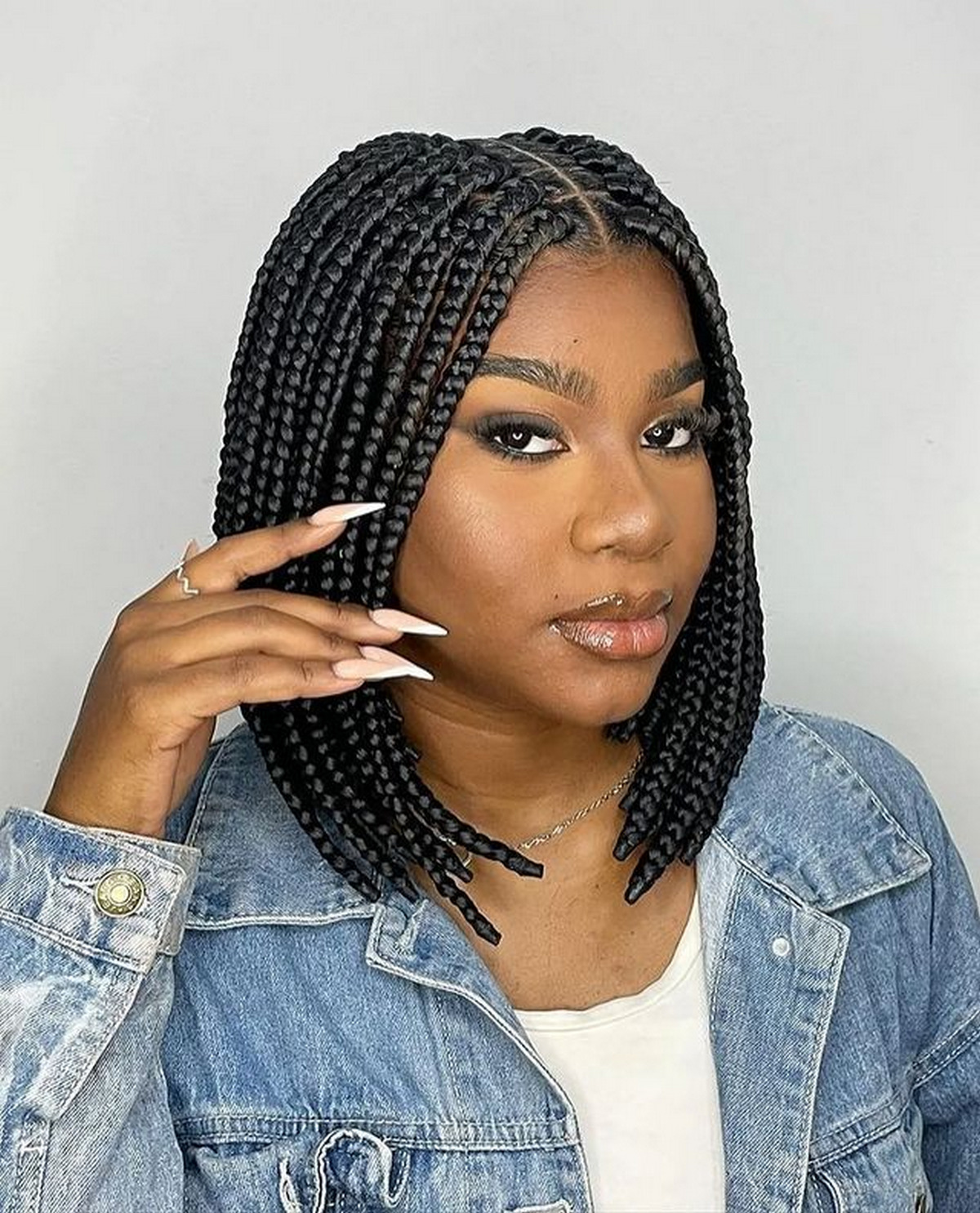 If you aim to minimize the time it takes to style your hair in the morning, shorter box braids are a definite go. They're super easy to maintain and style – the answer to a real woke-up-like-this look! This is everything a box braid bob is supposed to be. It's an angled bob style that curls under the chin, just like the classic bob. That's a flattering 'do for just about anyone because it frames the face so beautifully and features the perfect length.
27. Layered Box Braids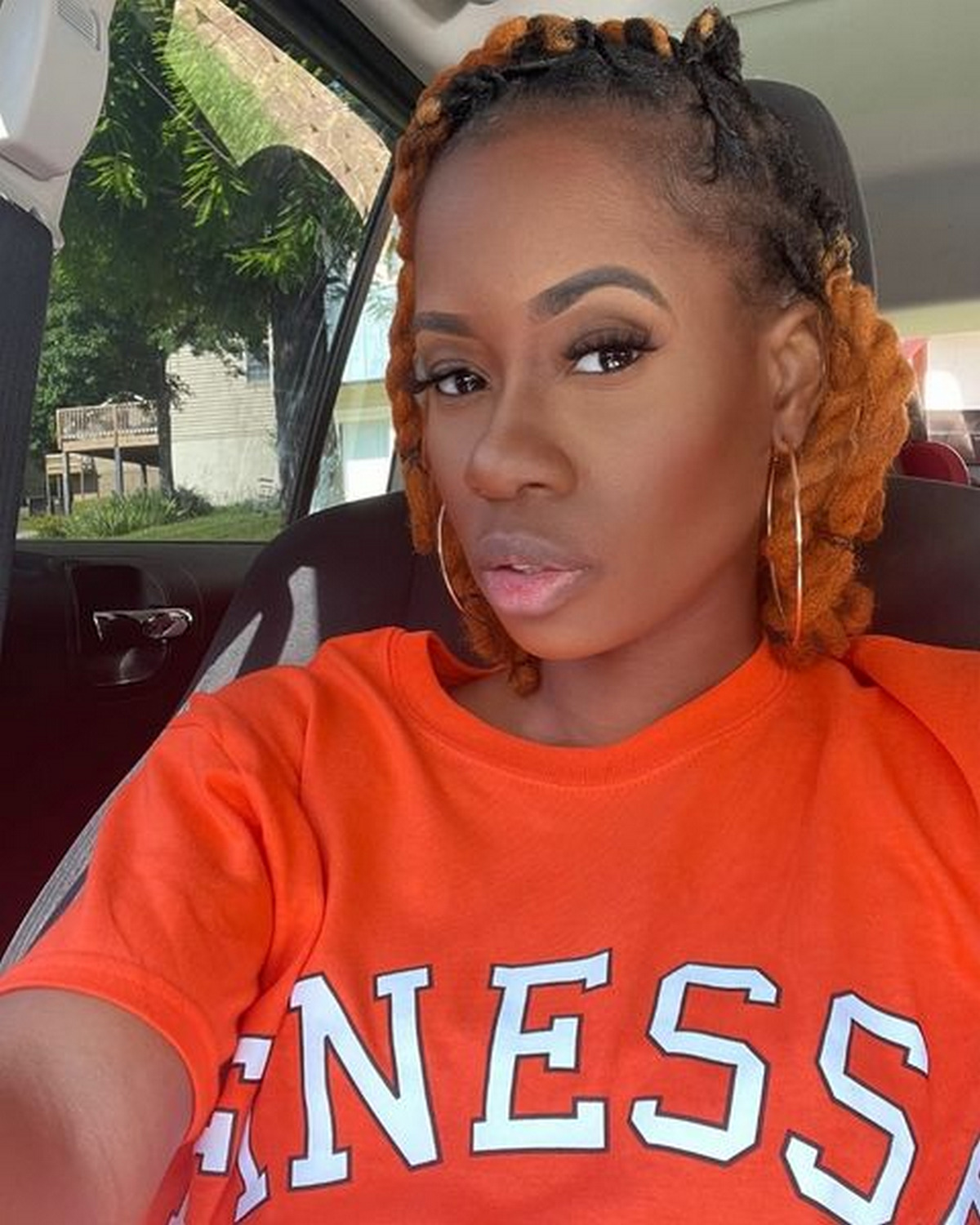 Without a sew-in or weave commitment, the layer box braids hairstyle is a quick and easy option to boost your natural hair development.
Layering is typically done with two tiny braids fastened in the front of the head to simulate a traditional braid design. Leave out four rows on either side of each braid until all hair has been cornrowed for added length.
28. Pixie With Beaded-Tipped Box Braid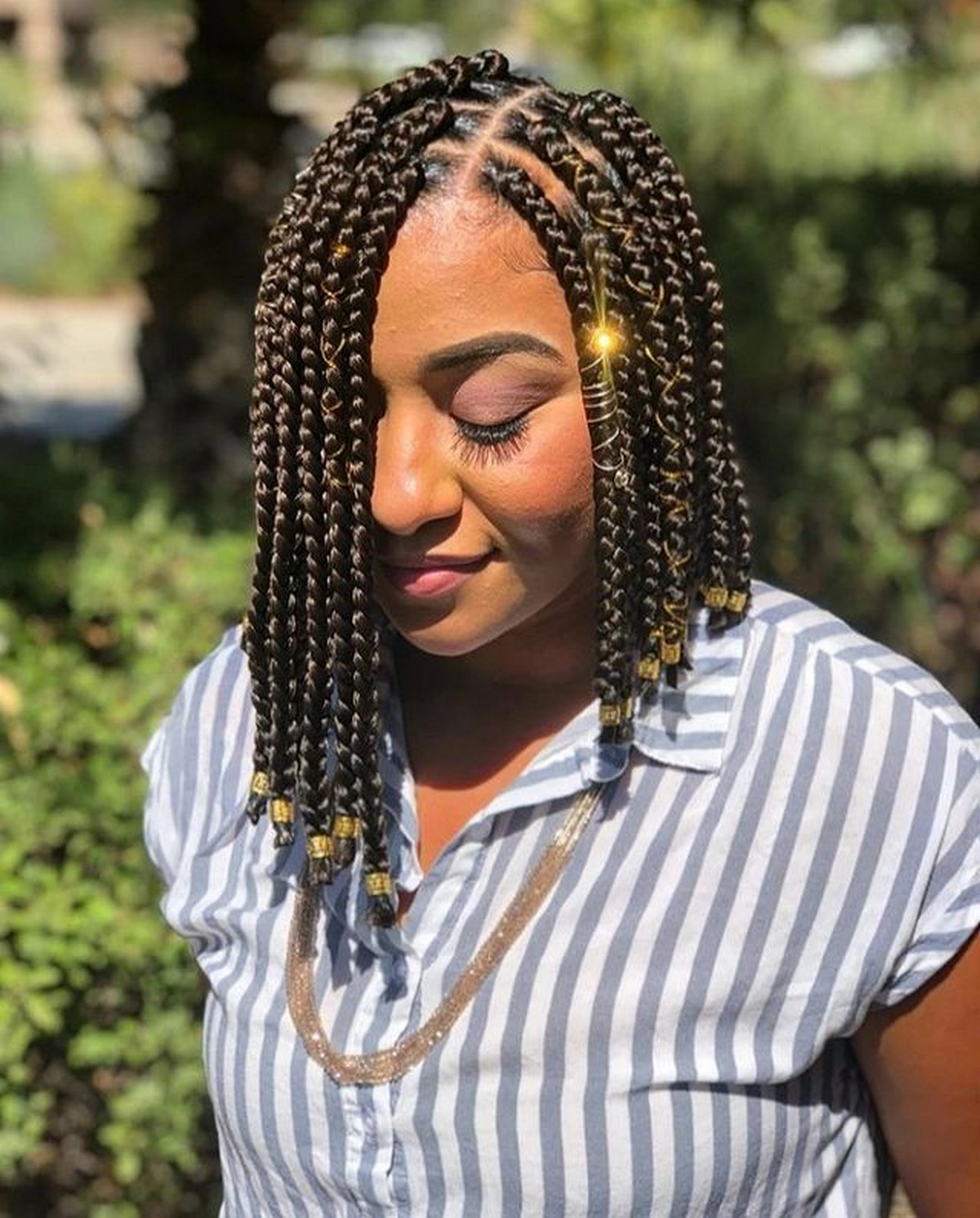 Thick black hair can be difficult to style, but braids will help! For girls with a dark skin tone, consider a chunky bright-colored bead for accent. These yellow ones are a cheery addition! The short and with Beaded-Tipped Box Braid chunky pixie is a great style to try out because it's usually very forgiving. It's versatile in terms of how it's styled and worn. Instead of adding beads to only the ends of braids, try adding them to the base as well. On dark hair, light colored beads will stand out best.
29. Box Braids With Bangs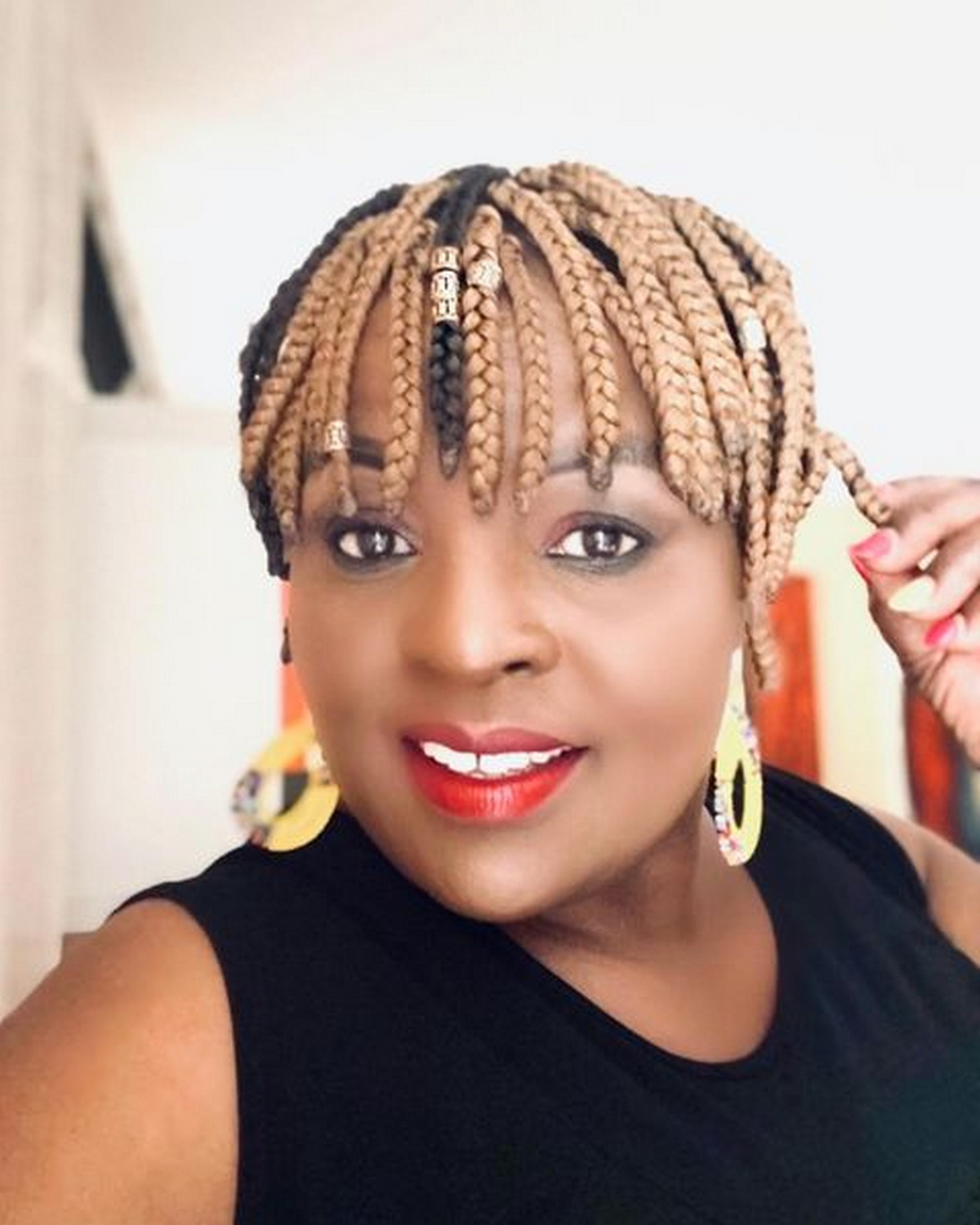 Braided bangs are gorgeous and suitable for everyday use. There are also braids with bangs variations that'll make you stand out even in special events like a wedding, a party or a night out. Braided bangs are fairly simple to style. You can start by taking a deep side part, then take the top layer of your bangs, and braid down, pulling forward as you go.
This short and fancy bob with the pixie braids has earned the perfect look because of the bangs style that has been added at the front.
If you're a woman looking for a chic and versatile hairstyle, then box braids with bangs could be the perfect option for you. These braids are not only protective, but they also add texture, volume, and a youthful vibe. Check out our long box braids hairstyles for 2023 for some inspiration on how to rock this look with confidence.
30. Two-Tone Tiny Braids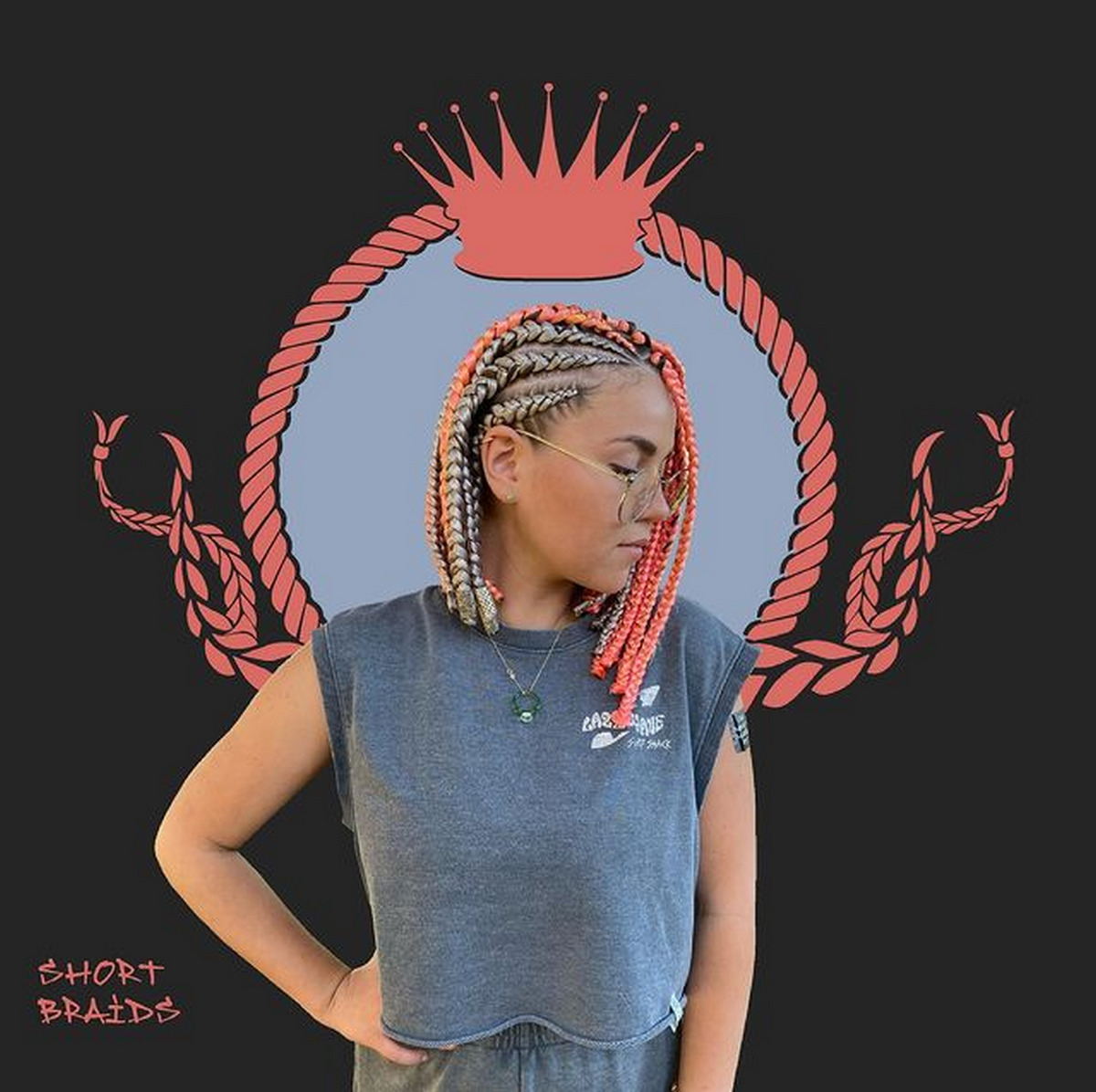 Mixed color braids are a great way of breaking the monotony of getting black braids. Pixie braids in a bob suggest unlimited options in styling because these braids are usually small and manageable. Sweep them to one side, throw up into a half bun or braid the bangs… What else can you add? Some color – your favorite color or the one that compliments your skin tone.
31. Short Red Box Braids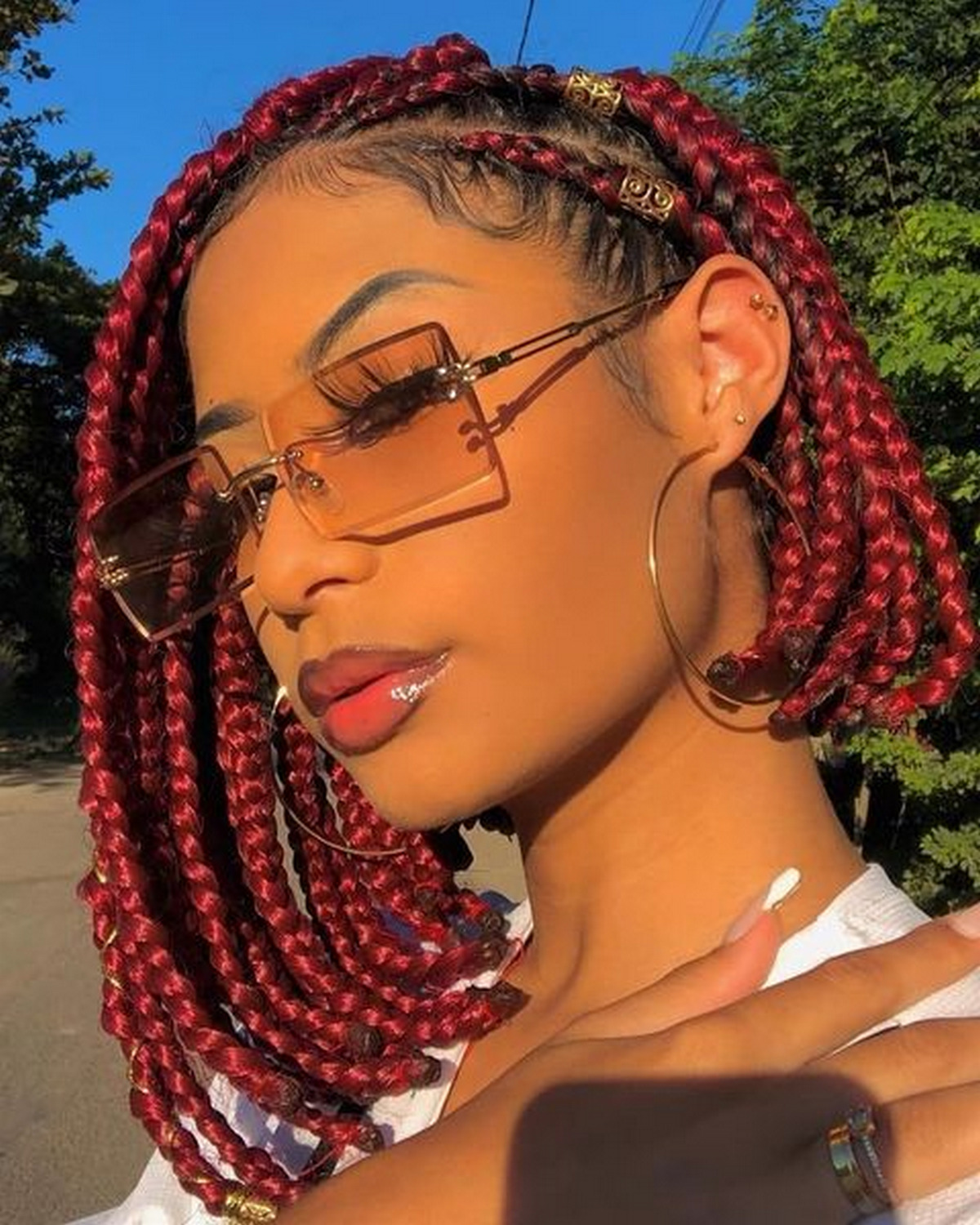 Another cool way to make your hair stand out from the crowd is by choosing a stylish hair color just like this. This braided style features stunning red box braids and it is finished off with gold accessories. The hair would look fabulous with just the red color but the gold accessories compliment the color perfectly. Red braids like these will suit everyone and you can recreate this shade or go for a lighter or darker tone.
32. Accessorized Box Braids
Adding gold coils and rings to your braids can make your braids stand out by giving them that final goddess touch. Not to mention, the rings make it even more distinct. You can glam up any braided hairstyle with hair cuffs. Here we have a braided long bob that has been styled with lots of hair cuffs. The accessories box braids are so stylish and make the classic braided bob look unique.
You can buy hair cuffs online and you can choose from different colors and styles. There are a lot of trends out there that are cute, but won't always match your personality and aesthetic, so allow yourself room to explore, but stay true to what feels good to you. Protective style accessories don't have to be hard to find.
33. Dyed Box Braids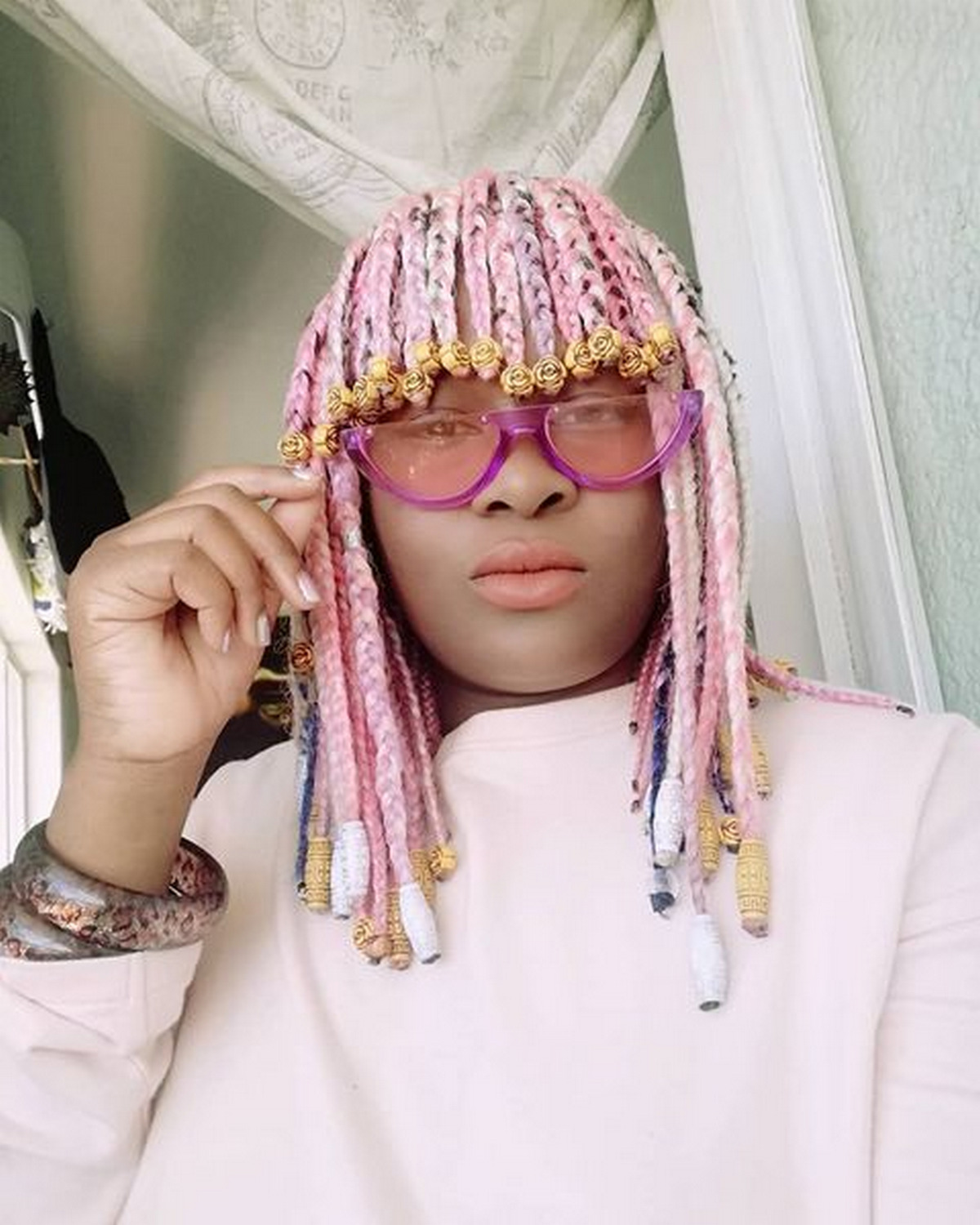 Have you ever tried dying your box braids? Did you know you could buy braided hair in different fun colors? Wouldn't it be perfect to have your hair in full colorful box braids? Box braids are a great way to test out new shades without the full commitment. So, that pink or rainbow hue you've been dreaming of? You can finally try it with the help of coloured braiding extensions.
Add a pop of color to your box braids by trying red box braids hairstyles. These striking braids come in various shades of red and can be customized to match your personal style. Whether you want a bold and bright look or a more subtle hue, red box braids are a great way to add some fun and flare to your hairstyle.
34. Super Short And Sweet Box Braids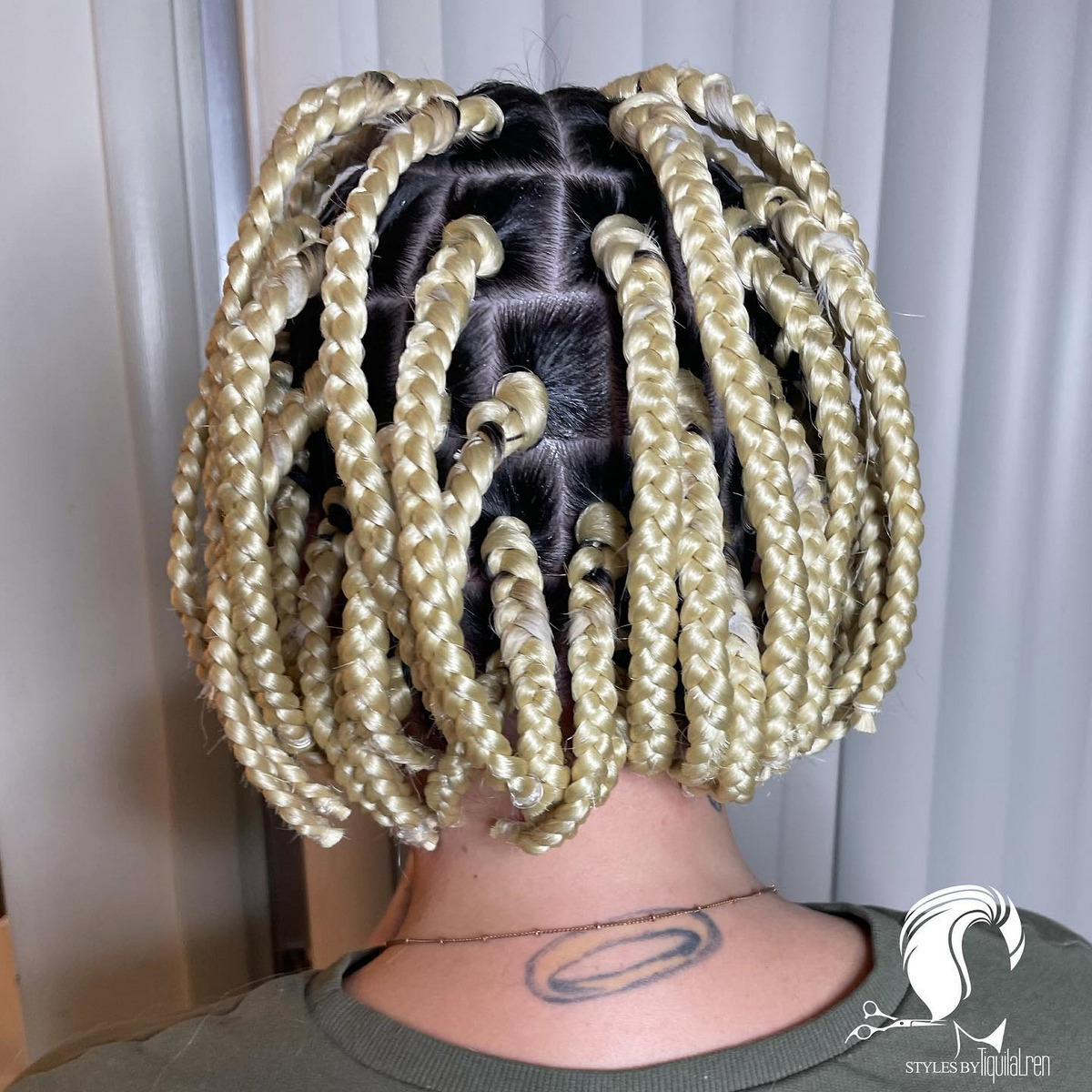 If you have delicate features, a slim or oval-shaped face, and a long slender neck then short and sweet box braids that skim your chin are the most flattering style available to you. These braids look pretty and feminine, and will really emphasize and draw attention to your face.
Love short bobs? Then you need to see this next style. Here we have a box braid bob with a length that sits just below the chin. It is such a cute and trendy hairstyle! Recreate this bob for a simple look or try a similar bob in a different color to jazz up the style. A bob like this will look amazing on everyone.