Unleash the power of your hair with the artistry of braids and braid hairstyles, offering you a truly distinctive and captivating look. These enchanting coiffures have been adorning heads for centuries, serving as a means to exude beauty and communicate messages. Ranging from exquisitely intricate designs to elegantly understated plaits, the realm of braids offers unparalleled versatility. Embracing the magic of braids ensures that you're always impeccably styled for any occasion, whether it's a formal affair or a casual gathering.
Within the realm of braids lies an undeniable allure that transcends every setting. Your hair becomes a canvas for self-expression, transitioning effortlessly from an office boardroom to a glamorous gala event. We've all traversed the stages of our lives, starting with the simplicity of a three-strand braid during school days, progressing to the elegance of a French braid for office soirées If the multitude of braid variations flooding the internet leaves you bewildered, fear not!
We're here to guide you through the enchanting world of different braid styles and their creation. Join us on this captivating journey as you explore the limitless possibilities of braids.
1. French Braids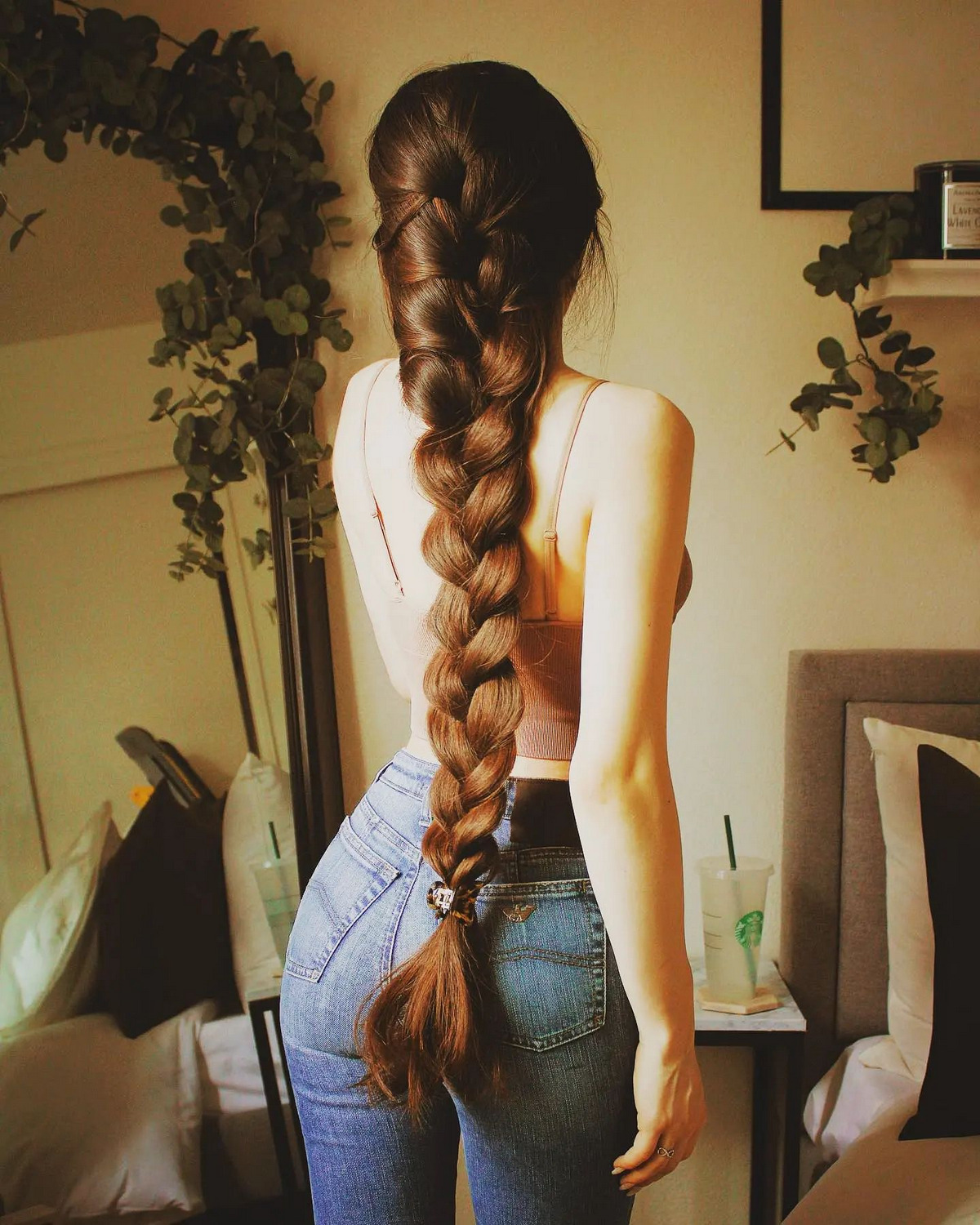 French braids are a timeless and elegant choice for any occasion. This classic braid style is characterized by its sleek and polished appearance, making it a go-to option for formal events or even casual everyday looks.
The French braid involves weaving three sections of hair over one another, starting from the crown and gradually incorporating more hair as you move toward the nape of the neck. Not only does this braid exude sophistication, but it also keeps the hair neatly secured and protected, making it a practical choice for those with long or thick locks.
Wear your French braids on the side for a perfectly chic and romantic look. Check out these side braid ideas for black hair women on Hood MWR and try one that complements your style. These braids not only add a touch of elegance to your look, but also keep your hair out of your face on busy days.
2. Dutch Braids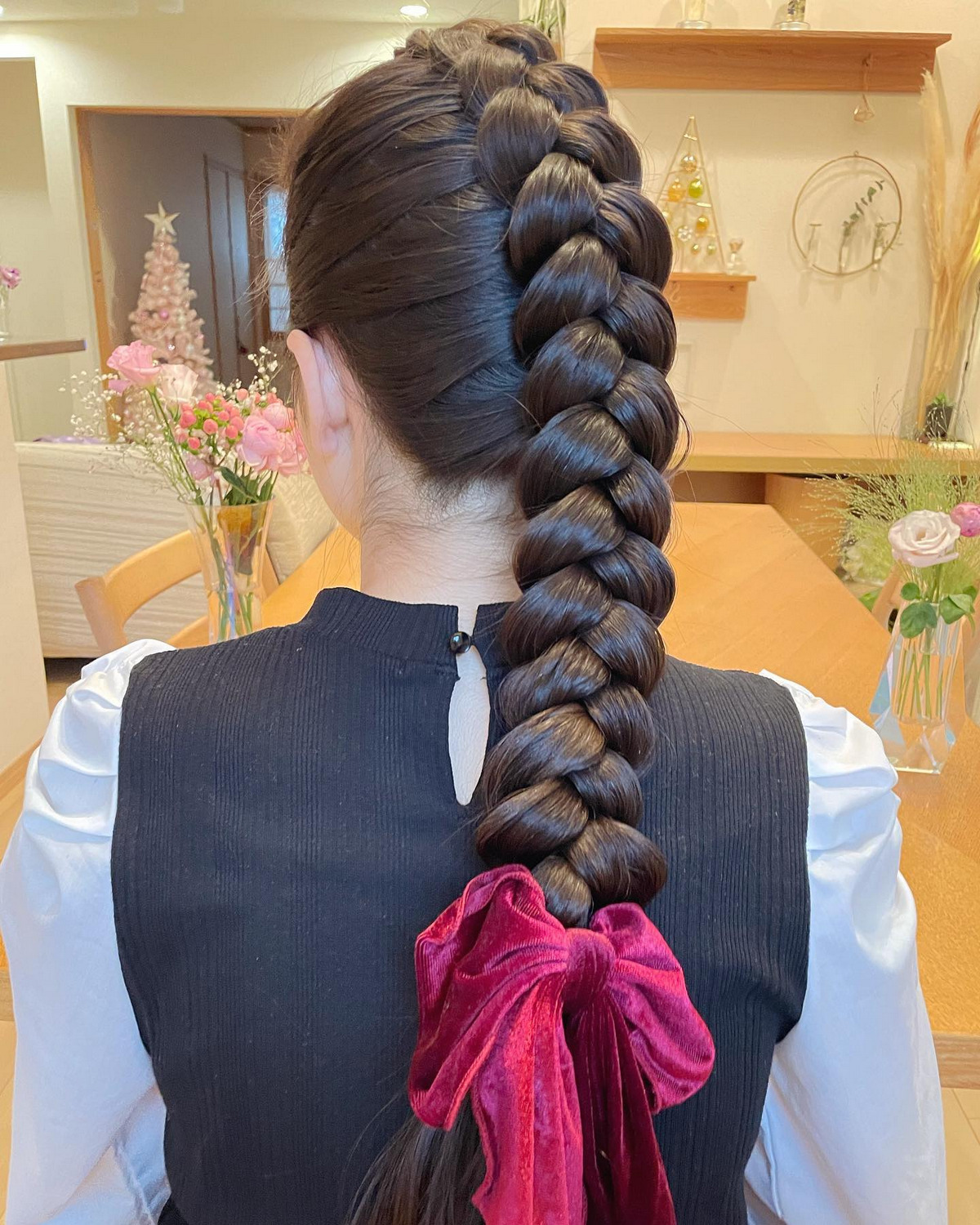 Dutch braids are a captivating and whimsical hairstyle that adds dimension to your locks as they gracefully cascade away from your scalp. This enchanting technique follows the timeless three-strand braiding method, making it a breeze for those already adept at crafting regular plaits.
Due to its gradual incorporation of hair sections, the Dutch braid is often fondly referred to as the 'reverse French braid.' Whether you desire to elevate a simple plait or fashion elegant double braids or regal crown braids for a special affair, the Dutch braid is your gateway to unlocking extraordinary hairstyling possibilities.
3. Fishtail Braids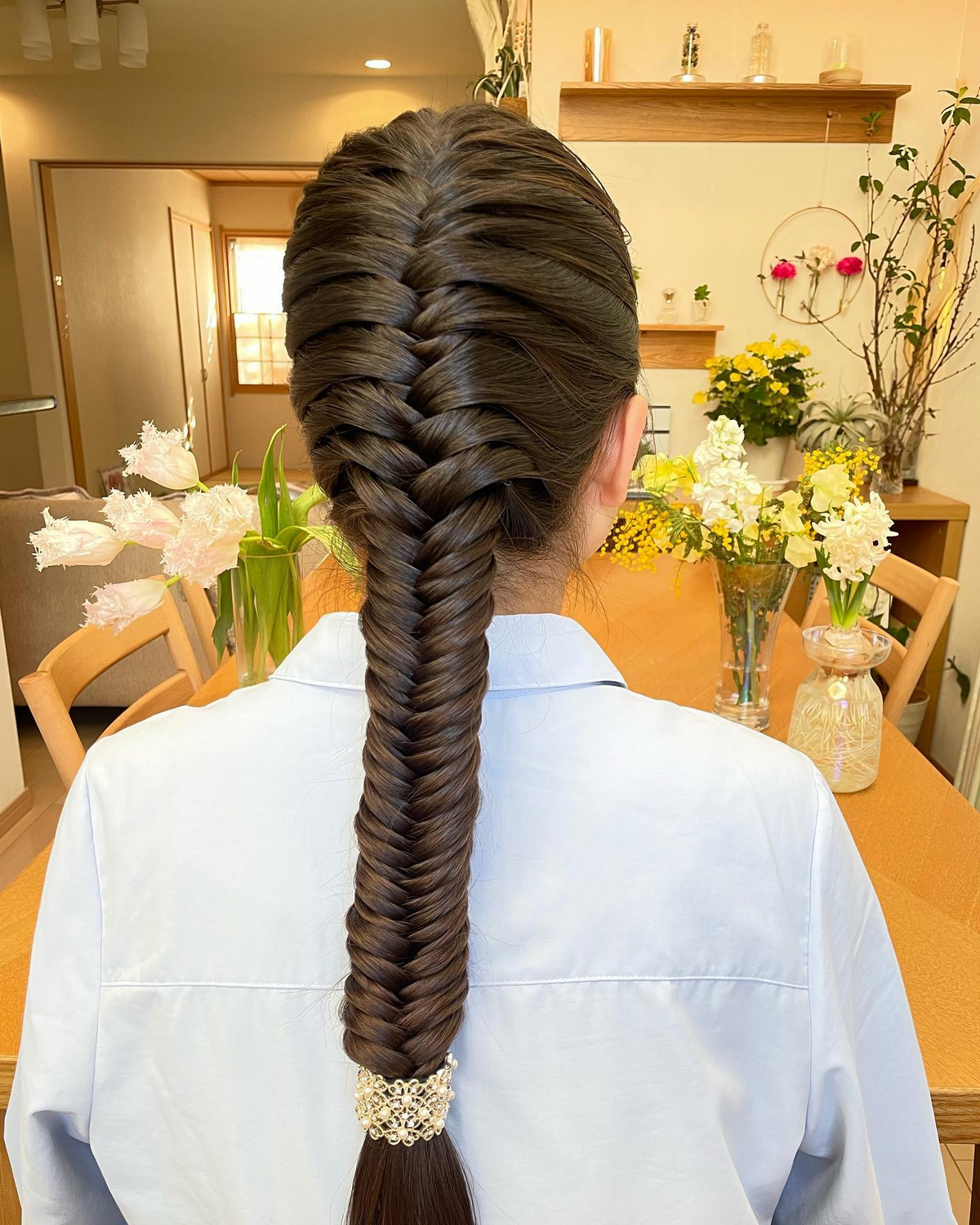 The whimsical fishtail braid, an essential for any festival-goer, infuses a bohemian charm into every outfit it graces. With its effortless elegance, this fishtail braid stands as one of the simplest styles to master. Dividing your tresses into petite sections, roughly half an inch each, while upholding a gentle tension guarantees its steadfast hold.
Embarking on this enchanting braid journey, you have the freedom to commence from any point on your crown, employing the graceful techniques of French or Dutch braiding, making it a versatile choice for both short and long locks. For an extra dose of allure, dare to embrace the captivating double fishtail rendition.
If you're looking for a chic and elegant hairstyle that will make you look like a fashionista, try out the braids with weave hairstyle. This hairstyle gives a unique texture to your hair and adds volume while keeping your hair braided and looking flawless. The length of the weave is fully customizable and can fit a variety of face shapes. Try it out for your next special event!
4. Classic 3-Strand Braids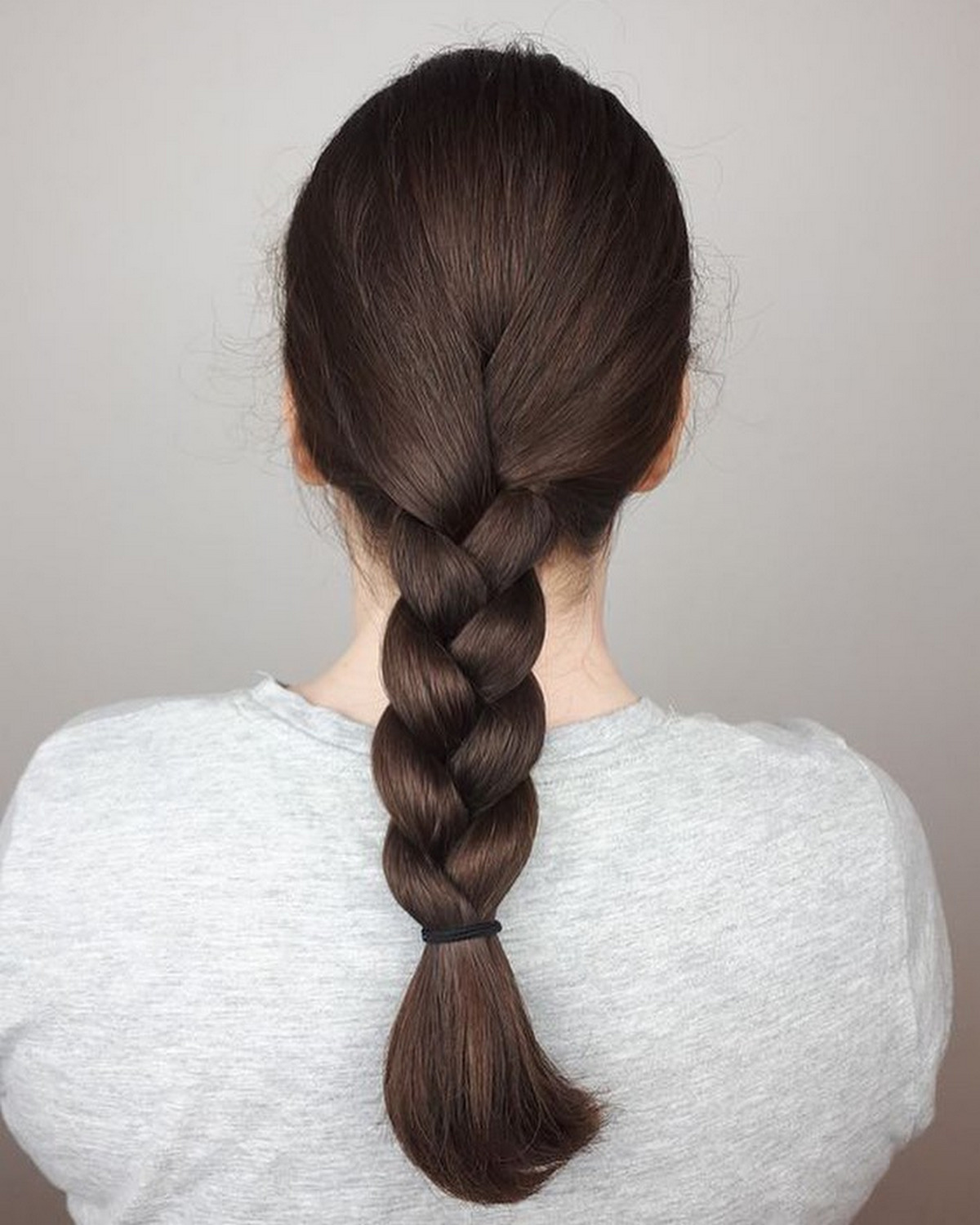 Creating a stunning braid doesn't need to be complicated, especially when you embrace the elegance of the timeless three-strand braid. Prepare to embark on a journey of effortless beauty! Begin by gracefully parting the hair into three strands of equal splendor. With a touch of grace, guide the right strand towards the heart of the braid, allowing it to intertwine with the others.
Next, gracefully summon the left strand to dance alongside its companions at the center. Delicately continue this rhythmic exchange until every precious strand has been woven into a harmonious tapestry. Finally, crown your creation with a gentle embrace using a ponytail holder. As you ascend to the summit of your artistry, return to the apex of the braid, tenderly inviting strands to softly escape their woven embrace until the hair cascades with celestial grace.
5. Rope Braids (Twist Braids)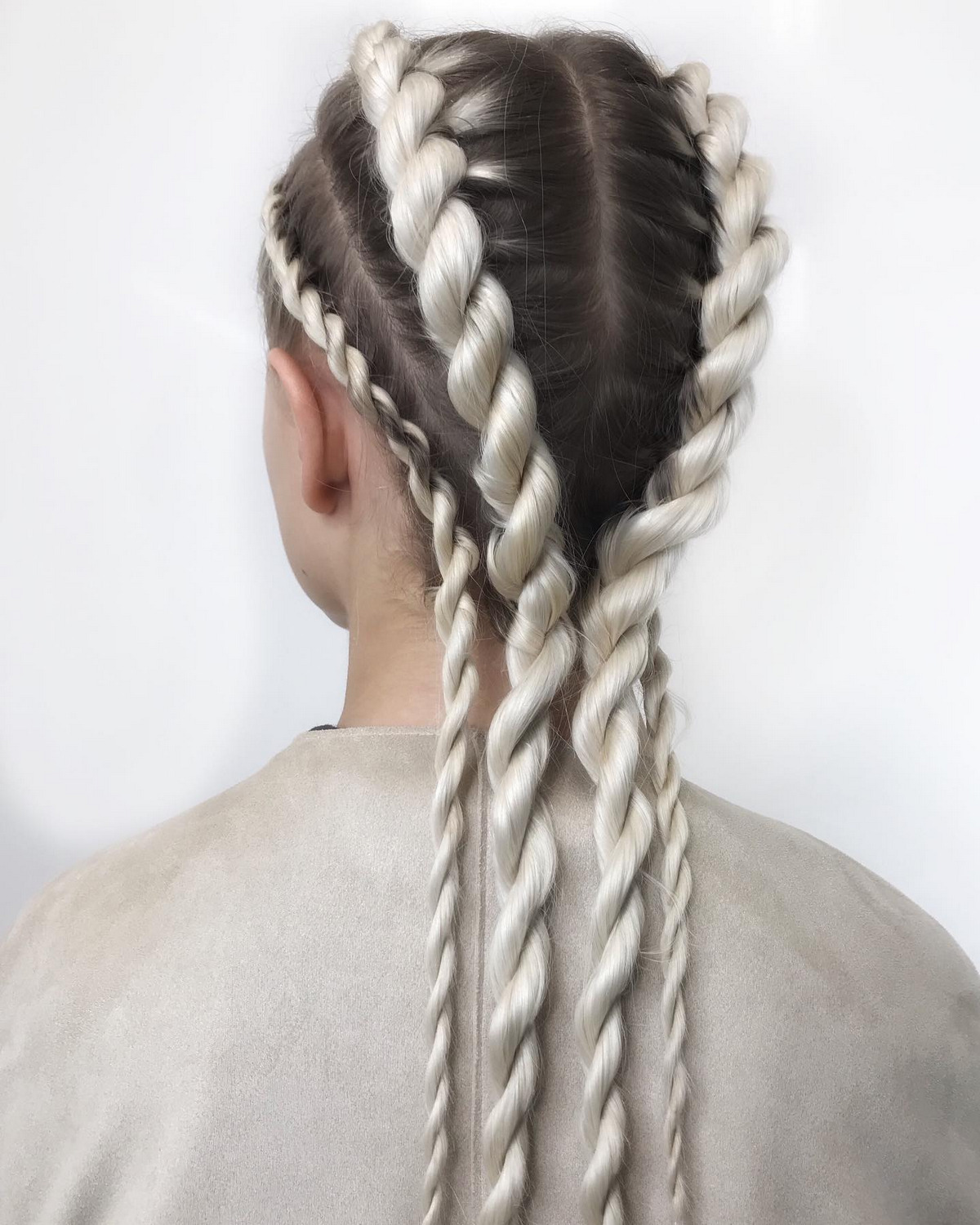 Unveiling the secret to effortlessly enchanting hairstyles: the mesmerizing rope braid. Prepare to be amazed as you embark on this journey of hair transformation. It's as simple as a twist, a twirl, and a captivating intertwining. Begin by gracefully twisting two sections of your luscious locks in unison, reveling in the harmony of their dance.
Once the strands have twirled into their full splendor, witness the magic unfold as you expertly weave them together, guiding their delicate embrace in a delightful counter-directional whirl. Behold the result: an exquisite rope braid that will leave onlookers spellbound and your hair adorned with a touch of ethereal elegance.
For a unique take on the twist braid, try out kinky twists. This edgy and stylish look can add texture and volume to your hair while also allowing for versatile styling options. Whether you wear them up or down, kinky twists are a fun and trendy way to switch up your look.
6. French Rope Braids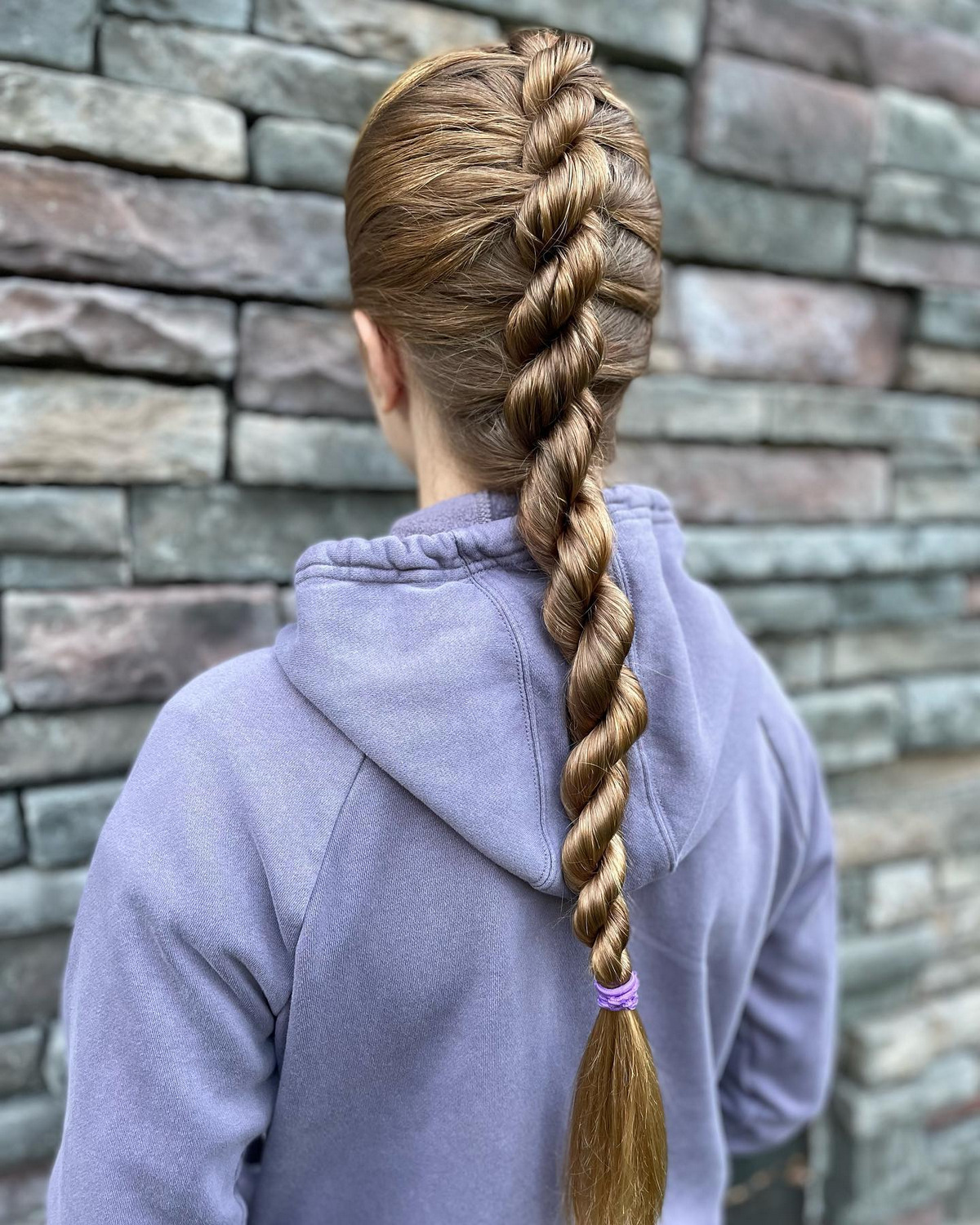 Enjoy the attraction of a French braid, a skill that is captivating but may be difficult. Fear not, for the French rope braid unveils a path of enchantment. Ascend the realm by seizing two strands atop your regal crown, twirling them gracefully in a clockwise ballet. With poise, let the right strand pirouette over the left, delicately interweaving strands from your left domain.
Spiraling onward, twist the strands anew, entwining them with each sacred pass. Embrace the tapestry of your tresses, incorporating fresh tendrils with each harmonious crossing. Journey onwards until your mane's bounty is lovingly entwined. To seal this grand vision, let the remaining strands intertwine in a braided embrace, anchored by a gentle caress of a hair tie.
7. Infinity braids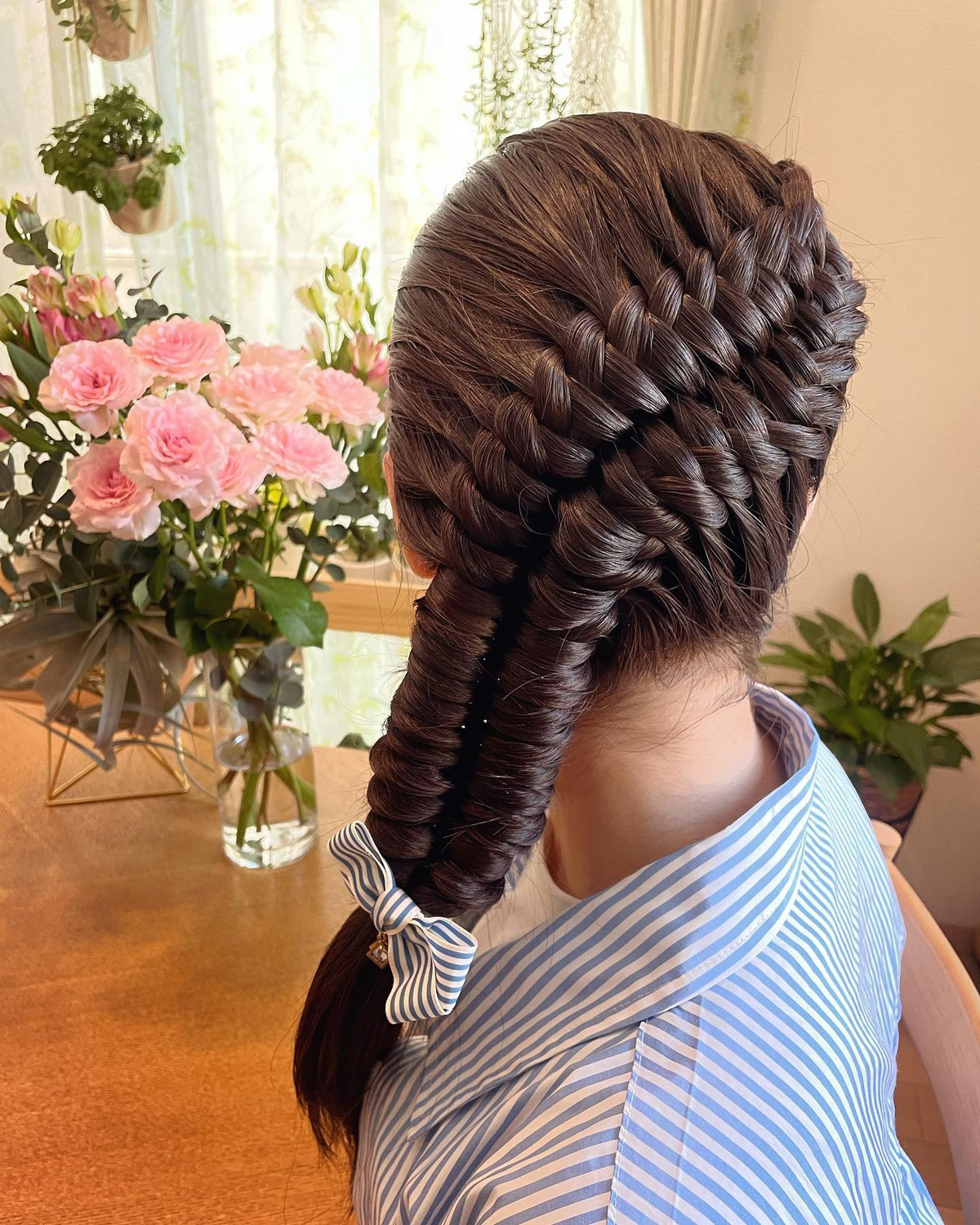 Unleash the magic of an infinity braid, where your tresses transcend time and space! Begin by sectioning the hair atop your head into four strands as if preparing for a mystical ritual. Embark on a French braiding journey, intertwining three of the strands with finesse. Now comes the enchanting part: delicately weave one strand in a graceful figure 8 motion, akin to the eternal symbol of infinity.
Beware, this mesmerizing creation demands patience and up to 60 minutes of your precious time, making it ideal for those blessed with luxuriously long locks. Given the intricacies of this American-born masterpiece, consider enlisting the aid of a trusted comrade to embark on this celestial coiffure adventure.
Create a stunning and intricate look with goddess braids, a style that incorporates braids with added curly strands for a unique texture. If you want to take your braids to a new level, try the infinity braid technique, which loops the hair in a figure-eight pattern. This method creates a stunning look that is sure to turn heads and leave a lasting impression.
8. Box Braids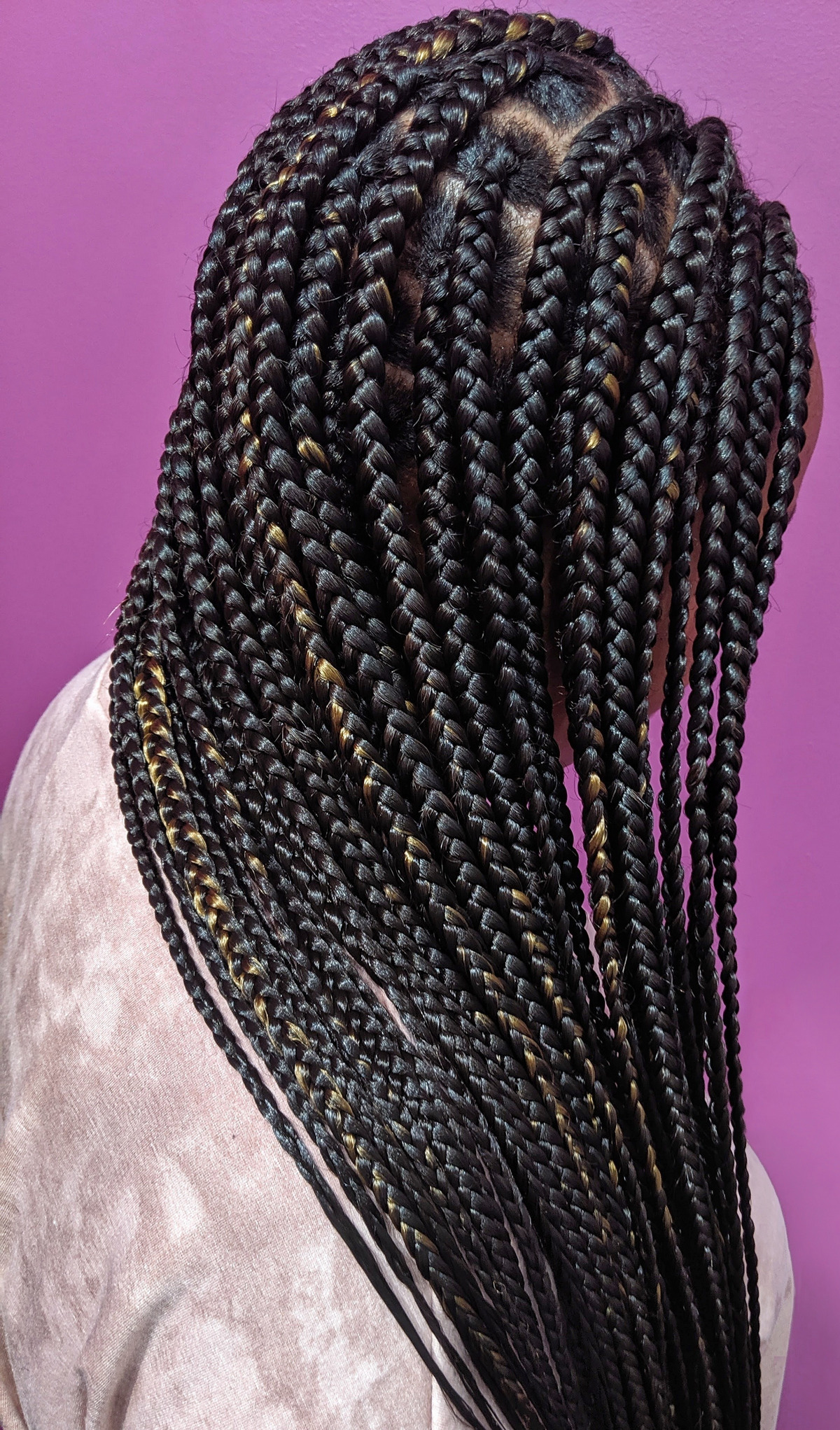 Immerse yourself in the timeless elegance of classic box braids, the epitome of Afro-textured hair styling. Embrace the artistry as each strand is meticulously sectioned into exquisite squares, delicately woven into individual plaits.
Allow your tresses to luxuriate in their full glory, adorned with head-turning length and voluminous locks, be it your own hair or enchanting extensions. These braids, revered as a protective masterpiece, transcend boundaries of length and thickness. For those with delicate strands, opt for smaller braids, granting respite to your scalp. While their creation demands patience, once unveiled, these divine braids grace your presence for weeks, demanding minimal upkeep.
9. Crochet Braids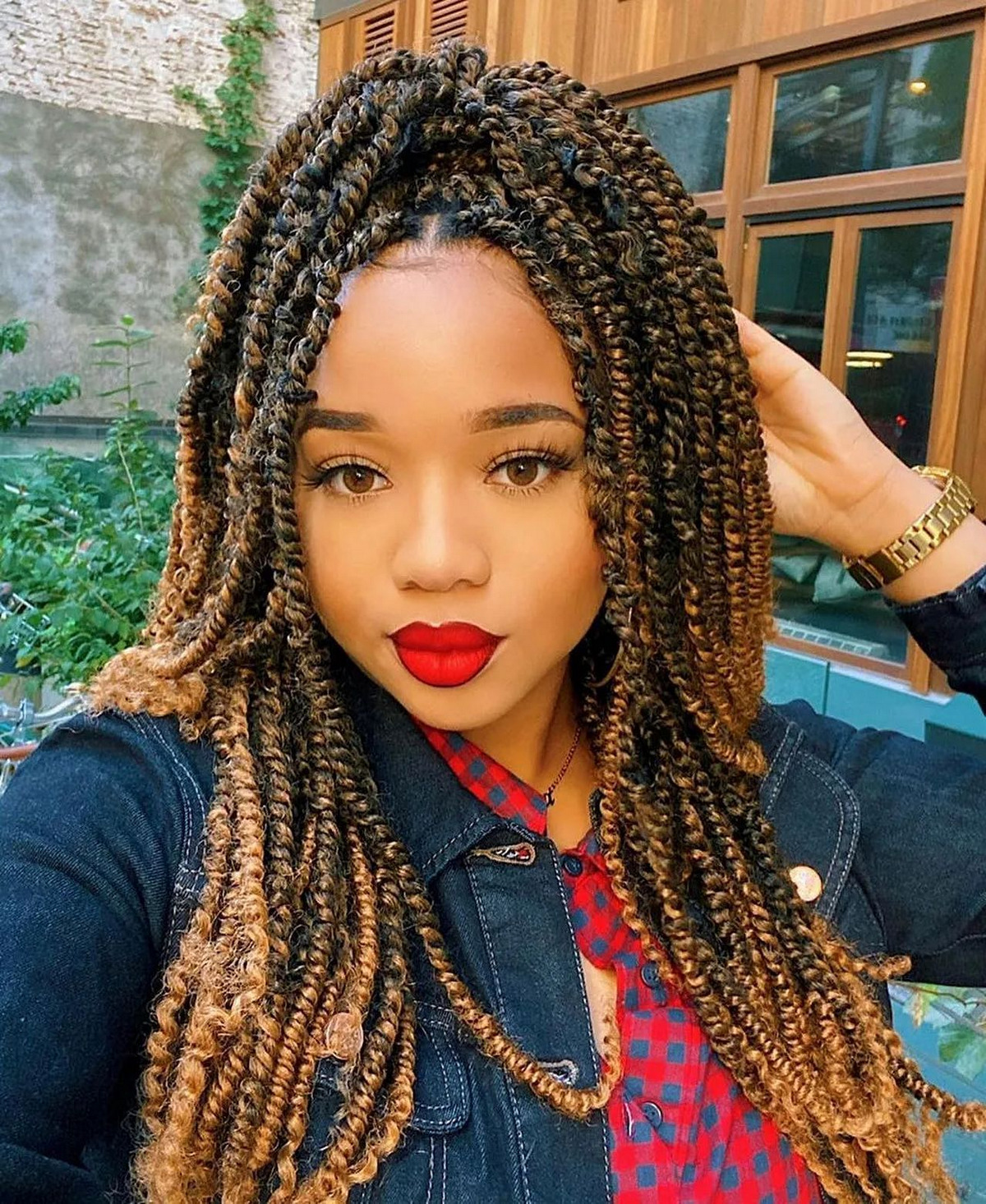 Unlock the magic of the crochet technique for luxuriously long braids. With its simplicity and ease, crochet braid becomes your secret to achieving the hair of your dreams. Just like weaving a tapestry, the journey begins by delicately crafting loose cornrows that serve as the canvas for your masterpiece. As you embark on this creative path, threads of hair extensions gracefully intertwine, skillfully guided by a crochet hook.
With each plait, your chosen braid style takes form, revealing a stunning tapestry of self-expression. To add a touch of convenience, you can opt for pre-made braids, such as enchanting box braids, ensuring that your transformation is swift and effortless. No more waiting for hours at the stylist's chair; crochet is the key to unlocking a world of beauty, even when time is precious.
Get ready to elevate your style with 50 gorgeous crochet hairstyles in 2023. Considering crochet braids can be a low-maintenance and protective hairstyle that adds volume and length to hair, this stunning style may be just what you need for an easy and effortless look.
10. Tribal Braids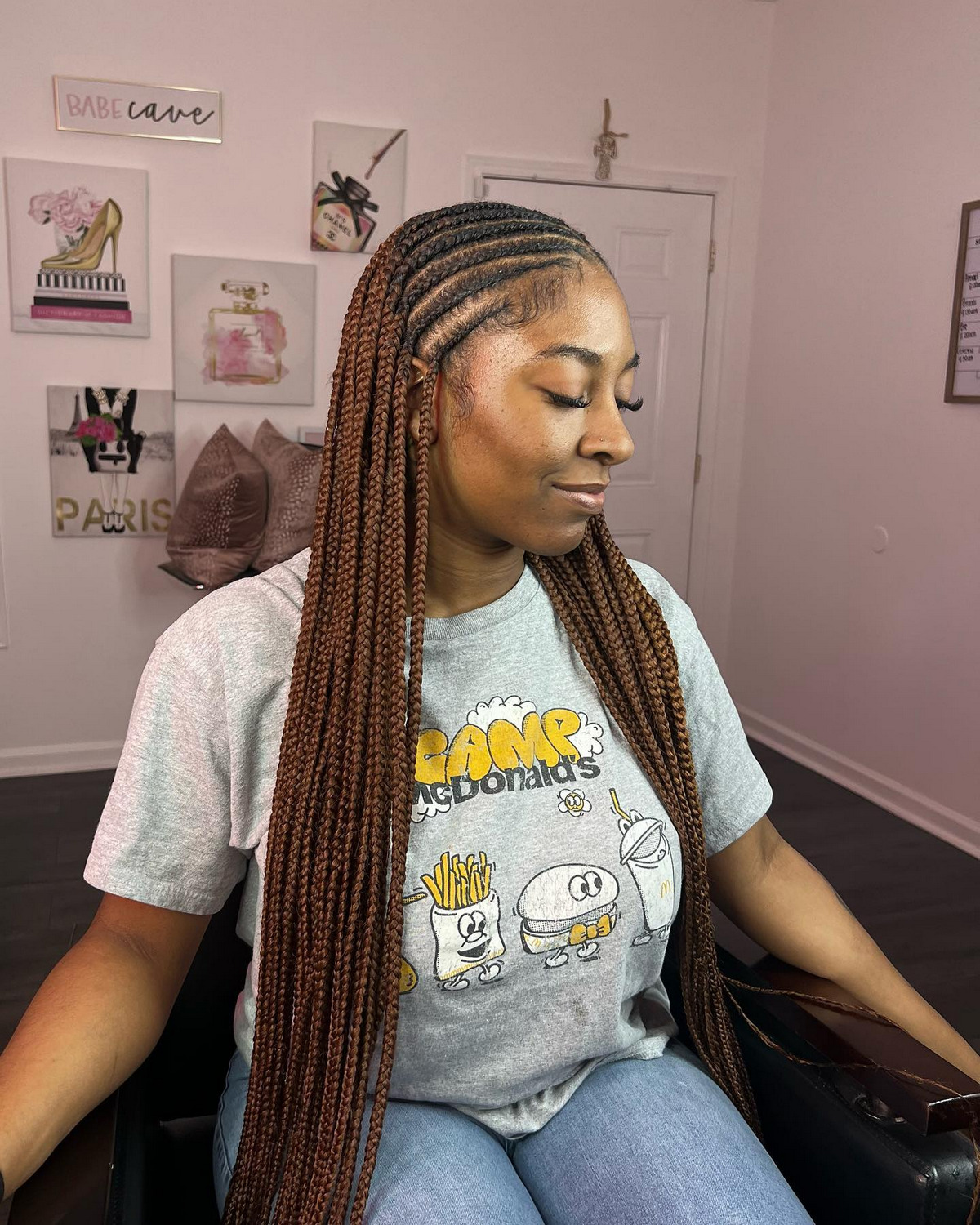 Dubbed Fulani braids, this enchanting hairstyle showcases a resplendent cornrow cascading down the crown, weaving an elegant path from front to back. Complementing this central strand, supplementary cornrows gracefully intertwine, traversing from the nape to the forehead.
A distinguishing trait of this ethereal style lies in its generous spacing, allowing for easier nourishment of the scalp. These tribal braids, often interlaced with synthetic tresses, offer a myriad of possibilities: regal high buns, whimsical side parts, and celestial crown braids. Adornments such as beads and other embellishments adorn this artistic creation, transforming it into a captivating masterpiece.
11. Five-strand Braids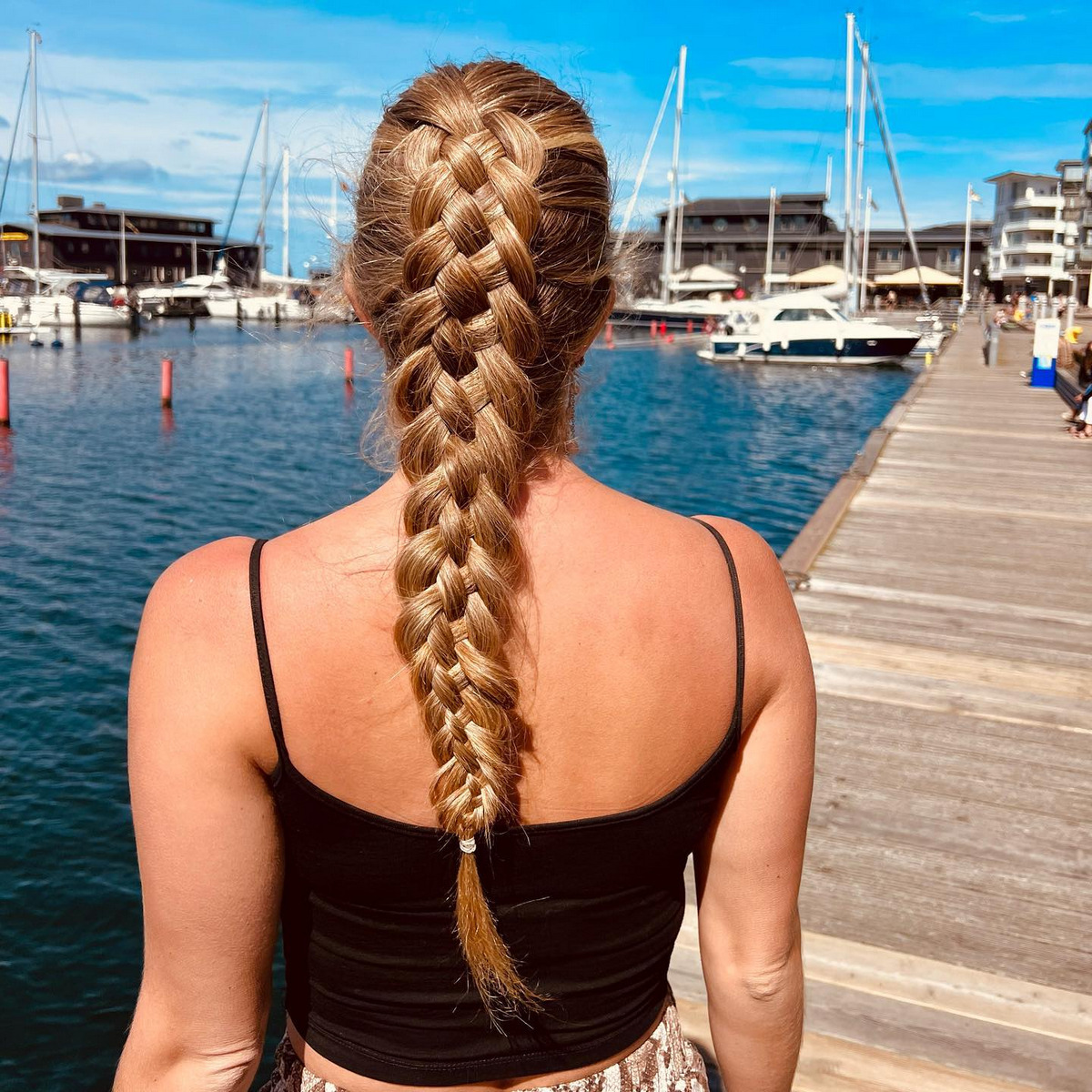 Take a beautiful hair journey where elegance and craft collide. Dare to embrace the five-strand braid, an ethereal marvel for those blessed with abundant locks. Depart from the conventional trio and indulge in a dance of five, gracefully intertwining each strand, converging towards a radiant center.
Behold a celestial creation—a braid of opulence and allure akin to a resplendent ponytail. Unveil its secret, for even with scant tresses, its charm prevails. Master this enchanting technique, and behold the power to weave splendor with swiftness. Embellish this coiffure masterpiece with nature's jewels—flowers, beads, or seashells—a cornucopia of adornment awaits.
Looking to take your braiding skills up a notch? Try out five-strand braids for an intricate and unique style. Check out Mexican braids hairstyles for inspiration on incorporating bright colors and patterns into your braids, or try out long box braids for a classic and timeless look.
12. Waterfall Braids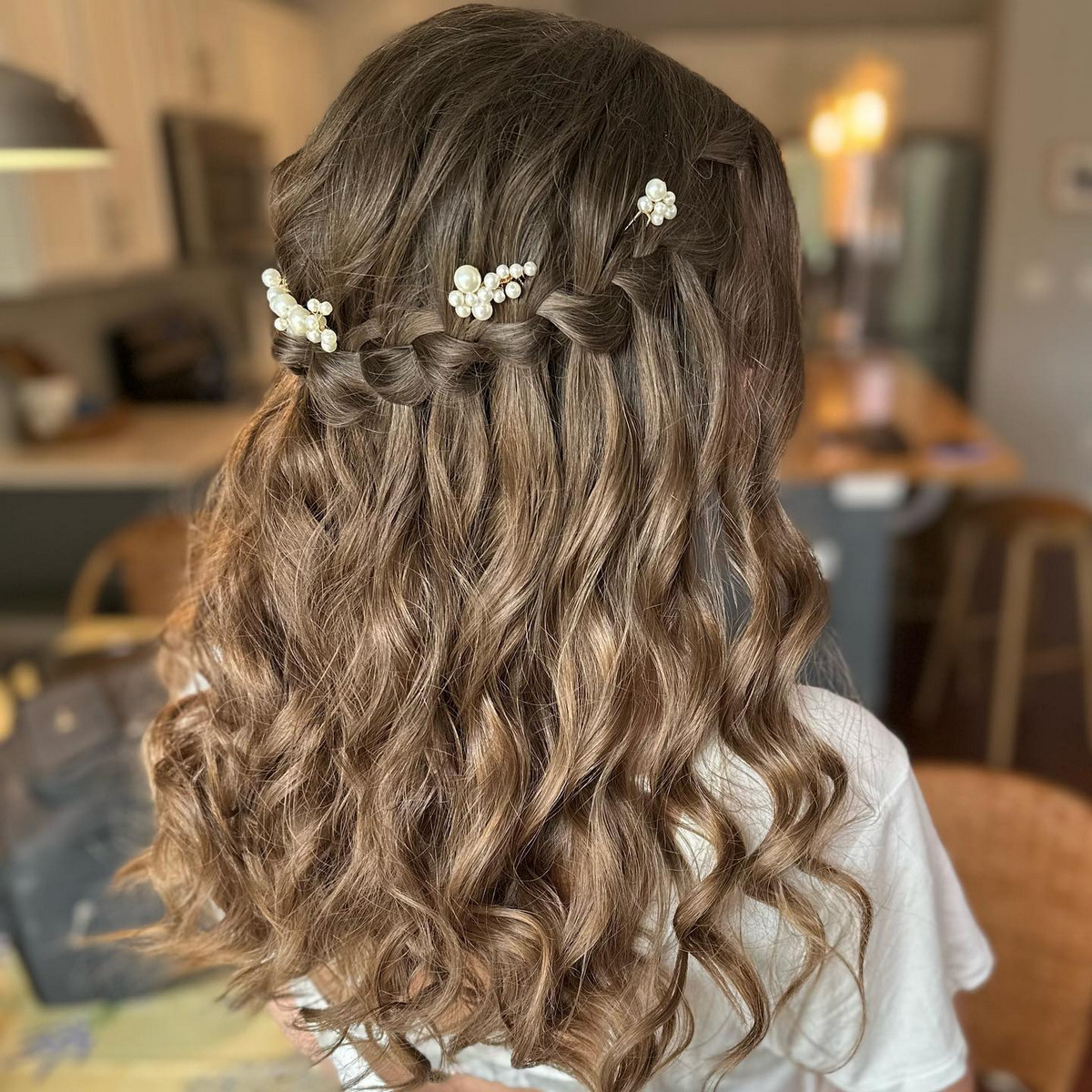 Delicately cascading like a serene waterfall, the mesmerizing allure of the waterfall braids beckons. A tapestry of femininity and elegance, this ethereal braid style unveils a modified form of the classic French braid. Unlike its predecessor, the artistry lies in braiding the crown solely, allowing the remaining tresses to dance freely.
As if nature itself conspired, this enchanting plait weaves a tale of grace, pairing exquisitely with soft, undulating waves. Infused with a gentle, romantic essence, it has become a beloved choice for brides and bridesmaids alike. Embellish with a touch of Dutch braid, delicate blossoms, or ethereal hair slides to unveil a breathtaking symphony of beauty.
13. Crown Braids
The enchanting crown braid reigns supreme among hairstyling treasures, captivating hearts on momentous occasions such as proms and weddings. Its regal allure awakens the dormant princess within you, gracefully adorning your tresses. This majestic coiffure demands a touch of audacity and character in your locks, making it an ideal remedy for lackluster days when washing was amiss.
Unveiling its splendor, simply intertwine your hair into a tapestry of exquisite double Dutch or French braids, elevating them to a heavenly diadem, securing each strand upon its opposing throne. Behold! Within minutes, you shall embrace the majestic splendor and grace of royalty.
Create an intricate and regal look with crown braids. Check out these Fulani braids ideas for inspiration on how to braid along your hairline and create a beautiful crown-like effect. These braids are perfect for formal occasions and can be dressed up with jewelry and accessories.
14. Ladder Braids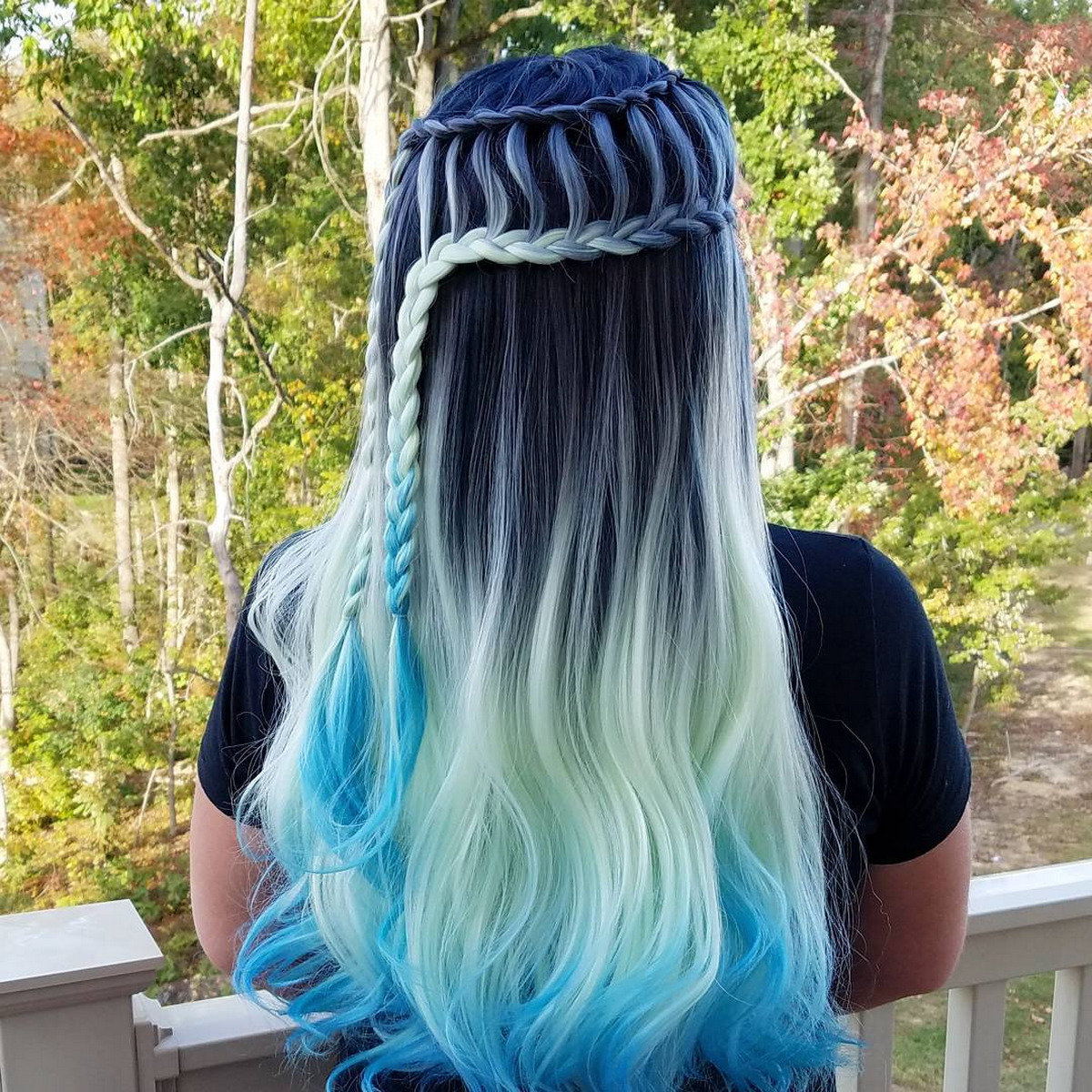 Unlock the magic of your chosen braid—be it French, Dutch, or the timeless three-strand—by adorning it with the captivating ladder braid. Entrancing to the eye, it weaves a tale of visual intrigue. As your nimble fingers guide the strands, venture to pluck a delicate wisp from the left, gracefully draping it alongside your creation.
With each twist and turn, entwine newfound companions into the symphony of your tresses. Yet, ensure a delicate distance lest this enchanting dance collides. At last, grant the mini-braid its crowning glory, a tender embrace around the majestic main braid, and behold the masterpiece you've unveiled.
15. Pull-through Braids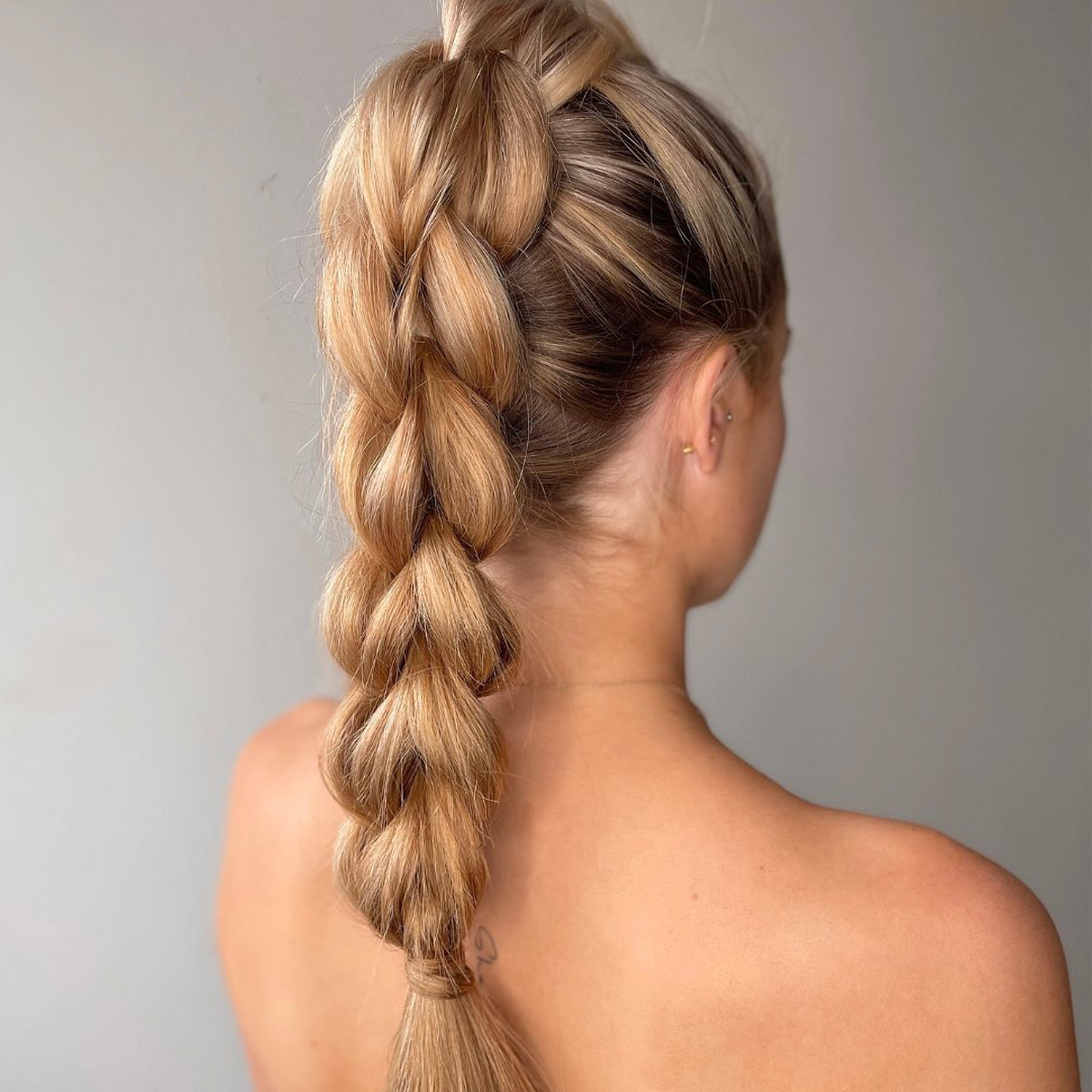 Similar to other braiding styles mentioned, pull-through braids offer a popular and convenient choice for effortless hairstyling at home. Those who struggle with traditional braids often discover that pull-through braids are a breeze to create. The end result exudes a charm reminiscent of a Dutch braid, opening up a multitude of styling possibilities.
Embrace a carefree vibe by opting for a tousled ponytail on casual occasions. For a touch of elegance, fashion side braids while allowing a delicate fringe to gracefully frame your face. And when it's time to elevate your look, consider a regal pull-through braid adorning your crown or culminating in an artful bun atop your head.
16. Lace Braids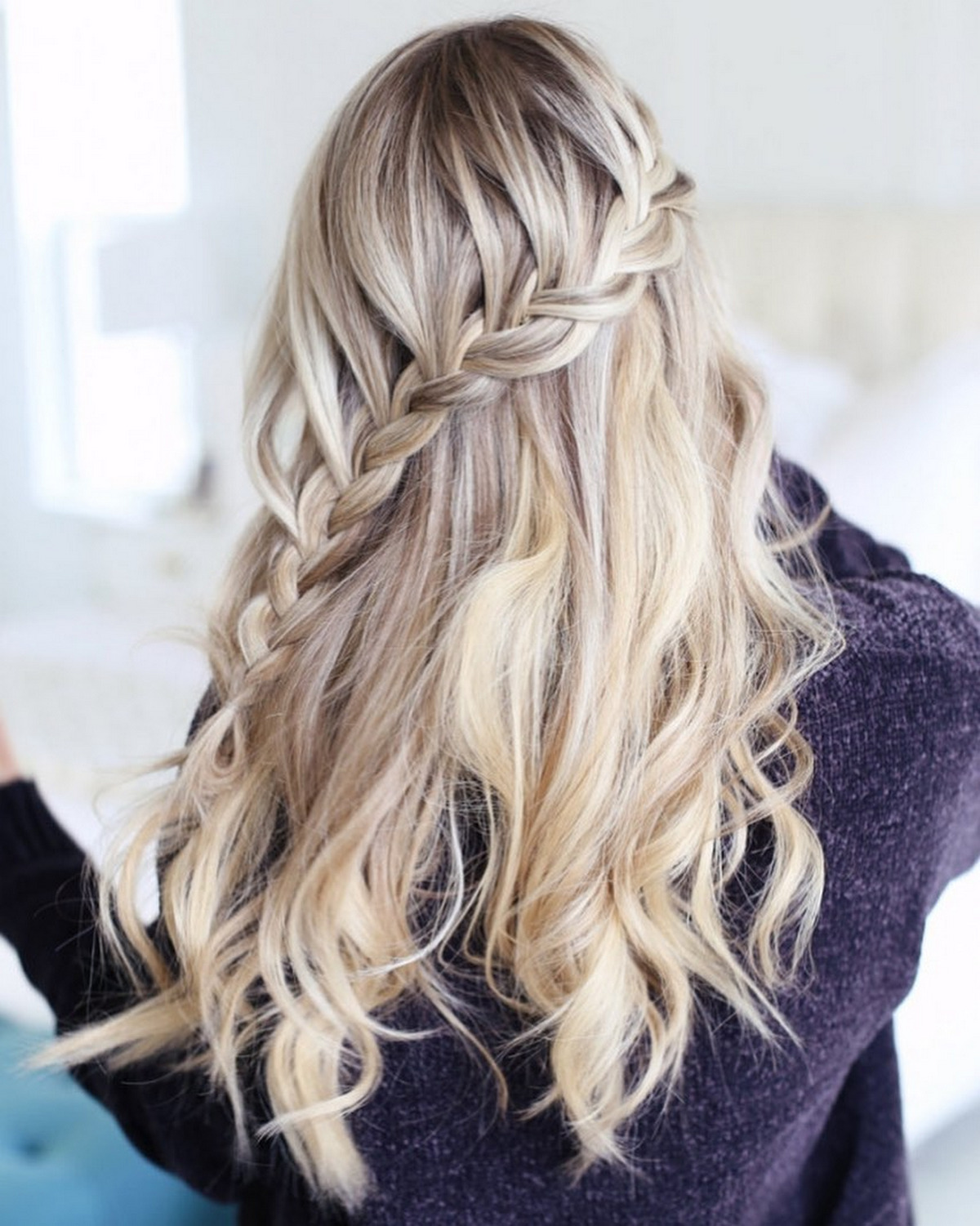 Delicately intertwined, a lace braid emerges, a poetic twist on the French braid. Unveil the enchantment by parting your tresses, granting one side prominence. Unleash the artistry on the abundant mane, commencing the braid's journey alongside your crown, intertwining tender tendrils from the opposing side.
Like a gentle cascade, this braid shall gracefully angle towards your visage, adorning the realm before your natural hairline. Adorned with fleeting tendrils, it accompanies you until your jawline, a masterpiece secured in time. This petite marvel proves invaluable for longer bangs, a whispered solution when time refuses to allow the scissors to touch.
17. Snake Braids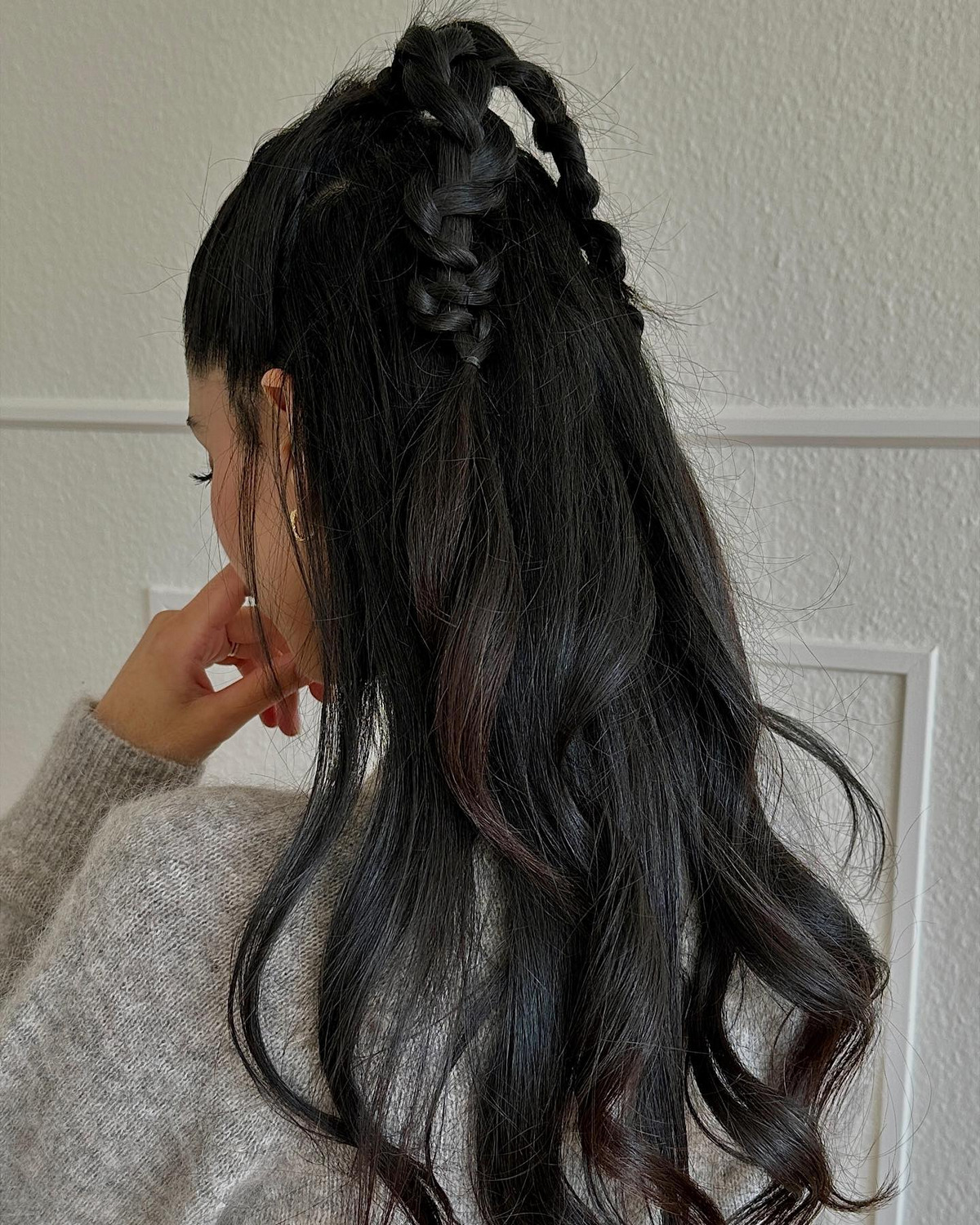 You can simply turn a standard three-strand braid into a snake braid if you know how to do it. This very simple hairstyle is often used to give a half-up, half-down look a new twist. To make a snake braid, start braiding a small section of hair at your temple. Braid it backward until you reach the end of your hair, then hold one of the three strands and push the other two strands upward.
Next, gently pull the braid outward to reveal the snake-like pattern. Then, knot the two snake braids into a ponytail at the back of your head, hiding the link with a strand of hair. Repeat the same on the opposite side. It's one of the simplest braided hairstyles you can do, and it still looks great.
For an intricate and visually dynamic braid style, try out stitch braids. These tightly woven braids resemble a snake's skin – perfect for those who want to add a little edge to their look. With various colors and patterns, you can create a unique and bold hairstyle that fits your style.
18. Milkmaid Braids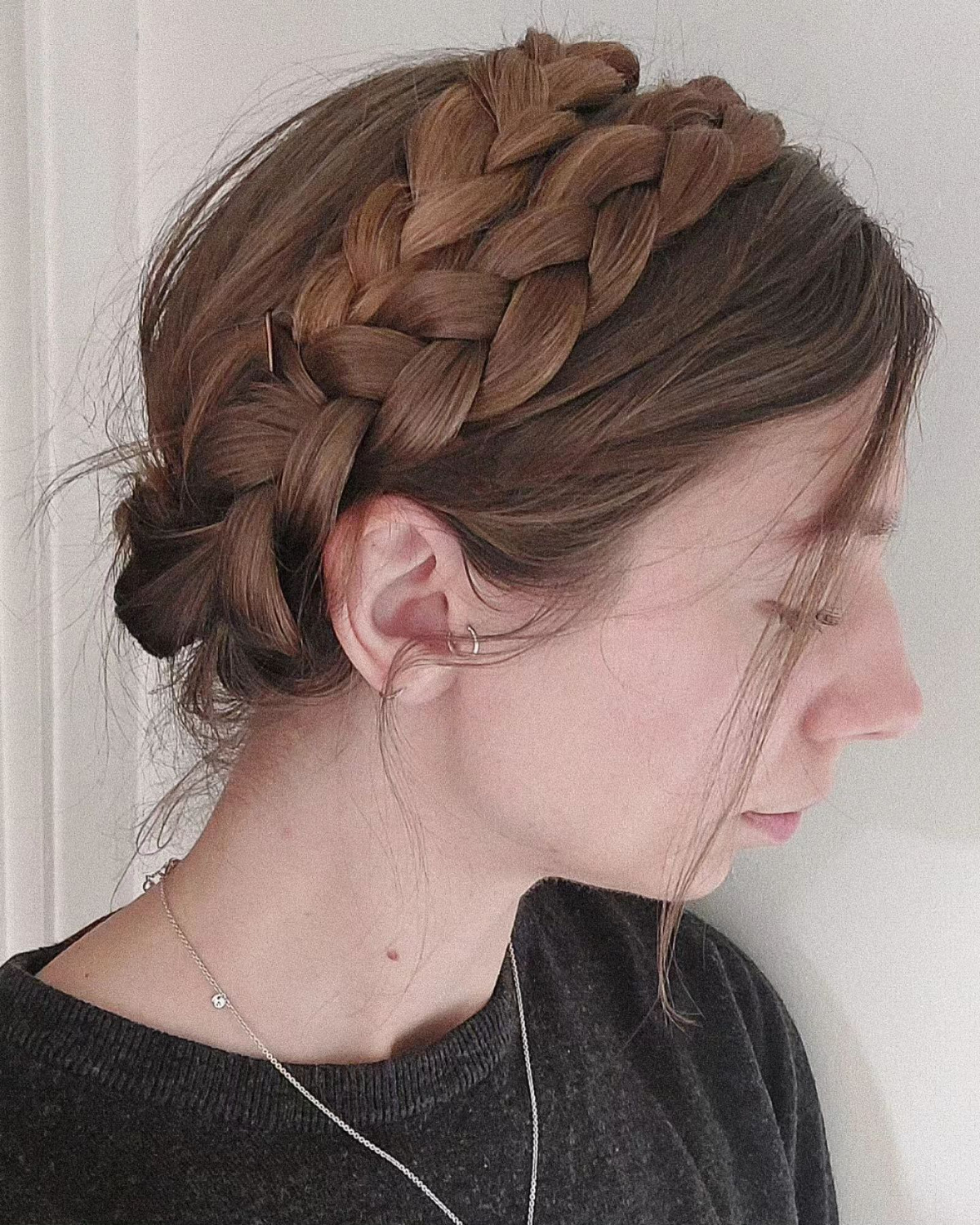 The milkmaid braid and the crown braid may appear distinct, but they bear a remarkable resemblance. The primary variation lies in their placement on the head. The milkmaid braid, positioned towards the back of the head, exudes an elegant and unique vibe. Typically, milkmaid braids feature a center parting, creating a balanced and symmetrical look that appeals to those seeking sophistication.
Even individuals with shorter hair can embrace a modified milkmaid style by opting for a side braid and bringing them together at the base of the head. A crucial step in achieving a polished and refined appearance is carefully weaving in the ends of the braids. This attention to detail adds the finishing touch to a cohesive and stylish hairstyle.
19. Micro Braids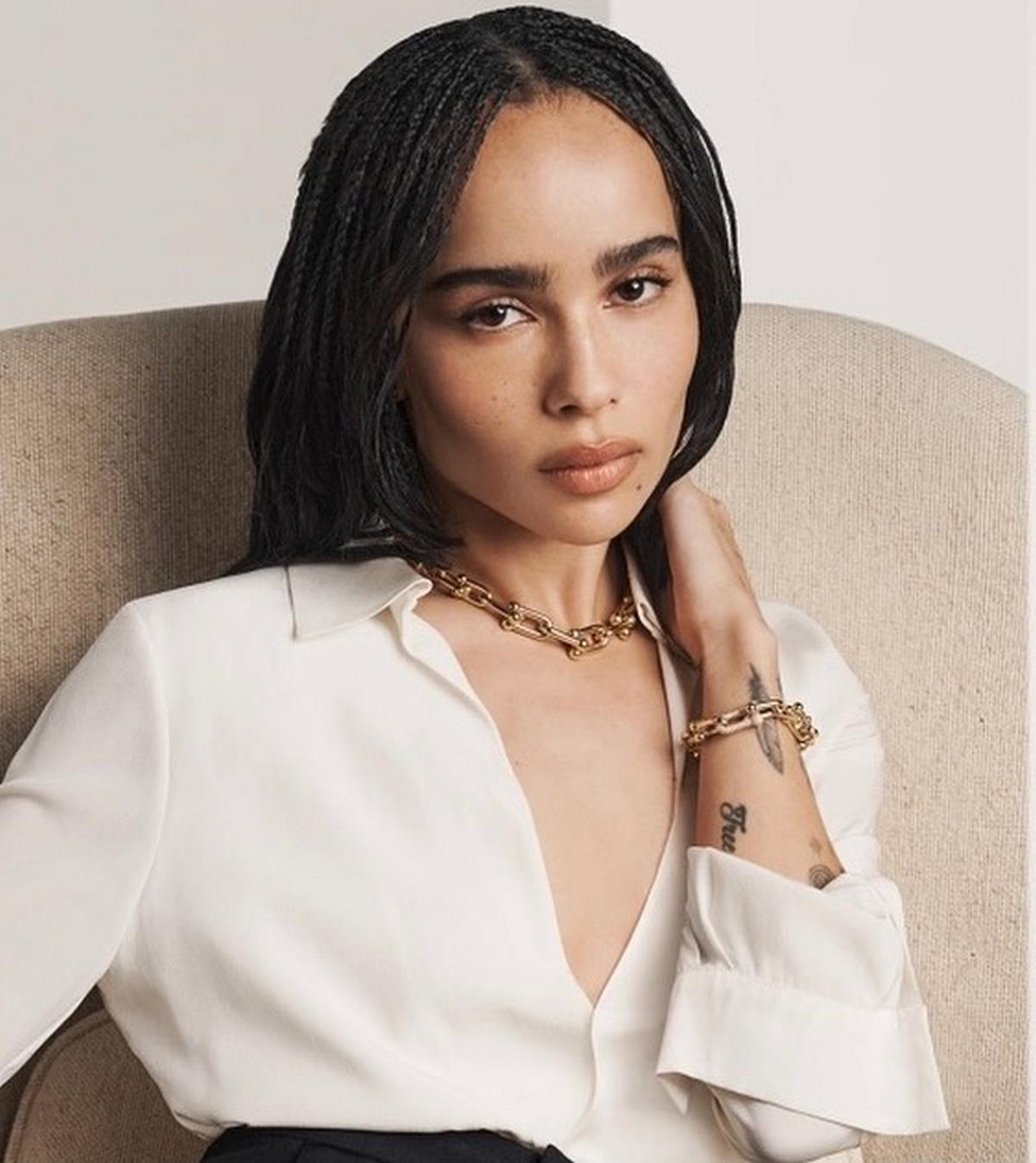 Micro braids, as their name suggests, are incredibly small and delicate. While they may appear to be a gentle choice due to their lack of weight on the scalp, they can surprisingly result in more breakage compared to larger braids. The reason behind this lies in their tightly woven and close-to-the-head technique. Therefore, if you have dry or brittle hair, it's advisable to steer clear of micro braids, as they have the potential to cause hair loss if worn for prolonged periods.
Nevertheless, when maintained properly, micro braids can offer a charming and stylish look, exuding an aura of confidence. They can provide your overall appearance with a little individuality and flare, thanks to their charming and stylish impact. It's important to note, however, that regular upkeep is essential to ensure their longevity and prevent any adverse effects on your hair.
For a versatile and low maintenance hairstyle, opt for micro braids. These tiny braids take longer to install, but they can last up to three months and protect your natural hair from damage. Check out these feed-in braids ideas for inspiration on how to style your micro braids in different patterns and designs to keep the look fresh and interesting.
20. Feather Braids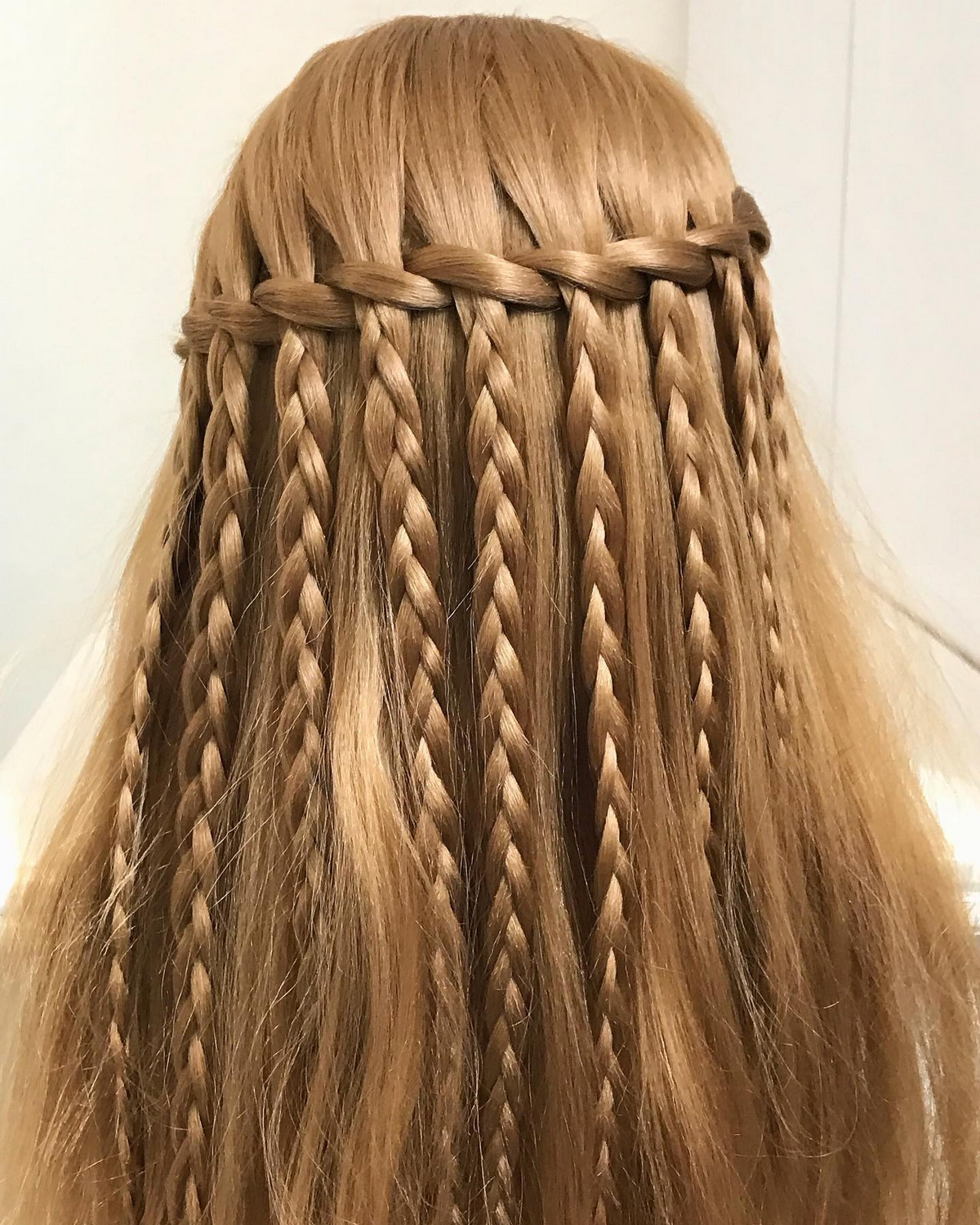 Once you've mastered the feather braids technique, you'll find yourself frequently using it to create a beautiful braid around your hair. Start by separating a frontal portion of hair on one side into two equal strands. Cross the two strands over one another after that. Then, from top to bottom, cross the two strands over one another with loose hair in between.
While this technique isn't a traditional braid, it yields fantastic results and is incredibly quick to do. Be mindful of maintaining consistent strand widths as you progress. Overall, mastering feather braids offers you a versatile and stylish hair option that is easy to achieve.
21. Tree Braids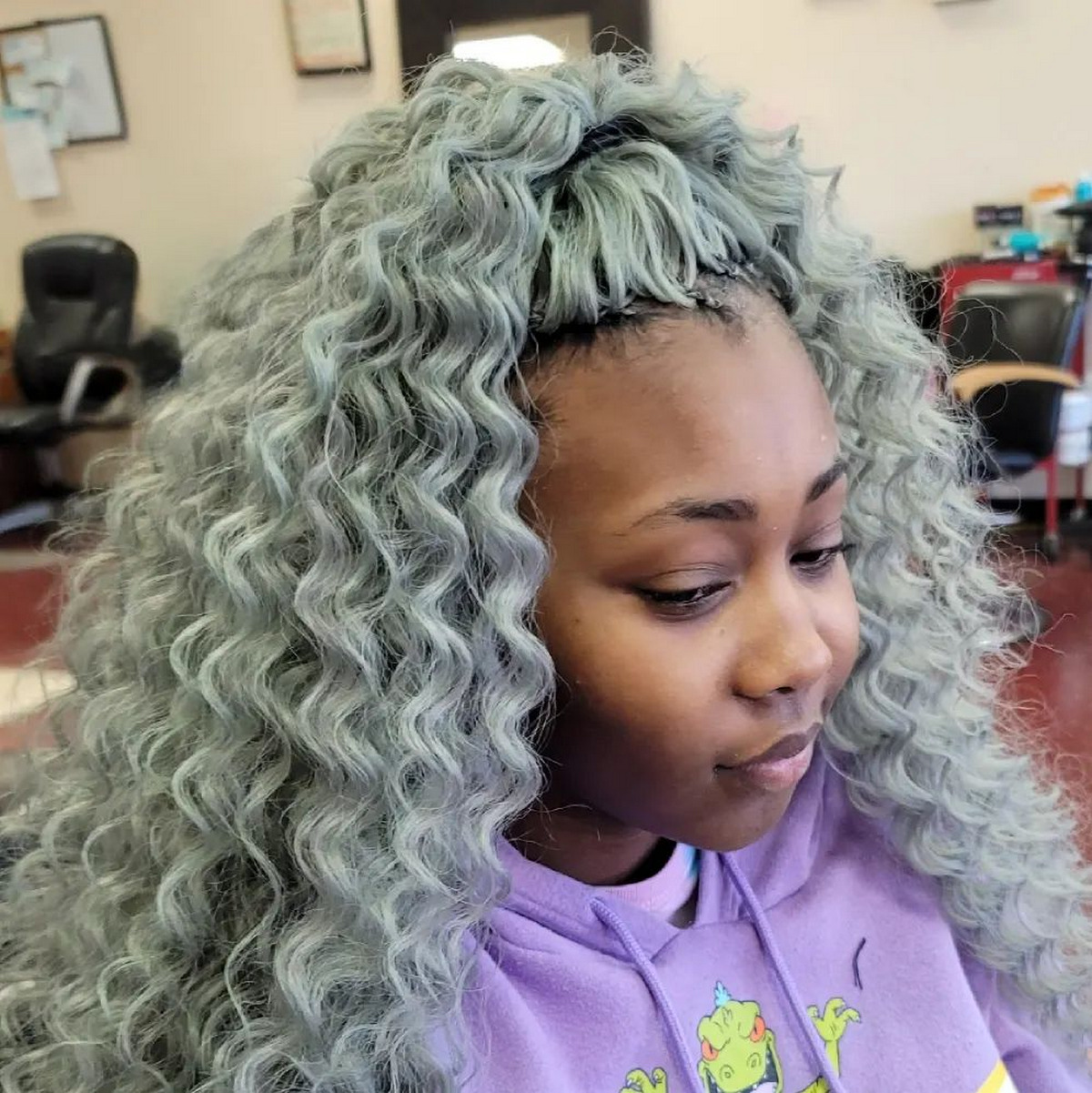 Journey into the resplendent revival of tree braids, an enchanting hair phenomenon that once bewitched the '90s and early 2000s. With deft hands and artistic precision, these braids embark on a celestial odyssey, tracing a delicate path from your hairline, weaving an ethereal tapestry of miniature cornrows. Like vines reaching for the sun, these captivating strands dance and sway, breathing life into your locks.
Meanwhile, the rest of your hair revels in its untamed splendor, cascading in a mesmerizing symphony of freedom—a poetic fusion of elegance and wildness. Immerse yourself in the effortless allure of tree braids, a harmonious marriage of captivating style, and the innate beauty of your natural kinks and curls.
Incorporating tree braids is a great way to add more volume to your hair while maintaining a seamless natural look. Check out these braided ponytail hairstyle ideas to see how you can incorporate tree braids into your style for a chic and easy-to-wear look.
22. Lemonade Braids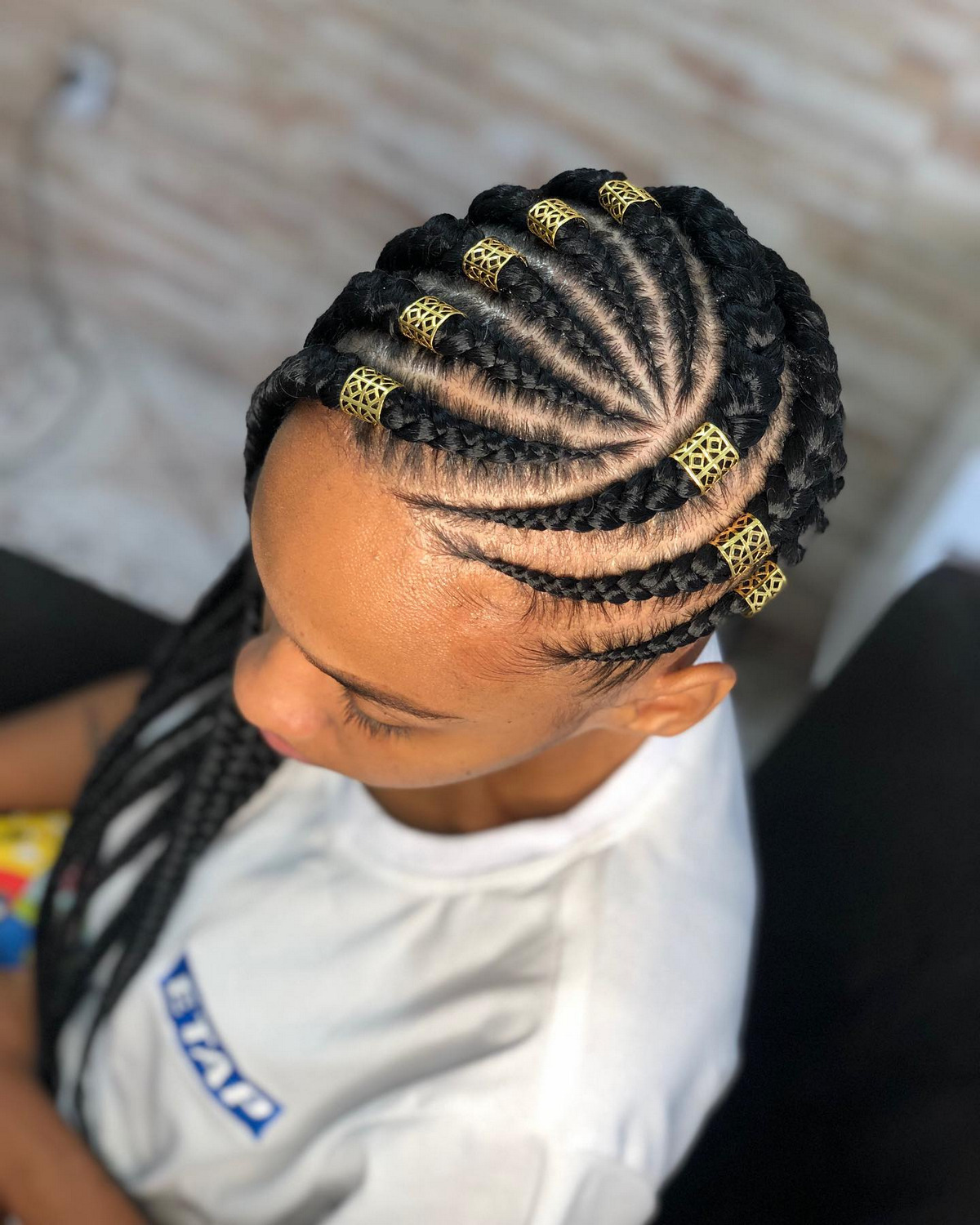 Beyonce introduced a trendy braiding style on her Lemonade album back in 2017. This unique style combines cornrows with the Fulani technique. It features a narrow cornrow down the center of the head, with a few cornrows going in the opposite direction near the temple. Lemonade braids are known for their incorporation of numerous beads, adding an extra touch of flair.
The long hair on one side of the head offers endless styling options, such as pulling it back, creating a voluminous rope-like braid, or fashioning it into a stylish top knot. For special occasions, some individuals even choose to drape their long hair over the cornrows to achieve a more sophisticated look.
23. Feed-in Braids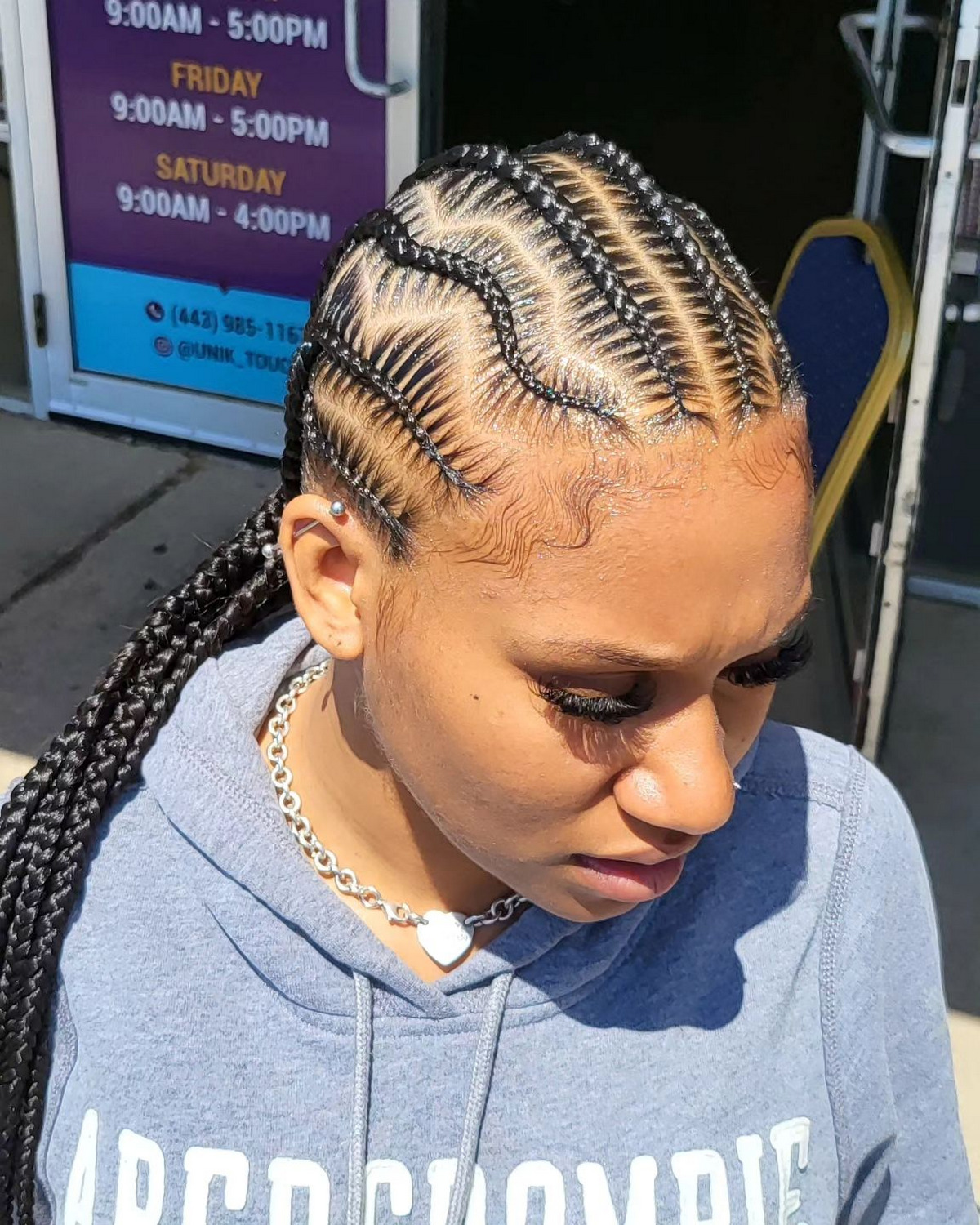 Step into the ethereal realm of "knotless" braids, a sanctuary where your hair finds resplendent protection, surpassing the realms of ordinary styles. Here, an exquisite tapestry unfolds as if woven by celestial hands, birthing extraordinary box braids and cornrows that transcend mere aesthetics. No knots shall tether your strands, for extensions gracefully interlace with your own, blending seamlessly in a symphony of beauty.
Watch in awe as each extension is tenderly introduced, a delicate choreography of intermingling textures caressing your scalp with gentleness. These feed-in braids bestow upon you an unparalleled harmony, flowing with an otherworldly grace akin to nature's own, cascading with enchanting length and an aura of authenticity that bewitches all who behold it.
24. Cornrow Braids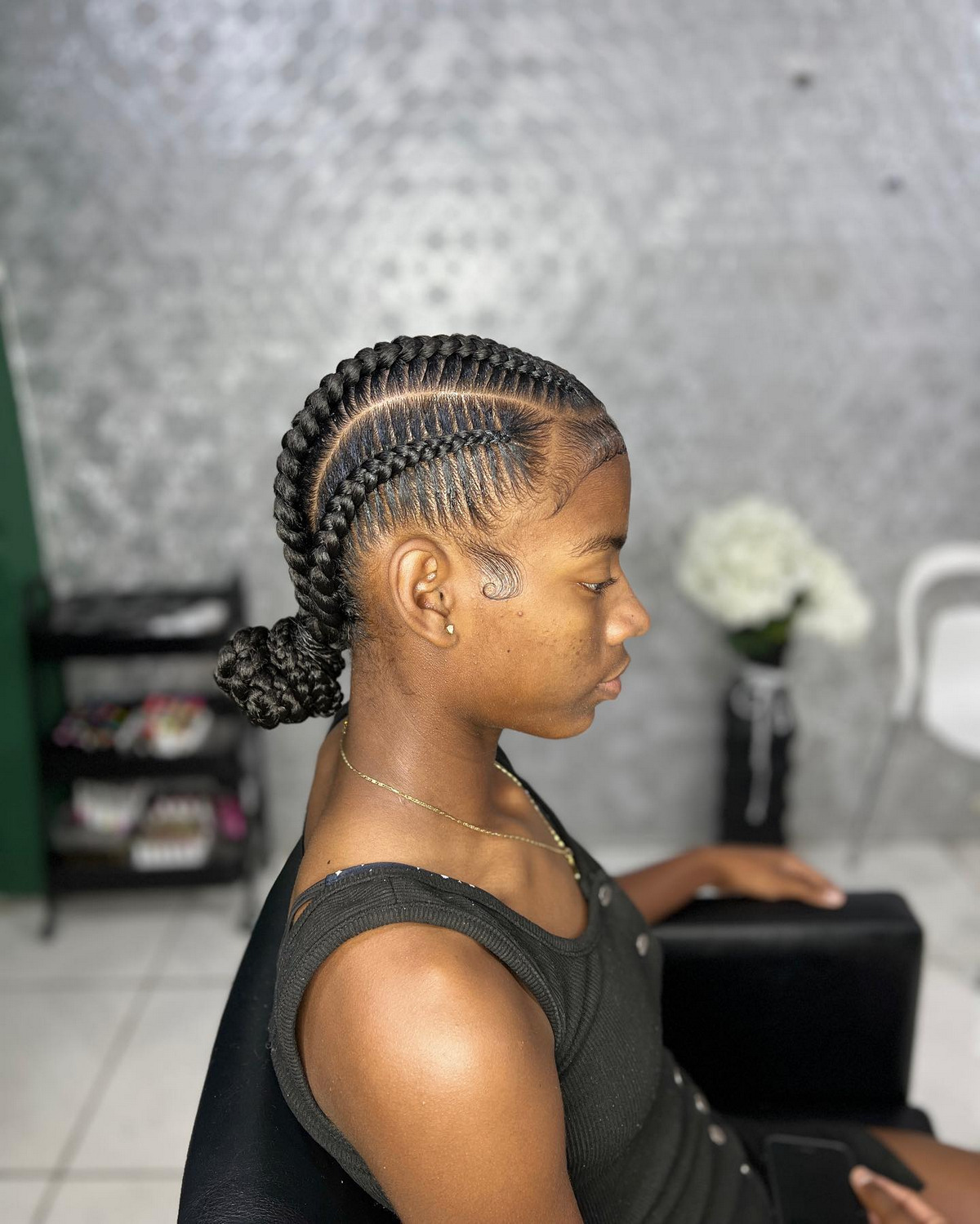 Currently, cornrow braids are incredibly popular as a type of braided hairstyle. To achieve this elevated look, hair is tightly braided near the scalp using the underhand technique. Each braid is neatly arranged in rows, which gives the style its distinctive name. Cornrows can be created with varying thicknesses, and they can also be combined with other braid styles like box braids.
A false undercut or faux hawk can also be made using them. Not only do cornrows look stylish, but they also serve as a protective hairstyle that can last for several weeks with minimal maintenance. So, if you're looking for a trendy, low-maintenance hairstyle, cornrows are an excellent choice to consider.
For women who crave versatility in their hairstyles, cornrow braids offer a variety of options. From simple and elegant to intricate and detailed, there's a look for everyone. Not just for women, men can also rock cornrow braids to achieve a unique and stylish appearance.
25. Butterfly Braid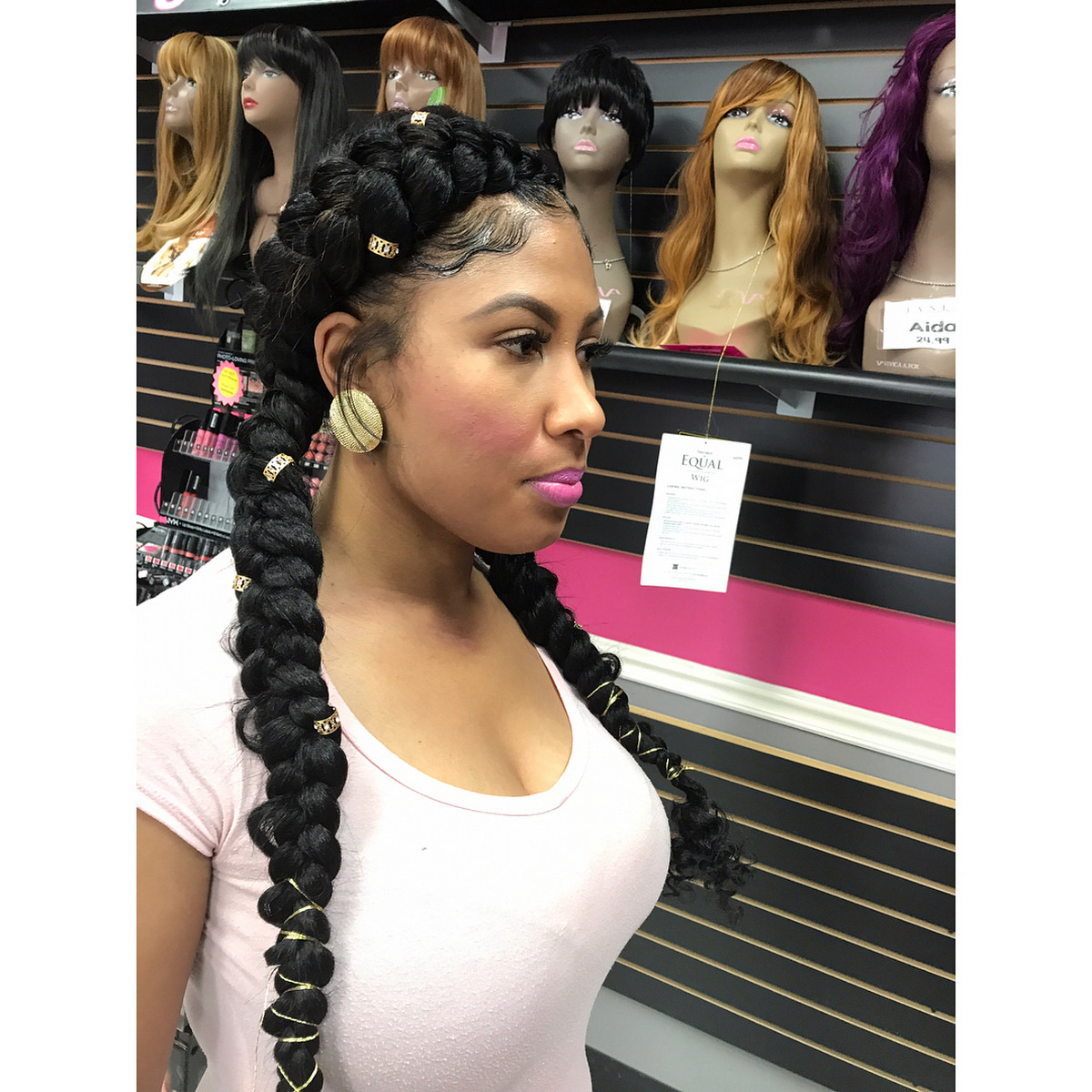 The butterfly braid is a distinctive and striking hairdo that will draw attention from everyone. It's a large, slightly fluffy braid that should appear natural and undone. To achieve this style, hair extensions are usually necessary, and you may need to secure the braid in place due to its thickness.
After you've finished braiding, you may stretch and tug individual strands of the braid to increase its thickness and volume. For added flair, you can adorn the braid with hair cuffs or jewelry. To ensure that the butterfly braid remains the focal point, it's recommended to keep the rest of your hair smooth or styled in small cornrows. By following these tips, you'll create a stunning butterfly braid that will steal the show.
26. Goddess Braids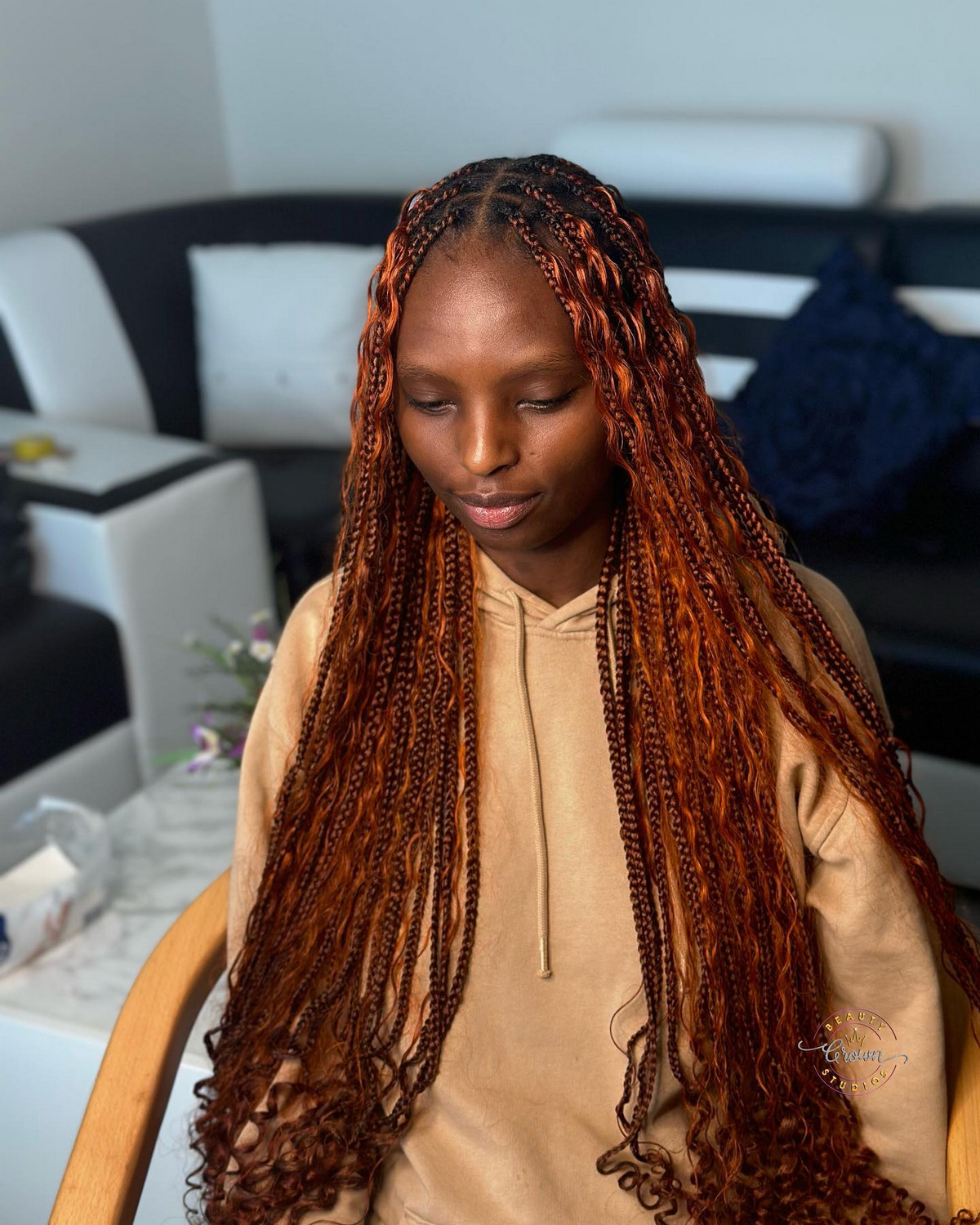 Goddess braids are a bolder version of cornrows, offering plenty of versatility. To achieve this look, the hair is braided using an underhand technique and can be shaped into a ponytail, updo, or left flowing freely. Regardless of your preference, goddess braids will surely make you stand out in any crowd.
Consider accessorizing the braids with stylish items to make sure your hair receives the attention it deserves. Recently, beads, rings, and wires have become popular choices. By adding these trendy embellishments, you can elevate the overall appeal of your goddess braids, creating a stunning and unique hairstyle that will turn heads wherever you go.
27. Halo Braids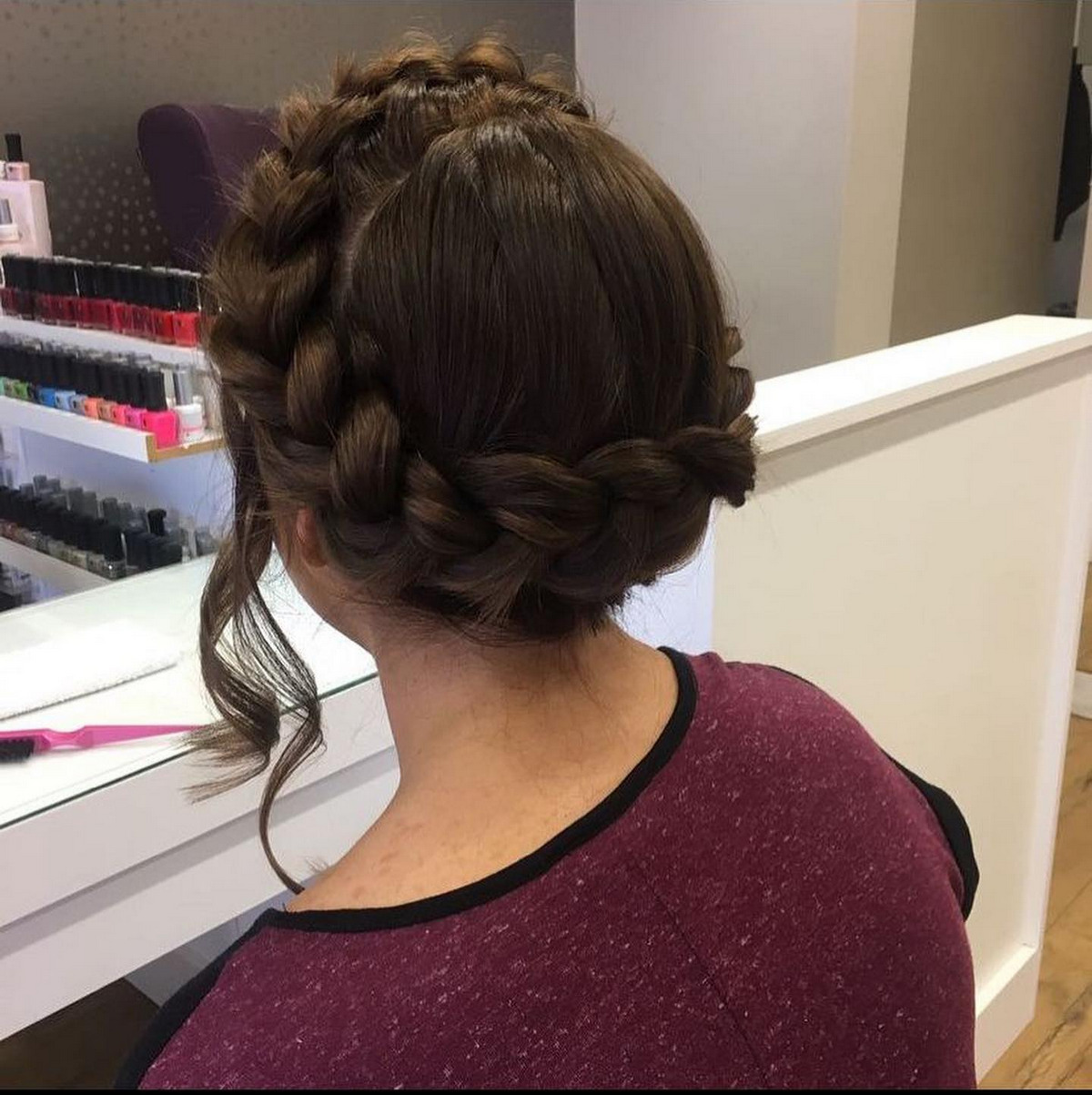 Halo braids are created by wrapping one or two long Dutch braids around the head, forming a halo-like shape on top. They resemble crown braids, but instead of using the French braiding technique, Dutch braiding is employed.
Typically, two Dutch braids are used to achieve an upright halo effect, although it's also possible to achieve a tilted halo effect with just one braid. To ensure a flawless appearance, the fine hairs around the face that cannot be incorporated into the braid are carefully shaped and molded. This meticulous styling adds to the overall immaculate effect of the halo braids.
If you're looking to add some variety to your Halo braids, consider incorporating some butterfly braids into the mix. These braids create a unique and eye-catching look that can take your hairstyle to the next level. Check out these enchanting butterfly braid hairstyles for inspirations on how to incorporate these braids into your Halo braids.
28. Side Braids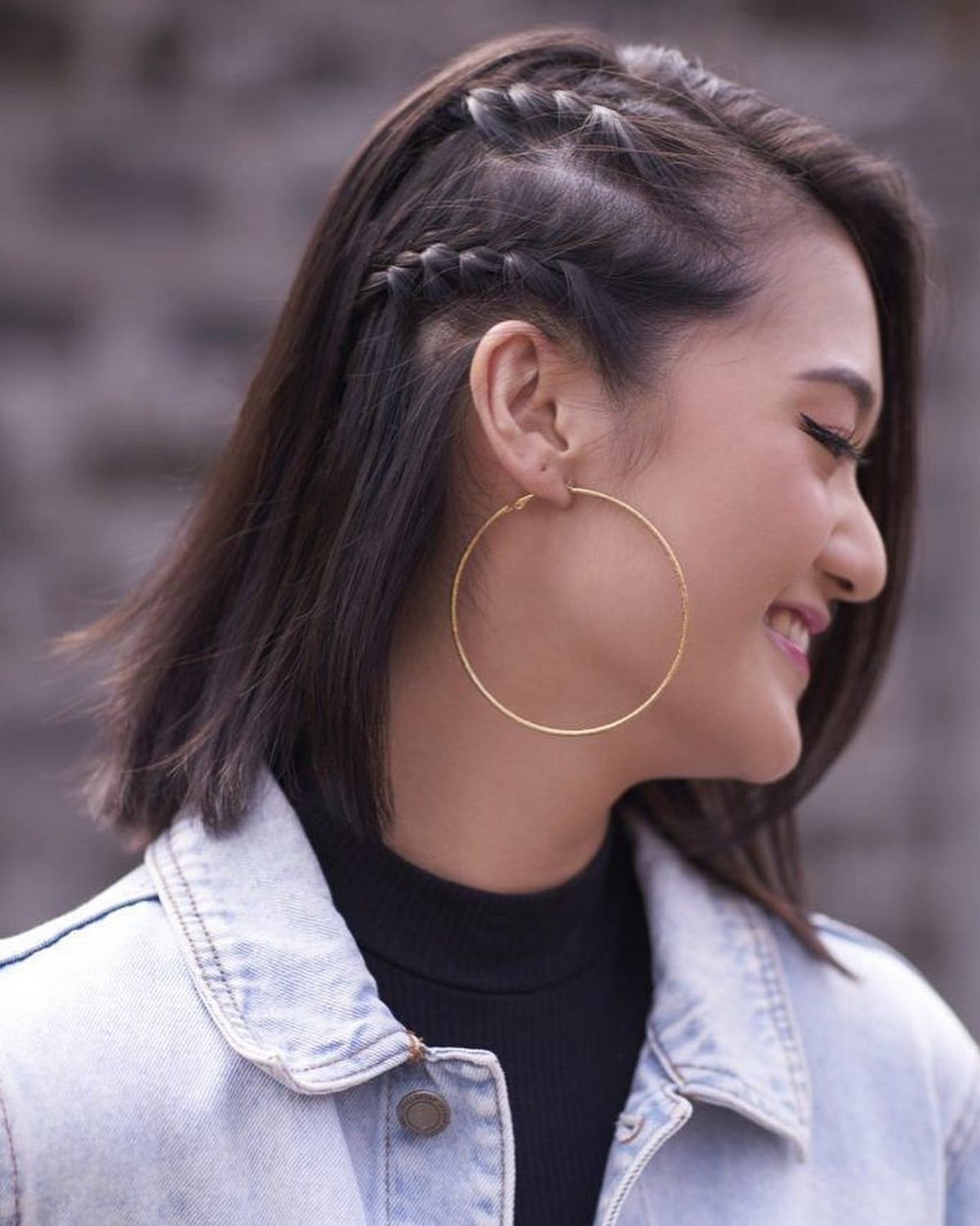 Side braids are a simple and effective technique to create the illusion of an undercut or enhance a side-swept wavy haircut. Rather than going straight back, these braids start at the hairline and gradually move upward toward the top of the head.
By incorporating extensions into the braids and leaving the remaining hair free, the side braids style acquires a trendy and asymmetrical aspect. The striking contrast achieved by this combination results in a sophisticated and fashionable look that flatters various facial types. It's a contemporary twist that adds a touch of elegance and flair to any hairstyle.
29. Ghana Braids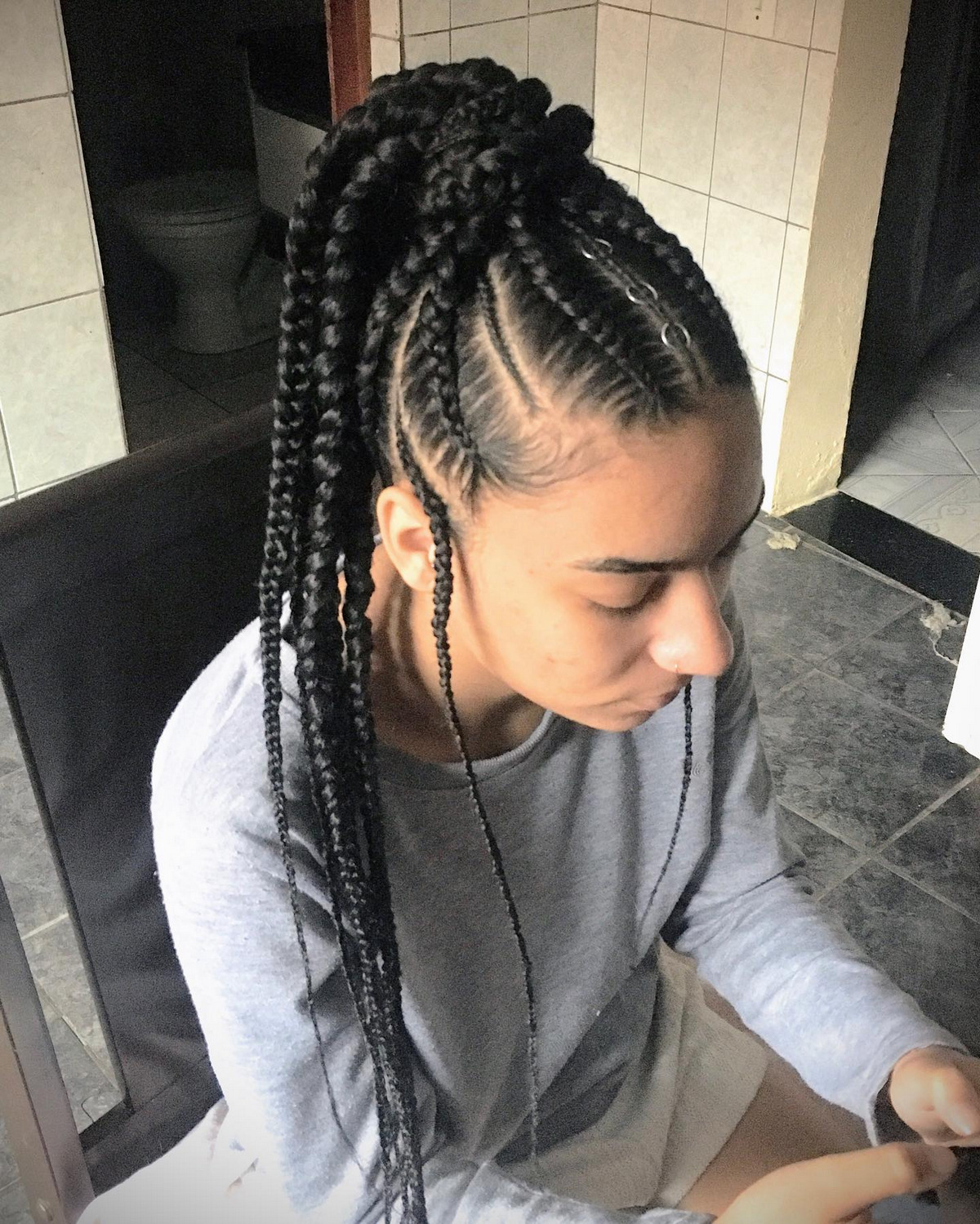 Ghana braids are a beautiful and intricate hairstyle that comes in various styles. They begin with small braids and gradually increase in size as more hair is added. You may braid them either from front to back, starting at the top of your head, or from one side to the other.
Despite the different variations, Ghana braids always showcase a stunning and complex look. They are known for their elegance and the way they enhance your natural hair. So, whether you opt for the classic front-to-back braid or experiment with different techniques, Ghana braids are a versatile and captivating choice for a stylish hairstyle.
For a chic and trendy look, try out some of the Ghana braids hairstyles and rock your hair with ease. Ghana braids are known for their intricate and elegant patterns, making them perfect for both casual and formal occasions. Get inspired with different styles and experiment with your hair.
30. Braided Updo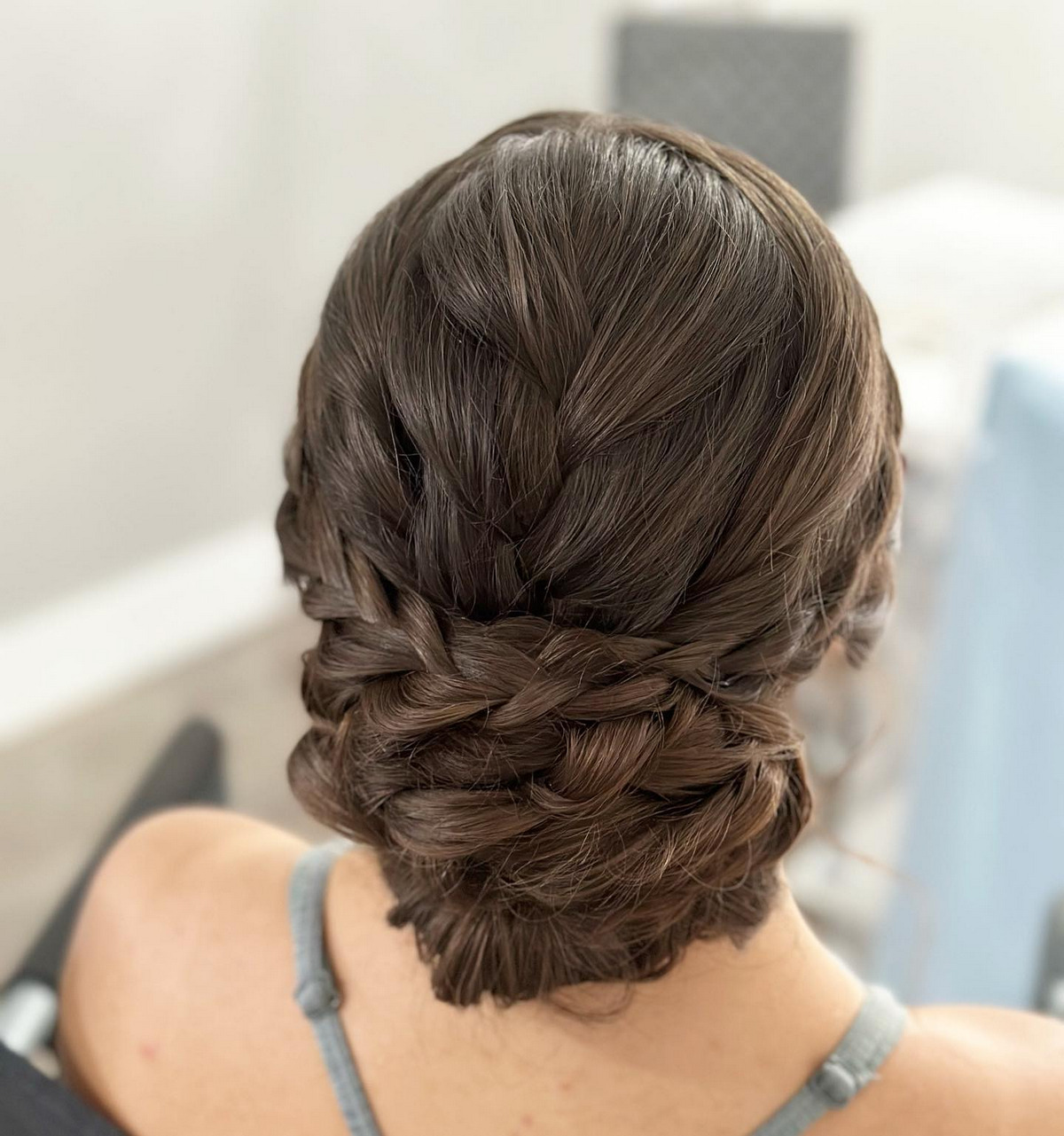 A braided updo is a polished hairstyle with a vintage appeal. Skilled in braiding? Try a serpentine French braid that moves across your head. Beginners can opt for a double Dutch or French braid, twisting the two plaits together for a braided bun effect. Another option is to turn and pin the braids for a different finish.
This neat and classy look exudes a timeless charm. So, if you're adept at braiding, experiment with a curvy French braid. And if you're new to braiding, create two simple braids and intertwine them for a stylish braided bun. Alternatively, twist and secure the braids for a unique touch.
31. 4-Strand Braids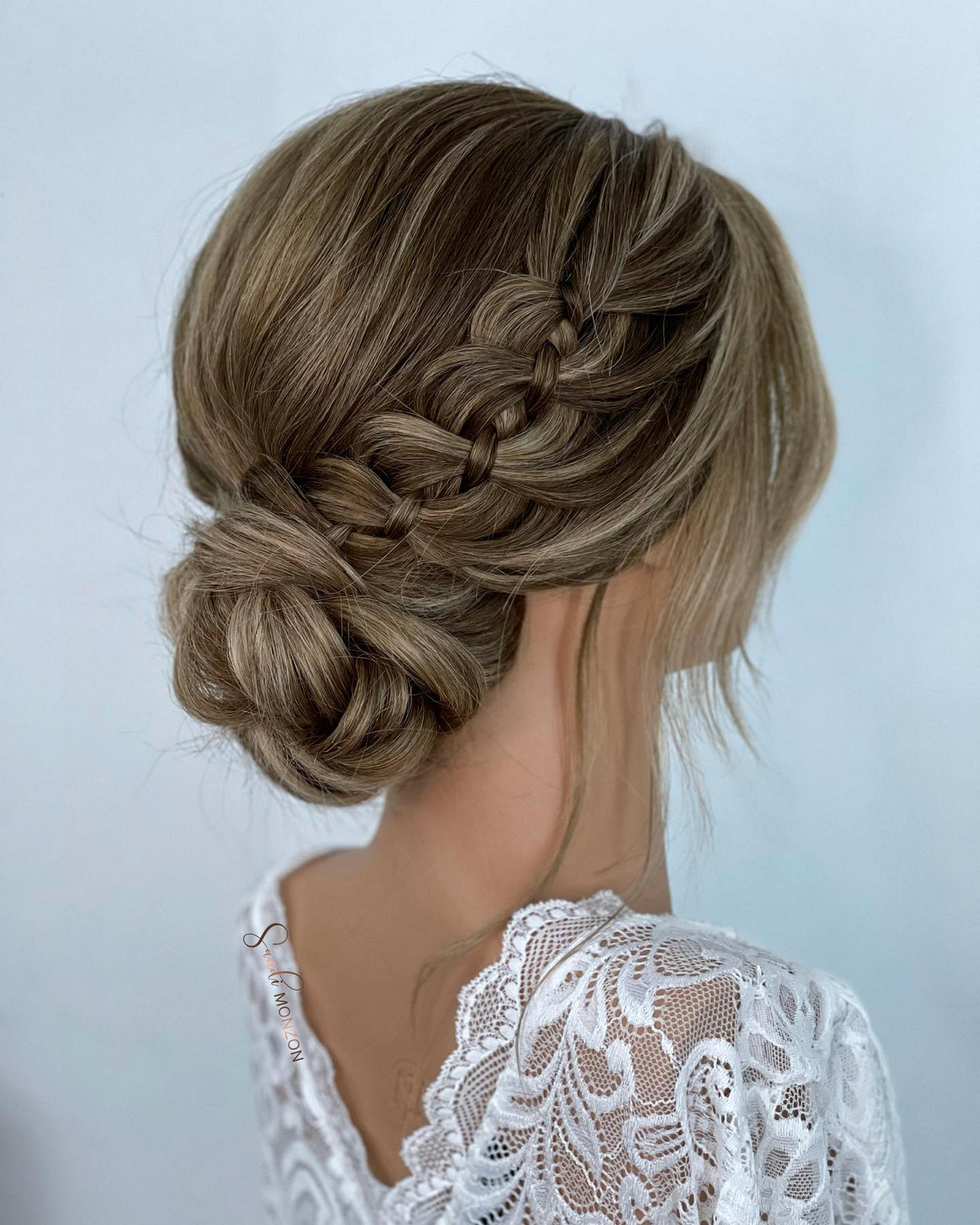 This is where braids get really creative. By adding more strands and spacing them out, the braids can have a completely different appearance. Take a look at this lovely 4-strand braid as a great example of creativity. A 4-strand braid is an interesting change of pace if you're sick of the typical 3-strand braid.
This twisted braid is a cool and cute hairstyle you can wear to class. The best thing about the 4-strand braid is that it initially looks like a regular braid but then surprises people and makes them take a second look!
32. Braided Buns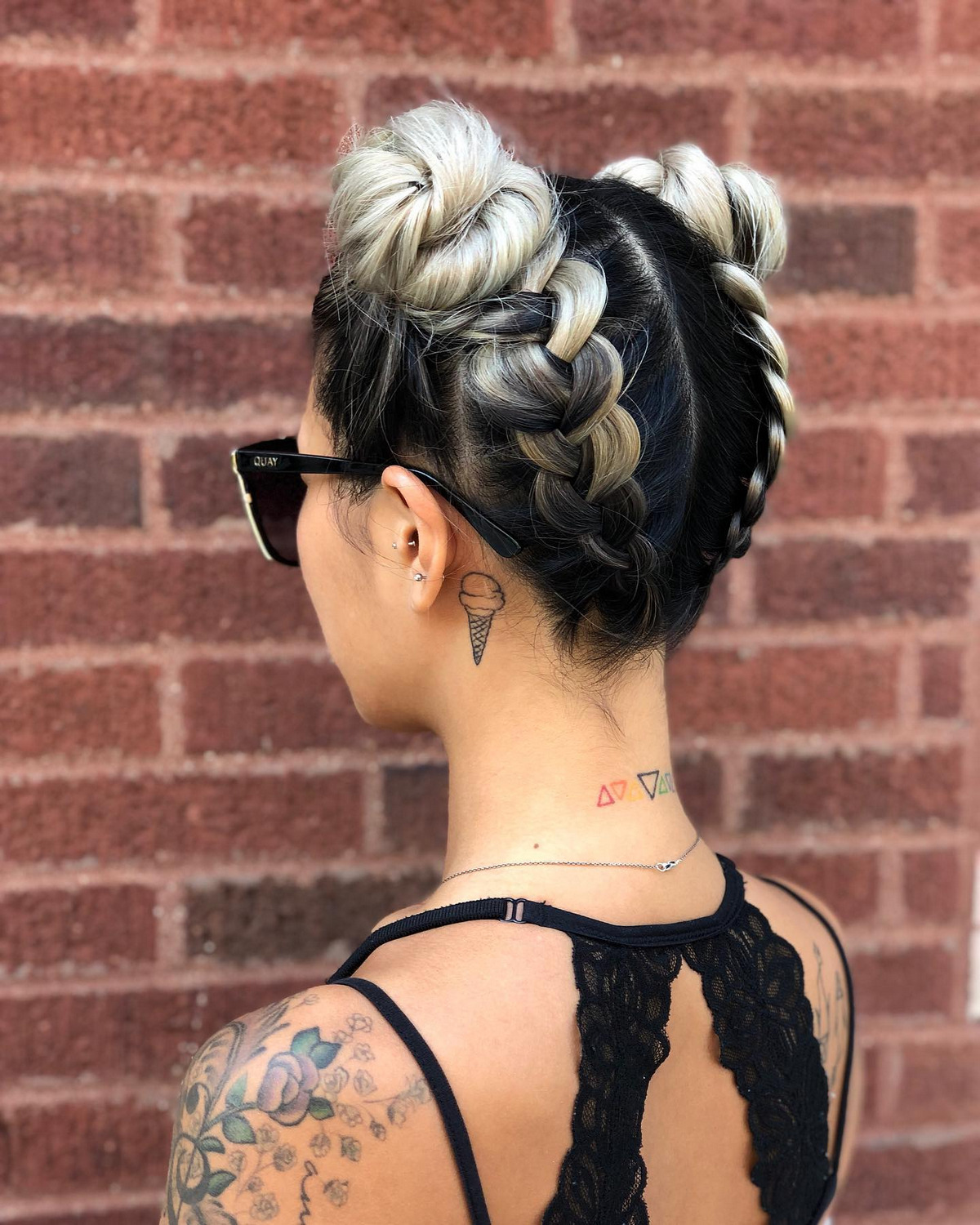 Braided buns are a beloved choice at festivals, evoking a '90s vibe that resonates with many. The versatility of this style offers numerous possibilities to explore. To stay up-to-date with the latest trends, consider combining buns with double braids. Start with making a center part in your hair, then make two Dutch braids at the back of your head.
Gradually work your way up, securing the hair into double ponytails at the crown. From the front, initiate two Dutch braids that converge with the other braid. Gather the remaining hair into a petite ponytail, then elegantly twist all the loose strands into two buns. The outcome is an attention-grabbing hairstyle that ensures you stand out amidst the crowd.
For an elegant yet easy-to-do hairstyle, try braided buns. It's a perfect combination of functionality and style that can be worn anywhere you go. You can check out some stunning bun hairstyles for every occasion on Hood MWR.
33. Yarn Braids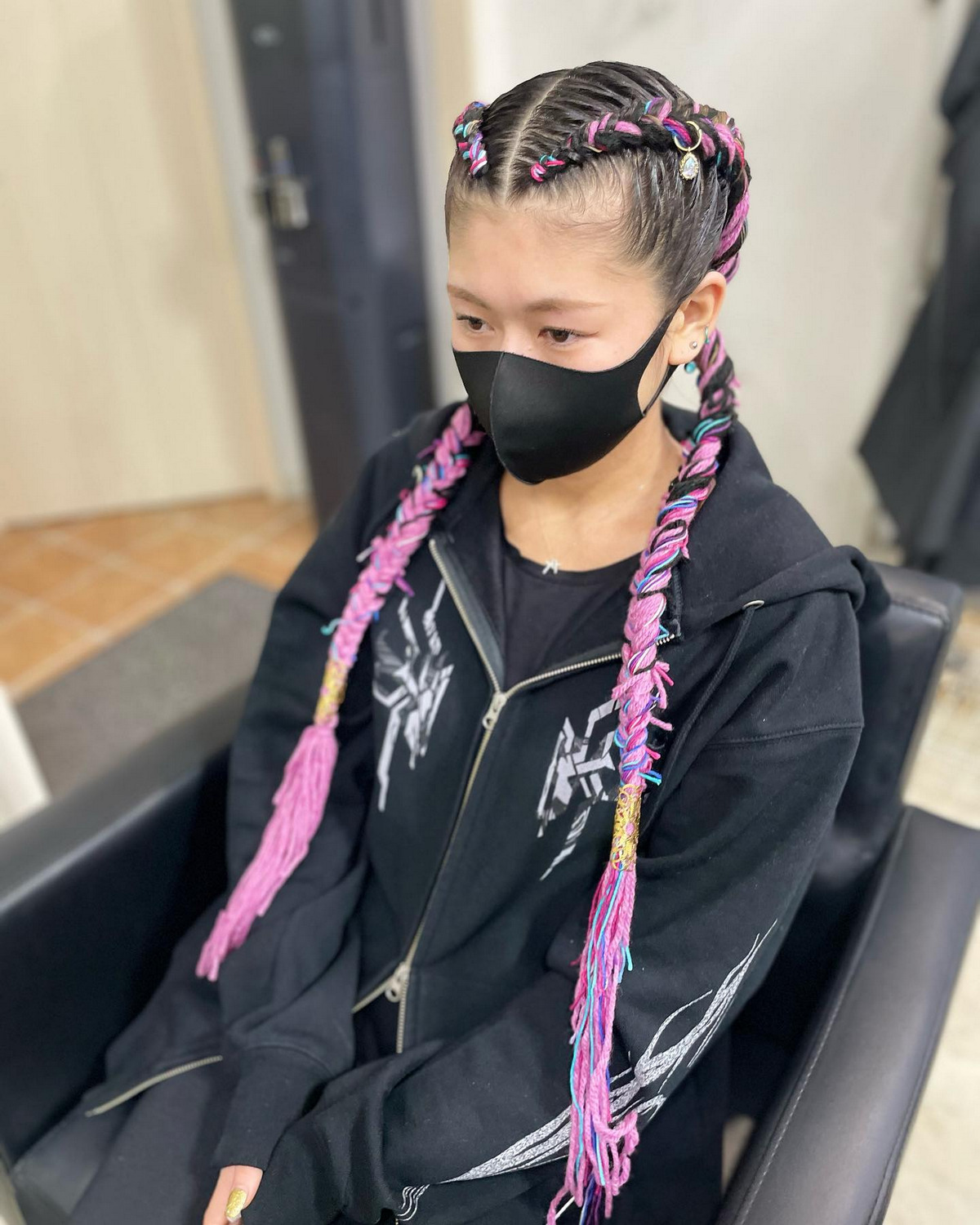 Delicately woven with the essence of creativity, yarn braids unveil an enchanting tapestry of possibilities. Crafted from the vibrant strands of acrylic, these extensions emerge as a resplendent shield for the luscious coils of Afro-textured hair, graciously warding off the chill of autumn and winter.
With a kaleidoscope of hues at their disposal, pastel pink, peach, and vivacious color-pop shades like deep green and fiery red, yarn braids fashion an audacious proclamation. Such versatile marvels effortlessly embrace all hair lengths, offering an exquisite array of options. Whether slender threads or majestic ropes, their thickness tailored to your hair's fortitude, from miniature marvels to jumbo wonders, the choice is yours.
34. Mohawk Braids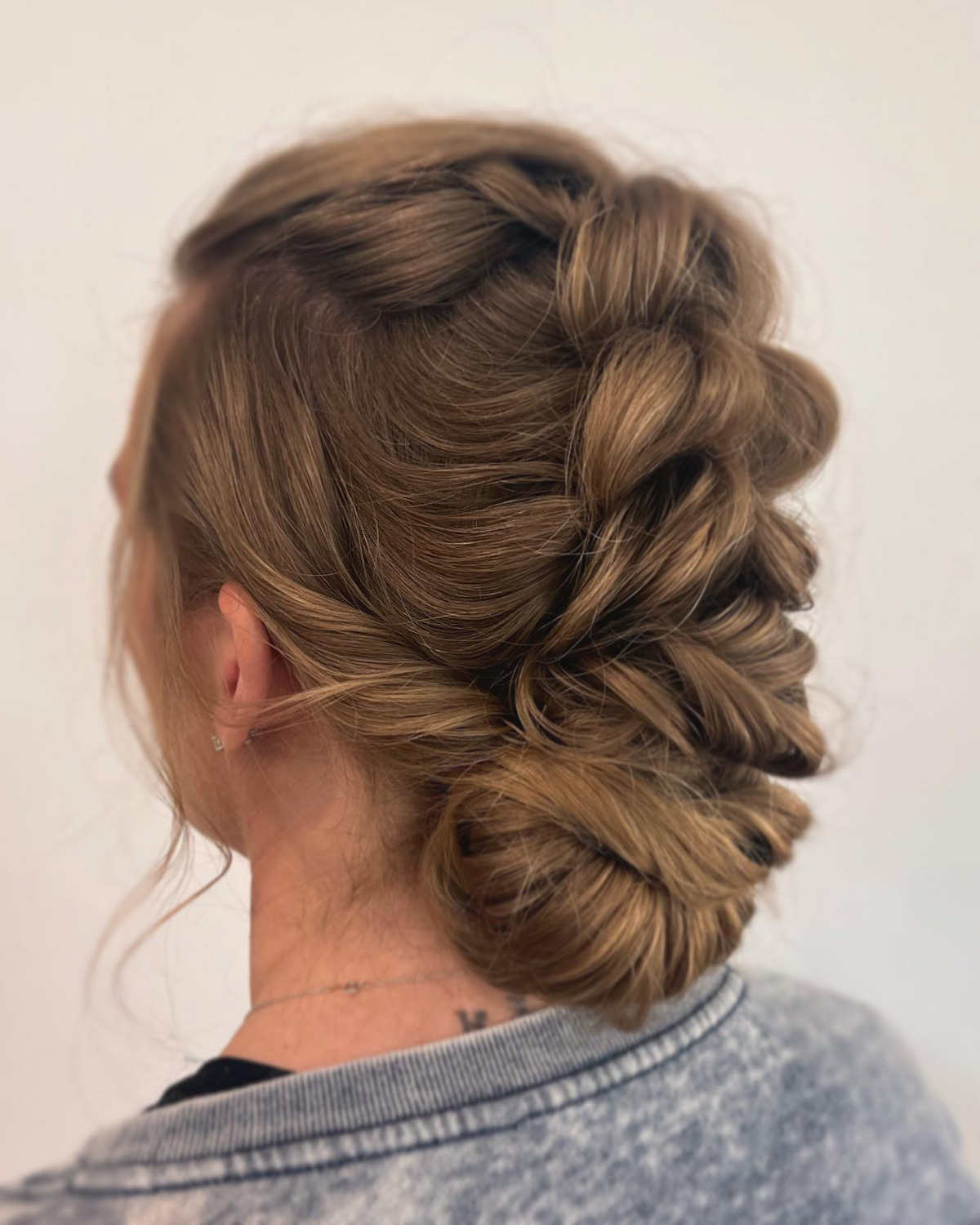 The magnetic mohawk braid beckons, captivating all with its commanding presence. Amidst time constraints, a thick Dutch braid traverses the central path, effortlessly gathering the remaining locks in a poised ponytail. The effort yields an astonishing mohawk effect. Yet, for the intrepid souls, a more remarkable expedition unfolds. Skillfully cornrow the sides, paving the way for a transcendent journey.
From the nape of your neck, a Dutch braid ascends, resolute towards your forehead. Guiding it with finesse, the braid gracefully unravels until its course concludes. Folding upon itself, a rounded mohawk emerges—an embodiment of rebellious verve. This audacious style flourishes in thick, straight tresses, embracing its punk-infused attitude.
Take your braids to the next level by incorporating Mohawk braids, a trendy hairstyle that adds edge to any outfit. Check out the 50 Mohawk braid hairstyle ideas on Hood MWR for inspiration on how to rock this style and make it your own. Perfect for those who want to make a bold statement, Mohawk braids are a great option for any occasion.
35. Dookie Braids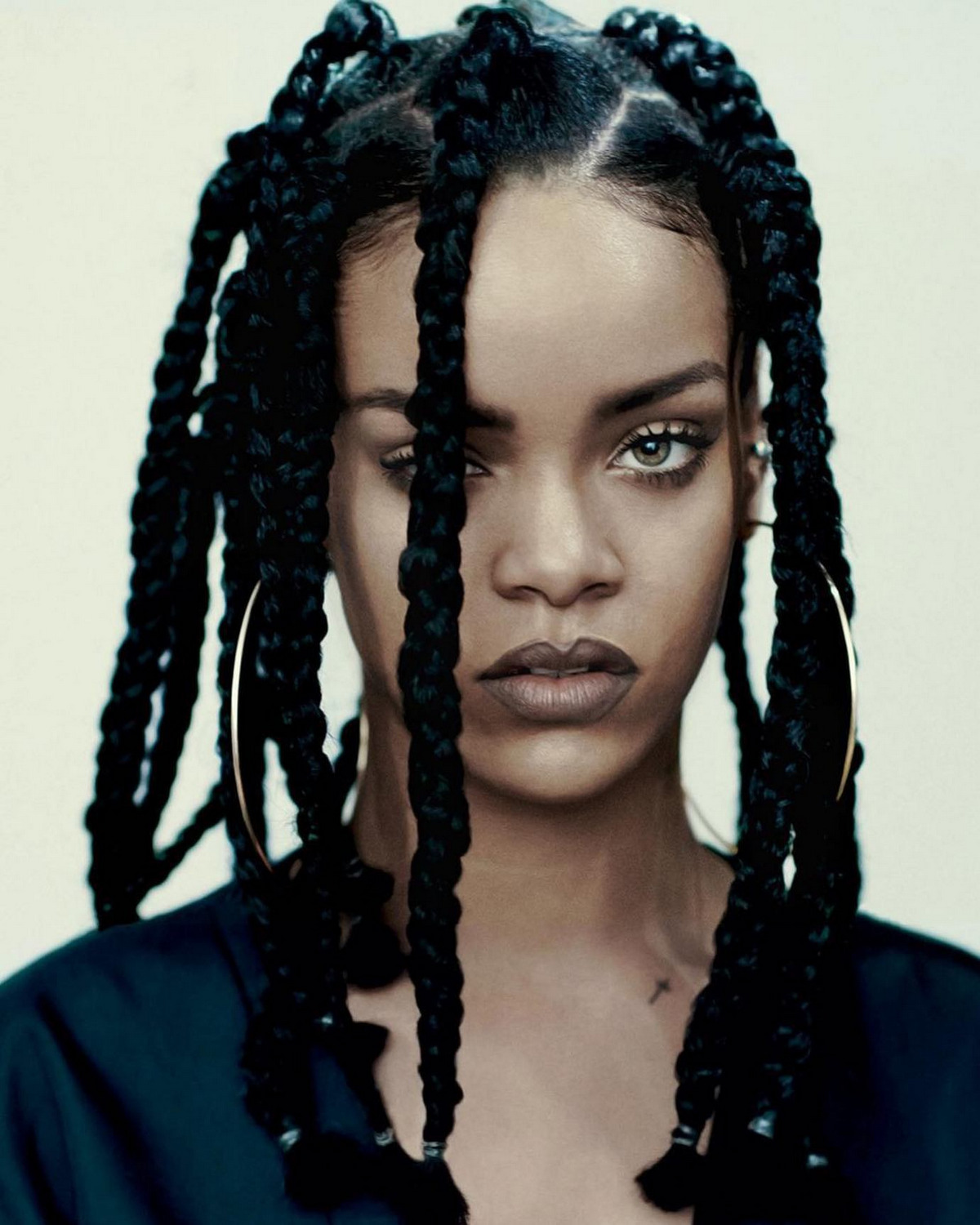 The dookie braid, a beloved hairstyle from the vibrant 90s era, emerges as a timeless choice for women seeking an enchanting cascade of voluminous braids. This alluring coiffure, donned by influential fashion maven Rihanna and embraced by style aficionados, offers a myriad of possibilities to tailor it to your discerning taste.
Moreover, the realm of self-expression beckons as you dare to explore an array of captivating hues and indulge in transformative coloring techniques, such as the mesmerizing ombre effect, thus crafting a personalized hairstyle that epitomizes your distinctive personality and inimitable style.