Sneakers might be one of the best footwear to wear because of the various types of sneakers and their ability to pair with other outfits. Whether you are going out to school, hanging out with your friends, or going to the shopping mall, sneakers are probably the most reliable footwear you can wear.
There are different reasons why a lot of people love sneakers. One of them is that they come in different styles and forms. Besides, there are so many trendy sneakers on the market. They are also very squishy to wear all day. And more important, sneakers offer different price ranges, from cheap to expensive, which are suitable for many people. Some even collect well-known sneakers or a specific sneaker brand to add to their sneaker collections.
On the other hand, have you ever heard about sneakers for teens that can be worn without socks? Or other styles are allowing you to customize them so that they can fit your taste of fashion and trend. In fact, there are a lot of sneaker types on the market that allow you to style with different outfits and wear them at different events.
So, in this article, I will introduce 12 different types of sneakers available on the market and some famous and popular sneaker brands. I also recommended certain types of sneakers to wear on specific occasions.
Okay, let's take a closer look.
Types of Sneakers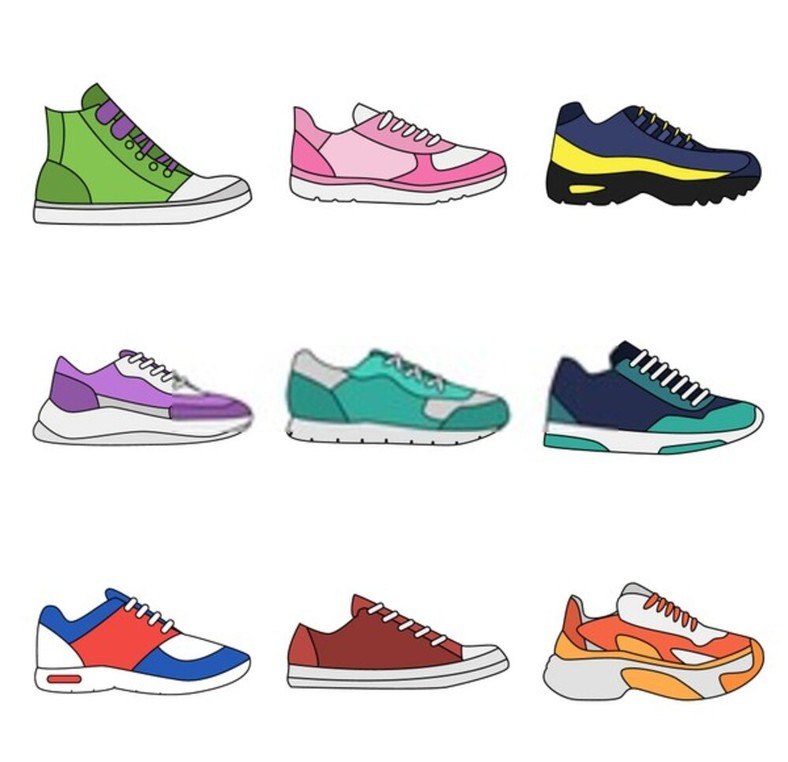 I believe that anyone has at least one pair of sneakers in their closet. Nevertheless, not many people know that the market provides us with a wide range of sneaker styles. Below are 12 different types of sneakers that are available to purchase.
"Authentic" Sneakers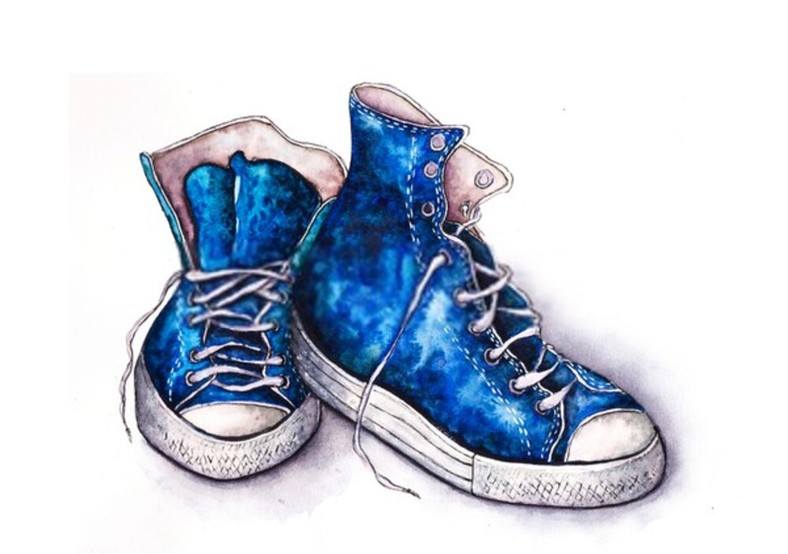 When it comes to "authentic sneakers", we are actually talking about Vans sneakers, one of the most well-known brands. The "authentic sneakers" name is made possible by its clean, simple, but fashionable design. There was a certain time that Vans sneakers were the only pair of sneakers people desired to wear because of their comfort and trendy style. They are also versatile as you can pair them with many kinds of clothing, such as shorts, jeans, dresses, etc.
Canvas Sneakers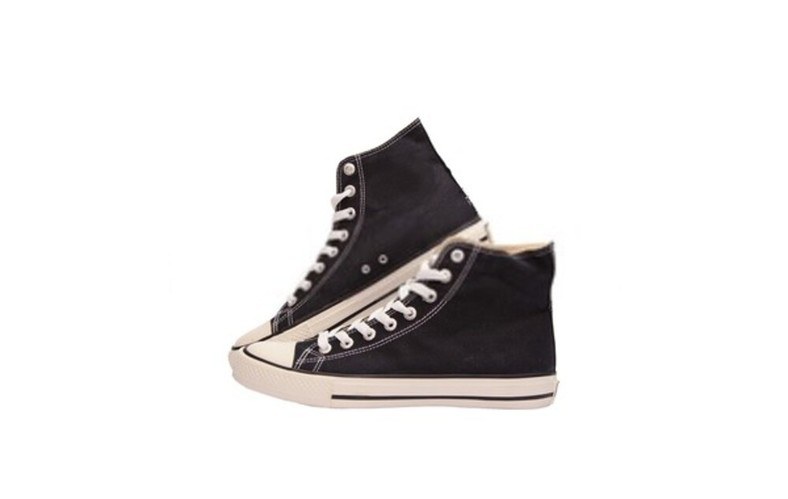 Canvas sneakers are considered one of the most comfortable and casual footwear. The unique feature of canvas sneakers is their low-heeled design and canvas-based material. The most popular shoe brand regarding canvas sneakers is probably Converse, particularly Converse All Stars. Because these sneakers are a kind of daily shoes, they will be best styled with casual outfits. For those who don't know, these sneakers sparked the millennials' trend of rolled-up jeans.
Designer Sneakers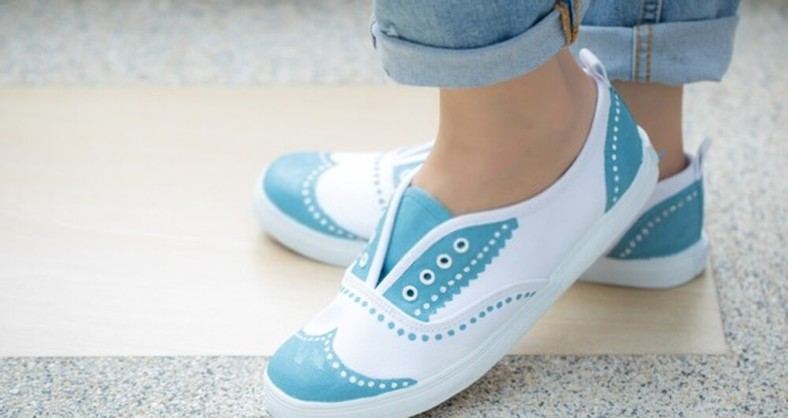 As their name implies, designer sneakers are types of shoes that are made by designer brands. Some famous designer brands you can refer to include Marc Jacobs, Balenciaga, etc. They usually launch premium sneaker lines, which are suitable to wear with formal clothes. These sneakers are expensive, but they will give you a super-comfortable feeling. That is also a reason why they can make a casual outfit look extraordinary. In fact, designer sneakers can truly make a fashion statement.
High Top Basketball Sneakers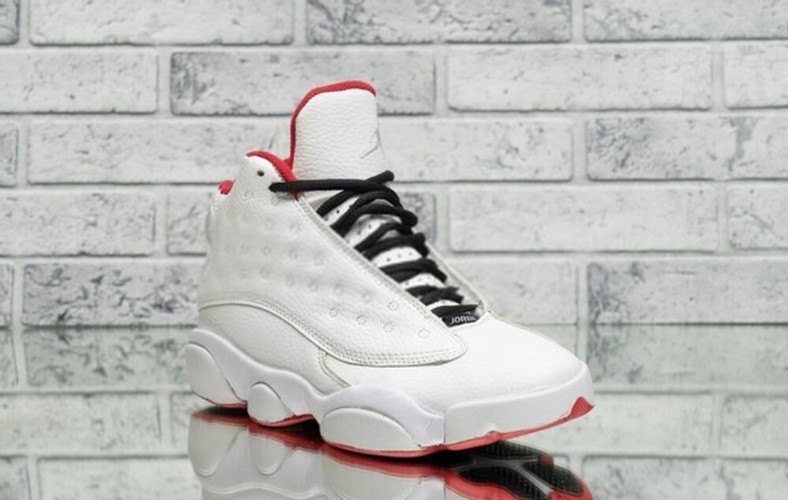 High top basketball sneakers have become trendy for quite some time. Well, there are reasons for this.
Firstly, you can confidently wear long socks with these sneakers without worrying if they peek through the top of your footwear.
Secondly, they always look great when on your feet, no matter when you are playing sports or just heading out with your friends. These sneakers are the main items at basketball courts.
Moreover, you will look more trendy and sporty when wearing these styles with basketball shorts or fitted jeans.
Leather Sneakers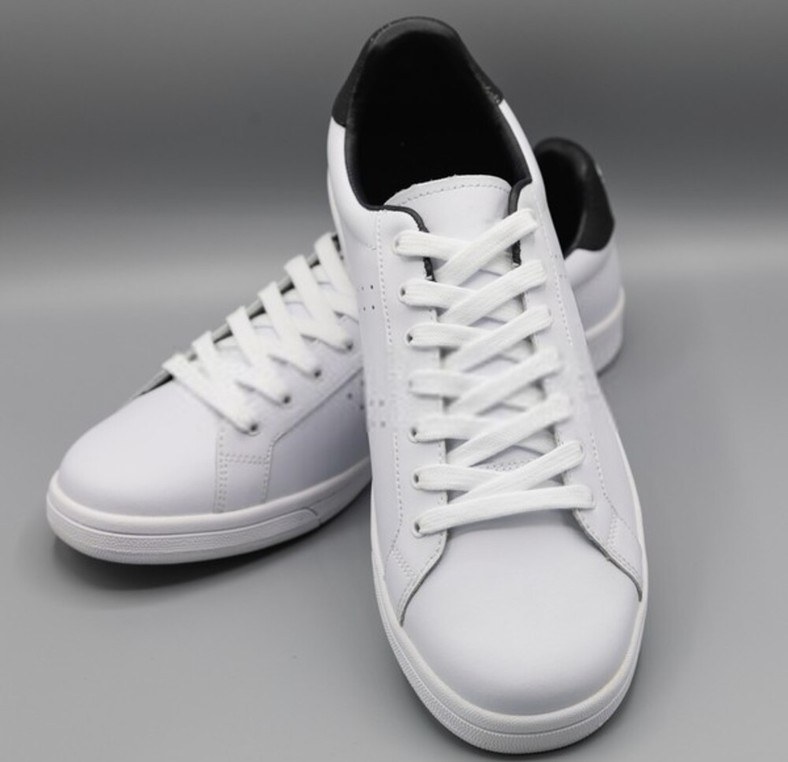 The hot trend in the world of sneakers today is probably leather white sneakers. While they're pricey, these sneakers would be a worthy investment because they don't easily lose their appearance, increasing their longevity. Since they are made of high-quality materials, you will look best when pairing them with formal suits and office wear.
In addition, leather sneakers are a great option to style with sports clothes. Another reason making these types popular and loved is because of their perfect fit. They are typically designed to contour to your feet' shape. Therefore, you will feel that they fit like a glove. But remember that don't wear long socks; otherwise, you will lose their alluring appeal.
LED Lighted Sneakers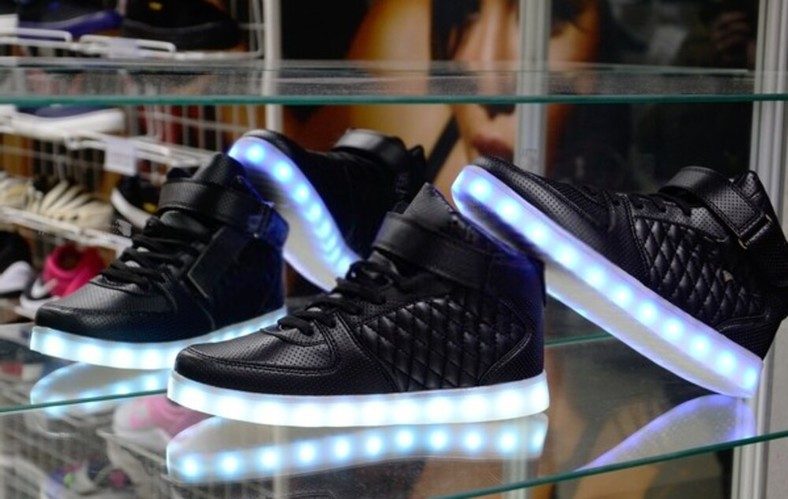 LED lighted sneakers have quickly captured the headlines among women and the younger female generation. However, they are also popular amongst males. The main reason making these shoes so unique is, as their name suggests that they are equipped with a LED tube running around the external areas of the outsoles. The LED tube offers either one color or different ones, depending on the available models. Because these are a type of flashy sneakers, they will look best at concerts, festivals, or parties.
Plimsoll Sneakers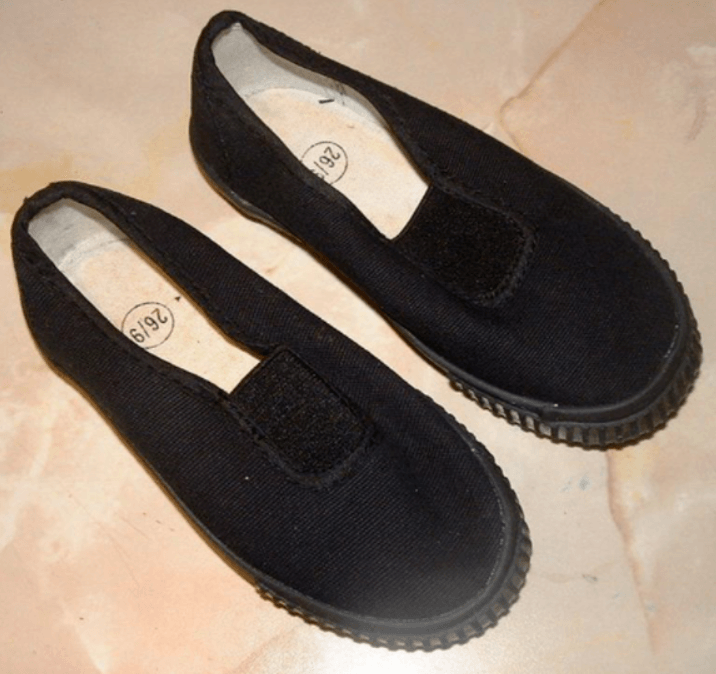 As you might not know, plimsoll sneakers are now one of the most popular types of sneakers in the world. Also known as low top sneakers, plimsoll sneakers come in a variety of styles catering to different people's favorite. With these sneakers, it is important not to wear socks so that sneakers can gain more attention. You can style them with skinny or rolled-up jeans. Revealing your bare ankles with these plimsoll sneakers might be a fashion statement. Just remember, high socks are not a good option to pair with these sneakers.
Slip-on Sneakers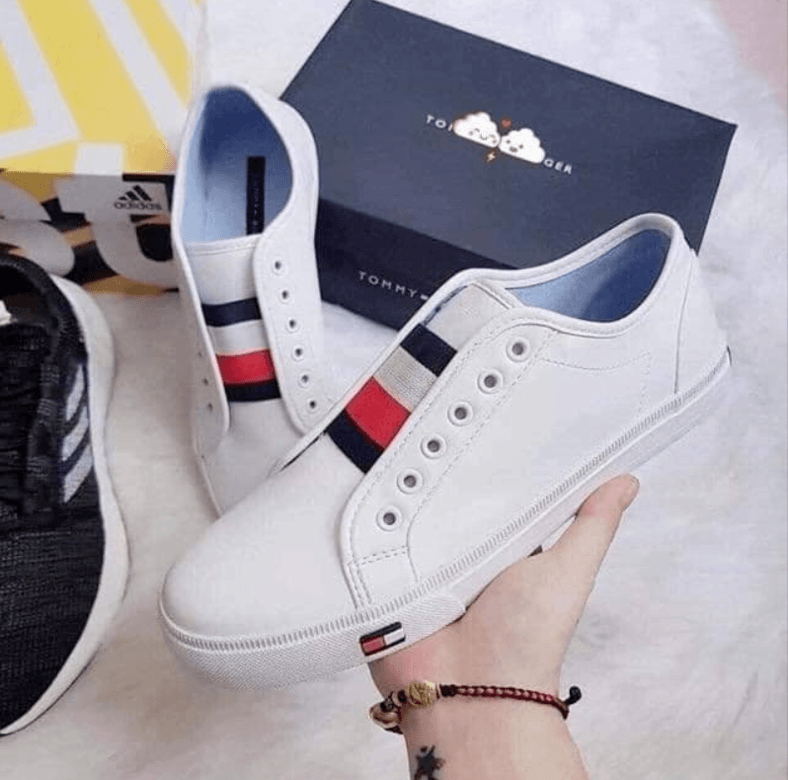 Believe it or not, but slip-on sneakers are seen as classic footwear. They don't feature shoelaces, making them faster and easier to put on. However, they are back lately. Shoemakers provide them with various patterns and finishes, but they are still as cushy as ever. It can be said that wearing these sneakers is extremely comfortable. They bring you a casual look, so you can pair them with daily clothes. Just like plimsoll or other low top sneakers, you should not wear high socks with slip-on sneakers; otherwise, you will take away their look.
Synthetic Sneakers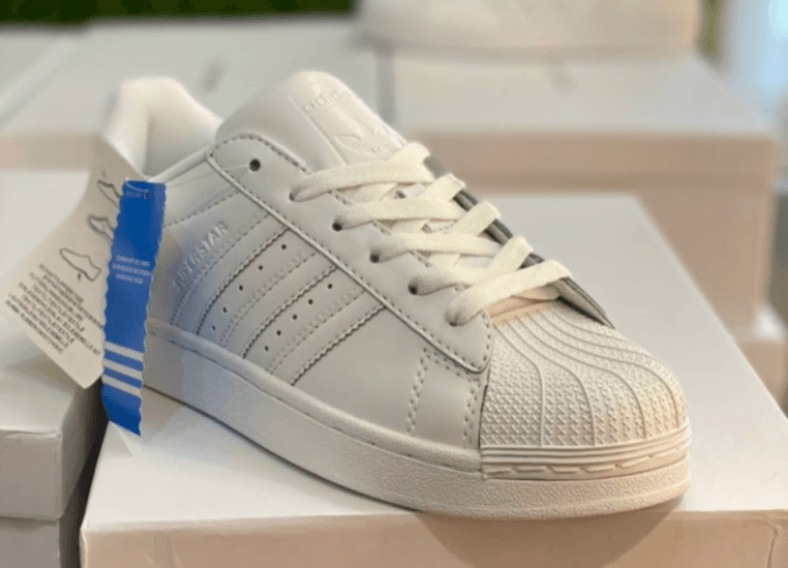 Synthetic sneakers are considered one of the worst types in the sneaker world due to their discomfort. Typically, when you buy a cheap pair of synthetic shoes, they can cause a bad smell to your feet.
This is because they are made from materials that are not breathable. Even though they can absorb a certain amount of stink, they are not impermeable enough to make your feet cool and fresh. Especially when they are made from low-quality materials. You might not want to wear these kinds of sneakers if you love to wear sneakers all day. Having said that, if you invest in a high-quality pair, you will feel more comfortable.
Textile Blend Sneakers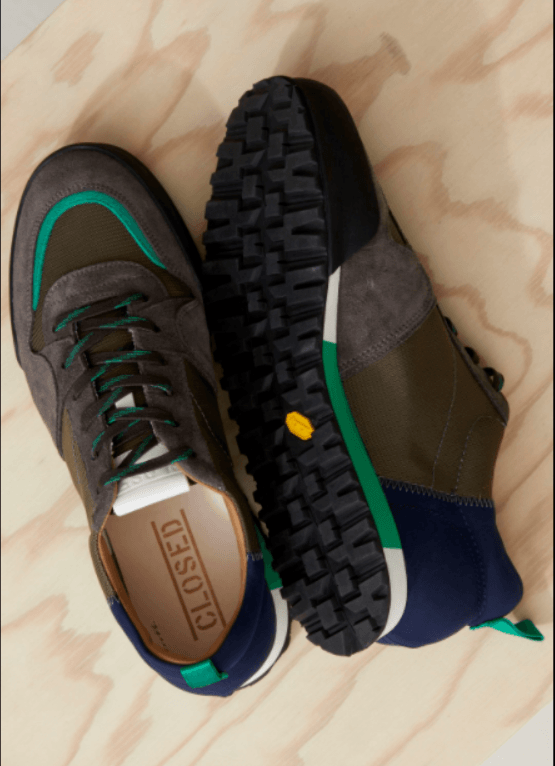 As of 2019, there are different types of sneakers that are made out of a variety of materials so that you will have more choices. These sneakers, as their name suggests, are made with a blend of various materials like plastic and leather, textiles and leather, etc. The most important thing to remember when buying these sneakers is to know the materials used to make them. This way, your feet can easily get accustomed to their material. You can style these sneakers with casual clothes or sports footwear.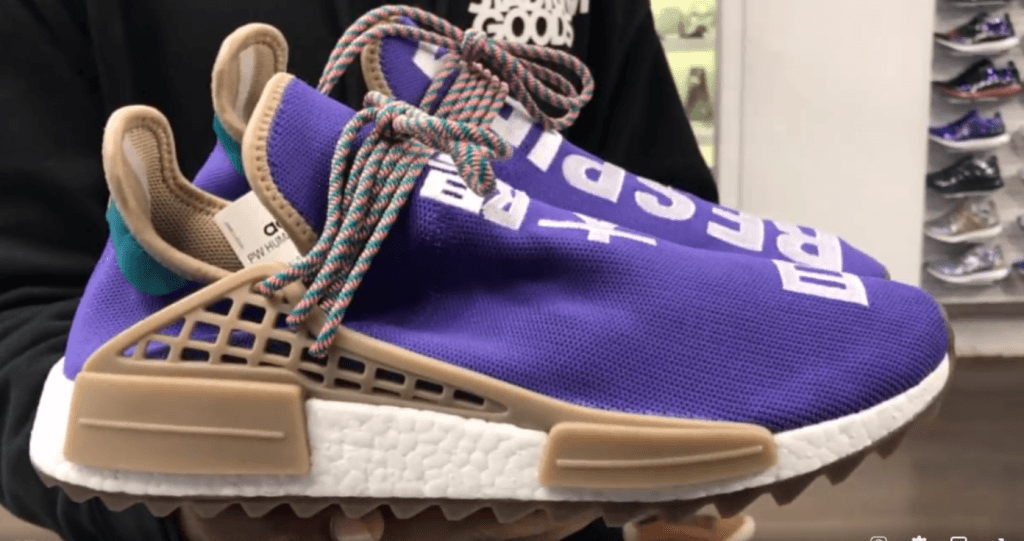 The Athletic Sneakers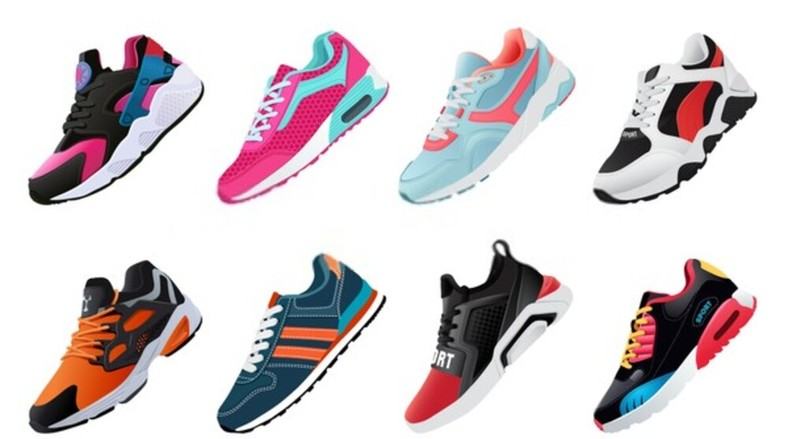 Casual sneakers featuring shoelaces usually don't look as great as they do when athletic sneakers have shoelaces. Athletic sneakers are often referred to as sports sneakers. And some famous brands offering athletic sneakers are Nike and Adidas. They are a perfect combination of fashion and functionality. They are also comfortable to wear no matter your purpose is, such as walking, running, etc.
Velcro Sneakers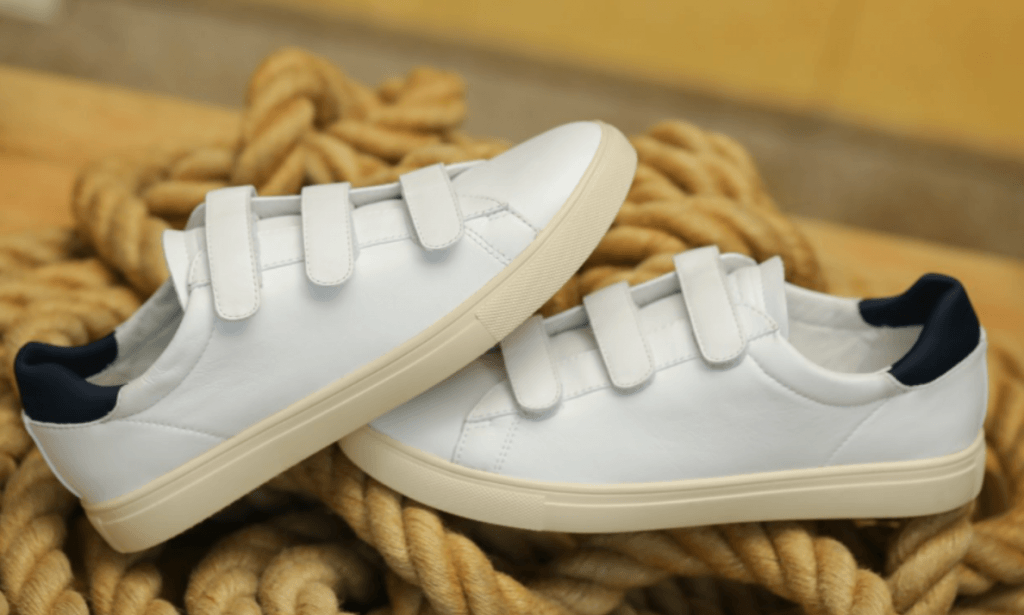 While Velcro sneakers are not the type of sneakers that can be paired with all apparel, they are the kind of shoes that can raise the look of an everyday outfit with the right style if you pair them properly. Since these sneakers are available in various styles and colors, you can easily style them with streetwear, evening, or even formal outfits. The best point is that these velcro sneakers for seniors are completely affordable.
Popular Sneaker Brands
As you might know, sneakers have gained popularity for many years because of their fashionable, comfortable, and durable designs. There are also various brands providing sneakers. But these are some of the most famous sneaker brands available on the market.
Adidas Sneakers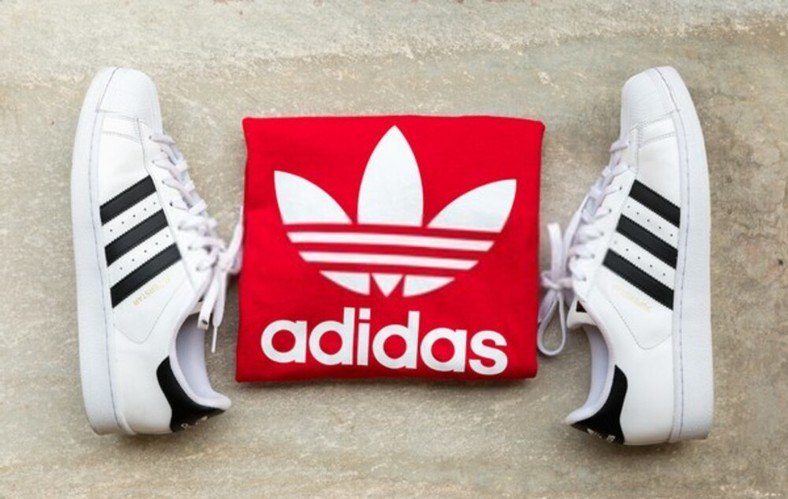 Without any doubt, Adidas is one of the most famous and successful sneaker brands in the world. And the key point for this success is that their sneakers can meet everyone's taste. They usually come in a fashion-inspired appeal. What's more, Adidas is a brand that has had a lot of collaborations with designers, and each new pair of sneakers has its own new features. Therefore, lots of people highly appreciate their sneakers, typically those who love streetwear and retro fashions.
Nike Sneakers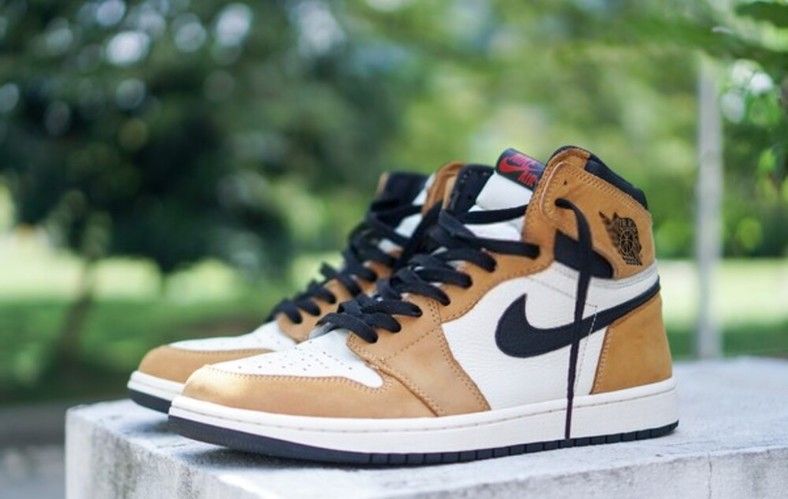 The biggest competition for Adidas sneakers is probably Nike. You can easily find any appealing pair of sneakers at Nike. Furthermore, Nike has made one of the most booming lines of basketball sneakers in living memory, the Air Jordans. Another well-known sneaker line of Nike is Air Max. Nike provides their wearers with different kinds of sneakers, from the low top, minimalistic, to high top sneakers.
Vans Sneakers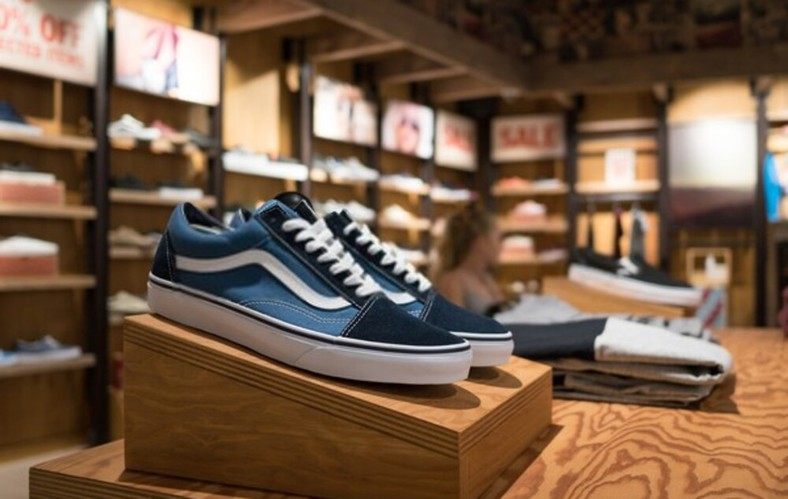 While they were initially made as skater sneakers, they have become popular and loved by those who love streetwear. Vans sneakers usually come in a simple design, but they are very appealing and versatile, so you can pair them with almost all kinds of clothes. A great part is that they are incredibly durable.
Other Brands
Besides Adidas, Nike, and Vans, there are a lot of sneaker brands creating comfortable, versatile, and long-lasting models that are suitable for retro and streetwear fashions, including:
Asics
Converse
Common Projects
Filling Pieces
New Balance
Puma
Saucony and many more
Famous Designer Brands
Dolce & Gabbana
Fear of God
Margiela
Raf Simons
Rick Owens and many more
Choosing the Right Sneaker for Different Occasions
It is very crucial to buy the right type of sneakers for different events. For example, the sneakers you wear to hang out with your friends should not be similar to the ones you wear for running or workouts. No matter the price, it is more important to pick the model that meets your requirements. Having said that, it is not necessary to buy three different pairs of sneakers for three occasions because there are lots of models you can wear for more than one occasion.
Below are some tips on how to choose the right pair of sneakers for a certain kind of event:
Going for a Walk
If your purpose for buying Skechers sneakers is for walking, then you might want to look for a type of sneakers that provide you with enough cushion and support. They are also flexible so that you can feel comfortable when walking for a long time. 
To get the ultimate comfort, make sure you get a pair of sneakers that perfectly fit your feet. In other words, you should measure your feet before choosing the size. Once you get the right size, try them out if you buy them at a local store.
If you don't feel comfortable, pick another pair. Since walking requires a lot of movement, it needs to be as supportive and comfortable as possible. Otherwise, you can feel fatigued and in pain having your sneakers on your feet after a long day.
When You Are Running
If you run every day, either as a form of exercise or for a race, it is important to get a pair of sneakers that is typically designed for running. And the most crucial thing to consider is the amount of support. As you might know, most running injuries occur due to poor sneakers. That's why you have to get a pair of good-quality sneakers for running purposes.
When you are running in fast paces, your feet will need added support. This is because you will be moving in jarring movements, causing a lot of impact on your feet. In the meanwhile, the upper should be breathable enough to prevent sweat accumulation. When your sneakers provide you with extra cushioning at the arch and sole areas, they will keep your feet safe from hitting against the ground.
Ideally, you can go for high arch running sneakers. Sometimes, due to the extra support, running shoes might come in a bulky design. Therefore, they might not be suitable for everyday outfits. However, if you are going to pair them with streetwear, they'll look great. 
Participate in Cross-Training
When it comes to Cross-training, we are referring to all kinds of exercises and activities, apart from running. During these exercises, your feet are also moving a lot and in various directions. That's why you will need a pair of sneakers that provide you with enough stability to avoid possible injuries.
The most suitable type of sneakers for Cross-training might be athletic sneakers. They are designed to give you enough stability and cushioning to protect your feet during workouts. So, you can wear these sneakers to the gym or when going out doing some outdoor activities such as camping, hiking, etc. 
Cycling or Spinning
If your purpose of buying sneakers is for spinning or cycling, you don't need to invest in a high-quality pair of sneakers. It is also okay if they don't feature extra cushioning. All you need is footwear that gives you a strong grip to prevent your feet from slipping off the pedal while cycling.
Besides, if you cycle regularly, it would be great to have a pair of sneakers clipping on the bike's pedals. While this is not compulsory, your cycling experience will be far better, easier, and safer if you get these specialized sneakers.
On the other side, if you invest in these dedicated sneakers, they will not be suitable to wear on other occasions, typically when you are hanging out with your friends or do any outdoor activities.
Go to the Airport in Style
If you are about to wear sneakers to the airport, it is important to get a pair that provides you with as much comfort as possible. Because you have to move a lot, maybe from one place to another and – perhaps – in a hurry. Therefore, getting slip-on sneakers or athletic types since they are very comfortable yet fashionable.
They are also available in a wide range of colors and patterns. Hence, you can style them with different types of clothes, such as denim, pants, rugged jeans, etc., for both males and females.
Head for Weekend Trips
Weekends are always a good time for families to get a getaway together. As these trips tend to take place in places that don't have good conditions in terms of the ground. For example, you can go camping in an uneven vacant lot, or taking part in mountain hiking trips, etc. That's why you should invest in an extremely comfortable pair of sneakers.
The best option might be athletic sneakers or high top ones. When getting these shoes, the most important thing is that they allow you to perform various types of movements and tasks comfortably. Besides, they tend to be paired well with different kinds of clothes. 
Hanging Out With Your Friends
Depending on the occasion, you can either choose leather or canvas sneakers or LED lighted sneakers. If it is a fancy dinner, the first option will be more suitable. Canvas and leather sneakers are easily styled with dresses, jeans, dress pants, etc. On the other hand, colorful LED sneakers will be great for informal parties or night out at clubs. They will make you more outstanding.
Formal Meetings or Gatherings
As you prepare to go to a formal gathering, people will expect you to wear a polite suit with suede loafers. In fact, you can completely break this formal gathering "rule". And the best way to do that is to wear leather sneakers or low top ones that either match or contrast with your suit color.
Since the trend has been changing, people pair sneakers with almost any type of clothes. So, there is no need to be scared about wearing sneakers with a formal outfit. In many cases, it will not be a game-changer for you and even become a fashion statement.
Frequently Asked Questions
Let's find out answers to some of the most frequently asked questions about types of sneakers.
What color do sneakers go with everything?
There are five colors of sneakers that you can wear with almost all outfits, including black, white, brown, grey, and navy blue. As they are all neutral colors, you can wear sneakers of these colors to accent a more vivid, spirited outfit. However, you can completely mix and match them or keep them in the same tone as your outfits.
What are the most popular sneakers?
Some popular sneakers tend to come from famous sneaker brands such as Nike Air Max, Nike Air Force, Adidas Yeezy Boost, Adidas NMD, Converse Chuck Taylor, etc.
What is the most expensive sneaker?
The most expensive sneakers tend to be limited-edition, worn by celebrities, etc. For example, Michael Jordan's game-worn Nike Air Jordan 1s, Nike Mags, Nike Dunk SB Low Paris, etc. These shoes are all priced from a few tens of thousands of dollars to hundreds of thousands of dollars.
Can I wear sneakers with a dress?
Wearing something as simple as a dress is simple enough, but adding a pair of sneakers will help you show off your enviable fashion in one simple step. For example, a light-colored dress will match a pair of white sneakers, either the low top or high top.
How do you wear white sneakers?
Sneakers are considered one of the most flexible types of footwear. That means you can wear them with different kinds of clothes, from everyday clothes such as dresses, pants, to formal suits. For instance, pair them with jeans and a blazer, a denim jacket and casual dress, skinny jeans and a cute top, etc.
What kind of jeans goes with sneakers?
Spending on types of sneakers, you can pair them with skinny jeans, fitted jeans, rugged jeans, or rolled-up jeans. But remember that you should not wear high socks when you are wearing low top sneakers to show off your bare ankles.
What are the best women's sneakers for walking?
Different women will have different requirements for their walking sneakers. The best overall sneakers might be Asics Gel Quantum 180 4. If you need a model with a great cushion, go for New Balance FuelCore Nergize Sneakers. In case you have to work all day due to your job requirement, consider the Ryka Devotion Plus 3 Walking Sneakers. Those who have wide feet can try the Orthofeet Stretchable Sneakers.
Which socks are suitable for wearing with sneakers?
Crew length socks
Crew socks might be one of the must-haves that everyone has in their closet. These kinds of classic socks have your mid-calf length. You can pair them with almost all types of sneakers that have different colors.
Conclusion
That's everything you need to know about different types of sneakers. It will be helpful for you to make a decision before buying your ideal type of sneakers, either for you or your loved ones. Since sneakers have been becoming a fashion statement, they are now crossing all fashion boundaries. You can wear them on almost all events, from casual gatherings to formal events. A lot of models even wear them at fashion shows. So, there is no need to be scared to step outside your comfort zone; mix and match your favorite sneakers with outfits that are suitable for your taste.