Yorkie is more than just a fun and active dog who loves active communication and games. Dogs of this breed have long hair, which requires attentive care from their owners. The coat looks neat and becomes a real decoration of the dog, and it is necessary to visit the dog hairdresser occasionally or trim the dog himself. This hairstyle is necessary and pleasant because you can create many hairstyles for your four-legged friend. Here are 36 beautiful Yorkie hairstyles.
1. Teddy Bear Cut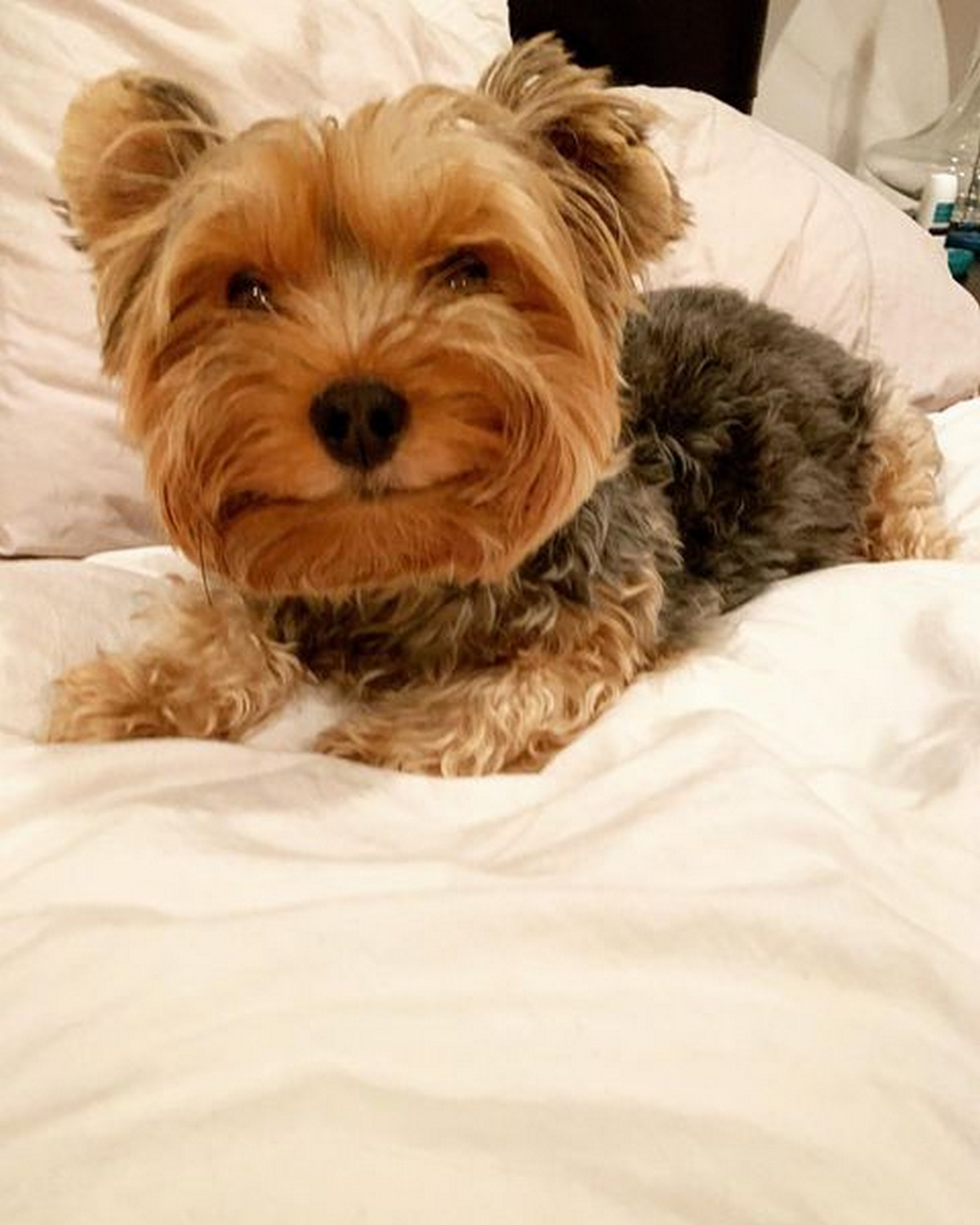 As its name suggests, the teddy bear cut is rounded and gives your Yorkie a teddy bear appearance. It resembles the Puppy Cut but will require some upkeep to avoid snarls. If your Yorkie is a social media star, this is an excellent alternative because it's a common cut for social media dogs because of the adorable teddy look. A teddy bear cut is a uniform fur style in which the face and torso are rounded and have short fur.
A Yorkie's complete coat length, including the face, is two to three inches with a typical teddy bear cut. The classic teddy bear cut follows the Yorkie's face's natural curves. The torso, legs, and face all remain the same length in the traditional cut.
2. Top Knot Cut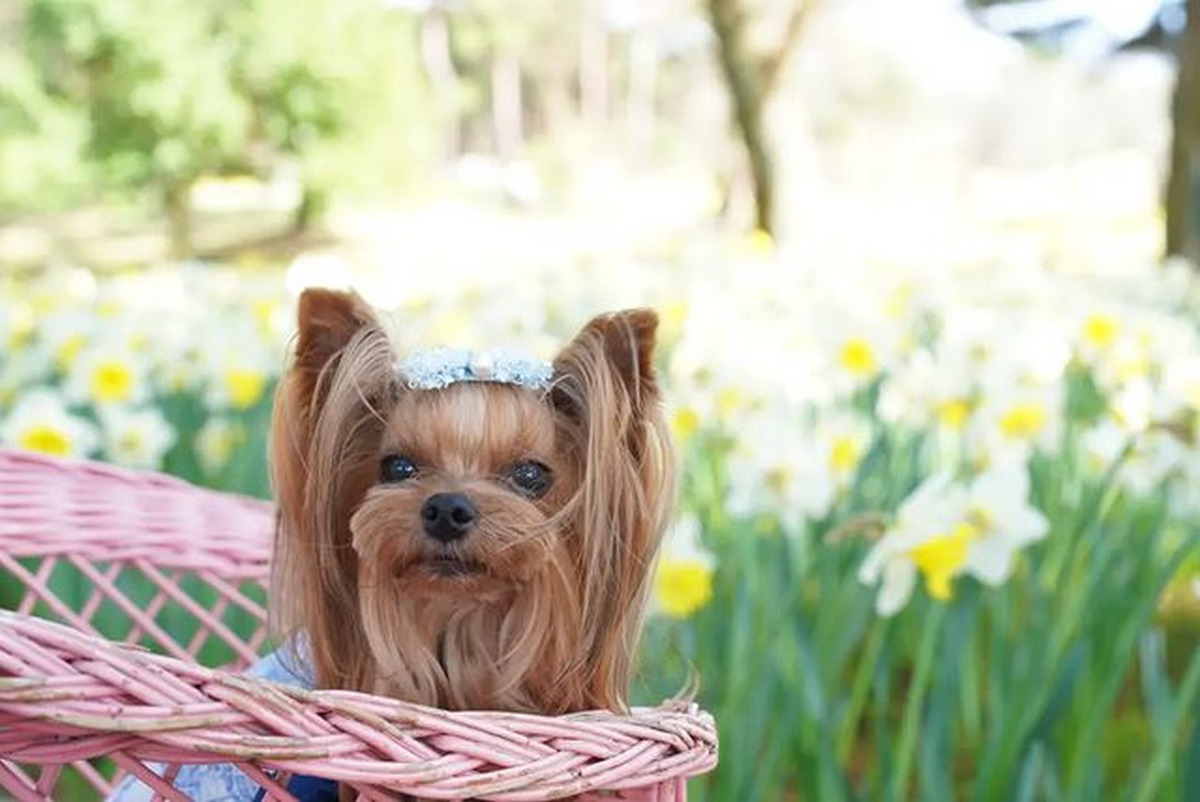 The top knot is the style Yorkie owners most frequently give their dogs' hair. The adorable pigtail at the top of the head is known as the top knot. For competing in conformation events, Yorkshire terriers' hair is styled in a top knot. Good looks include a single or double top knot, with the hair left out at the end for puppies and tucked into a loop for adults.
The top knot is the most popular hairstyle for Yorkie owners, but there are variations between the top knot worn for a show and the top knot worn at home.
3. Puppy Cut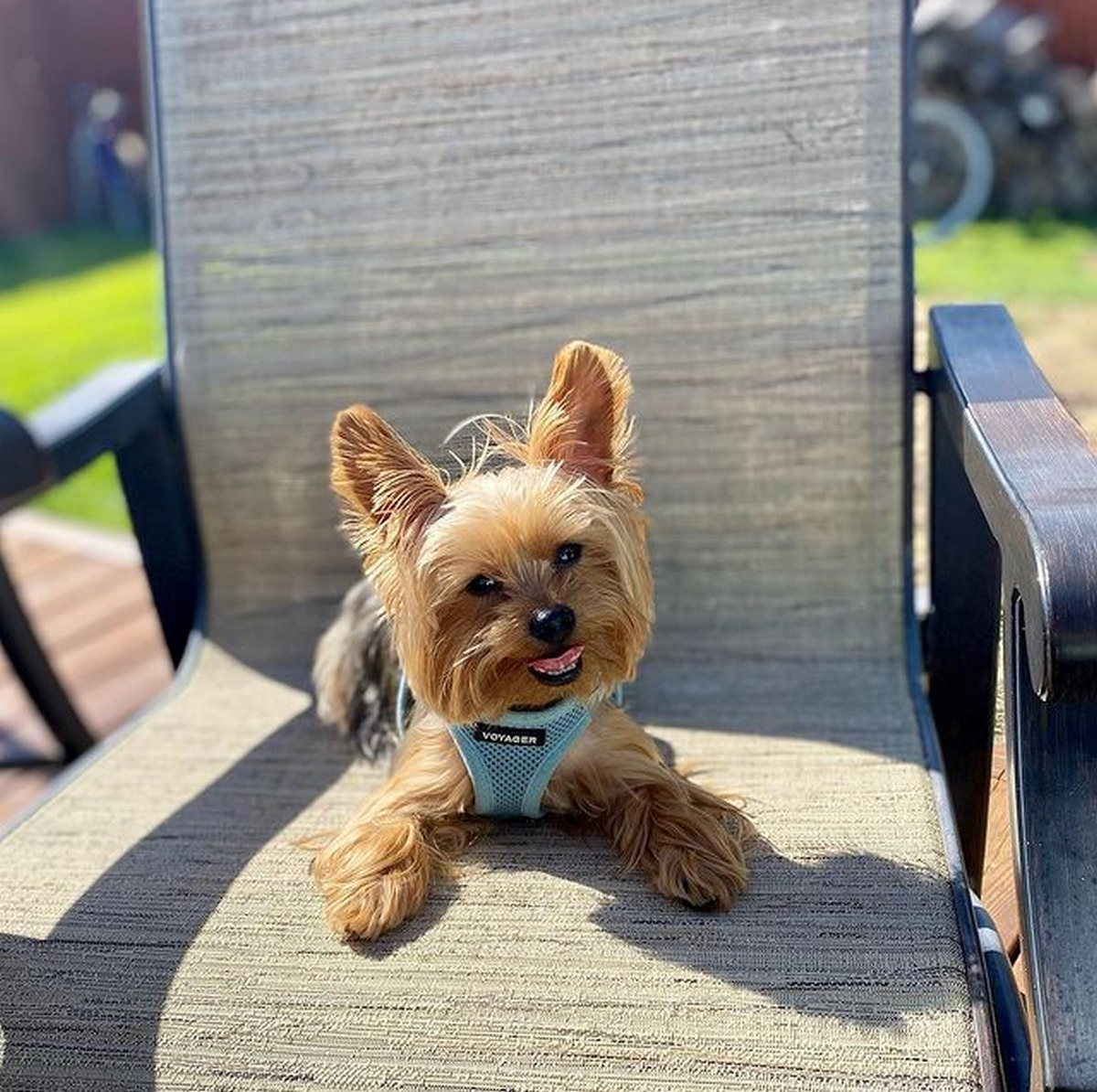 Yorkies appear stunning with puppy cuts, and it is simple to understand why. The groomers accomplish this by trimming the long hair to a length of 1 to 1.5 inches, plus or minus. The hair was cut unevenly over the body, but they left it on the forehead slightly longer to preserve the Yorkie's fluffy appearance.
This haircut is so-called because it makes your Yorkie look like a sweet little puppy. Yorkies prone to matting will love it because it keeps their hair tidy and untangled.
4. Classic Show Cut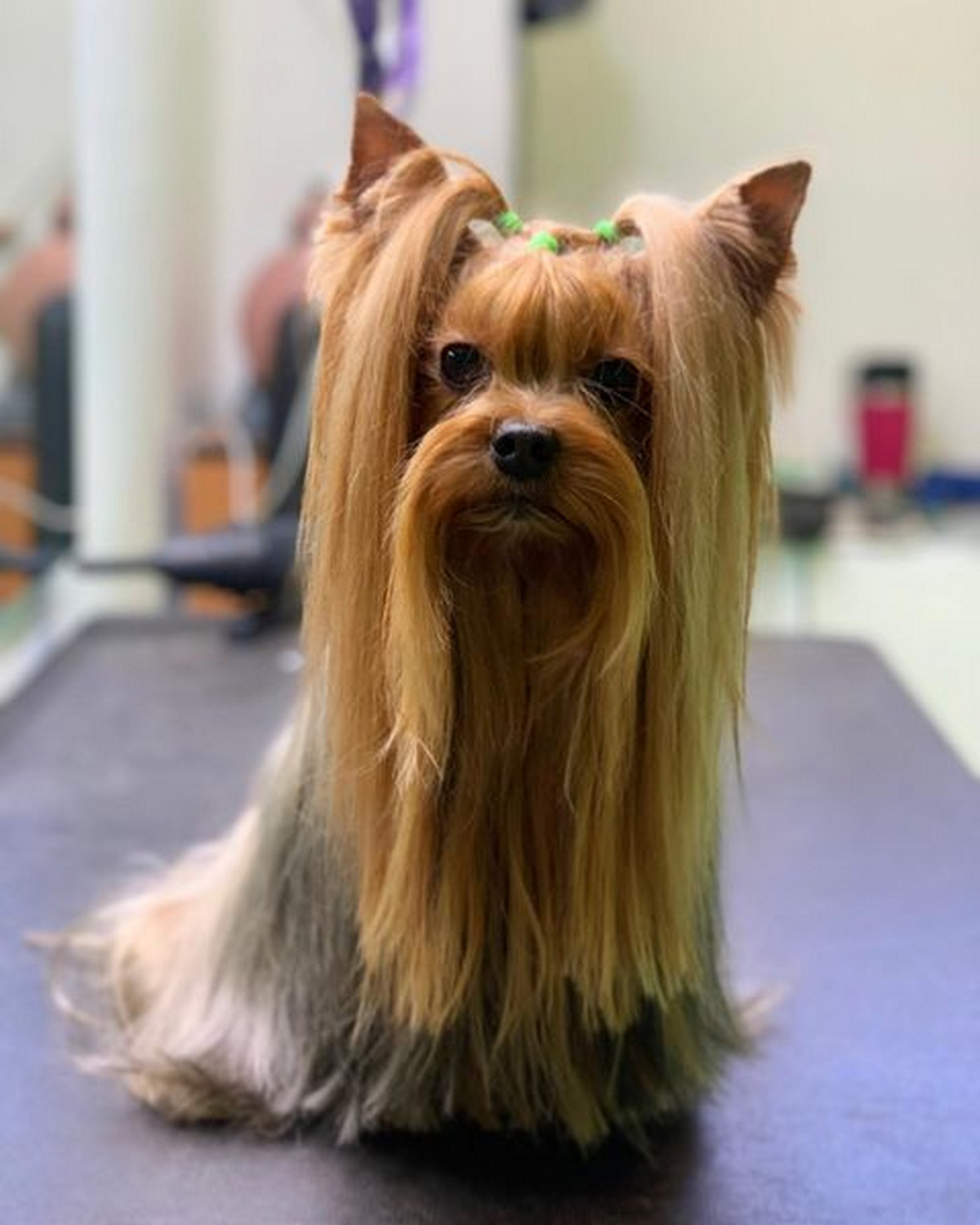 The Yorkie show cut, which is long and flowing, is typically reserved for breed show events since it requires daily brushing. However, the show cut will become standard if you intend to show your Yorkie. We advise a shorter cut if you do not intend to show your Yorkie to avoid having to brush it several times per day.
Their coats must be brushed daily at this length, so the classic show cut is a long, flowing cut typically reserved for breed show contests. But if you intend to display your Yorkie, the display cut will turn into a standard cut.
5. Westie Cut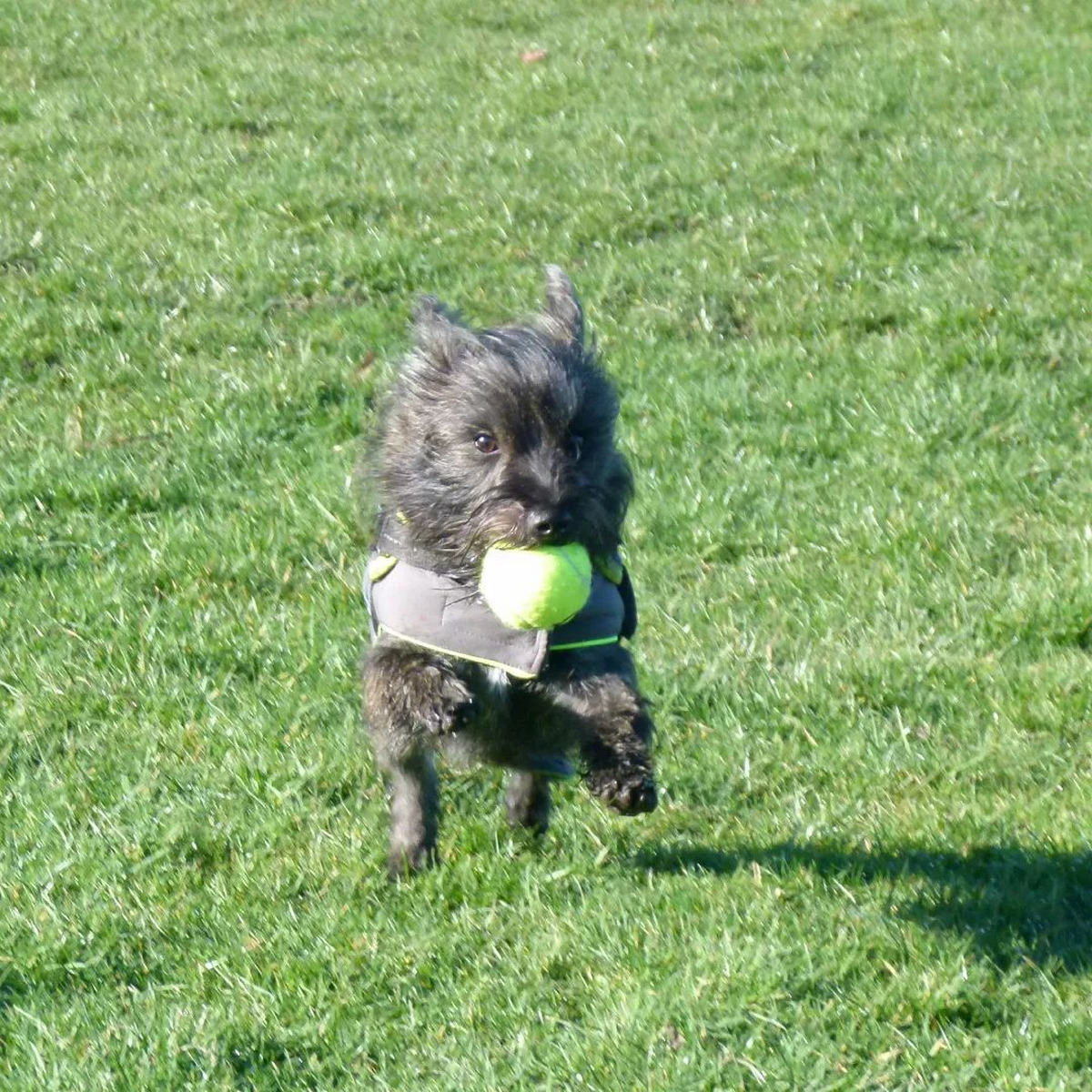 The westie cut is a fantastic choice to offer your Yorkie a distinctive appearance. Your groomer can mimic the distinctive coat style of a Westie with your Yorkie's fur. This shorter design will also be simple to keep up with.
Yorkshire Terriers with medium-length hair can get this haircut. From the bottom of the ear to the entire side of the face, the hair is piled in this instance. Under the chin, a portion of hair on both sides joins, giving the appearance of a regal lion's mane. For your dog's clear vision, the hair on the skull is kept short or tied in a top knot.
6. Kennel Cut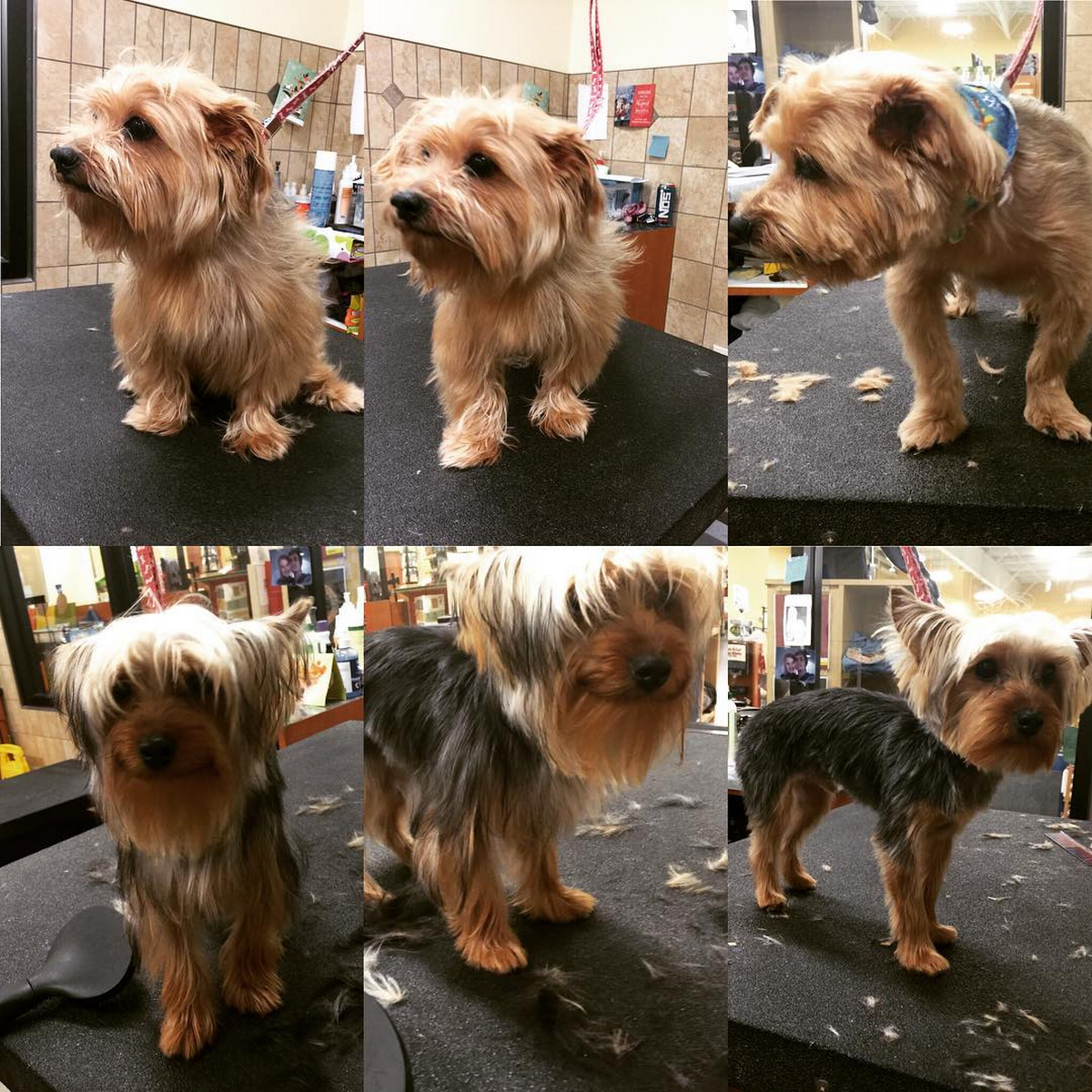 Another well-liked choice is the kennel cut, particularly once summer arrives. This haircut features extremely short hair on the torso and slightly longer hair on the legs, tail, and head. The paws are trimmed to appear tidy and clean, and the mustache and ears are trimmed to about a half inch.
Regardless of the haircut, you give your Yorkie, we all agree that part of what makes this species so entertaining is their amazing coif. You must choose the look that best fits your demeanor, lifestyle, family, and budget.
7. Summer Cut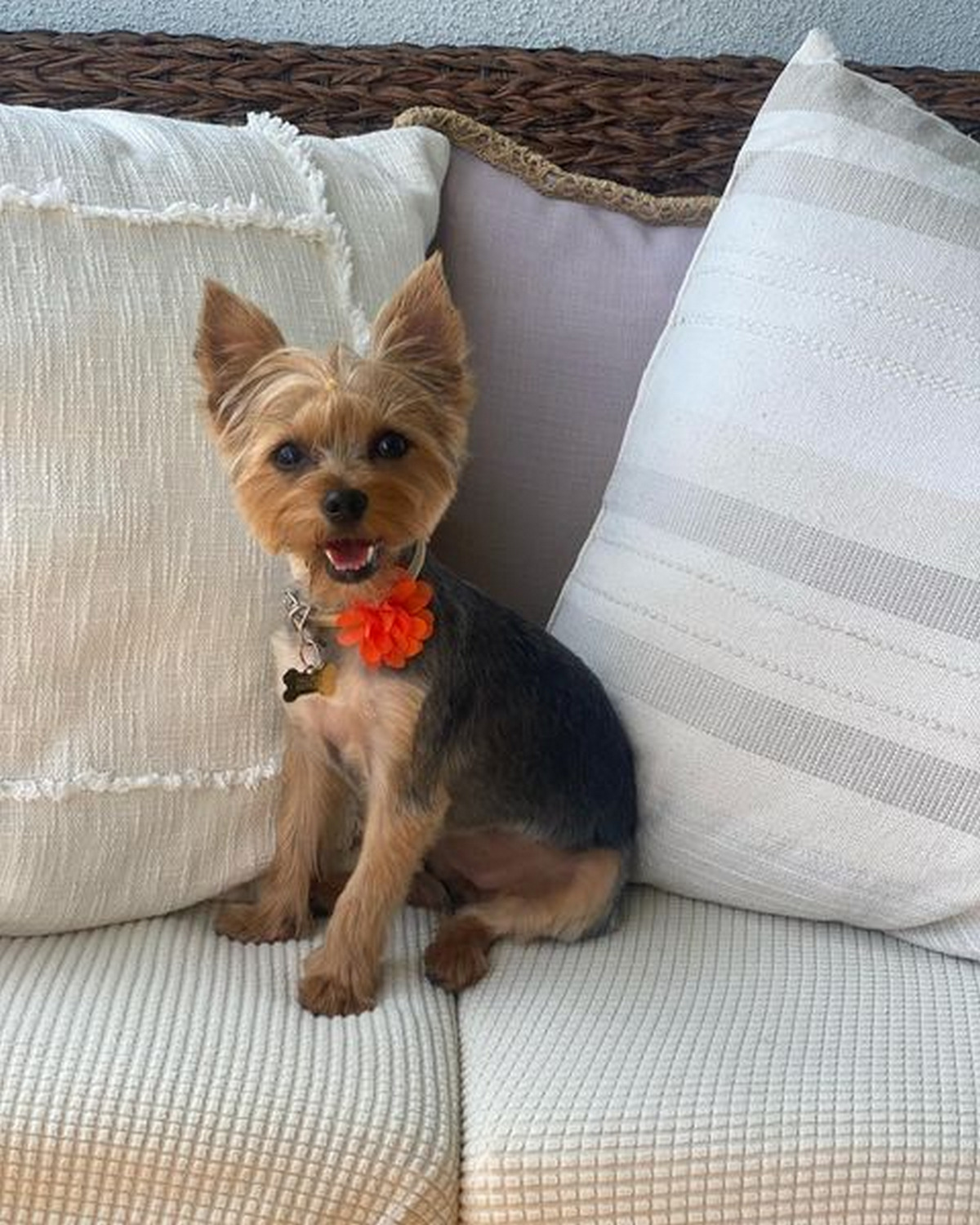 A summer cut may be the most comfortable option for pet owners in the summertime or during the hottest months. Nobody wants their precious furball to feel heated or overheated, to use Nelson's phrase. She continues, "This cut is comparable to a buzz-cut style, making it very low maintenance and allowing for longer between grooming sessions."
Consider giving your dog this Yorkie hairstyle if they enjoy playing outside all day. Once inside for the evening, they can quickly rinse and dry off because it keeps them fresh.
8. Schnauzer Trim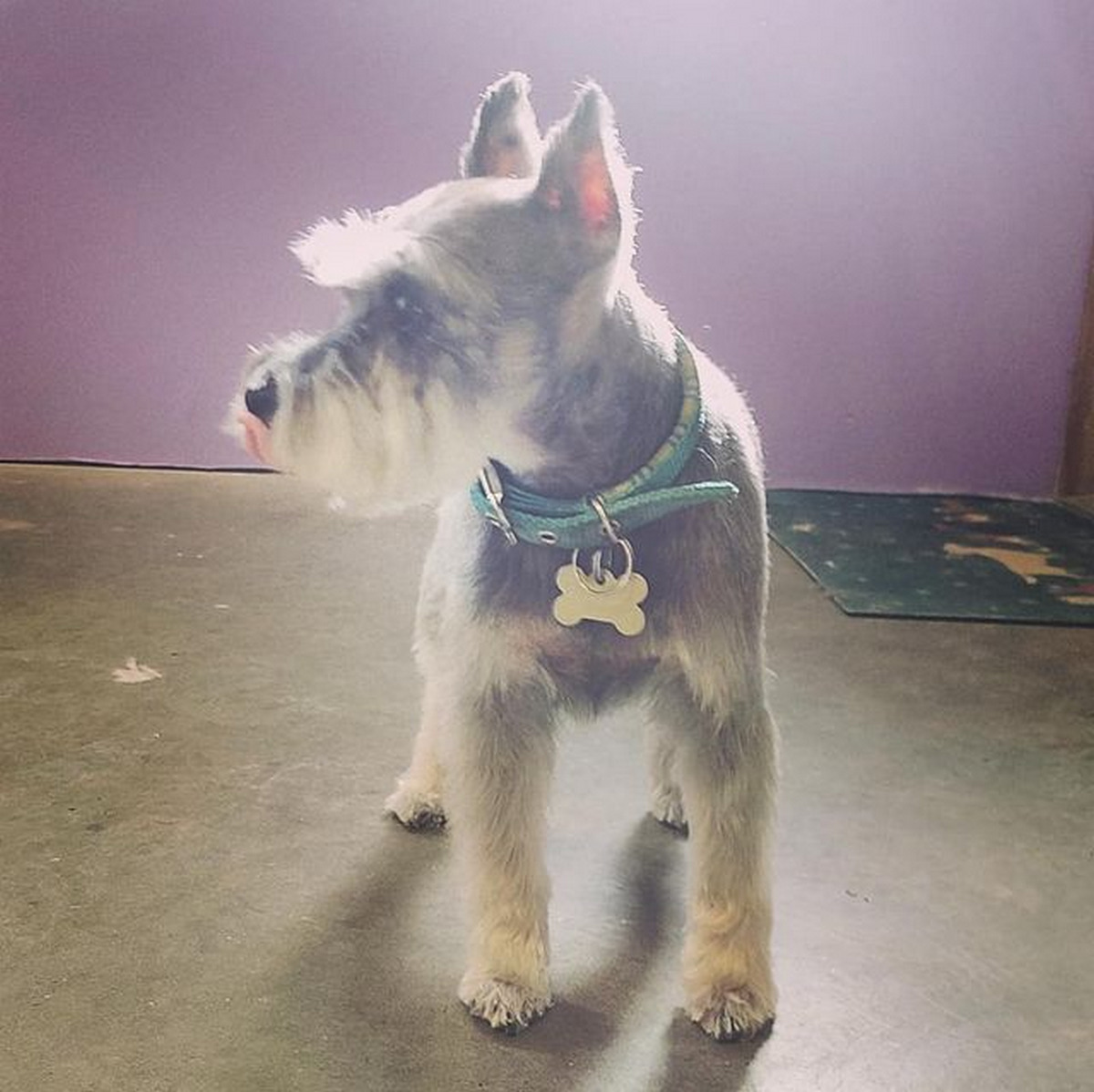 One of the most common Yorkie haircuts is the schnauzer trim. It takes its cue from Schnauzers. Although its length can differ, it typically has a tight, uniform body with longer parts on the belly. Additionally, the leg hair is maintained long and rounded. It's easy to see the goatee.
Trim your dog's mustache and ears a little longer to achieve this appearance, leaving a brief hair skirt on the legs and bottom third of the body. The upper body should be clipped to a half-inch, leaving a small "bib" on the breast.
9. Lamb Cut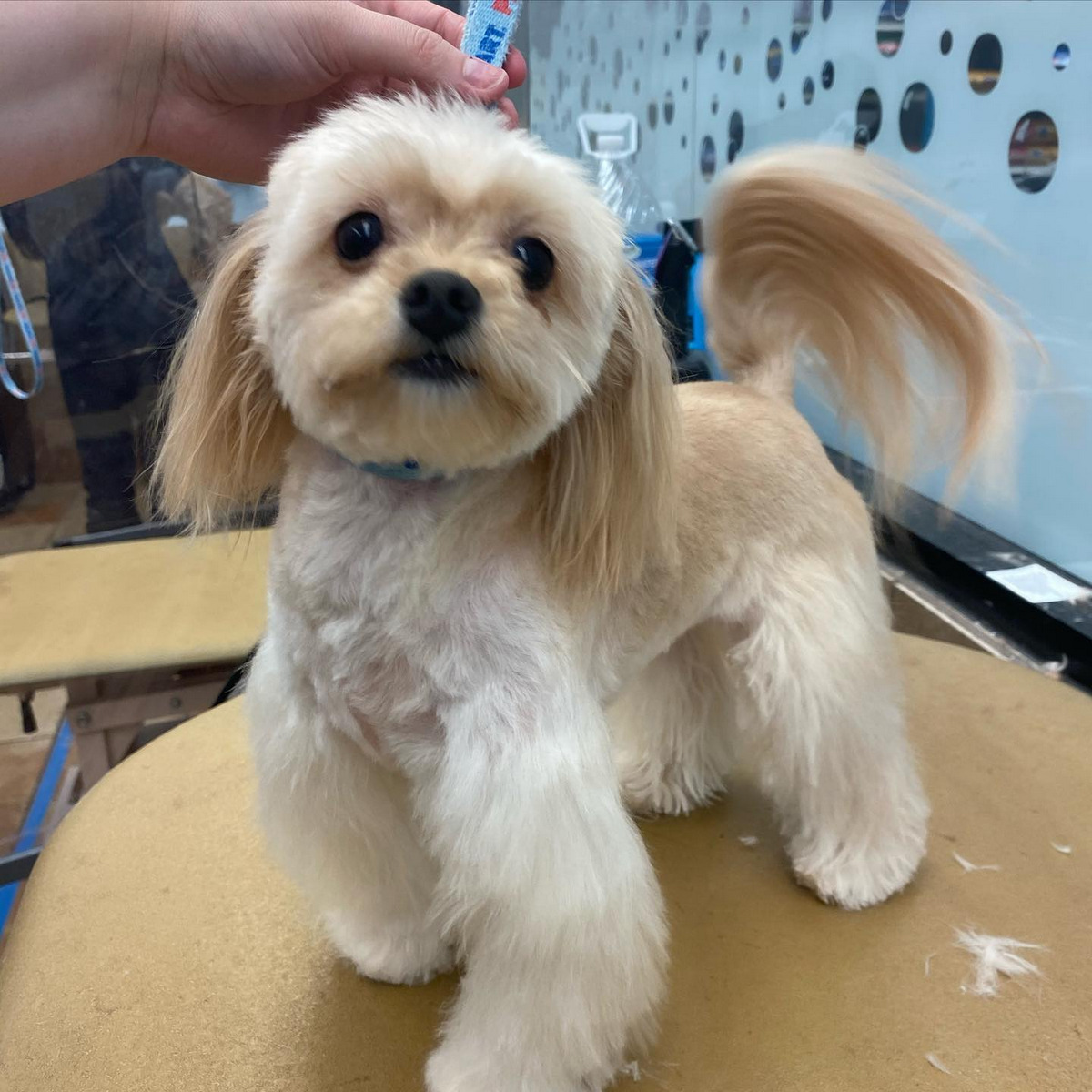 Yorkies frequently sport lamb trims, which are modeled after sheepskin haircuts. A very short haircut known as a lamb cut gives your canine a cute fluffy appearance. This hairstyle is ideal for dogs with minimal hair loss and is very simple to keep. The lamb cut looks best on canines with a little curl to their hair. Give your pup a teddy bear cut if your Yorkie is purebred or has straight hair.
A lamb cut keeps your dog's body tightly trimmed while adding a little volume to his legs, head, and ears. It's a great cut for hotter climates or for the summer because it keeps your canine cool. Due to the closer cut, your puppy will be more susceptible to sunburn.
10. Shaved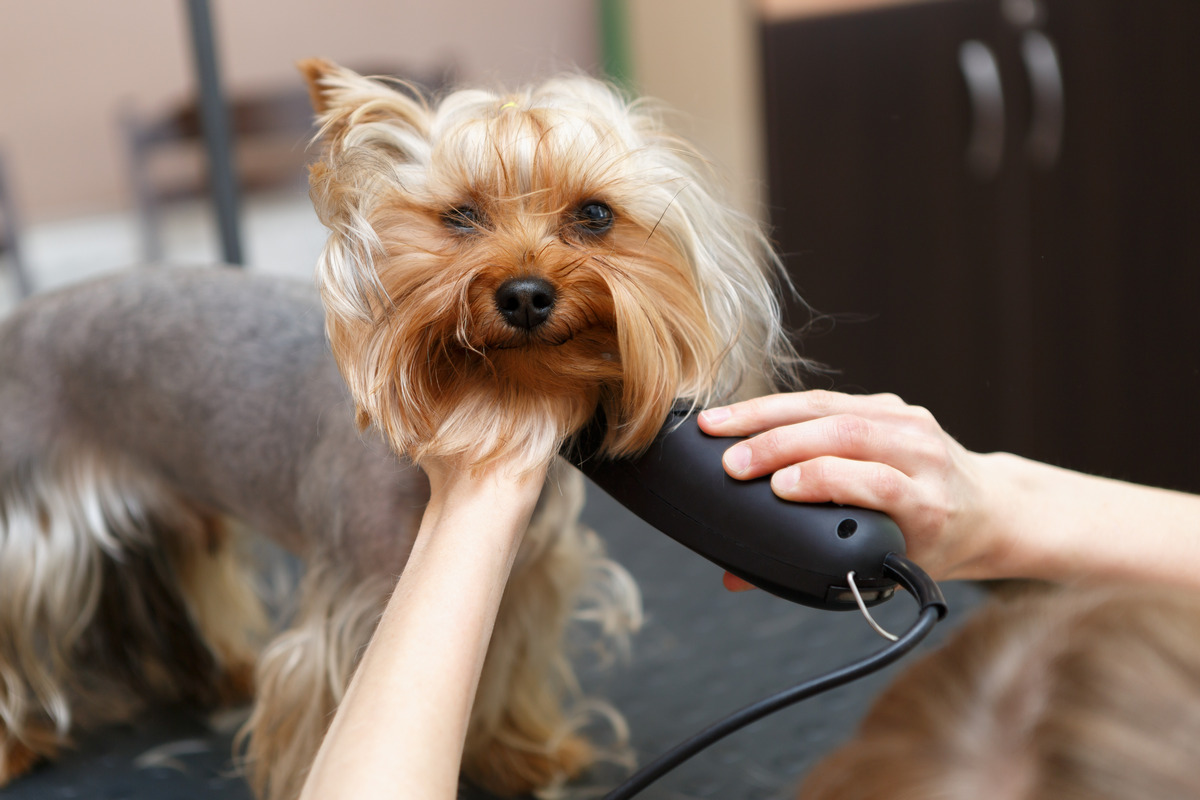 A shaved style has several advantages beyond just appearing good. The main benefit of having shorter hair is that grooming issues are reduced. One benefit is that it is much simpler to maintain and cooler in hot weather. It can highlight the characteristics of your dog.
A Yorkie's natural defenses are compromised when you shave them, making your canine more susceptible to dehydration and sunburn. If you frequently spend the summer at the beach with your shaved Yorkie, you should exercise additional caution. Ensure they only spend a little time in the heat and always have fresh water available.
11. Round Cut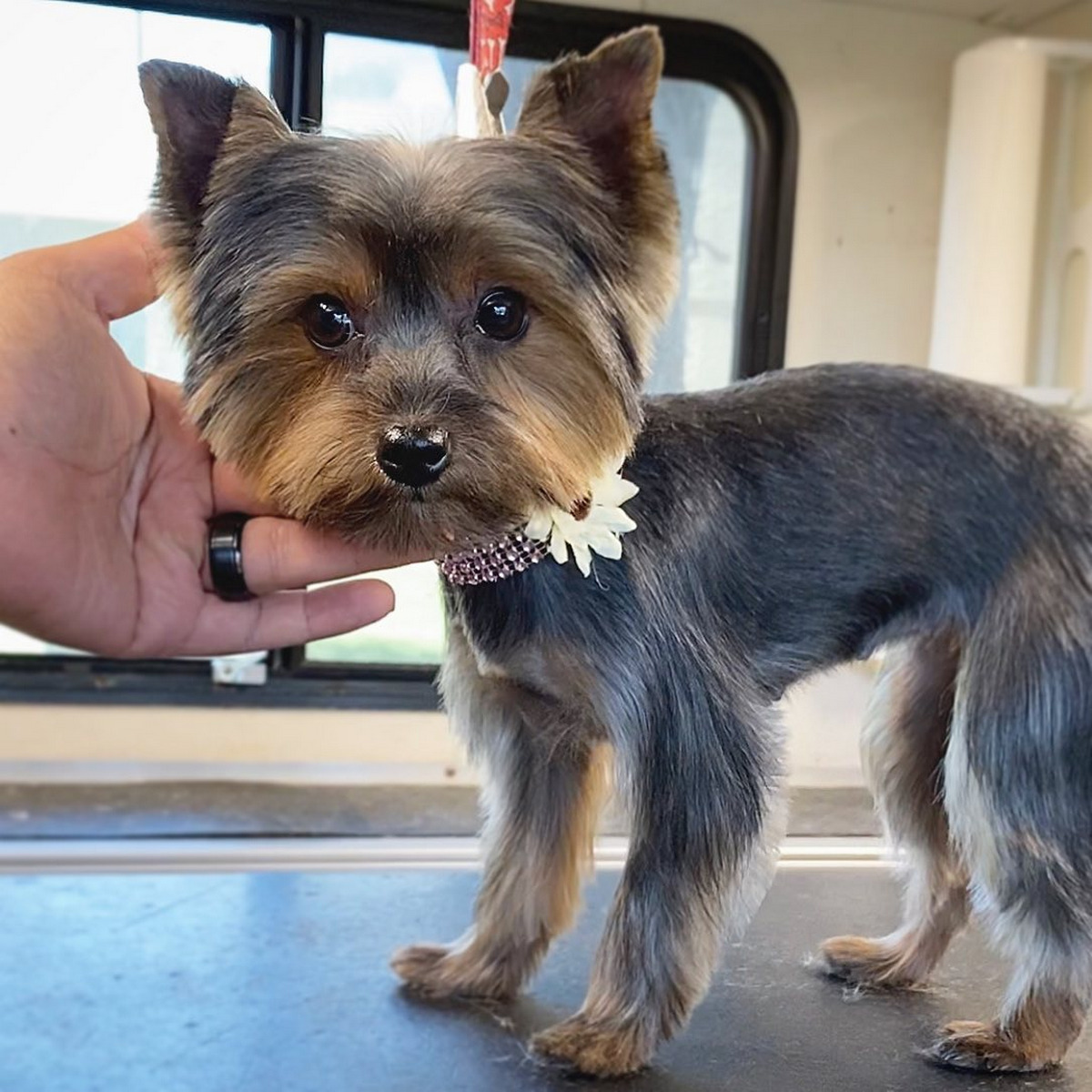 The round cut aims to make your dog feel like a fluffy toy. Thankfully, it's easy to achieve this look since Yorkies are inherently toy-like! These two characteristics are the main highlights of this Yorkie haircut: short and rounded all around.
This hairstyle gives your dog a youthful appearance that suits young and senior Yorkies. The only requirements are to keep the total length to a few inches and maintain rounded edges by trimming with scissors.
12. Long Cut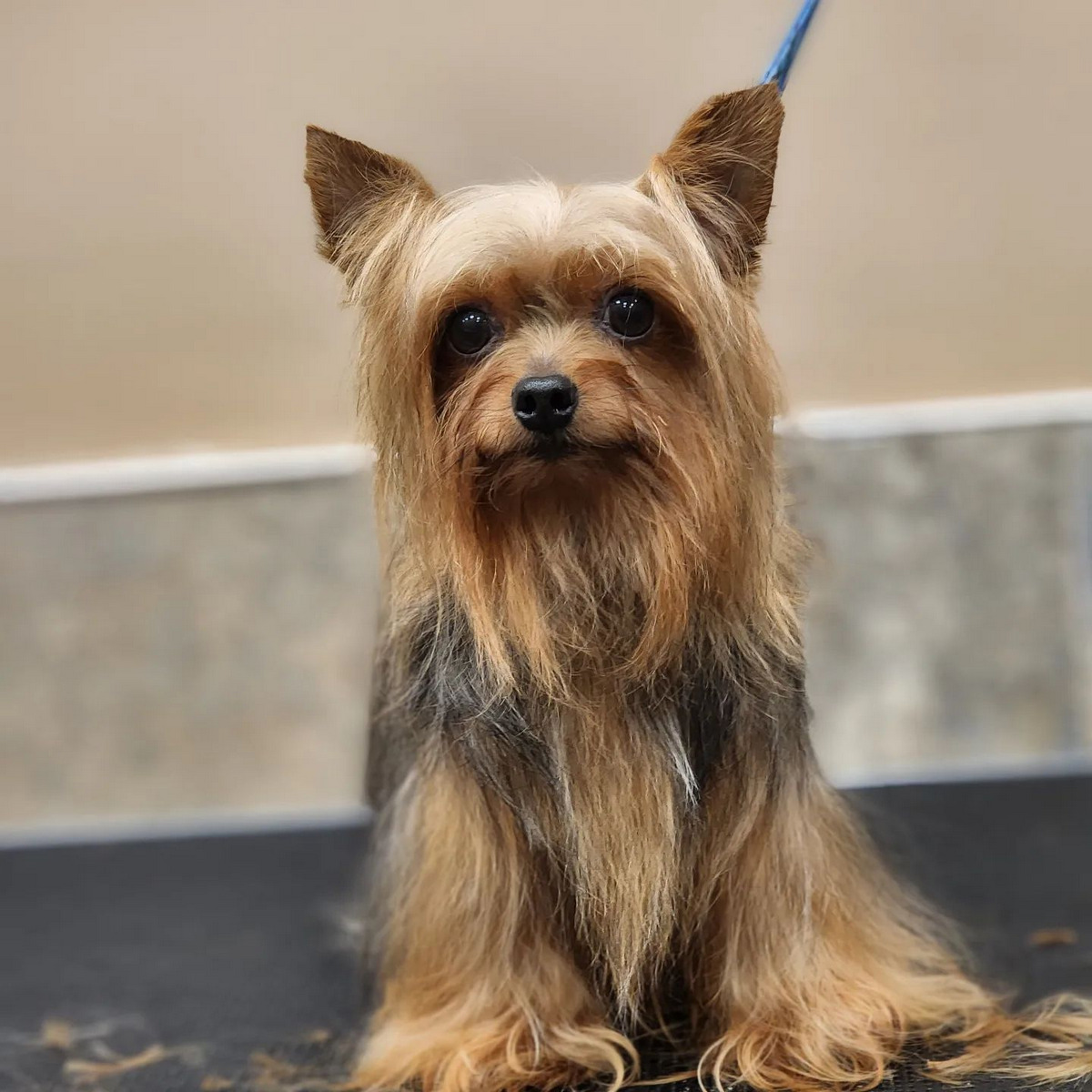 The long cut is a lovely design highlighting your Yorkie's stunning coat. The body hair needs to be longer; the facial hair can be kept at a moderate or short length. The average length of lengthy hair is greater than 3 inches, but not longer than it does the floor. When cold outside, a long coat keeps your Yorkie toasty and highlights that adorable hair. However, you must brush it every day because it tangles readily.
Make sure the facial hair does not obscure the eyes if you grow it longer. Trim it or make a top knot to finish it. Frequent combing is essential for this style to stay free of tangles and knots.
13. Bell Bottom Cut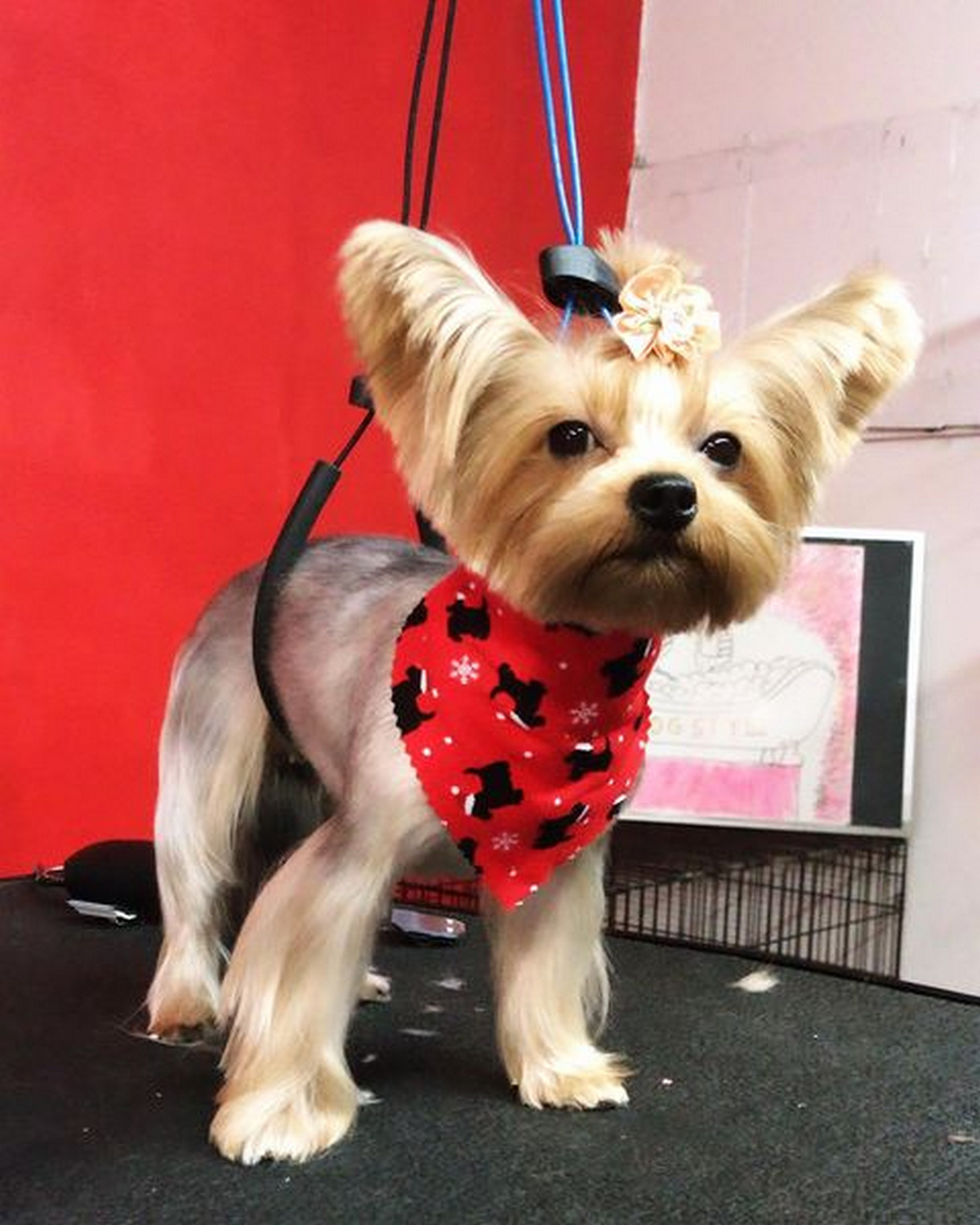 Popular Yorkie haircuts like the bell bottom cut have long, furry feet and extremely short body hair. This look's allure is increased by how simple it is to achieve.
The Bell Bottom Yorkie haircut is ideal for any period, even though Bell Bottoms were popular in the 1970s. This look's allure is increased by how simple it is to achieve.
This appearance is distinguished by two features: long, furry paws and extremely short body hair. This haircut keeps the paws long and flared like those bell-bottom pants.
14. Lion Cut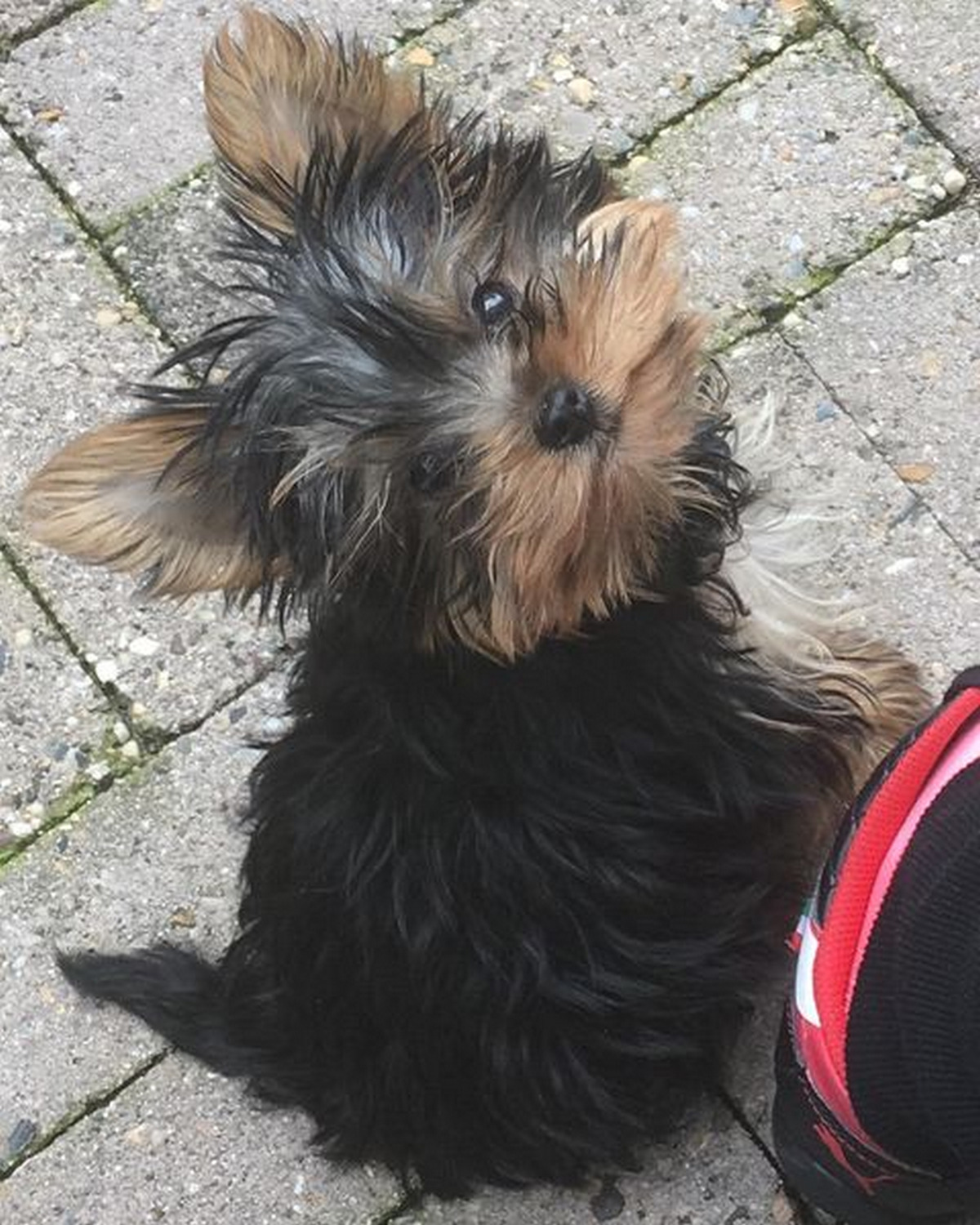 The lion cut is a haircut style named after the mane of a lion. This style is perfect for long-haired Yorkies, making your dog look regal and chic. This haircut is the best choice for your Yorkie to have a unique haircut.
The lion cut, which will give your Yorkie a gorgeous lion's mane and a shaved torso, is quite the sight. The mane, once shaved, won't require brushing, but it must be done to keep it supple and free of tangles. This hairstyle is an excellent choice for social media and occasions like Halloween. This cut demands a lot of maintenance but is well worth it.
15. Mohawk Cut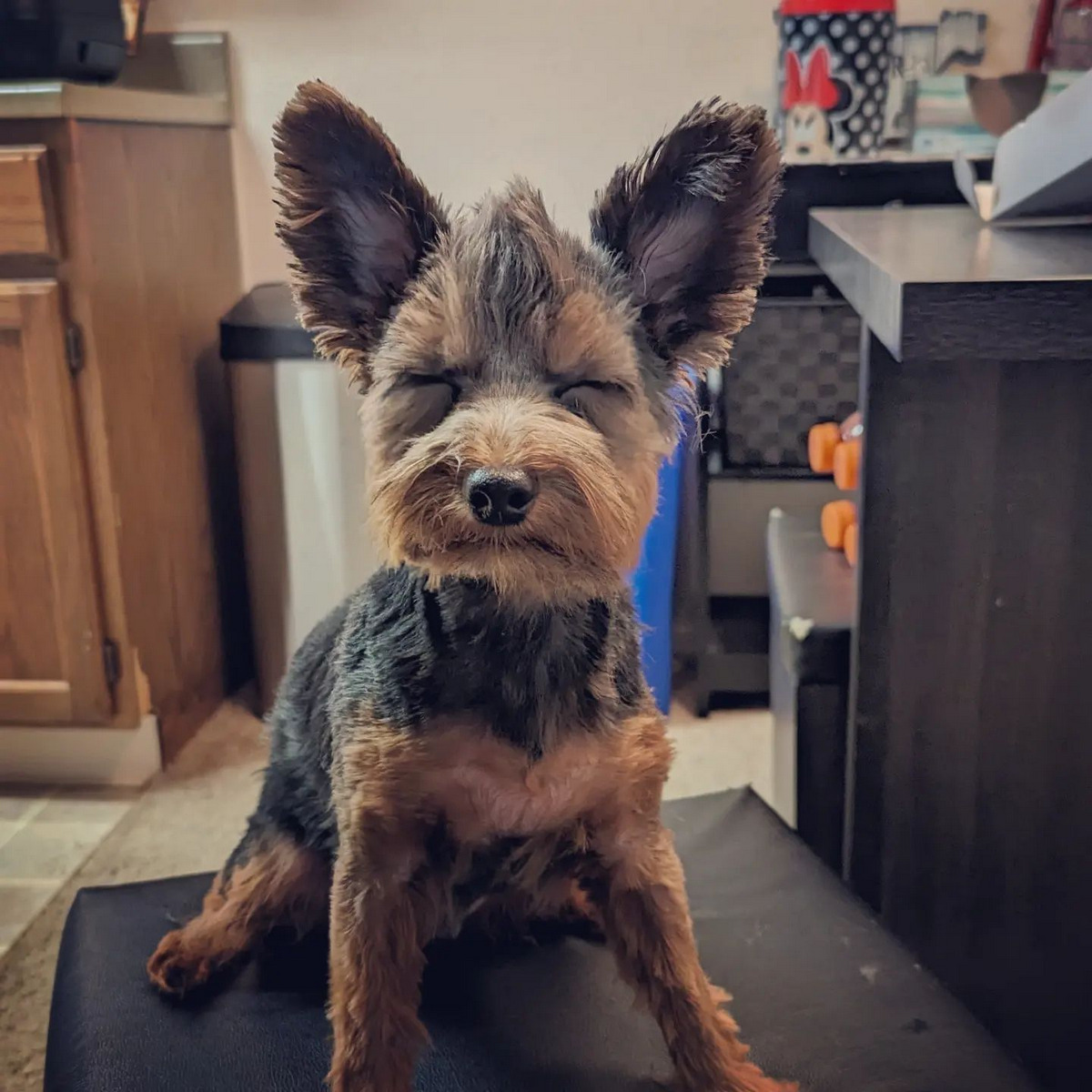 What better way to showcase a Yorkie's personality than with a trendy mohawk cut? Yorkies are spirited little canines. There are countless options available when it comes to mohawk hairstyles for Yorkies. You can choose a short mohawk look or get creative and give your canine a punk rock appearance. A mohawk cut is a great way to showcase your Yorkie's personality, regardless of your selected style. It is also a low-maintenance haircut, ideal for busy dog owners.
16. Poodle Cut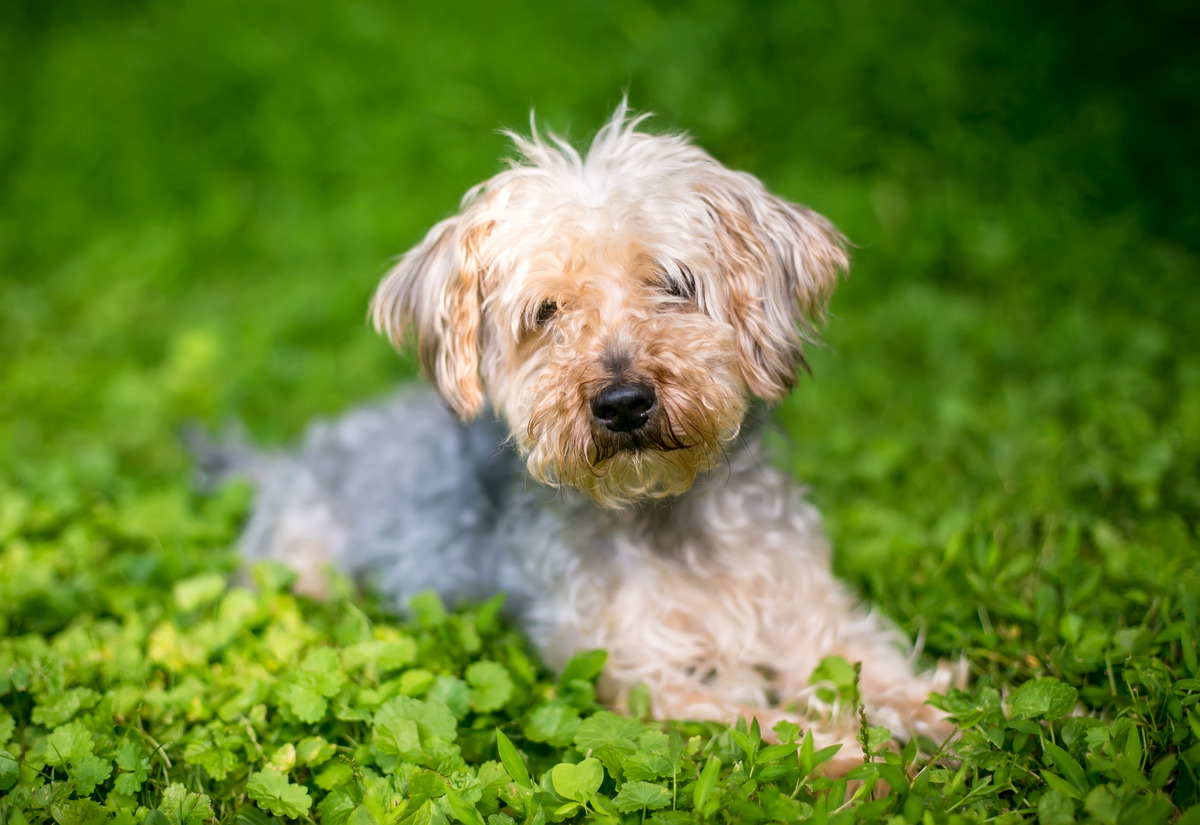 Visualize a Poodle when thinking about the Poodle hairstyle. However, this hairstyle is not reserved for Yorkies alone; it is ideal for all dogs with curly hair. This haircut keeps the dog's fur short along its torso while keeping longer hair on its head and neck. The Poodle hairstyle prevents curls from tangling and keeps them fresh and bouncy.
Although the Poodle Cut requires a lot of upkeep, the work is well worth it. Therefore, the Poodle haircut is ideal for dog owners who are eager and able to maintain the appearance of their curly dog's fur routinely.
17. Short Haircut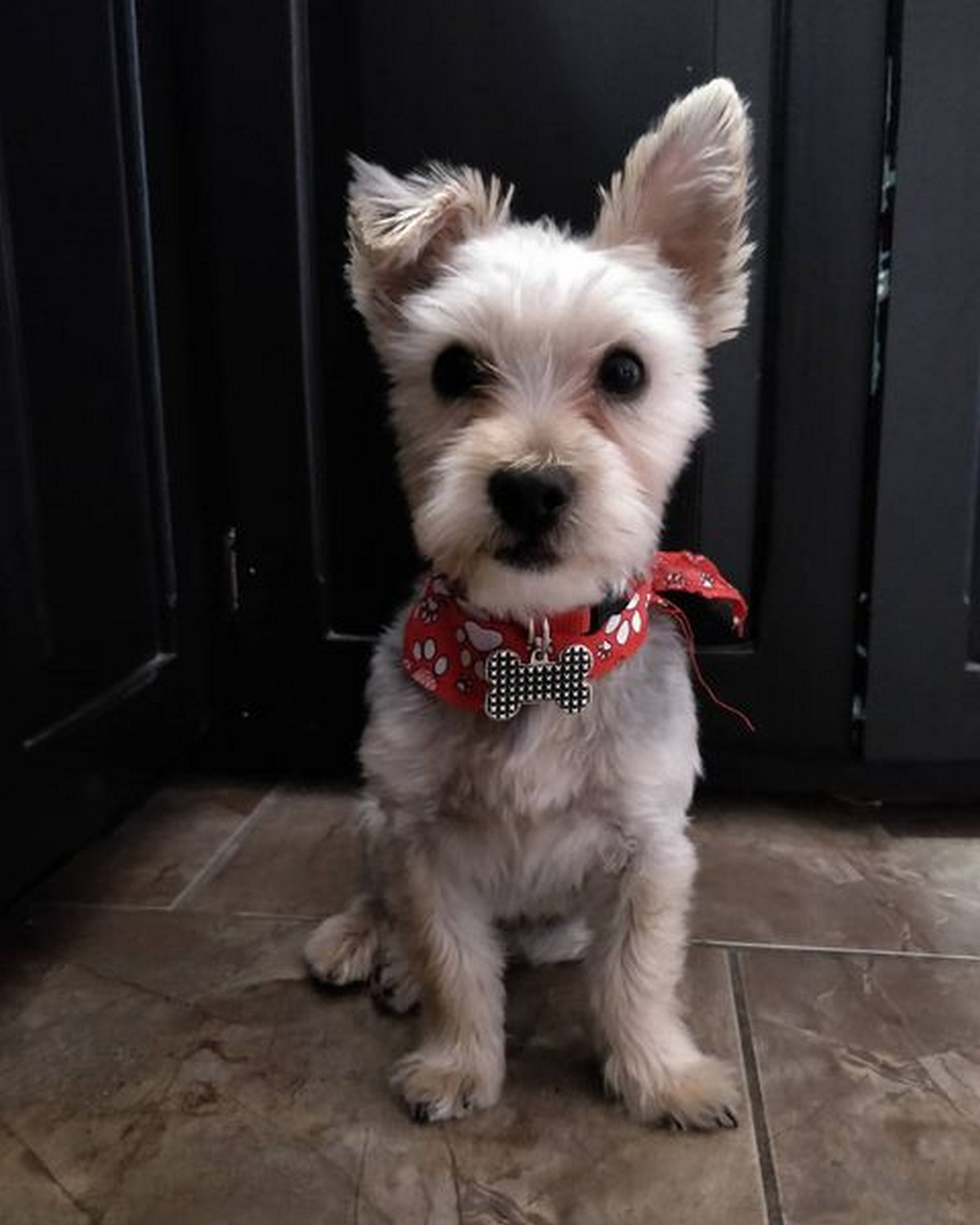 These short Yorkie hairstyles indicate that your dog is all work and no play. You need this look for your Yorkie to stick out from the crowd. Typically, the hair is slightly longer on top and tightly cropped around the face and ears. This haircut gives your dog a sophisticated appearance, ideal for formal occasions and everyday wear.
Nothing surpasses short hair when all you want is a low-maintenance Yorkie haircut. It highlights your pet's incredible characteristics while keeping all that hair out of the way of your eyes.
18. Trimmed Ears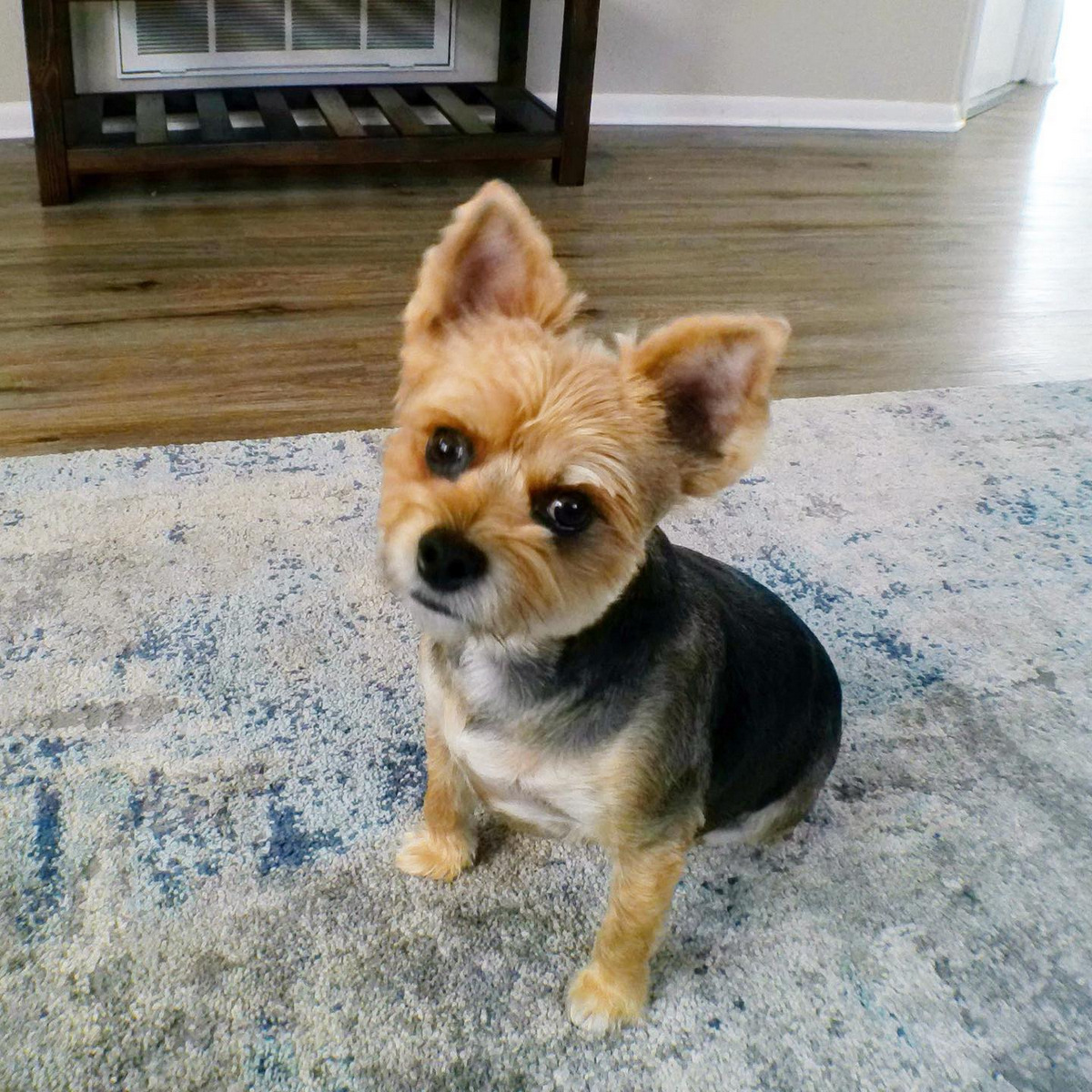 With its ears nicely trimmed, your cherished Yorkie will look fantastic. This hairdo involves shaving off a small amount of the Yorkie's ear hair. The dog is more supple and lively as a result of this cut. Ticks and ticks are also obliterated due to the shorter hairs and reduced opportunity for growth.
Trimming ears can be more difficult than other body and facial hair maintenance tasks. A short pair of rounded scissors will be more effective, though.
19. Short Beard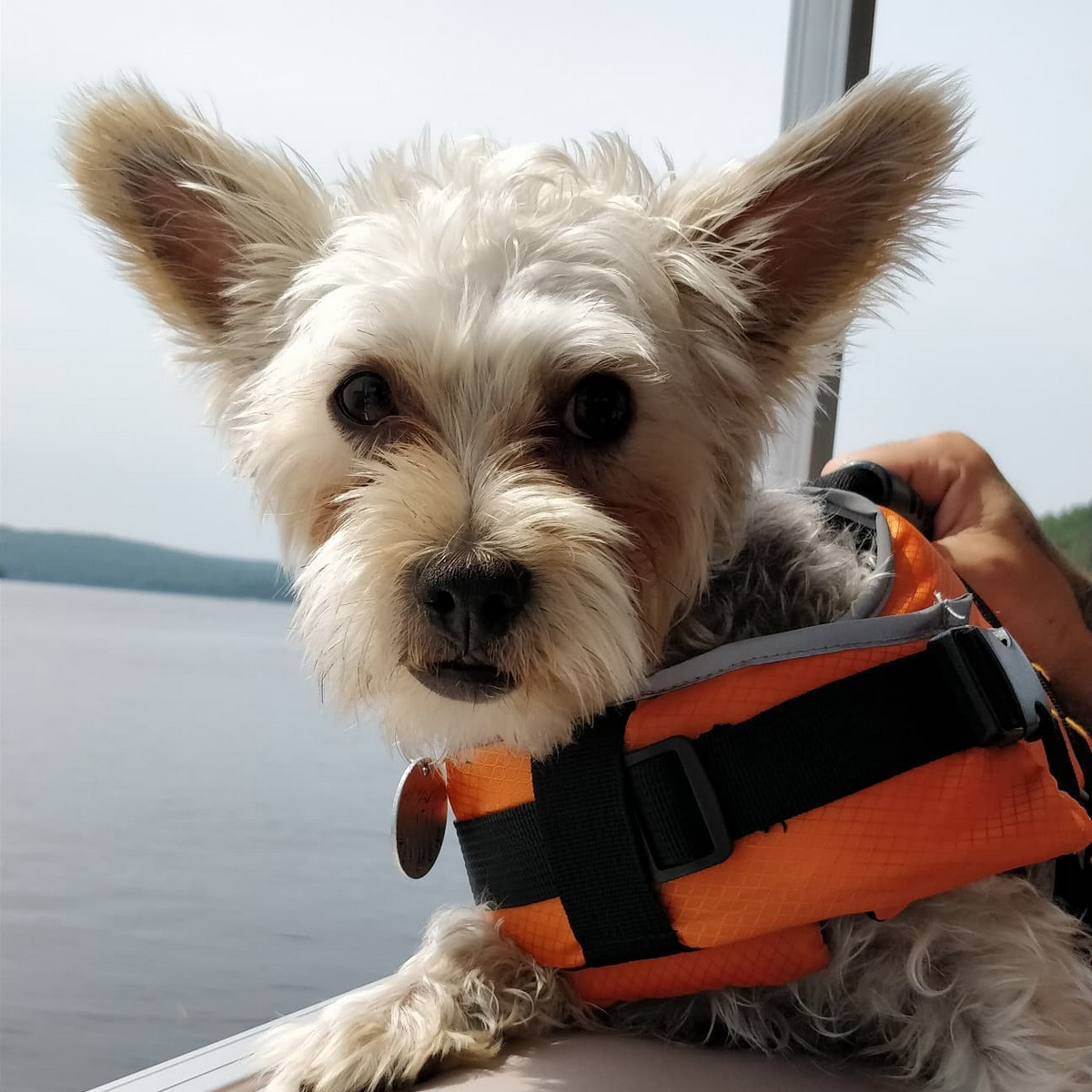 While a mustache and beard are often considered the hallmarks of a terrier, you don't have to go overboard. Occasionally, a short beard will help make the Yorkie's appearance appear neater and cleaner.
Your Yorkie dog will be more active and playable in the hot summer weather if you have a short beard. Also, keeping the beard as short as possible will save much time maintaining it.
20. Layered Cut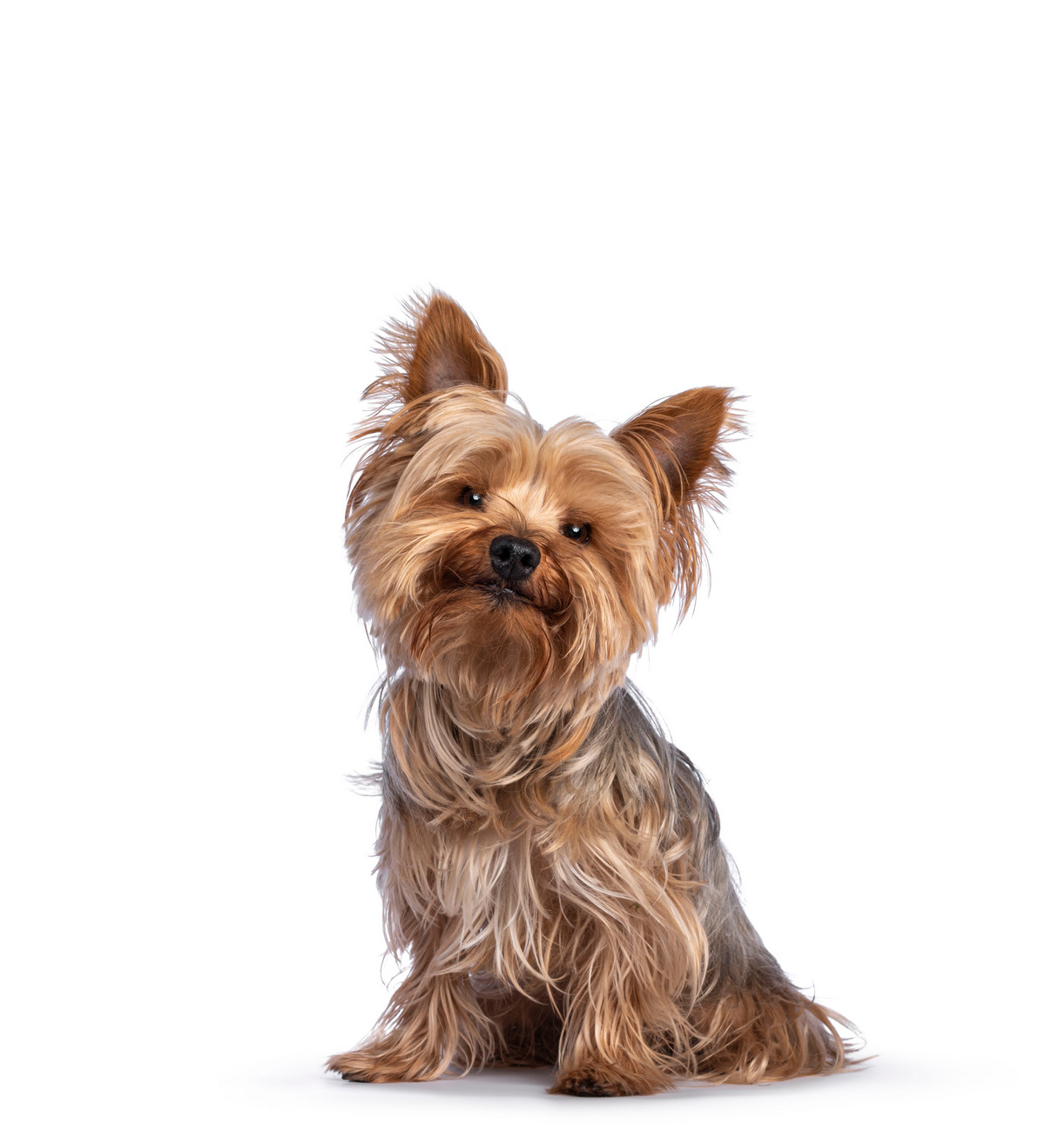 The layered cut is one of the greatest possibilities for giving your Yorkie a new hairstyle. This cut will separate the Yorkie's coat into multiple layers. Each coat will be cut to a different length. Owners have the option of straightening or curling the layers as desired.
Your dog will have a wealthy and aristocratic appearance with this hairdo. On the other hand, the image's building blocks are well-maintained and require less frequent upkeep. It may take some time, but the effort is worthwhile.
21. Short Cut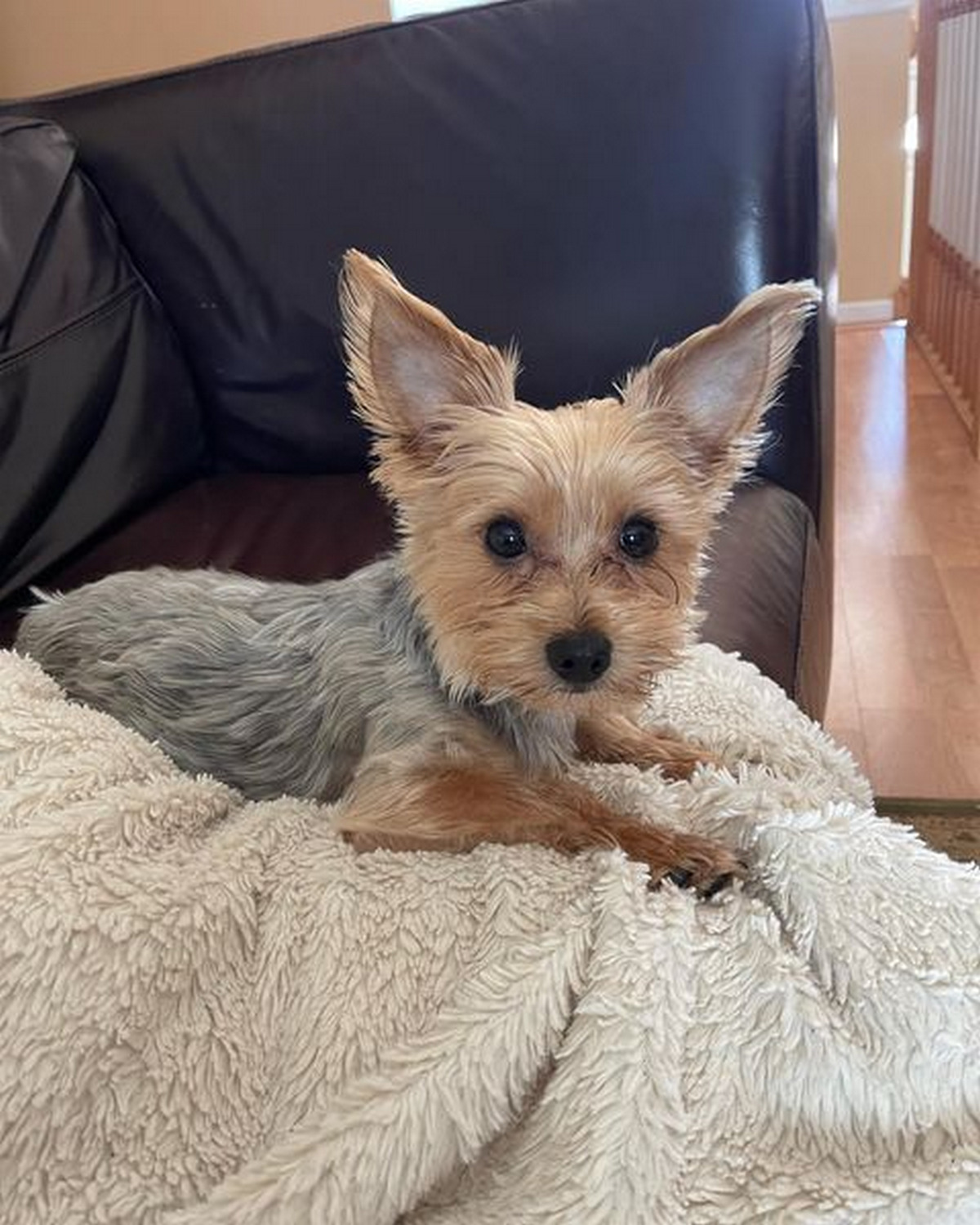 The shortcut is the most popular Yorkie hairstyle, ideal for active dogs. It keeps a dog looking well-groomed. The coat only needs to be brushed two to three times each week, and this length works amazingly well with a leave-in solution to resist dirt and debris.
You may achieve a short Yorkie hairdo that is appropriate for any occasion, including a dog show, by keeping your dog's fur all roughly the same length except for the face, where you can trim it shorter.
22. Ponytail Style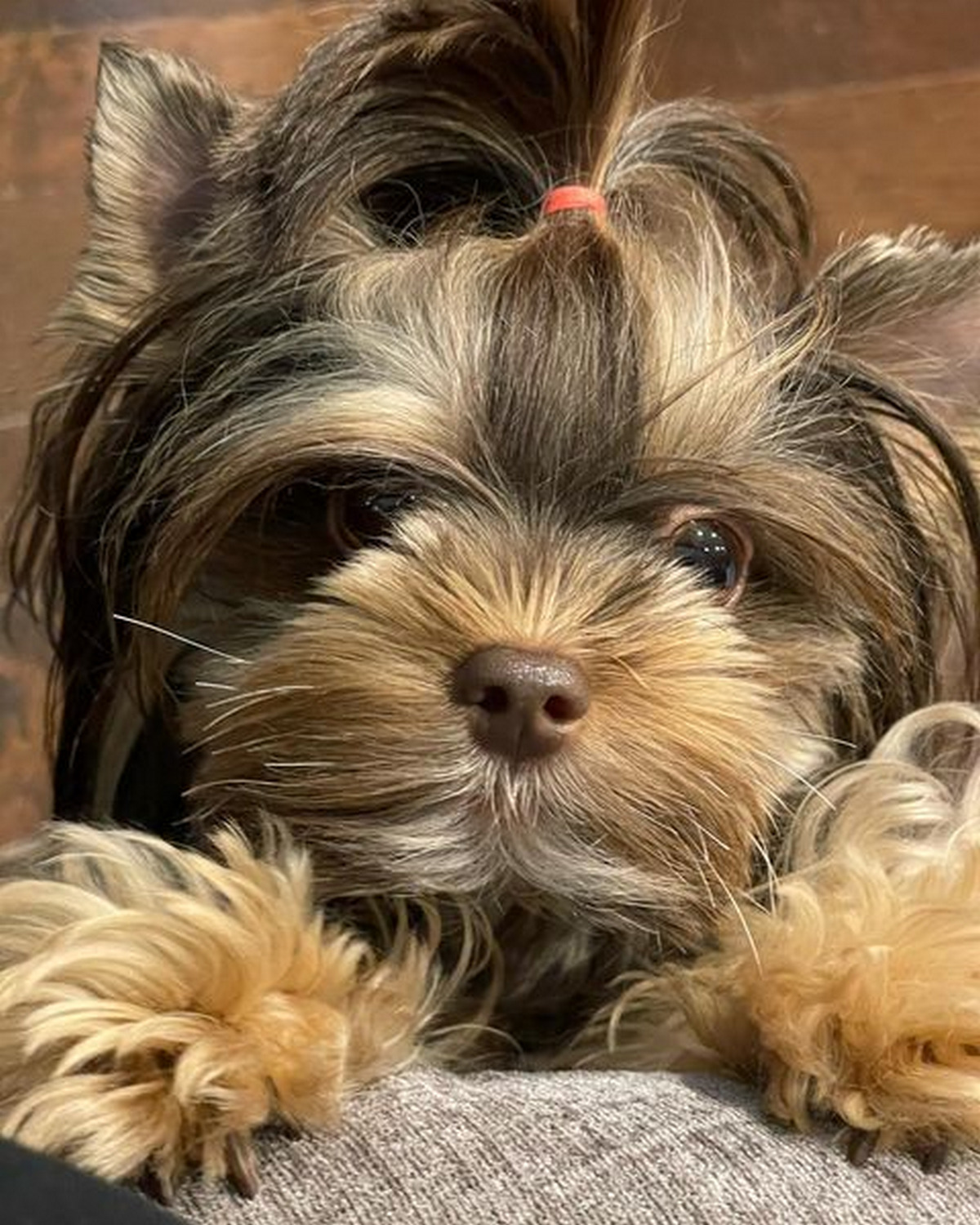 Like people, Yorkies look stunning in a ponytail! It is the best style to keep your dog's hair off its face and is easy to maintain. Ponytails can be worn in a variety of ways. You can choose a simple ponytail or one with several braids, one braid per ponytail. There are countless alternatives!
Ponytails and Yorkies go together beautifully. After all, pulling up so much long hair into a stylish ponytail is quite simple. It offers your dog a tidy appearance while also ensuring that there are no obstacles to his vision. Use a hair tie if it won't hurt your Yorkie's lovely hairstyle.
23. Long Beard
Yorkies are a small dog breed. Because of their long beards, they might be cuter and sweeter. You can decide how long you want your beard to be. A long beard is typically longer than 3 inches, but most owners consider a 4-6-inch beard ideal, though it may touch the ground in the conformation ring.
A long coat keeps your Yorkie warm in cold weather and shows off that gorgeous hair. However, brushing it daily is recommended because it easily becomes tangled.
24. Bichon Head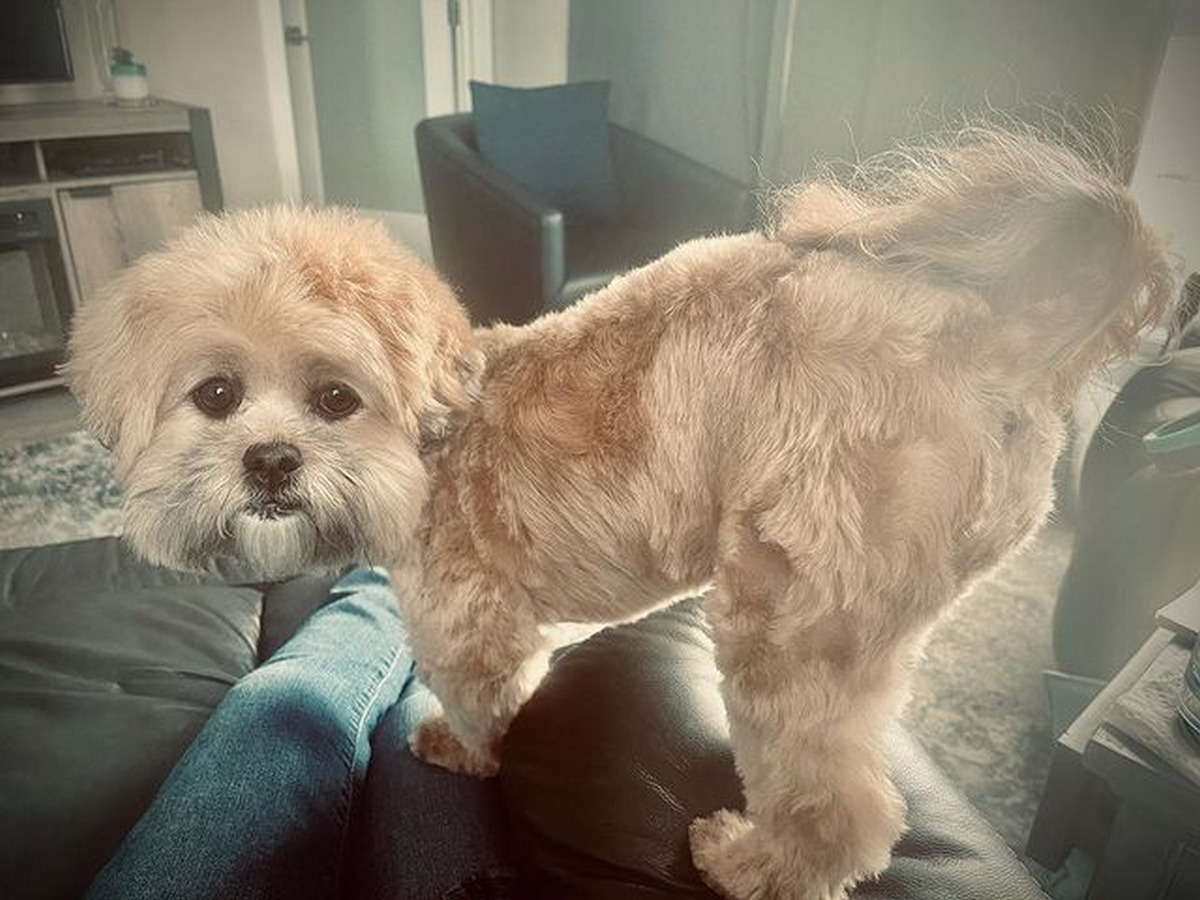 Consider the bichon head if you're looking for a new and fashionable way to groom your Yorkie. This haircut resembles the Bichon Frise, a breed known for its fluffy and curly coat. The bichon head gives your Yorkie a soft and cuddly appearance that will make you want to hug them constantly.
The bichon head is an excellent choice for Yorkies with silky, fine hair that naturally curls. It is also ideal for owners who want to avoid the hassle of brushing and trimming their pets regularly. The bichon head is low-maintenance because it mimics the shape and length of your Yorkie's natural coat. Wash and dry your Yorkie's hair regularly and use a comb or brush to keep it from tangling.
25. Faux Skirt (Faux Leg)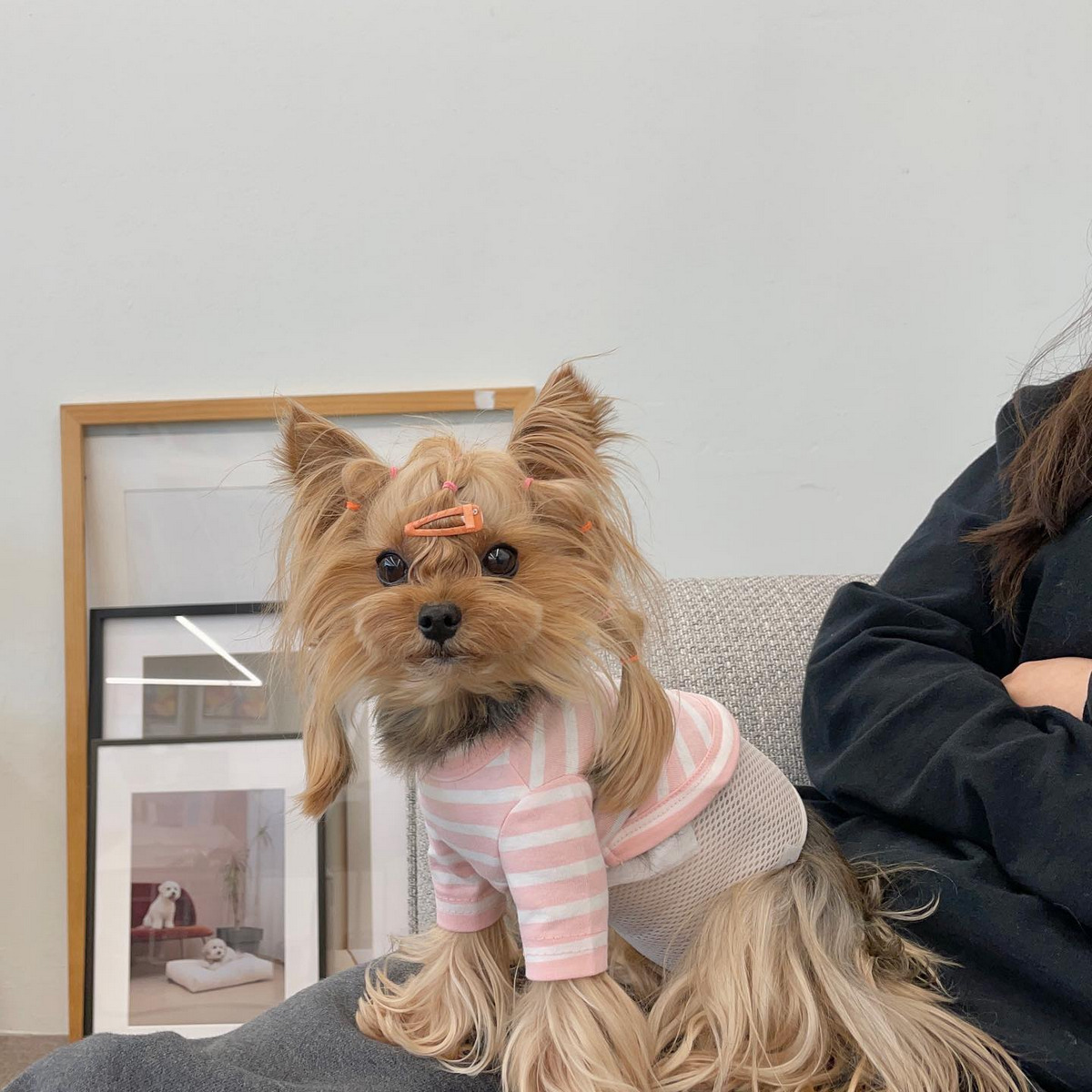 Our main concern with the faux skirt style was Yorkie's legs. We will trim the Yorkie's leg hair to keep it neat and at a certain length to achieve this look. Asymmetrical trimming is also used on the body and facial hair. The neck and face are styled differently.
This hairstyle gives your Yorkie a distinct appearance and personality. You should go to a professional dog salon to create this Faux Skirt look.
26. Neaten Style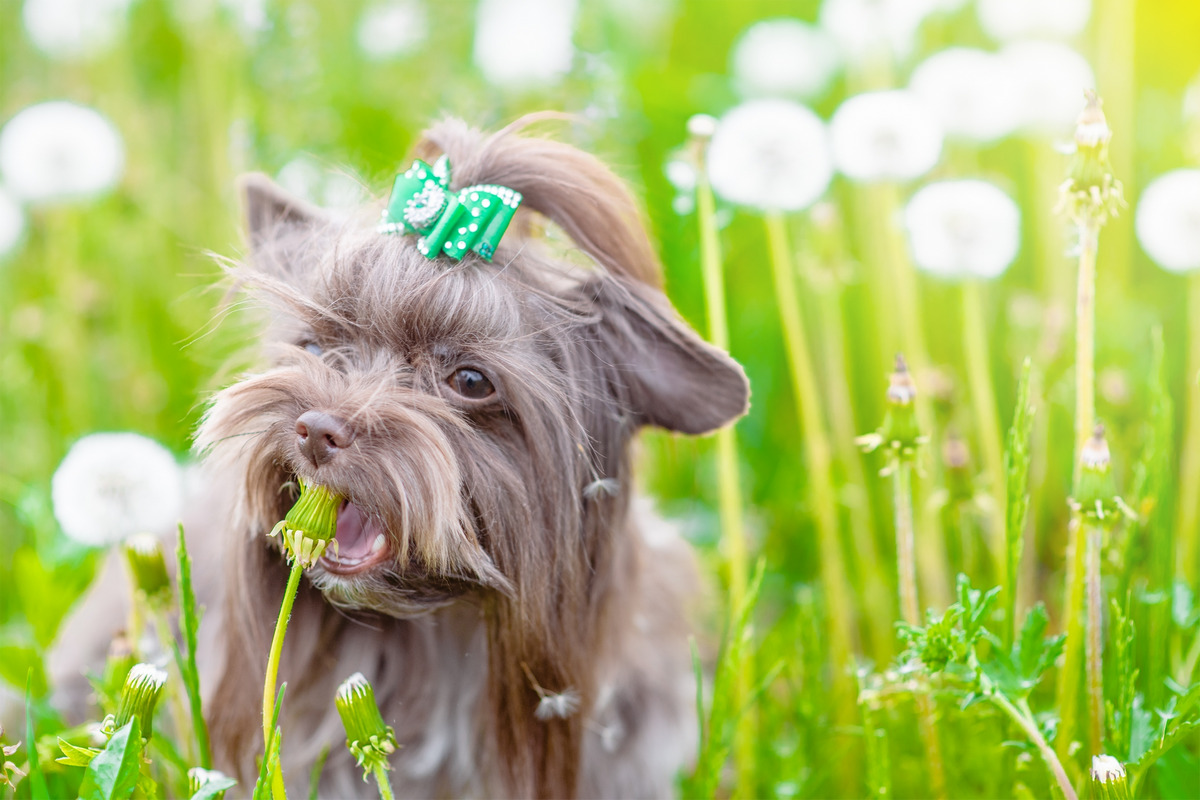 The neaten is a different popular short Yorkie hairstyle. This haircut could greatly improve the dog's appearance despite requiring little work. Thanks to this haircut, the Yorkie has a tidy appearance, demonstrating your commitment to giving your dog the attention they need.
If the Yorkie has longer hair, the groomer should bathe the dog before trimming its face, privates, and feet with clippers. To ensure your dog looks and feels refreshed, some groomers will clip its nails and brush its coat.
27. Curly Cut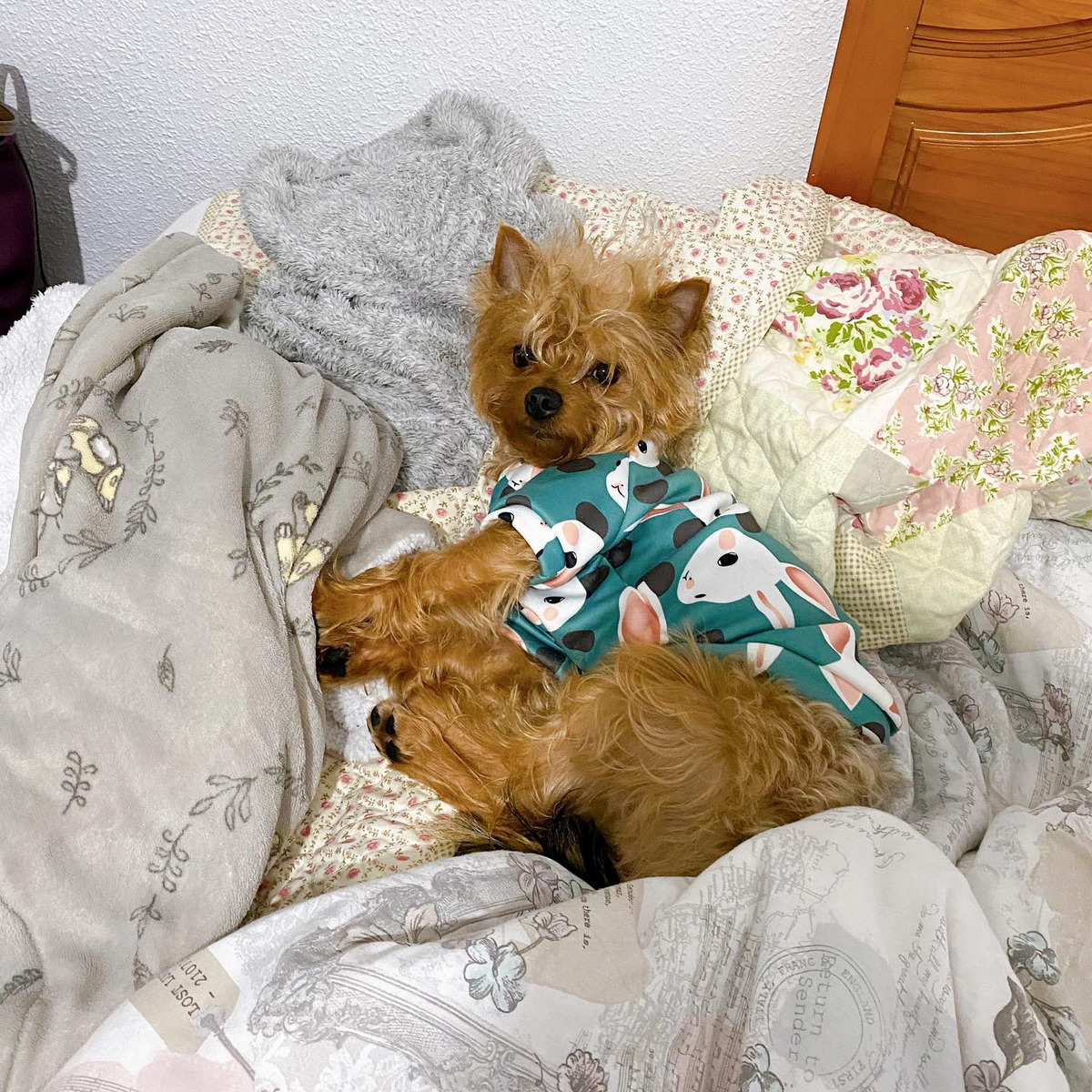 If you want to give your Yorkie's coat more volume, try the curly cut style. A Yorkie dog with curly hair looks more luxurious and noble. Although a curly coat looks stunning, it requires a lot of upkeep to keep it clean and free of lint. To prevent tangles, brush your dog's coat endlessly every day.
The good news is that generally speaking, dogs with more frizz tend to shed less, which is fantastic for people with allergies and pet owners who detest vacuuming!
28. Messy Hair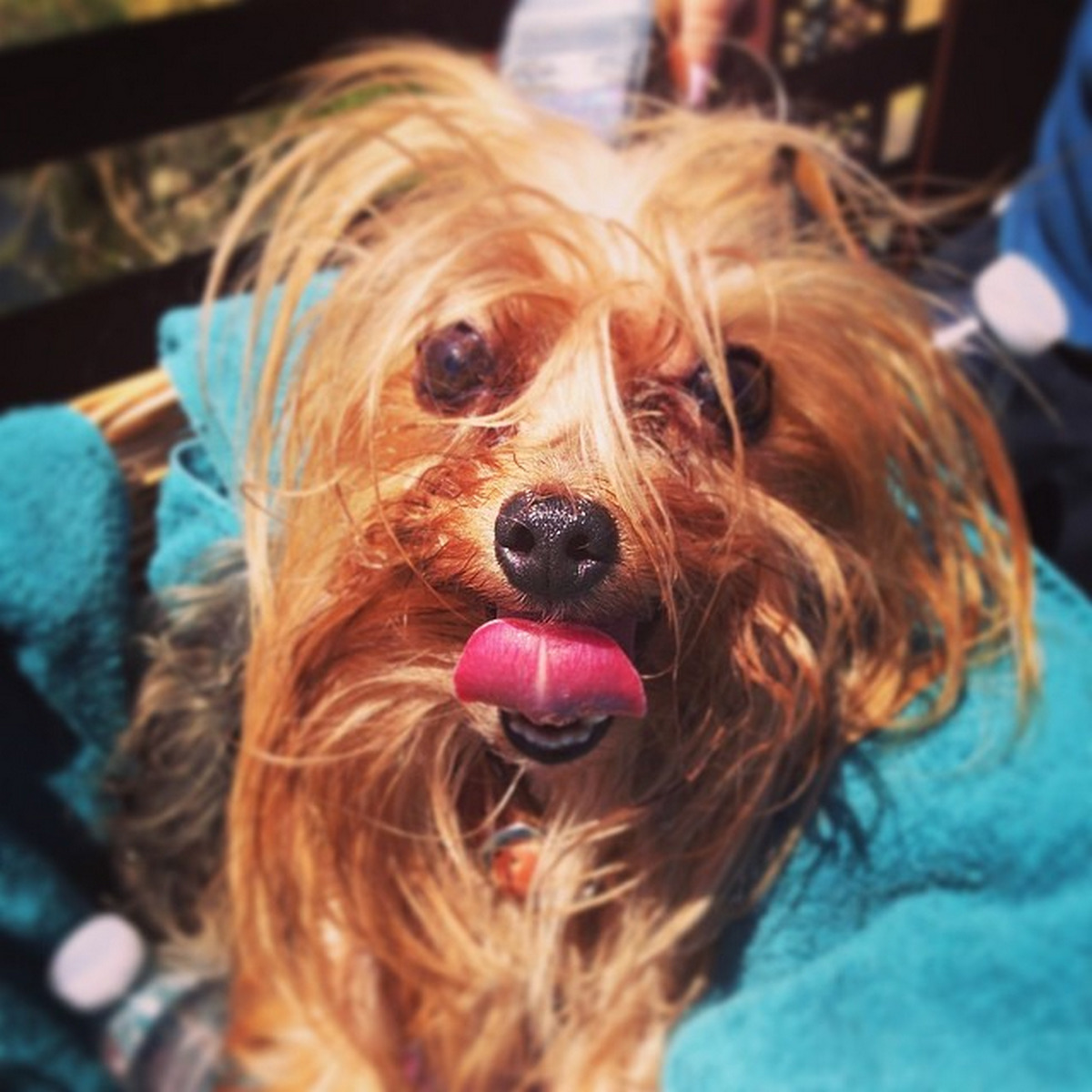 The Yorkie's coat is one of the cutest because it looks amazing when left to its own devices! Who doesn't adore these adorable tiny canines' unkempt, bedhead appearance? Thus, if you don't have time to take your Yorkie to the groomer, just let their hair hang freely and embrace the messy look.
To avoid excessive matting, brush your Yorkie's fur at least once every few days. But every hairstyle requires some level of upkeep.
29. Medium Cut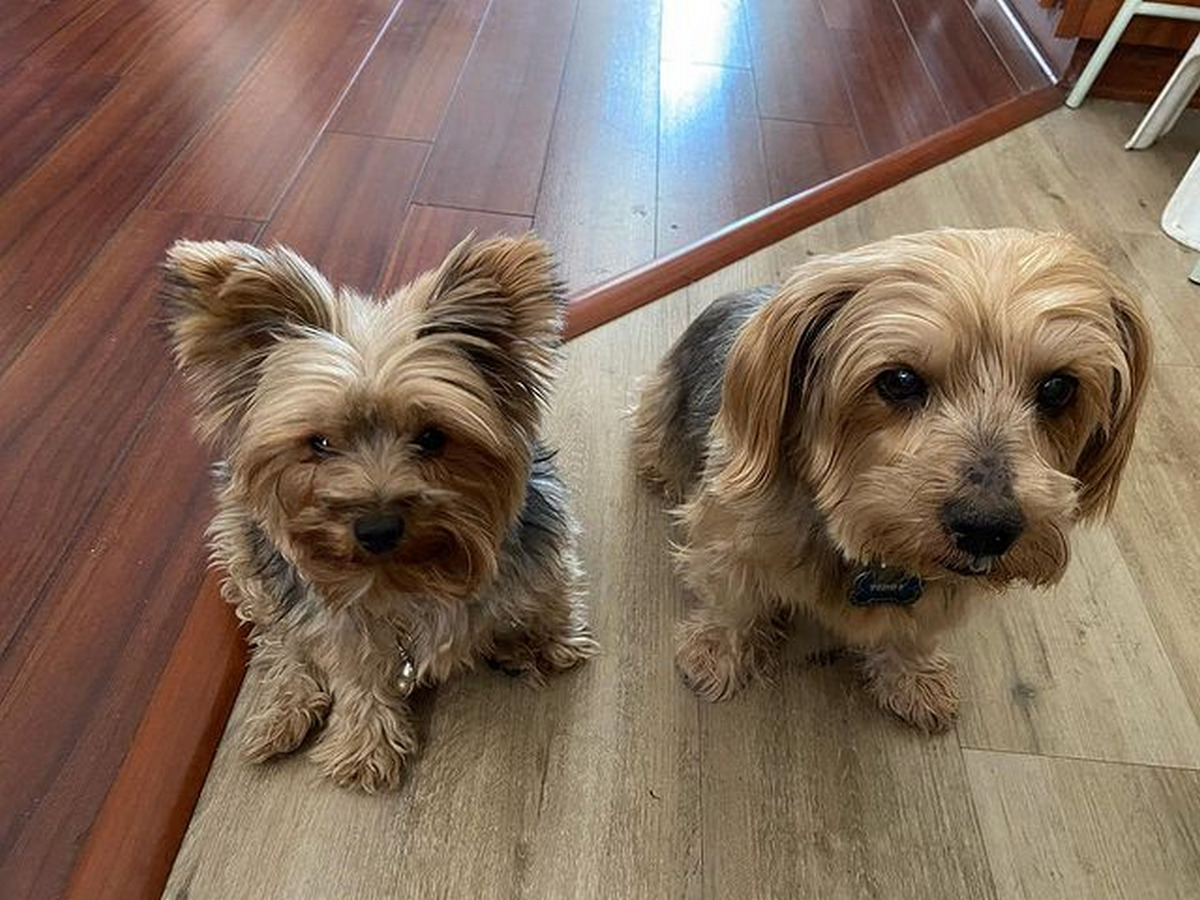 A medium cut is a wonderful choice for a haircut that can be worn in various situations. In this style, the top is left longer while the hair around the ears and neck is cut short. Thanks to this, your dog will have a polished appearance that may be dressed up or down, depending on the situation.
As it helps shield their skin from the sun and wind, this style is ideal for Yorkies who spend a lot of time in temperate areas. Also, it's simple to maintain; all that's required to keep it at its finest is a routine brushing once every few days.
30. Squared Puppy Cut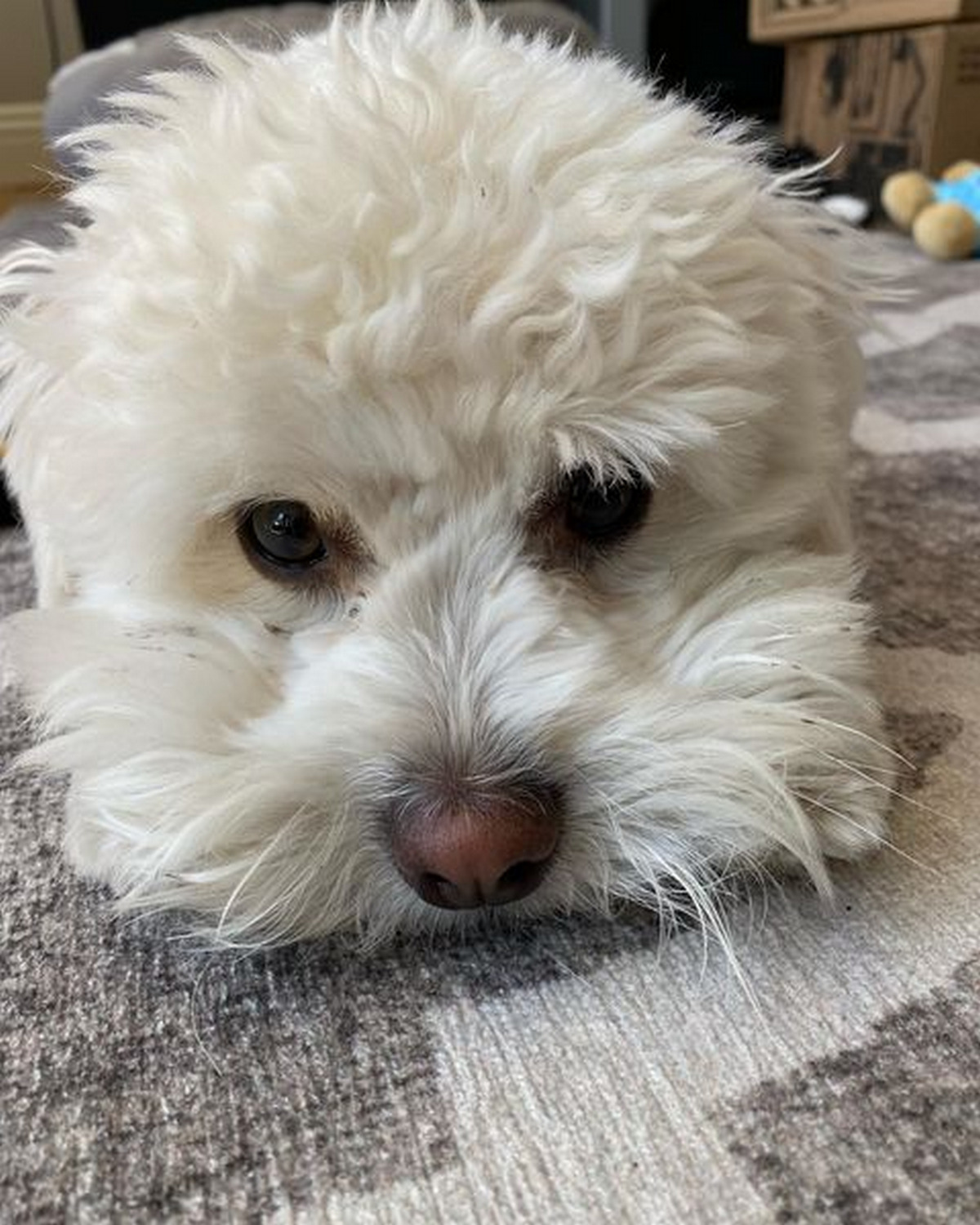 The square puppy cut is an excellent choice for your Yorkie during the summer. The hair is kept short, and the entire body is clipped. While the hair on the face is properly trimmed to form a square, the hair on the forehead is left at least an inch long. The owners can use gel to make the forehead hair stand up so the face appears fully square.
This haircut is extremely low maintenance and allows the skin to breathe in hot weather. Some owners may try reinventing this shape by keeping the hair on the forehead in a top knot. And some people are just plain inventive!
31. Groomed Face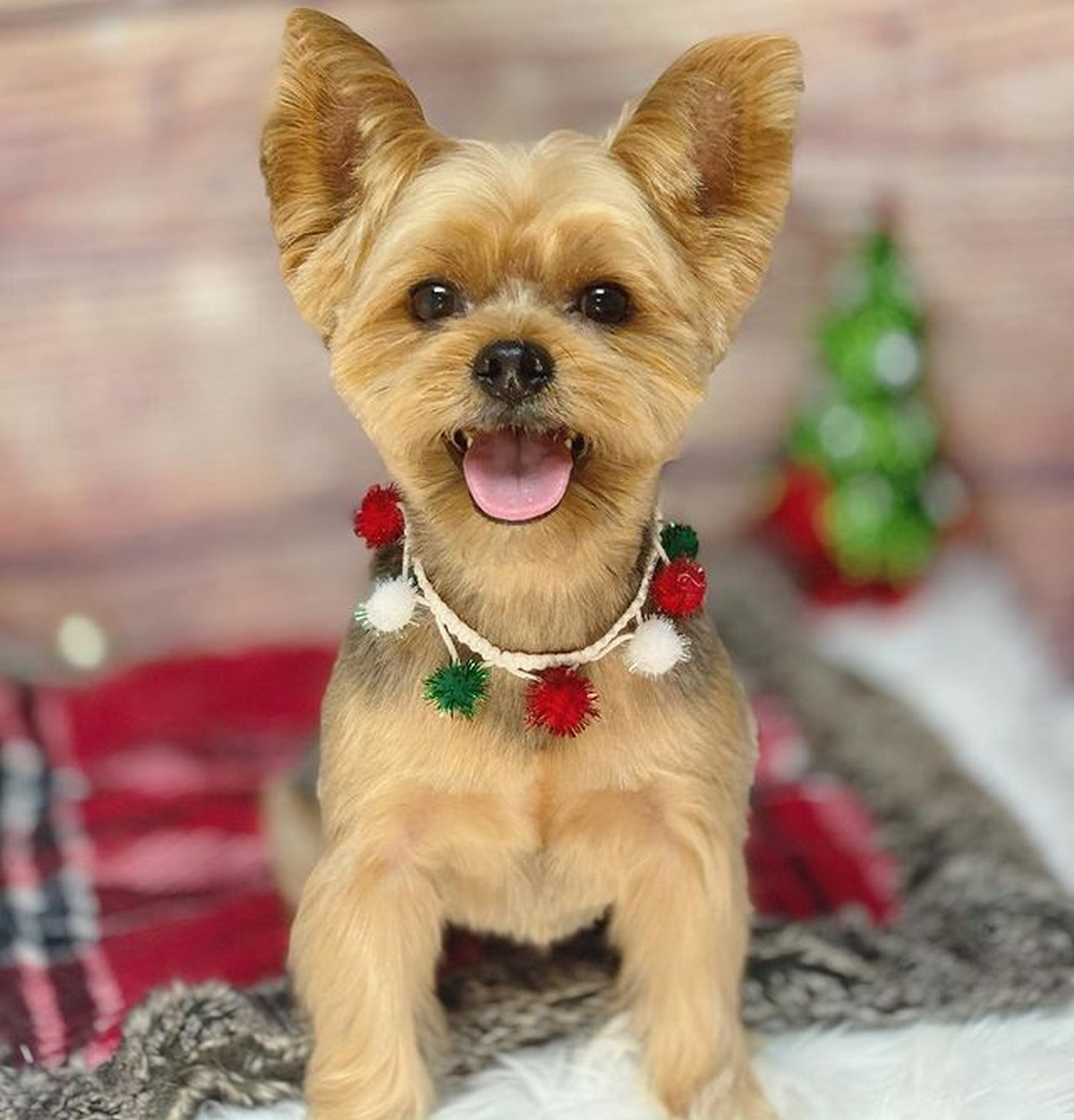 Yorkies have the cutest round eyes, frequently hidden beneath a dense coat. If you prefer to see your dog's eyes, the groomed face cut is worth considering.
As the name suggests, it's about shaving your pup's facial hair to reveal its adorable features. Keep the mustache short and the hair trimmed to a couple of inches, and your Yorkie will look neat!
Faces are typically sensitive in dogs. As a result, excessive grooming may be stressful for your pet. Consider keeping face grooming to a minimum; the dog will appreciate it.
32. Shaggy Cut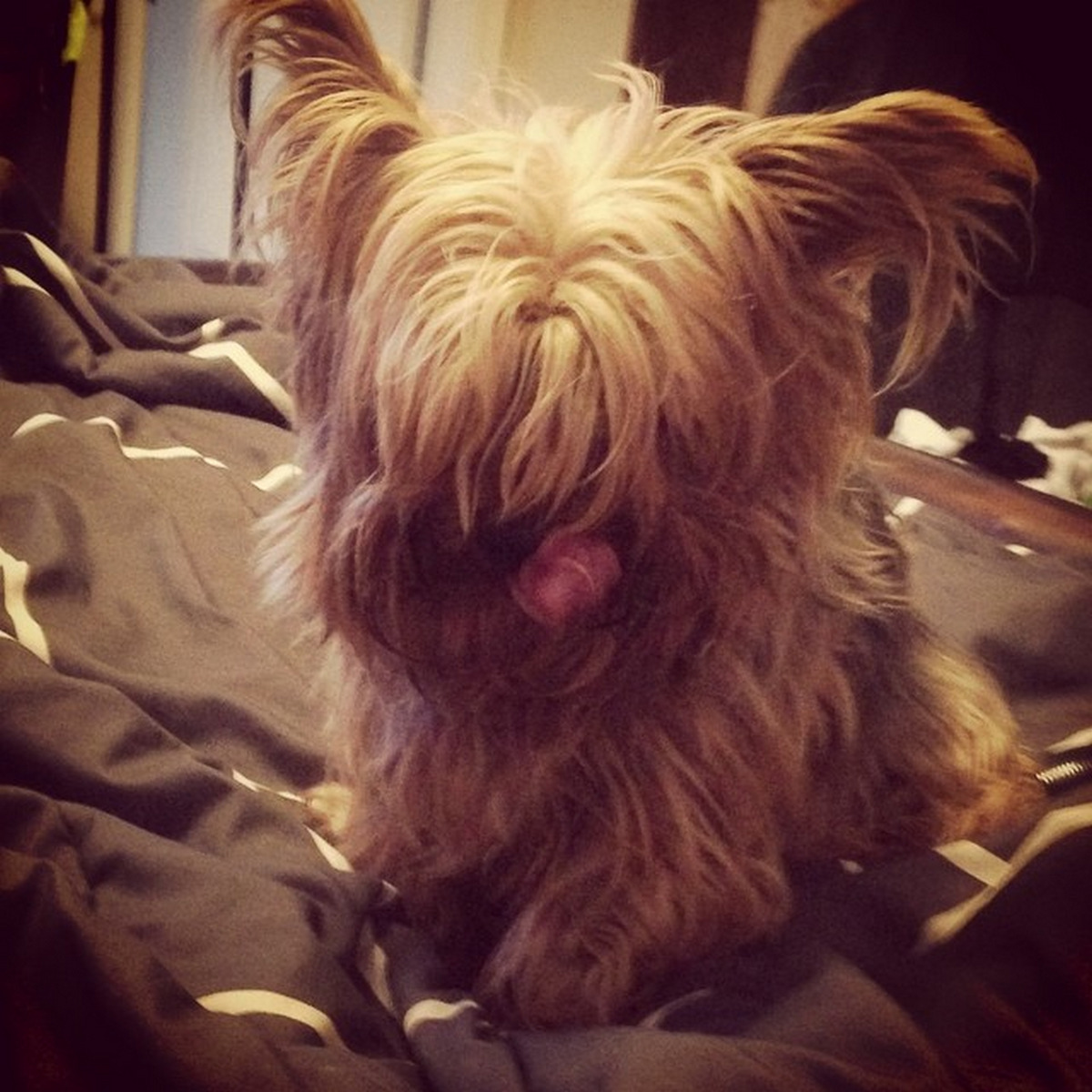 The shaggy cut will add volume and style to your Yorkie's hair. It's a good choice when you don't know what style to give your dog. The Shaggy Cut is ideal for an in-between length because it is neither too long nor too short. Leave the hair a little longer to make it easier to maintain. Just ensure there are still plenty of lengths to keep the shaggy look.
If you are wondering what hairstyle to choose for your Yorkie dog, the shaggy cut is a good choice.
33. Mane Cut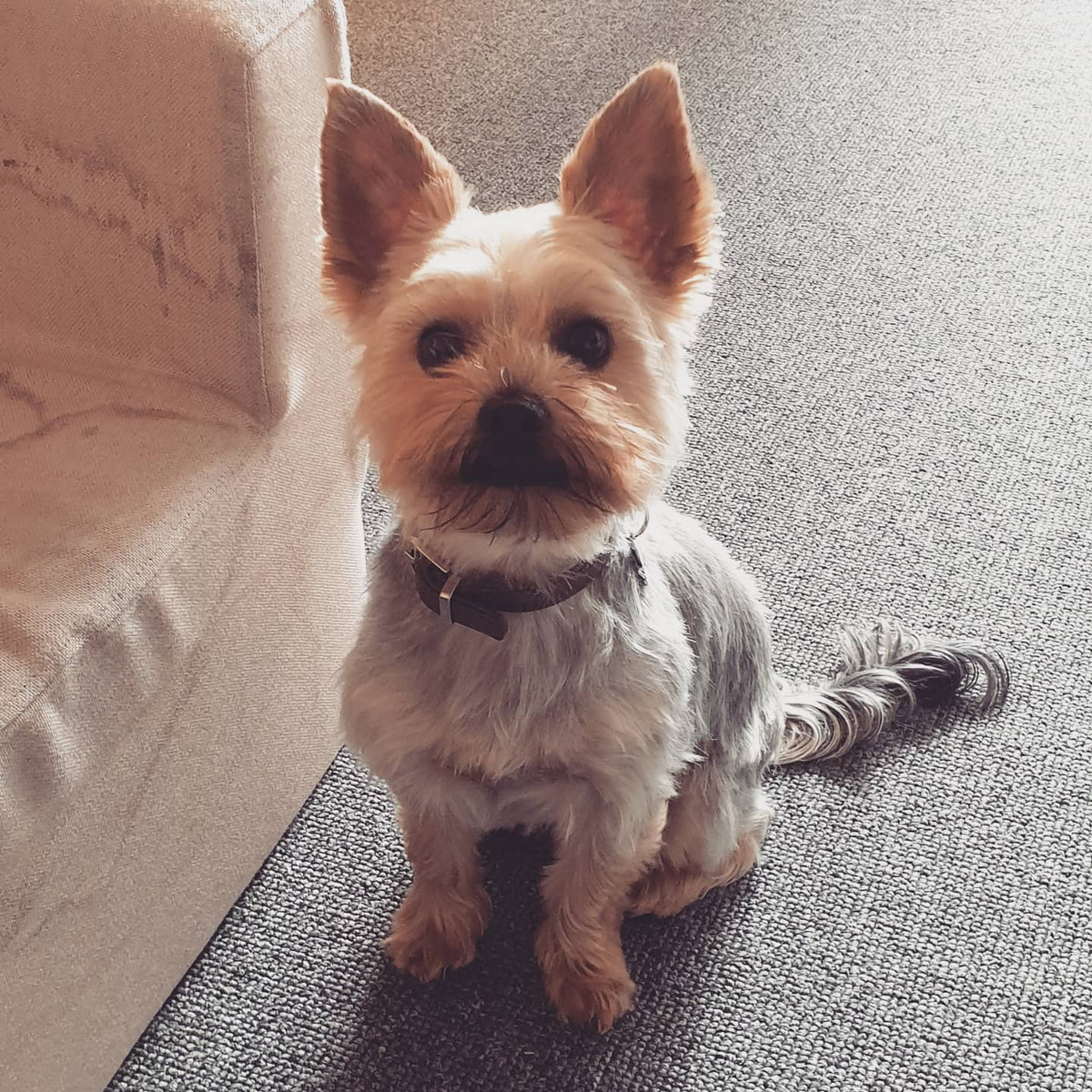 Mane cut is the best choice for a unique haircut for your little Yorkie. The mane cut aims to give your dog a reasonable length of soft and fluffy hair. It also keeps the look classy because it is long enough to braid or pull up in a neat ponytail.
What's great about the mane cut is that it's as much about comfort as it is about style. Long hair that irritates the eyes and obstructs your pet's vision is also removed from the eye area. This hairstyle is extremely simple to care for and maintain. As a result, it saves you significant time on pet care.
34. Tail Haircut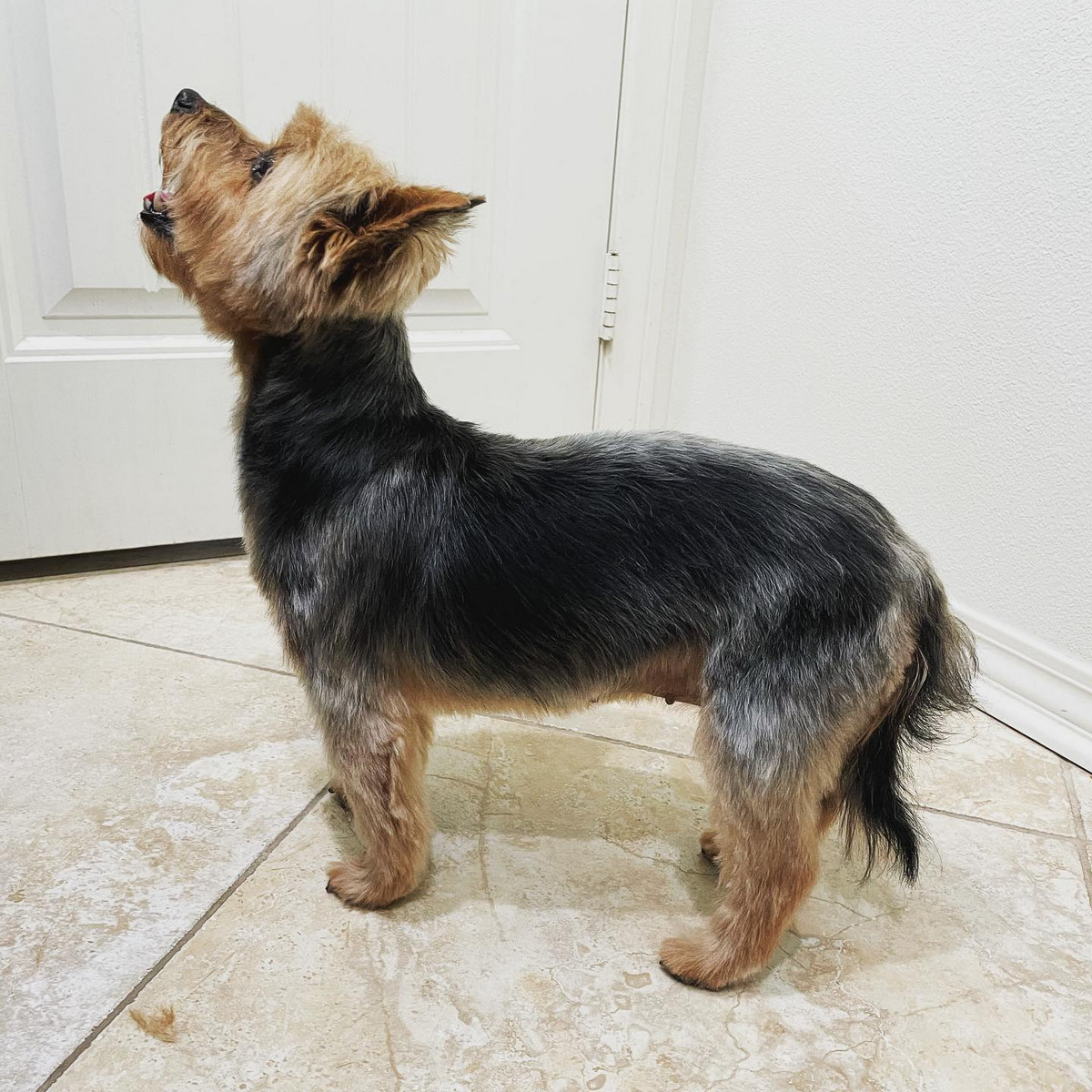 The tail-focused haircut is one of the most popular Yorkie haircuts. A tail-focused haircut focuses on a specific body part, in this case, the tail. It's all about keeping the tail as furry as possible, even more so than the rest of the body. Keep the tail hair at a reasonable length so it is furry and bushy to achieve this Yorkie haircut. You can also add layers, matching the rest of the body's layered cut.
A tail-focused haircut highlights your Yorkie's natural beauty and elegance. It distinguishes your Yorkie from other dogs with similar coats. It adds character and flair to your Yorkie's appearance. It is also simple to care for and groom.
35. Pixie Cut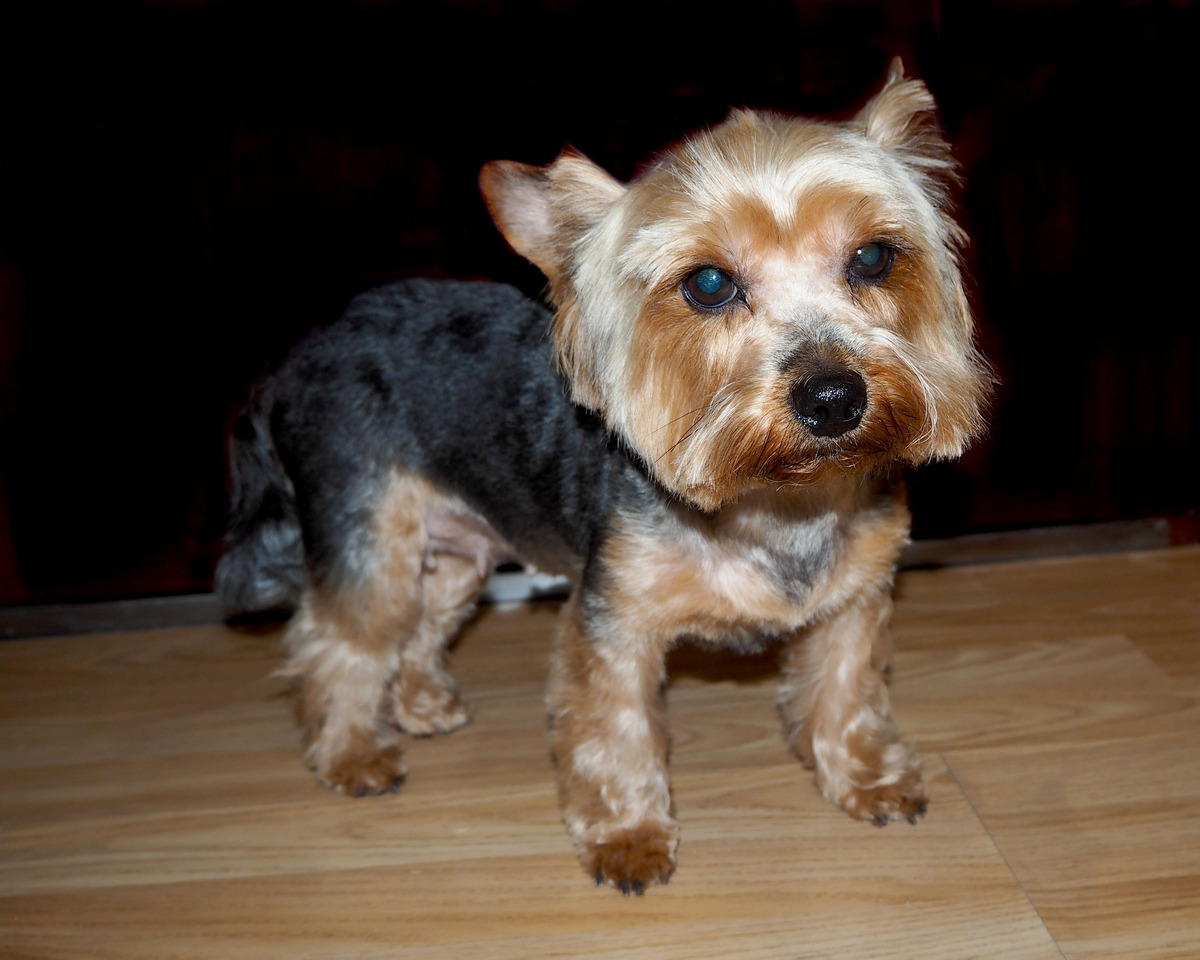 Try the pixie style to give your Yorkie a cute and trendy haircut. This cut is a quick and easy way to make your dog look more adorable and fashionable. Here are some pointers on how to give your pet this stunning look.
The Yorkie dog looks more beautiful than ever with this hairstyle. Because it requires no upkeep and is simple to keep clean, this style is ideal for dogs constantly moving. Furthermore, it is timeless!
36. Floor-Length (Full Length)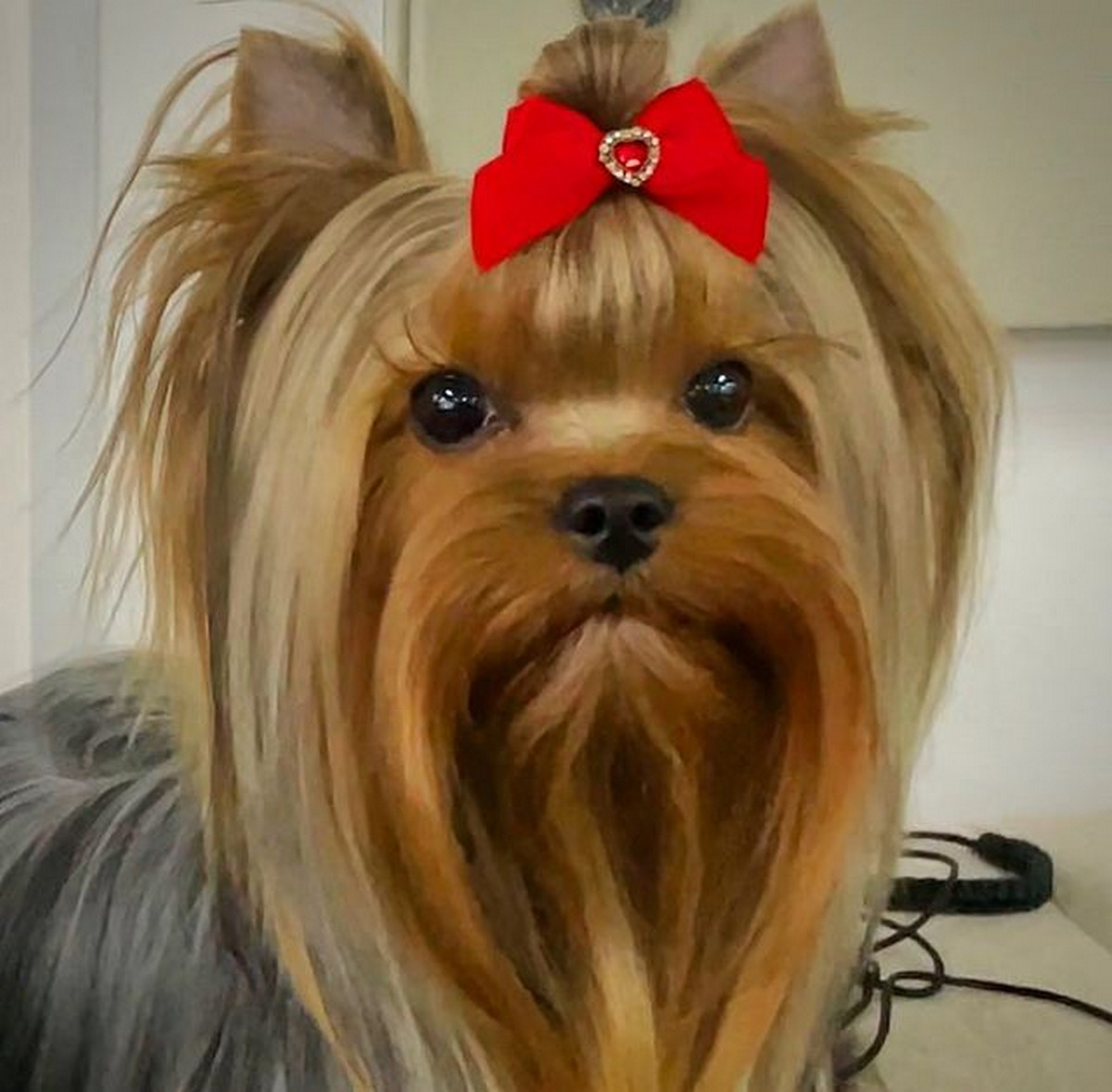 The floor-length cut is all about being smooth, silky, and sleek. This method works for Yorkies of any color. Allow the hair to grow long, then add some styles to the ends of the hair, such as waves and flyaways, and you're done! The hair typically takes 18 to 24 months to reach this length. That means that only adult Yorkshire terriers can have hair this long.
The best thing about having floor-length Yorkie hair is endless styles to try, such as ponytails, braids, or simply sleek and flowy. This floor length is lovely, but only for some; it requires much effort. This coat is long enough to reach the floor. When it comes to grooming, it is a lot of work because you need to brush your hair daily to avoid it becoming tangled.