You are a feminist, independent and strong. Surely this list is for you. the list of anime girls from the strongest to the smartest and cutest. They are always the sexiest because they have power. So who is your favorite anime female character.
1. Erza Scarlet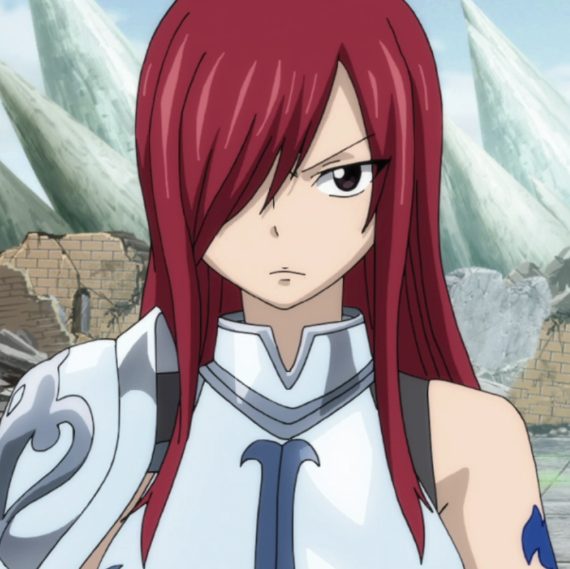 Erza Scarlet is known as the sorceress whose magic summons armors with magical weapons in other dimensions. A nineteen-year-old girl with strong red hair nicknamed "Titania", she was abandoned by her mother since childhood. Erza was enslaved in the Tower of heaven and befriended Jellal Fernandes, who gave her the last name "Scarlet". After events and struggles, Erza joins Fairy Tail to become a strict but compassionate and loving disciplinarian.
2. Hinata Hyuga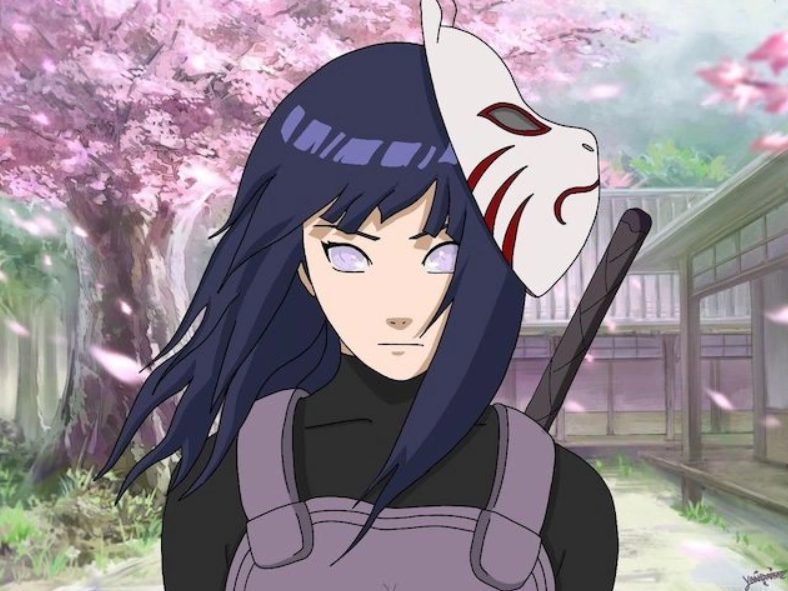 Hinata is a character in the Naruto anime series. She has "exceptional" eyes and is the heir to the Hyuga clan. But after witnessing the internal clan battles under her leadership, Mr. Hiashi, who trained her, stripped her of her inheritance and handed it over to her younger sister, Hyuga Hanabi. She and Naruto met when they were children, and she developed special feelings for him. After many events and fierce battles, many sacrifices, she was strong enough to escape death and confessed her feelings to Naruto. years later, she and Naruto got married, and they had two children, Uzumaki Boruto and Uzumaki Himawari.
3. Uzumaki Kushina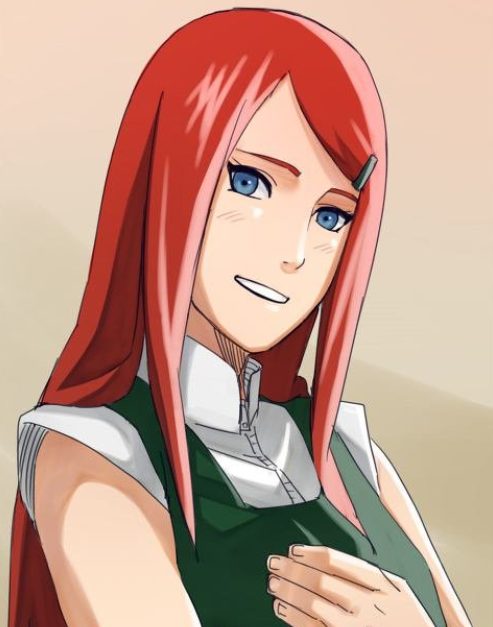 Uzumaki Kushina is a female ninja of Konoha, from the Uzumaki clan of the whirlpool village and the second host of the Nine-Tails. She is a girl with a stubborn temper and eccentricity, she talks all the time but she has a sharp appearance with red hair. She is a woman who always loves her husband and children to the fullest. She was willing to sacrifice herself to protect her newborn Naruto from Kurama's fatal blow.
4. Tsunade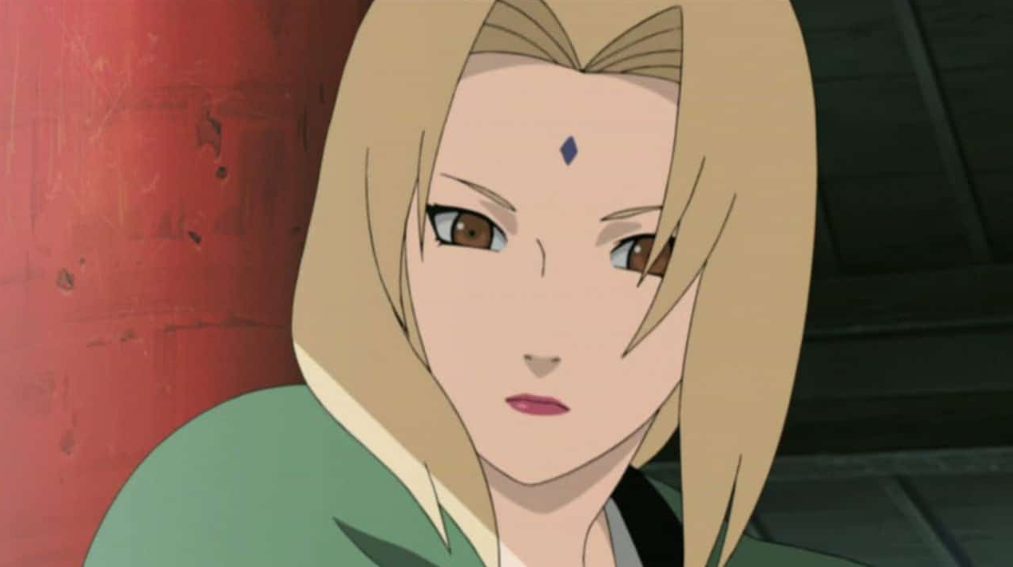 Tsunade, a descendant of the Senju and Uzumaki clans, is a 50-year-old woman whose appearance only resembles that of a 20-year-old girl. She is known as one of the strongest Kunoichi in the world and an excellent medical ninja.
5. Mirajane Strauss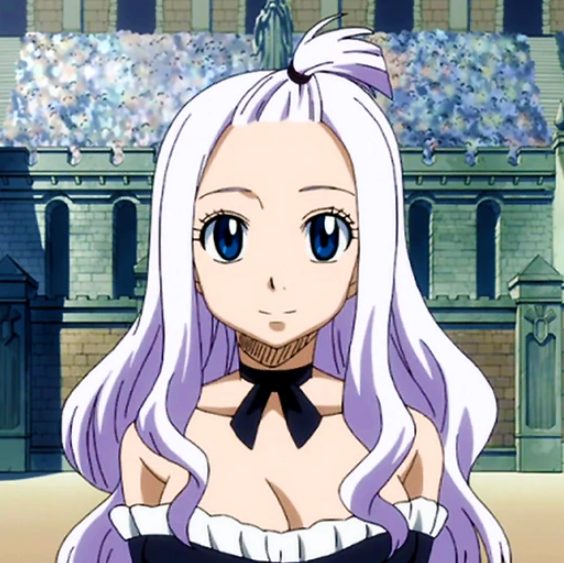 Mirajane is a beautiful girl with long curly white hair, she has big innocent blue eyes with a hot body. Mira is known as "the devil Mirajane" she is quite scary and mischievous like the boys. She often teases and even bullies people older than her. But after the unknown death of her sister Lisanna, Mira has changed into a completely different person full of love and kindness to everyone around. In particular, she has another special talent which is cooking very well.
6. Saber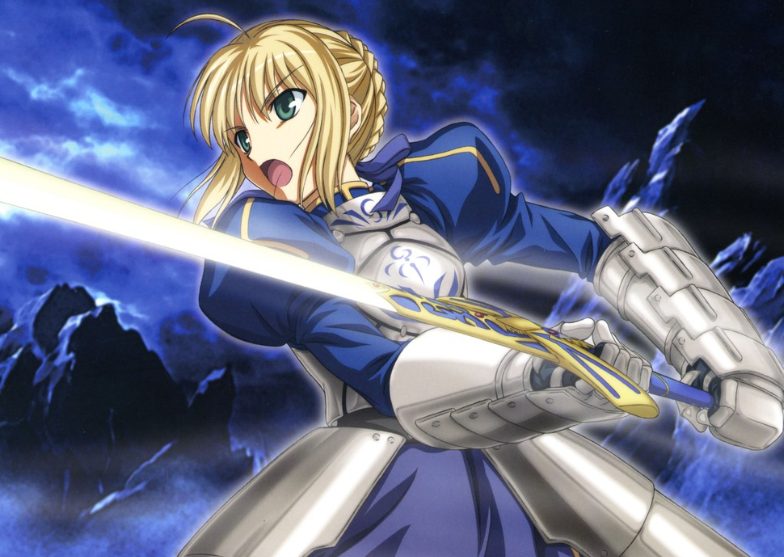 Saber is one of the three heroines of the Fate/Stay Night series. Her real name is Artoria Pendragon. She is a strong, loyal and independent warrior, she is a bit cold but that is the cover of her feelings toward her goal. She has a rather strong and majestic image with a cumbersome black outfit but always radiates an indescribable power combined with neatly braided white hair. In the Fate/stay night visual novel, Saber is accidentally summoned by the magician Shirou Emiya.
7. Rias Gremory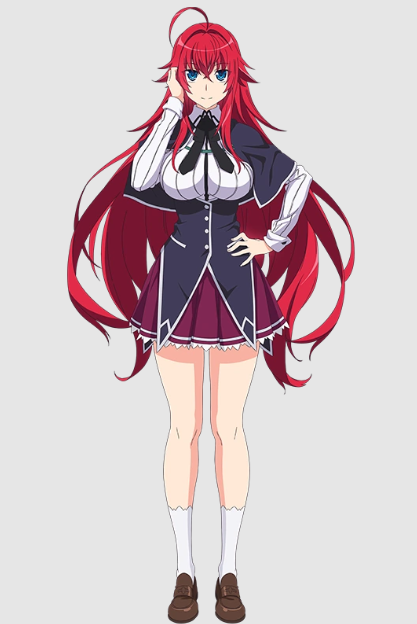 Rias Gremory, who is known as the Crimson-Haired Princess Ruin, the crimson thigh-length hair she inherited from her father gave her this name. Rias has a special hobby of wearing glasses when she needs to think because she thinks it will help her mind work better. She possesses powers such as destruction, healing, and summoning,…
8. Asuna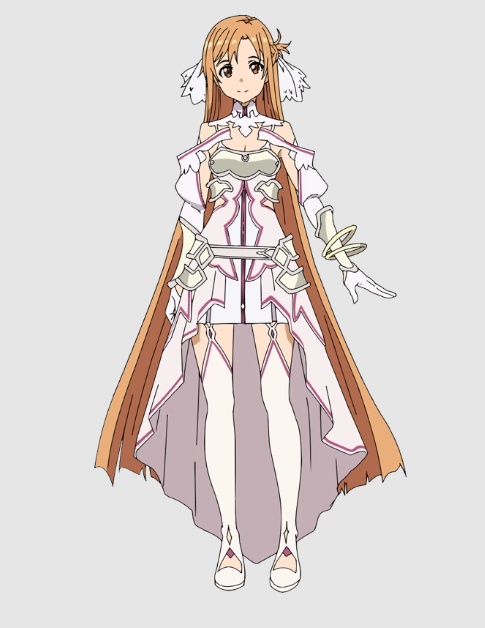 Asuna Yuuki is a fictional character in the Sword art Online anime series. After becoming a player of the game called Sword Art Online (SAO), Asuna must reach the 100th floor of the Game tower and defeat the final boss to be free. In real life, she will also die. After entering the game, she met the best player, Kirito. They fall in love and together fight the final battle to get out of the virtual game together. while escaping the virtual game and helping Asuna regain consciousness after Nobuyuki's illegal experimentation scheme. Asuna and Kirito were married.
9. Nami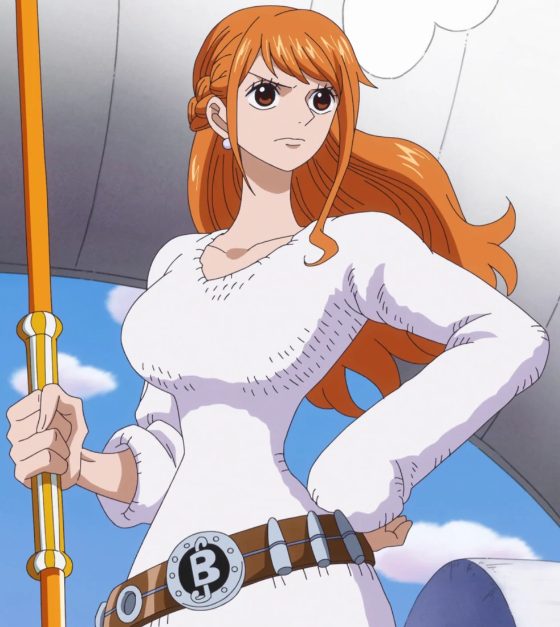 Nami is the second member to join the Straw Hat Pirates after Roronoa Zoro. She has a height of 1m70 with extremely attractive orange hair and round breasts. She played an important role as the Straw Hat Pirates' ship navigator, she loved to read and had a limitless interest in charting. She is also a pretty good thief with excellent pickpocketing skills. In addition, she is also the 2nd member who knows how to cook in the crew but only cooks when she gets paid.
10. Lucy Heartfilia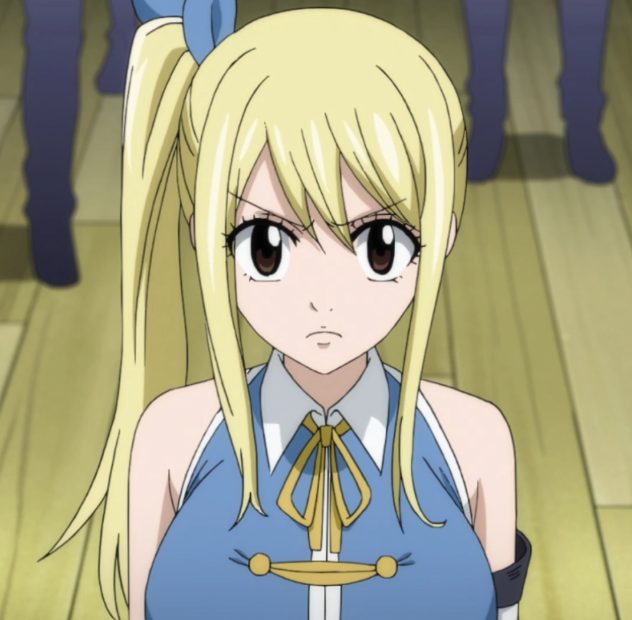 Lucy Heartfilia is a Spirit mage, a member of the Fairy guild. She has big brown eyes and blonde hair tied with ribbons of different colors. Although she has a superficial attitude, she is very kind and cares about everyone. She always hones her intelligence by reading literary books and writing about her adventures.
11. Sinon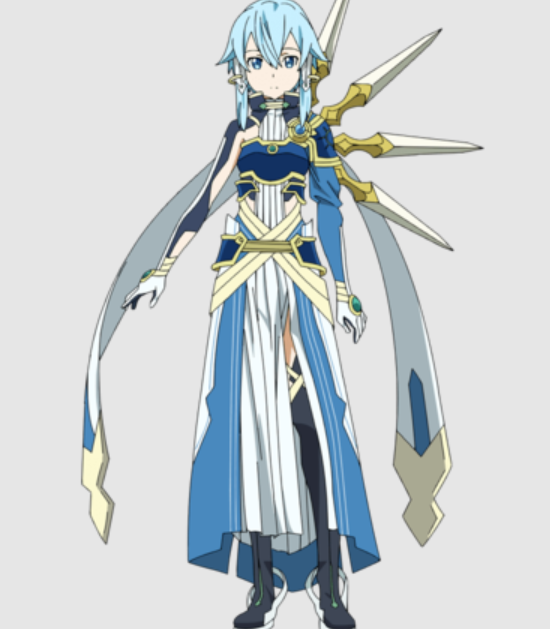 Sinon's full name Asada Shino is a character in the Sword art Online series. she has a novel and striking light blue hair. When she was a child, she met a robber at the post office and took a gun to protect herself and those around her, but since that incident, she had an obsession with pistols. As an adult, she was persuaded by Shinkawa to join Gun Gate Online to forget her fear of guns, where she met Kirito who accompanied her in defeating the game's final boss, Death Gun.
12. Nezuko Kamado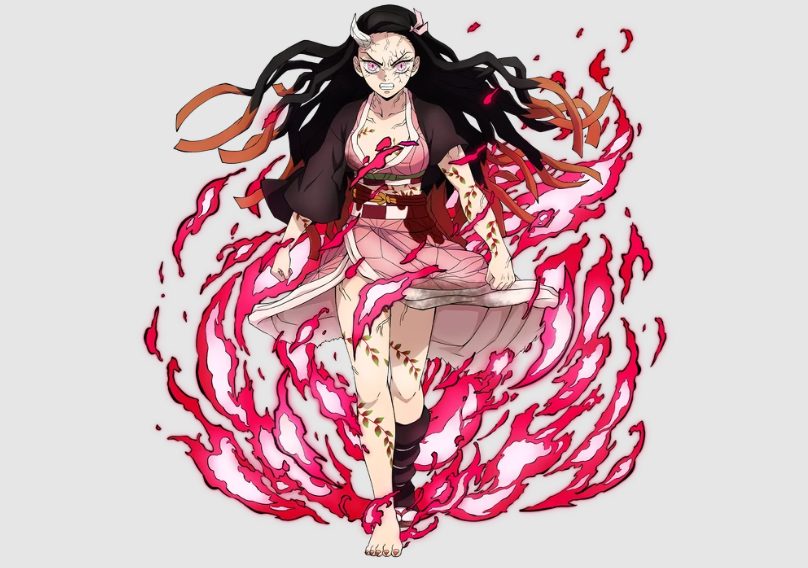 Nezuko the protagonist of Demon Slayer: Kimetsu no Yaiba. She was turned into a demon by Kibutsuji Muzan. she has pale pink eyes with a slightly ghostly feel and long, lustrous black hair that reaches down to her waist. She has a famous line in episode 23: "people need to be protected and taken care of… I must not harm them."
13. Akame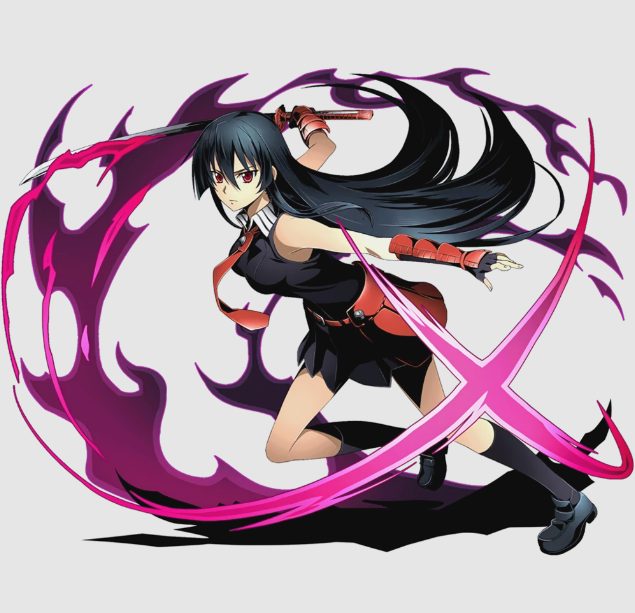 Akame is the famous anti-hero of the manga Akame ga Kill! She is a famous swordsman in the other series Hinowa ga Yuku! She is a rather cold-hearted person with long black hair and red eyes that look dangerous.
14. Mikasa Ackerman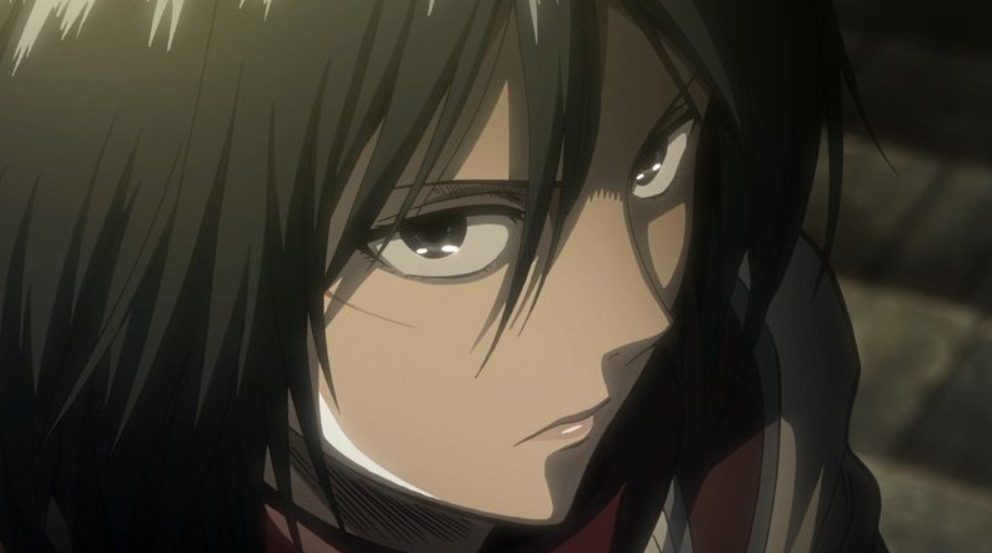 Amid an extensive and diverse character system in the blockbuster anime Attack on Titan, Mikasa stands out with her attractive Asian beauty and genius fighting ability against all opponents. Witnessing her parents' murder and experiencing a turbulent childhood has forged a cold, strong, and brave Mikasa.
15. Shinobu Kocho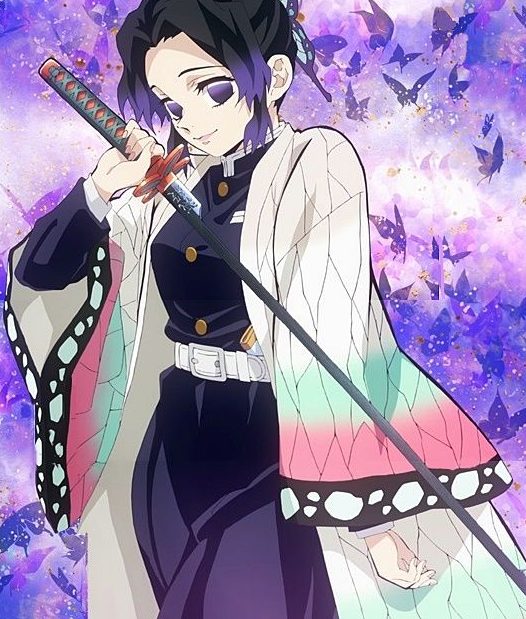 Kochou Shinobu is a Demon Hunter, she is also the Insect Pillar of the Demon Slayer Team. Shinobu has short black hair tied with a purple butterfly bow. She has purple insect-like eyes. Shinobu is quite laid back, always with a smile on his face no matter the situation. Despite her laid-back appearance and always saying that she originally intended to get along with demons, she also has a ruthless side towards demons, ready to kill them without hesitation.
16. Mai Sakurajima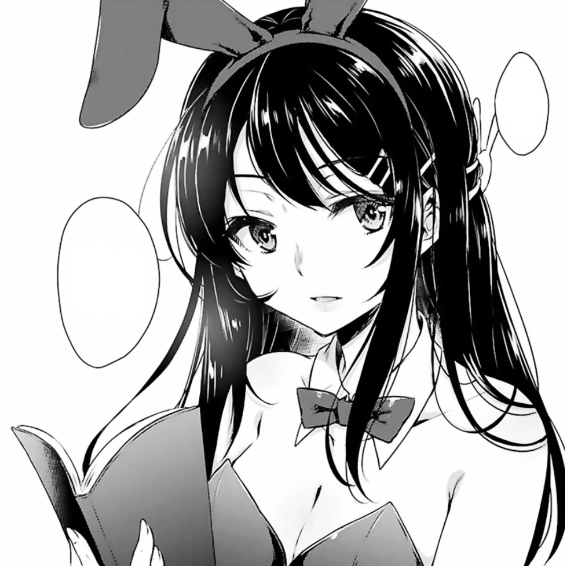 Mai is an attractive personality with waist-length black hair. She always wears a bunny costume. She became famous early on as a model for magazines and television. She is a popular and sought-after girl in school.
17. C.C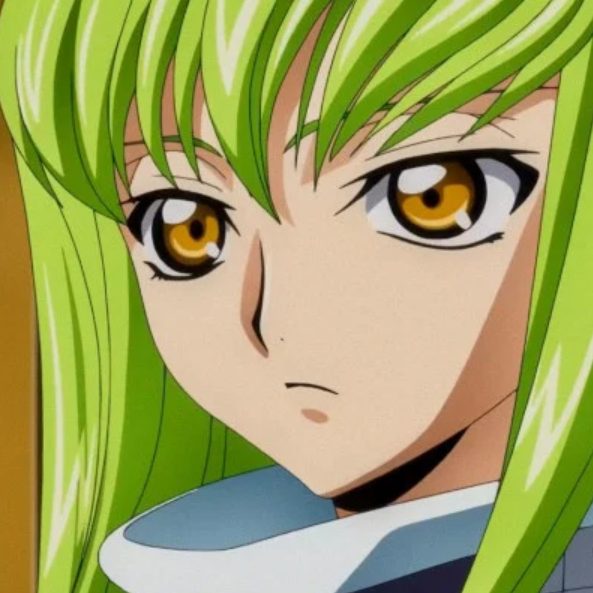 CC is the pseudonym of a fictional character in Code Geass: Lelouch of the Rebel. Introduced as a human captive test subject by the Holy Britannia Empire, CC is revealed to be an immortal young woman with special powers known as Geass. Sardonic, stubborn, and mysterious, she can give her Geass powers to others, which she does with protagonist Lelouch Lamperouge. She becomes Lelouch's ally and protector, sometimes piloting a mech and leading the paramilitary group Black Knights to do so. She later assisted Lelouch in destroying other Geass users who abused their powers, including her former students, and supported the subsequent regime changes.
18. Yoruichi Shihouin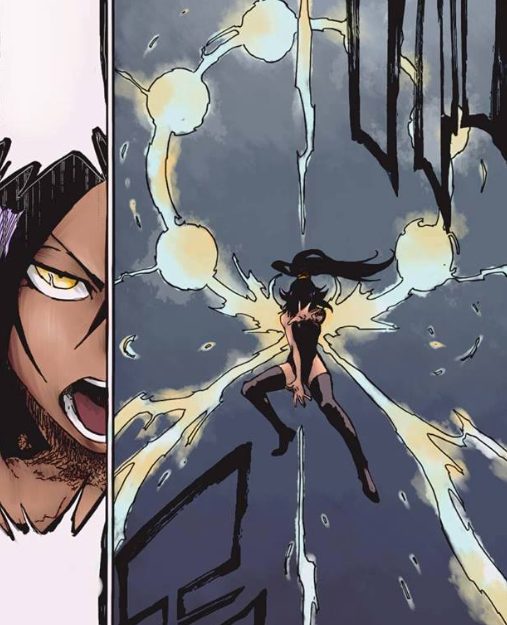 Shihouin Yoruichi is currently working as a pet cat for the Urahara store in the Bleach anime series. This girl is a smart witty person who loves to tease others. are a former captain of the 2nd team and former commander of the mobile secret team, so the strength of this cat is undisputed. Yoruichi can create a circle with 6 electric balls called "Raijin Senkei".
19. Mashiro Shiina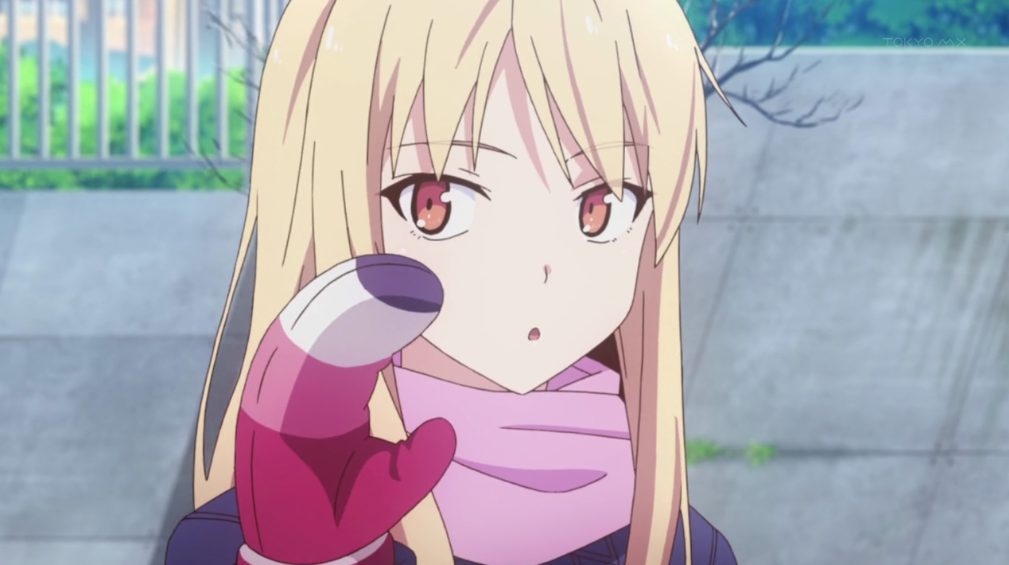 Mashiro is a girl with a soft voice, she is eccentric and sometimes just wants to live in her world. She is known to everyone through the anime series "Sakurasou no Pet Na Kanojo". She is a world-famous artist, but then she transferred to Suiko High School in her 2nd year to learn how to draw manga. Although her works of art are widely known around the world – despite her very young age, she knows very little about everything around her other than drawing, resulting in her being heavily dependent on others.
20. Kaguya Shinomiya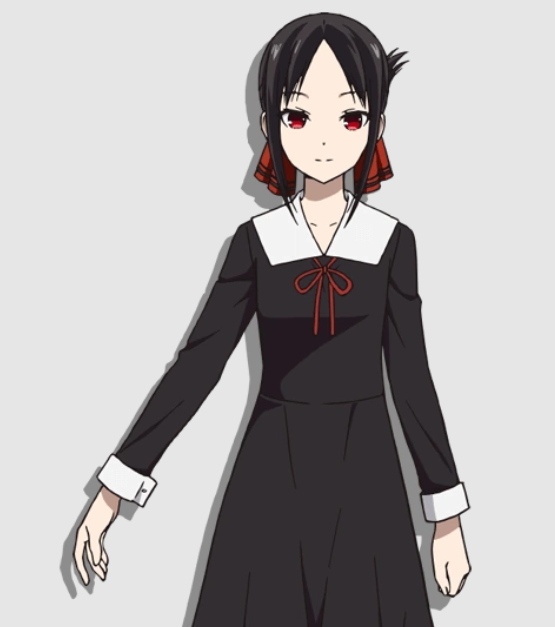 Shinomiya Kaguya is the main female character of an anime series called "Kaguya-sama wa Kokurasetai ~Tensai-tachi no Ren'ai Zunōsen~" in Japanese, which translates as "confession war". tells the story of two characters, president Shirogane Miyuki and vice president Shinomiya Kaguya, who has the appearance of a real couple. Although they like each other, they are too proud to confess their feelings because they both think that whoever confesses first will lose. The story is about their plans to get the other person to confess that they like the other person.
21. Touka Kirishima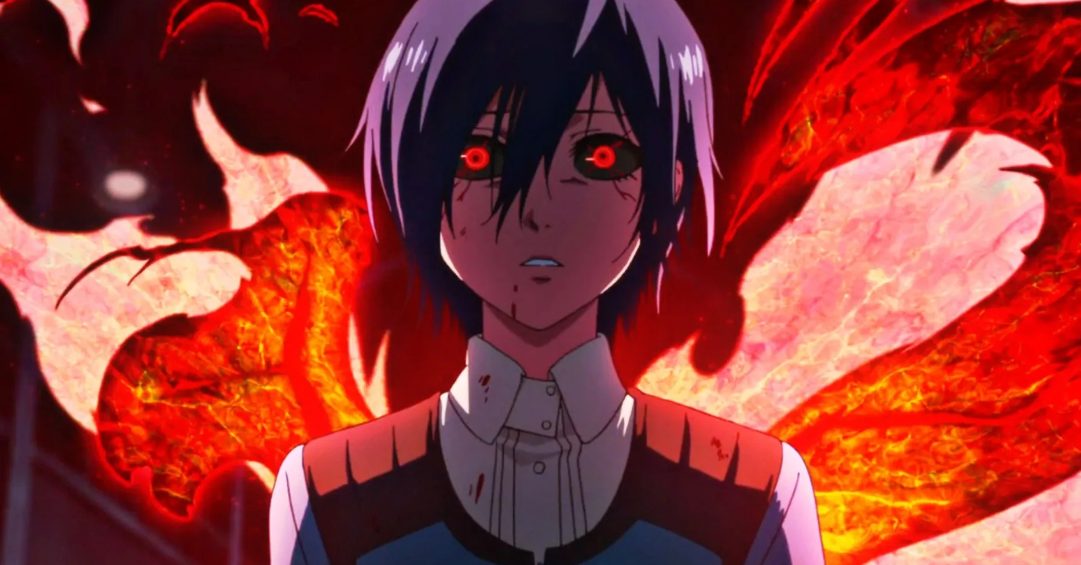 Touka Kirishima is a female character in the popular manga/anime series Tokyo Ghoul and is loved by many. Touka is a ghoul living in the 20th district, worked part-time at Anteiku cafe in high school, and later opened her cafe. For Touka, hiding her identity as a flesh-eating demon was a top priority, so she kept her cover quite well when living in harmony with human society. Touka also used to have a rather harsh, unpleasant personality, but inwardly she was very kind, always helping weaker flesh-eating demons. Gradually when meeting and getting to know Kaneki she becomes more and more gentle and feminine. Thanks to such a personality, Touka won the hearts of many people.
22. Toga Himiko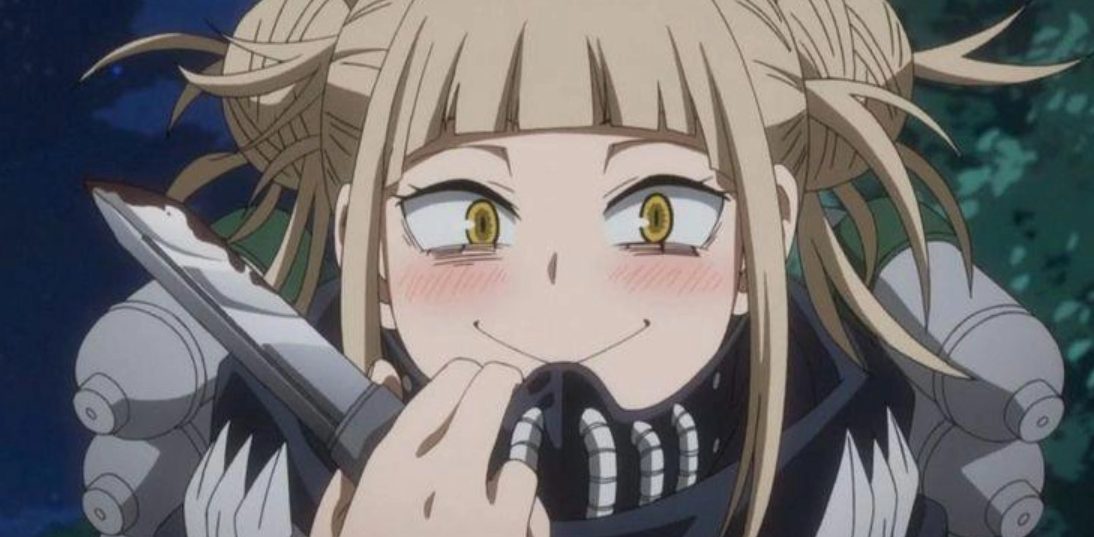 Toga Himiko is an important supporting character and member of the Crime Alliance, affiliated with the Vanguard Squad. She and the rest of the cast are the main antagonists of the Summer Camp event in the woods, she is also a villain in Temporary Hero Certification Exam and the Internship. Himiko is a very playful girl, to the point of smiling even after perhaps killing someone, showing obvious violent tendencies.
23. Esdeath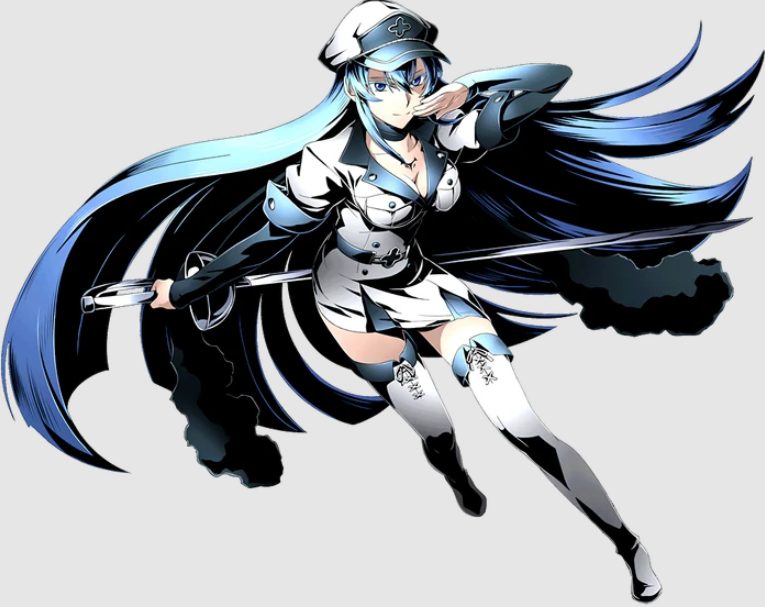 Esdeath was a high-ranking general of the Empire. In the end, due to the effectiveness of the Night Raid as an assassination unit, she became the leader of Jaeger on the orders of the Prime Minister. She was deeply in love with and obsessed with Tatsumi. Esdeath was a tall, beautiful, and slim woman with long, light blue hair and blue eyes. She wears a General's outfit with long sleeves buttoned at the biceps, a blue scarf around her neck, and high-heeled boots. She has a tattoo on her chest. Esdeath is a sadist and barbarian who lacks empathy for those she considers weak.
24. Rin Tohsaka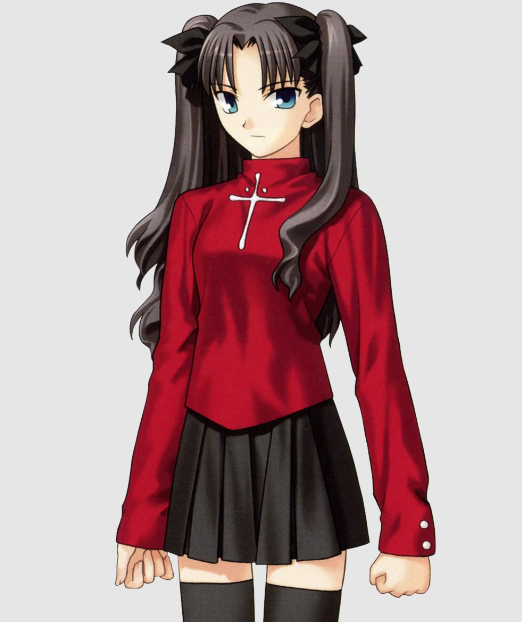 Rin Tohsaka is one of the three main heroines of Fate/stay night, a Master of Archers in the Fifth Holy Grail War. After the events of the Holy Grail War, she officially joined the Clock Tower and studied under Lord El-Melloi II in the El-Melloi Classroom. Rin was raised as the successor to her family's magic and was instructed by her father to prioritize the use of magic over her own interests. Rin is a young woman with faithful eyes and long wavy brown hair in a side ponytail.
25. Temari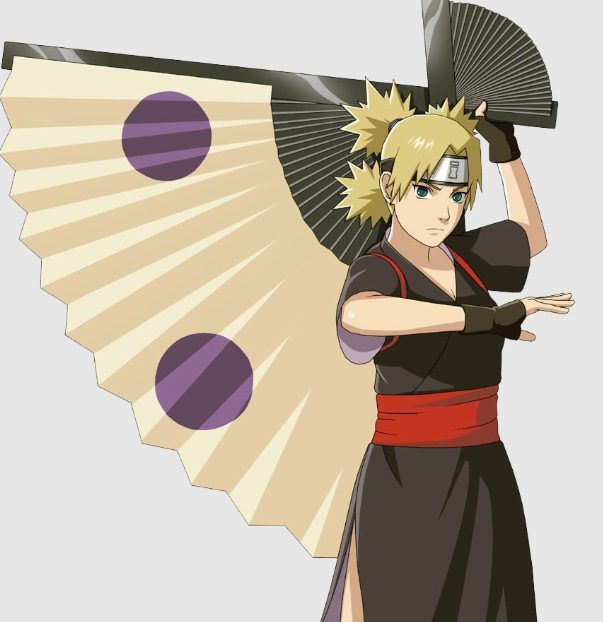 Temari is one of the characters of the Naruto anime series, she is a former ninja of the Kazekage clan in Sand Village. She is a wise, stoic and straightforward girl. Temari has always shown herself to be intelligent and a bit cruel, but on the other hand, she is a very peace-loving person.
26. Taiga Aisaka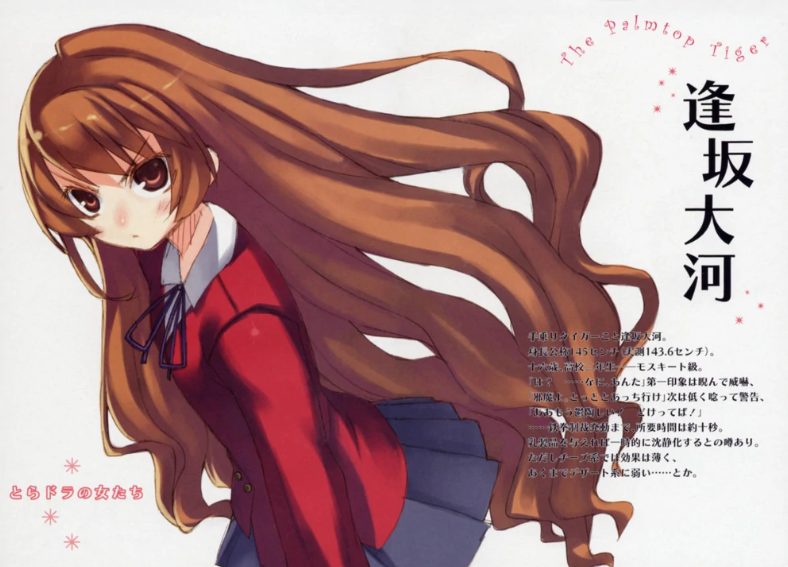 Taiga Aisaka is the heroine of Toradora. Due to her frequent bullying of others in brutal ways and her short stature, she was given the nickname "Palmtop Tiger". Taiga reads almost like Tiger – a tiger, called Tora in Japanese. She gets upset easily over little things, especially her underdeveloped stature for a girl her age.
27. Akeno Himejima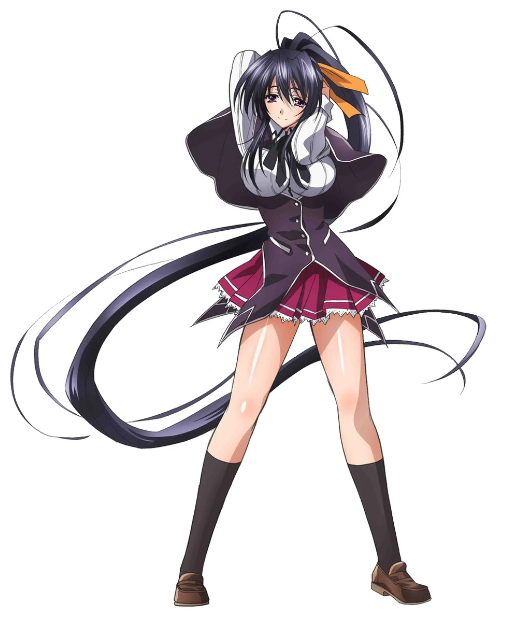 Himejima Akeno, the daughter of Himejima Shuri and Baraqiel, inherited her father's power of lightning and her mother's beauty. She has a traditional Japanese beauty with long shiny black hair and a tall figure. She has the blood of a fallen angel, so when activated, she will create 6 wings on her back like a high-class fallen angel.
28. Nico Robin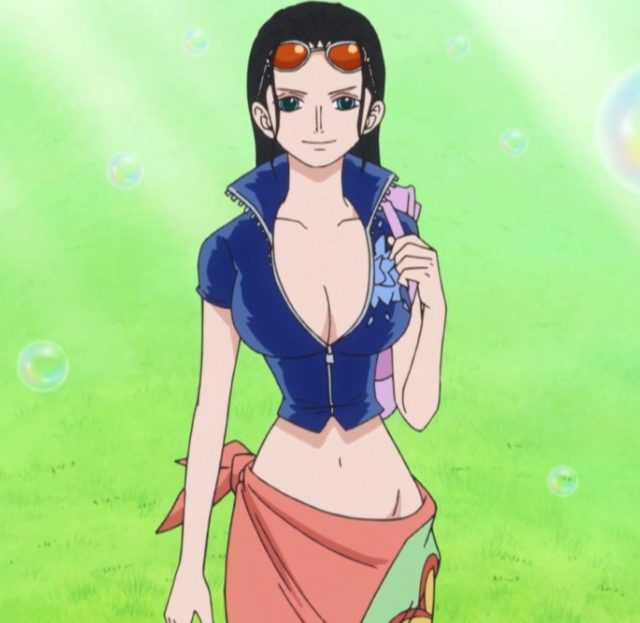 Nico Robin, a character in the anime series One Piece, is known as the "child of the devil" and the "light of the revolution", and is the archaeologist of the Straw Hat Pirates. She has the power to regenerate body parts or entire bodies on any surface at will because as a child she ate the Hana Hana no Mi Devil Fruit.
29. Raphtalia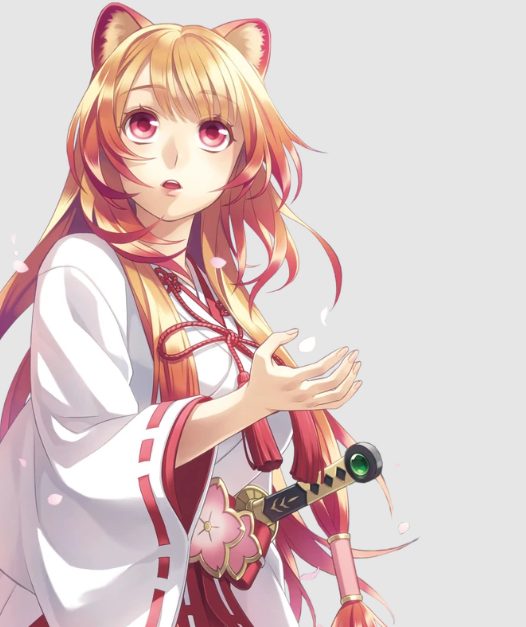 Raphtalia is a heroine in the series The Rising of the Shield Hero. a young girl with long brown hair and red eyes. A demihuman with cat and tanuki ancestry, she has fluffy red tanuki ears and a bushy tail. She was bought by Naofumi Iwatani as a slave, but he did not treat her badly, so their relationship was very strong. Although she was abused and mistreated a lot in the past, Raphtalia was always the best. a kind and generous person.
30. Winry Rockbell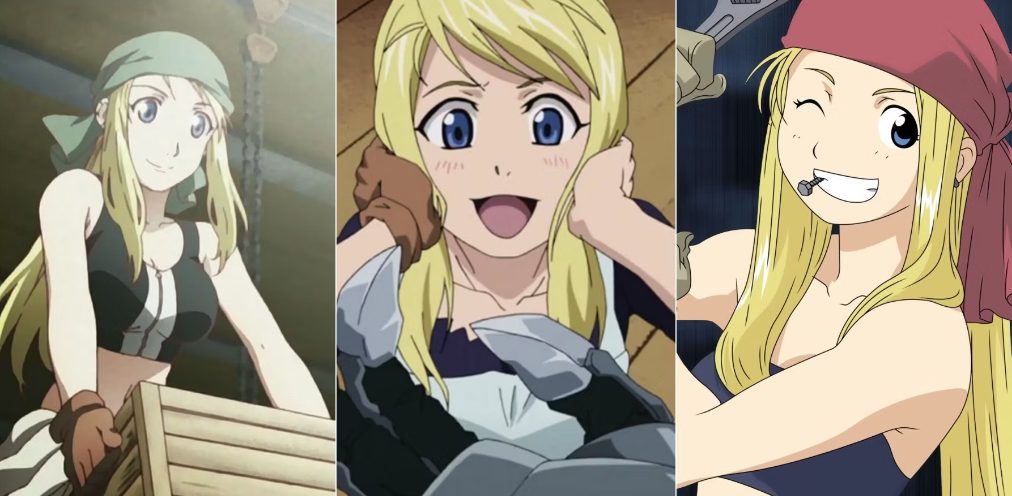 Winry Rockbell is a secondary character in the Fullmetal Alchemist anime series. European-style story during the industrial revolution. The story is about two Elric brothers, who want to restore their bodies to their original state by alchemy. Winry is a good doctor as he is the one who fitted Edward's right arm and left leg one of the two characters. main of the series. Besides being a doctor, she is also a famous mechanic with a cheerful personality and strong will.
31. Wendy Marvell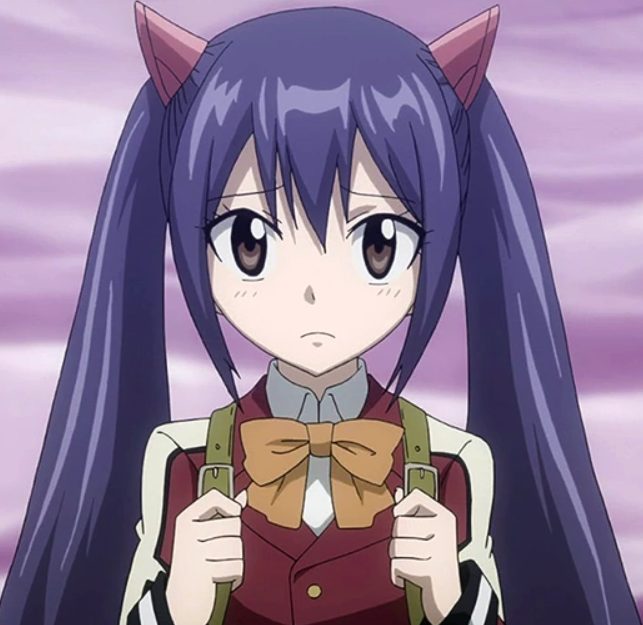 Wendy is one of the most loved Fairy Tail characters. She is known as the child of the sky and is a female dragon slayer Taoist. Her hair is blue but it will be pink when she uses dragon power, her eyes will also change from brown to pink. Her appearance is quite small when she only has a height of 1m47, although her height is quite modest, she is the "most cheeky" character in the guild.
32. Levy McGarden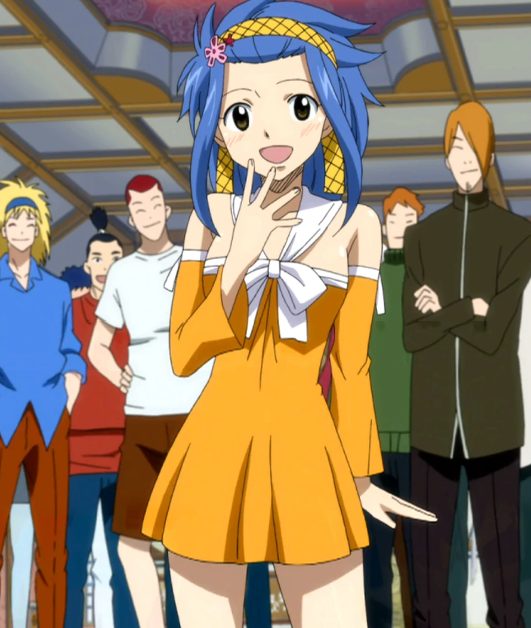 Another girl from the Fairy Tail guild. Levy McGarden, captain of the Shadow Gear team. She is a pretty girl with blue hair. She is a cheerful, optimistic, and kind person, so she often avoids fights in the guild only when she is too reluctant to join "just for fun". She is one of Lucy Heartfilia's close friends, as the two share a love of reading.
33. Mitsuha Miyamizu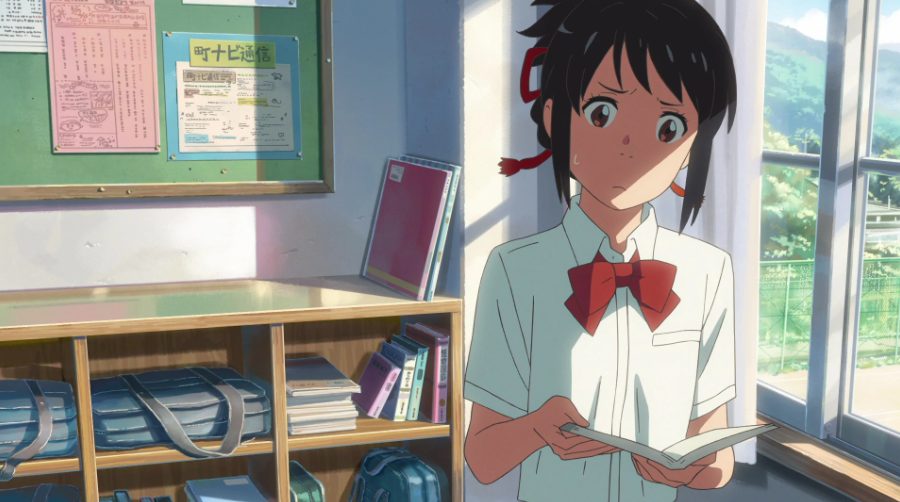 Mitsuha Miyamizu is a girl from a spiritual family in the popular anime series "Your Name". after saying "I hate this town, in my next life please reincarnate as a Tokyo boy" for some reason the next morning Mitsuha transformed into the body of a boy named Taki. they had a dream together, Mitsuha switched to Taki and vice versa. On their journey to find each other, they helped save Mitsuha's town from a comet disaster. After a strange dream, the two always accidentally pass each other but don't remember anything about each other. Once they met in the subway, both of them said the same sentence "What's your name?".
34. Android 18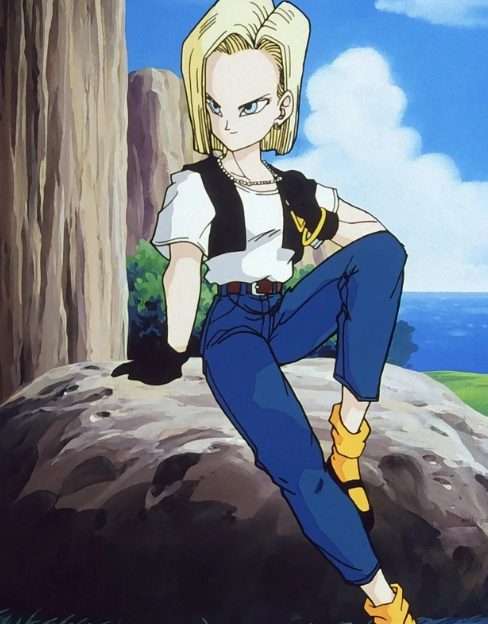 Android 18 is an extremely beautiful biological robot, she possesses harmonious lines and three standard rings. She is quite a favorite character in the Dragon ball series. She was originally a normal girl but was kidnapped by Dr.Gero and changed body. She along with her twin brother AAndroid 17 appear as villains. but later on, she reformed, becoming one of the strongest members of the Z warrior group.
35. Leafa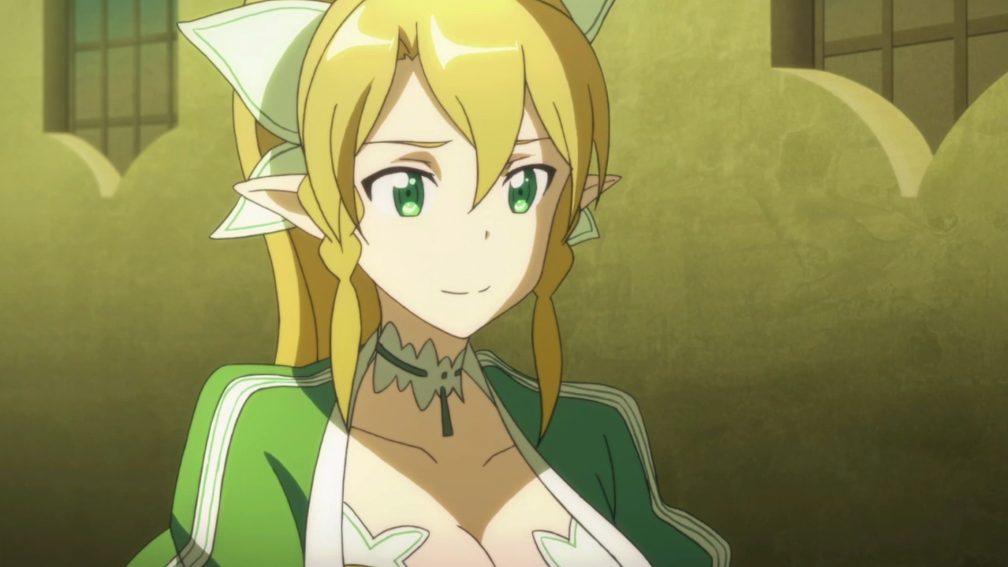 Leafa whose full name is Suguha Kirigaya, is a fictional character appearing in the Sword Art Online anime. She is the younger sister of the protagonist Kirito who is not related by blood, a diligent and hardworking girl who has replaced her brother in Kendo training for 8 years. She fell in love with her brother Kirito from the misunderstanding of the characters in the game to reality. but because she felt that Kirito's feelings for Asuna were too deep, she still helped Kirito on the way to rescue Asuna.
36. Rukia Kuchiki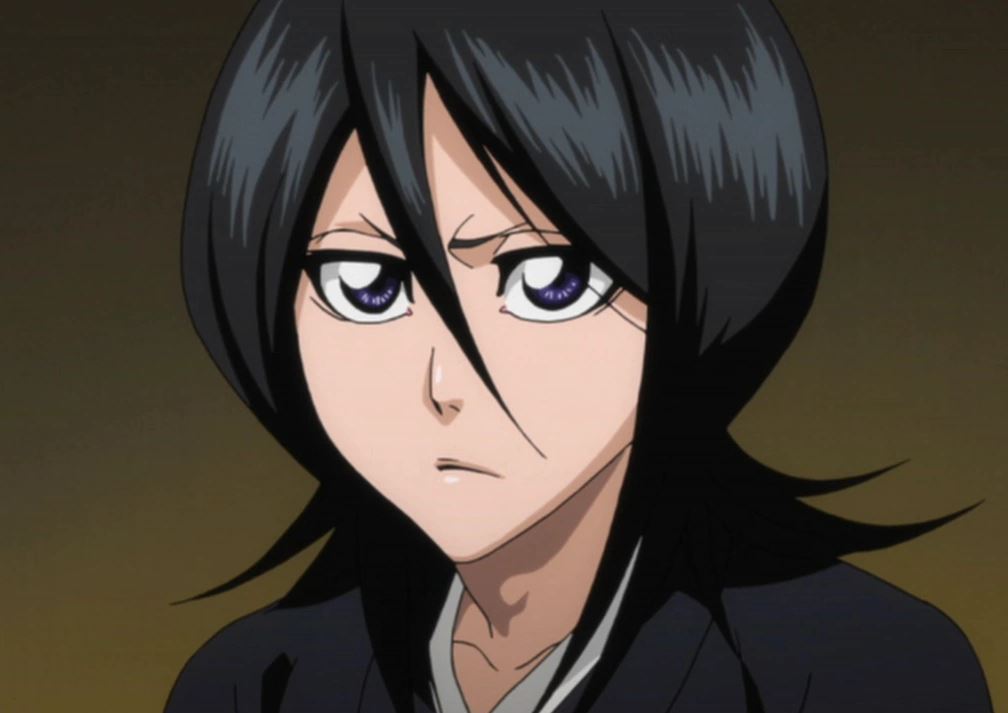 Kuchiki Rukia is a fictional character in the Bleach anime series. She is one of the top 5 most popular characters in the anime series. After she gave all of her power to Ichigo to let him kill Hollow, her only remaining forte was Kido, she used kido to block, heal as well as attack opponents. After returning to Soul Society, she was sentenced to death for giving her powers to humans. but in the end, Ichigo prevented the execution and saved her to safety.
37. Ino Yamanaka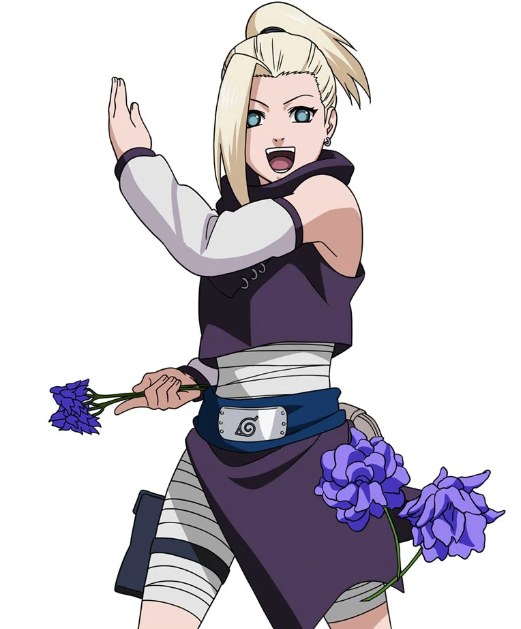 Ino Yamanaka is a member of the Yamanaka clan of Konoha in the Naruto anime series. She has a bright appearance with big eyes and silver hair. She is very confident about her appearance, she has always dreamed of having boys like Sasuke and Sai compete for her. She has very good sensing ability.
38. Ultear Milkovich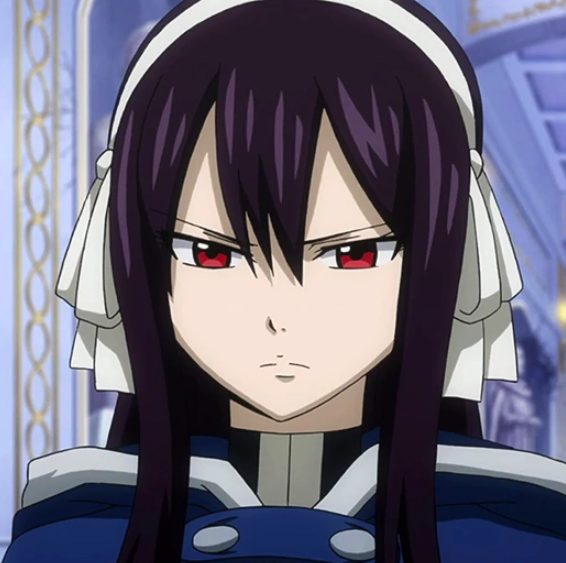 The character Ultear Milkovich in Fairy Tail was a member of the magical council and the Grimoire Heart. She possesses powers such as time bow, ice magic, shapeshifting, mind possession, etc.
39. Lucy Ashley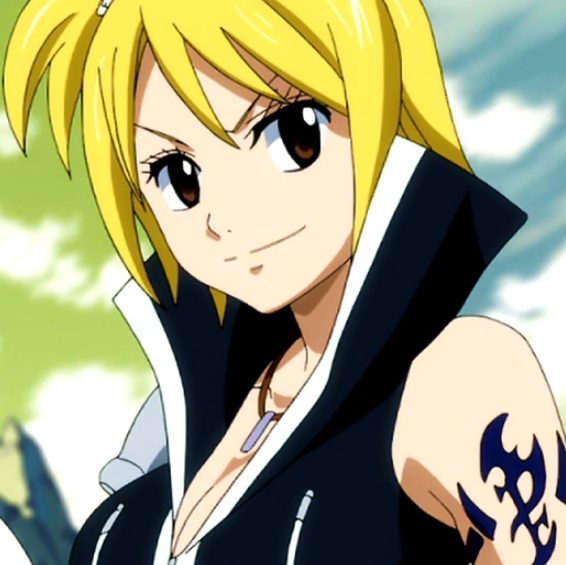 Another character from the Fairy Tail series, Lucy Ashley. She is the Edolas counterpart of Lucy Heartfilia. She has large round brown eyes and blonde hair tied with a skull, she has a decorative black tattoo around her left arm. Lucy has innovated at least 48 other techniques, she is an expert at whipping: Before Edolas lost all Magic, like her Earth Land counterpart, Lucy Ashley mastered the use of whips. She was able to defeat a frog monster that attacked Wendy, Natsu, Carla, and Happy by repeatedly hitting it in succession with only her Magic Whip.
40. Lucy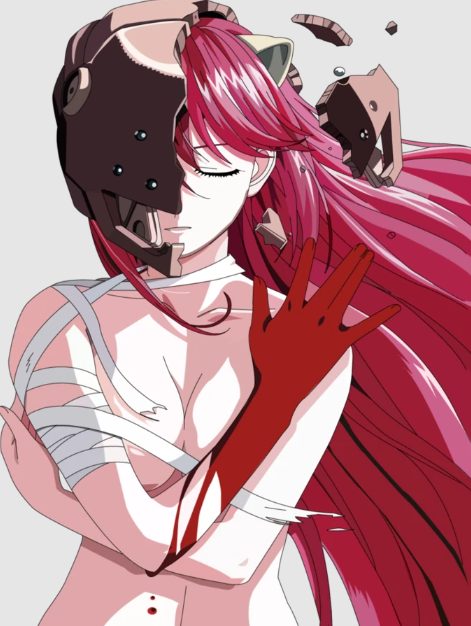 A girl also named Lucy but in another anime called Elfen Lied. She is a juvenile diclonius about 18 years old, Lucy has four vectors with lengths limited to 2 meters. However, within that range, she can kill people in the blink of an eye and can use nearby objects at high projectile speeds to kill people at longer distances. Lucy also has the ability to block and deflect most projectiles when she focuses. Lucy hates humans because of the way she was treated as a child. She believes that those who are not diclonii are not human. Lucy hates humans because they mistreat her when she was a child. Lucy is a person who lacks empathy, kills without worry, or fear, and acts very animalistic. Lucy's grudge against humans gradually dissipates as she lives with Kohta. Despite her lack of concern for humans, Lucy never harms Kohta and avoids killing most people in front of Kohta.
41. Rangiku Matsumoto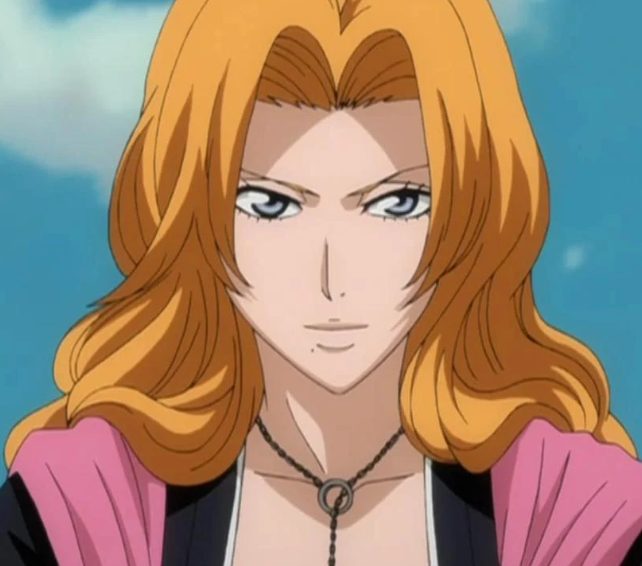 Matsumoto Rangiku is a beautiful girl with a fiery body, long wavy orange hair, and long, gentle eyes. she is the character in Bleach. a girl who is strong and continues to grow as she watches the man she loves disappears in front of her without saying goodbye. but she always tries to be a responsible "big sister", always understanding and caring for everyone around her.
42. Sasha Blouse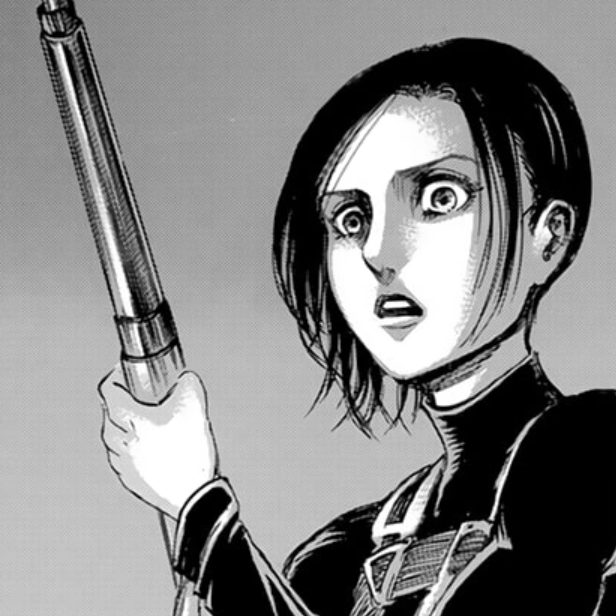 Sasha Blouse is a member of the Survey Corps and one of the few former members of the 104th Training Corps. She joined the regiment hoping to get rid of the Titans. But unfortunately, she was killed in battle. And she is fondly remembered by Niccolo. "I once had someone important to me too! That's right…! An old man!! Descendants of the devil!! But… she likes my food more than anyone I've met before. .. She saved me from this stupid, pointless war… She showed me who I want to be. Someone who makes people happy through her food. That's Sasha Blouse. The woman you took your life from."
43. Hange Zoë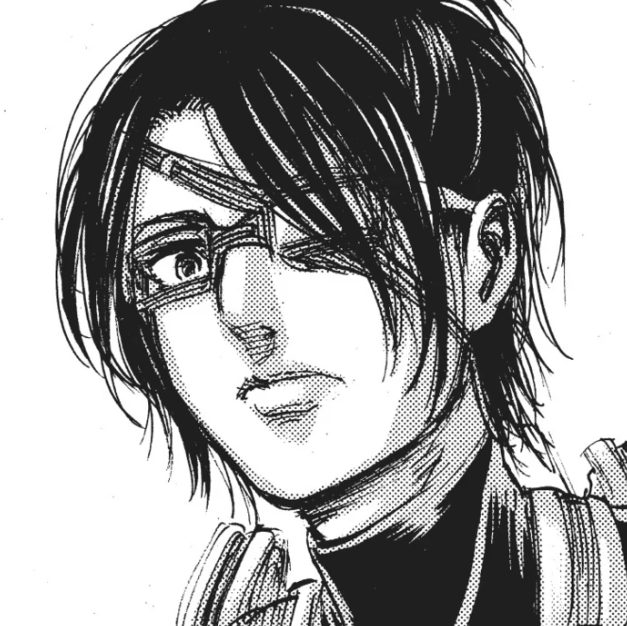 Hange Zoë is the 14th commander of the Reconnaissance Squad, she is tasked with creating and researching Titans. Change has large, light brown eyes and dark brown hair. Due to the effects of the explosion caused by Bertolt Hoover's transformation, her left eye is severely injured so she always wears a small eye patch. Hange Zoë is an energetic, passionate researcher with meticulous observation. Hange Zoë enjoys watching the Titan alive, especially in reality, so she is always recklessly circling Titan, which is quite dangerous for her an her supporters.
44. Yumeko Jabami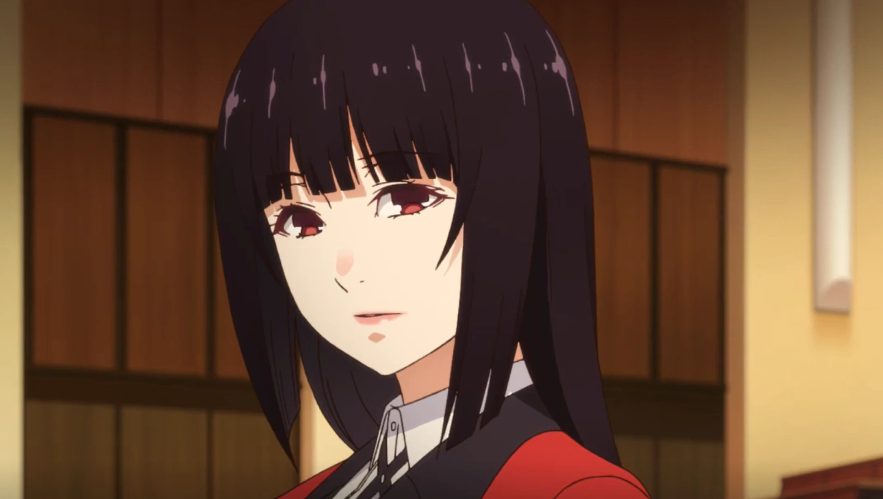 Yumeko Jabami, the main character in the anime series Red and Black Academy, a big gambler, wants to take a unique position at Hyakkaou Private Academy – a school where students are judged solely on their gambling skills. She has snow-white skin and silky black hair. Her personality is very optimistic, so she is always loved and respected by everyone around her.
45. Nobara Kugisaki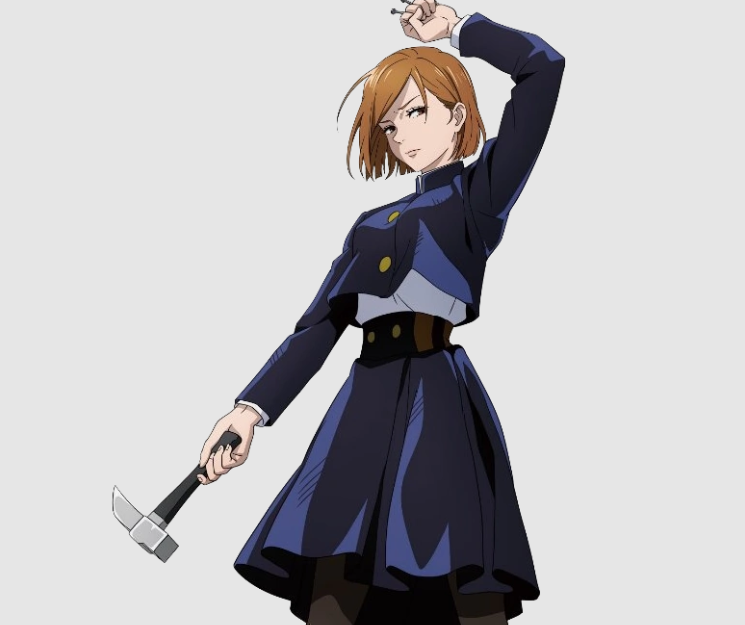 Nobara Kugisaki is one of the three main characters of the Jujutsu Kaisen anime. A girl who is quite strong and confident with her strength, her appearance is quite cold so it is easy for others to think she is quite unapproachable. Nobara is currently a level 3 sorcerer, but her abilities and skills are far above her level.
46. Shoko Nishimiya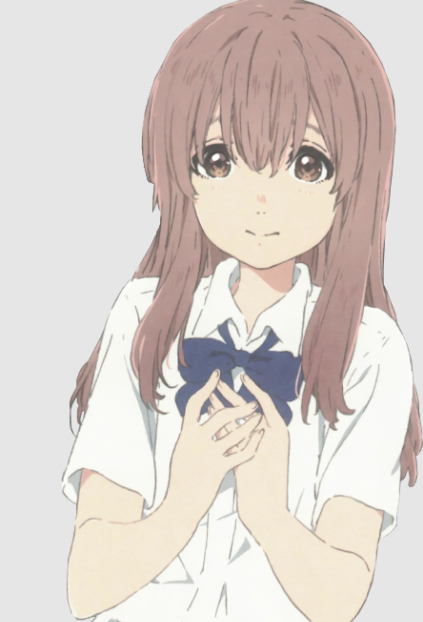 Shōko Nishimiya is the heroine of the Koe no Katachi anime series. She is a disabled person, her hearing loss is so severe that she has to wear both hearing aids at the same time. Shōko is easygoing and can quickly forgive many people, such as her childhood bullies.
47. Nejire Hado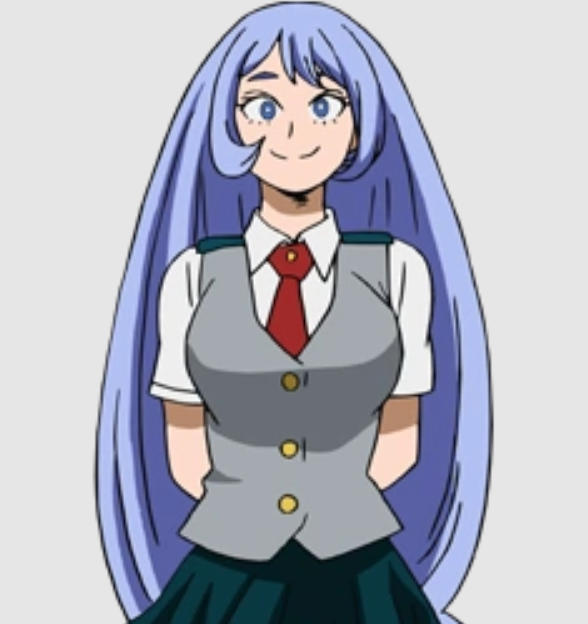 Hado Nejire is a 3rd-year student at U.A High School and a member of the invincible trio – The Big 3. She is a talkative, curious person, so she is often amused by the characteristics of the group. others and easily distracted by them. As a member of the big 3, Nejire has strong fighting skills and abilities.
48. Megumin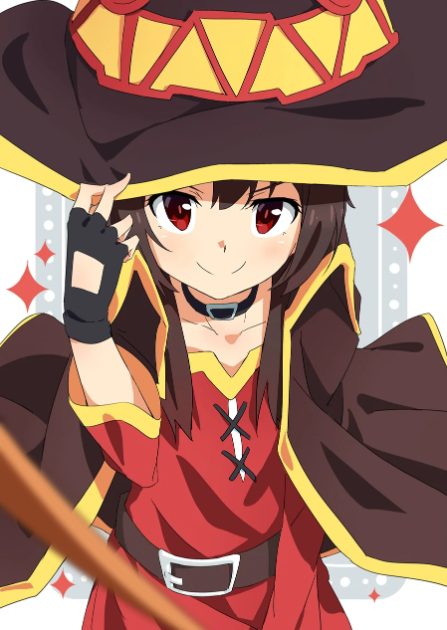 Megumin – the beautiful sorceress of Konosuba. She is often the one who "carries" the tasks of the whole team. As a member of the Crimson Magic Clan, she has high intelligence, she has innate magic, and is proficient in magic with an extremely high energy reserve.
49. Boa Hancock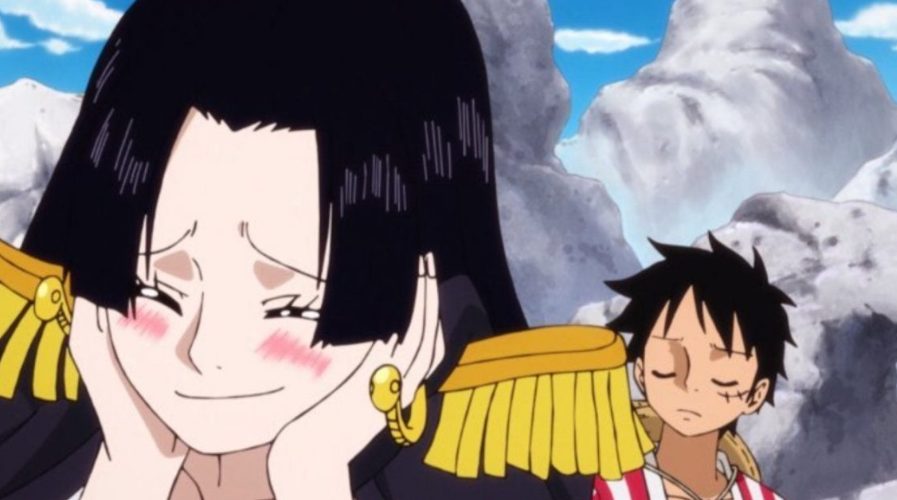 Pirate Queen Boa Hancock is the captain of the Kuja Pirates, and the only female member of the Shichibukai – Shichibukai, and the Snake Queen of Amazon Lily, ruling over the Kuja tribe with her three brothers. Girl Gorgon, Boa Sandersonia and Boa Marigold. She is the most powerful warrior of the infamous Kuja tribe, she can easily take down the Pacifistas in one kick whereas Luffy and the others took a lot of strength to take down before.
50. Sakura Haruno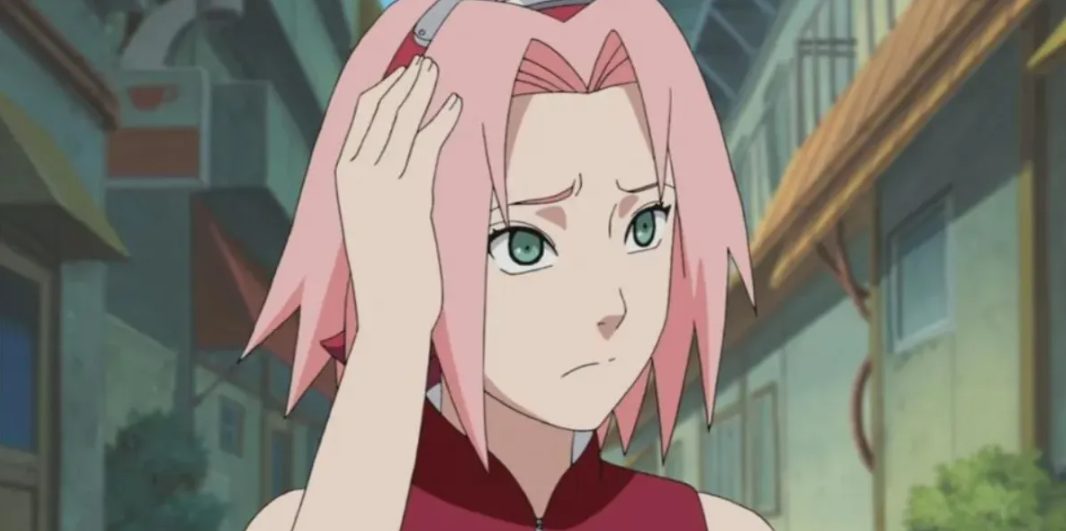 Haruno Sakura is a fictional character in the Naruto anime series. Sakura was extremely enamored with Sasuke and looked down on her then-unskilled teammate, Naruto. However, at a later stage, she abandoned that prejudice and came to appreciate Naruto's skill. After Sasuke left Konoha, Sakura followed Tsunade to learn ninjutsu. She later became the most skilled healing ninja in the village.