Moncler, which was founded in 1952, is well recognized for its combination of premium sportswear and outerwear. The famous Italian clothing company manufactures jackets, coats, parkas, pants, and trousers for women, men, and children.
The company has captured the hearts of lots of people and has been one of the go-to brands for jackets suitable for a French Alp way of life, especially for high-quality craftsmanship and aesthetic appeal.
When Moncler became a premium brand in the year 2000, it became an objective for counterfeiters. Therefore, Moncler has increased its security methods to combat the issue of black market knock offs by putting a couple of useful tools to help consumers authenticate a Moncler jacket.
Purchasing Moncler jackets from authorized retail stores such as Matches Fashion and Farfet, on the other hand, is debatably the easiest way to make sure that you are getting the genuine product. This article helps you differentiate between original and fake Moncler jackets. But first, let's find out where these high-quality jackets are made.
Where Are Authentic Moncler Jackets Made?
Although Moncler's headquarters are in Milan, Italy, the brand has production plants throughout Europe. The majority of their jackets are produced in Georgia, Bulgaria, Armenia, Hungary, Romania, and Moldova/Moldavia.
If you want to buy an authentic Moncler jacket, remember to carefully check it for authenticity. Counterfeiters' techniques have progressed in recent years, making it even far more difficult to evaluate the authenticity of a jacket.
With these tips, identifying a fake Moncler jacket will be a little bit easier.
If you're wondering where authentic Moncler jackets are made, you might be interested in learning how to spot fake Chanel bags. Check out our guide on how to spot fake Chanel bags and avoid getting scammed by counterfeit products. This guide covers everything from the stitching and hardware to the labeling and packaging, so you can confidently identify a genuine Chanel bag.
Check Out The Code On The Moncler Official Website
Moncler has established a code checker tool on the official website as a part of its anti-counterfeiting campaign.
At the start of the process, you will be required to enroll. After registering your information, you will be prompted to enter the QR product code.
You can quickly scan the certilogo code using your smartphone or manually add the 12-digit code. The outcomes of your code will be displayed on the following page. If the website recognizes a fraudulent phone number, you will then be directed to reach its customer service.
Examine the Styles
Many counterfeiters create totally fictitious Moncler jacket designs that look nothing like authentic jackets. Reacquaint yourself with the latest styles and designs at authoritative retailers such as Nordstrom and Saks Fifth Avenue.
Be wary of items labeled "limited edition" or "vintage styles," as they might be forgeries being sold as one-of-a-kind styles on illegitimate websites.
If you're unsure about the authenticity of a Moncler jacket, examining the styles may provide some insight. Moncler offers a range of styles, including puffer jackets, parkas, and vests. Check out their official website to familiarize yourself with their products and details. You can also view various kinds of styles of outfits on our outfits ideas with white shoes section for more inspiration.
Inspect the Labels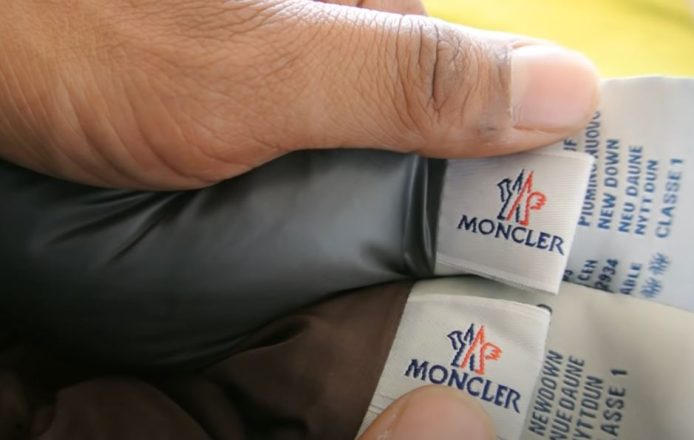 Moncler jackets' tags are generally sewn on the upper portion of jackets close to the collar or hood. In particular, the tag is simple and elegant, with a simple look.
It features the Moncler text, as well as the M and rooster symbol. This entire display must be well-made, with accurate colors/fonts and spacing.
Counterfeit Moncler jackets and copycats frequently have uneven seams, with several letters appearing much larger or bolder than others. Besides, the embellished logo patch located on the outer side of many genuine Moncler jackets is difficult for most counterfeiters to replicate flawlessly.
Look Over the Comic Strip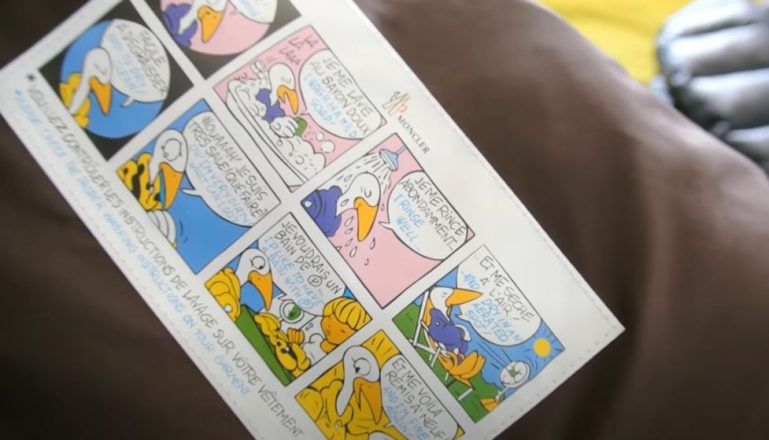 In fact, not all Moncler jacket styles include the cartoon strip tag, but those that come with a bonus attribute that you can look for. The cartoon strip is positioned on the left side of the jacket's interior front board on genuine Moncler jackets.
The tag is typically made of premium non-shiny fabric. Besides, the ink used for printing must be slightly muted and never overly bright. Counterfeit Moncler jackets usually try to imitate the original by using vibrant colors on cheap plastic-like material. Unaligned cartoon panels are also another tell-tale sign of a fake.
Examine the Fabric
Authentic Moncler down jackets are typically made entirely of high-quality nylon or polyamide. This is a tough fabric that is also comfortable while highly waterproof. Besides, the texture of the real Moncler jackets should be smooth and soft to touch and not excessively shiny.
Counterfeiters frequently use lower quality fabric as substitutes, giving the product a cheap appearance and feel. Original Moncler jackets should last a long time and hold their quality as well as comfort even with general wear and tear.
Inspect the Hardware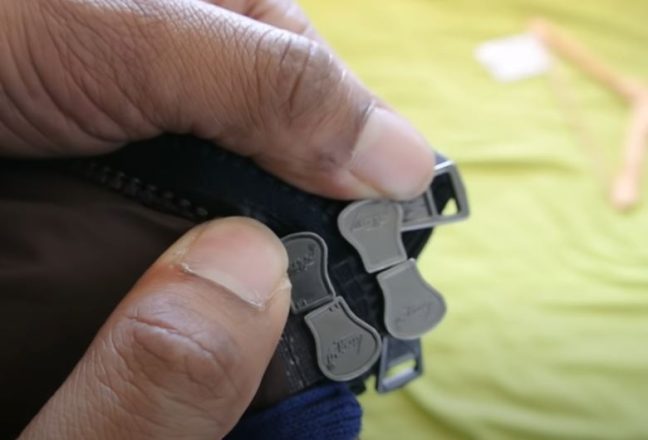 The major part of the details on an original Moncler jacket is embossed with either the brand logo or the brand name Moncler. The company has used a variety of zippers over the years, including Vislon, Fiocchi, and Lampo.
Examine the button and zipper markings carefully. Several counterfeiters can even use these relatively similar brands of zippers, but it is difficult to replicate the logo exactly. Besides, some counterfeits have no markings at all.
To identify fake or real Moncler jackets, inspect the hardware such as buttons, zippers, and snaps. If the hardware looks cheap or poorly made, it's likely a fake jacket. Check out this guide on how to spot fake Gucci bags for more tips on inspecting hardware.
Check the Seller or Website
As you might all know, counterfeit items are being sold on the black market and on illegitimate websites online. So, before you click the buy button, do some research on the web page from which you are purchasing. When buying on auction sites such as eBay, be especially cautious.
If you intend to buy using this technique, it is critical that you select a reputable seller with positive reviews. Examine the listing for dubious signs, such as uncommunicative sellers, spelling mistakes, and product images that were simply copied from the Internet.
Where to Buy Authentic Moncler Jackets
The safest way to buy authentic Moncler jackets is to go directly to authorized vendors. Apart from Moncler's official website, the following are the most common officially approved websites from which you can buy genuine Moncler jackets: Amazon, Farfetch, Matches Fashion, Nordstrom, and Saks Fifth Avenue.
Do you require additional advice? Watch the video down below for more information.
How Can I Tell If a Moncler Jacket is Counterfeit in Seconds?
If you are in a bit of a rush or just want to buy an authentic Moncler jacket online, the 7 comprehensive genuine vs. fake Moncler jackets above might be a bit inconvenient.
This is the main reason why I to put together this simple 20-second alternative for authenticating your Moncler jacket. The top six factors that can really help you decide whether you have a genuine or fake Moncler jacket are listed below.
Check the collar label. This text is generally too thin in counterfeits.
Examine the arm sticker. Due to the obvious stitching, the writing on the arm sticker on phony Moncler jackets usually shows up too rough and thick.
Look for the official Moncler logo on the QR code label. The knockoff Moncler logo is usually black with a white outline, whereas the genuine Moncler logo is white with a black outline.
Examine the size label on your Moncler jacket. Typically, the phone number is not located in the middle of the badge.
Check your Moncler jacket's zippers. Usually, Moncler's logo appears scrubbed on the counterfeit zippers, and the paint appears to have been removed.
Examine the comic strip. The colors on the fictitious Moncler jackets appear too light, and the Moncler logo is located too close to the top of the comic strip on the phony Moncler jackets, whereas the genuine Moncler logo is positioned lower.