Although there are many options for women in the sport, the National Basketball Association (NBA) and its men's leagues are the topics of discussion here. When a woman finally takes over as head coach of an NBA club, it's just a matter of time until that happens.
Up until that point, the women who received the most attention were the reporters. They have been working in this industry for quite some time now and have established themselves as a consistent component of the NBA program that we look forward to seeing every day. Let's look at the top five female NBA reporters who have the most fans today.
By accompanying NBA teams across the nation and asking challenging questions before, during, and after games, these female reporters have established themselves as some of the most accomplished journalists in the country.
1. Malika Andrews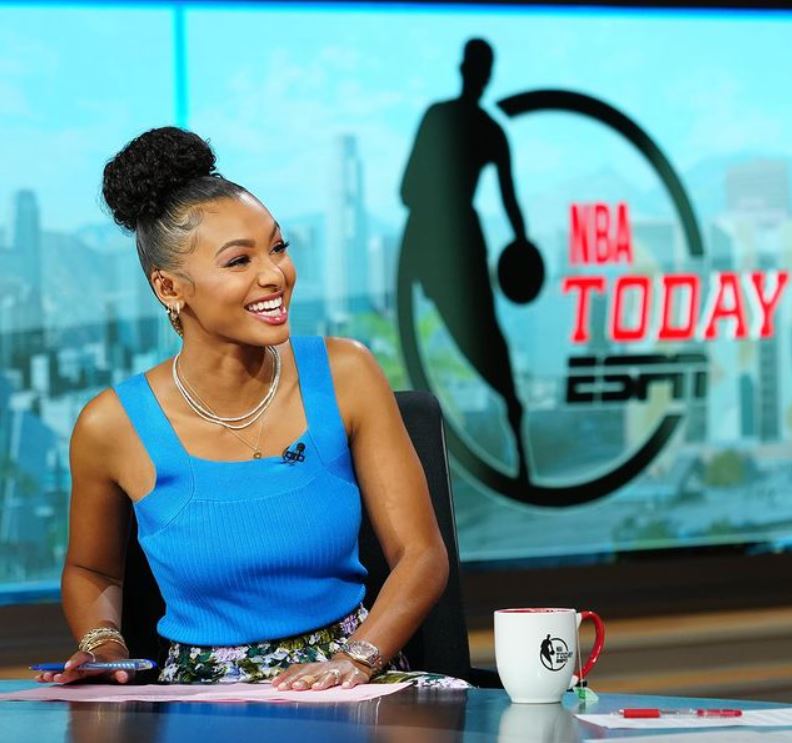 Malika Andrews, who is 27 years old, is widely regarded as a rising talent in the field of NBA reporting. Before working for ESPN, she was a reporter for the Chicago Tribune and did some filming for the New York Times. Ever since 2018, she has been working for ESPN.
She has been featured on SportsCenter as well as ESPN Radio. Due to her high regard for her reporting skills, Andrews has been selected to work as a sideline reporter during the NBA playoffs in the Orlando Bubble in the year 2020. As a result of her accomplishment, she became one of the youngest ever sideline reporters for a Conference Finals broadcast.
2. Beth Mowins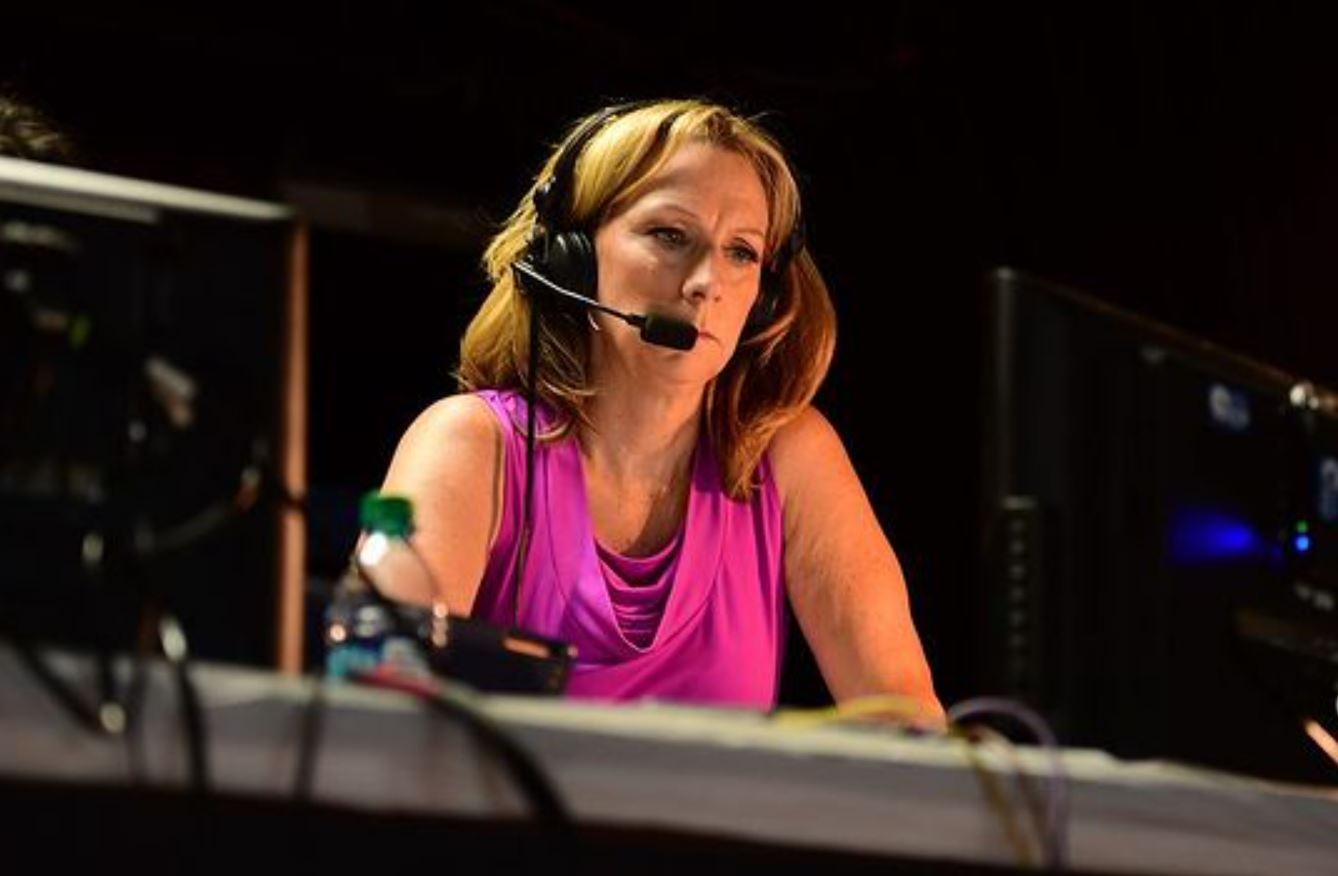 In recent years, play-by-play announcer and sports writer Elizabeth Mowins have worked for ESPN, CBS, and the Marquee Sports Network, among other well-known broadcasting outlets. She is often heard on ESPN calling plays for women's collegiate sports. Still, in 2005, she made history by being just the second woman to ever do so for a college football game broadcast on national television for the network.
In 2017, she made history by being the first woman to call play-by-play for an NFL game broadcast on national television. She once again made history in 2021 when she did it for the first time as a woman for an NBA game televised on a network channel.
3. Sarah Kustok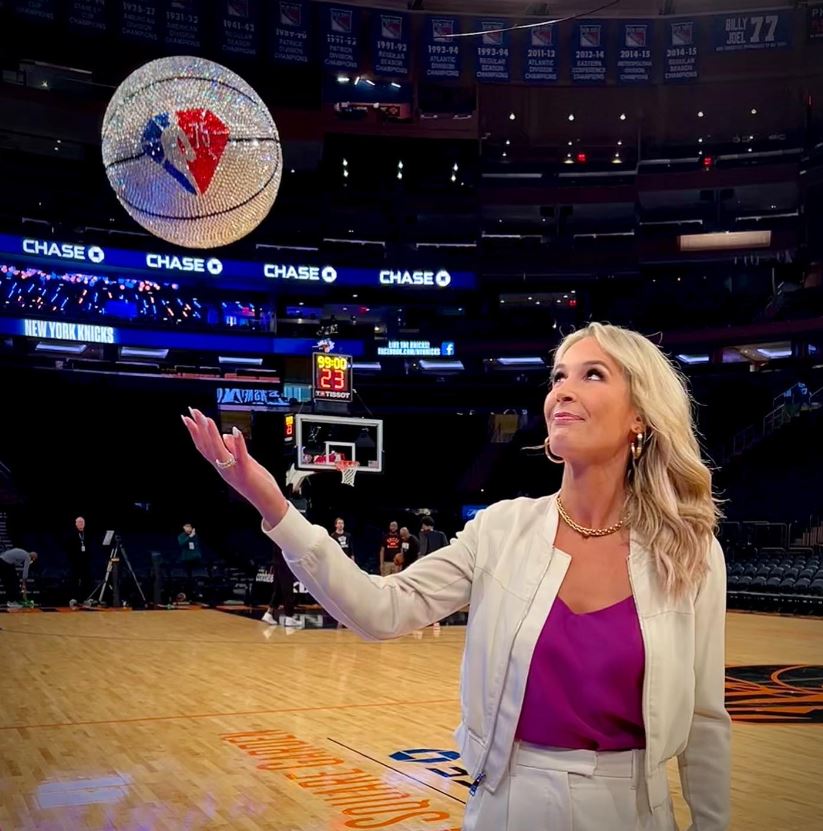 Since joining the YES Network in 2012, Sarah Kustok has been working as a sports reporter for the network, where she covers the Brooklyn Nets. Sarah created history when she became the first woman to ever work as a commentator for the local broadcast of an NBA franchise. This came after her excellent work as a supplementary reporter.
At the beginning of her career, Kustok worked as a reporter for NBC Sports Chicago, where she was given a chance to report on various sports. In addition to that, she has worked as a game analyst for both the WNBA and the NBA G-League. Since then, Kustok has consistently been on the FOX Sports program First Things First, in addition to making several guest appearances on a wide range of NBA television shows.
4. Rachel Nichols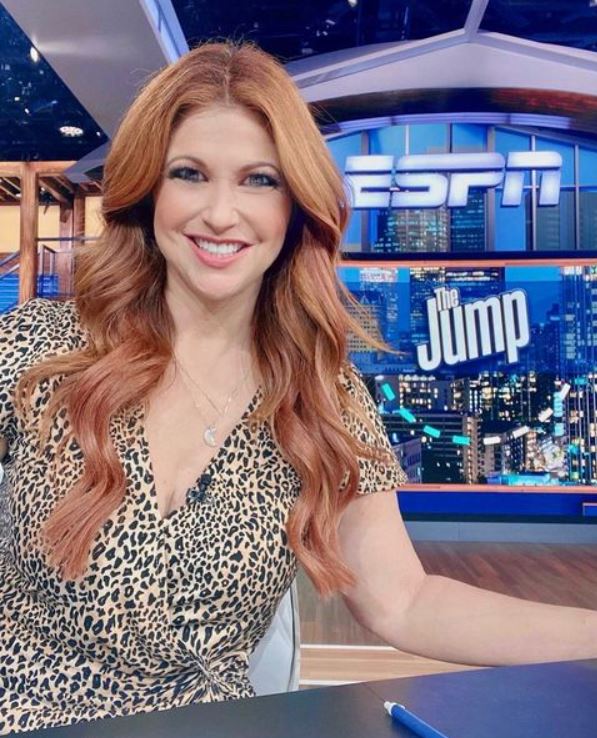 Rachel Nichols is a well-known face that viewers of ESPN's NBA coverage will recognize. The Jump, a daily program that lasts 30 minutes and focuses on the NBA, is hosted by Nichols. This fast-paced program emanates from the studios in Los Angeles owned and operated by ESPN.
In the 1990s, Nichols began working as a journalist for the Fort Lauderdale Sun-Sentinel, which was the beginning of her career in journalism. In 2004, she began working at ESPN, staying employed until 2013. After that, Rachel took a position at Turner, although she eventually returned to ESPN in 2016.
Nichols covered the 2020 NBA Finals in the Bubble as a sideline reporter for the broadcast. Within ESPN's coverage of the NBA, Rachel plays a prominent role.
5. Lesley Visser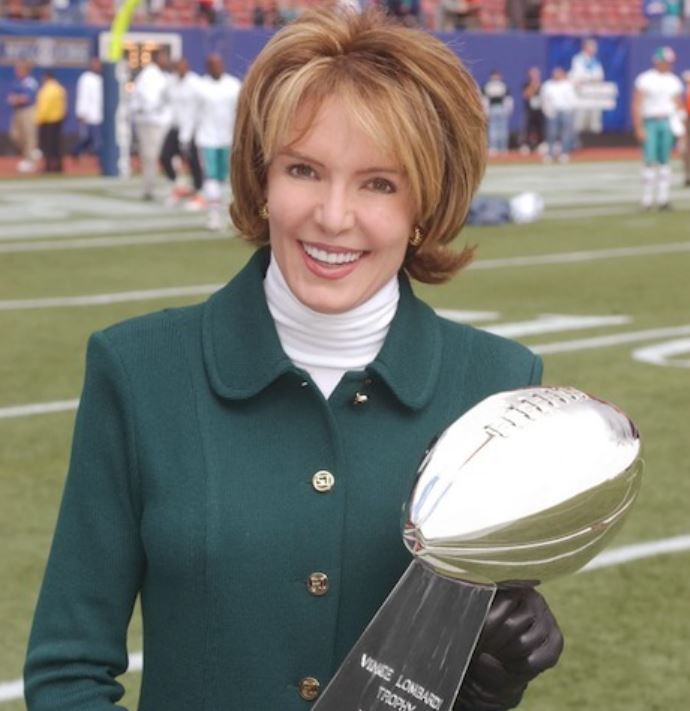 Lesley Visser is a well-known face on radio and television, in addition to being a sportscaster. In an American Association of Sports Broadcasters survey, Visser was the number one female sports presenter. As a result of this vote, Visser was admitted into the American Association of Sports Broadcasters Hall of Fame.
Also, she's the first female sportscaster in history. In 2015, Visser was inducted into the Hall of Fame of the National Sportscasters and Sportswriters Association after being chosen as the best female sportscaster of all time in a poll conducted by the association.
6. Stephanie Ready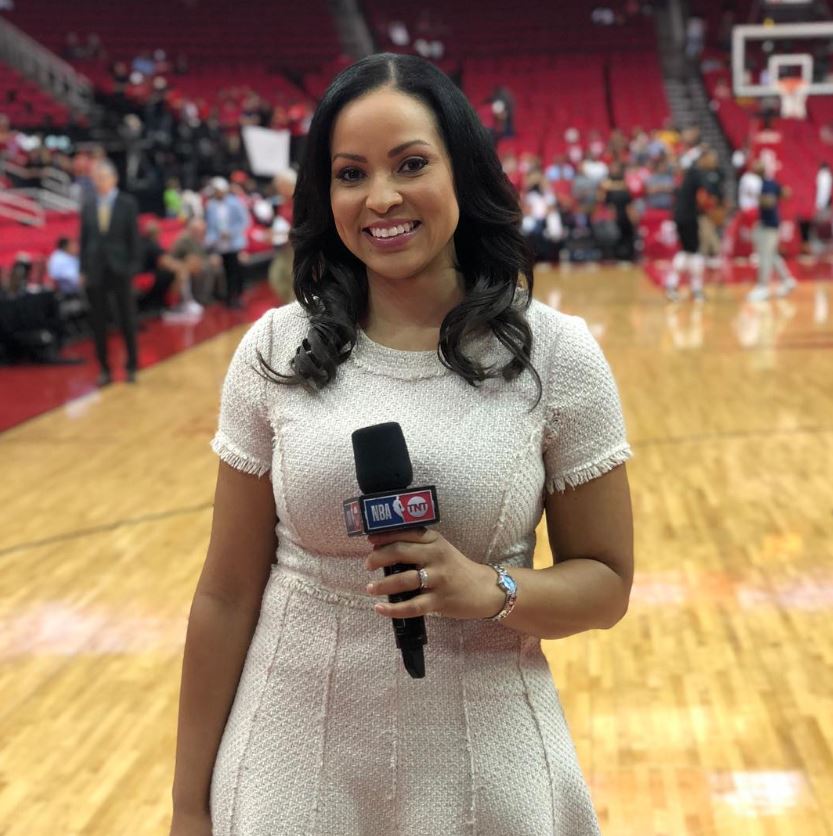 Stephanie Ready is a member of the broadcasting team for NBA on TNT. She served as a commentator for the Charlotte Hornets and was the first woman to ever lead a men's professional league basketball club.
She earned distinction as the first female coach of a men's professional league club in 2001 before beginning her career in broadcasting basketball. Before that, she worked as a basketball coach. After working as a head coach in the NBA Development League for a while, she joined the broadcasting staff of the Hornets and remained there for nearly a decade. During this time, she was the first full-time female NBA game commentator.
7. Doris Burke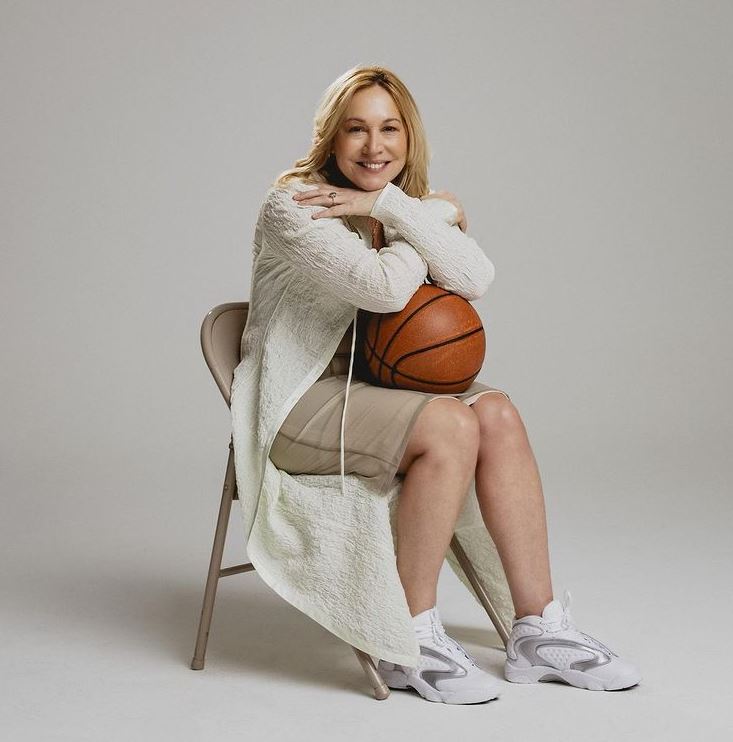 Doris Burke is a well-known sports broadcaster and commentator in the United States. She is most well-known for his work as an analyst for WNBA games televised on MSG. Doris was the first female commentator to call a New York Knicks game on radio or television. She has worked for the New York Knicks and other work for the team.
In addition to her work, Doris participated in collegiate basketball for the Providence Friars, and she finished her time there as the leader of support activities for the school. She was given the Curt Gowdy Media Award, meaning she will be inducted into the Basketball Hall of Fame in 2018.
8. Kristen Ledlow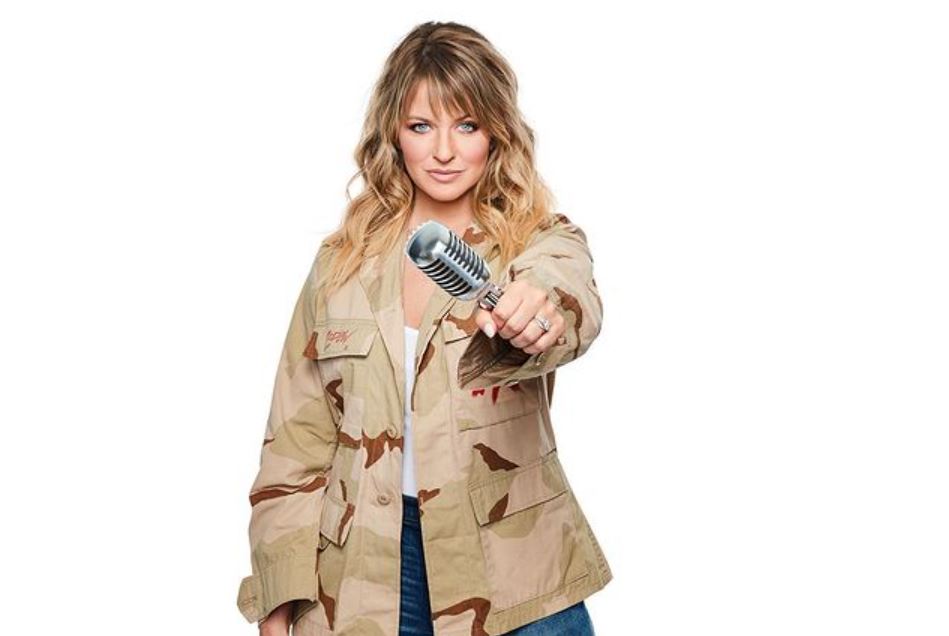 When the Lakers defeated the Magic in the 2009 NBA finals, Kristen Ledlow started her career as an intern for the NBC station in Orlando. Since that time, her passion for basketball has remained the same. She will now co-host NBA TV and cover sports as an anchor for NBA Inside Stuff.
She is the presenter of the NBA program Inside Stuff, which she currently does for NBA TV. Additionally, she has been a sports presenter for HLN and CNN in the past. After completing her studies at the university, she joined the leading team of WTXL-TV and is now the anchor of the Good News Show.
9. Jackie Macmullan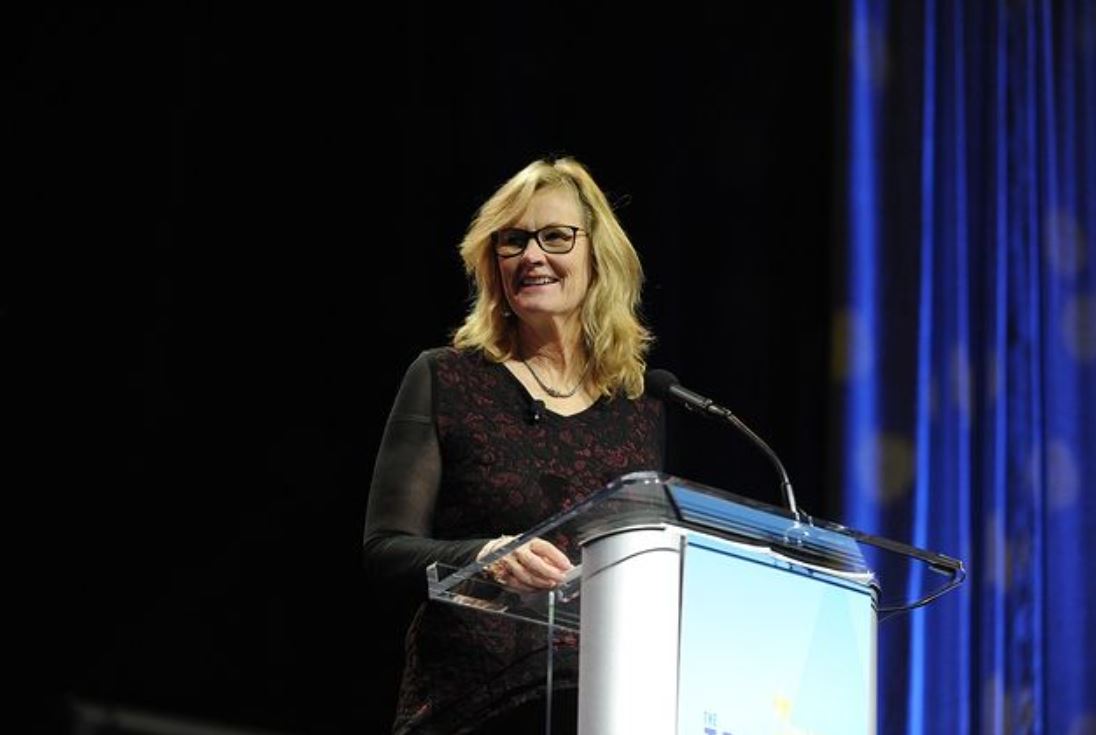 Jackie MacMullan is widely regarded as the most accomplished reporter covering the NBA. In 1982, she started her career in journalism at the Boston Globe as an intern.
As a result, she worked for the prestigious newspaper for the next twenty years, during which time she established herself as a prominent writer there. The Naismith Hall of Fame recognized Jackie for her outstanding contributions to the sport of basketball via her writing.
At the moment, MacMullan works as a senior writer for ESPN and appears as a panelist on Around the Horn regularly. She has been on the show more than 700 times altogether.
10. Tania Ganguli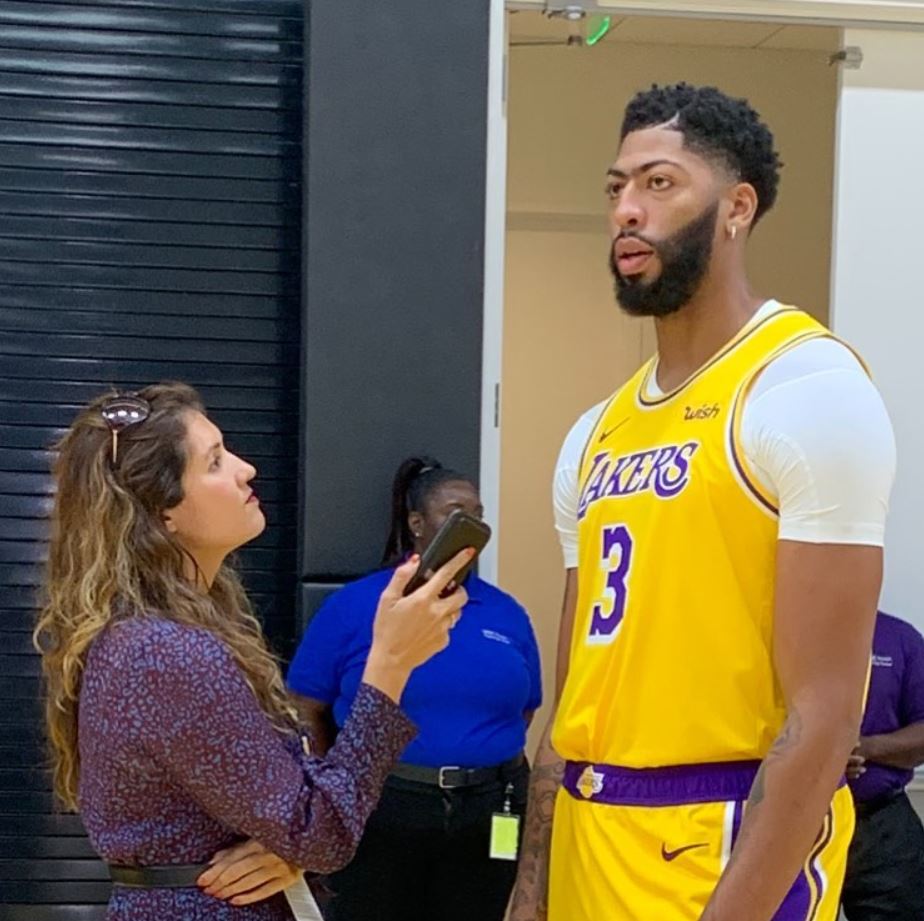 Tania Ganguli is the beat reporter for the Los Angeles Times covering the Los Angeles Lakers. 2005 marked the beginning of her 15-year writing career, which started after she graduated from Northwestern University.
Ganguli's function is quite different from that of a conventional sports reporter for a local market. She has been honored with several accolades from the Associated Press Sports Editors, and in 2013, she was honored with the title of Sportswriter of the Year by the Chronicle.
Additionally, Ganguli is often highlighted and interviewed on radio and television programs both locally and nationally on broadcast platforms based in Los Angeles. Ganguli has shown herself as one of the most skilled beat reporters in the National Basketball Association.
11. Lisa Salters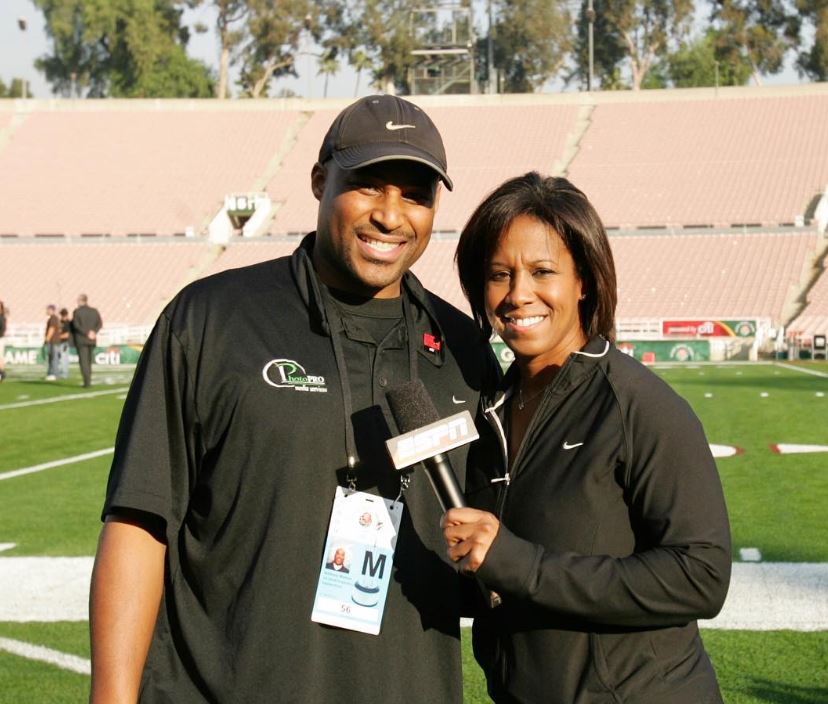 Both the media and the sporting world are familiar territory for Lisa Salters. She worked for WBAL-TV in Baltimore and then moved on to ABC News in Los Angeles, fulfilling her lifelong dream of being a journalist.
After several unfortunate events, Lisa started working for ESPN in 2000. ESPN has made her a regular presence on the Monday Night Football sidelines, and she has continuously covered the NBA for the network since 2005.
Several obstacles along the way hampered her ascent to the NBA. In 2005, when Michele Tafoya was absent from work due to her pregnancy, she was requested to step in and cover for her. Lisa entered and exited the room in a whisper. She is an effective interviewer who puts her subjects at ease.
12. Ramona Shelburne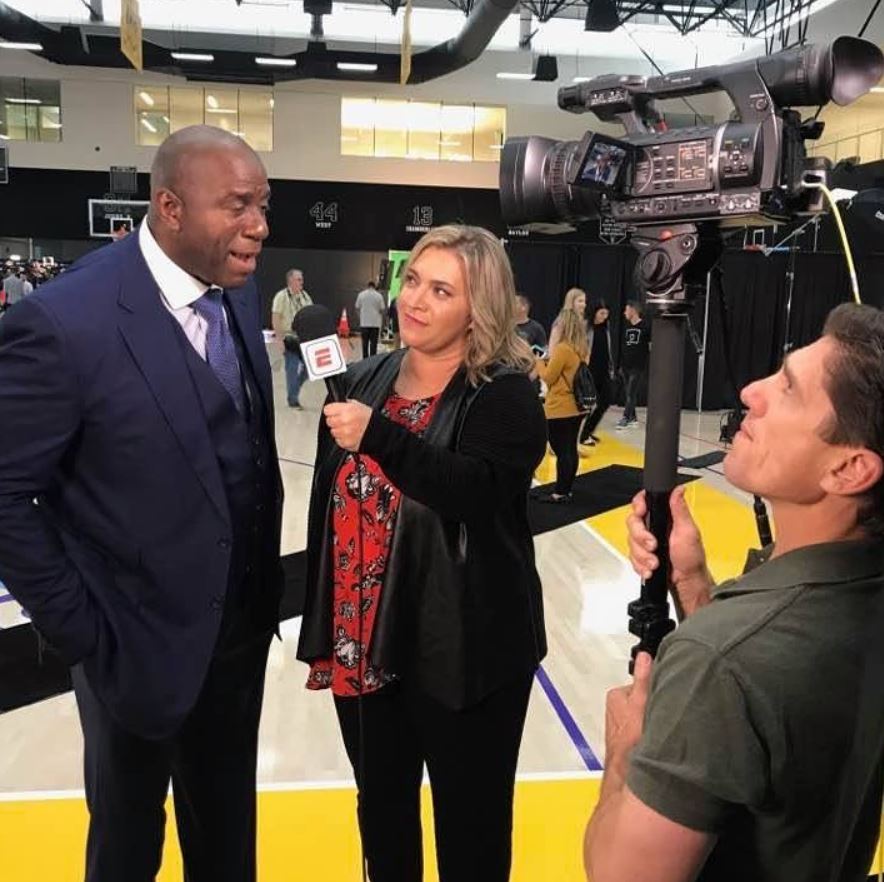 Ramona Shelburne is a well-known ESPN NBA Insider and a United States sports journalist. Shelburne was named the 1997 Los Angeles City Softball Player of the Year while she was still in high school. She spent four years participating in off-field activities with the Stanford Cardinal after graduating from high school.
Shelburne is an American sports writer who works for ESPN as an NBA Insider. She worked as a writer and columnist for the Los Angeles Daily News for seven years, from 2002 to 2009, until she joined ESPN.
Shelburne made her debut in the radio industry on February 14, 2016, when she appeared on a nationwide radio program named Beadle & Shelburne, which she co-hosted with Michelle Beadle, who was the anchor of ESPN SportsNation.
13. Maria Taylor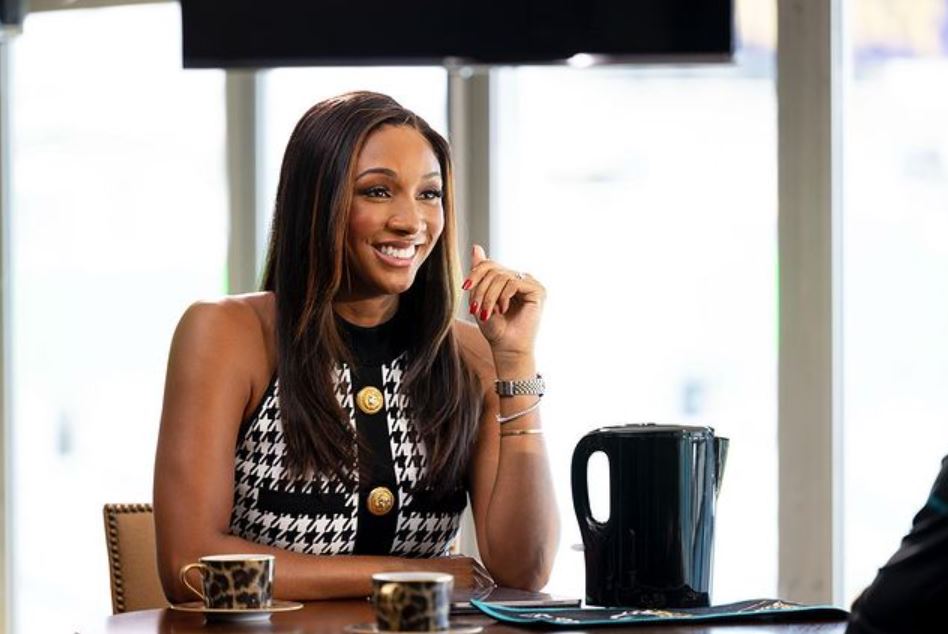 Maria Taylor's career has taken off since she started working at ESPN six years ago. She has covered college football, men's and women's basketball, and other sports in various positions as the face of in-studio and in-stadium programming.
She added new duties in 2019 when she became NBA Countdown's presenter. Taylor has also been on ESPN's programming during its NBA Draft coverage.
She has played a significant part in ESPN's recent season coverage of the NBA playoffs. She hasn't been afraid to voice her opinion on various subjects during her rapid rise, both within and beyond the world of sports.
14. Ros Gold-Onwude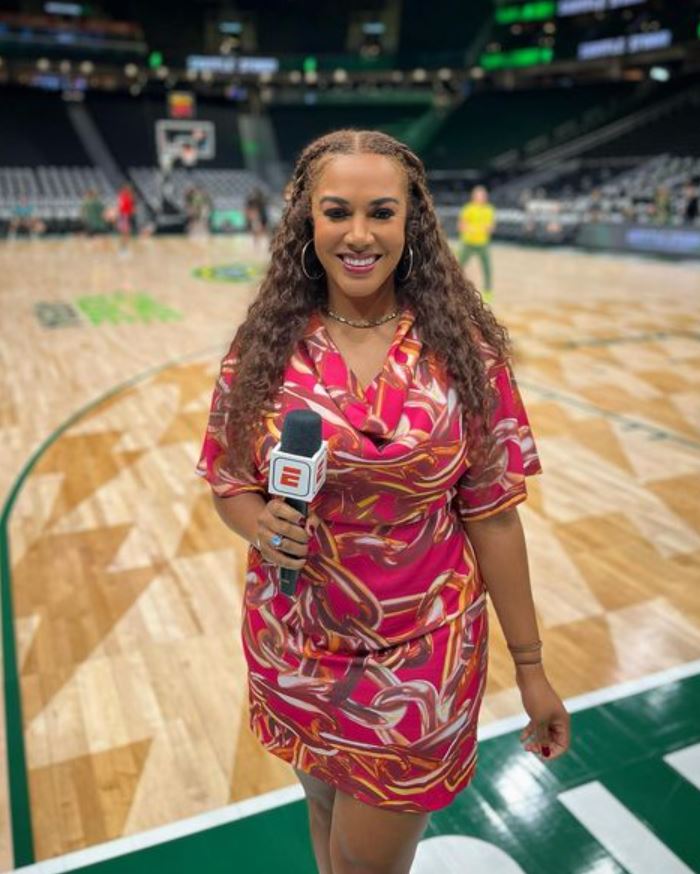 Ros Gold-Onwude is a native of New York City and attended Stanford University for his collegiate basketball career. She also competed for the Nigeria national basketball team.
In addition to covering NBA basketball for ESPN's television, internet, and radio platforms, Gold-Onwude also fills in weekly as a host for First Take with Stephen A. Smith.
Since 2012, Gold-Onwude has served as an analyst and reporter for Pac-12 Networks, covering March Madness, the NCAA tournament, and men's and women's collegiate basketball in the Pac-12 Conference.
Most recently, Gold-Onwude has become one of the faces of "The Boardroom" after joining forces with Kevin Durant's and Rich Kleiman's 35 Ventures.
15. Allie LaForce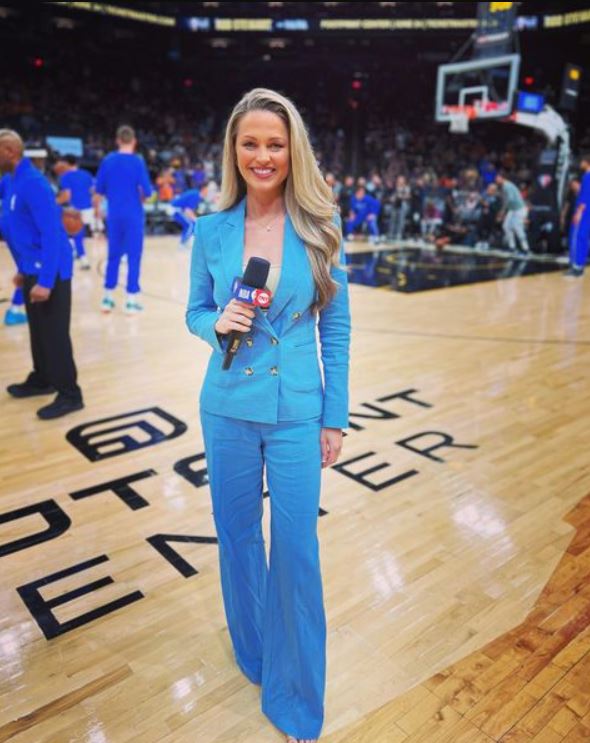 Allie LaForce, whose full name is Alexandra Leigh LaForce, is a model, journalist, and winner of many beauty pageant crowns in the United States. Turner Sports now employ her as a reporter, where she covers the NBA for TNT.
Previously, she covered college football games for the SEC as the primary reporter, covered college basketball games as a courtside reporter, and hosted the show "We Need to Talk" on the CBS Sports Network.
It was reported in April 2014 that she would take over for Tracy Wolfson as the CBS sideline reporter for the Southeastern Conference. During the NBA Summer League, which took place in Las Vegas, she covered the action as a sideline reporter for NBA TV.
16. Cassidy Hubbarth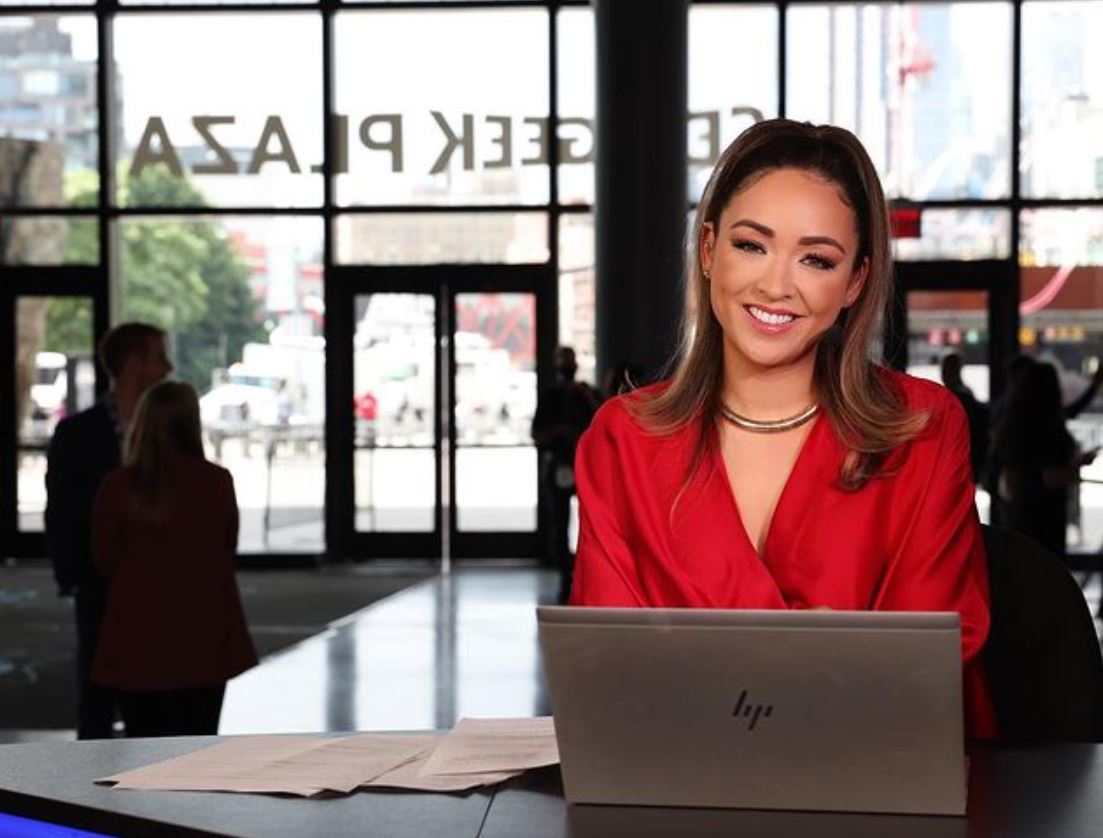 Cassidy Hubbarth has established herself as an excellent reporter and host for a number of ESPN's marquee franchises, most notably the National Basketball Association (NBA). She is a full-time reporter for ESPN's game telecasts throughout both the regular season and playoffs of the NBA.
In August of 2010, Hubbarth became a studio anchor for college football and college basketball on ESPN3, in addition to hosting NBA games on that network. Additionally, she presented several special ESPN3 programs, such as the Madden Bowl, the Georgia Pro Day, and the Baylor Pro Day.