Opal Rocks are not strange for people around the world as they are in a class themselves. The Opal comes with unique characteristics, and each type is distinctly individual. Overall, this type of gemstone is the most delicate one that requires special care and is commonly worn.
Similar to other gemstones, Opal Rock is also used in jewelry, and you will easily see somebody wearing a pendant or a ring containing an opal. This article is about to give you in-depth information about Opal Rock such as definition, types, values, and some details about its varieties. Let's read along this article to grasp some useful knowledge about Opals now!
What is Opal Rock?
Opal rock is not a strange name for many people these days. This rock is a mineraloid instead of a mineral, as some people might suppose. Standardly, a mineral will have a crystal structure, while the Opal rock is the silica's hydrated amorphous form. This feature makes opal different from others that are formed of naturally faceted crystals.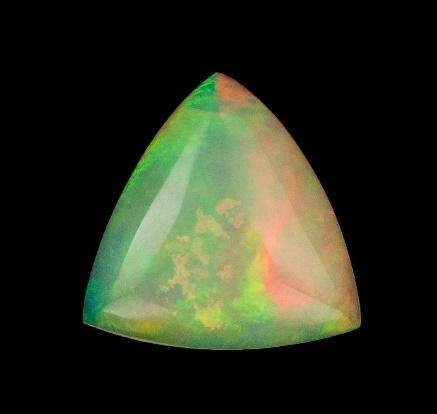 Regarding the construction, the water usually occupies from 6 to 10%. And SiO2H2O is the chemical composition. So, the opal rock is a combination of water and silicon dioxide. Plus, this rock can be deposited at a low temperature. To define opal rock in simple language, it is not a true mineral but a solid gem mineraloid.
The chemical silicon dioxide from cavities in decaying wood, bones, and vegetation solidifies this rock type. In science terms, it is called SiO2·nH2O. The most outstanding character of the opal rock is the play of color. To be more specific, when light passes through the opal rock, the diffraction and interference will result in a color spectrum. The opal rock can display all the colors in that spectrum.
Put it differently; it appears to give out the bright rainbow look when being seen. Significantly, this look can move and change considerably if you view the stone from various angles. In fact, many scientists attempt to explain this phenomenon in opal rock. Eventually, they could discover the reason thanks to the electron microscope in the 1960s.
The tiny silica spheres composition inside the Opal might be arranged in an orderly pattern. This pattern will diffract the light that goes through the Opal rock into spectral colors. And the diffracted light leads to a color scintillation or sheen in the stone. So, it means that the different colors refracted in this rock depend on the aligned silica spheres' pattern and density.
What Do I Need to Know About Opals?
"Opal" is the term for a variety of gemstones that have a wide range of colors. Opals are made up of layers or multiple sections called "shells," which may be solid or fluid in nature. The most common type is the Australian opal, which forms from silica deposits and can be found throughout much of Australia. Black opals form when certain impurities interact with volcanic gases to form amorphous silicon dioxide that surrounds single-celled bivalves and crystal forms out of them.
What is the Difference Between Black, Australian, And Mexican Opals?
Black Opals have a milky or opaque, almost smokey color, and are the most common black opals. They are often clawed and crackle in the light and can sometimes be found with white or yellow inclusions. Australian Opals have a transparent to translucent, deep sky blue to bluish-black color, are usually more lightly clawed than their black opals counterparts and have a brilliant internal color. Mexican Opals are the rarest of all opals, with a blue to greenish-blue color and they have the most distinct leaf pattern.
What is The Opal Rock Used For?
It is evident that the Opal rock is listed as a precious gemstone. Opal gemstones are shaped and polished into the cabochons. Among many types of Opal rock, the Black one is the most desirable and valuable. In comparison, the White and Fire Opal can be relatively costly.
Understandably, this type of stone becomes exceptionally popular among museums and mineral collectors. They might compete to obtain the finest specimens. The Common Opal is not as popular as the others as it does not have commercial and industrial use. Only the brightly fluorescent specimens are appealing to the fluorescent mineral collectors.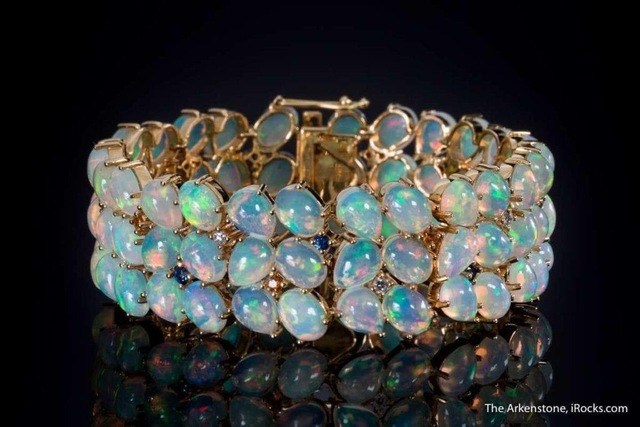 The Opal rock is mainly used for spiritual work such as dream recall and shamanic journeying. This type of rock is considered a seductive stone that can release inhibitions and amplify feelings of emotional attachment. Plus, it is believed to inspire inventiveness, creativity, self-expression, and spontaneity.
That is why Opal rock is used prevalently in the jewel industry. People can find it in the form of a necklace, pendant, or ring. Usually, it should be placed near your heart so that the stone's energies can make you feel free and light. From that point, it helps to release your pent-up emotions.
Opal for Yoga and Meditation
Opals can be used as great Yoga and meditation gemstone. To be more specific, it helps to calm the body as well as center the mind. These two traits are ideal for contemplation and meditation as you need restful and clear thoughts when starting to meditate. Besides, each type of Opal stone has specific uses.
For instance, the Fire Opals can give you the emotional state of the enlightenment. Likewise, the Precious Opals enable deep inner work and magnify emotions through their given intense spiritual energy.
Opal Elixir
The Opal Elixir is known as a soothing eyebath since it has an ancient connection to the eyes. The process to make this gemstone elixir is straightforward. Precisely, you pour fresh mineral water into a container and leave the clean gemstone inside for one to two hours. After that, you take the Opals out, and you will have an elixir.
What is the price range for opals?
Blue Opals: Very rare, $1000 to $3000 per carat.
Gray Opals: $300 to $1000 per carat.
Green Opals: $250 to $800 per carat.
"Orange-Brown" Opals: $100 to $400 per carat.
Red Opals: Rare, $1000-5000 per carat.
$400 dollars to $2400 dollars per carat.
$3000 dollars for the best quality opal in the world…
Pink and Red Opals: Generally not for sale, should never be used for jewelry or other craft purposes.
Opal Rock Value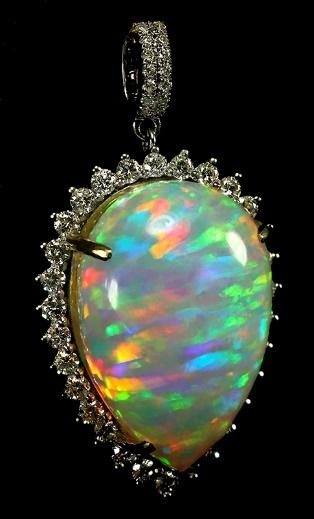 Opal rocks' value depends on various factors, including types, brilliance, body tone, color, pattern, the play of color, color bar thickness, and faults. When being valued, the price of Opal rock is determined by the stone's overall carat size. Therefore, it will be scrutinized.
When opal is given a value, it is usually attributed to reflect how much it is worth in terms of money or jewelry. The main purpose of opal is to adorn the person wearing it. The value of opal rocks can be determined by following some steps as follows:
It comes in different colors and designs, ranging from white to black and through shades of gray and brown.
Opals can be cut into other shapes such as rings, bracelets, necklaces, earrings or pendants.
The value of opal is determined by the rarity and the quality.
A large opal will likely reach a premium over smaller ones.
"OPAL" – An Australian term meaning – "Rock"stone, which when cut forms a pattern of reticulated, generally (though not always) black-and-white platy crystals and/or is striated with reds.
Opal Class
It is necessary to discover the type of Opal during the value process. Normally, the solid Opal is worth considerably more than the Opal doublet and triplet that contain an immensely thin slice of the natural Opal.
Body Tone
Body tone implies the underlying color or the background of the Opal. The tone varies from black or dark to light, which is divided into nine subcategories with the darkest color N1 and the lightest Opal N9 group. Generally, the darker the body tone is, the more valuable the stone will be.
Brilliance
The brilliance relates to the clarity and brightness of the Opal rock's colors when it is viewed face-up. There are four criteria to evaluate, including brilliant, bright, subdued, and dull.
The Play of Color
As mentioned above, the play-of-color phenomenon is the range of color spectrum resulted from the diffraction. In this situation, the Fire Opal is the most valuable than it comes to Green and Blue Opal. However, nature produces the green or blue color more often than it does the red one.
Pattern
The pattern is an important feature in the play-of-color formation in the Opal rock. Besides, it illustrates the uniqueness of each Opal. You can find some excellent patterns are Harlequin, Flagstone, Ribbon, Straw, Chinese Writing, and Picture stones.
Simultaneously, some good patterns consist of Floral, Rolling Flash, Broad Flash, and Pinfire. By contrast, the poor patterns are characterized by Moss and Grass features, and they are indistinct.
Color Bar Thickness
The color bar thickness will be relative to the size and shape of each stone. It does impact on valuing the stone, but when it is used to make jewelry, it makes little difference to the appearance.
Types of Opal Rock
Generally, the Opal rock is divided into two main groups known as precious Opal (noble Opal) and common Opal (potch). As you can guess, the common Opal is valueless and dull as it cannot display the play of color. The common Opal is called potch when it is discovered in association with the precious one. Normally, the common or potch occupy approximately 95% of all Opal mined while the 5% remaining has several colors.
By contrast, the precious Opal gains a reputation for displaying play-of-color. There is a lot of Opal varieties, including Black Opal, Boulder Opal, Crystal Opal, White Opal, and so on.
Black Opal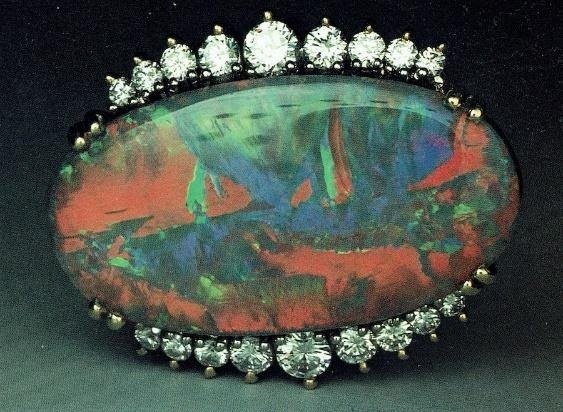 Black Opal has been the most prevalent and well-known type so far. This term does not mean that the Opal is dull or dark, but it refers to the stone's body stone. The Black Opal is the most beautiful and brightest Opal rock. That is why it is also rare and desirable.
This type has a black body combined with fire that is against the dark background. This dark background enables the oranges, reds, and yellows to be noticeable, which helps to make the play of color awe-inspiring. The Black Opal's body color can be very greenish, brownish, or dark bluish.
White Opal
The White Opal is also the most ubiquitous variety among many Opals. It is sub-transparent or translucent as it has a white background and displays opalescence. Besides, it is capable of showing all the spectrum of colors. Although this White Opal is beautiful, it cannot display the colors as well as the Black type. Therefore, it is viewed to be less valuable.
It does not mean that the White Opal is cheap. If you buy the fine White Opal, it is still very attractive and worth high prices.
Boulder Opal
Ironstone is the primary composition formed by the Boulder Opals. This type of gemstone has various colors and shows dazzling fire. What is really the most striking aspect is the presented red ironstone within the Opal. Moreover, there is a lot of types in the realm of Boulder Opal that can be listed below.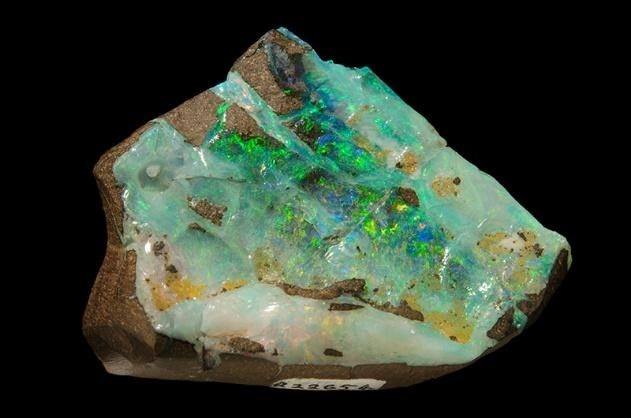 Yowah Nuts
The Yowah nut Opal looks relatively like a tree's nut. It is a small boulder opal, which can sometimes be as large as the mango seed or as small as the apricot seed.
Koroit Opal
This type is viewed as a unique Opal as it has a magnificent appearance. Thanks to the cracks filled with the precious Opal in the ironstone, the Koroit Opal has a beautiful look.
Matrix Opal
The Matrix Opal is a solid Opal incorporating non-opal material such as opalized silicified quartzite or opalized ironstone. Besides, this type of Opal is sometimes dyed to darken rock, which helps to enhance the play of colors.
Fire Opal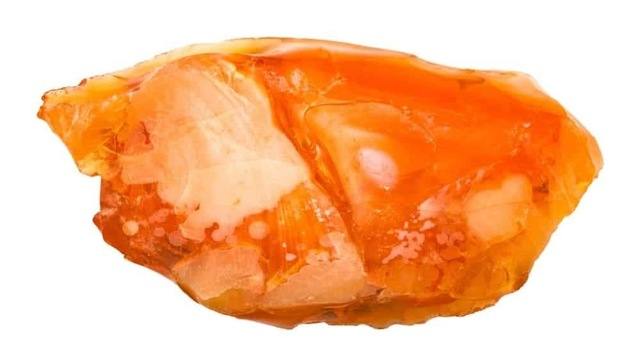 You can see the warm body colors of orange, red, and yellow in the Fire Opal. It features transparent to translucent. This type does not display the play of color, but it can exhibit the bright green flashes.
Water Opal
One of the precious Opal is the Water Opal that is colorless and has a soft appearance. Typically, the play-of-color inside the stone is against the colorless transparent background.
History
Several thousand years ago, the Opal artifacts were discovered in East Africa. After that, in 250 BC, the Romans thought that Opals had come from the Eastern European mines. From that, this place became the main source of Opal rocks in the ancient world.
The Opal rocks comprise many skies' wonders, including fireworks, sparkling rainbows, and lightning. Each Opal is unique due to the movement of colors, flash, and shift, as well as the combination of patterns and colors. It has particularly been treasured by many royal families in Africa and Europe throughout history.
When mentioning the Black Opal, Australia was the first place where they discovered this type of stone in the late 1800s. Before the Black Opal appeared, the Crystal Opal was the only stone that the world knew. The Crystal type was commonly mined in Eastern Europe.
The reason why Black Opal is incredibly rare as it is formed in Australia only. The Australian Opal market seems to be the largest in the world as it occupies 90% of Opal resources. That makes mining this type of gemstone responsibly is immensely crucial.
Back to the formation of the Black Opals, they are not actually black. Indeed, they have the natural potch giving them the dark body color. Thanks to this backdrop feature, all of the colors you see in the rainbow appear in a stunning pattern. So, why does the Black Opal have a wide range of vibrant colors immediately?
As you know, the Opal rocks are masters of diffracting lights. When the evaporation of water occurs, there will be a silica deposit left behind. Such deposits are truly spherical that becomes their stacking. Then, the layer is upon layer, creating gaps among the spheres. When you let a light passing through these spheres and their gaps, the light will split from a prism-like rainbow. Accordingly, you will see the peacock-like or aurora patterns of many colors.
There are some noteworthy localities for precious Opal mining in the U.S., Mexico, and Australia. Let's come to the next part to discover some popular Opal mining locations!
Popular Opal Mining Locations
Australia Opal Rock locations
It is evident that the Opals are predominantly found in Australia. Some of the most significant localities that have the most well-known Opal deposits are Andamooka, Lightning Ridge, Coober Pedy, Mintabie, and White Cliffs. There are also many Opal producing areas in Queensland, such as Bull Creek, Yowah, Opalville, Hungerford, and Quilpie.
Lightning Ridge Opal Mines
This place is considered as the primary source of Black Opal around the world. It is situated in Northern Sydney, which is within a distance of about 600km. The Lightning Ridge specializes in Dark, Crystal, Black, and several opalized fossils. In general, this place does the mining in the form of the open cut, and the Opals here also have high quality.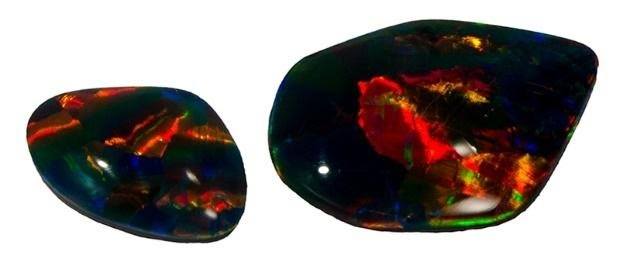 Cooper Pedy Opal Mines
If you go to the North of Adelaide for about 750km, you will find the Coober Pedy. Most of the Opal in this field are Light Opal, Crystal, and some more dark-hued types. The temperature here is relatively severe as it sometimes exceeds 50°C. Therefore, people have to live in underground homes called dugouts to avoid that high summer temperature.
Mintabie Opal Mines
This is the second large place where you can find the Black Opal. It is located in the North-western Coober Pedy, about 350km or 35km Western Marla. This field was explored in the 1920s and started its commercial aspect in the 1980s. It used to be the crucial source of precious Opals in Australia. There were nearly 500 miners working and living on this minefield.
Andamooka Opal Mines
The Andamooka Opal Mines is situated in South Australia, particularly 520km North of Adelaide. This minefield is believed to be the most stable Opal around the world. Many miners are needed to work in open-cut excavations, large boreholes, shafts, and small tunnels to mine the Opal.
Queensland Opal Mines
This place is the leading supplier of Boulder Opal worldwide. It covers a large area of this Queensland state. Open cut operations are the main form of mining in this field.
Ethiopia Opal Rock locations
Ethiopia is another place for the significant precious Opal deposits. Currently, it has been on its way to becoming the second heavyweight Opal market. From 1994 to 2013, Ethiopia can produce beautiful Fire Opal, Black Opal, and precious Opal with magnificent play-of-color through some crucial discoveries. They come in plenty of body colors and patterns.
The main area to make the Opal is the Menz Gishe District that is located in the North of the Shewa Province. In other words, the Opal originated from this area. A considerable range of Opal with diverse body colors such as brown, orange, red, white, yellow, and clear are found here.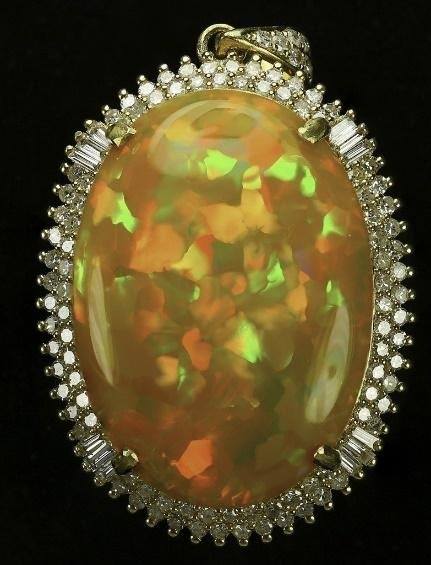 In 2008, another major White Opal source was discovered in the Wollo province near Wegel Tena. The Wegel Tena is 550km in the North of Addis Ababa. Then, this deposit has become a large producer for Crystal and White Opals. Sometimes, several black materials are also produced.
In 2013, the Stayish mine was discovered as another source of Opals. This place is near the Gashena town. The types of Opals here are mainly dark, black, crystal, and white Opal.
Usually, the Ethiopian Opals cost less than those from Australia, which makes people increasingly seek Ethiopian Opals or Welo Opals. Some of the Ethiopian Opals are sold in the treated state while others in the natural state. The treatments used are smoke, dye, and sugar or acid treatment. Apparently, these treatments will reduce the Opal's price to less than the natural one with a similar appearance when disclosed.
When coming to the dye treatment, it is quite challenging to identify the dyed Opals unless you detect them with the microscopic examination. Cutting into the Opal is also another way to check as you can examine if the color is concentrated or not.
The smoke treatment can occasionally be detected during microscopic examination by seeking the black soot particles. The other method is to do laboratory tests with the Raman spectroscopy, for example. With its ability to detect carbon, it is capable of detecting smoke treatment.
Eventually, the sugar or acid treatment is executed by soaking the Opal in warm sugar water for a few days. After that, the manufacturer submerges the Opal in the sulfuric acid. The stains and dark-colored carbon particles generated from oxidized sugar will cover the Opal. Hence, to detect the smoke treatment, laboratory tests or microscopic examination can be used.
Virgin Valley, Nevada Opal Rock locations
Nevada is universally known for the Opal gemstone. Among the finest Black Opal around the world, some are mined in the Virgin Valley. This area is situated in the North-western corner of Nevada state.
Throwing back to million years ago, the eruption of the volcano blanketed and buried this land with ash. Accordingly, parts of Virgin Valley are currently underlain by volcanic ash and Opal-bearing tuff that is above 100 feet thick.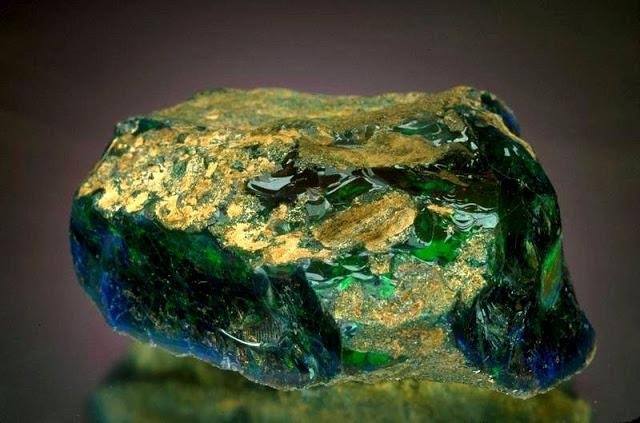 The Opals in Virgin Valley were genuinely formed from the layers of clay when the ash-covered up an ancient lake in the past. This lake had limbs, twigs and rotting wood collected from the chocked forests nearby. Then, the buried wood left lifelike cavities after being decayed. Afterward, the pressure and heat created the silica gel percolating through the cavities and the ash. These things hardened into Opal gradually.
The locations producing precious Opal are Royal Peacock, Rainbow Ridge, and Bonanza Mines. All of them are fee mines, which means that the opening times in a year is limited for public digging. You can come to these minefields to seek Opal or other gem materials. However, it costs you a small fee, and you have to follow the mine rules if you want to keep the things you find.
Regarding the Opal mine location, the Royal Peacock is worth your consideration. This field is ubiquitous for the official and precious gemstone – Black Fire Opal. This mining area has been a gemstone discovery site since 1912. When coming to the Royal Peacock, you can experience the Opal prospector's life in the early 1900s. Besides, you will be provided with tools and instructions.
The common Opal is the most frequently found Opal in Virgin Valley. The Fire Opal and Black Opal are also found in this area. It can be said that the most stunning Black Opal over the world comes from the Royal Peacock.
Apparently, the Virgin Valley minefields also generate lemon Opal, moss Opal, White Opal, and Crystal Opal. Furthermore, this area is the only source for the fluorescent Opal that can fluoresce green if being illuminated with black light.
Mexico Opal Rock locations
After the Spanish conquest, all the original mining fields were lost. Until the early 1800s, they rediscovered these locations in the Querétaro state, which is 210km Northwest of Mexico. Santa Maria del Iris was the first location before they opened other mines such as La Hacienda, La Carbonera, La Trinidad, La Hacienda, and El Perido. At that time, the City of Querétaro was the Mexican Opal trade center.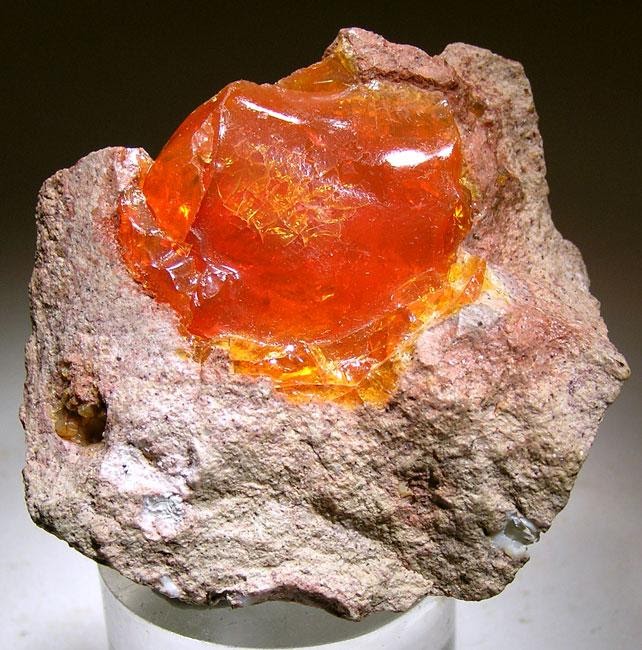 Soon after, in the late 1950s, Opal was discovered near the town of Magdalena in the Jalisco state. Thus, the mine location was relocated to Magdalena by prospectors and miners. This place became the rich Opal area where many opals were produced between the early 1960s and the late 1970s then.
Nowadays, the Mexican Opals mainly come from some deposits. The most vital ones are near Magdalena, Querétaro, as well as in Jalisco and Querétaro state. It is apparent that Jalisco and Magdalena are the two largest sites for Opal mining, with 300 mines in Mexico.
In terms of Opal types, Fire Opals are significantly mined in Mexico among 25 varieties. The Mexican Fire Opals contain silica spheres or silicon dioxide with the iron oxide dispersed in an orderly pattern. So, the iron oxide is the factor giving the Fire Opal the distinctive flame-like colors of orange, red, and yellow. These are three factors contributing to the body colors, the play of color, and the transparency of the Fire Opal.
Another special characteristic of the Fire Opals in Mexico is Contra Luz. The Contra Luz Fire Opals are appropriate opals to facet as you can see the brilliant play of color if the light goes through it. It also has another name, which means "Against The Light."
Us Opal Rock Mining locations
Gemstones of Idaho
People often call Idaho "The Gem State." The history of this place spans and is closely linked with the production of gemstones. Although you can find many famous stones in this area, such as jade, zircon, tourmaline, or topaz, the most prominent are the star opal and the pomegranate ruby.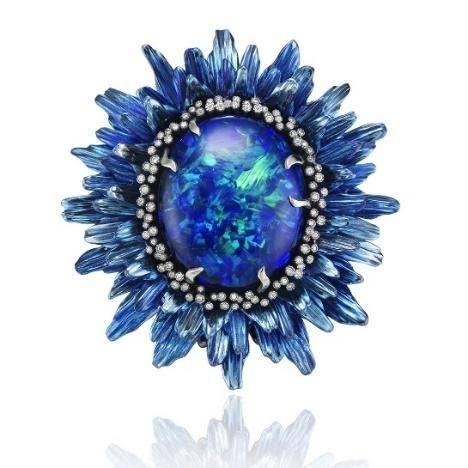 If you are looking to dig an opal, Idaho will be a great choice. Besides, there are many different small deposits throughout the state. You will be able to find petrified wood, jasper wood, or onyx stone. All are incredibly striking colors with seductive patterns.
Gemstones of Louisiana
Louisiana is also a richly mineralized region with various gemstones. This place is known as the "gem state" because of the diversity in the rocks here.
You will enjoy the amount of opal stone and petrified palm wood that this place offers. This ample supply makes Louisiana an attractive destination for Opal Rock enthusiasts.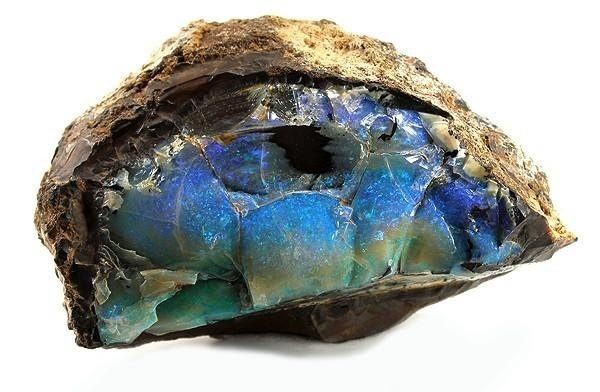 Besides the famous Opal stone, Louisiana also contains a lot of palm materials in the Catahoula Formation. This sedimentary rock unit originates from the Oligocene period. It gradually became famous and popular among people who saw it as a symbol of this area. The Legislature favored it and gave it a new name, "fossil of the state."
Gemstones of Nevada
Nevada is also an attractive destination for Opal Rock enthusiasts. Many gemstones have been found in this state, especially Opal. The origin of the rarest black opals is usually from Australia. However, you also have a chance of finding this very best rock in the Virgin Valley, Nevada.
When arriving here, you can admire a precious golden fire opal. Its face is about 9 mm with a weight of 1.79 carats. This stone is entirely rough cut and manufactured in Nevada. Some other gems that you can see in this area are onyx, obsidian, turquoise, or jasper.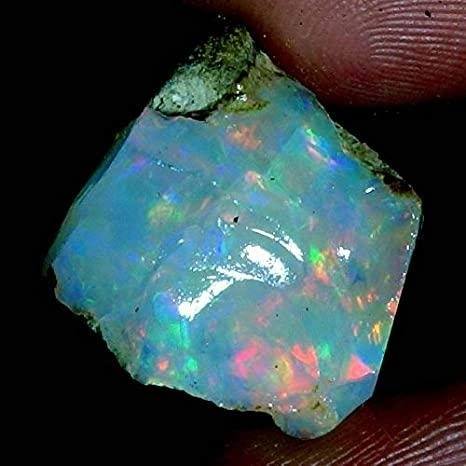 Gemstones of Arizona
Arizona is famous for gemstones such as petrified wood, peridot, or amethyst wood with a long history. Besides, this place's copper mines also contain many other rocks such as opal, azurite, malachite, chrysocolla, onyx, amethyst, jade, or jasper.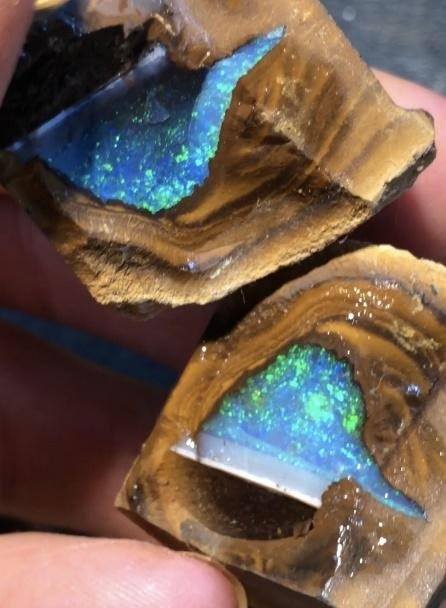 Gemstones of Oregon
Some of the feldspar made by Oregon is of top gemstone quality in the world. The small mining operations here have gradually become known everywhere for "Oregon Sunstone" production.
This transparent feldspar is unique in that it stores and stacks small copper platelets in one direction. When sunlight is reflected down at a precise angle, these platelets also emit brilliant rays.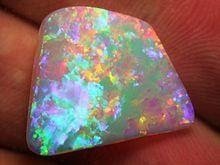 The famous "thunderegg" gemstones are also produced in Oregon. Although this type of geode is not too prominent on the outside, it contains opal, beautiful coffee, or chalcedony. Furthermore, you can find beautiful regular opals alongside several different fire opals in Oregon.
Gemstones of Utah
One of the states producing many famous gems in the U.S. is Utah. Besides the most prominent stone here is topaz, gem lovers also pay a lot of attention to red beryl, also known as bixbite. The Wah Wah Mountains contain a lot of red beryl – a beautiful gemstone that is slowly gaining popularity.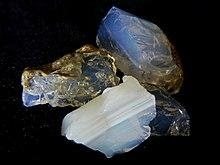 This area is also the birthplace of many other expensive stones such as Opal Rock, amethyst, jasper, pomegranate ruby, or onyx. There are many quarry sites in the state that you can choose from. Utah's special thing is that it is the only locality in the world with the charming purple Tiffany Stone.
FAQs
Will my opal turn black over time while worn on my jewelry?
No. Opal is a hydrated form of silica. The hydration is actually what gives opal its coloration. It is not possible for the opal to "turn" black, in the sense that might happen with a piece of wood or other inorganic material that has become chemically altered by exposure to air or water.
Who should wear Opal gemstone?
Opal Rock is the perfect choice for those with a clean mindset. If the person pursuing the mercenary becomes the owner of this beautiful gem, the stone will not work.
It is suitable for those in need of constant change. Creators are endowed with such a unique characteristic. For them, Opal Rock can become a talisman and the best inspiration and assistant in the search for new, creative ideas.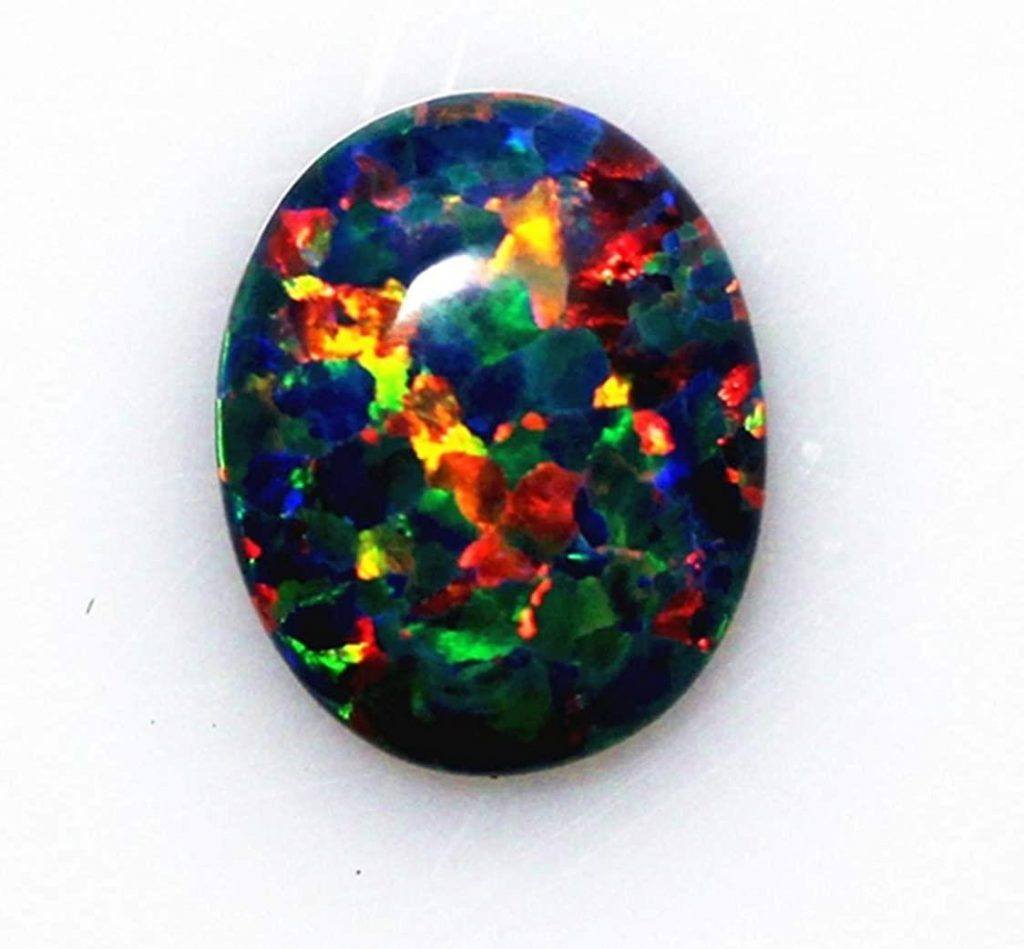 As for energy, this opal is excellent for people born under the Capricorn sign. It helps them get rid of any shortcomings that hinder the achievement of their goals. For example, many Capricorns are boring people, often worried about trifles, and in a depressed state. Thanks to this stone, they will be able to get rid of it and be confident in themselves.
Also, this rare opal is perfect for people born under the zodiac of Libra. Everyone knows that the representations of this sign are inconsistent and self-doubting. Black opal will allow Libra not only to feel confident but also bring harmony in their lives.
This mysterious and rare stone is ideal for the most mysterious sign of the zodiac – Scorpio. The stone's energy will enhance Scorpion's intuition, help develop his talents and add mental strength and stamina to him.
We should also mention that it is best to choose silver as the framework for this opal. Thanks to silver, Opal Rock will reveal its energy fully and function normally, helping its owner in everything and attracting luck to his life. If you choose a gold product with opal, you must have 100% confidence in yourself and your strengths.
In case you have chosen this stone ornament as an amulet or an amulet, you should not wear a ring or earring at all times. To carry it around and touch is sometimes only necessary when the need arises urgently for it. It is advisable to prevent the ice from touching the body. Ideal for women as an original brooch with black opal. And for men, these are stylish cufflinks.
Therefore, when choosing Opal stone jewelry, we need to choose the right color according to the destiny to attract more luck and positive energy sources best.
Is Opal a lucky stone?
Opal Rock is quite commonly used in jewelry making. The opal jewelry is favored by many customers thanks to the variety of colors, fancy colors, and affordable prices. Not only that, but this stone also possesses the meaning of feng shui, improving eyesight and health for the owner.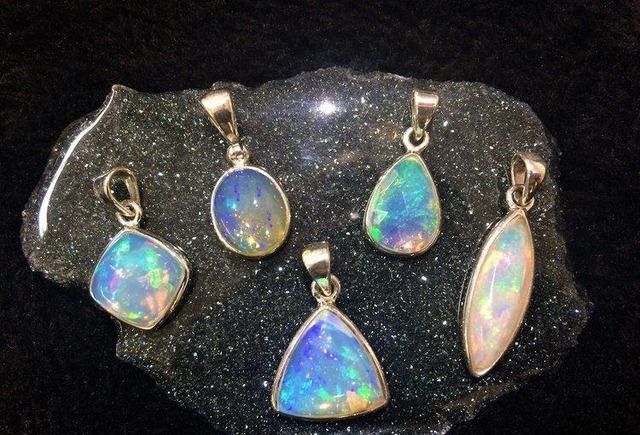 Since ancient times, it is thought that possessing a cat's eye gem improves your vision, giving you cat-like eyes. Also, Opal Rock can limit headaches, muscle pain in people. The energy layer accumulated from volcanoes helps improve the resistance against infection in humans.
Not only that, but many people also believe that if the girls own a cat's eye gem, their blond hair will never fade and always remain smooth and fresh.
In feng shui, the opal stone is considered by Indians as a stone of love, trust, and compassion. The reason the colorful sparkles on this stone is symbolized as having the ability to enlighten your intellect. At the same time, dispel dark thoughts and fear.
According to research from therapeutic lithologists, opal stones can develop intuition and positively affect the nervous system, pituitary gland, and bone head. Besides, the energy in opal stones can also regulate all body functions, increase resistance, and protect against infections.
Uses about feng shui.
The stone symbolizes solid love, loyalty, mutual trust.
Help improve relationships around, get along with friends and colleagues.
As a shining stone for knowledge, helping to open up wisdom.
Eliminate darkness, fear, and sorrow in life.
An Opal is a relatively soft stone – only 5.5–6 points on the Mohs scale. Opal Rock has a water content ranging from 3 to 21%. Because of this structure, Opal is a stone that can easily be damaged if not stored carefully.
What does Opal mean spiritually?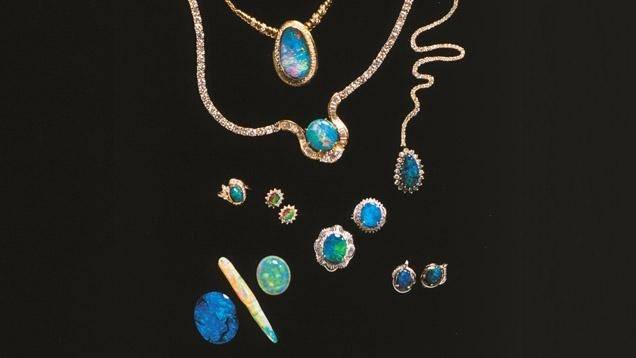 Opal has a high energy fluctuation, which helps the wearer become sensitive and discerning. Opal stone jewelry has remarkable effects on spiritual and spiritual work. Opal is said to be the stone of protection, loyalty.
Opal jewelry can repel negative energy, so wearing Opal jewelry has the effect of protecting the safety and repelling lousy luck. Opal can capture thoughts and emotions and amplify them. Therefore, when wearing Opal jewelry, you should have positive thoughts and feelings; avoid letting yourself have negative thoughts and feelings.
Since ancient times, Opal has been a symbol of erraticism, symbolizing fickle fate due to its rich color. Wearing Opal jewelry makes the master's intuition sensitive and helps create inspiration.
Opal refers to pure thoughts and empathy. It is also a symbol of the constellation Pisces in the zodiac.
The Faculty of Folklore Research on this stone thinks that it is unlucky to be damaged or lost. So it would help if you were careful when you want to own them, but many people believe it is okay and still in everyday use. Due to each person's different visions and perceptions, you can find out more information in many other places as well.
The seller of the gem will warn the buyer of the fragility of the stone. Your lighting or shade or opal background has a risk related to the earth elements. You don't wear rings from Opal when gardening or at the beach. Dust and sand particles can blur its shine or even scratch it. Also, it doesn't like extreme temperatures, too cold or too hot.
What chakra is Opal?
This wonderful and mysterious stone has magical and even healing properties. Its energy is so vital that it should not be worn every day. Also, such an unusual opal does not suit everyone. It just chooses the strongest. This beautiful stone's power is so strong that its owner will soon begin to realize that they are entirely under the power of this gem. The owner of the opal became more disciplined, began to maintain order everywhere and in everything.
Besides, the Opal stone helps a person become stronger mentally and gain incredible confidence. It is said that this mineral has even the ability to drastically change a person's destiny, attracting higher forces to help him. The stone also allows a person to reveal all his hidden talents, making him more charming and friendly.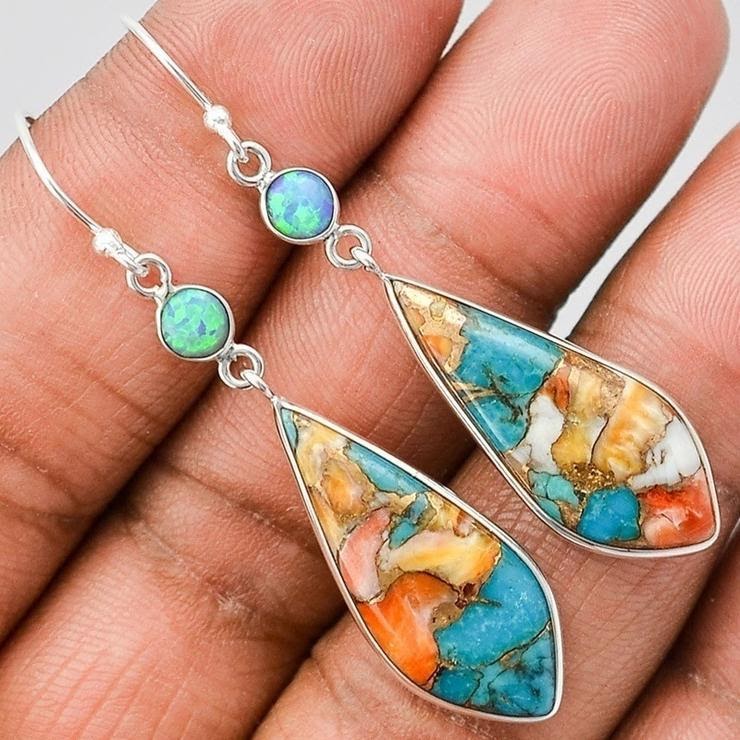 Secrets and bioenergy claim that it only helps people who are kind, honest, and open. Owners of such a rare gem can quickly achieve their goals. With its energy, Opal Rock will help one focus on the most crucial issue. It is worth noting that it helps to maintain a balance in everything to become happy in personal life and make a successful career in a chosen field.
Each stone has a different custom of making amulets and amulets that have magic and have healing properties. Opal Rock is no exception. This stone is mainly for spiritual healing, sometimes essential to each person. Due to its exceptional natural strength and powerful energy, this mineral helps many people find peace of mind, understand their purpose in this life, and find inner peace.
Energy experts believe that this stone has a positive effect on human psychology. This type of opal can help people psychologically volatile and those pursued by fears, phobias, and all sorts of complexities. Besides, the energy of stone can reinforce the general state of health – both physically and mentally.
It also helps people with weak immunity, who are continually suffering from a seasonal cold. Some esoteric and energy experts note that Opal Rock can have a positive effect on the cardiovascular system. In that case, if you look at this stone for at least a few minutes a day, looking at its unique radiance, this will have a positive effect on eye health and will even help improve vision.
Your force to a certain extent. In ancient times, they believed that this magic stone helps women get infertility treatment, and it prevents men from losing their masculine strength and energy.
What is the most expensive Opal?
The rainbow-colored raw Opal Rock called Fire Australia was first displayed at the South Australian Museum after being discovered 60 years ago.
According to the South Australian Museum in Adelaide, the Australian Fire, worth more than $ 675,000, is the most valuable raw opal globally. "The Australian Fire is the size of a softball (similar to baseball but larger) and rainbow in color. Its unique feature lies in its high quality and large size. The red color is dominant, one of the hallmarks of a high-value opal," said Brian Oldman, Director of the South Australia Museum.
Miner Walter Bartram first discovered this gemstone in 1946 at the famous opal quarry in South Australia. According to Mr. Oldman, South Australia is the region that produces more than 90% of the world's high-value opal output. He said the stone is part of a chain of opal rocks that lie deep underground and split into many small pieces. A large opal is usually not polished the whole piece but is divided into many small pieces and polished afterward.
The Bartram family has been keeping the gemstone for the past 60 years. The Baram family polished the Australian Fire. They were aware of its rare value and wanted to show everyone the quality of the stone. After lending to the Museum of South Australia for display, the Bartram family decided to donate this gemstone.
Despite its impressive beauty, Australian Fire is not the most valuable opal in the world up to now. The most expensive crude opal in the world is the Olympic Australis, weighing 3.45 kg, worth about $ 1.9 million. Jewelry makers Altmann and Cherny officially became the owners of this opal in 1956. The opal is currently on display at a store in Sydney, Australia.
How expensive is black opal?
Opal is appreciated by its ability to scatter three-dimensional light, creating a rare sparkle beauty with a rich range of colors. It is best to go to Australia (which holds almost 100% of the supply of Opal for the world) to find a precious opal.
Unfortunately, there is currently no device capable of detecting the Opal mine's exact location in the wild, and the mining companies will choose some areas that are considered mineral-rich. They then dug holes on average 20 meters deep for the miners to search. This process requires extreme caution as there is a potential for severe injury or even death.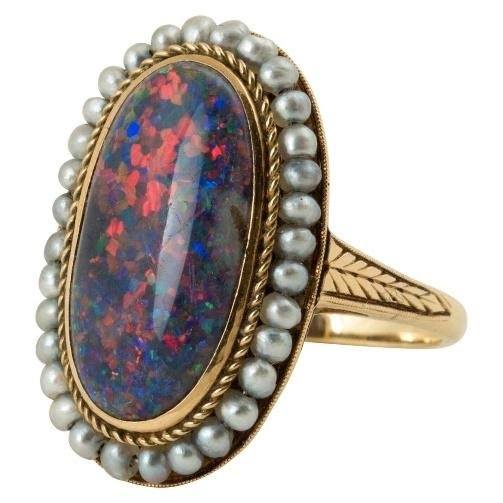 Because of such danger, the "reward" received if the rarest black Opal can be exploited appropriately will be very generous. Each raw black Opal carat's value can be up to 15,000 AUD, equivalent to a red diamond. Called Black Opal, but this stone not only has the right black color but also possesses a series of colors that blend charmingly.
Black Opal is separate from other Opal by the composition of carbon and iron oxide, lighter weight, and characterized by primary black or gray tones. Many other vibrant colors such as emerald green, blue ocean, orange, purple (rainbow colors) create a shimmering fantasy overall.
In addition to the rare element, black Opal's final value is often determined based on many other aspects, such as sparkle, tone, shape, the thickness of the color band, and personal feel. The cutting and polishing process also significantly affects the value of the stone. After all, the emphasis was on weight and size.
Black Opal can be rightly called a rare and unusual stone. Most of the opals are mined in Australia. And only 5% of all mined minerals are black Opal. Dark Australian Opal is mined in the southeastern part of the country. The extraordinary beauty of this rare stone makes everyone surprised at least once. He was amazed at his cosmic beauty. Black Opal is like the starry sky, showing northern light – it's unbelievable. The darker the stone, the more glistening on it.
For a long time, scientists worldwide were unable to unravel the stone's mystery and understand precisely what its mysterious light is connected to. They still found that the stone had such a fantastic property because the silica particles were pressed so tightly together. As a result, light penetrates them and decomposes so that the colored rays different are formed.
It is easy to distinguish a real mineral from a fake. You just need to look at it. Natural stone has an unusual glow, and its discoloration is very smooth. In that case, if the gradients are visible and even have a border, then this shows you have a fake. Looking at the rock from the buttocks, if you see that it is composed of many layers, you have a fake black gemstone.
Where are black opals mined?
The story of the Opal stones originated more than 100 million years ago in Australia. At that time, the desert part of central Australia was still a large ocean. After some time, the seawater receded, and a wide basin was revealed. The harsh weather has created many compounds of silicon dioxide mixed in the rock.
In areas with barren soils, such as the Australian deserts, there is always a switch between long, long periods of sunshine and showers of sand rotting soil. When the rain falls, rainwater seeps into the ground carrying the mineral silica. When the sun is critical, the water evaporates, leaving layers of silica underground. After millions of years, the silica hardens to form opal.
Due to special geological requirements, high-quality opal always comes from Australia. Australia supplies 95% of the opal sold worldwide! Additionally, opal circuits are available in Brazil, Mexico, the Czech Republic, South Africa, and Nevada's U.S. state.
Black opals have a characteristic dark background color that creates a distinct sparkle from lighter opals. It is also the most famous and sought-after opal. The phrase "Black Opal" does not mean that the stone is entirely black. A lot of people misunderstand it – black opals must be black. A simple black opal is a stone with a dark background color compared to a white opal.
Almost all Black Opal is mined from the northern state of New South Wales, and the majority of this is from the specific site of the Lightning Ridge. Lightning Ridge has become known as the world's largest Black Opal supply with a staggering year-round production. Other Black Opal sources include Ethiopia, but the Ethiopian Black Opal usually gets a booster treatment. No other sources can compete with the quality and color of Australian Black Opal.
Where are the best opals found?
Virgin Rainbow, the most beautiful opal on the planet, is on display at the Museum of South Australia, Adelaide. The 6 cm long rainbow multicolored jewel was discovered by miner John Dunstan in 2003 in the southern Australian desert town of Coober Pedy. It became the museum's property 18 months later.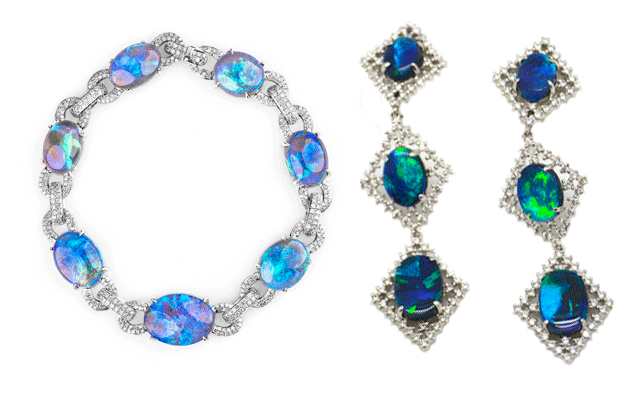 Opal is named Virgin Rainbow with the contrasting red, yellow, orange, green, and blue colors to create a brilliant beauty. It is of unmatched quality and is entirely crystal clear. Like there is a fire inside, you will see all the different colors. As the light changes, the color of the jewel changes. It is genuinely a remarkable artifact, of course.
About 90% of the world's opal rock comes from South Australia, covered by an inland sea for millions of years, creating a favorable rock formation environment. Opal was first discovered at Coober Pedy, then considered the world's opal capital, in 1914. Little Willie Hutchison found it on a gold-digging expedition with his father.
According to Tech Times, the gemstone is an opal fossil of Belmnitida, an extinct mollusk that lived in the Mesozoic period.
At this time, the Plesiosaur, a prehistoric reptile, was widely distributed in southern Australia's inland waters. After dying, their bodies gradually sank to the seafloor. Thousands of years later, the sediments gradually formed and were buried.
Over time, the sea dried up and turned into a desert. The acid concentration gradually increased in the shallow sandstone above. The weathered sandstone produced silica below and crept into the clay layer, where the reptilian dinosaur bones were buried and swept away in groundwater. The reduced acidity then causes the flexible silica layer to solidify into a solid mass, creating a brilliant opal.
Does Opal glow in the dark?
Opal is known for a long time, and in ancient times, they were mainly used as decorative materials in temples and palaces. Besides that, a large amount was used as jewelry. Today, Opal is considered high-value jewelry, sometimes more precious than diamonds and rubies. Opal is the symbol of the constellation Libra in the zodiac.
This rock is an amorphous hydration solid whose main composition is silicon (chemical formula: SiO2 · nH2O). Opal Rock's structure consists of spherical SiO2 microscopes arranged tightly on top of each other and arranged in layers under an electron microscope. The interference and diffraction of light on the surface of these microscopic layers have caused the Opal to appear dichroic. Depending on the size of the orbs, each Opal will have different colors.
It is one of the most beautiful gems on Earth. It is like the rainbow after rain because of the shimmering colors, beautiful and too pure that it creates. An Opal will show you the different color and brightness changes at each different angle, creating a vibrant and pristine picture. Especially, Opal is the only stone that glows in the evening, adding to it a shimmering, mysterious, and utterly different beauty from any other gem in the world.
The Bottom Line
Opals are not only delicate but also fragile, so it is worth your extra care when you use them. They might develop cracks if they dehydrate due to the high sensitivity of temperature changes. Occasionally, the Opal Rocks in the ring will be lifeless and chalk as the surface polish is destroyed.
In that case, you should re-polish it simply to fix the dullness. Briefly, Opals are marketed in numerous ways over the world, and you should be careful when selecting the types of Opal that you want. Each type will be uniquely beneficial to your mental and physical aspects.