The Giant Bike company, also known as Giant Manufacturing Co. Ltd., is famous for being the most popular bicycle brand in the world.
The company's big break came a few years later when it negotiated an agreement with Schwinn to begin manufacturing bicycles sold under a different and private label. Over time, Giant began to sign new contracts, acquire new battlegrounds, and rapidly expand with joint ventures that essentially gave the group the key to the European market. In this article, I will give you a detailed overview of Giant bikes to help you understand more about this.
Part of Best Bike Brands.
Overview of Giant Bike Company

History of Giant Bikes
Let's learn about their journey to become the world's largest bicycle company.
Giant Bikes started their story in 1972, when King Liu, a Japanese engineer, and his friends established Giant in Dajia, Taichung County, Taiwan.
When the demand for bikes increased, circumstances drove Schwinn to turn to Japanese manufacturers in order to meet the extremely great demand for bicycles in America. In 1973, Giant began to attract some of the largest names in the bicycle industry, and Schwinn even started to order products of Giant.
Then in 1977, Giant manufactured their first 10-speed Schwinn World. This made Schwinn extremely amazed by those bikes' quality.
In the early '80s, Giant was making around 100,000 bikes a year for Schwinn. And the demand for Giant's bikes even hugely increased due to the strike of Schwinn's workers in the fall of 1980.
The old manufacturing facilities at Schwinn only made it harder to manufacture their own bikes. Hence, they had to be heavily dependent on Giant. This, as a result, forced them to share expertise in bike manufacturing and design.
In 1982 alone, 130,000 BMX Schwinn Predators were shipped by Giant, and Schwinn had to close their Chicago manufacture and entrusted most of their productions to Giant by the end of 1982.
In 1984, Giant manufactured the first two chrome-moly mountain bikes for the Schwinn, which were High Sierra and Sierra.
These two models immediately became a hit so that their sales tripled in only three years. Also in that year, around 500,000 bikes were shipped by Giant. Typically, two-thirds of them were Schwinn sales.
As of 1986, 80% of Schwinn's inventory came from Giant.
It was clear that Giant made great-quality bicycles. However, their name was not yet reputable enough in the market. This might be because very few bikes actually had the name Giant.
It seemed that Tony Lo saw this since by 1981, he started advertising for the Giant brand. And he launched this brand name in Europe in 1986.
Let's take a quick look at the timeline of Giant Bikes:
1987 – Giant introduced their first carbon bikes
1995 – Giant started sponsoring a mountain bike team for the first time
2004 – First introduced the Maestro Suspension
2008 – Launched LIV/Giant – A new brand of bicycles exclusively to women cyclists
2012 – Celebrated their 40 years in the business
2013 – New 27.5″ wheel bikes were added to the line
2018 – Launched Giant Revolt, the new gravel bike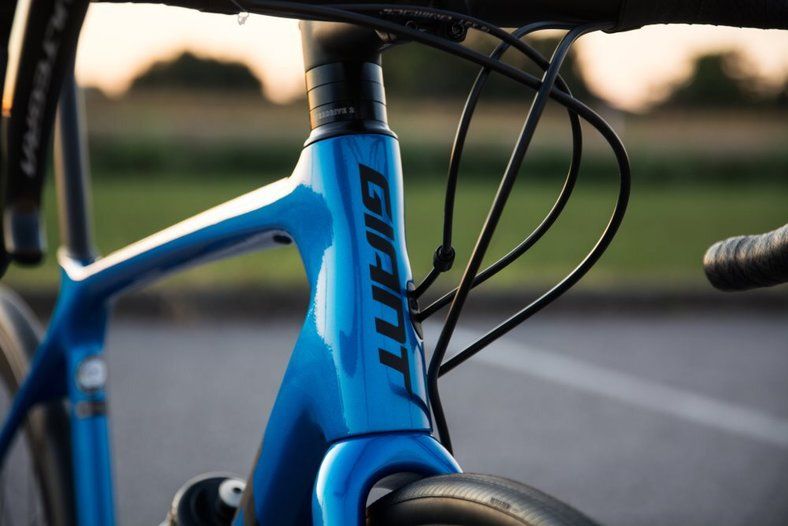 Where Are Giant Bikes Made?
Giant bikes are produced in Taiwan and are recognized as the largest bike manufacturer in the world. Manufacturing facilities of Giant are from different countries, including Taiwan, Chinese, Hungary, and Netherlands.
The Technology of Giant Electric Bikes
Giant electric bikes are produced with advanced technology that is integrated with E-bike technology, including RideControl, RideDash control units, SyncDrive motors, and EnergyPak battery. These are a perfect combination of human power and electric power, creating a natural and comfortable riding experience. Here are the key benefits of this technology:
Smart
You can easily switch between different power modes and see important journey data like battery charge, distance, speed, and GPS. What's more, you can use smart navigation features, set fitness goals, record your trip, and see all other system data.
Natural
The SyncDrive motor can automatically spot pedal speed and force together with the engine speed and revs. The motor will then provide power based on the cyclist's input and the selected assist mode. The most impressive advantage this technology brings to riders is the natural and smooth riding experience because of the seamless combination of the rider's input and engine assist mode.
Powerful
With innovative motor technologies and advanced battery systems, you can now ride faster and farther without spending too much effort. Giant electric bikes offer up to 360% extra support, with motors for any riding style, such as recreational riding, commuting, powerful trail, road riding, and touring. Typically, the advanced EnergyPak battery will provide longer-lasting battery life. It can also take less time to recharge thanks to the integrated smart technology.
Performance Of Giant Road Bikes
Typically designed for efficiency and speed in climbing, cornering, and downhill, the Giant road bike will provide you with a new competitive edge. No matter what you are performing, like training, racing, or hitting KOM, these Giant road bikes will allow you to do it all and even ride faster. Every Giant bike is particularly produced to be light, fast, and effective and let you hit your riding purposes more easily. It can be an aero road bike that cuts through the wind or an endurance road bike that allows you to ride longer.
You can check the top list of 15 road bikes under $500 available here.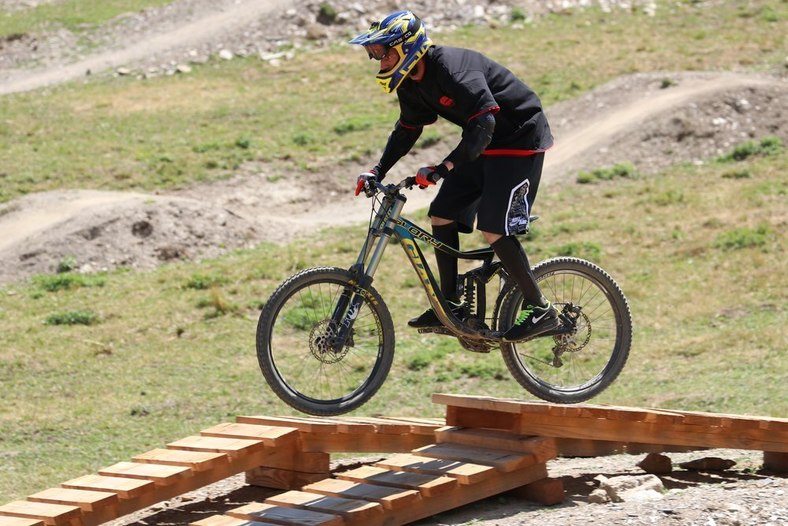 Giant Bike Categories
As you know, Giant produces an extremely large number of bikes of various types. Their bikes are designed to fit different riding styles and preferences.
Here are all bike categories that Giant offers:
Road Bikes
Performances and Racing
Triathlon
City and Hybrid
Folding
Cruisers
Aero Race
All-Rounder
Comfort
Cruiser
Endurance
Fitness
Electric Road Bikes
Mountain Bikes
Hardtail
Full suspension
26'', 27.5'', and 29''
Enduro
Fat Bikes
XC
Recreation
Electric Mountain Bikes
Cross and Gravel Bikes
Gravel
Cyclocross
Adventure
Electric Adventure Bikes
Electric Bikes
Kid Bikes
BMX bikes
Push Bikes
These are just so many types of bikes that you can buy for you and your kids. Just choose a category and pick any suitable model that fits you most.
Most Popular Giant Bikes
Even though Giant provides the market with a ton of bikes of different categories, these are some of the most popular Giant bikes:
Hardtail Mountain Bike: Giant Talon 1
Road Bike: Giant TCR Advanced Pro 1 Disc
Trail Bike: Giant Trance Advanced Pro 291
Gravel Bike: Giant Revolve Advanced Pro Force
Electric Road Bike: Giant Road–E + 1 Pro
Endurance Road Bike: Giant Defy Advanced 3
Aero Road Bike: Giant Propel Advanced 1 Disc
Cyclocross Bike: Giant TCX Advanced Pro 2
XC Bike: Giant Anthem Advanced Pro 29 1
Full-Suspension Mountain Bike: Giant Stance 29 2
Commuter Bike: Giant Escape 1 Disc
Giant Bike Price Range
As I mentioned above, Giant bikes are among various low and mid-price bikes in the world. With the wide variety of bikes and that price, you can easily choose any model that fits your budget. Let's have a look at the price range of some of the most popular Giant bikes:
Hardtail Mountain Bike: $430 – $,5000
Road Bike: $410 – $12,200
Trail Bike: $520 – $5,850
Electric Road Bike: $2,000 – $4,700
Endurance Road Bike: $2,050 – $4,700
Aero Road Bike: $2,600 – 12,200
Cyclocross Bike: $1,700 – $5,400
XC Bike: $550 – $5,800
Full-Suspension Mountain Bike: $1,550 – $12,300
Commuter Bike: $410 – $610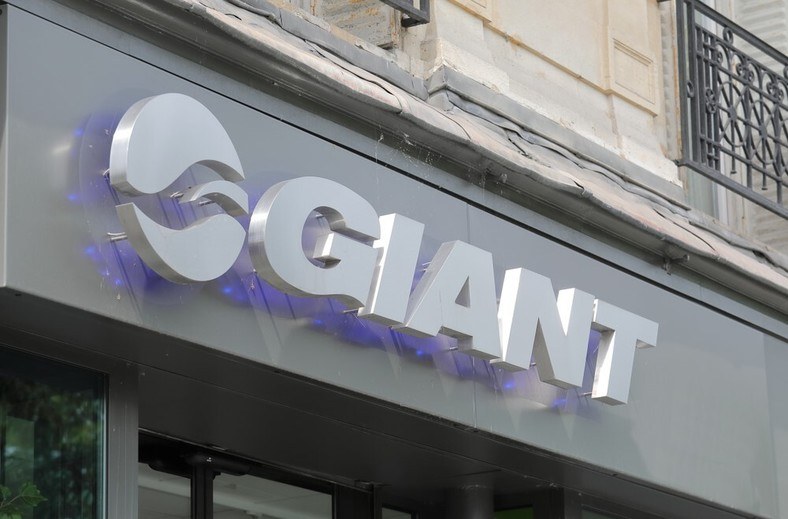 Are Giant Bikes Any Good?
I would say yes. As you might know, Giant is the largest bike manufacturer in the world. And of course, there is a reason behind this, which is their quality. Lots of bike companies even order some bike components from Giant to produce their own bikes. That's enough to prove the good quality of Giant bikes.
What's more, they make different types of bikes to meet the demand and preference of different riders. Giant even constantly receives high ratings in the hybrid bike and mountain bike categories. So, if you are looking for a hybrid or mountain bike, Giant is a great option to consider.
Giant vs. Trek vs. Specialized
Giant Bike Review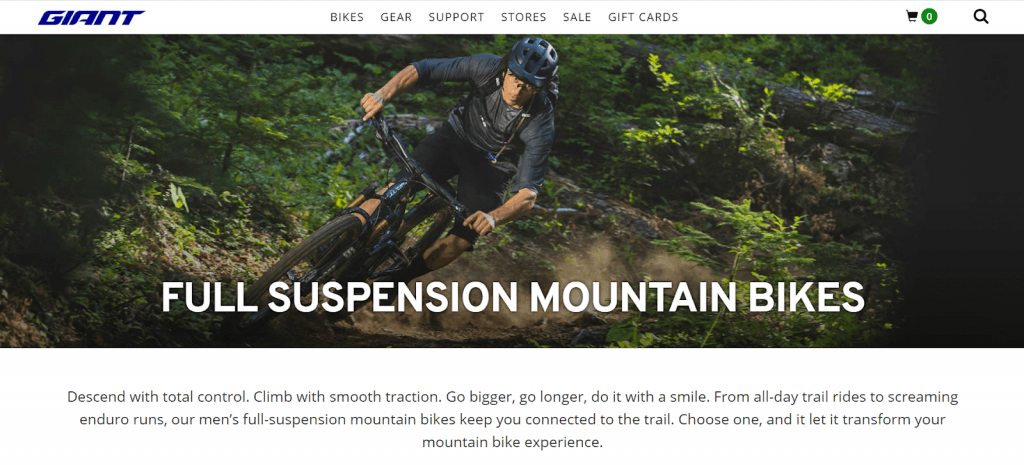 The advanced Suntour rear suspension and 4-pivot point system are considered two of the greatest features of Giant bikes. With the suspension travel of 120mm and those features, they will give you the most comfortable and smooth riding experience. This is also partly because of the smart geometrical position of the axles and aluminum seat, which provides excellent shock absorption when you hit rough or bumpy roads.
The front of the bike features a single chain, and a derailleur is mounted at the back of the bike. Besides, they offer 12 different speeds, allowing you to conquer any terrain much more easily.
Pros
Budget-friendly while keeping its quality
Provide great shock absorption on rocky and bumpy terrains
Offer various gears
Cons
A dropper post is not equipped in the bike
Trek Bike Review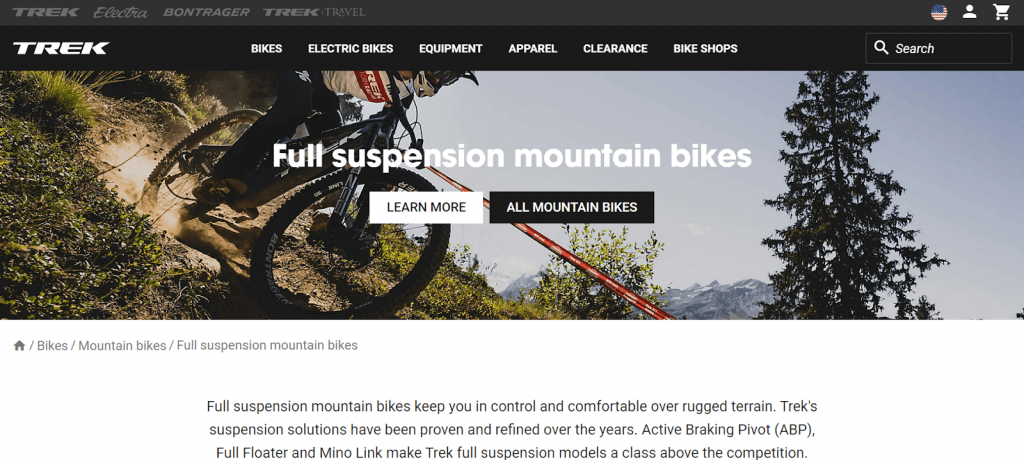 Overall, Trek offers more high-end bikes than Giant. Let's take a great mountain bike, for example. Trek mountain bikes are produced with an innovative FOX 36 GRIP 2 damper, which will give you better durability and strength. As a result, you can enjoy any rocky, hard terrains without worrying about the bike's quality. What's more, it is designed to help you control the bike better, no matter what trail it is.
However, the Bontrager post of Trek bikes might seem to be a little bit sticky and slow. You can feel this relatively clearly. But, it is only around 30 pounds, which is slightly light. And that is also one of the reasons making it easier to manage the bike.
Pros
Offer different types of bikes
2.6-inch tires and 140mm suspension forks
Come with rear suspension
Advanced FOX 36 fork
Cons
It might feel slightly sticky at the Bontrager stock post
Specialized Bike Review

Specialized bikes will bring you a simple design for less maintenance and easy repair. This is because the main material of these bikes is carbon fiber, which can substantially decrease extra features.
Comfort is another strong point of Specialized bikes. They are equipped with the FSR Horst Link that provides excellent adjustability and suspension. In addition, the SRAM XXI powertrain with rubber padding offers easy riding and good protection from outside effects.
Pros
Excellent FSR Deep Suspension
Relatively comfortable and smooth riding
Cons
The Gripton tires seem to be a bit sketchy
Conclusion
So, in general, Giant bikes provide riders with great roll-over in various types of trails. They are also more affordable while offering great quality. Trek bikes are perfect for those who ride a lot on hard terrains. If you are looking for a bike with excellent ability to perform sharp corners, look no further than Specialized bikes.
No bike is perfect since each one has its own pros and cons. It is important to clarify your needs, riding style, and budget to get the most suitable bike. In this case, Giant bikes will be a perfect option for anyone who prefers riding on rough terrains. They are also the best bang for the buck among various brands of low and mid-price range.
Giant Mountain Bikes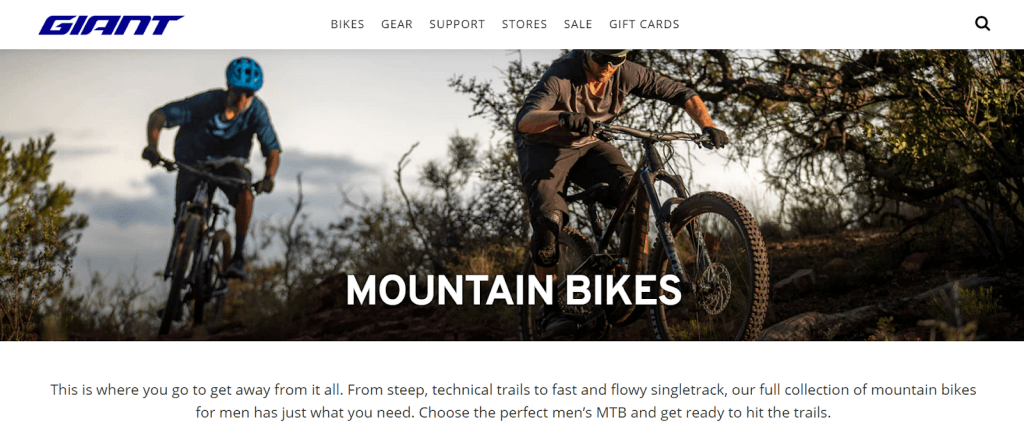 It is a fact that mountain bikers have a multitude of options with Giant mountain bikes. Giant provides mountain biking lovers with various types of bikes to conquer any type of terrain, from technical, steep trails to fast and agile single track.
While cross-country riders are looking for XC bikes with full suspensions or XTC hardtails, downhill riders might prefer Reign and Glory bikes. On the other hand, trail riders seem to prefer Fathom hardtails or Trance and Stance models of full-suspension bikes.
The Giant Reign 1 model is equipped with 160mm of travel on the rear suspension, matching the front for a better-balanced riding feeling. This is one of the various high-end bikes from Giant that features a RockShox Monarch Plus Debonair RC3 shock. This controls the Maestro suspension, giving riders a comfortable and smooth riding experience.
The unique piggy design is another excellent feature of Giant mountain bikes. It provides you with more stable control over long descents as more oil is available to absorb the increased heat, while the larger Debonair air offers the softness and mid-stroke support while you are riding.
Giant Road Bikes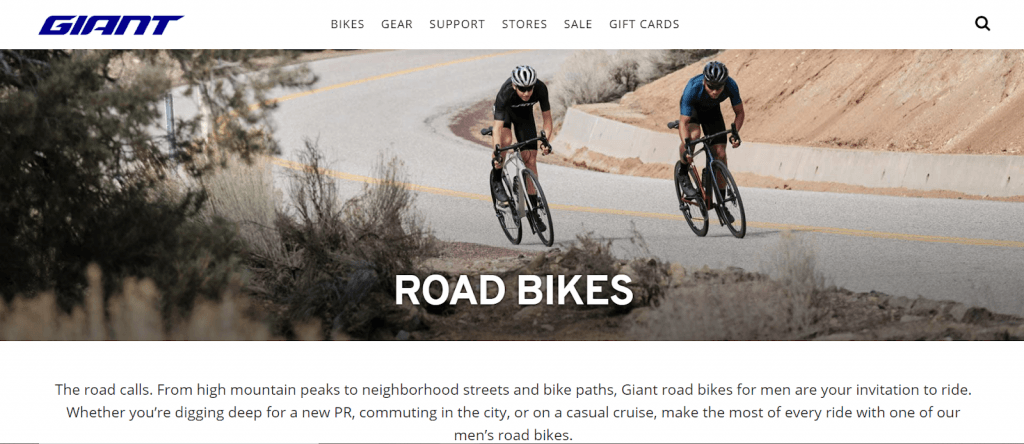 Giant's line of road bikes includes different categories. For example, the Propel in aero bikes, the Defy Advanced in endurance-focused models, the TCR Advanced in light racing bikes, TT. Advanced Trinity in triathlon-TT, and Content in all-rounders.
It is worth noting that you can make the most out of every Giant road bike, from high mountain peaks to neighborhood roads and bike routes. Whether you are researching a new way of PR, commuting in the city, or on a relaxed ride, Giant road bikes are always a good option to consider.
Among various types of Giant road bikes, the Giant TCR Advanced SL 0 is one of the most distinguished ones. It weighs only 2210 grams when finished.
The TCR Advanced line of Giant road bikes also offers incredible acceleration. You will not be hindered by any failure of the wheel performance. Its rims feature 23mm in width and 30mm in depth, which helps decrease the width of its tires from 25mm to 24mm.
Giant Hybrid And City Bikes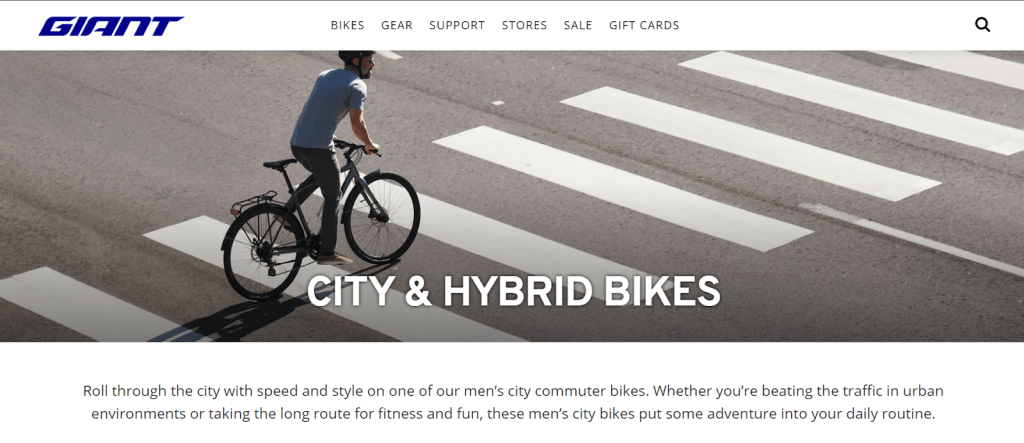 Giant hybrid bikes and city bikes include various models that are a jack of all trades. One of them must be the Escape flat bar bike. On the other hand, FastRoad and Rapid lines, as their name suggests, are more dedicated to speed. Giant folding bikes, also known as Expressway, offer a rear pannier rack and full fenders.
The Brompton S2L is one of the most popular folding bikes in Britain. One of the main reasons for this is a great trick that allows you to fold the bike into a compact size. Once fully folded, you can carry it like a suitcase or drag it easily thanks to the three small wheels.
Conclusion
So, now you know Giant is acknowledged as the largest bicycle manufacturer across the globe. They offer various types of bikes at a wide range of prices, but mostly at the low and mid-price ranges. Giant mountain bikes and road bikes are two of the most popular bike types that are suitable for different riders with different purposes.