Ride1Up is a small US-based brand, but they make a big impression in the city and off-road E-bikes. Affordability and car replacement are what I can describe in this e-bike. So if you are looking for a daily e-bike for creation and exercise or short trips, Ride 1UP will be one of the best choices.
Overview Of Ride1UP Bikes Brand
In 2019, Ride1UP bikes was founded by Kevin Dugger. This new e-bike company is based out of San Diego, California, and its products are located in Sparks, Nevada. It was started as a DIY project which is similar to some other comment e-bike brands.
The founder of the brand, Keven Dugger, with his partners, began to build their E-bike by hand, as they were dissatisfied with the bike available on the market. In the beginning, Kevin's motivation was to provide fast, sleek, and premium quality e-bikes that do not cost as much as a car. In addition, they offer lower prices than other bike brands by directly using the direct-to-customer method instead of third-party retailers.
Especially, Ride1UP offer a $40 off coupon whether pledge to replace at least five driving journey/month with the e-BIKE. It is an excellent policy!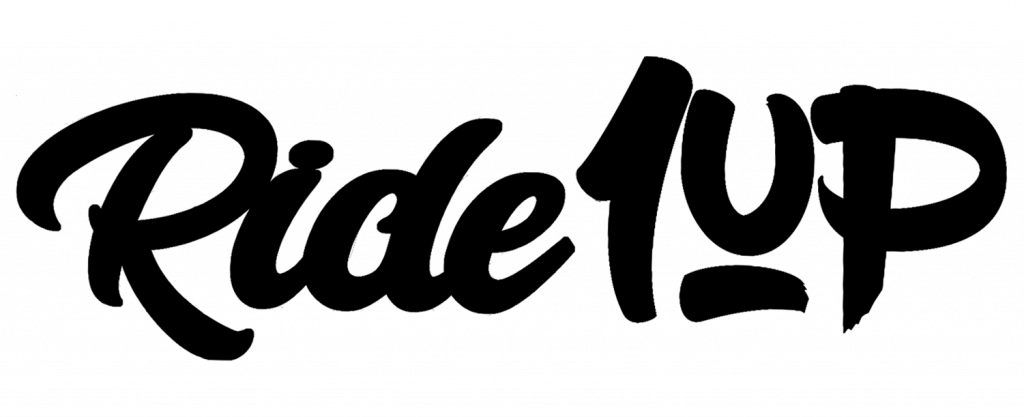 Ride1UP Bikes Ranges
Now, they make six models for each, which is in some builds with step-thru and step over the frame. Besides, they are trying to expand their lineup every year to look forward to seeing the new model gradually.
Ride1UP e-bikes are described as urban, hybrid, and commuter as all features sleek tires, lights, rear rack, and fenders.
Type
Model
Frames
Speeds
Tires
Weight
Torque
Fixie
Roadster V2
S-L
1
700x28c
33lbs
40Nm
City
Core-5
XT/ST
7
27.5×2.2"
49lbs
60Nm
500 Series
XT/ST
8
27.5×2.2"
55lbs
60Nm
Hybrid
700 Series
XT/ST
8
27.5×2.4"
62lbs
60Nm
LMT'D
XR/ST
8
27.5×2.4"
53lbs
100Nm
MTB
Prodigy
XR/ST/XC
9
27.5×2.0"
48lbs
90Nm
Most Popular Ride1UP E-Bike Models
Fixie Bikes
Roadster V2 ($1.045)
Speed: Class 3 Ebike, pedal-assist up to 24 mph
Motor: 350W, 40nm torque
Frame: 6061 Aluminum alloy
Weight: 33 lbs
Brakes: Tektro R315 Dual Pivot Brakes
Weight capacity: 275 lbs
Roadster V2 is one of the latest and greatly badass-looking builds, which is an inconspicuous E best hiding all its components and creating a flawless look. Besides, Roadster V2 features the 350W rear hub motor and the integrated 250Wh battery. It also features a carbon belt drive instead of a chain. Hence, it requires less maintenance.
This e-bike is one of the cheapest models with around less than 1.000 dollars with the compact LCD. Roasters are awesome commuter bikes for city and flat rides and commutes. Moreover, they offer three vibrant and stylish colors of choices from Matter black, silver matte, and burgundy matte. Its 6061 aluminum free keeps it rust-free and safe from the wear and tear that bikes might get during commuting.
City Bikes
Core – 5 ($1.195)
Speed: Class 3 Ebike, pedal-assist up to 28 mph, 20mph throttle
Motor: 750W , 60nm torque
Frame: 6061 alloy
Weight: 49 lbs
Brakes: Tektro 160mm mechanical Disc
Weight capacity: 275 lbs
Core 5, a clean and straightforward city bike, features the 400w rear hub motor and integrative 500Wh battery. Hence, it is difficult even to notice that it is an E-bike. Besides, it comes with a disc brake and a seven-speed drivetrain. Core 5 is perfect for speeding and down the paved road; its all-terrain tires also can tackle the gravel detours.
Its frame comes in 2 models, step-thru and XT, which feature the higher positioned top tube. Besides, Midnight gray and slate blue are two available colors for this model.
500 Series ($1.295)
Speed: Class 3 Ebike, pedal-assist up to 28 mph, 20mph throttle
Motor: 750W , 60nm torque
Frame: 6061 alloy
Weight: 55 lbs
Brakes: Tektro Aries mechanical disc
Weight capacity: 275 lbs
500 Series is one of the best-selling Ride1UP bikes, and it can allow you to commute with the optional rack and fenders package for the year-round ride. It features the 28MPH pedal-assist speed and 20mph throttle. Besides, it comes with a 500W rear hub motor and 625Wh battery, and you can go anywhere you want quickly. Its tires and 100mm suspension fork will make your bike get easy to go on the off-road detours.
Because it is low price, it is equipped with a low-speed component such as the mechanical disc brake; however, for casual riding, it is perfectly sufficient.
Hybrid Bikes
LMT'D ($1.895)
Speed: Class 3 Ebike, pedal-assist up to 28 mph, 20mph throttle
Motor: 750W, 100 nm torque
Frame: Lightweight alloy frame
Weight: 53 lbs
Brakes: Tektro Orion HD-M745 4-piston 180mm hydraulic
Weight capacity: 275 lbs
If you are seeking the Electric bikes for speed and power, you can not miss it. This Bike is one of the most powerful Ebike from Ride1UP with a 750W (1000W peak and 100 Nm torque) motor and a 672Wh battery. Hence, it can easily reach up to 28 Mph with the pedal assist and the 20MPH with the throttle and keep it for 30 to 50 miles.
This Bike is ranked on the topmost expensive Bike from Ride1UP, which allows you to ride comfortably and faster and get to the max speed quicker with the impressive 100 Nm of torque. This Bike is available in Step thru and XR models with two color choices as above.
700 Series ($1.695)
Speed: Class 3 Ebike, pedal-assist up to 28 mph, 20mph throttle
Motor: 750W, 60 nm torque
Frame: Lightweight alloy frame
Weight: 62 lbs
Brakes: Tektro Dual pistol hydraulic
Weight capacity: 275 lbs
Being the most elegant and smooth hybrid bike, the 700 Series can easily replace your car for all the short trips or grocery shopping. It features the 100MM front suspension, hydraulic disc brakes, lights, and some handy accessories.
These hybrid bikes are powered by the 500W/56NM motor and the 672Wh battery giving you 28 MPH top speed and the 30-50 mile range. Besides, it is equipped with an LCD screen which will let you adjust the programs on your bike and check the speed and battery levels. Moreover, its wide tires mean it can go for light off-road use while promoting the best comfort. It is similar to the 500 Series with two versions of frame Step thru and XT and two colorways.
Mountain Bikes
Prodigy($2.295)
Speed: Class 3 Ebike, pedal-assist up to 28 mph
Motor: Mid-drive motor with 90Nm torque
Frame: Lightweight alloy frame
Weight: 48 lbs
Brakes: Tektro Hd-M290 180mm hydraulic
Weight capacity: 300 lbs
Prodigy has a mid-drive motor. It is also a premium e-bike with a higher price than other modes and comes in 3 variations, including step-thru, steps over and XC off-road. Moreover, it features the front suspension; hence, the bike will be on the roads and the trails.
Its lightweight alloy frame will allow it to get up to max assisted speed 28mph easier. Moreover, its XC version has the beefy Schwalbe G-One 2.0″ tires and the capable suspension fork, and the other components will be the same as other models.
Warranty & Return
You will get one year warranty on any Ride1UP E-bike, it applies to any manufacturing defect, and the company will make the replacement or return if your bike was purchased from their official website. You are the first owner, and your bike has all intended use purposes and electronic parts that are not repaired or modified.
They also offer you 30 days of the trial during which you can try out your E-bike. Then, if you don't like it for some reason, you can return quickly within a month without any questions asked. Of course, you should keep the bike in its original condition, and you will be responsible for the cost of shipping return. Nevertheless, it is a good way to see if the E-bike is suitable for you without commitment.
Ride1UP Bikes Price Range
The price range of Ride1UP is between $1.000 and $2.200, which is suitable for all of the riders, even tight-budget cyclists. Although they are a new company, they have already grown their bike range substantially in more than two years. In addition, they offer a money-back and one-year warranty for all bikes.
Are Ride1UP Bikes Any Good?
Yes, of course! Ride1UP is a legit e-bike brand based in California. They make high-quality bikes with an extended warranty of 1 year and a 30-day return policy. Hence, you can see how confident they are about the quality of bikes. All of their bikes are built for comfort, reliability, and performance.
Ride1UP vs Aventon
Ride1UP and Avento are similar-looking e-bikes; hence, it won't be easy to compare across their different models to make sure which is the right one. But, keep reading, then it will be easier to see how different these bikes are.
Brand Comparison
Aveton sells the Sinch, fat tires foldable E-bike, while Ride1UP pays attention to sleeping typical styled bikes frames. Besides, the Rde1UP comes with a lightweight and single speed; a higher-priced model will come with the torque sensor.
Aventon E-bike is sold via network dealers and online. It will be great for those who want to test the bike before making a purchase. Ride1Up runs as a director to consumers for offering the best price to buyers.
They are both using the same battery cases by Retention. So you do not need to buy a battery from another e-bike company. Rde1UP uses the extruded aluminum frame, while Aventon uses the hydroformed aluminum frame. If you focus, you will spot the difference in how the Aventon frames are shaped, and the process will ensure more strength at the specific points.
Aventon's throttle does not operate from the standing start. On the 1up bikes, you should access the throttle anytime. It needs to downshift on the Aventon before stopping. Hence, when you bring it back up again, you can get a half pedal stroke. It is related to the safety features.
Aventon Pace 350 Vs 500 Vs Ride1UP Core 5 Vs 500 Series
Now, let's take a deeper look into particular models to see the difference.
One of the primary advantages of Aventon 300 and 500 is the frame size variety and the increased size of disc brake rotors. However, it is only the advantage of Aventon over the Ride 1UP. Aventon 350 and Ride1up core five are priced; however, core 5 is superior to the 48v system, larger battery, and more powerful motor.
Aventon pace 500 is 4 pounds lighter than the ride-up 500 series. If you prefer the hydraulic disc brake, the Ride1UP is $200 cheaper than the Aventon. Moreover, the Ride1UP 500 series sports the front suspension fork and a larger battery.
Comparison Chart
| | | | | |
| --- | --- | --- | --- | --- |
| Specification | Pace 350 | Pace 500 | Core 5 | 500 series |
| | | | | |
| Price | $1.009 | $1.299 | $1.095 | &1.195 |
| Weight | 46 lbs | 49 lbs | 48 lbs | 53 lbs |
| Battery | 36V, 11.6 Ah (417.6Wh) samsung cells | 48V, 10.4 AH (556.8 wH) Samsung Cells | 48V, 10.4 AH (499.2 Wh) reention eel pro lc cells | 48V, 13AH Reention dorado ID plus |
| Motor | 350W, brushless rear hub | 750Wpeat, 500W sustained | 800W peak, 500W sustained, Shengyi motor , 56 nm torque | 800W peak, 500W sustained, Shengyi motor , 56 nm torque |
| Divetrain | Shimano Tourney 7 speed | Shimano Altus 8 speed | Shimano Altus 7 speed | Shimano Acera 7 speed |
| Brakes | Tektro Mechanical Disc, 180mm rotors | Tektro HD T285 hydraulic disc, 180mm rotors | Tektro Aries Mechanical Disc, 160mm rotors | Tektro Aries Mechanical Disc |
| Tires | Kenda Kwick seven 27×5" x 2.2" | Kenda Kwick seven 27×5" x 2.2" | Kenda Kwick seven 27×5" x 2.2" | Kenda Kwick seven 27×5" x 2.2" |
| Fork | Rigid | Rigid | Rigid | 100mm travel coil suspension |
| Frame | Medium/small- Step thru | Small/ medium/ large – high step, step thru | One size-High step/ step thru | One size-High step/ step thru |
| Display | Large backlit (black/white) | Large backlit (black/white) | Small backlit (black/white) | Small backlit (black/white) |
| Lights | N/A | N/A | N/A | Integrated headlight |
| Class | 2 | 3 | 3 | 3 |