In its early years, the GT company specialized in manufacturing one of the best BMX bikes on the market. Not too long after that, the company made a name for itself with an incredible record in the professional circuit. GT then switched to road and mountain bikes.
The Canadian corporation, Dorel Industries, is the company behind GT bicycles. This conglomerate also markets other bikes that are manufactured in Asia, including Dyno, Iron Horse, Schwinn, RoadMaster, Cannondale, and Mongoose.
Using the information from several fastest athletes over the world, GT has built its company based on the foundation of racing. In its quest to create fast bicycles, the company also uses leading-edge engineering to find the best balance between performance and refinement.

In this article, I will provide you with some information about GT bikes, their different types of bikes, the price range of some of the most popular bicycles, and reviews of some common bike categories. Let's get rolling!
Part of Best Bike Brands.
Overview of GT Bike Company
GT bike manufacturers have built their company on the vision of producing the most advanced and durable frames by pushing the limits of what is possible with bicycles. In general, GT bikes offer a wide variety of bikes for different purposes, from recreation to racing.
History of GT Bike Company
When they established the GT bike company in the garage of Gary Turner, he was just a welding engineer and custom bike builder, while Richard Long was the owner of a bicycle store.
GT Bike's story started in 1975 after Richard Long, a bicycle shop owner, opened his bicycle stores with cash that he got from a motorbike accident.
Turner, on the other hand, took part in a completely different trade before he started their GT bike company. He is an instrumental repairman.
After using his welding experience to create a strong, enduring BMX frame for his son, Turner decided to establish the company. And the first GT bike frame was made by enhancing the quality, durability of the available frames.
The first GT type of bike when the company was founded are BMX bicycles for young motorsports. After that, their BMX bikes were so popular that they had to manufacture them in mass production. The company even provided bikes for the US Olympic team at that time. Because of this, the company achieved success very fast, and it was not too long after that, GT became a multimillion-dollar company.
Bain Capital, an investment firm in Boston, bought the controlling interest of the GT company. And the bicycle company officially went public in 1995.
This project was carried out in conjunction with the US national team. Unfortunately, the Olympic organizers eventually banned the bike.
Richard Long, the GT co-founder, died in a motorcycle crash a week before the GT officially debuted at the Summer Olympics in 1996.
GT went public in 1998. However, Questor Partners bought this company at $175 million (during this period, Questor was also the owner of Schwinn). However, when Questor Partners went out of business in 2001, GT was acquired by the Pacific Cycle. Eventually, Dorel Industries acquired the GT in 2004 and has become the GT's owner until now.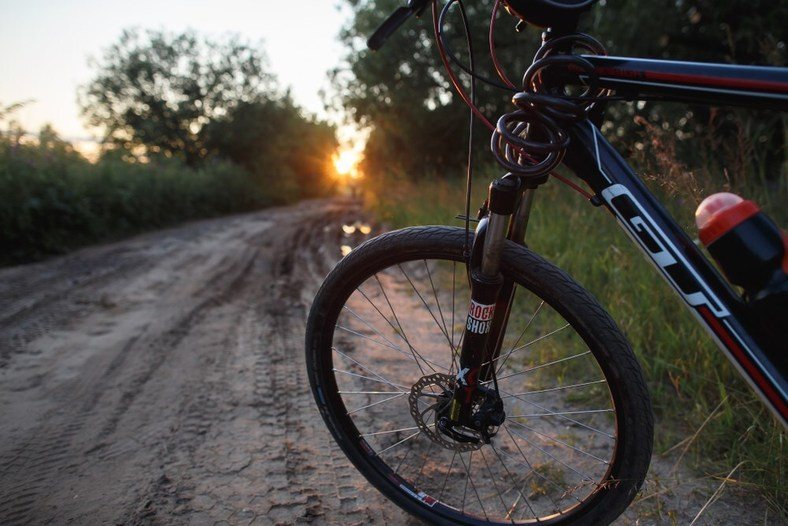 Where Are GT Bikes Made?
As you might all know, GT bike company is a division of a Canadian corporation, Dorel Industries. And this corporation also markets some famous bike brands, such as Schwinn, IronHorse, Cannondale, Mongoose, RoadMaster, and DYNO. GT Bikes provide the market with different types of bikes, including road, mountain, and BMX bikes, which are all produced in Asia.
If you're wondering about the origin of GT Bikes, you'll be glad to know that this brand is typically made in Asia, where most bike manufacturers are located. You can learn more about other bike brands from around the world by checking out the comprehensive list of best bike brands on Hood MWR. Whether you're a novice or a seasoned rider, this roundup has got you covered with expert information on the top bike makers in the industry.
The Technologies of GT Bikes
The hardtail frame design is one of the most outstanding features of the GT bikes. You might also hear the "triple triangle" when people are talking about the GT bike frames. Put differently, their bikes come with a frame that the saddle is attached to the top tube of the seat while remaining parallel to the downtube.
With this innovative design, you can enjoy a comfortable and smooth riding experience no matter how the road conditions are. This is because it can reduce the vibration that is transferred from the back wheel to the saddle.
For full-suspension bike lineups, GT also provides them with an independent, efficient drivetrain system. This will improve riding quality and experience significantly on different trails.
Performance of GT BMX Bikes
It is said that BMX was the base of the GT empire. So, it is not surprising that their BMX bikes will bring an exceptionally exciting feeling. They are not only more robust but also allow you to ride faster and further.
Besides, the frame is considered the strongest point of GT bikes. This construction will ensure a long-lasting lifespan. Moreover, the innovative GT triple-triangle frame will also allow you to ride as enjoyable as possible. You can also feel comfortable when riding on rough or bumpy terrains thanks to the excellent suspension fork system.
If you are an intermediate rider looking to up your BMX game, consider investing in a top-performing BMX bike brand like GT. Made with high-quality components, GT BMX bikes deliver top-notch performance and durability on both dirt and street terrain. With its sleek design and precision handling, a GT BMX bike can help take your riding to the next level.
GT Bike Categories
GT always redesigns and redevelops their mountain bikes each year to make sure that their range of mountain bikes continues to offer modern high-performance. Whether you are looking for a low-cost hardtail mountain bike or a full-suspension downhill GT bike, there is always a suitable model for you. And here are the GT bike categories you can find:
BMX Bikes
When it comes to choosing the right BMX handlebars, size matters. The width of the handlebars plays a significant role in the overall handling and comfort of the BMX bike. Check out this helpful BMX handlebars size chart to ensure you select the perfect fit for you.
Mountain Full-Suspension Bikes
Gravity
All-Mountain: Force
Trail: Sensor
Mountain Hardtail Bikes
Looking for a lightweight and agile mountain bike? Check out the Giant Talon 3. With its lightweight aluminum frame and wide range of gears, this bike is perfect for tackling any trail. Plus, it's equipped with front suspension and hydraulic disc brakes, making it a reliable option for both beginners and experienced riders.
Road Bikes
Dirt Jump
For the ultimate dirt jumping experience, check out the YT Bikes. These bikes are designed to easily navigate through rough terrain and jumps, providing both stability and a smooth ride. The brand offers several models, including the Dirt Love and Industries, with high-quality frames made for all skill levels. With YT Bikes, you can take your dirt jumping skills to the next level.
Women Mountain Bikes
Kids' Bikes
Mountain
Boys
Girls
Balance
Choosing the right bike size is crucial for kids to have a comfortable riding experience. Check out Hood MWR's bike size chart for kids to help you determine the appropriate bike size for your child based on their age and height. By getting the right size, you can ensure that your child is safe, comfortable, and fully enjoys their biking experience.
Most Popular GT Bikes
GT bikes offer a wide range of bikes for the bike riding community. However, the most popular and best models will be mountain bikes and dirt bikes. Let's see some of the most common GT bikes and choose a suitable model according to your needs and preference.
Dirt Jump Bikes: GT La Bomba Pro Bike
BMX Bikes: GT Pro Performer BMX Bike
Mountain Hardtail Bikes: GT Stomper Prime 24″ Gunmetal Bike
Mountain Full-Suspension Bikes: GT Force 29 Expert Bike
Road Bikes: GT Transeo Comp Bike
Kid Bikes: GT Grunge Bike
Discover more about the most popular bicycles in the world.
GT Bike Price Range
In general, GT offers great-quality bikes of different styles and models. However, dirt jump bikes will be the most popular and best model of GT bikes. You can also find other good models from GT and here is the price range of some of the most popular GT bikes you can consider:
Dirt Jump Bikes: $875.00 – $ $1,400.00
BMX Bikes: $215.00 – $1,060.00
Mountain Hardtail Bikes: $560.00 – $1,000.00
Mountain Full-Suspension Bikes: $2,350.00 – $8,225.00
Road Bikes: $800.00 – $950.00
Kid Bikes: $160.00 – $480.00
Are GT Bikes Any Good?
In fact, GT is considered one of the most reliable bike brands in the world. One of the most important things you can't find at other bikes is that their bikes' build and quality can't be belated for the price.
Lots of riders consider GT a respected bike brand. The company has something typical for every occasion. GT is also known for using good-quality components and materials to build its bikes.
And one of the best things that GT bikes are always proud of is their manufacturing and design of every bike that can meet the requirements of almost all bike riding enthusiasts.
GT Vs. Giant
GT Bike Review
GT provides MTB bikes of all budget and quality ranges, from Sport and Comp to Elite and Expert. However, among various lines of mountain bikes, the GT Avalanche range is considered one of the best models. These bikes are typically designed for discerning mountain bike enthusiasts, those who really know what they want in an MTB bike.
With the GT's signature triple-triangular frame design that is instantly recognizable to most cyclists, Avalanche bicycles have become one of the most popular bikes in the world. Even though these bikes offer great value for money, they are not typically specialized in any field of mountain biking, instead offering a full-blown trail biking experience.
GT's Avalanche lineup includes a wide range of prices and qualities. The Sport and Comp bikes are relatively cheap and not equipped with advanced components. Therefore, these models are more suitable for entry-level riders rather than experienced or advanced cyclists. What's more, they might not be ideal for rough terrains.
So, if you are looking for an affordable bike to ride on light trails or leisurely riding at weekends, the Sport or Comp will be the best option to consider.
If you want a model that offers the best value for money, the GT Elite lineup will be a great choice. This is because you can get a bike with a good suspension fork and drive train at a reasonable price.
It is built with sturdy components enough to help you easily deal with the abuses of rough, bumpy terrains, providing an enjoyable riding experience.
The Expert range, on the other hand, offers exceptionally durable construction and is built with premium components. This will bring a wonderful and comfortable riding experience. What's more, these bikes also tend to be more durable than the two previous models.
Giant Bike Review
If you are a beginning dirt rider, and looking for a bike with good price and great performance, then look no further than the Giant Talon bikes. As long as what you are looking for is not an extreme mountain bike, Talon is considered one of the best options that absolutely satisfies you for miles of trails.
There are different Talon models, but the Giant Talon 1, Talon 2, and Talon 3 are considered the best entry-level hardtail MTB bikes that have power beyond their class.
Ambitious dirt cyclists can now train on a state-of-the-art 27.5-inch wheeled bike built with top-notch technology and the experience of one of the greatest long-distance riders in the world. Having said that, you can also use the more capable 29″ wheels if desired.
If you are the kind of rider who loves to conquer rougher terrains and more aggressive cross-country riding, Giant Talon 2 will be your best choice. This model is built with a clutch-style back derailleur, 2×9 drive, and durable knobby Ardent tubeless tires.
You can also opt for the Giant Talon 3 if you want to save more dough. This bike is manufactured with the same components as the Talon 2, yet a little bit weaker. Nevertheless, it is still powerful enough to tackle any cross-country trail or terrain.
The Giant Talon 1 seems to be the best model among the three bikes. Its 1×10 drivetrain is much more convenient. Besides, tires are wider, the SRAM components are more excellent, and the suspension fork system is more lightweight and plusher.
Generally speaking, all the three Giant Talon models are great for value and a good option for entry-level dirt riders.
The Infinity Boss Three Hybrid Bike is a great choice for those who plan on doing a mix of on-road and off-road riding. It has a lightweight frame, responsive suspension, and ample gears to handle any terrain. Check out the full Infinity Boss Three Hybrid Bike review to see why it's a popular choice for those seeking a versatile bike.
GT BMX Bikes
GT BMX bikes are considered the inspiration for the company manufacturing other bikes. And the GT Performer is the best example of the model that stands out that fact. You can see and feel the most authentic appearance because both the fork and frame of the bike are chrome plated.
Besides, GT brings the seat stays and top tube to the new Performer model, even though it might not be as large as it used to be. The Mohawk hubs on the bicycle also offer a more classic feel.
Nevertheless, you might feel a little bit heavy because of the forged steel pegs. In contrast, it ensures the durability of the bike.
Pros
Pretty classic appearance
Sturdy suspension fork and frame
Large and strong wheels
Comfortable seat
Con
The plastic pedals are not really durable
In general, every GT BMX bike is manufactured to spark every little nostalgia in your body, the GT. Among various models, the GT Performer is the best one that accentuates that feeling and makes you feel like you are reliving your childhood again. There are many options of most comfortable adult BMX bikes to choose the one that best suits your needs here also.
GT Mountain Bikes
If you are looking for a comfortable mountain bike, the GT Aggressor 2021 model will be an ideal option to consider. One of the biggest reasons is the 29-inch wheels that will provide riders with much more speed and better traction on any terrain than most other types of wheels.
There are three models you can choose from, including GT Aggressor Sport with disc brakes, GT Aggressor Comp, and GT Aggressor Expert with hydraulic disc brakes.
GT started its bike company by developing bike frames. Therefore, they know that the frame is one of the most crucial factors of any bicycle. You can change the gears, brakes, seats, and tires. Nevertheless, if the frame breaks, that's the end.
In this case, the GT Aggressor models' frame is made using innovative triple-triangle technology. This design makes the bike not only stronger but also more enduring. Typically, you can feel the tough and responsive feeling when riding the bike on bumpy or rough terrains. This is because of the stiff components in the back of the bike.
Pros
Exceptionally responsive on most rough trails
Simple to control and navigate in tight corners
Offer great pricing with good features
Durable patented triple-triangle frame
Include all excellent All Terra and several Shimano components
Cons
It might be slightly heavy and not ideal for bike packing
As a whole, this is a responsive model and a great option for beginning riders. Besides, it is comfortable, durable, and easy to control. It is just not a good option if you want to pedal up hills.
Conclusion
All in all, GT bikes are a great option for those who are looking for a mountain bike, whether it is a BMX, hardtail, full-suspension, or dirt bike. The strongest point of GT bikes is the exceptionally strong and durable frame. And you will experience an enjoyable feeling, no matter if it is a recreational or racing ride.