The most challenging point in choosing a child's bicycle is whether both feet are firmly on the ground. Just standing on your toes and reaching the limit will not give the kids a sense of stability. Bicycles are not dangerous vehicles, but if you increase the number of harmful factors, the possibility of an accident increases. So, we need a correct bike size chart for kids.
Key Takeaways
Bicycles have the height and physique based on the child's body and the footsteps when sitting in the saddle: So, we need a correct bike size chart for kids.
Depending on the design of the frame and steering wheel, the feeling when riding will change slightly: The saddle height that affects the ease of riding is also crucial.
At the time of purchase, check the frame carefully: We recommend you check not only these numbers but also the ride quality by straddling your child on the bicycle.
Choosing the right bike size is important for safety and comfort while riding.
Measure your child's inseam to determine the appropriate bike size.
Use a bike size chart to find the recommended bike size based on your child's height and inseam measurement.
Ensure your child can comfortably reach the handlebars and pedals with a slight bend in their knees when seated on the bike.
Avoid buying a bike that is too big with the hope that your child will grow into it, as it can be difficult to control and may cause discomfort or injury.
Bike Size Chart for Kids
| | | |
| --- | --- | --- |
| Size | Estimated height | Estimated age |
| 12 inches | 80-105 cm | 2-3 years old |
| 14 inches | 91-108cm | 3-5 years old |
| 16 inches | 98-119 cm | 3-6 years old |
| 18 inches | 103-125 cm | 4-8 years old |
| 20 inches | 111-135 cm | 5-9 years old |
| 22 inches | 116-146 cm | 6-11 years old |
| 24 inches | 122-154 cm | 7 years old and over |
Many parents do not know the size of a child's bicycle: Adults can tell that it is about 24 or 26 inches, but children's bicycles do not come to mind.
The table is a correct guide: Please refer to it when you purchase your child's bicycle for the first time or when you increase the size.
The smallest bicycles are available from 12 inches and can be ridden from around two years old: Please note that the standard height may vary slightly depending on the bicycle manufacturer and model.
If you're looking to purchase a bike, understanding weight is crucial. Check out our bike weight chart that lists the average weight of different types of bikes. Whether you're a beginner or advanced cyclist, knowing your bike's weight can help you choose the right one for your style of riding and make it easier to transport.
How to Track the Size of a Bike When Children Grow?
Bicycles will not fit when the children get bigger
Unlike adults, children's bicycles must be repurchased as they grow up. Considering operability and safety, a bicycle with a body and wheel size that fits your body is always the best. But to reduce unnecessary expenses, choose a size that will allow the children to ride for a fixed amount of time.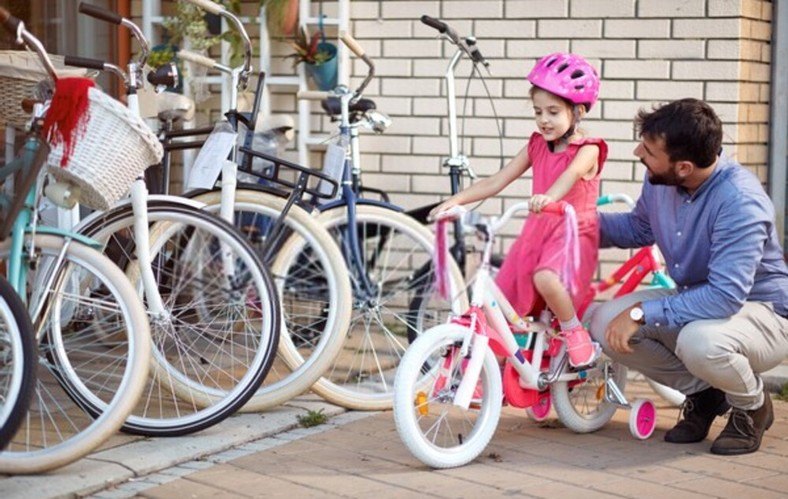 If you want to ensure that your child's bicycle will fit them for a longer period of time as they grow, you may need to start considering larger sizes. For example, you can check out this 24-inch bike size chart, as they are not just limited to adults. This will guide you on which size is appropriate for your child's height, allowing them to enjoy their bike for a longer period.
Step up the size
It depends on the growth of the child. But as a guide, when thinking about the next step to the bicycle, it is useless to switch by two sizes like from 12 to 16 inches or 14 to 18 inches. Most times, it is easy to adjust to the growth of the body.
Try to categorize the size
As another guideline, consider 12/14, 16/18, and 20/24 as a group. We think that 12/14 is ideal for childhood, while 16/18 is for kindergarten to learn unassisted bicycles. There is also a step-up concept of riding one 20/24 size before entering elementary school to pass the middle grade of elementary school. Then shifting to an adult bicycle size. Please refer to it as your child grows up.
When buying a watch for a child, it's important to consider the size as well as the type. For kids, a digital watch or a smartwatch could be a great fit. Check out the different types of watches on the market in this brief guide for watch enthusiasts.
Before Choosing a Bike for Children
If you choose a larger bicycle, you will have problems with weight and operability besides problems with the feet. Children who ride bicycles without training wheels for the first time may not ride well. We know you want to choose the largest bike possible because you want the best durability. But give top priority to the safety of your child.
How to Choose a Bicycle for Children In-Store?
Both feet must touch the ground, but there is only one way to do that. It is to go to the store. Nowadays, you can buy bicycles on the Internet. But for children's bicycles, we recommend going to the store and matching the size.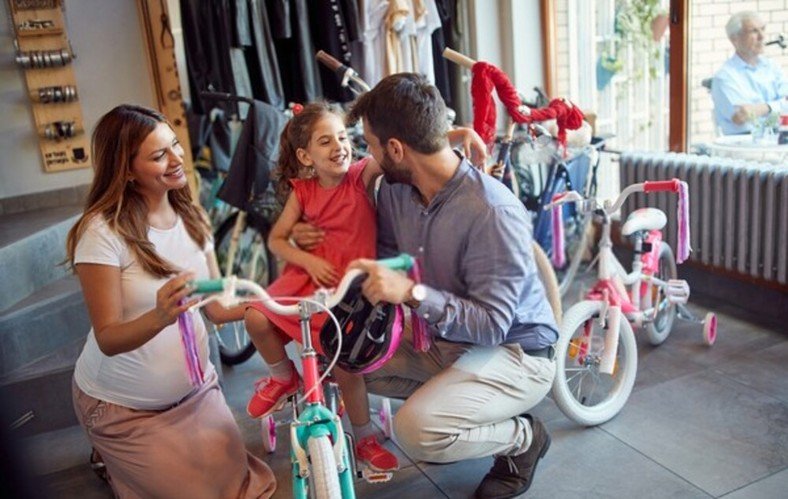 Even if you choose a bicycle according to the above guideline, the size may vary slightly depending on the manufacturer and model. For small ones, there is not much problem. But even if it is 1 cm or 2 cm larger, your feet may not reach firmly. Therefore, it is vital to test drive at the store.
If you can only buy a bike online, go to your local bike shop and try a bike of the same inch. However, in that case, do not buy the size at the last minute, but make it a size that you can afford. Even though it was a test drive, it is not the same model. So, we recommend choosing a size with confidence.
Guideline for Sizing Up
As a guideline for increasing the size of a bicycle, the change in height should be the most crucial point. If your children keep riding a small bicycle, it will naturally become cramped and difficult to ride. Even if an adult sees it, the crampedness will be transmitted. So, please be careful from time to time. Even if you raise the saddle to the highest position, it is time to buy a new one when your knees bend when you put your foot on the ground.
However, the child will tell you the timing of the size increase. It is the most common point. Most of the people who are close friends say that they want a cool bicycle because they want it. Otherwise, they want to change the gear and buy a new one because of changes in their preferences.
According to statistics, the number of children who buy a bicycle for the first time in the first and second grades (6 to 8 years old) is the highest. From there, it is common to buy a new one every three years, so please refer to it.
If you're looking for a sizing guide for plus-size clothing in 2023, check out our Plus Size Clothing Sizing Guide. We know how difficult it can be to find the perfectly fitted plus-size garment, so we've put together this comprehensive guide for you. Get ready to find your perfect size and feel comfortable in your own skin!
18-Inch VS 20-Inch Frame
For 18 inches, it has the shape of a so-called infant car. It is a cute shape made by making the old-fashioned bike smaller. The bike does not have transmission gear. 18-inch bikes are often called kids bicycles.
For 20 inches, we have a lineup of bicycles with a sporty shape and a transmission that are closer to adult bicycles. While there are old-fashioned bicycles, there are also a few full-scale road bicycles. It means that the genre of bicycles will increase, just like adult bicycles. 20 inches and above are often called junior bicycles.
What is the Proper Size?
The size is ideal when the toes of both feet touch the ground that is easy to grow and ride. It is the same for adults and children. So, if you can already ride a bicycle and purchase a second or later transfer, you can choose the size based on this standard.
If you are buying a kid bicycle for the first time, we recommend you adjust so that about half of your feet touch the ground. It is because many children are afraid when they practice riding if their feet are not firmly attached. The proper height of each bicycle is announced by the manufacturer and can be found on the website and catalog.
Are you unsure what size is right for your child's bike? Our bike size chart for kids can help. With information on age, inseam measurements, and wheel sizes, you can easily find the appropriate size for your child's riding comfort and safety. Don't guess, use our chart as a guide to make sure your child gets the right-sized bike.
Recommended Bicycle for Boys
GT: GT is an American brand that is popular for adult mountain bikes. The sporty coloring, a little cool mudguard, and other looks just like an adult model may satisfy boys. The GT kick bike is perfect so that we can adjust the saddle low. Your kids can kick the ground firmly. Kick bikes use resin tires, but Vermes uses the same rubber tires as adult bicycles. It is comfortable to ride, and the kids may not tire of it.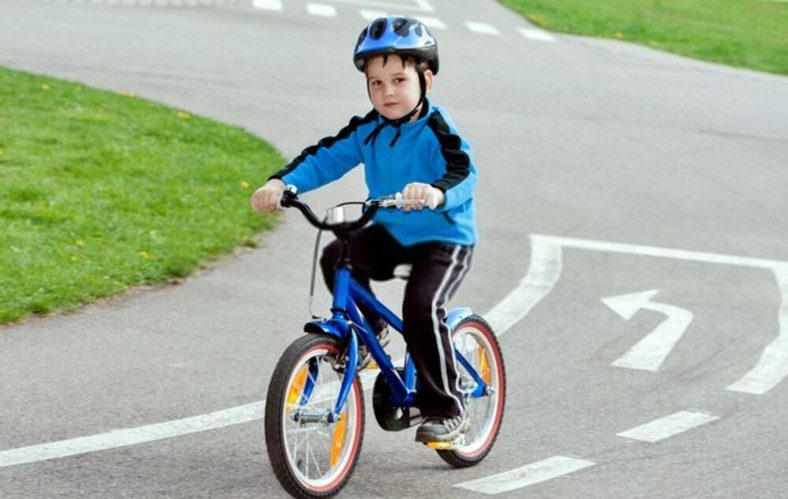 Bridgestone: Bridgestone is also popular for bicycles from kindergarten and school. Eco Kids Sports is an 18-inch children's bicycle with the BAA mark. If you have the rear carrier behind, it is easy to assist. And the brake with an adjuster can adjust the position of the lever according to the size of the child's hand.
D-Bike: D-Bike is a domestic brand that specializes in making bicycles that match the growth of children. The pedals can be easily removed, and it quickly changes to a kick bike where you kick the ground with your feet. It has a brake that stops firmly with the grip strength of the child.
Tokyobike: Tokyobike deals with fashionable bicycles for everyday use. Like the adult lineup, the little Tokyobike with gentle coloring has thick tires and a great sense of stability. We can attach a mudguard and a basket as an option.
Bianchi: Bianchi has been making bicycles in Italy for a long time. It is a cross bike for children that you can choose from five colors such as the refreshing Celeste known as Bianchi's brand color.
Recommended Bicycle for Girls
People: People's bicycles are famous for educational toys. It comes with the concept of getting your feet right at two and riding for a long time until you enter elementary school. Each part can be adjusted so that you can ride comfortably even when you grow up. It is an acceptable point for dads and moms to hang a little luggage on the assist bar.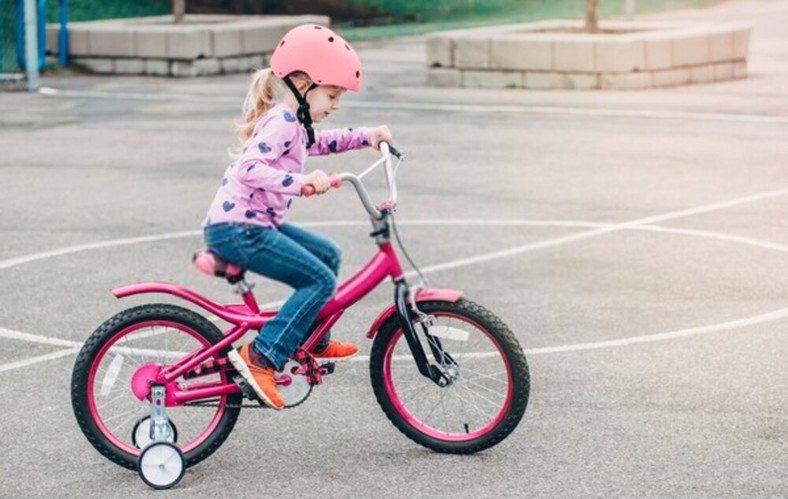 Yotsuba Cycle: Yotsuba Cycle is a domestic bicycle manufacturer with a retro logo. The Zero 12 is a safe model with thick tires that are easy to balance and powerful brakes that are easy for children to grip. Besides the recommended Ramune Blue for girls, the coloring is like an adult sports bike.
Louis Garneau: The fashionable Canadian-born bicycle brand Louis Garneau is also stylish for children's bicycles. The K16 is a staggered type that is easy to get on and off. It is a frame that extends diagonally downward from the steering wheel. So, it is easy to get on even with a skirt. It also comes with a V-brake that works well, so you can feel secure.
Rolling Rings: Designed like an adult bicycle, it is a bicycle with a cute color lineup that makes it easy for girls to enjoy. The paint is scratch-resistant, so you will not notice the feeling of use even if you ride a lot. You can adjust the direction of the pedals and handlebars, so you can concentrate on your bicycle practice.
Strider: The American-born Strider is a simple kick bike. Since there are no protrusions, you can play with confidence. There is no brake, but it is easy to operate. And you can stop immediately with your foot.
If you are looking for a suitable bike size for your little girl, check out the women bike size chart from Hood MWR. This chart provides detailed information on bike sizes, inseam measurements, and height ranges suitable for different bike styles for women. You can use this chart to find the ideal bike size for your little girl and ensure her safety and comfort while riding.
FAQs
What is a bike size chart for kids?
A bike size chart for kids is a chart that provides information on the recommended bike size based on the child's height and inseam measurement. It is used to help parents and caregivers choose the appropriate bike size for their child.
Why is it important to choose the right bike size for kids?
Choosing the right bike size for kids is important to ensure their safety and comfort while riding. A bike that is too big or too small can be difficult to control and may cause discomfort or injury.
How do I measure my child's inseam for a bike size chart?
To measure your child's inseam, have them stand with their feet flat on the ground and measure the distance from the floor to their crotch area.
What are the most common bike sizes for kids?
The most common bike sizes for kids range from 12 inches to 24 inches in wheel diameter. The appropriate size depends on the child's height and inseam measurement.
How do I know if my child's bike is the right size?
To determine if your child's bike is the right size, have them sit on the bike with their feet flat on the ground. They should be able to reach the handlebars comfortably and have a slight bend in their knees when pedaling.
Can my child grow into a bike that is too big for them?
It is not recommended to buy a bike that is too big for your child with the hope that they will grow into it. A bike that is too big can be difficult to control and may cause discomfort or injury. It is best to choose a bike size that is appropriate for your child's current height and inseam measurement.
Where can I find a bike size chart for kids?
Bike size charts for kids can be found online on various websites that sell bikes or provide bike fitting services. Many bike manufacturers also provide bike size charts for their specific models.
Conclusion
For introducing toddler bicycles for young children. We have summarized the size and selection of bicycles, necessary items such as helmets, and recommended bicycles by gender. We have a lineup of bicycles that children will love, such as bikes with removable training wheels, popular brands, and kick bikes!
Before your kids get used to riding a bicycle, we would like to have some safety goods ready. The law requires children under the age of 13 to wear a helmet as much as possible when riding a bicycle. For your safety, wear it from the practice stage of your bicycle. For your bicycle debut, choose a safe bicycle that fits your child's size. And if the design your child likes, it will be used for a long time. Let's practice cycling while having fun safely.