There are different ways you can use to measure MTB bike sizes. And you also need to know that different methods will give you different sizes, but not too much. This is just because of the leg inseam measurement. So, let's have a look at the mountain bike size chart down below.
It having a suitably fitting mountain bike is the most crucial thing you need to look for before deciding to buy your MTB bike. Unlike a t-shirt or dress, you can't change the carbon fiber or aluminum once you pick mountain bikes for beginners. That's why you should get the right mountain bike frame size, typically those who are not from an MTB background.
The best way to start when looking for the right size for a mountain bike is by looking at the MTB bike size chart. The table indicates recommended bike sizes according to your height and leg inseam measurements. However, you should also look at the size chart of the bike brands that you are going to buy because different manufacturers might offer different designs in geometry and philosophy.
Mountain Bike Size Chart
| | | | | | | |
| --- | --- | --- | --- | --- | --- | --- |
| Rider Height (ft/in) | Rider Height (cm) | Leg inseam (inches) | Leg inseam (cm) | Suggested Frame Size (in) | Suggested Frame Size (cm) | Suggested Wheel Size |
| 4'10 – 5'3″ | 147-160cm | 25 – 28″ | 62 – 70 cm | 13 – 14″ | 33cm – 37cm | 26″ |
| 5'4 "- 5'7" | 160 – 170cm | 25 – 30″ | 63 – 76 cm | 15 – 16″ | 38cm – 42cm | 26″ |
| 5'5″ – 5'9″ | 165 – 175cm | 26 – 31″ | 66 – 78 cm | 16 – 17″ | 43cm – 47cm | 27.5″ |
| 5'9″ – 6'0″ | 175 – 183cm | 27 – 32″ | 68 – 81 cm | 17 – 18″ | 48cm – 52cm | 27.5″ |
| 6'0″ – 6'3″ | 183 – 190cm | 28 – 33″ | 71 – 83 cm | 18 – 19″ | 53cm – 57cm | 29″ |
| 6'1″ – 6'6″ | 190 – 200cm | 29 – 34″ | 73 – 86 cm | 19″ + | 58cm + | 29″ |
Please note: Never depend only on the size marks, such as XS, S, L, XL, etc., because these marks are not really standardized. Each MTB bike brand offers its own size suggestion that needs to be resourced.
Mountain Bike Size Formula
As I said before, there are different ways to know what mountain bike size is suitable for your height. Besides the above size chart, you can use a formula to calculate the proper size. This method might give you a few different measurements, but it is still true and even more exact.
First, measure your leg inseam. Standing on a flat floor with your legs either apart or together. Then measure your leg's length on the internal side.
Then calculate with the following formula:
Your frame size (in centimeters) = Leg inseam x 0.685
For example, if you are looking for the properly fitting mountain bike size, and your leg inseam is 70cm, the suitable size would be 70 x 0.685 = 47.95 cm
How are Mountain Bikes Sized?
As you might know, almost any mountain bike brands offer classic sizes for their bikes, including small, medium, and large. For those who don't know, the only thing that might change if you are between sizes in your MTB bike is the frame size. Other parts such as suspension, wheel size almost remain the same. Having said that, several manufacturers also adjust some parts such as wheel size over the same model size range.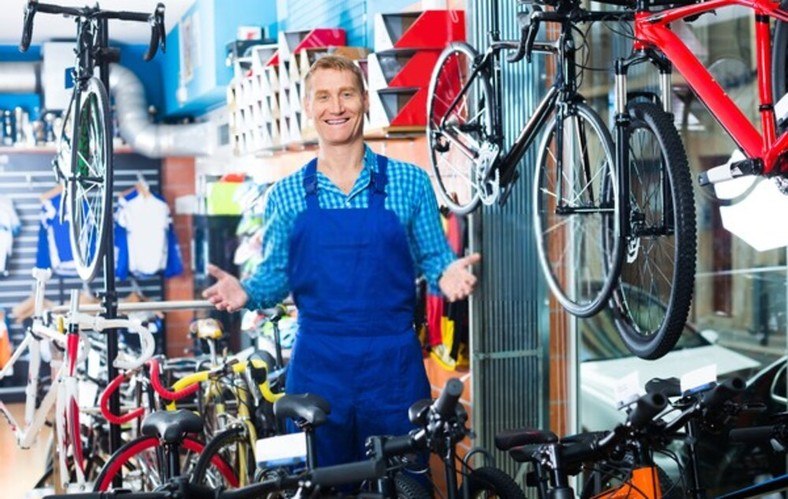 In the old days, seat tube length was used to measure bike sizes. However, mountain bikes have come in various styles and shapes these days, and this method doesn't seem to be really effective and popular.
Since mountain bikes concentrate on notably low standover height, the traditional approach of standing over a bike with your flat foot is also not really that effective. That's why almost all available bike brands offer small, medium, and large sizes and provide riders with their own size recommendations based on your height.
How to Fix the Wrong Mountain Bike Size?
It seems to be impossible to fix the size of your mountain bike. However, it sometimes happens and works. This is because there are very few mistakes when you choose your right bike size. Below are the two most common situations you might face when looking for properly fitting bike sizes and solutions to them.
If the Bike is Too Small
If you already chose your favorite mountain bike but found that it is small compared to your height, you can try the following ways.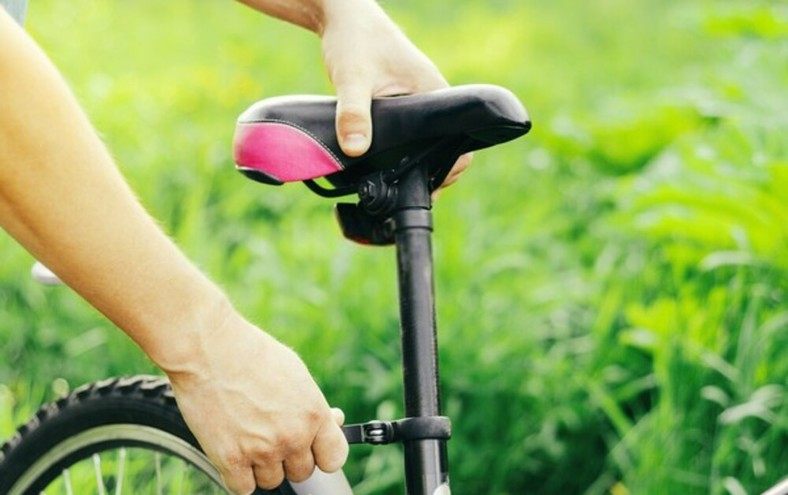 Longer Saddle Post: If your seat is already in its highest position, you can replace it with another longer saddle post. Ideally, you can find a seat post 350mm in length. Just make sure that it has the same diameter as your old one.
Longer stem: The stem is very crucial when choosing the bike size because it will determine your position when you are riding. You can try to find a longer stem, but take the stem's angle into consideration too.
Seat set-back: The position of your bike's saddle is the next thing you can change to get a better position. You can move it back more or less until you find a better position.
If The Bike is Too Big
In contrast to too small mountain bike size, here are some ways you can try to adjust the bike for a better position.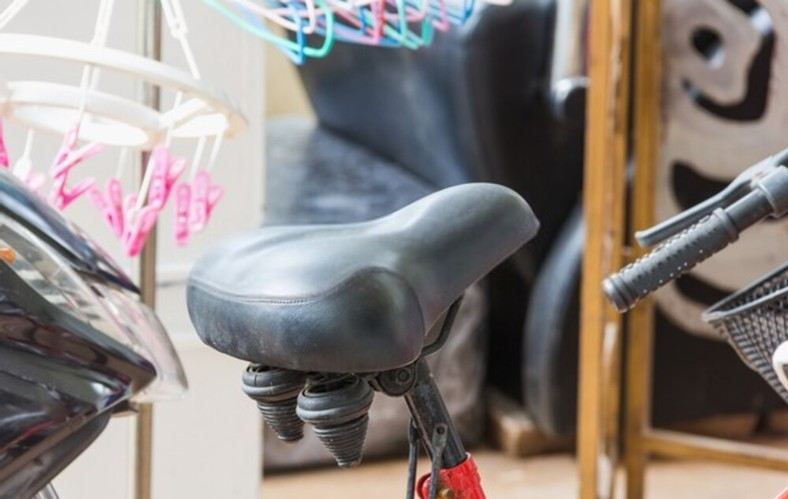 Shorter saddle post: Sometimes, several saddle posts don't go right. Hence, you can adjust it to get a better position. You can either cut your existing seat post to make it shorter or replace it with another shorter one. Just make sure your new one's diameter is the same as the old one.
Shorter stem: Just a few inches shorter can make a huge difference in deciding your position. This way is absolutely worth trying because you don't need to buy another new bike.
Seat forward: You can slide your seat forwards a little bit to reach the handlebar better. This way, you will not feel pain in your knees.
Frequently Asked Questions
Choosing the right mountain bike size is not always easy since some people might be in between sizes. Below are some popular asked questions and answers relating to this topic. Let's find out your answers.
How do I measure my height?
First, take off your shoes and stand upright with your back against a wall on a flat floor. Then use a pencil to mark on the wall right above your head. Make sure you keep the pencil parallel to the ground. After that, calculate your height by calculating the height from the floor to the mark. This measurement can be either in inches or centimeters.
How do I measure my leg inseam length?
Stand upright against a wall with your bare feet on an even floor. Then place a ruler between your legs. Make sure it is equal to your crotch. After that, measure from the top of that ruler to the floor. You can calculate it either in inches or centimeters. It will be easier and might be more exact if your friend helps with this measurement.
How are mountain bikes sized?
The most common method to size your mountain bike is either in inches/centimeter or using S/M/L sizing. In the old days, seat tube length (from the front chainring center to the tube's top) was used to calculate MTB bikes.
I'm between sizes, so which mountain bike size should I use?
If you are between sizes, you can either go with a smaller or bigger bike size. However, almost all riders opt for larger sizes. This is because they can be a little bit easier to handle. What's more, you can easily adjust the stem to fit your height and to easily reach the handlebars.
What size is a 27.5-inch mountain bike?
A 27.5-inch mountain bike, also known as tweeners, is a large volume tire mountain bike roughly 27.5 inches in diameter and 56 mm wide on ISO 584 mm wheel rim. Sometimes you will also see this (ISO 56-584 / 27.5 x 2, 25).
Does wheel size matter on a mountain bike?
You might think that only the frame size matters when it comes to mountain bikes. However, the wheel size is also a determining factor in this case. It will decide how much rolling resistance you will get on the road. The bigger the wheel is, the easier you can overcome greater obstacles on the trails.
Should my feet touch the ground on an MTB bike?
It is recommended that your feet and the balls of your feet should reach the ground when you sit on your bike's saddle. This way, it can ensure you have a comfortable and safe riding position. Ideally, your saddle should be in line or a little bit lower than the handlebars.
Should I size up my mountain bike?
It depends on your upper torso. If it is longer, you might want to size up your MTB bike to get a better fit. It ensures you have the best riding position, which results in a better riding experience, and also reduces knee pain.
Conclusion
Although this article is just the basics of a mountain bike sizing guide, it should provide you with enough background knowledge to choose the right size for your height. If there are any things you are still confused about the mountain bike size chart, feel free to leave your questions in the comment box. I'll try to answer them as soon as possible. Thanks for reading.