This mountain bike size guide provides you with all necessary information about mountain bike size charts, fitting and basic buying guides. So let's keep on reading for details.
Before you go out and buy a brand new mountain bike, the essential feature to think about is getting a bike that fits you well. It's hardly a great price if it doesn't fit you well, just like a pair of nice pants for 70% off in a store. You can't just change metal or carbon, unlike jeans, so getting the appropriate size mountain bike from the start is even more critical.
Do you know how to choose the proper mountain bike size? Follow along as I lead you through the steps. In general, mountain bike sizing differs greatly from a racing bike, touring bike, BMX bike, and other types of bike sizing, which is crucial to remember for riders who are new to riding. Check out my mountain bike size guide if you want to understand more about the mountain bike market these days and what to look for when placing an order.
Mountain Bike Size Chart
When it comes to choosing the proper mountain bike size, a sizing chart is a great way to start. The bike size chart below serves as an excellent starting point for determining the appropriate bike size for your height. Due to variances in design geometry and philosophy, I also suggest consulting the sizing chart unique to the brand you're considering.
| | | | | |
| --- | --- | --- | --- | --- |
| Rider Height (in) | Rider Height (cm) | Frame Size | Frame Size (in) | Frame Size (cm) |
| 4′ 10″ – 5′ 2″ | 148cm – 158cm | XS | 13″ – 14″ | 33cm – 37cm |
| 5′ 3″ – 5′ 6″ | 159cm – 168cm | S | 15″ – 16″ | 38cm – 42cm |
| 5′ 7″ – 5′ 10″ | 169cm – 178cm | M | 17″ – 18″ | 43cm – 47cm |
| 5′ 11″ – 6′ 1″ | 179cm – 185cm | L | 19″ – 20″ | 48cm – 52cm |
| 6′ 2″ – 6′ 4″ | 186cm – 193cm | XL | 21″ – 22″ | 53cm – 57cm |
| 6′ 4″ + | 194cm + | XXL | 23″ + | 58cm + |
How Are Mountain Bikes Sized?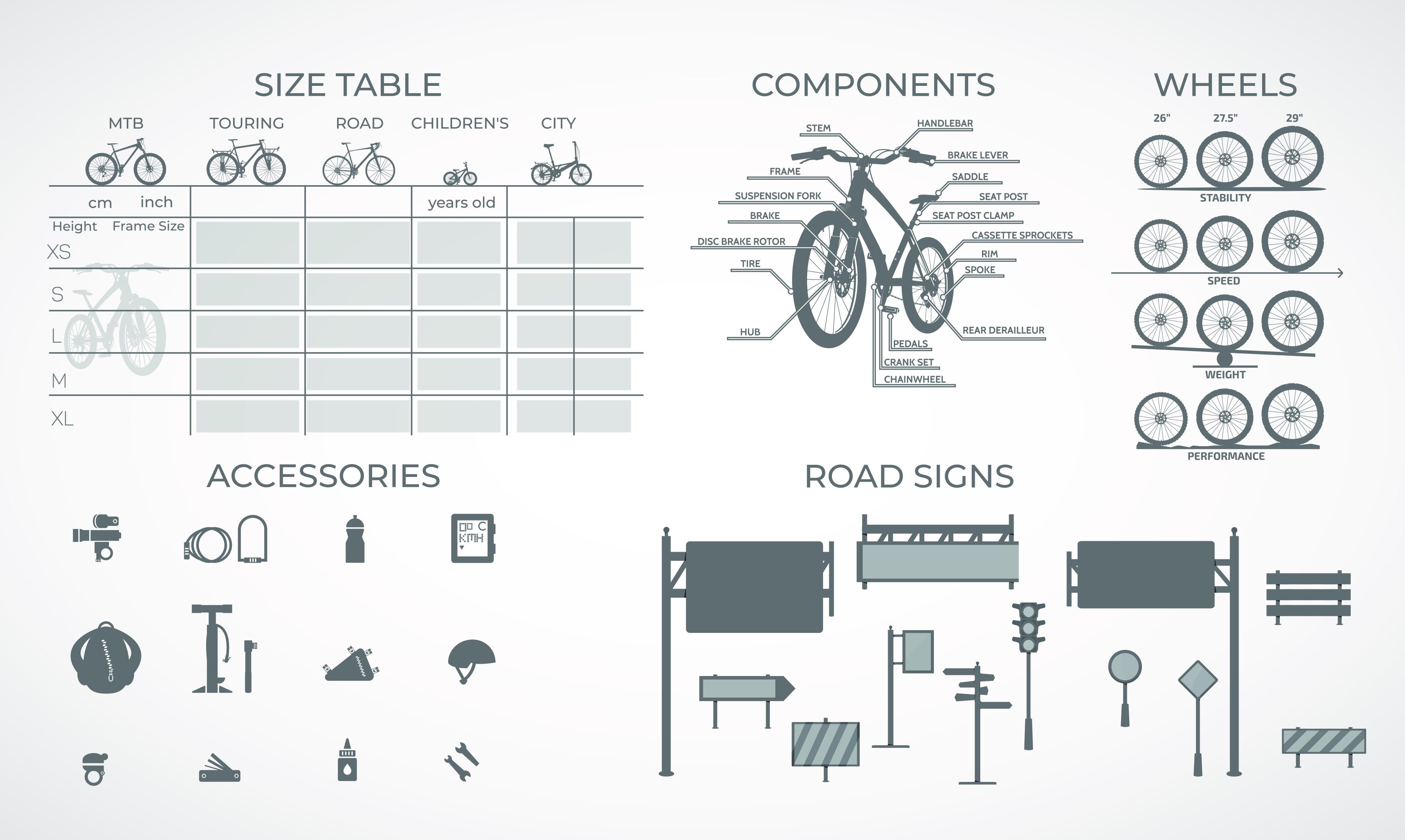 The most common mountain bike sizes are Small, Medium, and Large. When going between sizes, the only thing that alters is the bike frame size; everything else, like suspension, comparative geometry number, and wheel size, stays the same. Several bike companies, on the other hand, will modify factors like suspension travel and wheel size across a model's size range.
The conventional way of bike sizing is based on the length of the seat tube. However, with all of the unique designs that mountain bikes are now available, it seems to be much less useful in determining what size mountain bike you should acquire.
Because almost all mountain bikes have a very low standover height, the classic technique of standing flat-footed over the mountain bike is not really effective. This is also the reason why many MTB manufacturers employ the sizing system of Small, Medium, and Large and offer their own size suggestions based on riders' height.
Should I Size Up Or Size Down My Mountain Bike?
So you've fitted your height to an MTB company's size chart, and you are on the verge of buying one – what's next? When it comes to mountain bike sizes, there are times when you are in the middle. So, when you are in between sizes, here are a few pointers on how to scale down or up your mountain bike.
When to Size Up Your Mountain Bike
Reach is more likely to shift than Stack when it comes to the different sizes of mountain bikes. A majority of mountain bikes strive to become as low as possible in order to provide the rider as much mobility as possible in the cockpit. Therefore you will see a couple of mountain bikes with a higher Reach.
As the overall mountain bike gets slightly longer, there is also a small increase in Wheelbase, so you will get the advantages (and drawbacks) of a longer mountain bike. What's more, if you have a proportionally longer body, you might want to size larger to have a neutral fit, as Reach is the main factor that determines size.
Hip scope of motion and versatility are also things to keep in mind. For example, if leaning down and contacting your toes seems difficult, a longer mountain bike will make maintaining a low and forceful riding position more difficult.
A bigger size, on the flip side, will compensate you with a more active riding position if you understand the distinction between your Lotus Pose and Tadasana Pose (also known as you're a flexible yoga panther).
To summarize, you can size up your MTB if you're supple, have a longer body, and want to giant over your terrain instead of a flick or whip your route around it.
When to Size Down Your Mountain Bike
A shorter mountain bike, on the other hand, will get a lower Reach and a somewhat shorter Wheelbase. When you're in between sizes, your stand-over height would be a little lower, and you may need to lengthen your seat-post a little bit to get to your pedaling posture, but it is just a minor concern.
If you have significantly longer legs than typical, inadequate suppleness, or prefer to remain more upright, a smaller size of MTB may be more suitable for you.
A shortened wheelbase will also let you pedal more agilely, and whereas the longer cockpit allows for a more active riding posture, low and active riding postures are exhausting to be in, so keep your fitness, durability, and ride duration in mind. Shorter mountain bikes are more comfortable to ride for extended durations.
In a nutshell, scale down your mountain bike if you want a more agile and sharp ride, are less supple, have a shorter body, or want a more relaxed seating position and riding posture.
Mountain Bike Fitting for Women
Women's mountain bikes are intended to accommodate their relatively longer legs and slimmer shoulders in comparison to their upper bodies than men's mountain bikes in general. In particular, mountain bikes for women typically have slightly narrower handlebars and smaller or more petite frame sizes. While men's MTB bikes might fit well and be comfy for several women, women-specific mountain bikes may offer a more accurate fit for most.
Rider Height
Suggested Women's Mountain Frame Size
Feet & Inches
Centimeters
Frame Size (inches)
Frame Size (cm)
Frame Size
4'10" – 5'2″
148cm – 158cm
13″ – 14″
33 – 37
XS
5'2″ – 5'6″
158cm – 168cm
15″ – 16″
38 – 42
S
5'7″ – 5'9″
168cm – 178cm
17″ – 18″
43 – 47
M
5'10" – 6'1″
178cm – 185cm
19″+
48 +
L
Mountain Bike Fitting for Kids
It is natural to have a bike that a young cyclist can "grow into." However, it is critical to choose one that fits properly so she or he can know how to ride safely and confidently.
Check the height of the bike's standover, just like you would with an adult mountain bike. Look for roughly 2 "–4" of clearance, depending on the top-tube design.
In terms of seat height, most children's bikes are built to allow them to ride in a more upright position. Accordingly, they should really sit comfortably, look around them clearly, and hold the handlebars easily with their elbows bent slightly. What's more, at each pedal stroke's bottom, your kids' legs should be bent a little bit.
What Size MTB Should I Get If I'm In The Middle Of A Size Range?
Occasionally, bike size charts, in general, will suggest two distinct sizes. This means that either the suggested smaller or larger sizes will work. Ultimately, it is just a matter of personal preference on which size to choose. Having said that, most bike riders prefer the larger size.
You can adapt a shorter stem to enhance the fit of a bigger mountain bike without impacting the handling (varied based on different models). On a road bike, on the flip side, it's preferable to lengthen instead of shortening the stem.
Mountain Bike Fitting Guide
You will enjoy riding a mountain bike that fits perfectly and is appropriate for your height, suppleness, and riding skill. In addition, a correctly sized mountain bike may help you handle more tricky and hard rides by improving your balance, performance, and confidence on the road.
If you're a committed rider searching for certain performance features, bike sizing can get very complicated. This part focuses on several basic mountain bike-shopping suggestions:
Your bike should be suited to your present riding style. Don't worry, as you can completely alter your fit afterward as you develop your riding skills.
Choose the appropriate frame size. No matter how many tweaks you make thereafter, if you don't start with the proper frame, you will have problems getting it comfy.
Tune-up the fit: Once you have found the proper size, make minor tweaks to the bike's current elements, such as seat angle or seat height, to refine the fit. You should know that components can also be replaced.
Hands-on assistance: A knowledgeable bike expert or sales employee can assist you in selecting the appropriate bike size and/or customizing the fit.
Final Thoughts
I hope with this mountain bike size guide, and you can make the right decision on which size to get for your first mountain bike. It is not as challenging as you expected. But you need to bear in mind that several bike brands might have their own sizing charts for women's, men's, and children's bikes. So, make sure to refer to the specific-brand size chart for the most accurate mountain bike size.
References